Uropi Nove 9* Uropi Nove 9* Uropi Nove 9*

******
******
Hermann Hesse av talvos sen un od mi prigusen poète. I avì, wim mole France, ʒa lisen du romàne hi « Narcisse und Goldmund » id « Steppenwolf » (Stepu vulp). Uvedà, wan i sì u studan, u Doski frama kodavì mo u miki kosamad hi poemis nomen « Späten Gedichte » (Posen Poème), we prijì mo mol, partikulim de poèm « Tristad ». Subetàl i gus de slimid id krat hi poetadi, hi imaʒis, wen, i kredì, i avì som traʒiven. Ne longim for, i findì in u biboria de kopolen poeti varke Hesse, id i lisì ja in de jok varmi Septembri dias, in mi gardin ude de akasia od wen sì falan gori folite. (VZ « September »).
******
Hermann Hesse has always been one of my favourite poets. Like many French people I had already read two of his novels : « Narcisse und Goldmund » and « Steppenwolf ». Besides, when I was a student, a German friend of mine gave me a small collection of his poems called « Späten Gedichte » (Late Poems), which I enjoyed very much, especially the poem « Sadness ». Above all, I like the strength and simplicity of his poetry, of his images which make me feel as though I had experienced them before. Not so long ago I found Hesse's complete poetic works in a bookshop, and I read them in the still warm September days, in my garden under the acacia from which little golden leaves were falling. (CF « September »).
******
Hermann Hesse a toujours été un de mes poètes préférés. J'avais déjà lu, comme beaucoup de Fran-çais deux de ses romans : « Narcisse und Goldmund » and « Steppenwolf « (Le Loup des Steppes). En outre, quand j'étais étudiant, une amie allemande m'offrit un petit recueil de ses poèmes intitulé « Späten Gedichte « (Poèmes Tardifs) que j'ai beaucoup aimé, en particulier le poème « Tristesse ». J'apprécie par-dessus tout la simplicité et la force de sa poésie, de ses images qui me donnent l'impression de les avoir vécues. il a y quelque temps, j'ai trouvé dans une librairie les œuvres poétiques complètes de Hermann Hesse, et je les ai lues dans les jours encore chauds de septembre, dans mon jardin sous l'acacia d'où tombait une pluie de petites feuilles d'or. (Voir « Septembre »).

******

Tristad Traurigkeit

Lu we brenì po ma jok jesta, Die mir noch gestern glühten
Se odia asaiten pa mor, Sind heut dem Tod geweiht
Blume sube blume fal Blüten fallen um Blüten
Fal od tristadi dreve. Vom Baum der Traurigkeit.

I viz la falo, falo Ich seh sie fallen, fallen
Wim snev za su mi vaj Wie Schnee auf meinem Pfad
De stape zon nemaj Die Schritte nicht mehr hallen,
De longi silad anèr. Das lange Schweigen naht

Hel av nemaj stele, Das Himmel hat nicht Sterne,
Id karʒ av liam nemaj, Das Herz nicht Liebe mehr
Gris dalia se silan Es schweigt die graue Ferne,
Id mold vid sen' id vuzi Die Welt ward alt und leer.

Ke moz tego siu karʒ Wer kann sein Herz behüten
In di mali teme ? In dieser bösen Zeit ?
Blume sube blume fal Es fallen Blüten um Blüten
Fal od tristadi dreve. Vom Baum der Traurigkeit.

Sadness Tristesse

Those who, yesterday for me were burning Ceux qui brûlaient pour moi hier encore
Are today sanctified by death Sont aujourd'hui sanctifiés par la mort.
Blossoms fall upon blossoms Il pleure pétale sur pétale
From the tree of sadness De l'arbre de la tristesse.

I see them falling, falling Je les vois tomber, tomber
Like snow upon my path Comme la neige sur mon chemin,
The steps no longer echo, Les pas ne résonnent plus,
The long silence draws near. Le long silence approche.

The sly has no more stars, Le ciel n'a plus d'étoiles,
The heart no longers loves, Le coeur n'a plus d'amour,
The grey distance is silent, Le gris lointain se tait,
The world is old and void. Le monde est vide et vieux.

Who can shelter his heart Qui peut sauver son coeur
Over these evil days ? Dans ces temps si mauvais ?
Blossom fall upon blossoms Il pleure pétale sur pétale
From the tree of sadness. De l'arbre de la tristesse.
******
September September
De gardin se truran Der Garten trauert
Liuv fal su de flore fricim Kühl sinkt in die Blumen der Regen
De soma se trisan Der Sommer schauert
Fasan ji fend ticim. Still seinem Ende entgegen

Se gopan gori fol su fol Golden tropft Blatt um Blatt
Niz od de akasia hol Nieder vom hohen Akazienbaum.
Soma smij, tuc id stonen Sommer lächelt erstaunt und matt
In de gardini soin moran In den sterbenden Gartentraum

Longim jok ner de roze Lange noch bei den Rosen
Zelan reso, je staj stan Bleibt er stehen, sehnt sich nach Ruh.
Lanim je kluz ji gren oje Langsam tut er die großen,
We av viden sa tan. Müdgewordenen Augen zu.

September Septembre
The garden is mourning Le jardin est en deuil
Cool sinks the rain into the flowers Fraîche dans les fleurs la pluie se glisse
The summer shudders L'été frissonne
Quietly facing its end. Et tranquille, regarde sa fin.

Golden, leaves drop upon leaves Feuille sur feuille gouttent dorées
From the high acacia-tree En bas du grand acacia
The summer smiles, weak and surprised Faible et surpris, l'été sourit
In the dying garden dream. Dans le rêve mourant du jardin.

For long still by the roses Longtemps encore près des roses
It stays there, longing for rest Rêvant au repos, il reste là
It slowly closes its large eyes Lentement, terrassé de fatigue,
Which have become so tired. Il ferme ses grands yeux las.
******
******
Mori fol Welkes Blatt

Jaki blum vol vido frut, Jedes Blüte will zur Frucht,
Jaki morna vido vespen, Jeder Morgen Abend werden,
Su ter esìst ʒe nit evi, Ewiges ist nicht auf Erden
Solem valgad, solem flig. Als der Wandel, als die Flucht.

Os ve de beles soma Auch der schönste Sommer will
Vid' otèm id wisto un dia. Einmal Herbst und welke spüren.
Stop ʒe fol, tici, tolsan, Halte, Blatt, geduldig still,
Wan vint vol apduto ta. Wenn der Wind dich will entführen.

Jeg ti jeg, difèns ne ta, Spiel dein Spiel und wehr dich nicht,
Las ja ticim usveno. Lass es still geschehen.
Las ta pa vint, we ris ta, Lass vom Winde, der dich bricht,
Flo ap id a dom duto. Dich nach Hause wehen.
Dead leaf Feuille morte
Each blossom will be a fruit Toute fleur devient fruit
Each morning an evening, Tout matin devient soir
Nothing is eternal on earth Rien d'éternel sur cette terre
All is fickle, all is fleeting. Tout s'en va, tout s'enfuit.

Even the loveliest summer Même le plus bel été
Will turn to autumn and wither. Sent l'automne et va se faner.
Stand, leaf, still and patient, Arrête-toi, feuille, patiente et calme,
When the wind wants to tear you away. Lorsque le vent veut t'enlever.

Don't resist, play your game, Joue ton jeu sans te défendre,
Let it quietly happen. Calme, laisse tout arriver.
Let the wind which breaks you away, Laisse le vent qui te brise,
Blowing, see you home. De son souffle, chez toi t'amener.
******
Veki noc Wache Nacht

Blic de varmivinti noc spek in, Bleich blickt die föhnige Nacht herein,
Lun su de fost se falan. Der Mond im Wald will untergehen.
Ka fors ma pur ki fraji pain Was zwingt mich doch mit banger Pein
Stajo veki id us staran ? Zu wachen und hinauszusehen ?

I av sopen id soinen; Ich hab geschlafen und geträumt
Ka av ma be mid noci Was hat mir mitten in der Nacht
Calen id sa frajan deten Gerufen und so bang gemacht,
Wim is misan ekwa vezi ? Als hätt ich Wichtiges versäumt ?

I gusev ʒe reno ap dom, Am liebsten liefe ich vom Haus,
Ap de gardin, vik id land, Vom Garten, Dorf und Lande fort
Pro pos de cal, de sarivòk, Dem Rufe nach, dem Zauberwort,
Id talvos pro id us mold. Und weiter und zur Welt hinaus.

Sleepless night Nuit d'éveil
Pale, the warm night is looking in Pâle, la chaude nuit nous regarde
The moon, over the woods, is setting Sur la forêt la lune va se coucher
What urges me with anxious pain Quel mal, quelle peur me contraignent
To stay awake and stare outside ? A regarder dehors et à veiller ?

I have slept and dreamt; J'ai dormi et j'ai rêvé ;
What, in the middle of the night, Au milieu de la nuit quel appel
Called and scared me so much M'éveille et m'a tant effrayé ?
As if I had missed something essential ? Qu'ai-je manqué d'essentiel ?

I long to run away from home, De la maison, je voudrais m'enfuir,
From the garden, the village, the land Du jardin, du village, du pays
Following the call, following the spell Suivre l'appel, le sortilège
Further and further and out of the world. Toujours plus loin et hors du monde.
******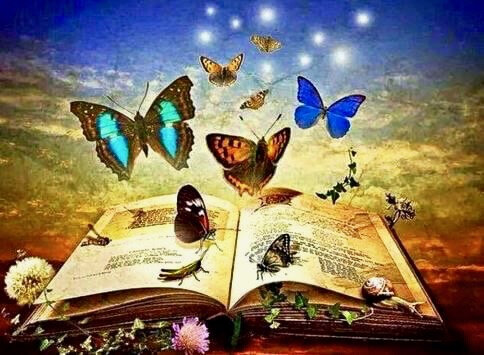 ******
Blu fafìl Blaue Schmetterling

Flen pa vint flet Flügelt ein kleiner blauer
U miki blu fafìl, Falter wom Wind geweht,
U nakari trisad, Ein perlmutterner Schauer,
We glij, stij, it pas. Glitzert, flimmert, vergeht

Sim in u oji blikad, So mit Augenblicksblinken,
Sim in u pasan flad, So im Vorüberwehn
I vizì bliko mo felij, Sah ich das Glück mir winken,
Glijo, stijo, ito pas. Glitzern, flimmern, vergehn..

Blue butterfly Papillon bleu

Blown about by the wind flutters Poussé par le vent volette
A little blue butterfly, Un petit papillon bleu,
A mother-of-pearl shiver Petit frisson de nacre,
Glitters, glimmers, goes by. Qui glisse, brille et passe.

Thus in an eye-twinkling, Ainsi en un clin d'œil,
Thus in a passing whiff, En un souffle qui passe,
I saw bliss wave to me, then J'ai vu le bonheur me sourire,
glitter, glimmer, go by. Glisser, briller, passer.
Hermann Hesse, Gedichte