Uropi Nove 32* Uropi Nove 32* Uropi Nove 32*

****
Provòrd de diu - Proverb of the day - Proverbe du jour

***

Ki de vark, un kon de varkor
A l'oeuvre on reconnaît l'artisan The workman is known by his work
All' opera si conosce il maestro Das Werk lobt den Meister
Por la muestra se conoce el paño
Aan zijn werk herkent men de meester

Opus laudat artificem

***
★ ★ ★

Veti, midan id novi Uropi
★ ★ ★
Uropi av u històr: wim i dezì ʒa in de forvòrd su de Uropi sitia, Uropi inizì wan i diskrovì be ald 16 jaris, in u bibliotèk, de Vordar de rodis Europan lingus pa R. Grandsaignes d'Hauterive. Naturim Uropi av mol meten, usvolpen dod da dali periòd. I av uzen alten, maj kopolen vordare wim po samp das indogermanisches etymologisches Wörterbuch pa Julius Pokorny we s'u veri minia Indo-Europan rodis. I av os koeglen maj id maj lingas po findo maj id maj komùn punte intra vorde id gramatike. I av os proben deto Uropi talvos maj neri a naturi lingas id talvos min artideti.
Sim un moz kospeko te, wim in de usvolpad naturi lingus, je ste vari epoke: un moz voko ov Veti, Midan id Novi Uropi wim un vok ov Veti, Midan id Moderni Engli o Veti, Midan id Novi Holdoski. Veti Uropi se cevim in de periòd for 1986 wan Uropi vidì publiki, Midan Uropi se de form Uropi avì nemen be fend de jaris 80 id be inìz de jaris 90 id Novi Uropi se de Uropi odiu.
★ ★ ★
Uropi ancien, moyen, moderne
★ ★ ★
L'Uropi a une histoire: comme je l'ai déjà dit dans le prologue sur le site Uropi, l'Uropi a commencé lorsque j'ai découvert à l'âge de 16 ans à la bibliothèque le Dictionnaire des racines des langues européennes de R. Grandsaignes d'Hauterive. Bien entendu l'Uropi a beaucoup changé, beaucoup évolué depuis cette période lointaine. J'ai utilisé d'autres dictionnaires plus complets comme par exemple Das indogermanisches etymologisches Wörterbuch de Julius Pokorny qui est une véritable mine de racines indo-européennes. J'ai aussi comparé de plus en plus de langues pour trouver toujours plus de points communs pour les mots comme pour les formes grammaticales. J'ai aussi essayé de rendre l'Uropi toujours plus proche des langues naturelles et de moins en moins artificiel.
Ainsi, on peut considérer qu'il y a dans l'évolution Uropi, comme dans celle des langues naturelles, différentes époques: on peut parler d'Uropi ancien, moyen et moderne, comme on parle de vieil anglais, de moyen anglais et d'anglais moderne ou d'ancien haut-allemand, moyen haut-allemand et allemand moderne. L'Uropi ancien correspond à la période qui a précédé 1986, date à laquelle l'Uropi est tombé dans le domaine public, le moyen Uropi est la forme que la langue a prise à la fin des années 80 - début des années 90 et l'Uropi moderne est celui d'aujourd'hui.
★ ★ ★
Old, Middle and Modern Uropi
★ ★ ★
Uropi has a history. As I said in the foreword to the Uropi website, Uropi started when at the age of 16, in a library I discovered The dictionary of the roots of European languages The dictionary of the roots of European languages by R. Grandsaignes d'Hauterive. Of course Uropi has changed a lot since that faraway period. I have used other more complete dictionaries such as Julius Pokorny's Indogermanisches etymologisches Wörterbuch which is a real mine of Indo-European roots. I have also compared more and more languages in order to find more and more common points for words as well as for grammatical forms. I have also tried to make Uropi as close as possible to natural languages and as little artificial as possible.
We may thus consider that there have been different periods in the evolution of Uropi just as in the evolution of natural languages: we may speak of Old, Middle and Modern Uropi much in the same way as we speak of Old, Middle and Modern English or Old High German, Middle High German and New High German. Old Uropi is found essentially in the period before 1986 (that is when Uropi became public), Middle Uropi is the form the language took at the end of the 80's and beginning of the 90's, and Modern Uropi is today's Uropi.
★ ★ ★
Zis eke sampe tekstis: Voici quelques exemples de textes: Here are a few samples of texts:
★ ★ ★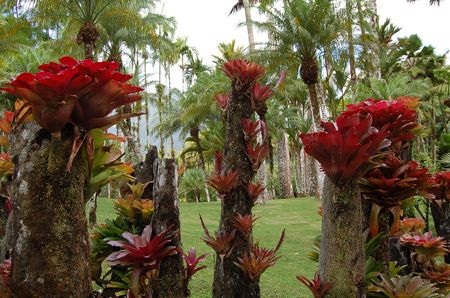 ★ ★ ★
U miki tekst in Veti (id Noci) Uropi traduten od Doski. (In Veti Uropi je stì longi id kurti vokale)
Un petit texte en Uropi ancien (et moderne) traduit de l'allemand (en Uropi ancien, il y a avait des voyelles courtes et des voyelles longues).
A short text in Old (and modern) Uropi translated from German. (In old Uropi there were short and long vowels).
SU BER BALTÍKI
In daj tem, daj si un jan àpo de kēr, mi màta sjudì véko ma prū jak mòtin. Nu premì pen op de pìcikòrbe ed gì sam a de plaʒ. Da nu stì spékan mar, vàtan avén picibōtis. De kebcàf mi màtu sì flòtan in vint ed ci òje sì grej ed dar wom mar. Ba wan de bōt mi pàtri venì in viz, ce smijì. Nu slì de pìce in de kòrbe pen gì a de vilàj ed vendì la.
SU BER BALTIMARI.
In da tem, da sì un jar pos de wer, mi mata siudì veko ma pru jaki morna. Pos nu nemì op de picikorbe id itì sam a de plaʒ. Nu stì za spekan mar, vartan de avenad picibatis. De kebitèc mi matu sì flotan in vint id ci oje sì gris id dar wim mar. Ba wan de bat mi patri venì in viz, ce smijì. Nu jetì de pice in de korbe pos itì a de vik id vendì la.
SUR LES BORDS DE LA BALTIQUE
A cette époque-là, c'était un an après la guerre, ma mère avait coutume de me réveiller tôt chaque matin. Puis nous prenions les paniers à poisson et nous allions à la plage. Nous restions là regardant la mer, en attendant le retour des bateaux de pêche. Le foulard de ma mère flottait au vent et ses yeux étaient gris et durs comme la mer. Mais dès que le bateau de mon père était en vue, elle souriait. Nous jetions les poissons dans les paniers, puis retournions au village où nous les vendions.
BY THE BALTIC SEA
In those days, that was a year after the war, my mother used to wake me early every morning. Then we took up the fish-baskets and went to the beach. There we stood watching the sea waiting for the fishing boats to come back. My mother's scarf was floating in the wind and her eyes were grey and hard like the sea. But as soon as my father's boat came into view, she smiled. We threw the fish into the baskets, then went back to the village where we sold it.
★ ★ ★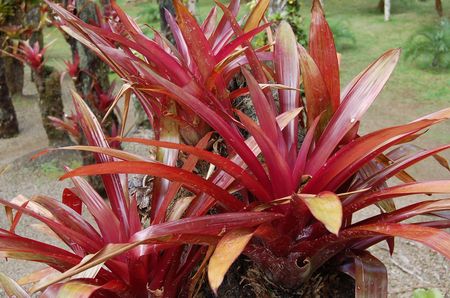 ★ ★ ★
Un alten tekst in veti Uropi, ustràj od u bib pa Simone de Beauvoir
Autre texte en Uropi ancien qui est un extrait d'un livre de Simone de Beauvoir.
Another short text in Old Uropi, which is an extract from a book by Simone de Beauvoir.
In àpomidjùe i sjudì sēdo su de balkòn de jédisàli, be lével ki de fòlade cādan Bulvar Raspaj, ed mi òje gì sògan pàsane. I konì tjo poj ov manére opgrénis po pròbo dikòvo do kéle apùntade lu sì hàstan, kéle sòrje, kéle spéje lu perì in sja. Ba li fàse, li figùre, de sōn li vòcis facinì ma. Vérim i moz nes ne uskléjo nam daj félic félad lu davì mo. Ba wan mi pàrene volì inmùvo in u pìni staʒ in Rue de Rennes, i rumèm wom dispéjen i sì. "De ljòte vàdan su strad, i ve nemu revìzo la". Daj sì cìzo ma ap mold, usbāno ma.
Be posmidiàs i siudì sedo su de balkòn de jedisali, be nivel ki de folade caman Bulvàr Raspàj, id mi oje itì slogan travadore. I konì tio poj ov de manire gresenis po probo diskrovo do ka kovize lu sì hastan, ka skure, ka spere lu sì peran in sia. Ba li fase, li figure, de zon li vocis facinì ma. Verim i moz nerim ne usklaro num da felic felad wen lu davì mo. Ba wan mi genore volì indomo be u pini staʒ in Rue de Rennes, i rumèn kim i sì disperen. "De liente vadan in de strad, i ve nemaj revizo la". Da sì cizo ma ap mold, usbando ma.
Les après-midi j'avais l'habitude de m'asseoir sur le balcon de la salle à manger, au niveau des frondaisons qui ombrageaient le Boulevard Raspail, et mon regard suivait les passants. Je connaissais trop peu les manières des adultes pour tenter de découvrir vers quels rendez-vous ils se hâtaient, quels soucis, quels espoirs ils portaient en eux. Mais leur visage, leur silhouette, le son de leur voix me fascinait. Je ne peux pas vraiment expliquer aujourd'hui ce sentiment de bonheur qu'ils me donnaient. Mais quand mes parents voulurent emménager au cinquième étage Rue de Rennes, je me souviens combien j'étais desepérée. "Les gens qui marchent dans la rue, je ne les reverrai jamais!". C'était me couper du monde, me bannir.
Désolé pour la "retraduction": je n'ai pas retrouvé le texte original
In the afternoons, I used to sit on the dining room balcony, level with the foliage that was shading Boulevard Raspail and my eyes were following the passers-by. I didn't know enough about the ways of grown-ups to try and discover what appointments they were hurrying to, what worries or hopes they were carrying with them. But their faces, their figures, the sound of their voices fascinated me. Today I can't really explain that happy feeling they gave me. But when my parents decided to move into a fourth floor in Rue de Rennes, I remember how desperate I was. "But the people walking in the street, I will never see them again!". That was cutting me off the world, banishing me.
★ ★ ★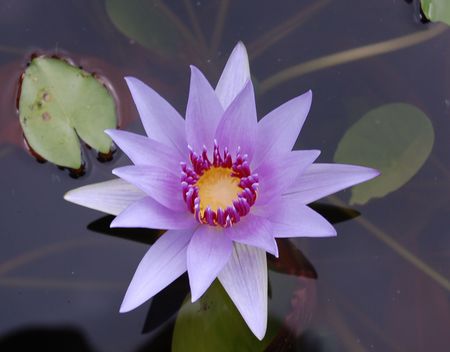 ★ ★ ★
Id num u poèm in midan Uropi pos David Diop, Senegali poèt, traduten beròn 1975. (Longi vokale av disvanen)
Et maintenant un poème en Uropi moyen d'après David Diop, poète sénégalais, traduit vers 1975. (les voyelles longues ont disparu)
And now a poem in Middle Uropi after David Diop, a Senegalese poet, translated around 1975 (long vowels have disappeared)
AFRIKA
Afrìka, mi Afrìka
Afrìka stoj wéroris in forgéni savàne
Afrìka we formàta sant
su ber ci dàli flùvi
J'av névos ta kònen
ba mi glad s' pòlen ti glòdi
ti bel nar glod gìjen tra pòlde
glod ti swèti
swet ti vàrki
vark sklàvadi
sklàvad ti kìdis.
Afrika, dez mo Afrika
s'je ʒe tu da ruk we boj
id leʒ niz ùde vez hùmlidi
da tréman ruk ki strìje rod
we dez aj a flog su mìdju ràde ?
Dàvos gràvim u voc mo ruvokì:
Baldi son, da dreb sa jun id krat
da dreb zadàl
dìvim sòlen be mid bij id fàden flòris
da s'Afrìka, ti Afrìka regrésan
régrésan, tòlsam, obténim
id wej frùce av gràdim
de àkri savòr slìbadi
AFRIKA
Afrika, mi Afrika
Afrika stol weroris in forgeni savanas
Afrika wen mi formata sant
su ber ci dali rivi
I av nevos ta konen
ba mi glad ki ti glod se polen
ti bel nar glod tra polde lijen
de glod ti sweti
de swet ti varki
de vark sklavadi
de sklavad ti kidis.
Afrika, dez mo Afrika
S'je ʒe tu da ruk bojan
leʒan niz ude vez udenizadi
da treman ruk ki strije roj
we dez aj a flog su de midiù rade ?
Davos gravim u voc mo ruvokì:
Baldi son, da drev sa jun id krati
da drev zadàl
splendim solen bemìd bij id wisten flore
da s' Afrìka, ti Afrìka regresan
regresan tolsam, obtenim
id wej frute av gradim
de bitri gust lifridi
AFRIQUE
Afrique mon Afrique
Afrique des fiers guerriers dans les savanes ancestrales
Afrique que chante ma grand-Mère
Au bord de son fleuve lointain
Je ne t'ai jamais connue
Mais mon regard est plein de ton sang
Ton beau sang noir à travers les champs répandu
Le sang de ta sueur
La sueur de ton travail
Le travail de l'esclavage
L'esclavage de tes enfants.
Afrique dis-moi Afrique
Est-ce donc toi ce dos qui se courbe
Et se couche sous le poids de l'humilité
Ce dos tremblant à zébrures rouges
Qui dit oui au fouet sur les routes de midi ?
Alors gravement une voix me répondit
Fils impétueux cet arbre robuste et jeune
Cet arbre là-bas
Splendidement seul au milieu de fleurs blanches et fanées
C'est l'Afrique ton Afrique qui repousse
Qui repousse patiemment obstinément
Et dont les fruits ont peu à peu
L'amère saveur de la liberté.
AFRICA
Africa, my Africa
Africa of proud warriors in ancestral savannahs
Africa of which my grandmother's singing
On the banks of her distant river
I have never known you
But my eyes are filled with your blood
Your beautiful black blood shed across the fields
The blood of your sweat
The sweat of your labour
The labour of slavery
The slavery of your children.
Africa, tell me Africa
Are you that back bending
And crouching under the burden of humility
That trembling back with red stripes
Who says yes to the whip on the roads at noon ?
Then gravely a voice answered to me
Dauntless son, that tree over there
That tree so strong and young
Splendidly alone among those white faded flowers
This is Africa, your Africa growing again
Growing again patiently, obstinately
And whose fruit are gradually gaining
The bitter flavour of freedom.
★ ★ ★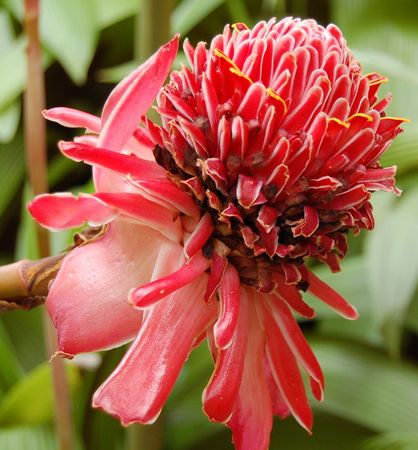 ★ ★ ★