★ ★ ★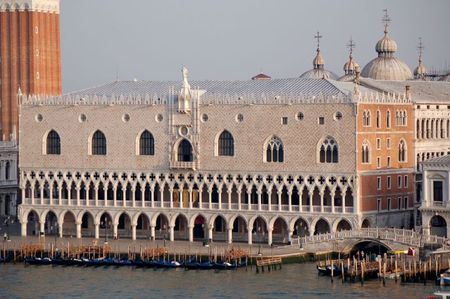 Veneza, de Duki Palàz
★ ★ ★
Ov Venete id de Venezi Dialèkt
★ ★ ★
Sluze a Venezi enigmas
Solutions aux énigmes - Solutions to the riddles
1) U drev, un arbre, a tree, un albero, 2) U nos, une noix, a walnut, una noce, 3) Hev, la levure, yeast, il lievito, 4) Un ov, un oeuf, an egg, un uovo, 5) De sezone, les saisons, the seasons, gli stagioni, 6) Kuble, les seaux, buckets, i secchi, 7) Vint, le vent, the wind, il vento, 8) Cerize, les cerises, cherries, ciliege, 9) Skrivad, écrire, writing, scrivere, 10) U sark, le cercueil, a coffin, la bara
Od ko venì Venete ?
Je stì vari grupe nomen Venete in Antikeve.
Prim u Gauli polk, tranomen pa Julius Cezar, we ʒivì in Morbihàn (Bretania) id davì ji nom a Vane (Gwened in Bretàni). Un alten grup ʒivì in nordosti Italia: je davì ji nom a Veneza. Je vid molvos kospeken te da du grupe av de som odvenad par de lingu semlide bespeken in de nome, intra altene. Pur di semlide moz os vido usklaren pa de kogenad intra Italiki id Kelti lingas. Fendim de nom "Venete" o "Venede" vidì os daven pa Germàne a u polk Mideuropu we dapòs vidì slavizen: Wende.
De hipotèz Martineti
André Martinet, de famos Franci linguìst, probàs de slogan hipotèz: Venete, un Indeuropan polk sì stalen beròn de prosàn Polskia be fend de trij - inìz de duj tiljàris for Krist. In da teme de dialekte we doʒì ageno maj posen de Kelti, Italiki, Germàni id Slavi lingas sì versemim jok intraincepli. Un part od la doʒì slogo Kelte do west id vidì kopolem Keltizen, trawàn altene itì do sud pos Italike, wej lingu influjad lu uditì. Fendim eke stajì su de sta, wo lu vidì versemim poj a poj Germanizen id pos kopolem Slavizen. Germàne proitì nomo Wende li sudosti nersane we avì num viden Slave.
Surs Wikipedia
* * *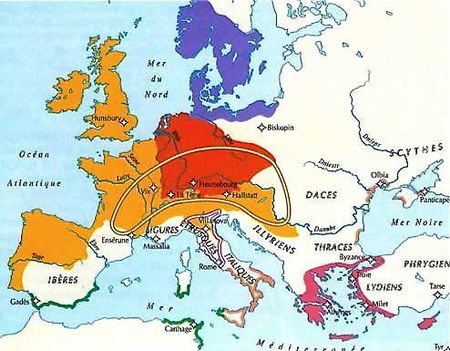 De disspanad Keltis in Europa

* * *
D'où venaient les Vénètes ?
Différents groupes portaient le nom de Vénètes dans l'Antiquité.
Tout d'abord un peuple gaulois, mentionné par Jules César, qui habitait dans le Morbihan actuel et a donné son nom à Vannes (Gwened en breton). Un autre groupe vivait dans le nord-est de l'Italie et a donné son nom à Venise. Ils sont fréquemment considérés comme ayant la même origine en raison des ressemblances linguistiques présentes entre autres dans l'onomastique, mais ces traits communs peuvent aussi être expliqués par la parenté entre les langues italiques et les langues celtiques. Enfin, le nom « Vénète » ou « Vénède » était également donné par les Germains à un peuple d'Europe centrale qui sera finalement slavisé, les Wendes.
L'Hypothèse de Martinet
André Martinet, le célèbre linguiste français propose l'hypothèse suivante: les Vénètes, peuple de langue indo-européenne étaient localisés vers la fin du 3e et le début du 2e millénaires av. J.C. aux environs de la Pologne actuelle. À cette époque, les dialectes qui allaient donner naissances aux langues celtiques, italiques, germaniques et slaves devaient encore être largement intercompréhensibles. Une partie d'entre eux à dû suivre vers l'Ouest les Celtes, pour finalement être complètement celtisée, alors que d'autres étaient entraînés vers le Sud dans le sillage des Italiques, dont ils subiront également l'influence linguistique. Enfin, certains restent sur place, où ils sont probablement progressivement germanisés, puis complètement slavisés. Les Germains continuent alors de désigner leurs voisins du Sud-Est, qui sont maintenant des Slaves, par le nom de « Wendes ».
Source Wikipedia
Where did the Veneti come from ?
Several groups of populations were called Veneti in antiquity.
First of all a Gaulish people, mentioned by Julius Caesar, who lived in South-western Brittany (Morbihan) and gave its name to the town of Vannes (Gwened in Breton). Another group lived in the North East of Italy and gave its name to Venice. They are often considered to have the same origin because of the linguistic similarities which you can find in names among other things, but these common features can also be explained by the relationship between Italic and Celtic languages. Finally the name « Veneti » ou « Venedi » was also given by the ancient Germans to a central-European people who was eventually "slavicized", the "Wends".
Martinet's Hypothesis
André Martinet, the famous French linguist suggests the following hypothesis: the Veneti, an Indo-European speaking people lived towards the end of the 3rd and the beginning of the 2nd millenia B.C. around what is Poland today. In those days, the people speaking the dialectswhich were to give birth to the Celtic, Italic, Germanic and Slavic languages could still broadly understand each other. Part of them must have followed the Celts westwards, and were eventually completely "celticized", while others went south in the wake of Italic peoples, who strongly influenced their language. Lastly, some of them stayed where they were, and were gradually germanized, before they were completely "slavicized". The Germans continued to call their south-east neighbours « Wends », although thay had become Slavs by then.
Source Wikipedia
* * *
Venezia odia

* * *
Venezi, Veneti, Venezu…
Venezi in Uropi se de dialèkt voken in de regiòn Venezia in nordosti Italia odia id de adjetìv koruvokan a da regiòn. Veneti se de adjetìv id de linga Venetis, da veti polk we venì polko da regiòn in Antikeve. Venezu se de adjetìv koruvokan a de pol Veneza.
Venezi en Uropi est le dialecte parlé aujourd'hui en Vénétie dans le nord-est de l'Italie et l'adjectif qui se réfère à cette région. Veneti est l'adjectif et la langue des Vénètes, ce peuple ancien qui est venu peupler cette région dans l'Antiquité. Venezu est l'adjectif correspondant à la ville de Venise (Veneza).
Venezi in Uropi is the dialect spoken today in the Veneto in the North-East of Italy and the adjective referring to that region. Veneti is the adjective and language of the Veneti, an ancient people who came and populated that region in antiquity. Venezu is the adjective corresponding to the town of Venice (Veneza).
* * *
Aksente in Venezi id Uropi
Accento grafico e accento tonico
"L'accento grafico proposto dal Manuale di Grafia Veneta Unitaria (per il dialetto del Veneto) è l'accento grave ( ` ) per tutte le vocali e l'accento acuto ( ´ ) per indicare la pronuncia (semi)chiusa di <e> e <o> toniche (rispettivamente [e] e [o]). L'accento grafico è posto sulla vocale su cui cade l'accento tonico. Se una parola in veneto non ha l'accento grafico, si pronuncia piana (con l'accento tonico sulla penultima sillaba) se termina per vocale e si pronuncia tronca (con l'accento tonico sull'ultima sillaba) se termina per consonante."
Skriven aksènt id tuni aksènt
"De skriven aksènt probasen pa de Manuale di Grafia Veneta Unitaria (po de Venezi dialèkt) se de gravi aksènt ( ` ) po tale vokale id de aki aksènt ( ´ )* po indiko de mij-kluzen usvòk tuni e id o, da se [e] id [o]. De aksènt vid skriven su de vokàl wo fal de tuni aksènt. Wan u vord in Venezi av ne skriven aksènt, je sin te de tuni aksènt fal su de forposni silàb, wan je fend ki u vokàl, id su de posni silàb wan je fend ki u kozòn."*
Surs Wikipedia
* De disemide ki Uropi se du. (De semlide se skriven in bran sube)
1) Je ste in nun kaz un aki aksènt in Uropi id u skriven aksènt met nevos de usvòk u vokali.
2) Wan un vord vid aksenten su de posni silàb, in Uropi, un skriv talvos de aksènt, is de vord fend ki u kozòn, po s. silàb, kozòn, aksènt…, o is je fend ki u vokàl: herò, menù, taksì, klicè…
Accent écrit et accent tonique
"L'accent écrit proposé par le Manuale di Grafia Veneta Unitaria (pour le dialecte de Vénétie) est l'accent grave sur toutes les voyelles et l'accent aigu pour indiquer la prononciation (semi-)fermée du e et du o toniques, respectivement [e] et [o]. L'accent graphique se place sur la voyelle accentuée. Si un mot du dialecte veneto n'a pas d'accent écrit, cela signifie que l'accent tonique tombe sur l'avant dernière syllabe s'il se termine par une voyelle, et sur la dernière syllabe s'il se termine par une consonne"
Source Wikipedia

Les différences avec l'Uropi sont au nombre de deux. (Les similitudes sont écrites en bleu ci-dessus)
1) Il n'y a en aucun cas d'accent aigu en Uropi, et un accent écrit ne modifie jamais la prononciation d'une voyelle
2) Quand un mot est accentué sur la dernière syllabe, il porte toujours un accent écrit, qu'il se termine par une consonne, par ex. silàb, kozòn, aksènt (syllabe, consonne, accent)…ou par une voyelle: herò, menù, taksì, klicè… (héros, menu, taxi, cliché).
* * *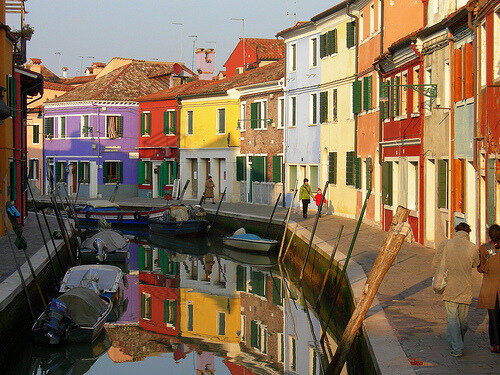 De isel Burano in Veneza

* * *
Written accent and stress
"According to the proposals of the Manuale di Grafia Veneta Unitaria (for the Veneto dialect) the written accent is a grave accent on all vowels and an acute accent to indicate the pronunciation of the (semi-)closed tonic e and o, respectively [e] and [o]. The written accent is placed on the stressed vowel. If a Veneto word has no written accent, it means that the stress falls on the penultimate syllable when it ends with a vowel, and on the last syllable when it ends with a consonant"
Source Wikipedia
The differences with Uropi are two in number. (The similarities are written in purple above).
1) There is no acute accent in Uropi, and a written accent never alters the pronunciation of a vowel
2) When a word is stressed on the last syllable, it always bears a written accent, whether it ends with a consonant, for ex. silàb, kozòn, aksènt (syllable, consonant, accent)…or with a vowel: herò, menù, taksì, klicè… (hero, menu, taxi, cliché).
* * *
Eke Venezi provorde
Quelques proverbes de Vénétie - A few proverbs in the Veneto dialect
Ve. Chi che no gà testa, gà gambe.
Ur. We av ne keb, doʒ avo game
Fr. Qui n'a pas de tête a des jambes
Eng. Who has no head must have legs
It. Chi non ha la testa, ha le gambe.
Ve. A robar poco se va in galera, a robar tanto se fa cariera.
Ur. We rob poj it a karsia, we rob mol det u karièr
Fr. Quand on vole un peu, on va aux galères, quand on vole beaucoup on fait carrière
Eng. He who robs little goes to gaol, he who robs a lot makes a career
It. Rubando poco si va in galera, rubando tanto si fa carriera.
Ve. Do buxie fa 'na verità.
Ur. Du luʒe det u verid
Fr. Deux mensonges font une vérité
Eng. Two lies make a truth
It. Due bugie fanno una verità.
Ve. A star co i can, se inpara a xbayar.
Ur. Stajan ki kune, un ler bawo
Fr. En restant avec les chiens, on apprend à aboyer
Eng. When you stay with dogs, you learn how to bark
It. Stando con i cani si impara ad abbaiare.
* * *
De Pont Sofis in Veneza

* * *
Ve. Do ochi i vet pi de un.
Ur. Du oje viz maj te un
Fr. Deux yeux voient mieux qu'un
Eng. Two eyes see better than one
It. Due occhi vedono più di uno.
Ve. Inte l'simitero tuti i é conpañi.
Ur. In de grubia, tale se kopanore
Fr. Au cimetière, tous sont des compagnons
Eng. In the graveyard, all are companions
It. Dentro il cimitero tutti sono compagni.
Ve. Amor de mare, amor de mato.
Ur. Matu liam se mati liam
Fr. Amour de mère est amour fou
Eng. A mother's love is a mad love
It. Amore di madre, amore pazzo.