★ ★ ★
* Uropi Nove 61 * Uropi Nove 61 * Uropi Nove 61 *

★ ★ ★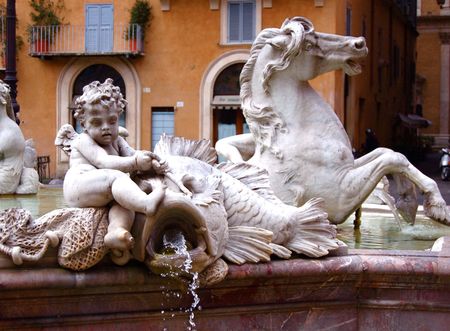 Piazza Navona in Roma

★ ★ ★
Parkà Europa ? U kest proʒivadi.
★ ★ ★
Kofasen ki de cok ʒigànis (Cinia, India, USA) we se disskutan ni planet, Europa av nemaj uscèp: je doʒ univo po begaro u voc, u spas in mold, o pur disvano.
Ba ka se ʒe Europa ? Je s'ne solem u Komisiòn in Brusèl, direktive we se no anincepli o anacepli, u Parlamènt in Strasbùrg, wej mogade se mol limiten, je s'ne solem u flag ki u stelikìrk, id jok min u himna (a glajad, ka ironij !) wen nekun kon…, Europa se u civilizad. U gren, varitiljàri civilizad wim se de Cini, Indian, Muslimi civilizade, wim sì de Egiptan, de Amerindian civilizade id de Afrikan imperias.
Di civilizad vizì ma geno id greso, di civilizad av ma nuren id instruen. Ni mastore sì Aristote id Platòn, Marcus Aurelius id Ciceròn, Sait Agustin, Dante, Montaigne, Shakespeare id Cervantes, Voltaire, Rousseau, Kant, Goethe, Bach, Mozart, Vivaldi, Verdi, Tcekhov, Dostojevski, Picasso, Goya, Botticelli, Mikelanʒel, Sartre, Camus, Bergman, Fellini, Almodóvar … is suntade altene … Moretti, Haneke, De Ʒiv Altenis … id pos … pos nit maj … Avev Europa silen ? Sev je insopen o usmoran ?
Anestezijen in de fluj produtis made in USA, ò kulturi (muzik, filme id serije), ò koki (koka, burger, ketcap) unzatim, id altenzatim udedupen in de mas nizikalitadi produtis maken pa de Cini indutrij, Europa ruvòk nemaj, Europa prodùt nemaj (usim mojse jok, partim, mi Volkswagen); ji industrije it ap, ji cerne flig ap, ji monet vakìl. Indèt Europa sem maj usmoran te insopen.
De problèm se Europa av nemaj u viziòn. Se je par ji politane vid jok facinen pa de "Amerikan soin", obte tale ji fajade (od wen de kriz de subprimes se de posni episòd) ? Soino ov Amerika pervèn no vizo Europa, id sim imaʒino id struo de Europa domòri.
★ ★ ★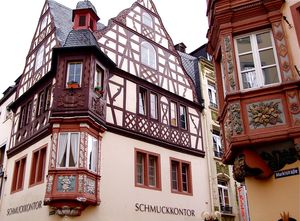 Seni Hase in Koblens, Doskia
★ ★ ★
Zi un doʒ udelino de disemid intra na id ni Amerikan frame. "Nu av mole komùn punte ki Amerikane - dezì Oscar Wilde - usim ʒe de linga". Obte tale ni vizli somide, nu ʒiv ne in de som dismèz. Amerika se distense, spas, suplàs. "My surface is myself…" dezì de poèt Walt Whitman, id indèt hi poème ustèns do anfendid - nevos Baudelaire o Rilke avev skriven da. Bij Amerika av u kurti històr (pen 3 ½ suntjàre), ji dismèz se geografij. Od wo de mita "de frontiu", talvos novi tere, "a new frontier", u novi spas (in obe sine de vordi) po kovaldo. Unizen State od di vizipùnt, somiv mol a li fensi frat be ost, Rusia we av os ji vasti spase, ji Far East, Sibiria.
Europane begòn, av frontias ingraven in li mente dod de dalies Antikeve: frontias intra de Greci pole, intra de Gauli tribe. Jaki has se u frontia, "Mi has se mi kastèl…"; jaki kamar inia de has se u frontia, jaki feud, jaki provìns, jaki stat se u frontia. Po un Europan, u frontia se ne u novi horizòn po atogo, po kovaldo; je s'u barièr intra na id ni nersan: u barièr we pervèn no ito do de alten id tenso ho mand.
Europan av ne spas, ne distèns po muvo ap; suprù he kogòn, ekvos koplàg ki hi nersan wen he incèp ne, id pardà nu avì da anfendi were tra suntjàre. De dismèz Europu se històr, ne vasti distense, ba de duvad temi. Nu se polke històri, ne polke od pasen, wim ekune volev ja, ba inroden polke. Ni rode ʒe nur na id pomòz no proso ni raste talvos holes in hel, da se usfindo ni futùr. Koto ap ni rode sinev po na siamurdo: wim nu moz ne ito ap do novi tere, nu vid perʒuden a moro su de sta.
"Europa se vidan struen. Di se u gren sperad we ve vido realizen solem is je ten històr in kont: Un Europa ane històr sev orfàni id mizeric. Par odia gen od jesta id domòr se de frut od pasen. U pasen we doʒ ne paralìzo prosàn, ba eldo ja vido disemi in fedenad, id novi in progrès. Intra Atlanti, Azia id Afrika, ni Europa se esistan in fakt dod u mol longi tem, trasen pa geografij, modelen pa històr, dod wan Grece davì jo u nom. Ni futùr doʒ stabo su da erdade, wen dod Antikeve, po ne dezo dod forhistòr, av gradim inricen Europa, detan ja usordenim kreativi in ji unid id ji varid, oʒe in u maj vasti moldi kontèkst."
Jacques Le Goff, Franci historìst in hi forvòrd a Alla Ricerca della lingua perfetta (Cekan de perfeti linga) pa Umberto Eco.
★ ★ ★
Greci vaz

★ ★ ★
De uni mod po na, Europan polke, uvepaso ni engi spase po asiavo da distèns, da dismèz wen nu disàt in de ev ʒigànis in u molipolu mold, se univo intra sone de som famili, de som civilizadi.
Da frontias-bariere apcizan Europane od unaltem vid konkretizen in li lingas: po vaizo aròn de Europan Uniòn intra ji cevi kebipole, nu doʒ trareno beròn 10500 kme avim id voko bemìn 19 disemi lingas po komuniko ki de polkad, obwàn po vaizo aròn de cevi pole Unizen Statis, un ve trareno 13700 kme, uzan solem un linga: Engli.
Je se klar te Europane ve ne mozo univo os longim te lu av ne, wim Amerikane (we se tale od mol vari odvenade, oblasem ne ja), lu os u komùn linga, we pomozev lo komuniko intra la id uvepaso de bariere. Procizem te - gonim a Eurò - u komùn linga sin ne un uni linga; un od de rolas, id ne de mines, da komùn lingu se protego id promuvo de linga id kultùr jaki Europani: "Unid in Varid".
Je se os klar te di komùn linga moz ne so Engli, we dupev suprù Europane ru in li "Amerikan soin", pervenan lo sim imaʒino id struo de Europa domòri. Uvedà Engli - ba os ani alten nasioni linga we videv uscepen - sin u perij po de alten lingas id kulture. Eni valdan linga tend a uskluzo alten lingas id in longi term deto la usmoro; di se wa Claude Hagège nom u tudor-linga (killer language). Solem un intranasioni eldilinga, IEL, pomozev no apzato da perij. Zis wa Umberto Eco dez ov ja in Alla ricerca della lingua perfetta, p. 360.
"Di fronte al rischio che in una futura unione europea possa prevalere una lingua di una sola nazione, gli stati che hanno poche possibilità di imporre la propria lingua, e che temono il predominio di quella altrui (e dunque tutti meno uno) potrebbero iniziare a sostenere l'adozione di una LIA."
(Kofasan de risk te in u futuri Europan uniòn moz privaldo de linga u solen nasioni, de state we av poje mozlide po inforso li siavi linga, id we fraj de valdad de linga altenis (sim tale usim un), mozev inizo supero de adoptad un IELu.)
★ ★ ★
De tri flage : Andalusi, Espàni id Europan, su maribèr in Andalusia

★ ★ ★
Pardà i av kreaten Uropi, u komùn linga po Europa, od de komùn Indeuropan rode, id a wen partinèm jaki Europan linga. Par "domòr se de frut od pasen" in de vorde Jacques le Goff, Uropi av slogen de usvolpad da komùn Indeuropan rodis dod forhistòr a numidiàs. Uvedà, jaki linga, is je se miki (Dani, Albàni, Rumàni…) o gren (Engli, Espàni, Doski, Franci) in ji numar vokoris, is je se inia o usia de Europan Uniòn (wim Rusi po samp), apèr ji kam a de struad.
Po ji politane, Europa odia vid resumen a probleme publiki defisitis (3% o 4,5% o…). "Un inliàm ne ki u taz gresadi" skrivì june su mure in Maj 68; un inliàm os ne ki u publiki defisìt. Je se ʒe tem rupaco Europa ki ji politane, apdalo ja od finàns id probaso u viziòn pote nu moz imaʒino de Europa domòri.
★ ★ ★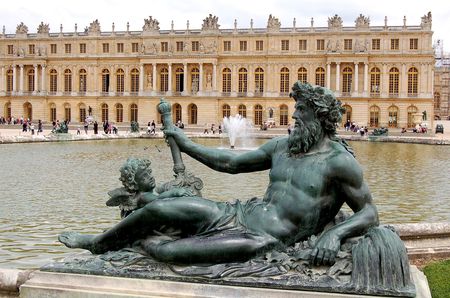 De Versaji Palàz, Francia
★ ★ ★
Pourquoi l'Europe ? Une question de survie.
★ ★ ★
Face au choc des titans (Chine, Inde, États-Unis) qui ébranle notre planète, l'Europe n'a plus le choix: il lui faut s'unir pour conserver une voix et un espace dans ce monde, ou bien disparaître.
Mais qu'est-ce donc que l'Europe ? Ce n'est pas seulement une Commission à Bruxelles, des directives qui nous échappent ou nous rebutent, un Parlement, à Strasbourg, dont les pouvoirs sont très limités, ce n'est pas seulement un drapeau au cercle étoilé, encore moins un hymne (à la joie, quelle ironie !) que tout le monde ignore, l'Europe c'est une civilisation. Une grande civilisation pluri-millénaire, tout comme le sont les civilisations chinoise, indienne, musulmane, et comme le furent les civilisations égyptienne et amérindiennes et les empires africains.
C'est cette civilisation qui m'a vu naître et grandir, qui m'a nourri, qui m'a formé, a façonné notre façon de penser. Nos maîtres ont été Aristote et Platon, Marc Aurèle et Cicéron, Saint Augustin, Dante, Montaigne, Shakespeare et Cervantès, Voltaire, Rousseau, Kant, Goethe, Bach, Mozart, Vivaldi, Verdi, Tchékhov, Dostoïevski, Picasso, Goya, Botticelli, Michel-Ange, Sartre, Camus, Bergman, Fellini, Almodóvar … et des centaines d'autres … Moretti, Haneke, La Vie des Autres … et puis…plus rien… L'Europe se serait tue ? Endormie ou moribonde ?
Anesthésiée sous le flot de produits culturels (musique, films et séries) et culinaires (coca, burger, ketchup) made in USA d'un côté, et submergée de l'autre par la masse des produits bas-de-gamme fabriqués par l'industrie chinoise, l'Europe ne répond plus, l'Europe ne produit plus (sauf peut être encore et en partie ma Volkswagen); ses industries s'en vont, ses cerveaux s'enfuient, sa monnaie vacille. L'Europe semble en effet plus moribonde qu'endormie.
Le problème, c'est que l'Europe n'a plus de vision. Est-ce dû à la fascination qu'exerce encore, sur ses citoyens le "rêve américain" malgré tous ses déboires (la crise des subprimes en étant le dernier épisode) ? Rêver de l'Amérique nous empêche de voir l'Europe, donc d'imaginer et de construire l'Europe de demain.
★ ★ ★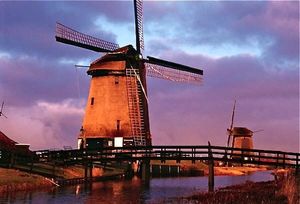 Vintimulias in Nizilànd

★ ★ ★
C'est ici qu'il nous faut souligner la différence entre nous et nos amis américains. "Nous avons beaucoup de points communs avec les Américains - disait Oscar Wilde - sauf la langue". En dépit de toutes nos ressemblances visibles, nous ne vivons pas dans la même dimension. L'Amérique, c'est l'étendue, l'espace, la surface. "My surface is myself…" disait le poète Walt Whitman, et de fait ses poèmes s'étendent à l'infini - jamais Baudelaire ou Rilke n'auraient écrit cela. L'Amérique blanche a peu d'histoire (à peine 3 siècles et demi), sa dimension c'est la géographie. D'où le mythe de la frontière, toujours de nouvelles terres, "a new frontier", un nouvel espace (dans les deux sens du terme) à conquérir. Les États-Unis, de ce point de vue, ressemblent beaucoup à leur frère ennemi de l'est, la Russie, qui, elle aussi, a ses grands espaces, son Far East, la Sibérie.
Les Européens, au contraire ont des frontières intégrées dans la tête depuis la plus haute antiquité: frontières entre les cités grecques, entre les tribus gauloises. Chaque maison est une frontière "Ma maison est mon château, mon Louvre et mon Fontainebleau…"; chaque chambre, à l'intérieur de la maison est une frontière, chaque fief, chaque province, chaque état est une frontière. Pour l'Européen une frontière n'est pas un nouvel horizon à atteindre, à conquérir; c'est une barrière entre nous et notre voisin: barrière qui nous empêche d'aller vers l'autre et de lui tendre la main.
L'Européen n'a pas d'espace, d'étendue pour se déplacer, il rencontre aussitôt, parfois se heurte à son voisin qu'il ne comprend pas, d'où ces interminables guerres au cours des siècles. La dimension de l'Europe, c'est l'histoire, non pas les vastes étendues, mais la profondeur du temps. Nous sommes des peuples de l'histoire, non pas des peuples du passé, comme le voudraient certains, mais des peuples enracinés. Ce sont nos racines qui nous nourrissent et nous permettent de pousser nos rameaux toujours plus haut dans le ciel, c'est à dire d'inventer notre avenir. Nous couper de nos racines équivaudrait pour nous à un suicide; nous ne pouvons aller vers des terres nouvelles, pour recommencer une vie nouvelle; nous sommes condamnés à périr sur place.
"L'Europe se construit, c'est une grande espérance qui se réalisera seulement si elle tient compte de l'histoire: une Europe sans histoire serait orpheline et misérable. Parce qu'aujourd'hui nait d'hier et que demain est le fruit du passé: un passé qui ne doit pas paralyser le présent, mais l'aider à être différent dans la fidélité, et nouveau dans le progrès. Entre l'Atlantique, l'Asie et l'Afrique, notre Europe existe en fait depuis très longtemps, dessinée par la géographie, modelée par l'histoire depuis que les Grecs lui ont donné son nom. L'avenir doit s'appuyer sur ces héritages qui, depuis l'antiquité, voire depuis la préhistoire, ont progressivement enrichi l'Europe en la rendant extraordinairement créative dans son unité et sa diversité, y compris dans un contexte mondial plus vaste."
Jacques Le Goff, historien, préface de Alla ricerca della lingua perfetta (A la recherche de la langue parfaite) de Umberto Eco.
★ ★ ★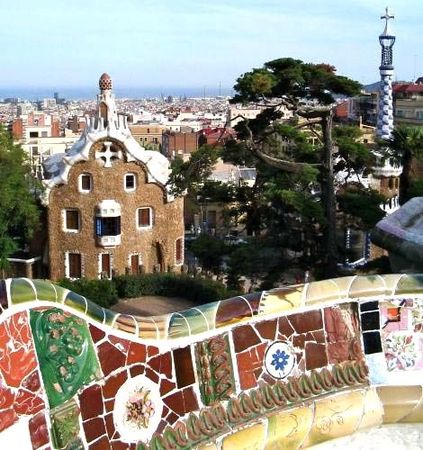 Park Guell, in Barselona

★ ★ ★
La seule façon pour nous, peuples d'Europe, de dépasser nos espaces étriqués pour conquérir cette étendue, cette dimension qui nous manque, à l'ère des géants, dans un monde multipolaire, c'est de nous unir en tant que fils de la même famille, de la même civilisation.
Ces frontières-barrières qui séparent les Européens sont concrétisées dans leurs langues: pour faire le tour de l'Union Européenne en reliant ses principales capitales, il nous faut parcourir environ 10500 km en avion et parler au moins 19 langues différentes pour communiquer avec les habitants, alors qu'en faisant le tour des principales villes des Etats-Unis, on parcourt 13700 km, et une seule langue nous suffit: l'anglais.
Il est clair que les Européens ne pourront pas s'unir tant qu'ils n'auront pas, comme les Américains (d'origines très différentes, faut-il le rappeler ?), eux aussi, une langue commune qui leur permette de communiquer entre eux et de franchir ces barrières. Précisons que - à la différence de l'Euro - une langue commune ne veut pas dire une langue unique, une des fonctions, et non des moindres, de cette langue commune étant de protéger et de promouvoir la langue et la culture de chaque Européen, "Unité dans la Diversité".
Il est clair aussi que cette langue commune ne peut pas être l'anglais, qui replongerait aussitôt l'Européen dans son rêve américain, l'empêchant ainsi d'imaginer et de construire l'Europe de demain. En outre l'anglais - mais aussi toute autre langue nationale qui serait choisie - représente un danger pour les autres langues et cultures. Toute langue dominante tend à marginaliser les autres langues, et à la longue, les faire disparaître; c'est ce que Claude Hagège appelle "langue tueuse" (killer language). Seule une langue auxiliaire internationale permettrait d'écarter ce danger. Voici ce qu'en dit Umberto Eco dans Alla ricerca della lingua perfetta, p. 360:
★ ★ ★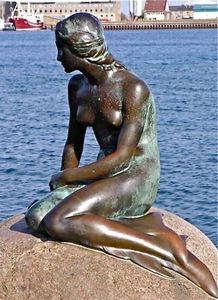 De miki marʒika, in Kopenhàv, Danmàrk

★ ★ ★
"Di fronte al rischio che in una futura unione europea possa prevalere una lingua di una sola nazione, gli stati che hanno poche possibilità di imporre la propria lingua, e che temono il predominio di quella altrui (e dunque tutti meno uno) potrebbero iniziare a sostenere l'adozione di una LIA"
(Face au risque que, dans une future union européenne, puisse prévaloir la langue d'une seule nation, les états qui ont peu de possibilités d'imposer leur propre langue, et qui craignent la suprématie de la langue d'autrui (donc tous sauf un), pourraient bien commencer à soutenir d'adoption d'une LAI (langue auxiliaire internationale).
Voilà pourquoi j'ai créé l'Uropi, une langue commune pour l'Europe, à partir des racines indo-européennes communes, et à laquelle chacune des langues d'Europe participe. "Parce que demain est le fruit du passé" pour reprendre les termes de Jacques Le Goff, l'Uropi suit l'évolution de ces racines indo-européennes communes de la préhistoire à nos jours. En outre, qu'elle soit réduite (danois, albanais, roumain), ou importante (anglais, espagnol, allemand, français…) en nombre de locuteurs, qu'elle soit intérieure ou extérieure à l'UE (comme le russe par exemple) chaque langue apporte sa pierre à l'édifice.
Pour ses citoyens, l'Europe se résume aujourd'hui à des problèmes de déficits publics (3% ou 4,5% ou…). "On ne tombe pas amoureux d'un taux de croissance" écrivait la jeunesse sur les murs en mai 68; on ne tombe pas non plus amoureux d'un déficit public ! Il est grand temps de réconcilier l'Europe avec ses citoyens, l'éloigner de la finance, et proposer une vision pour que nous puissions enfin imaginer l'Europe de demain.
★ ★ ★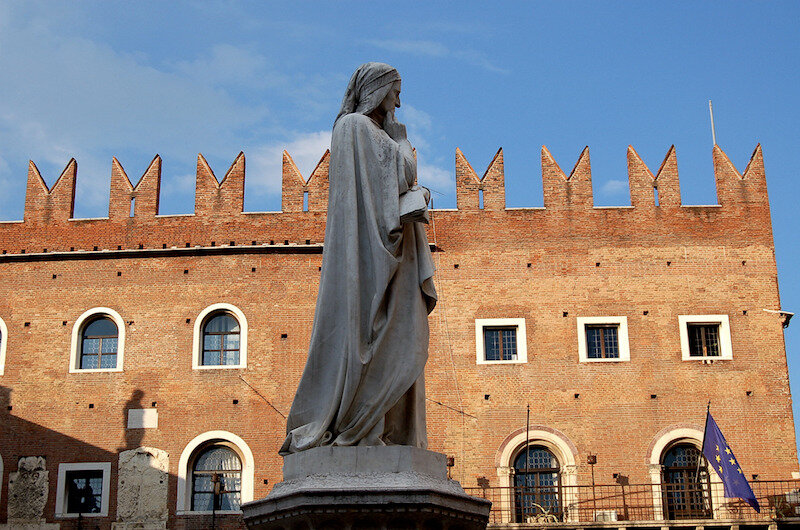 Dante Alighieri, in Verona, Italia

★ ★ ★
Why Europe ? A question of survival.
★ ★ ★
Facing the clash between giants (China, India, the USA…) that is shaking our planet, Europe has no choice: either we unite in order to make our voice heard in this world and preserve a space to live in, or we die out.
But what is Europe, then ? It is not only a Commission in Brussels, directives we don't understand or reject, a Parliament in Strasbourg whose powers are rather limited, it is not only a blue flag with a star-studded circle, an anthem (dedicated to joy, ironically) that nobody knows…, Europe is a civilisation. A great several-thousand-year-old civilisation, just like the Chinese, Indian, Muslim civilisations, just as the Egyptian, American Indian civilisations and the African empires were.
I was born and grew up in this civilisation that nourrished me, trained me and educated me, shaped our way of thinking. Our Masters were Aristotle and Plato, Marcus Aurelius and Cicero, Saint Augustine, Dante, Montaigne, Shakespeare, Cervantes, Voltaire, Rousseau, Kant, Goethe, Bach, Mozart, Vivaldi, Verdi, Chekhov, Dostoyevsky, Picasso, Goya, Botticelli, Michelangelo, Sartre, Camus, Bergman, Fellini, Almodóvar … and hundreds of others… Moretti, Haneke, Das Leben der anderen (The life of others) … and then… nothing else… Why has Europe become silent ? Is it asleep or half-dead ?
Benumbed in the flow of cultural products (music, films and series) and foodstuffs (coke, burgers and ketchup) made in USA on the one hand, and overwhelmed with masses of low-quality products manufactured by the Chinese industry on the other hand, Europe no longer responds, no longer reacts, no longer produces anything (except, perhaps, in part, my Volkswagen): its industries are leaving, its brains deserting, its currency is threatened. Indeed Europe seems rather moribund than asleep.
The problem is Europe no longer has a vision of the future. Perhaps its citizens are still too fascinated by the "American Dream" in spite of all its setbacks and failures (the most recent one being the subprimes crisis). Dreaming of America prevents us from seing Europe and thus from imagining and building the Europe of tomorrow.
★ ★ ★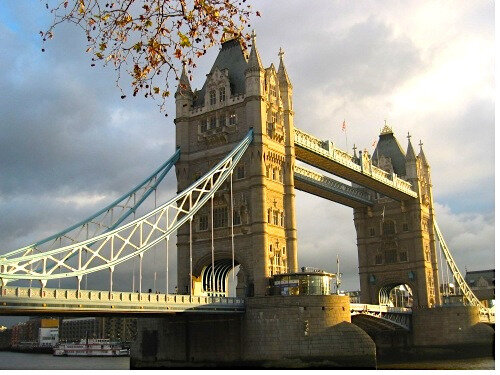 De Toripònt in London

★ ★ ★
At this point we should emphasize the difference between us and our American friends. "We have many things in common with Americans, Oscar Wilde said, except the language". In spite of all our visible likeness, we do not live in the same dimension. America is expanse, extent, space, surface. "My surface is myself…" said the poet Walt Whitman, and indeed his poems stretch away endlessly - never Baudelaire or Rilke would have written that. White America has a relatively short history (hardly 3 and a half centuries), its dimension is geography. Hence the myth of the frontier with always new territories, a new space (in both meanings of the word) to conquer, a "new frontier". In this respect, the USA are very similar to their eastern counterpart and former enemy Russia which also has its vast stretches of land, its "Far East", Siberia.
Europeans, on the contrary, have had frontiers embedded in their minds from earliest antiquity: frontiers between Greek cities, between Celtic or Germanic tribes. Each home is a frontier, "an Englishman's home is his castle…", each room in the home is a frontier, each fief, each shire, each province, each state is a frontier. For the European, a frontier is not a new horizon to reach, to conquer; it is a barrier between us and our neighbours preventing us from approaching the others and holding out our hands to them.
The European has no space to move around; no sooner has he left his garden than he comes across, sometimes collides with his neighbour, whom he does not understand, hence the endless wars for centuries. Europe's dimension is history, not vast stretches of land, but the depth of time. We are historical peoples, not peoples of the past, as some would have it (not hysterical peoples either !), but peoples with roots. Our roots nourrish us and make our branches grow farther and farther up into the sky, so that we might create our own future. To cut off our roots would mean for us committing suicide: we are condemned to dying out on the spot.
★ ★ ★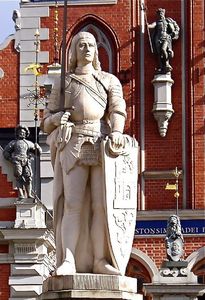 U kwalor in Riga, Latvia

★ ★ ★
"Europe is being built. This is a great hope that will only come true if we take our history into account: a Europe without history would be orphaned and miserable. Because today was born of yesterday and tomorrow is the fruit of the past: a past that should not paralyse the present, but should contribute to make it different in its faithfulness and new in line with progress. Between the Atlantic, Asia and Africa, our Europe has in fact been existing for a very long time, designed by geography, moulded by history from the time when the Greeks gave it its name. Our future should rest on this multiple heritage which, since antiquity and even since prehistory, has gradually enriched Europe, making it exceptionally creative in its unity and its diversity, and also in a wider global context."
Jacques Le Goff, a French historian in his foreword to Alla ricerca della lingua perfetta (In search of the perfect language) by Umberto Eco.
The only way for us, peoples of Europe, to go beyond our cramped spaces, to conquer that expanse, that dimension we lack, in the era of giants in a multipolar world, is to unite as children of the same family, of the same civilisation.
These barrier-frontiers separating Europeans are materialized in their languages: to travel around the European Union from capital to capital you have to cover about 6500 miles by plane and speak at least 19 different languages to communicate with people, whereas when you travel around the USA from one city to another you cover 8500 miles and you need only one language: English.
It is quite clear that Europeans can never unite as long as they do not have a common language like Americans (who are also from different origins, must it be reminded ?), a common language that would enable them to communicate with each other and overcome all those barriers. Let me point out that - unlike the Euro - a common language doesn't mean a single language, quite the contrary, one of the functions of this common language being to protect and promote each European's language and culture, "Unity in Diversity".
★ ★ ★
Karli Pont in Praga, Tceki Republik
★ ★ ★★ ★
It is also clear that this common language cannot be English, which would plunge Europeans back into their American dream, and thus prevent them from imagining and building tomorrow's Europe. Besides English - as any other national language if it was chosen - represents a danger for the other languages and cultures. Any dominant language tends to marginalize the other languages and, in the long run, to make them disappear; this is what Claude Hagège calls a killer language. Only an international auxiliary language (IAL) could remove that risk. Here is what Umberto Eco says about it in his book Alla ricerca della lingua perfetta, p. 360
"Di fronte al rischio che in una futura unione europea possa prevalere una lingua di una sola nazione, gli stati che hanno poche possibilità di imporre la propria lingua, e che temono il predominio di quella altrui (e dunque tutti meno uno) potrebbero iniziare a sostenere l'adozione di una LIA."
(Facing the risk that, in a future European union the language of only one nation might prevail, the states who have few possibilities to impose their own language and who are afraid of the domination of another nation's language (that is all of them but one) might very well support the adoption of an IAL.)
This is why I have created Uropi, a common language for Europe, from the Indo-European roots that are common to nearly all European languages. Because "tomorrow is the fruit of the past", to take up Jacques Le Goff's words, Uropi has been closely following the evolution of those roots through centuries, from prehistory to modern times. All European languages have taken part in its elaboration: each language, whatever its number of speakers, whether it is rather small like Danish, Albanian, Rumanian or rather big like English, Spanish, German, French, whether it is inside or outside the EU (like Russian for example), has made its own contribution to the building of Uropi.
For its citizens today Europe seems to boil down to problems of public deficits (3% or 4.5% or…). "You don't fall in love with a growth rate" young people wrote on the walls in May 68; you don't fall in love with a public deficit either ! It is high time to reconcile Europe with its citizens, to take it away from international finance and to provide a vision of the future so that we might at last be able to imagine the Europe of tomorrow.
★ ★ ★
Bizanti ikona in Areopoli, Mania, Grecia
★ ★ ★