★ ★ ★
* Uropi Nove 70 * Uropi Nove 70 * Uropi Nove 70 *

★ ★ ★
★ ★ ★
Forum de lingus Moldi in Tulùz
★ ★ ★
Be Soldia 26i Maj, po de kweri jar nu ve partinemo in de Forum de Lingus Moldi in Tulùz su Plaz de Kapitoli. Wim jaki jar je ve sto maj te 100 stande prostalan nerim tale Europan lingas, ba os mole lingas od Azia wim Hindi o Vietnami, od Afrika, od Sudamerika wim Ketcua o Gwarani… i.s.p…
Eke stande ve diko vo Arabi kaligrafij o kim traso Cini o Japoni ideograme, o usklaro vo kim vidì formen Midimari alfabete: Egiptan, Fenician, Hebràj, Greci, Latini, i.s.p…
In mole stande, ba os su de skenia id su de Oksitani Kros bemìd de Plazi, vari kulturi prostalade ve avo sta: muzik, danse, Marsi arte, lisad poèmis, i.s.p…
Is usfalim vu se in de Tuluzi regiòn, vaizan o doman za, vene vizito de Forum de Lingus Moldi; nu ve so mol felic procepo va be de Uropi stand.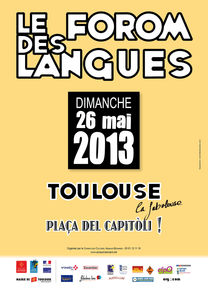 ★ ★ ★
Forum des langues de Toulouse
★ ★ ★
Dimanche 26 mai, pour la 4e année consécutive, nous participerons au Forum des Lanagues de Toulouse sur la Place du Capitole. Comme chaque année, plus de 100 stands présenteront la quasi-totalité des langues européennes, mais aussi des langues d'Asie comme le hindi ou le vietnamien, d'Afrique, d'Amérique du sud, comme le quechua ou le guarani, …
Certains stands vous initieront à la calligraphie arabe, aux idéogrammes chinois ou japonais; on vous expliquera l'origine des alphabets méditerranéens: egyptien, phénicien, hébreu, grec, latin, …
Sur de nombreux stands, mais aussi sur la scène et sur la Croix occitane au centre de la place, se dérouleront diverses manifestations culturelles: musique, danses, arts martiaux, lectures de poèmes…
Si vous vous trouvez dans la région de Toulouse que vous habitez ou que vous visitez, venez voir le Forum des Langues du Monde. Nous serons très heureux de vous accueillir au stand Uropi.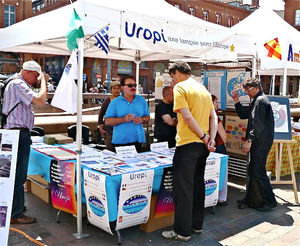 De Uropi stand be de Forum Lingus in 2012
★ ★ ★
World Languages Forum in Toulouse
★ ★ ★
On Sunday May 26th, for the fourth time, we'll be taking part in The World Languages Forum on Capitol Square in Toulouse. As every year over 100 stands will present nearly all European languages as well as many Asian languages like Hindi or Vietnamese, African and South-American languages like Quechua or Guarani, etc.
On certain stands you will be initiated to Arabic calligraphy, Chinese or Japanese ideograms, or you will be explained the origin of Mediterranean alphabets: Egyptian, Phoenician, Hebrew, Greek, Latin, and so on.
On Many stands and also on the stage and on the Occitan Cross in the middle of the square, cultural activities will take place: music, dances, martial arts, poetry reading…
If you happen to be living or travelling in the Toulouse area, come and visit the World Languages Forum;we will be delighted to welcome you at the Uropi stand.
★ ★ ★
Oh, Tulùz !
★ ★ ★
Kim moz nu rugono ? Kim ne udefalo pro de carme de "Rozi Poli" ? Kim, inlestan de voc Claude Nougaro, ruteno na santo: "Oh Tuluuùz, Oh mon país"
…De kerk Sait Sernin se belucan vespen
ki u korali flor wen sol se avodan
u korali flor wen sol se avodan
Id mojse pardà obte ti roj id nar
mojse pardà tu vid nomen Rozi Pol…
De sant pa Claude Nougaro: https://www.youtube.com/watch?v=M7q3XtmF-tQ
De kerk Sait Sernin
★ ★ ★
Sait Saturnin o Sait Sernin sì de pri biskòv Tuluzi; he vidì martiren in 250 p.K, tajen a de koj u furic tauri. Za wo hi korp vidì luzen ap de taur, slogan de legènd, un struì de kerk Notre Dame du Taur (Ni dama de Tauri).
In 402 de relìke Sait Saturnini vidì peren a de basilika Sait Sernin.
★ ★ ★
Oh, Toulouse !
★ ★ ★
Comment résister ? Comment ne pas succomber aux charmes de la "ville rose" ? Comment, en empruntant un instant la voix de Claude Nougaro, se retenir de chanter "Ô Toulou-ou-ouse, Ô mon país…"
"…L'église St-Sernin illumine le soir
D'une fleur de corail que le soleil arrose
Une fleur de corail que le soleil arrose
C'est peut-être pour ça malgré ton rouge et noir
C'est peut-être pour ça qu'on te dit Ville Rose…"
Chanson de Claude Nougaro: https://www.youtube.com/watch?v=M7q3XtmF-tQ
Saint Saturnin ou Sait Sernin fut le premier évêque de Toulouse; martyrisé en 250 ap.JC il fut attaché à la queue d'un taureau en furie. A l'endroit où son corps se détacha du taureau, selon la légende, on contruisit l'église de Notre Dame du Taur.
En 402 les reliques de Saint Saturnin furent transportées à la basilique Saint Sernin.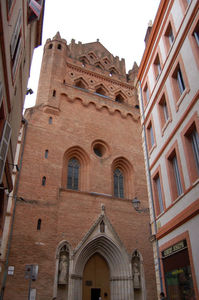 Notre Dame du Taur, u bel samp Tuluzi klolimuri

★ ★ ★
Oh, Toulouse !
★ ★ ★
How could we resist ? How couldn't we fall victims to the charms of Toulouse, "La ville rose" ? How could we keep from singing or humming Claude Nougaro's song: "Ô Toulou-ou-ouse, Ô mon país…"
"…St Sernin church illuminating the evening
Like a coral flower bathing in the sunset
A coral flower bathing in the sunset
This may be why despite your black and red
This may be why they call you pink city…"
The song by Claude Nougaro: https://www.youtube.com/watch?v=M7q3XtmF-tQ
Saint Saturnin or Saint Sernin was the first bishop of Toulouse. He was martyred in 250 a.d., tied to the tail of a raging bull. There where his body got loose from the bull, the church od Notre Dame du Taur (Our Lady of the bull) was built.
In 402 St Saturnin's relics were transferred to St Sernin church.
★ ★ ★
Strad de Tauri ki de kerke St Sernin id Nd de Taur
★ ★ ★
Un od de mole insarade Tuluzi se te de karʒ de poli: Plaz Kapitoli se inronen pa strit stradite we se cevim podan arias, apdalen od de glam trafiki. Be Sabasole da stradite vid invaden pa suntade studane, detan ki de centra u vasti Latini Kwertia. Un od de maj tipiki miki strade se Rue du Taur / Carreira del Taur (strad de Tauri) we dut od Kapitòl a Sait Sernin, id bemìd wen ste Notre Dame du Taur.
Un des nombreux charmes de la ville vient de ce que le coeur de Toulouse, la Place du Capitole, est entouré de rues étroites, piétonnes pour la plupart et donc isolées du vacarme de la circulation. Le week-end, ces petites rues sont envahies par des centaines d'étudiants, transformant le centre en un vaste Quartier Latin. L'une de ces petites rues, parmi les plus typiques, c'est la Rue du Taur / Carreira del Taur, qui mène de la Place du Capitole à l'église St Sernin, au milieu de laquelle se dresse Notre Dame du Taur.
One of the many charms of Toulouse is that the heart of the city, Capitol Square, is surrounded by narrow streets, most of them being pedestrian areas and thus isolated from the rumble of heavy traffic. On week-ends a lot of students swarm into those narrow streets turning the centre into a vast Latin Quarter. One of the most typical of those streets is Rue du Taur / Carreira del Taur, leading from the Capitol to St Sernin church, in the middle of which stands the church of Notre Dame du Taur.
★ ★ ★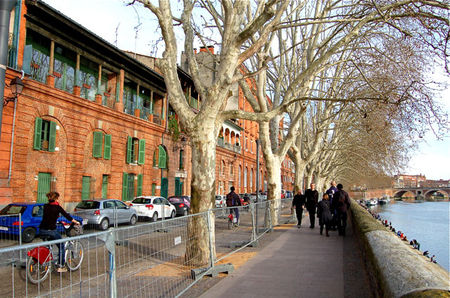 Alòng de kaje Garonu
Wan de pri sole cij be inìz vernu, kim je se prijan pasìto su de kaje Garonu, pas de rozi hasifronte camen pa platàne, trawàn benìz, su ber de rivi mole studane od tale nasionide se vadan, renan id subetàl leʒan su graz, admiran Le Pont Neuf (de Novi Pont we s'in fakt de veties pont de poli), o slim solibranan.
Su de bere Garonu
Au début du printemps, lorsque brillent les premiers soleils, qu'il est agréable de se promener sur les quais de laGaronne, devant les façades roses ombragées par les platanes, tandis qu'en bas, sur les berges du fleuve, de nombreux étudiants de toutes nationalités marchent, courent ou sont allongés sur l'herbe admirant le Pont Neuf (en fait le plus ancien pont de la ville), ou se laissant bronzer tout simplement.
When the sun shines in early Spring, it is very pleasant to take a walk along the Garonne embankments, past the pink house fronts shaded by plane-trees. Below on the river bank, students of all nationalities are walking, jogging or lying on the grass, admiring the Pont Neuf (The New Bridge, in fact the oldest bridge in the city), or simply getting a tan.
★ ★ ★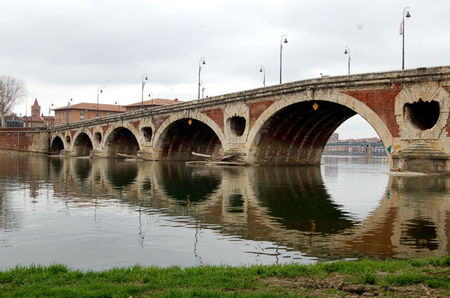 De Novi pont
Le Pont Neuf (De Novi Pont) vidì struen od 1544 a 1632; je vidì kocepen po mozo rugono de uvefluje Garonu: de karʒiformi pore (dégueuloirs) intra jaki ark se po laso vod flujo tru, instà damo de pilare.
Le Pont Neuf a été construit entre 1544 et 1632; il a été conçu pour pouvoir résister aux crues de la Garonne: les dégueuloirs en forme de coeurs entre chaque arche permettent à l'eau de s'écouler, plutôt que d'endommager les piles.
Le Pont Neuf (New Bridge) was built from 1544 to 1632: it was designed to resist the Garonne floods; the heart-shaped holes in the bridge piles (dégueuloirs) let the water through and prevents it from damaging the bridge.
★ ★ ★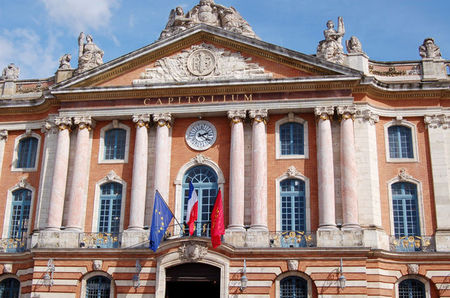 Cevi portàl de Kapitoli
De Kapitòl se de polihàl Tuluzi.
"…Zis de Kapitòl, i halt mi stape za…"
Dod de pru Midi Eve tis de Franci Revolusiòn, Tulùz vidì governen pa ses, pos oc Capitouls, jak od la regan un od de 8 kwertias de poli. Dod 1190 de Capitouls sì cekan u struen po de "komùn has", ba de prosàn Kapitòl vidì solem struen in 17i suntjàr, pos 200 jare struadi. Berù de cevi struen ste u bel rozibriki kwari tor, Le Donjon du Capitole, we vidì struen in 16i suntjàr. Odia di tor has de turistinformadi burò.
Le capitole, c'est l'hôtel de ville de Toulouse.
"…Voici le Capitole, j'y arrête mes pas…"
Du 12e siècle à la révolution Française, Toulouse a été gouvernée par six, puis huit Capitouls, chacun d'entre eux administrant un des huit quartiers de la ville. Depuis 1190 les Capitouls sont à la recherche d'un édifice pour la "maison commune", mais le Capitole actuel n'a été construit qu'au 17e siècle après 200 années de travaux. Derrière le bâtiment principal se trouve une belle tour de briques roses, Le Donjon du Capitole, édifié au 16e siècle. Il abrite aujourd'hui l'office de tourisme de la ville.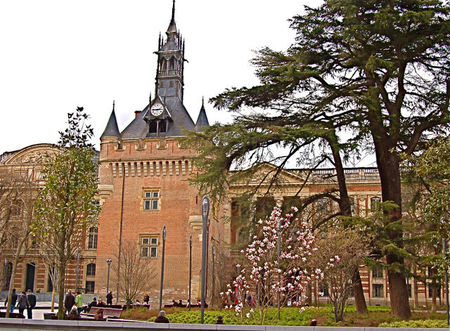 Donjon du Capitole
The Capitol is toulouse city-hall.
"…Here is the Capitol, I halt here for a while…"
From the early Middle Ages to the French Revolution Toulouse was governed by six, then eight Capitouls, each of them in charge of the eight districts of the city. Since 1190 the Capitouls had been looking for a building for the "common house", but it is only in the 17th century that the present Capitol was finished: building it had lasted 200 years. Behind the main building you can see a beautiful pink-brick square tower, le Donjon du Capitole, built in the 16th century; today this tower houses the tourist information centre.
★ ★ ★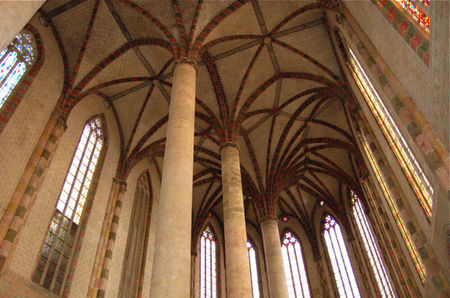 De kerk Jakobinis
L'église des Jacobins (kerk Jakobinis) vidì kospeken wim de beles Dominikan kerk in Europa ki ji ankreli palmari volbe 28 metris, resan su kolone 22 metris, de holes od gotiki arkitektad. Za vidì ingruben Sait Tomàs od Akino in 1369.
L'église des Jacobins fut considérée comme la plus belle église dominicaine d'Europe avec ses incroyables voûtes en palmier à 28 mètres de hauteur, reposant sur des colonnes de 22 mètres, les plus élevées de l'architecture gothique. C'est là que fut inhumé Saint Thomas d'Aquin en 1369.
The Jacobins church was considered as the most beautiful Dominican church in Europe with its incredible 28 metre high "palm-tree" vaults resting on 22 metre columns, the highest of Gothic architecture. There St Thomas Aquinas was buried in 1369
De palmari volb rupicten in u mirèl be baz u koloni
★ ★ ★
Notre Dame de la Dalbade (Ni Dama de Dalbade) se cevim interesan par ji Regenadi portàl id subetàl par de keramik pa G. Virebent kopijan de Kronad de Virʒu pa Fra Angelico. Ner de kerk un moz admiro eke seni Tuluzi hase.
L'intérêt de Notre Dame de la Dalbade est son portail Renaissance, mais surtout la fresque en céramique de G. Virebent, copie du Couronnement de la Vierge de Fra Angelico. Près de l'église on peut admirer quelques vieilles maisons toulousaines.
The chief interest of the church Notre Dame de la Dalbade is its Renaissance portal and above all the ceramic fresco by G. Virebent, copying the Virgin's Coronation by Fra Angelico. Nearby you can admire a few old houses typical of Toulouse.
De Kronad de Virʒu pa G.Virebent, pos Fra Angelico
Tuluzi seni hase ner Notre Dame de la Dalbade
★ ★ ★
Naturim je ste mole alten vizivalti stas id monumente in Tulùz… Zitem po samp de Muzea Augustinis, ki u ric kosamad pictenis id un usordeni kosamad gotiki kapitaris, bareliefis id statujis id midievi inskrive. De katedràl Sait Stefàn id vari Regenadi Hotele wim Hotel du vieux Raisin (Seni gruve), Hotel Dahus, Hotel St Pierre… ba de beles se andubim Hotel d'Assezat, id os carmi miki plaze we pomèn vo ov Italia wim Plaz Roger Salengro o Plaz Arnaud Bernard.
Gotiki kapitar, Muzea Augustinis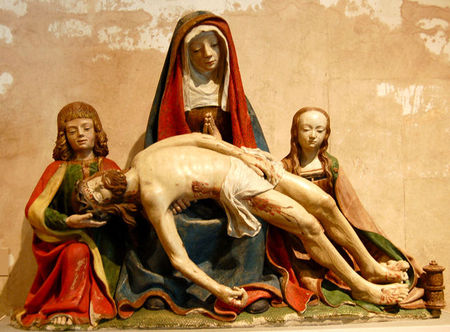 Pieta des Récollets, Muzea Augustinis
★ ★ ★
Il y a bien entendu beaucoup d'autres lieux et monuments dignes d'intérêt à Toulouse… Citons par exemple le Musée des Augustins et sa riche collection de tableaux, ses extraordinaires sculptures gothiques: chapiteaux, bas-reliefs, statues et inscriptions médiévales. La cathédrale St Etienne, divers hôtels Renaissance: Hôtel du vieux Raisin, Hôtel Dahus, Hôtel St Pierre… mais le plus beau d'entre eux est sans conteste l'Hôtel d'Assezat, sans oublier le charme de petites places qui rappellent l'Italie, comme la Place Roger Salengro ou la Place Arnaud Bernard.
★ ★ ★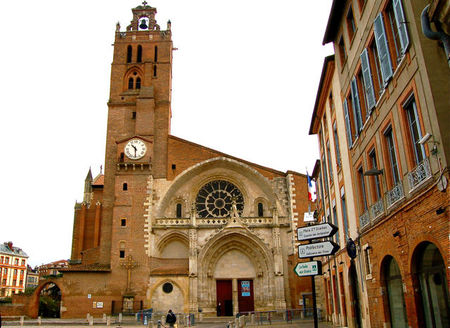 Katedràl Sait Stefàn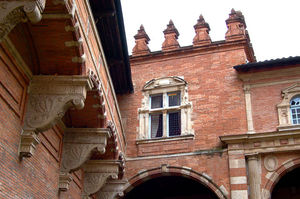 Hotel d'Assezat
★ ★ ★
There are of course many more interesting sights and monuments in Toulouse… Let us mention for example The Augustins Museum of Fine Arts and its rich collection of paintings, its extraordinary gathering of gothic capitals, bas-reliefs, statues and medieval inscriptions. The Toulouse cathedral (Cathédrale St Etienne), various Renaissance mansions like Hôtel du vieux Raisin (Old Grapes), Hôtel Dahus, Hôtel St Pierre - but the most beautiful of them is undoubtedly Hôtel d'Assezat - , charming little squares reminding Italy like Place Roger Salengro or Place Arnaud Bernard.
★ ★ ★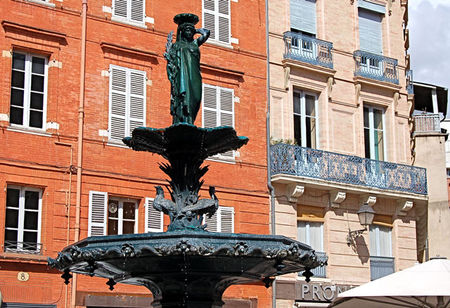 Plaz Roger Salengro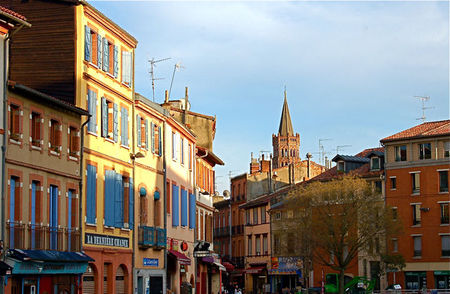 Plaz Arnaud Bernard
★ ★ ★
Mol strani se os findo, bemìd de moderni kwertia Compans Caffarelli, eke stape ap de gren bulvàre, u miki Japoni gardin ki cerizare in blum, u tici sta wo famile gus pasìto be Soldiu posmidiàs.
Il est assez inattendu de découvrir au milieu du quartier moderne de Compans Caffarelli, à quelques pas des grands boulevards un petit jardin japonais aux cerisiers en fleur, endroit paisible où se retrouvent les familles pour la promenade du dimanche après-midi.
Quite surprinsingly, right in the middle of the modern Compans Caffarelli complex, a few steps away from the "grands boulevards", you will come across a nice little Japanese garden with cherry-trees in bloom, a quiet spot where Toulouse families come for a walk on Sunday afternoons.
★ ★ ★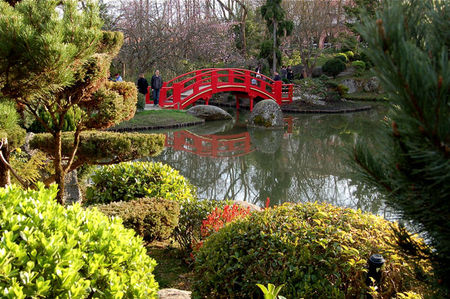 De Japoni gardin
★ ★ ★