★ ★ ★
* Uropi Nove 71 * Uropi Nove 71 * Uropi Nove 71 *

★ ★ ★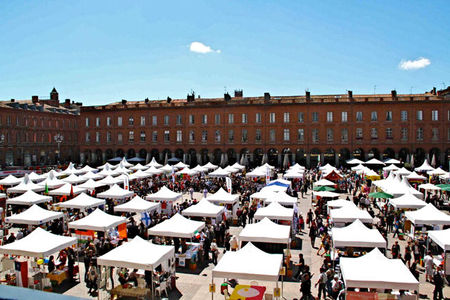 Forum lingus 2013, su plaz Kapitoli, fotò C. verdier

★ ★ ★
Soldia 26i Maj. U gren sol liv su plaz Kapitoli in un azuli hel ane de mines nolb. U veri mirakel. Pos u frij id vinti Sabadia, wan nu vizitì lovi midievi vike ner Montalbàn wim Puycelsi id Bruniquel, sedan su skrupi roke subevangan de val Tarni. U verem Novembri: u jasi vint sì flan tra de stradite, julan aròn de kerk, id nu mozì lezim imaʒino fami vulpe valgan za nocim.
Be de slogan dia, be inìz nu sì u poj frij par sol sì jok celen berù de Kapitòl, ba instalo de Uropi stand pomozì no varmivo ekwim. Be des hore, sol asemì fendim be ni stand, id ki ja de pri vizitore. Un od de pri sì Anoev, wen nu avì kogonen su Internet, su de lingu Forum l'Atelier, id we venì spesialim od de Parisi regiòn po vizito de Tuluzi Forum lingus. Nu avì longi disvokade ki ha.
Pos venì mole vizitore id i avì nerim nè tem po pasìto u poj id vizìto alten stande, nè oʒe po midjedo. Nu vizì liente od maj te 22 vari nasionide o lingas: Franci naturim, ane voko ov Oksitàni, ba os Katalàni, Espàni, Greci, Itali, Indonesi, Engli, Kimri, Amerikan, Armèni, Rusi, Vietnami, Korèu, Togolan, Andoran, Reunioni, Fini, Nizilandi, Iràni, Afgàni, Pakistàni…Tale vidì prim ingurnoven: "Ba ka se Uropi ?", "Ka se de disemid ki Esperanto ?", pos, ki ni usklarade, lu vidì mol interesen id pragì mole keste, admiran de vark deten tra samole jare; de majsan od la sì june we avì u veri pasiòn po lingas.
Prim lu vidì interesen ov de komùn Indeuropan rode, 500 od wen form de Uropi bazi vokabular. Ni tabel dikan de numare od 1 a 10 in Proto-Indeuropan, Uropi id in tale Indeuropan lingas atrajì mole liente. Wa i som findì partikulim interesan in de disvokade ki liente we sì o genivokore u lingu, o spesialiste un o vari lingus, sì te lu koverì de teorije wen nu avì disvolpen su di blog.
Kreato u vig intra de polke
Prim nu kospekì te Uropi id de Uropi stand sì konkretim "kreatan u vig intra polke" slogan de Uropi mota. Ane la, nu avev nevos mozen voko id disvoko ov lingas ki samole liente os disemi te Vietnamane id Espàne, Togolane id Grece, Afgàne id Fine. Par tale vid interesen ov de komùn punte intra Uropi id li lingas; tale vol voko ov li siavi linga. (De fole dikan de semlide intra Uropi id jak od de Indeuropan lingas interesì mole liente id lu nemì ap la ki sia).
Di dik os te Uropi, id de interès po Uropi, vid ne limiten a Europa. U Vietnaman pragì mo de regi kest: "Se Uropi solem po Europane ?" I ruvokì ho prim te Indeuropan lingas vid ne voken solem in Europa, ba su de pin kontinente, id pos id subetàl, i usklarì ho te de Uropi verb funsionì in fakt maj wim u Vietnami verb in prosàn te wim un Europan verb. "Je ste ne konjugad" he dezì, indèt de verb met ne ki de persòn: Ur. i, tu, he, ce… vok, vok, vok, vok = V. tôi, bạn, ông, cô… nói, nói, nói, nói… je s'os de kaz in futùr "un set de partikel sẽ for de verb" he dezì, wim in Uropi de partikel ve: i ve voko, ce ve voko = tôi sẽ nói…cô sẽ nói…Tôi sẽ ăn = i ve jedo, tôi sẽ uống sữa = i ve pivo lik, bạn sẽ uống cà phê = tu ve pivo kafa, ông sẽ uống trà = he ve pivo tej… U lati smij belucì hi fas; i avì ha kovikten.
★ ★ ★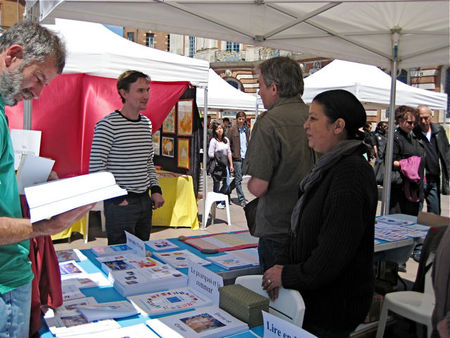 Be de Uropi stand, fotò H. Salvans

★ ★ ★
Subjuntìv id femin
U Franci dama venì vizìto de stand ki ci Engli frama. Ce ruplojì te je stì ne subjuntìv in Uropi par je apèr, po ca, nuànse in u linga. De Englana usklajì: "Ah ne! Subjuntìv se perfetim anuzi; je se solem za po intrubo da pavri Englane!" Pos ce pragì "Ste je u femin ? Je se os anuzi." I dezì pur te aj, je stì un, uzen solem po seksen sane, id te in Engli, uspreso femin se talvos u problèm: dezo po samp "a female elephant" po "elefanta". Ce ruvokì te un uzì nevos da usprès id dezì "the elephant had a baby" (de elefànt avì u beb): de kontèkst sì perfetim klar. Pur je s'ne de kaz wan un dez "de profesor invitì "a student" po pivo u vas": is je se u studan o u studana, de udesinade se ne de som. Os ki "i itì us ki "my cousin": kuzin o kuzina ? Lu itev us mojse ne a de som stas. I rumèn avo lisen u tali kapitel u romàni pa P.D. James, wo u man vokì ov u "friend", id solem in de slogan kapitel i incepì te je delì ov u "frama" id ne u "fram". Davos naturim de Franca kovenì ki ma.
De veri problèm ki di polemik ov mazin id femin se andubim diskriminad gon ʒinas, ba un ve ne sluzo ja tra negan de disemid intra man id ʒina. Wa ʒinas vol se eglid ki mane; lu vol ne vido mane. De postàd Franci ʒinistus (nomen les féministes) we vol feminizo nome profesionis in li kamb po eglid, sem mo mol maj interesan te da volad nego de disemid. Naturim de majsan tem, je s'ne nudi dezo doktora, dictora… po samp "Cale u doktor !", "I vol vizo un avokàt !", poj vez is je s'u man o u ʒina. Ba in eke kaze, je moz so interesan procizo ja: u skrivor id u skrivora; lu skriv ne nudim in de som mod …"in de governad, je ste 15 ministore id 15 ministoras…" u perfeti eglid. (Ba un moz ne voko ov eglid is un det ne de disemid: "in de governad je ste 30 ministore…")
De usvòk se Itali
Un zoc se proklajo su u plakad te "de usvòk se Itali", un alten se oro un Italiana usvoko Uropi usprese. I avì usklaren Uropi a un Itali par od Milàn id proseten lo vari tradutade. Ki u gren prijad i orì ca dezo spontanim "u krimiromàn", "de Miki Prins"…ki u perfeti usvòk in u muziki Itali voc, obte ce konì nun Uropi vord id avì nevos oren ov Uropi dafòr.
Mole altene aprizì os de muziki kalitad de Uropi lingu, id nu usdezì lo poème wim Miste id Liuve pos Baudelaire id Pont Mirabò pos G. Apollinaire.
★ ★ ★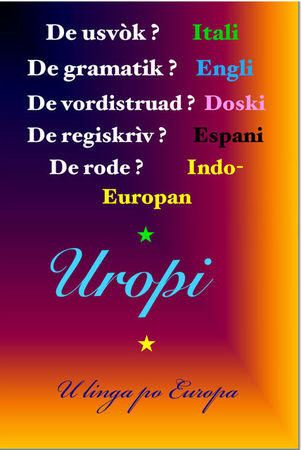 ★ ★ ★
De problèm ki Engli
Nu avì os mol interesan disvokade ki tri Amerikane, prim u jun ʒina id maj posen du jun mane. Je sì mol anlezi probo kovikto la (in Engli naturim), par mole Amerikane kre te tale liente in mold vok Engli perfetim. Pur je s'ne de kaz, id je se molvos mol anlezi incepo liente alten nasionidis vokan Engli, par li Engli usvòk vid kratim influjen pa de usvòk li siavi lingu: U Grec, po samp, vok ne Engli wim u Dan.
Pur de cevi problèm ki Engli - o priʒe ki Globic - uzen wim intranasioni linga se alten.
Is un ler Engli po voko ki Doske, Dane, Espàne, Italiane, Fine, Cine… un ve nevos vido interesen ov Doski, Dani, Espàni, Itali, Fini, Cini…, un ve nemaj lero alten lingas: u Tuluzan we avì ʒiven 6 jare in Frankfurt id vokì perfetim Doski, dezì mo te he doʒì travoko ho komerki kodele ki Doske in Engli…apsurdi ! De usordeni varid lingus in mold (118 od la vidì usstalen be de Forum), we se de ricad humanadi ve disvano. Mold ve vido uniformizen par Engli se ne solem u midel komunikadi; je s'u linga kulturi: da se je apèr ki sia de simnomen "Englisaksan" kultùr; nu ve solem speko Amerikan filme id serije, skuco Englisaksan muzik ki Engli vorde, gluto Amerikan nure id pive, vesto na wim Amerikane ki ʒinse id beisbali cape (o kostume ki kravate), i.s.p… ni siavi kulture ve gradim disvano (wim je se de kaz be Franci televìz: po samp, be Lundia 3j Ʒun, be vespen: Amerikan serije id filme: 11, Franci: 4, alten: 0), ni elìte ve voko Engli ki li kide, tal wim de Gauli elìte voki Latini id de Bretàni elìte vokì Franci, id fendim ni lingas ve disvano, wim Gauli id Bretàni, replasen pa un uni linga.
In un od hi mole intravize be radiò o televìz, u ʒurnalìst pragì a de linguìst Claude Hagège: Se ne de kogonad kulturis talvos inrican ? id Hagège ruvokì:
"De kogonad kulturis, aj. De problèm se te de majsan liente we dez "un doʒ lero straniori lingas" ler solem un: Engli. Di se u droz vezan sube tali humanad."
Vz Claude Hagège:
http://www.youtube.com/watch?v=lEoxON1wDIk France culture, Contre la pensée unique
http://www.radio-canada.ca/nouvelles/International/2013/05/24/011-claude-hagege-linguiste-loi-france-enseignement-anglais.shtml, Radio Canada
http://www.youtube.com/watch?v=fm6X1Ky2J5A Expolangues
U mol simpatic Fina venì vizìto ni stand; maʒen ki u Franc, ce davì Fini lesione in Tulùz. Ce pragì parkà tale uslandi filme be Franci televìz sì ne in odveni versiòn, je sev bunes po lero alten lingas. Pur, wim (nerim) tale da filme sev in Engli, lu mozev eldo na lero u solen linga: Engli…(id siurim ne Fini !), aspelan jok maj da fenomen uniformizadi. Is un moz voko Engli mol bun ki Fine, parkà zelev un diskrovo Fini, lero de linga, sim parkà videv un interesen ov de Fini kultùr?
Di projèt sev nun oprad su de varid lingus, ba priʒe un inkarsad in un uni linga.
★ ★ ★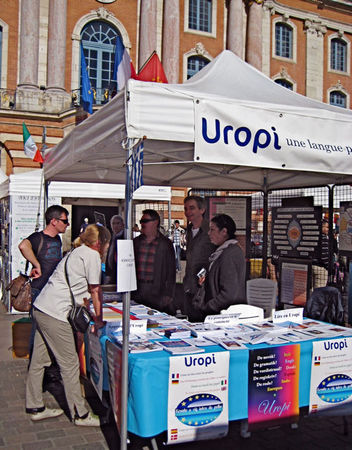 Fotò H. salvans

★ ★ ★
Uropi se un oprad
Begòn uzo Uropi po komuniko se talim disemi par je s'ne u linga kulturi, obte je vidì struen ki elemente od de odvenad, històr id usvolpad mole lingus id mole kulturis; je av nun siavi kultùr, je repèr a de vari Indeuropan kulture; je s'u midel komunikadi. Id wim je vidì struen od de komùn Indeuropan rode, id Uropi vorde vidì trajen od eke 30 vari lingas, Uropi se un oprad su alten lingas. Tale ni vizitore cekì in Uropi de semlide ki li matulingas o ki lingas wen lu konì. Sim Uropi det na diskrovo partim vari aspeke vari lingus id moz duto na a vido interesen ov da lingas id pos lero la.
Be fend de diu, do sep hore vespeni, venì u jun Franca, usvizim studana, we sì mol interesen ov de kovige intra Uropi id Slavi lingas, par ce vokì Rusi id sì mol glaj vizo De Dama ki de Kunit pos Antòn Tcekhòv: "Ah, vu av traduten Дама с собачкой ?" Ce avì gladen de table ki de muse id de turiste id pragì mo: "Ba ka se di linga ?", dikan mo "Dobar dan" id "Ne razumem". I ruvokì co te je sì Serbo-Kroati, obte, oran da odia, Serbe o Kroate avev ma murden.
Po fendo id festo de dia, stajan bemìd Indeuropan lingas, nu itì jedo in u Bengali restoria, we probasì plate od tale parte de Indian ude-kontinenti; de nure sì uslivan.
Je sì verim u bun id bel dia.
★ ★ ★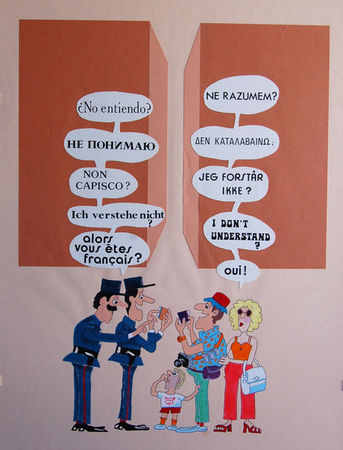 De tabel ki "de turiste"

★ ★ ★
L'Uropi au Forom des langues de Toulouse
★ ★ ★
Dimanche 26 mai. Un grand soleil se lève sur la place du Capitole dans un ciel d'azur dépourvu du moindre nuage. Un vrai miracle ! Après un samedi froid et venteux, où nous avons visité les jolis villages de Puycelsi et de Bruniquel, près de Montauban, perchés sur des pitons rocheux surplombant la vallée du Tarn. Un temps de novembre: un vent glacé balayait les venelles, hurlant autour de l'église à tel point qu'on pouvait aisément imaginer des hordes de loups affamés errant la nuit dans les ruelles.
Le jour suivant, au petit matin, nous avions plutôt froid car le soleil était encore caché derrière la masse du Capitole, mais l'installation du stand nous a permis de nous réchauffer un peu. A 10h le soleil apparaissait enfin, et avec lui les premiers visiteurs. Nous avons eu le plaisir de voir Anoev (prononcer A9), rencontré sur le Net, sur le Forum linguistique l'Atelier, et descendu de Paris pour le Forom des langues, avec qui nous avons pu discuter longuement.
Puis les visiteurs ont afflué et le temps nous a manqué pour flâner dans les allées et voir les autres stands; c'est à peine si nous avons pu déjeuner à midi. Nous avons rencontré plus de 22 nationalités et langues différentes: français et occitan, bien sur, mais aussi catalan, espagnol, grec, italien, indonésien, anglais, gallois, américain, arménien, russe, vietnamien, coréen, togolais, andorran, réunionnais, finnois, néerlandais, persan, afghan, ourdou… tous sont d'abord intrigués: "Mais l'Uropi, qu'est-ce que c'est ?" "Quelle est la différence avec l'espéranto ?". Nos explications suscitent l'intérêt et de nombreuses questions, de l'admiration pour le travail accompli au cours de longues années. La plupart de nos interlocuteurs sont jeunes et ont une véritable passion pour les langues.
Leur intérêt s'éveille avec l'évocation des racines indo-européennes communes, dont 500 forment le socle du vocabulaire Uropi. Notre tableau indiquant les nombres de 1 à 10 en proto-indo-européen et en Uropi avec leurs équivalents dans les langues indo-européennes modernes a attiré beaucoup de monde. Nos discussions avec des locuteurs aussi variés, natifs d'une langue ou spécialistes de langues diverses, confirment, à notre grande satisfaction, les théories que nous avons développées sur ce blog.
★ ★ ★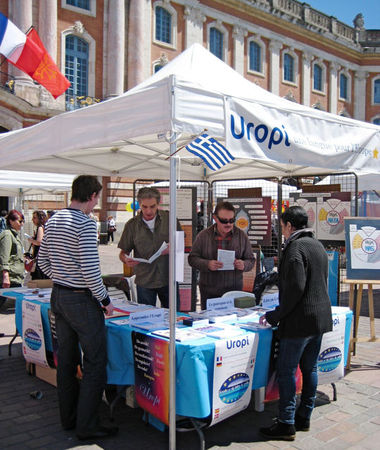 Fotò H. Salvans

★ ★ ★
Créer un lien entre les peuples
Tout d'abord, l'intérêt suscité par l'Uropi "crée un lien entre les peuples" (selon notre devise), de façon tout à fait concrète. Sans lui, nous n'aurions jamais pu discuter des langues avec autant de personnes aussi différentes que des Vietnamiens et des Espagnols, des Togolais et des Grecs, des Afghans et des Finnois. Car tous s'intéressent aux points communs qui peuvent exister entre l'Uropi et leur propre langue; tous désirent parler d'une langue qu'ils connaissent et qu'ils aiment. (Les feuillets indiquant les similitudes entre l'Uropi et chacune des langues indo-européennes ont eu un grand succès et sont partis comme des petits pains).
Ceci montre aussi que l'Uropi et l'intérêt qu'il suscite ne se limite pas à l'Europe. Un Vietnamien m'a posé la bonne question: "Est-ce que l'Uropi est seulement pour les Européens ?" Je lui ai répondu d'abord que les langues indo-européennes ne sont pas parlées exclusivement en Europe, mais sur les 5 continents, mais ensuite, et surtout, je lui ai montré que le verbe Uropi fonctionnait en fait plutôt comme un verbe vietnamien au présent que comme un verbe européen. "Il n'y a pas de conjugaison" a t-il dit, en effet, il n'y a pas de flexion personnelle: Ur i, tu, he, ce… vok, vok, vok, vok = V. tôi, bạn, ông, cô… nói, nói, nói, nói… (= je parle, tu parles, il/elle parle…), il en est de même au futur "on met la particule sẽ devant le verbe", comme en Uropi la particule ve: i ve voko, ce ve voko = tôi sẽ nói…cô sẽ nói…(= je parlerai, elle parlera), tôi sẽ ăn = i ve jedo (je mangerai), tôi sẽ uống sữa = i ve pivo lik (je boirai du lait), bạn sẽ uống cà phê = tu ve pivo kafa (= tu boiras du café), ông sẽ uống trà = he ve pivo tej (il boira du thé)… un large sourire éclaira son visage: il était convaincu.
Subjonctif et féminin
Une Française est venue nous voir accompagnée d'une amie anglaise. La première regretta qu'il n'y ait pas de subjonctif en Uropi, car, dit-elle, il apporte des nuances dans la langue. "Ah, mais non !" s'exclama l'anglaise, "le subjonctif est parfaitement inutile; ça ne sert qu'à embêter ces pauvres Anglais!" Elle poursuivit en demandant: "Y a t-il un féminin? ça aussi c'est inutile." Je lui répondis que oui, il y en avait un, réservé aux êtres sexués, et qu'en anglais, exprimer le féminin est un véritable casse-tête: par exemple, dire "female-elephant". "Mais on n'utilise jamais cette expression: on dit 'the elephant had a baby', dans ce contexte, c'est parfaitement clair". Certes, c'est un cas où l'on ne peut guère se tromper, mais qu'en est-il lorsque l'on dit par exemple "Le professeur a invité "a student" à boire un verre" ? Un étudiant ou une étudiante ? Les sous-entendus ne seront pas les mêmes. Ou si je dis: "Je suis sorti avec 'my cousin'". Mon cousin ou ma cousine ? Le sens peut-être très différent. Je me souviens d'avoir lu en anglais un chapitre entier d'un roman de P.D James où un personnage mentionnait "a friend"; ce n'est que dans le chapitre suivant que j'ai réussi à comprendre qu'il s'agissait d'une amie et non d'un ami comme je l'avais cru d'abord. Là, bien entendu, la Française était d'accord.
Le véritable problème derrière cette polémique sur le masculin/féminin est en réalité celui de la discrimination à l'encontre des femmes, problème qu'on ne résoudra certainement pas en niant la différence. Ce que veulent les femmes, c'est l'égalité avec les hommes; elles ne veulent pas devenir des hommes. La position des féministes françaises qui réclament la féminisation des noms de profession dans leur combat pour l'égalité me semble bien préférable et de loin, à cette volonté de nier la différence. Bien entendu, la plupart du temps, il n'est pas nécessaire d'utiliser doktora, dictora (doctoresse, professeure), par exemple: "Appelez un médecin !" "Je veux voir un avocat!" peu importe qu'il s'agisse d'un homme ou d'une femme. Cependant, dans certains cas, il peut être utile de préciser: une écrivaine n'écrit pas forcément de la même manière qu'un écrivain… "au gouvernement il y a 15 ministres et 15 "ministresses", une égalité parfaite. (mais on ne peut parler d'égalité si on ne fait pas la différence: "au gouvernment il y a 30 ministres…")
★ ★ ★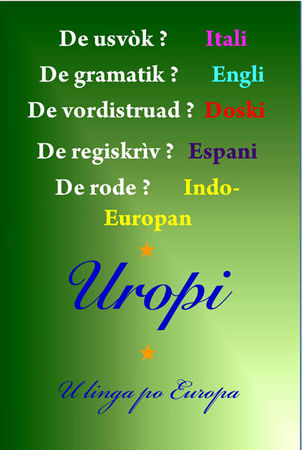 La prononciation ? Italienne. La grammaire ? Anglaise. La construction des mots ? Allemande.
L'orthographe ? Espagnole. Les racines ? Indo-européennes.

★ ★ ★
La prononciation est italienne
C'est une chose de proclamer sur une affiche "La prononciation est italienne" et une autre d'entendre l'Uropi prononcé par une Italienne. J'avais expliqué l'Uropi à un couple d'Italiens de Milan et leur avais présenté diverses traductions, et c'est avec un grand plaisir que j'ai entendu la femme dire spontanément, de façon tout à fait naturelle "u krimiromàn"… "De Miki Prins"…une prononciation parfaite d'une voix musicale, bien qu'elle ne connaisse pas un seul mot d'Uropi et n'ait jamais entendu parler d'Uropi auparavant.
Beaucoup d'autres ont apprécié la musicalité de l'Uropi et nous leur avons dit des poèmes comme Miste id liuve (Brumes et pluies de Baudelaire) et Pont Mirabò d'après Apollinaire.
Le problème avec l'anglais
Nous avons eu également des discussions passionnantes avec 3 Américains, tout d'abord une jeune femme, puis un peu plus tard deux étudiants. Il est très difficile d'essayer de les convaincre (en anglais bien entendu) car beaucoup d'Américains sont persuadés que toute personne au monde parle parfaitement l'anglais. Ce n'est pourtant pas le cas, et c'est souvent très difficile de comprendre des locuteurs d'autres nationalités parlant anglais, car leur prononciation est fortement influencée par celle de leur propre langue: un Grec, par exemple, ne parle pas anglais comme un Danois.
Cependant, le problème essentiel de l'anglais - ou plutôt du Globish - utilisé comme langue internationale est autre.
Si l'on apprend l'anglais pour parler avec des Allemands, des Danois, des Espagnols, des Italiens, des Finlandais, des Chinois… on ne s'intéressera jamais à l'allemand, au danois, à l'espagnol, à l'italien, au finnois, au chinois… on n'apprendra jamais les autres langues. Un Toulousain qui avait vécu 6 ans à Francfort et parlait parfaitement l'allemand, nous a dit qu'il devait négocier ses contrats commerciaux avec les Allemands en anglais… un comble ! L'extraordinaire diversité des langues du monde (118 d'entre elles étaient présentées au Forom), qui est la richesse de l'humanité va disparaître, l'uniformisation s'installer, car l'anglais n'est pas un simple moyen de communication; c'est une langue de culture, qui apporte avec elle et impose la soi-disant "culture anglo-saxonne": nous ne regarderons plus que des films et séries américains, n'écouterons plus que de la musique anglo-saxonne avec des paroles en anglais, nous n'ingurgiterons plus que de la nourriture et des boissons américaines, nous nous habillerons comme les Américains, en jeans et casquettes de "baise-bol" (ou costume cravate), etc., et nos propres cultures disparaitront peu à peu (le processus est déjà bien entamé lorsque l'on regarde les programmes de la télévision française,*par ex. lundi 3 juin au soir sur la TNT: films et séries américains = 11, français = 4, autres = 0); nos élites parleront anglais avec leurs enfants, tout comme les élites gauloises parlaient le latin et les élites bretonnes le français, et pour finir, nos langues s'éteindront comme le gaulois et le breton, remplacés par une langue unique.
★ ★ ★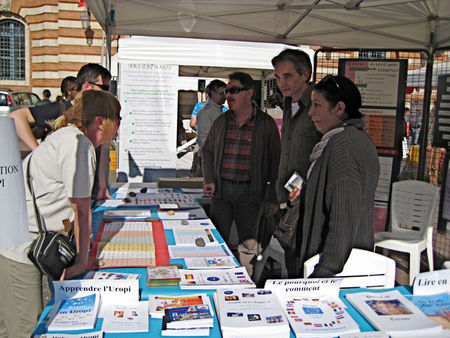 Fotò H. Salvans

★ ★ ★
Dans une de ses nombreuses interviews à la radio et à la télévision, un journaliste demanda au linguiste Claude Hagège:
La rencontre des cultures n'est-elle pas toujours enrichissante ?
La rencontre des cultures, oui. Le problème est que la plupart des gens qui affirment "Il faut apprendre des langues étrangères" n'en apprennent qu'une : l'anglais. Ce qui fait peser une menace pour l'humanité tout entière.
Voir C. Hagège:
http://www.youtube.com/watch?v=lEoxON1wDIk France culture, Contre la pensée unique
http://www.radio-canada.ca/nouvelles/International/2013/05/24/011-claude-hagege-linguiste-loi-france-enseignement-anglais.shtml Radio Canada

http://www.youtube.com/watch?v=fm6X1Ky2J5A (Expolangues)
Une Finlandaise très sympathique est venue visiter notre stand; mariée à un Français, elle donnait des cours de finnois à Toulouse. Elle se demandait pourquoi tous les films étrangers à la télévision française n'étaient pas en version originale: ce serait bien préférable pour apprendre les autres langues. Malheureusement, comme la plupart (pour ne pas dire la totalité) de ces films seraient en anglais (voir ci dessus*), ils ne pourraient nous aider qu'à apprendre une seule langue, l'anglais… (sûrement pas le finnois !), et accélérer encore ce processus d'uniformisation. Si l'on peut très bien parler l'anglais avec des Finlandais, pourquoi aurait-on envie de découvrir le finnois, apprendre la langue, pourquoi s'intéresserait-on à la culture finlandaise ?
Un tel projet ne serait nullement une ouverture sur la diversité des langues, mais plutôt un enfermement dans une langue unique.
L'Uropi est une ouverture
A l'inverse, c'est tout à fait différent d'utiliser l'Uropi pour communiquer, car ce n'est pas une langue de culture; même si elle intègre des éléments de l'origine, de l'histoire et de l'évolution de nombreuses langues et cultures, elle n'a pas de culture propre, elle renvoie aux différentes cultures indo-européennes; c'est une langue véhiculaire, un moyen de communication. Et, du fait qu'elle a été construite à partir des racines indo-européennes communes et que son lexique est tiré de quelques 30 langues différentes, l'Uropi est une ouverture sur la diversité des langues. Tous nos visiteurs ont cherché les similitudes entre l'Uropi et leur langue maternelle ou les langues qu'ils connaissaient. L'Uropi nous fait donc découvrir en partie divers aspects de multiples langues et peut donc éveiller en nous un intérêt pour ces langues et nous inciter à les apprendre.
En fin de journée, vers 7h du soir, est venue une jeune Française, étudiante, très intéressée par le rapport entre l'Uropi et les langues slaves, car elle parlait le russe et fut ravie de voir "De Dama ki de Kunit", la version Uropi de La Dame au Petit Chien de Tchékhov. "Ah, vous avez traduit Дама с собачкой!". Elle avait vu les panneaux avec les souris, et les touristes et m'a demandé "Mais cette langue, qu'est-ce que c'est ?" me montrant "Dobar dan" et "Ne razumem". Je lui ai dit que c'était du serbo-croate, bien que si des Serbes ou des Croates m'avaient entendu, je me serais fait massacrer.
Pour finir la journée en beauté, tout en restant immergés dans les langues indo-européennes, nous sommes allés dans un restaurant bengalais qui proposait des plats de tout le sous-continent indien: c'était excellent.
Une bien belle journée !
★ ★ ★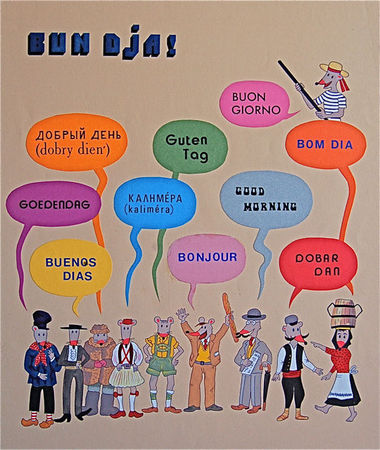 De tabel ki de muse "Bun dia !"

★ ★ ★
Uropi at the Toulouse World languages Forum
★ ★ ★
Sunday May 26th. The sun is rising over Capitol Square in a blue sky without a single cloud. A real miracle. On the day before, a cold and windy Saturday, we visited the lovely medieval villages of Puycelsi and Bruniquel near Montauban, perched on steep cliffs overhanging the Tarn valley. A November weather: an icy wind was sweeping along the narrow streets, howling around the church and we could easily imagine packs of hungry wolves roaming the deserted lanes at night.
On the following day, it was a bit chilly at first, for the sun was still hiding behind the Capitol, but laying out the stand warmed us up a little. At 10 o'clock, the sun finally shone over the whole square, and with it came the first visitors. One of them was Anoev, whom we had met on the Internet on the language forum l'Atelier and who had come down from Paris to visit the Toulouse Forum. We had a long discussion with him.
Then many visitors arrived and we had hardly the time for a walk around the other stands, or even for lunch. We saw people from over 22 different nationalities and languages: French, of course and Occitan, but also Catalan, Spanish, Greek, Italian, Indonesian, English, Welsh, American, Armenian, Russian, Vietnamese, Korean, Togolese, Andorran, Reunionese, Finnish, Dutch, Persian, Afghan, Urdu… All of them were first puzzled: "But what is Uropi ?" "What's the difference with Esperanto ?". Then, after listening to our explanations, they were most interested and asked many questions; they admired all the work done in all those years. Most of them were young people who had a real passion for languages.
They were first interested in the common Indo-European roots, 500 of which form the Uropi basic vocabulary. Our table showing the numbers from 1 to 10 in Proto-Indo-European and Uropi with their equivalents in modern I-E languages attracted many people. What I found particularly gratifying in those discussions with people who were either native speakers or specialists of different languages was that they confirmed the theories we developped on this blog.
★ ★ ★
De pauz, fotò H. Salvans

★ ★ ★
Creating a link between the peoples
First we observed that Uropi and our stand were concretely creating a link between people, as our motto says. Without them we could never have spoken about languages with so many people as different as Vietnamese and Spaniards, Togolese and Greeks, Afghans and Finns… For all of them wanted to see the similarities between Uropi and their languages, they all wanted to speak about their own languages. (The leaflets showing the common points between Uropi and each of the Indo-European languages aroused great interest; everybody wanted to have one).
This also shows that Uropi and people's interest in it is not limited to Europe. A Vietnamese asked me the right question: "Is Uropi only for Europeans ?" I told him first that Indo-European languages are not spoken only in Europe, but on the 5 continents, and then, more particularly I explained that the Uropi verb functions much more like a Vietnamese verb in the present than like a European verb. "There is no conjugation", he said, and indeed, in both languages, the verb form doesn't change with the person: Ur i, tu, he, ce… vok, vok, vok, vok = V. tôi, bạn, ông, cô… nói, nói, nói, nói… I speak, you speak, he/she speaks…), it is also the case in the future "You put the particle sẽ before the verb", as in Uropi the particle ve: i ve voko, ce ve voko = tôi sẽ nói…cô sẽ nói…(= I'll speak, she'll speak), tôi sẽ ăn = i ve jedo (I'll eat), tôi sẽ uống sữa = i ve pivo lik (I'll drink milk), bạn sẽ uống cà phê = tu ve pivo kafa (= you'll drink coffee), ông sẽ uống trà = he ve pivo tej (he'll drink tea)…His face lit up in a broad smile; he was convinced.
The subjunctive and the feminine
A French lady visited our stand with an English friend. She regretted that there was no subjunctive in Uropi, saying it brings a lot of nuances into the language. "Oh, no!" the English woman exclaimed "the subjunctive is perfectly useless; it's only there to bother those poor British people!" Then she added "Is there a feminine ? That is also useless." I told her there was one, used only for sexed beings, and added that expressing the feminine in English was a real headache, for ex. "female elephant…" She answered that such an expression was never used and people said "the elephant had a baby". Well in this case at least, the context is clear, but it is not always the case; when you say "the professor invited a student for a drink", whether it is a male or female student, the implications or innuendoes are far from being the same. Or if I say "I went out with my cousin" Man or woman ? They would probably not visit the same places and have the same activities. I remember once reading a whole chapter of a novel by P.D James, where a man alluded to a friend; I had to wait till the next chapter to understand the friend was a woman and not a man as I had first thought. That time the French woman agreed.
The real problem behind this controversy over masculine and feminine is discrimination against women, but we won't solve it by denying the difference. What women want is equality with men; they don't want to become men. The French Feminists' position - in their fight for equality they want to put all the names of occupations in the feminine - seems to me much more interesting linguistically speaking than denying the difference. Of course, most of the time, making a difference between man and woman is totally irrelevant: you don't need to say "doktora, dictora" (woman doctor, woman teacher); for example: "Call a doctor !" or "I want to see a lawyer!" it doesn't matter whether it's a a man or a woman. Yet in some cases you need to specify it: a woman writer doesn't write exactly like as a male writer… or "in the cabinet the re are 15 men ministers and 15 women ministers…" a perfect equality. (but you can't speak of equality if you can't name men and women differently: "in the cabinet there are 30 ministers")
★ ★ ★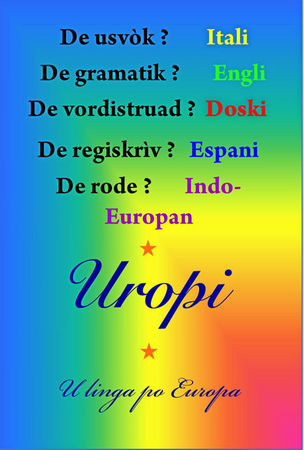 The pronunciation ? Italian. The grammar ? English. The word-building ? German.

The spelling ? Spanish. The roots ? Indo-European.

★ ★ ★
The pronunciation is Italian.
One thing is proclaiming on a poster "The pronunciation is Italian", another is hearing an Italian pronounce Uropi. I had explained Uropi to an Italian couple from Milan and I showed them various translations. It was a great pleasure to hear the woman read the titles quite naturally: "… u krimiromàn", "De miki Prins"…with a perfect pronuncation in a melodious Italian voice, although she didn't know a single Uropi word and had never heard of Uropi before.
Many other people appreciated the musical quality of Uropi and we said poems for them like "Miste id liuve" (Mists and rains) by Baudelaire or "Pont Mirabò" (Le Pont Mirabeau) by Apollinaire.
The problem with English
We also had very interesting discussions with 3 Americans, first a young woman and later on 2 young men. It was not easy to convince them (in English of course), for most Americans think everybody in the world speaks English fluently. Yet this is not the case and it is sometimes quite difficult to undestand people from other nationalities speaking English, because their pronunciation is strongly influenced by that of their mother tongue: a Greek, for instance, doesn't speak English like a Dane.
However, the main problem with English -or rather Globish - is something else.
If we learn English to communicate with Germans, Danes, Spaniards, Italians, Finns, Chinese… we will never be interested in German, Danish, Spanish, Italian, Finnish, Chinese… we will never learn other languages. A man from Toulouse who had lived in Franfkurt for 6 years and spoke fluent German told us he had to negotiate his business deals with Germans in English…this is ridiculous ! The extraordinary diversity of languages in the world (118 of which were on display at the Forum), which is the riches of mankind, will gradually disappear. The world will become standardized, for English is not only a means to communicate; it is a vernacular language which brings along with it the so-called "Anglo-saxon culture": we'll only watch American films and series, listen to Anglo-saxon music with English words, gulp American food and drinks, dress like Americans with jeans and base-ball caps (or suits and ties), etc. Our own cultures will soon fade away (it is already the case with French television, if you look at the evening programmes, *on Monday June 3rd for example, there were 11 US films and series as against 4 French ones and no other). Our elites will start speaking English with their children, just as the Gaulish elites spoke Latin and the Breton elites spoke French, and finally our languages will disappear as Gaulish and Breton did, replaced by a single language.
★ ★ ★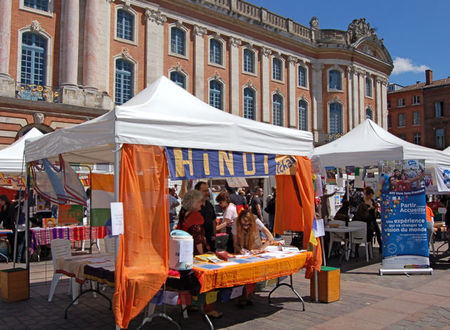 De Hindi stand

★ ★ ★
In one of his numerous interviews on the radio or television, the French linguist Claude Hagège was asked:
"Isn't the encounter with other cultures always enriching ?
- The encounter with other cultures is. But the problem is that most people who say "We should learn foreign languages" in fact learn only one: English. This is a threat hanging over mankind as a whole".
Cf C. Hagège:
http://www.youtube.com/watch?v=lEoxON1wDIk France culture, Contre la pensée unique
http://www.radio-canada.ca/nouvelles/International/2013/05/24/011-claude-hagege-linguiste-loi-france-enseignement-anglais.shtml Radio Canada

http://www.youtube.com/watch?v=fm6X1Ky2J5A (Expolangues)
A very friendly Finnish woman came to our stand; she was married to a Frenchman and gave Finnish lessons in Toulouse. She asked why all foreign films on the French TV were not shown in the original version; that would be a great help to learn foreign languages. Yet as (nearly) all films would be in English (see above*), it would help people to learn only one language … certainly not Finnish ! And this would speed up the standardizing process even more. If we can speak English with Finns very well, why on earth should we wish to discover Finnish, want to learn the language, be interested in the Finnish culture ?
This suggestion would not be an opening onto the language diversity, but rather a confinement to one single language.
Uropi is an opening
On the contrary, it is quite different to use Uropi to communicate because it isn't a vernacular language, and, though it was built from elements belonging to many languages and cultures (from their origins, their history, their evolution…), it has no specific culture of its own. And, as it includes the common Indo-European roots and its vocabulary is derived from some 30 different languages, Uropi is therefore an opening onto the language diversity. All our visitors wished to see the similarities between Uropi and their mother tongues, or the languages they knew. Thus Uropi makes us discover part of the various aspects of multiple languages and may arouse our interest for them and incite us to learn them.
At the end of the day, around 7 pm. a young French woman came, probably a student, who was very interested in the links between Uropi and Slavic languages, for she spoke Russian and was very pleased to see we had a translation of "The Lady with the Dog" by Anton Chekhov: "Oh, you have translated Дама с собачкой!". She had had a look at the tables with the mice and the tourists and asked "What's that language ?" showing "Dobar dan" & "Ne razumem"; I told her it was Serbo-Croat, hoping no Serb or Croat could hear me: they would probably have murdered me.
To end and celebrate the day, while remaining amidst Indo-European languages, we went to a Bengali restaurant offering dishes from all over the Indian sub-continent; the food was excellent.
We had a splendid day.
★ ★ ★