★ ★ ★
* Uropi Nove 79 * Uropi Nove 79 * Uropi Nove 79 *

★ ★ ★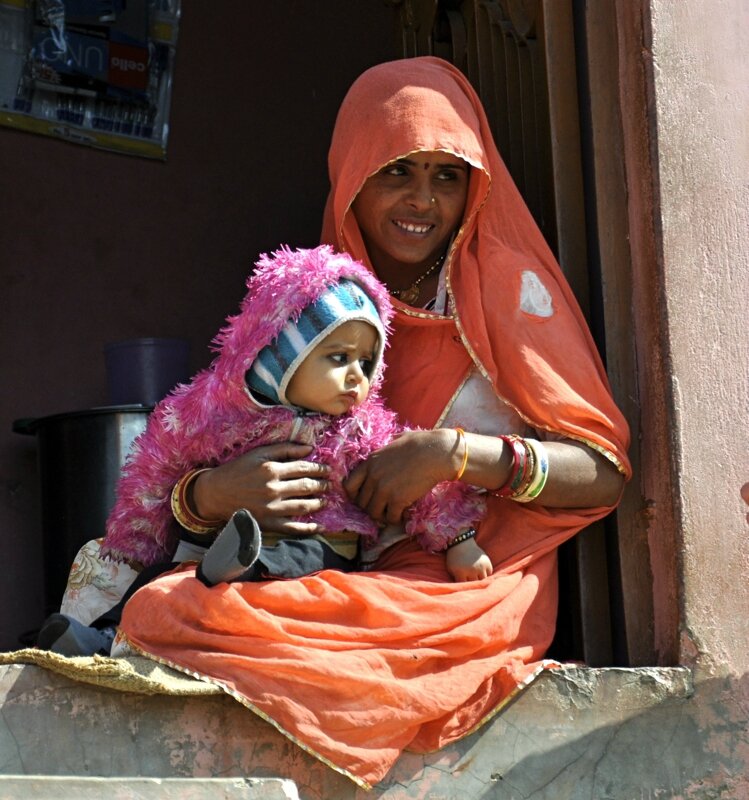 ★ ★ ★
Mata India - Delì - Agra - Dholpur
★ ★ ★
Janvar 2014. Di morna Nordindia se frij; brijklori sarìs vid kroven ki caule id krovas. Od de neb se usdupan strani fantome in turbàne vadan alòng de vaje. Ni pri kontàkt ki Novi Delì, itan us de aviport se neb - erdad od de Britan kolonizad, andubim - neb id masic trafiki obtope. Befènd sol ustèl truporo de miste id nu moz vizo Jama Masjid, in Hindi जामा मस्जिद, de "moskia Wendiu", de grenes moskia in India, magibèl in roj sandikam id bij marmare. Od za un moz normalim vizo de Roj Fort, talim struen in roj sandikam pa de Mogoli imperor Shah Jahan, tal wim Jama Masjid in 17i suntjàr; pur odia nu viz talim nit.
★ ★ ★
Mère Inde - Delhi - Agra -Dholpur
★ ★ ★
Janvier 2014. Ce matin l'Inde du nord a froid; les saris multicolores s'emmitouflent dans des châles ou des couvertures, d'étranges fantômes enturbannés émergent de la brume le long des routes. Notre premier contact avec Delhi, au sortir de l'aéroport, c'est le brouillard - héritage de la colonisation britannique, sans doute - le brouillard et d'invraisemblables embouteillages. Enfin le soleil réussit à percer et nous pouvons apercevoir Jama Masjid, en Hindi जामा मस्जिद, la "mosquée du vendredi", la plus grande en Inde, magnifique, toute de grès rouge et de marbre blanc. De l'esplanade de Jama Masjid on a normalement une vue sur le Fort Rouge, bâti entièrement en grès rouge par l'empereur Moghol Shah Jahan au 17e siècle; malheureusement, aujourd'hui c'est exclu.
★ ★ ★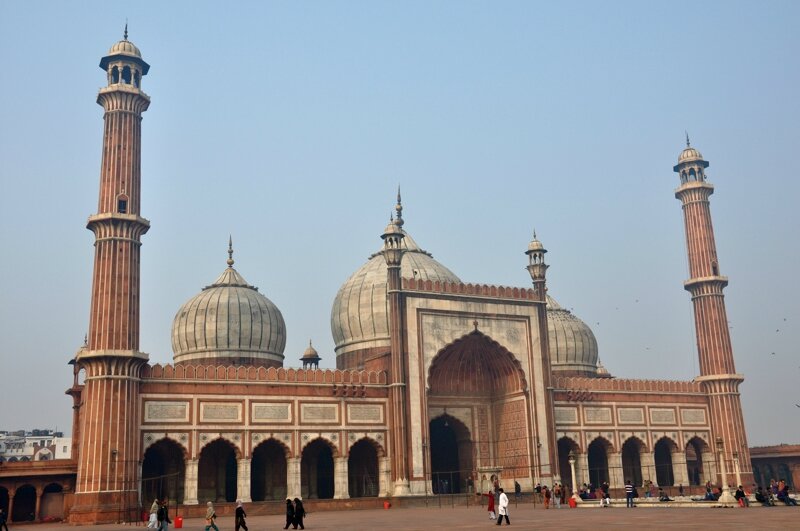 Jama Masjid in Delì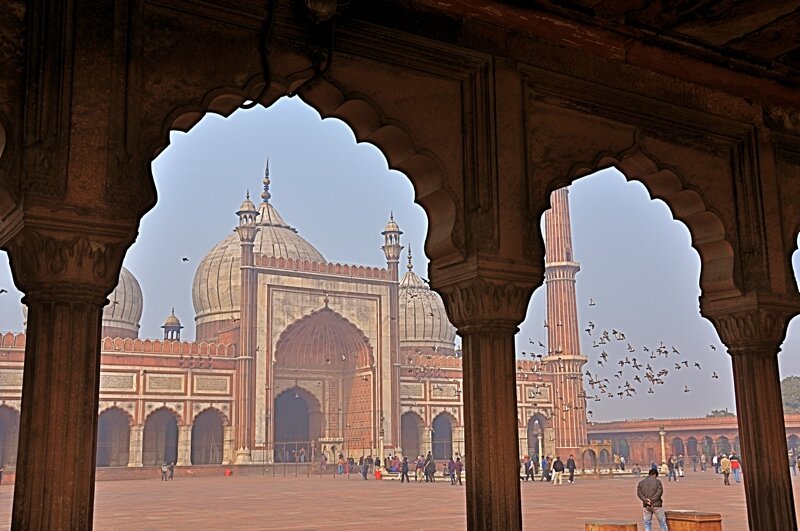 ★ ★ ★
Mother India - Delhi - Agra - Dholpur
★ ★ ★
January 2014. This morning Northern India is cold; bright-coloured saris are wrapped in shawls and blankets, we can see strange turbaned ghosts emerging from the mist along the road. Our first contact with New Delhi, leaving the airport, is fog - undoubtedly inherited from the British colonisation - fog and massive traffic-jams. Finally the sun manages to break through the mists and we can see Jama Masjid, in Hindi जामा मस्जिद, "the Friday mosque ", the largest mosque in India, splendid in red sandstone and white marble. From there you can normally see the Red Fort, that was entirely built in red sandstone by Mughal emperor Shah Jahan in the 17th century. Unfortunately today we can't see anything.
★ ★ ★
Be pod Jama Masjidi se distensan Chandni Chowk (Hindi चांदनी चौक = de Luni Plaz), de grenes bazàr in Purānī Dillī (Seni Delì). Nu vad in strit stradite ude u fost nodis intramicen elektriki dratis, su wen se hopan id jegan desade apine. De strade, beren pa venditias provitan tale sorte produtis, se polen ki u trob vadan, prosan karelite, siklan ki rikcas, faran su skutare, trirole karan merke, tale tutan po paso o propaso, id bemìd wen se pasitan, lanim, ticim eglifelim a tute id humane, saiten govas. Nu av krati inprese disordi, sujidi id os u falsi inprès pavridi, par de veri pavrid se ne za, in Chandni Chowk, ba altia.
★ ★ ★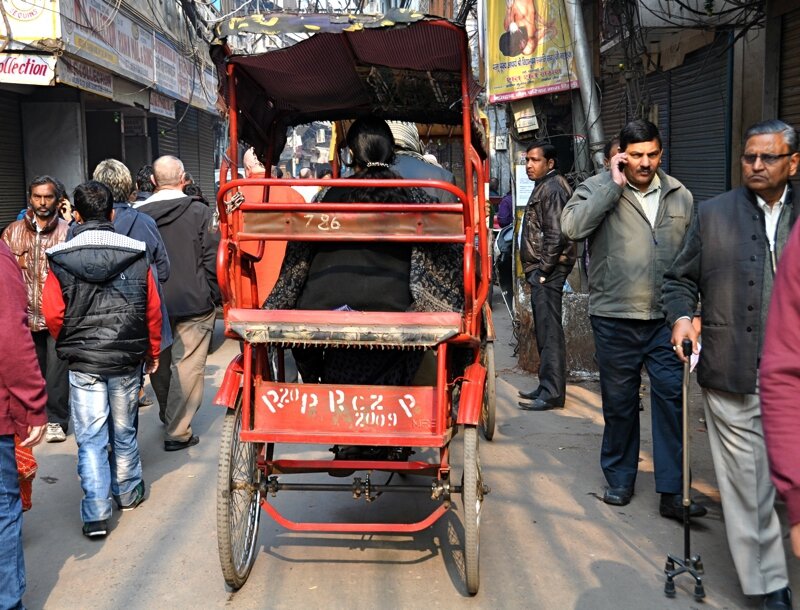 Chandni Chowk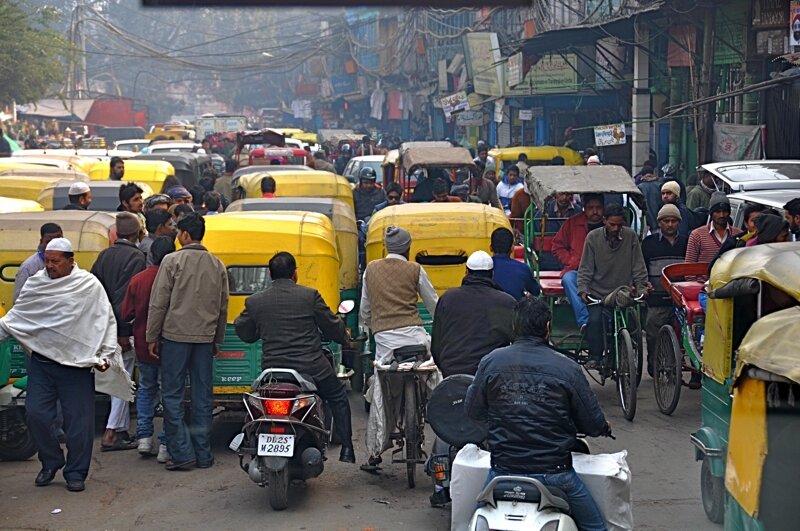 Trafik in Delì

★ ★ ★
Au pied de Jama Masjid s'étend Chandni Chowk (Hindi चांदनी चौक = Quartier de la Lune), le plus grand bazar de Purānī Dillī (la vieille Delhi). Nous marchons dans des rues étroites sous un enchevêtrement de fils électriques où gambadent des dizaines de macaques. Les rues, bordées d'échoppes où l'on vend de tout, sont envahies par une foule qui marche, pousse des charrettes, passe en cyclopousse, en scooter, en moto, en tricycle charriant des marchandises; tout le monde klaxonne pour passer ou doubler, et au beau milieu, nonchalantes, indifférentes aux humains et aux klaxons, se promènent paisibles les vaches sacrées. Il nous vient une impression de désordre, de saleté, de pauvreté, mais c'est une illusion: la pauvreté est ailleurs qu'à Chandni Chowk.
★ ★ ★
Below Jama Masjid lies Chandni Chowk (Hindi चांदनी चौक = Moon Place), the biggest bazar in Purānī Dillī (Old Delhi). We walk through narrow streets under a huge entanglement of electric wires where dozens of macaques are playing and jumping. The streets, lined with tiny shops, are packed with people walking, pushing carts, cycling, riding motorbikes, scooters, rickshaws, tricycles carrying goods. They all hoot their horns to overtake or simply move forward and, in the middle of this, are standing idle and peaceful sacred cows, indifferent to hoots and humans. We get an impression of disorder and dirt, of poverty; but this is an illusion: the real poverty is elsewhere, not in Chandni Chowk.
★ ★ ★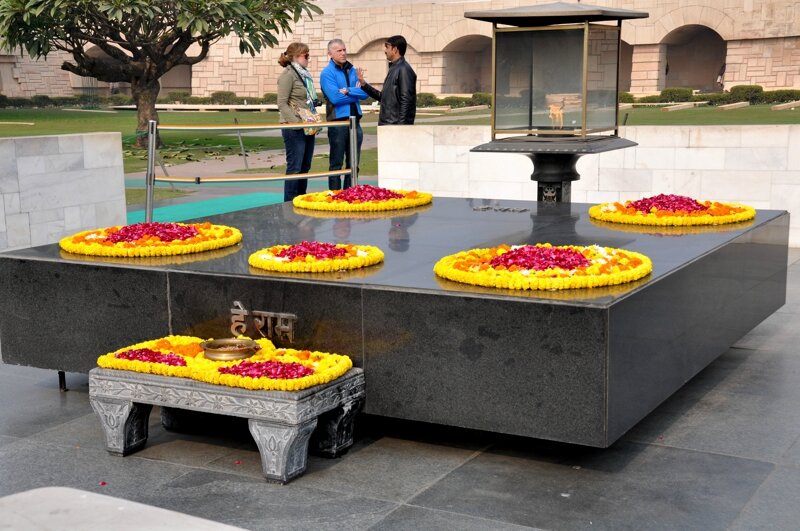 De Gandhi menimark

★ ★ ★
Pos u kurti vizìt a de menimark a Mahatma Gandhi, de "Magi Alm", de pater de nasioni: u slimi rektangel nar sandikami su wen vid seten jaki dia pin fric florikrone, u simbòl ov de slimid volen pa de gren man.
★ ★ ★
Après le bazar nous effectuons une courte visite au mémorial du Mahatma Gandhi, la "Grande Âme", le père de la nation - simple rectangle de granite noir sur lequel on dépose chaque jour cinq couronnes de fleurs fraîches; symbole révélateur de la simplicité du grand homme.
★ ★ ★
Then we paid a short visit to the Gandhi memorial, a simple rectangular black granite slab dedicated to Mahatma Gandhi, the "great soul", the father of the nation - a symbol revealing the great man's simplicity. Five wreaths of fresh flowers are laid on the slab every day.
★ ★ ★
De Kutub Minar id de ruine u moskiu
★ ★ ★
Be posmidià nu vizitì de Kutub Minar, de holes kamitòr in India, struen beròn 1200 pos Krist pa de pri Afgàni Muslimi sultàne. Aròn de minar se vari struene, moskias id grube id in de bel varmi luc be fend posmidiù, je s'u favòri pasitad po jun Indiane id Indianas, skolore id famile.
★ ★ ★
L'après midi nous nous rendons au Qutub Minar, la plus haute tour de toute l'Inde érigée vers 1200 par les premiers sultans afghans. Autour du minaret s'élèvent diverses ruines de mosquées et de tombeaux; dans la chaude lumière de fin d'après-midi, c'est la promenade favorite des jeunes Indiens et Indiennes, familles ou lycéens.
★ ★ ★
In the afternoon we went to the Qutub Minar, the highest stone tower in India; it was built around 1200 AD by the first Afghan sultans. The minaret is surrounded by various ruins of mosques and tombs; in the warm late afternoon light, the place is a favourite walk for young Indians, students and families.
★ ★ ★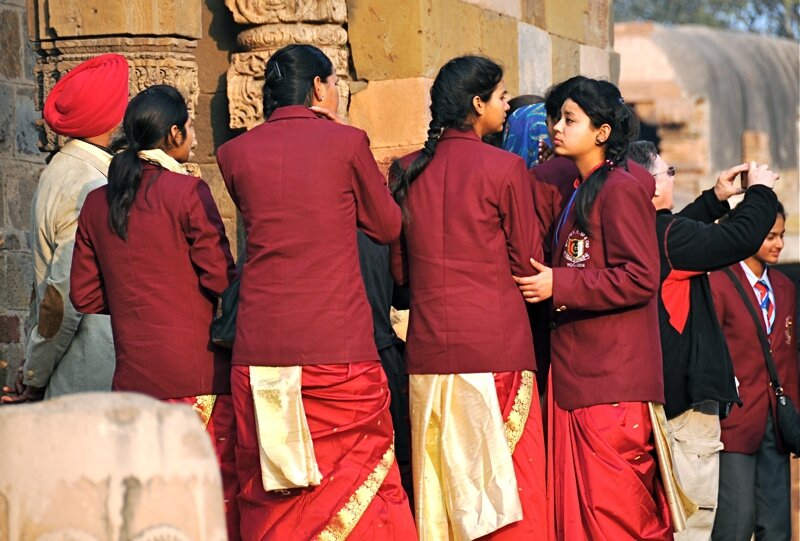 Studanas in li uniforme be de Kutub Minar
★ ★ ★
Be de slogan morna, nu las Delì po Agra trenim, in u "normal" tren wen Indiane nom li "holspeli tren", faran tra u camp jok involpen in miste. Avenen in Agra, nu vizìt de Roj Fort struen pa de Mogoli imperore. Be di punt, je se uzi dezo u vord ov Mogole. Dod de avenad Arianis pos 1500 for Krist id de saiti tekste de Vedas, India avì talvos aven de Hindu religiòn id, obte Buda ("de veken") genì in de nord de landi beròn 560 fK, India vidì nevos Budisti usim ude Imperor Acoka in 260-232 for Krist. Mol maj posen in 13j suntjàr pK de pri Arabi invadore fundì de sultania Delì. Ba de cevi Muslimi kovàld usvenì in 16i suntjàr pa Mogole. Venen od Afganistàn, lu vidì nomen sim (Mogole = Mongole) par li cef Babur (usvoko "babər" o "baber") sì u posgèn Timuri Lang id Gengis Khani. Babur kovaldì Delì id fundì de Mogoli Imperia; he vidì slogen pa Humayun, pos Akbar, "de grenes" we promuvì u gren religios tolad id maʒì u Raʒputi prinsa, pos Jahangir, Shah Jahan id Aurangzeb.
★ ★ ★
De Roj Fort in Agra
★ ★ ★
Le lendemain dès l'aube nous quittons Delhi par le train pour Agra, un train "normal" que les Indiens appellent leur "TGV". Arrivés à Agra, nous visitons le Fort Rouge construit par les empereurs Moghols. Un mot sur les Moghols. Depuis l'arrivée des Aryens après 1500 av.JC et les textes sacrés des Vedas, l'Inde était de religion Hindoue et, bien que Bouddha ("l'éveillé") soit né dans le nord du pays vers 560 av.JC, le bouddhisme ne s'est jamais implanté durablement dans toute l'Inde à l'exception du règne de l'empereur Ashoka (260-232) av.JC. Beaucoup plus tard, au 13e siècle, les premiers envahisseurs arabes fondèrent le sultanat de Delhi. Mais la véritable conquête de l'Inde eut lieu au 16e siècle par les Moghols. Venus d'Afghanistan, on les appela Moghols, c'est à dire Mongols parce que leur chef Babur (prononcer "babər" o "baber") descendait de Tamerlan et de Gengis Khan. Babur conquit Delhi et fonda l'empire Moghol; lui succéda Humayun, puis Akbar, "le plus grand" qui prôna la tolérance religieuse et épousa une princesse Rajpoute, vinrent ensuite Jahangir, Shah Jahan et Aurangzeb.
★ ★ ★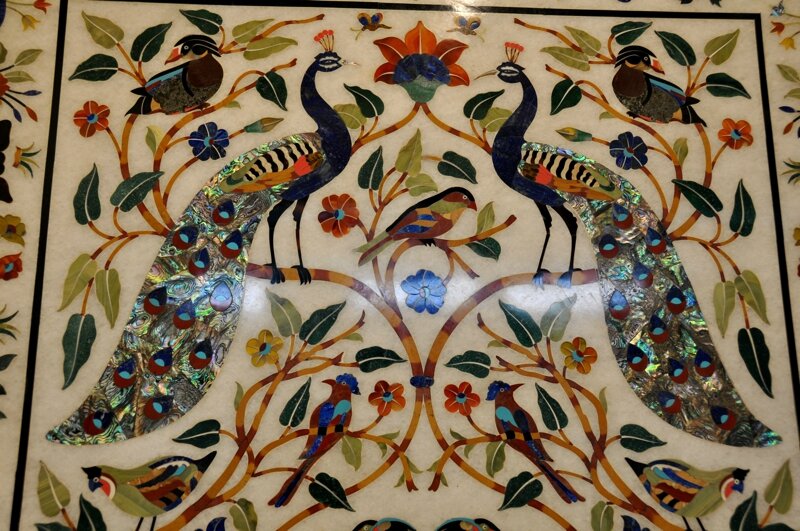 Ingraven su marmar

★ ★ ★
On the following day at dawn we left Delhi for Agra by train, an ordinary train that Indians call their "High Speed Train". In Agra we visited the Red Fort that was built by the Mughal emperors. A word about the Mughals. Since the Aryan invasion after 1500 BC and the sacred texts of the Vedas, India had always been of the Hindu religion, and although Buddha ("awakened one") was born in the north of the country around 560 BC, buddhism never permanently took hold in India except during the reign of emperor Ashoka (260-232) BC. Much later in the13th century, the first Arab invaders founded the sultanate of Delhi. But the real conquest of India took place in the16th century by the Mughals (or Moguls). They came from Afghanistan, and were called Mughals, i-e Mongols because their ruler Babur was a descendant of Tamerlane and Gengis Khan. Babur conquered Delhi and founded the Mogul empire; he was followed by Humayun, then Akbar, "the greatest" who advocated religious tolerance and married a Rajput princess, then Jahangir, Shah Jahan and Aurangzeb.
★ ★ ★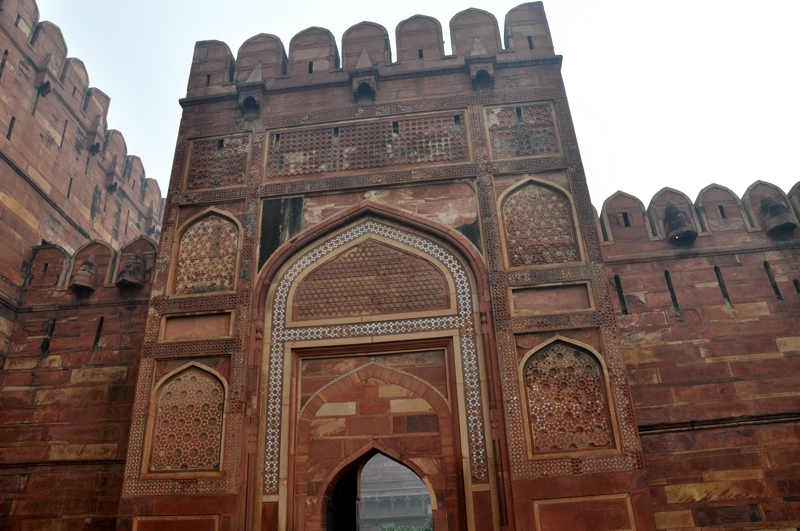 U vort in de Roj Fort, Agra

★ ★ ★
De Roj Fort in Agra vidì struen pa Akbar, Jahangir id Shah Jahan. Pur un mozì pen vizo ji roj sandikami wale, tore id vorte, id de vari marmari palàze inia par de neb. Sim nu becizì pospero ni vizìt a de Taj Mahal.
De Taj Mahal se u mirvìz bij marmari inronen pa kwer minare, id du moskias, molvos nomen regim u "soin marmari". Je vidì struen pa imperor Shah Jahan po ingrubo hi beliamen maʒa Mumtaz Mahal "uscepena de palàzi". Be midià, sol avan befènd vikten de miste, nu mozì admiro de Taj Mahal. Ji belad udepàs vorde. Shah Jahan vidì wajim ditronen pa hi son Aurangzeb id inkarsen in de Roj Fort od wo he mozì ruplojim miro hi keri Taj Mahal be soli dias.
★ ★ ★
De Taj Mahal in Agra
★ ★ ★
Le Fort Rouge d'Agra fut bâti par Akbar, Jahangir et Shah Jahan. Difficile de voir ses remparts, ses portes et ses tours de grès rouge ainsi que les divers palais de marbre en raison du brouillard. Nous avons donc décidé de reporter notre visite au Taj Mahal.
Le Taj Mahal est une merveille de marbre blanc entourée de quatre minarets, et de deux mosquées, surnommée parfois, à juste titre "le rêve de marbre". Il fut érigé par l'empereur Shah Jahan à la mémoire de son épouse bien aimée Mumtaz Mahal "l'élue du palais". Vers midi, le soleil ayant fini par vaincre les brumes, nous pouvons admirer le Taj Mahal. Les mots nous manquent pour évoquer une telle beauté. Pour son malheur, Shah Jahan fut détrôné par son fils Aurangzeb et enfermé au Fort Rouge d'où il pouvait - maigre consolation - contempler son cher Taj Mahal.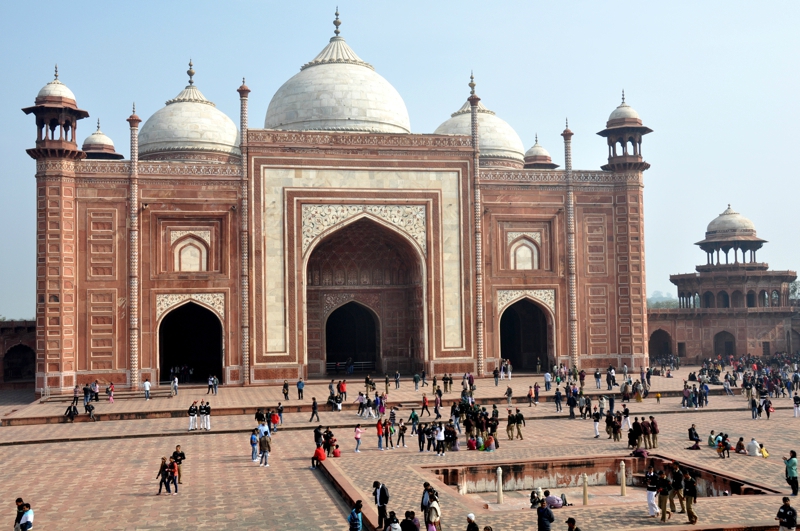 Taj Mahal, de zati moskia

★ ★ ★
The Red Fort in Agra was built by Akbar, Jahangir and Shah Jahan. We couldn't see its red sandstone walls and towers very well because of the fog; this was also the case for the various marble palaces inside. So we decided to postpone our visit to the Taj Mahal.
Le Taj Mahal is a marvel in white marble surrounded by four minarets and two mosques, which is sometimes rightly called "the marble dream". It was built by Emperor Shah Jahan in memory of his beloved wife Mumtaz Mahal "the chosen one of the palace". Towards noon the sun broke through at last, and we could admire the Taj Mahal. Its beauty is beyond description. Unfortunately Shah Jahan was dethroned by his son Aurangzeb and imprisoned in the Red Fort, from where he could regretfully contemplate his dear Taj Mahal.
★ ★ ★
★ ★ ★
Be fend posmidiù nu avenì a de hotèl in Dholpur, ni pri palàz maharaʒu. In Raʒastàn, "de land rajis", je stì maharaʒas, "magi raje" in tale pole. For de avenad Mogolis lu avì mogan armide id dutì stragi were gon de Mogoli invadore; gradim lu vidì vikten pa de imperiu armid usim de maharana od Udaipur we apdavì sia nevos. Pos de Mogole, de Britan kolonizad stabì su de maharaʒas we sì (o vidì) anmezim ric.
★ ★ ★
En fin d'après-midi nous arrivons à notre hôtel à Dholpur, notre premier palais de maharaja. Au Rajasthan, "le pays des rois", il y avait un maharaja, "grand roi", dans chaque ville. Avant l'invasion Moghole ils entretenaient de puissantes armées et ont mené des guerres terribles contre l'envahisseur qui finit par les vaincre, l'un après l'autre à l'exception du maharana d'Udaipur qui ne se rendit jamais. Après le déclin des Moghols, la colonisation britannique s'appuya sur les maharajas qui étaient (ou devinrent) immensément riches.
★ ★ ★
Dholpur, procepi hal

★ ★ ★
In the late afternoon we arrived at our hotel in Dholpur, our first maharaja palace. In Rajasthan, "the country of kings", there was a maharaja, "great king", in every city. Before the Mughal invasion they kept powerful armies and waged terrible wars against the invader. Yet they were beaten, one after the other by the imperial army, except the maharana of Udaipur who never surrendered. After the Mughals, the British colonisation relied on the maharajas who were (or became) immensely rich.
★ ★ ★
Odia pur, de maharaʒas se nemaj os ric, id po proteno li luksi palàze: lu av doʒen traformo u part da palazis in hotele po turiste. Po ni gren felij nu mozì molvos tranoco in da soini kamare dekoren ki arke, freske id fonte. In Dholpur de palàz se inronen pa u park ki pawe id pavilione wo nu sopì, ba nu jedi in de raji jedisàl. Id be de slogan morna, nu mozì vizito de palàz: procepi sale, kamare id banias jok uzen pa de famìl. De neb sì revos dic id, avenan in Mackund, nu mozì ne vizo tale de temple siten aròn u lag. Sim nu vizitì un od la, dediken a doj Civa.
★ ★ ★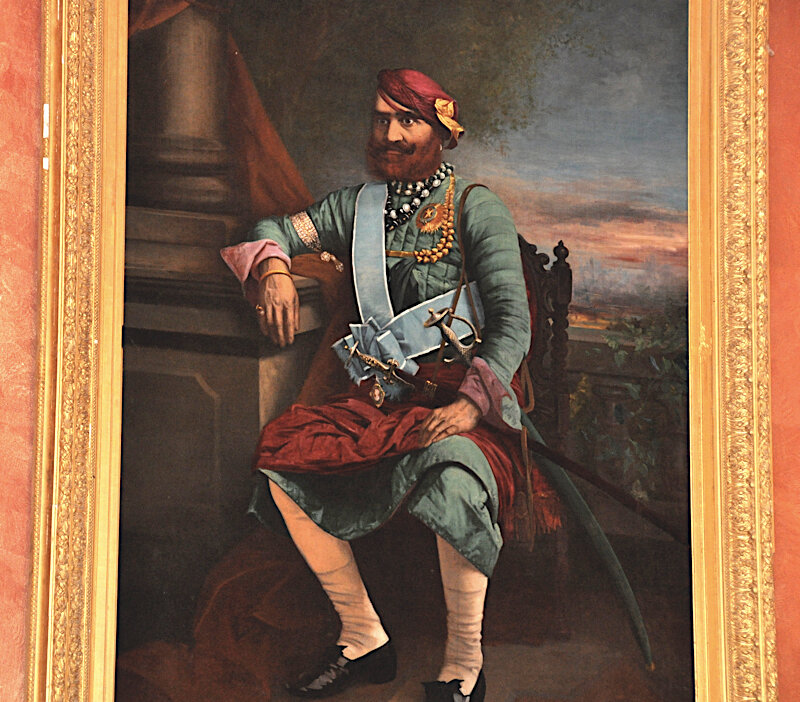 De maharaʒa od Dholpur
★ ★ ★
Aujourd'hui ils ont perdu une grande partie de leur richesse, et pour pouvoir entretenir leurs luxueux palais, ils se voient contraints d'en convertir une partie en hôtels pour touristes. Pour notre plus grand bonheur, nous avons souvent passé la nuit dans ces chambres de rêve décorées de fresques, d'arches et de fontaines. A Dholpur le palais est entouré d'un parc avec des paons et des pavillons où nous avons dormi, prenant nos repas dans la salle à manger d'apparat. Au matin, nous visitons le palais: salles de réception, chambres et salles de bain de la famille royale. Le brouillard, toujours aussi dense, nous empêche à Mashkund, d'apercevoir tous les temples entourant le lac. Nous entrons alors dans l'un d'eux dédié au dieu Shiva.
★ ★ ★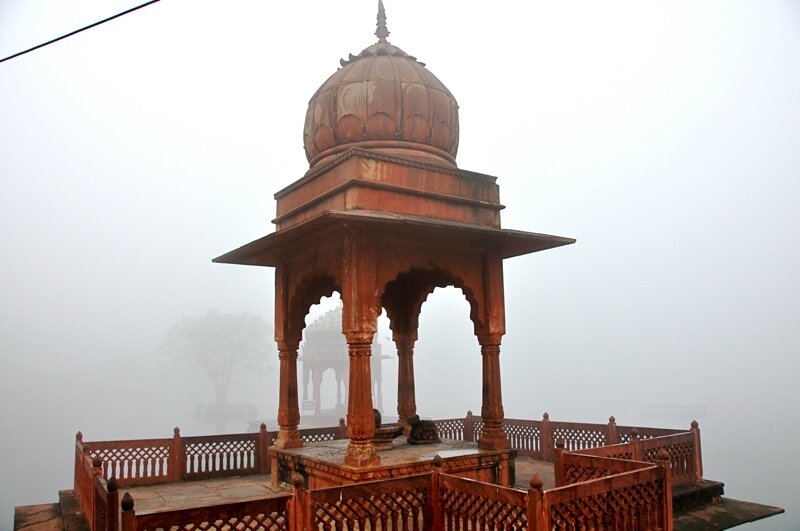 Mackund
★ ★ ★
Today they have lost a great part of their wealth and, in order to maintain their luxury palaces, they had to convert them partly into hotels for tourists. For our greatest pleasure we often spent the night in those dreamlike bedrooms decorated with frescoes, arches and fountains. In Dholpur the palace stands in the middle of a park with peacocks and pavilions where we slept, having our meals in the ceremonial dining hall. In the morning we visited the palace: reception halls, bedrooms and bathrooms for the royal family. The fog that was very dense again prevented us from seeing the temples around the lake at Mashkund. We visited one of them dedicated to the God Shiva.
★ ★ ★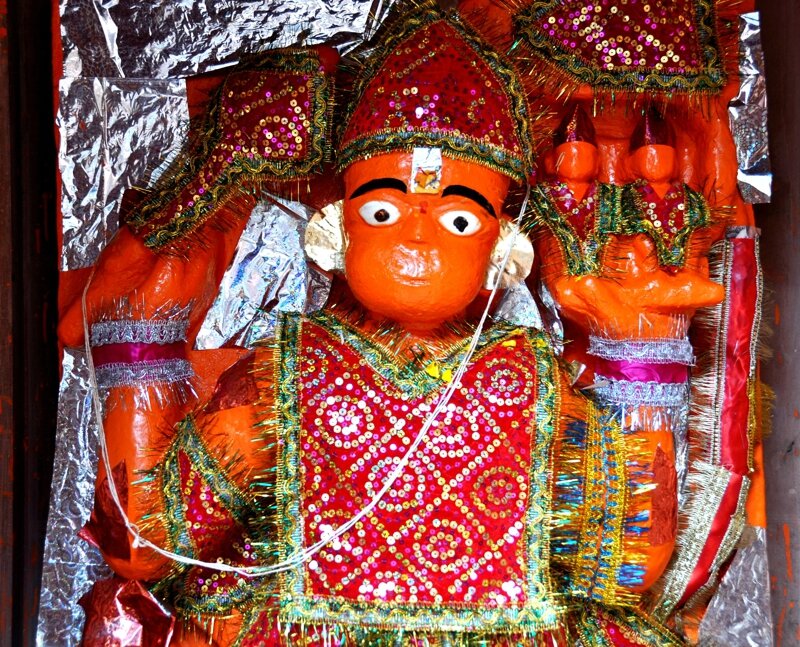 Doj Hanuman

★ ★ ★
In de Hindu religiòn je ste annumari doje ba, be de centra se de Triunid (Sanskriti: त्रिमूर्तिः trimūrti): Brahma, Vicnu, Civa. Brahma se de kreator, Vicnu de progaror, molvos prodiken in blu, Civa se de distruor, id os de regenizor; he vid molvos prodiken wim Civa Nataraja, "de dansi raj", da se Civa dansan in u kirk. De maʒas de tri dojis se Sarasvati, de doja konadi id artis po Brahma, Lakcmi de doja ricadi po Vicnu id Parvati po Civa. Un dia pos u longi vaiz Civa findì Parvati in kopanad u jun mani; ane meno altem, he trajì us hi sabel id kotì ap de keb de jun mani, wan he orì od de muk Parvati te da sì li son Ganec(a) we avì gresen trawàn hi apsàd. Po reparo hi mali det, Civa prodezì davo a hi son de keb de pri ʒivi sani wen he kogonev… da sì un elefànt, sim doj Ganec av u keb elefanti. Un alten vezi doj se de apin-doj Hanuman. In de tempel Civu u prist provitì no ni pri tcaj masala, tej ki spese, we varmizì na u poj.
★ ★ ★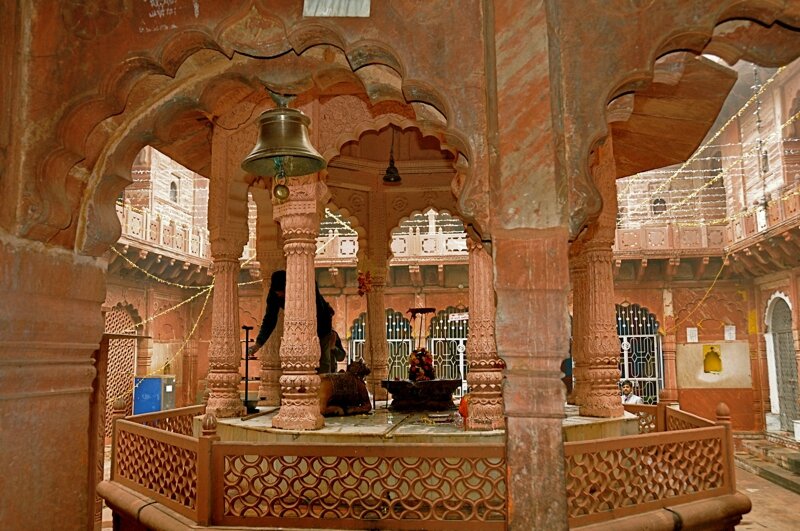 De tempel Civu in Mackund

★ ★ ★
Dans la religion Hindoue les dieux sont innombrables, mais au centre se trouve la trinité (sanskrit: त्रिमूर्तिः trimūrti): Brahma, Vishnou, Shiva. Brahma est le créateur, Vishnou, souvent représenté en bleu, le protecteur, et Shiva le destructeur, mais aussi le régénérateur; on le représente souvent en Shiva Nataraja, "le roi de la danse", Shiva dansant au centre d'un cercle. Les épouses des trois dieux sont Sarasvati, déesse de la connaissance et des arts pour Brahma, Lakshmi déesse de la richesse et de la prospérité pour Vishnou et Parvati pour Shiva. Un jour, après un long voyage, Shiva trouva Parvati en compagnie d'un jeune homme; sans autre forme de procès, il dégaina son sabre et lui trancha la tête, lorsqu'il entendit de la bouche de Parvati qu'il s'agissait de leur fils Ganesh qui entre temps avait bien grandi. Pour réparer son méfait, Shiva promit de donner à son fils la tête du premier être vivant qu'il rencontrerait… ce fut un éléphant; voilà pourquoi le dieu Ganesh a une tête d'éléphant. Autre dieu très populaire, le dieu-singe Hanuman. Dans le temple de Shiva un prêtre nous offre notre premier tchaï massala, thé aux épices, qui nous réchauffe un peu.
★ ★ ★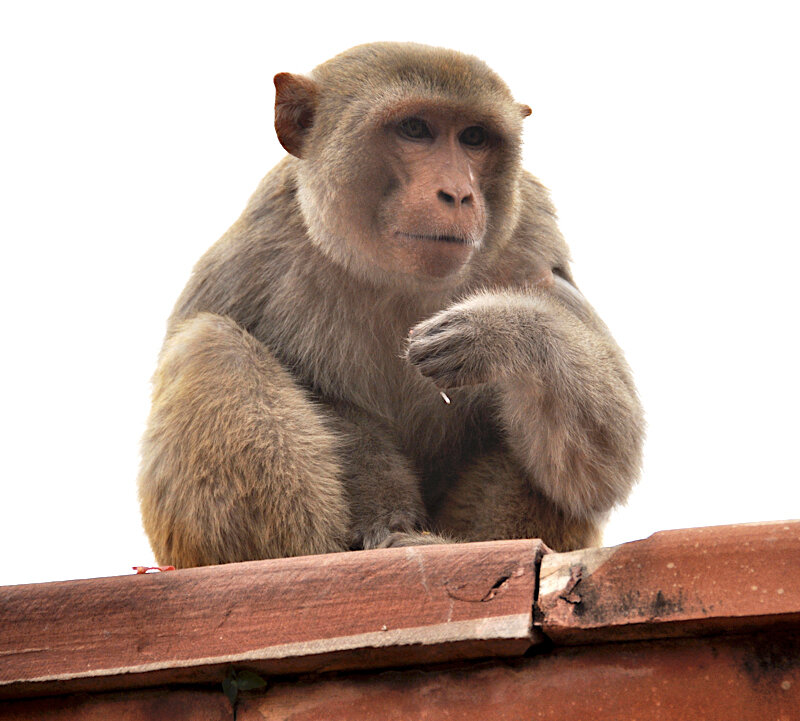 Un apin in de tempel Civu
★ ★ ★
In the Hindu religion there are innumerable gods, but at the core is the Trinity (Sanskrit: त्रिमूर्तिः trimūrti): Brahma, Vishnu, Shiva. Brahma is the creator, Vishnu, often portrayed in blue, the preserver or maintainer, and Shiva the destroyer, and also the transfomer; he is often depicted as Shiva Nataraja, "the dance king", that is Shiva dancing in the middle of a circle. The three gods' wives are Sarasvati, the goddess of knowledge and arts for Brahma, Lakshmi the goddess of wealth and prosperity for Vishnu and Parvati for Shiva. One day, coming back from a long journey, Shiva found Parvati in the company of a young man; without further ado he drew his sword and cut off the young man's head, when he heard Parvati tell him that this was their son Ganesh who had grown up during his absence. To amend his misdeed Shiva promised to give his son the head of the first living being he would meet… that was an elephant; this is why god Ganesh has an elephant's head. Another popular god is Hanuman, the ape-god. In the Shiva temple a priest offered us our first chay massala, tea with spices, which warmed us up a little.
★ ★ ★
Bharatpur - Jaipur - Bundi

★ ★ ★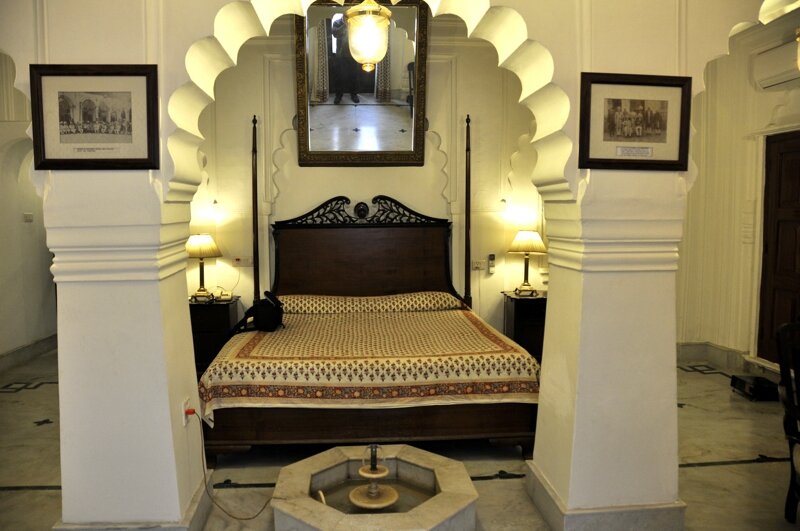 Kamari hotèl in Bharatpur

★ ★ ★
Beròn midià, wim siudim, sol asemì id nu avenì a ni hotèl in Bharatpur. Je sì revos u splendi fori palàz maharaʒu traformen in hotèl: in ni kamar je stì kolone ki Hindu arke id u spijan font; de jedisàl sì subebèl, luksi … in u vord raji. Be posmidià nu pasitì in de Nasioni Park su sikli rikcas. Wim "siklidutor" nu uscepì u stol-usvizan Sikh ki barb id aranʒi turbàn, ba de pavri man sì ʒa seni id sa magri te he strenì ʒe mol po koduto na; he vidì propasen pa tale de alten rikcas, id nu felì kopàin po ha. Pur je sì andubim hi uni midel gano hi ʒivad.
Za se u vasti rezervia vilgi bestis ki marìze. Nu vizì gren antilope, apine, zebùs, ba subetàl annumari ovle: bij id gris herle, blu Indian vodigalas id mole ande, marikrobe, stigone stan su dreve ner li niste id miki blupicore, trawàn sol sì falan su de marìze.
★ ★ ★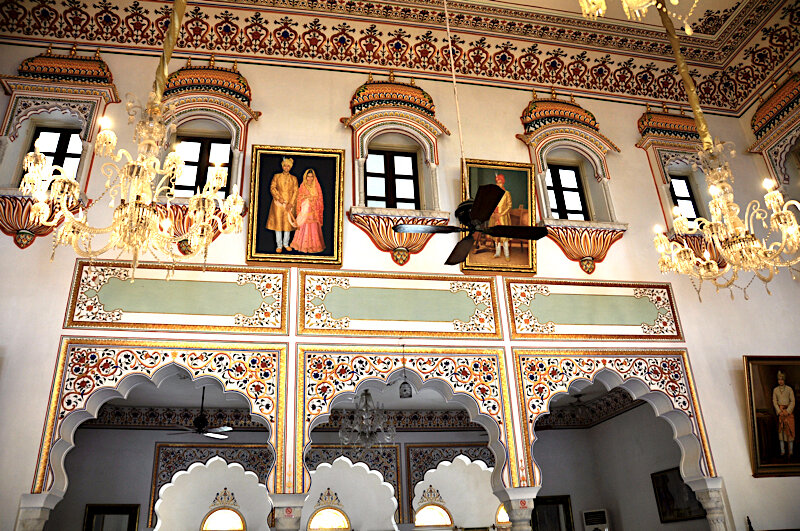 De jedihàl in Bharatpur

★ ★ ★
Vers midi, avec l'apparition du soleil nous arrivons à notre hôtel à Bharatpur, une fois encore un splendide palais de maharaja. Notre chambre a des colonnes supportant des arches hindoues et une fontaine jaillissante; la salle à manger est superbe, d'un luxe peu commun, en un mot… royale. L'après midi nous nous promenons dans le Parc National en cyclo-pousse. Comme conducteur nous avons choisi, un Sikh à la fière allure avec sa barbe et son turban orange, mais le pauvre homme est déjà âgé et si maigre qu'il nous fait pitié en peinant sur ses pédales pour nous transporter, dépassé par tous les autres cyclo-pousse; mais c'est sans doute son unique gagne-pain.
Là s'étend une vaste réserve d'animaux sauvages dans les marais. Nous y voyons de grandes antilopes, des singes, des zébus, mais surtout de nombreux oiseaux: aigrettes et hérons, poules d'eau bleues et canards, des cormorans, des cigognes perchées sur les arbres près de leurs nids, et de petits martin-pêcheurs bleus, tandis que le soleil se couche sur les marais.
★ ★ ★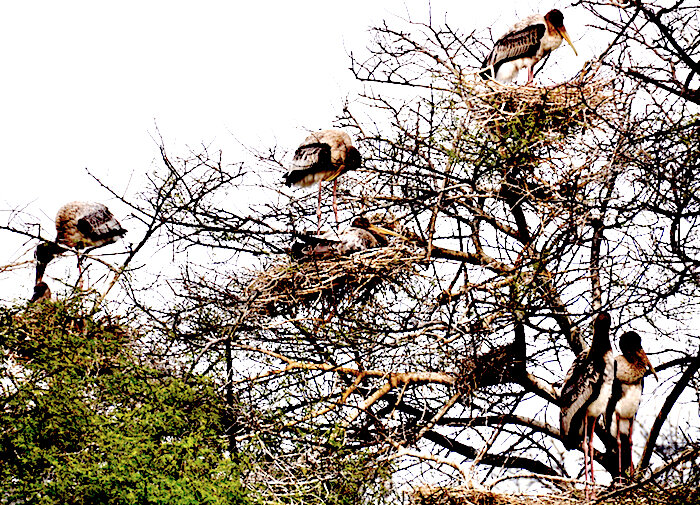 Stigone in de Nasioni Park

★ ★ ★
Towards noon the sun had cleared away the fog and we arrived at our hotel in Bharatpur, another splendid maharaja palace. Our room had columns supporting Hindu arches and a spurting fountain; the dining hall was superb, luxurious, in a word… royal. In the afternoon we went for a ride on rickshaws in the National Park. The rickshavala (the man who cycles) we had chosen was a proud-looking Sikh with his beard and his orange turban, but the poor man was already ageing and so lean that it was a pity to see him struggling on the pedals as all the other rickshaws overtook us; but it was probably his only way to earn his daily bread.
The park was a vast wildlife sanctuary with marshes. We saw large antelopes, monkeys, zebus, but above all numerous birds: egrets and herons, ducks and blue Indian moorhens, cormorants and storks perched on the trees near their nests, and small blue kingfishers, while the sun was setting over the marshes.
★ ★ ★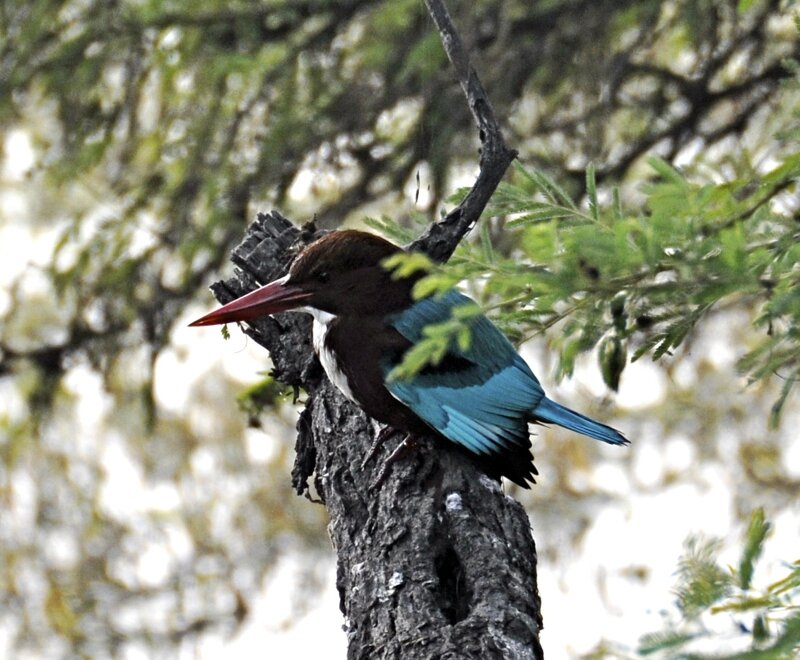 Blupicor

★ ★ ★
Be de slogan dia nu avenì be posmidià a de vik Abanheri wo nu vizìtì de Baori, u duv kami basin ki skalias su de zate wo de maharanis (de "magi rajas") mozì sia bano. Ba wa plagì ma de maj in da vik sì de belad ji domoris, subetàl ʒinas id kide, li fin fasitrate, de brijklori sarìs, de glade, de smije.
★ ★ ★
L'après-midi suivant nous nous arrêtons dans le village d'Abanheri pour voir le Baori, un profond bassin de pierre bordé d'escaliers sur trois côtés, où se baignaient les maharanis (les "grandes reines"). Nous sommes frappés par la beauté des habitants du village, des femmes et des enfants, la finesse de leurs traits, les saris aux couleurs vives, les regards, les sourires.
★ ★ ★
In the following afternoon we stopped in the village of Abanheri to see the Baori, a deep stone basin with stairs on three sides, where the maharanis ("great queens") used to bathe. We were struck by the beauty of the village inhabitants, women and children, their fine features, their bright-coloured saris, their eyes, their smiles.
★ ★ ★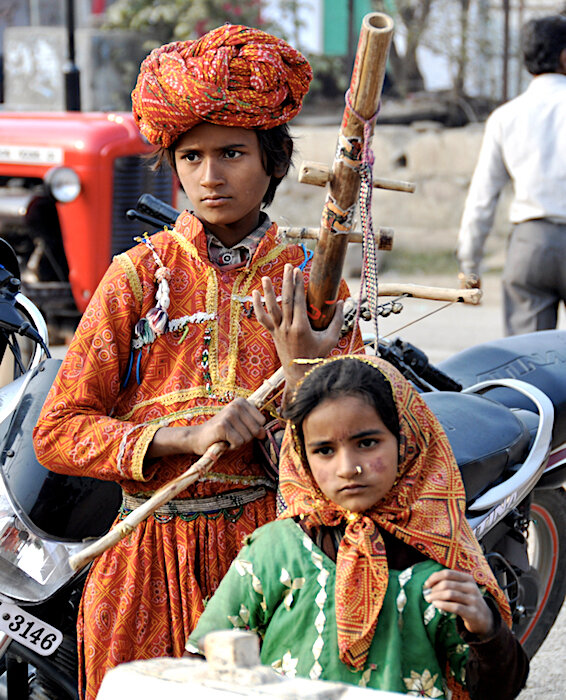 Miki muzikore, Abanheri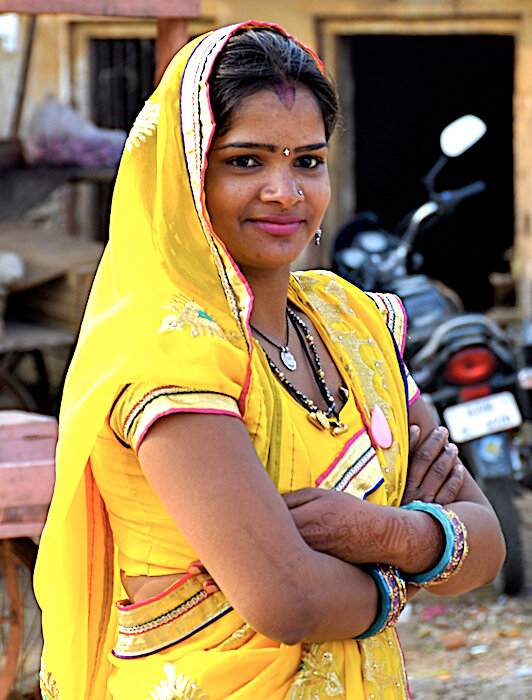 Ʒina in ʒel sarì, Abanheri

Je ve proìto … à suivre … to be continued … continuará … Fortsetzung folgt … continua … συνεχίζεται … продолжение следует …