★ ★ ★
* Uropi Nove 80 * Uropi Nove 80 * Uropi Nove 80*

★ ★ ★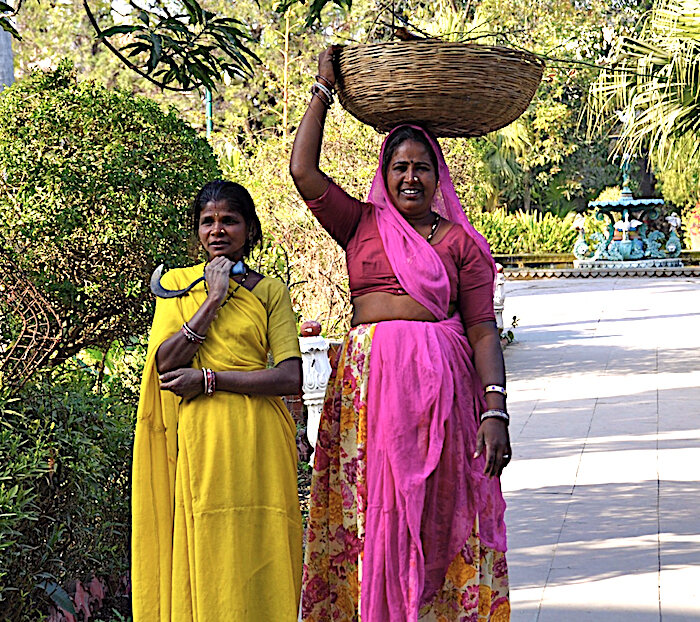 ★ ★ ★
Jaipur - Bundi - Udaipur
★ ★ ★
Be de vespen nu avenì in Jaipur (Hindi जयपुर: usvoko dʒaipur o dʒeipur), de kebipol Raʒastani. Za nu domì in u privati has, wo un siudì procepo turiste id wo de famìl predizì de jedad po na. Nu vespjedì su de teràs aròn u gren drovifoj; de atmosfèr sì mol prijan, ba obte de foj nu sì priʒe frij id eke od na cepì un infrijad.
★ ★ ★
Le soir, nous arrivons à Jaipur (Hindi जयपुर: prononcer djaïpour ou djépour), la capitale du Rajasthan. Nous logeons chez une famille qui nous prépare le repas du soir que nous prenons sur la terrasse autour d'un feu de bois. L'ambiance est très agréable, mais malgré le feu nous prenons froid et plusieurs d'entre nous s'enrhument.
★ ★ ★
In the evening we arrived in Jaipur (Hindi जयपुर), the capital of Rajasthan. We were accommodated in a private house, where the family, used to welcoming tourists, prepared the evening meal for us. We ate on the terrace around a wood fire in a very friendly atmosphere. Yet in spite of the fire we were not so warm and several of us caught a cold.
★ ★ ★
Ni famìl in Jaipur
★ ★ ★
Be de slogan morna nu farì a Fort Amber, haltan pro de Hava Mahal, de Palàz Vintis. Jaipur vidì funden in 1727 pa Maharaʒa Jai Singh od Amber; je vid nomen de rozi pol par in de seni pol tale struene vidì penten rozi. De Hava Mahal se maj u fasad te u palàz ki ji annumari skulpen fente id balkone, nicias id kupole, we somiv a de kron Kricnu. Je vidì struen in 1799 pa Maharaʒa Sawai Pratap Singh pote de raji maʒas mozì vizo de prosesione in de stradispeke ane vido vizen.
★ ★ ★
Le matin nous partons pour Fort Amber, faisant une halte pour admirer le Hava Mahal, le Palais des Vents. Jaipur a été fondée en 1727 par le Maharaja Jai Singh d'Amber; on l'appelle la ville rose parce que dans la vieille ville tous les édifices sont peints en rose. Le Hava Mahal est plus une façade qu'un palais avec ses innombrables fenêtres et balcons sculptés, ses niches et ses coupoles; il a la forme de la couronne de Krishna. Il a été bâti en 1799 par le maharaja Sawai Pratap Singh pour que ses épouses puissent contempler les processions et le spectacle de la rue sans être vues.
★ ★ ★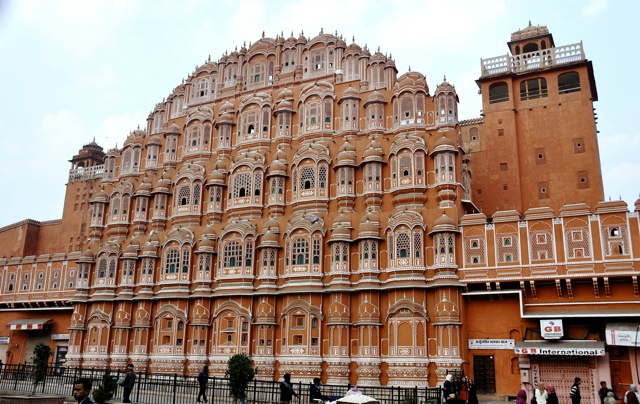 Hava Mahal, de Palàz Vintis, Jaipur
★ ★ ★
The next morning we drove to Fort Amber, making a stop in front of the Hava Mahal, the "Wind Palace". Jaipur was founded in 1727 by Maharaja Jai Singh of Amber; it is called the pink city because in the old town all the buildings are painted pink. The Hava Mahal is not so much a palace as a façade with its innumerable carved balconies and windows, its niches and domes; it has the shape of Krishna's crown. It was built in 1799 by maharaja Sawai Pratap Singh so that his wives could watch the processions and the street sights without being seen.
★ ★ ★
Amber sì de fori kebipol de maharaʒus for Jaipur vidì struen. Fort Amber se u magi ʒel sandikami fort stan su u koln subevangan u lag. Po ito op de klin a de fort nu stepì su ricim dekoren elefante: un interesan usperij obte je sì ne mol komforti. Nu sedì in u plati kist po du persone id vidì kobalen pro id ru, od zat a zat wim u bark su marivolne. Avenen opzà, id stepen niz de elefante, nu mozì admiro de landispek su de lag id vizìto Fort Amber ki ji magibèl picten dore id de Sheesh Mahal (usvoko "cīc"), de Palàz Spekelis wej marmari mure se talim inleʒen ki miki spekele.
★ ★ ★
De elefante be Fort Amber
★ ★ ★
Amber était l'ancienne capitale des maharajas avant la construction de Jaipur. Fort Amber est une énorme forteresse de grès jaune bâtie sur une colline surplombant un lac. Pour nous rendre au sommet nous montons sur des éléphants: expérience intéressante mais peu confortable. Assis dans une caisse plate, nous sommes ballotés de droite à gauche et d'avant en arrière comme une barque sur la houle marine. Arrivés là-haut, nous descendons des éléphants, et admirons la vue sur le lac, puis le palais aux portes richement décorées de motifs floraux, le Sheesh Mahal (prononcer "chîch"), le "Palais des Miroirs", dont les murs de marbre sont entièrement incrustés de petits miroirs.
★ ★ ★
Amber was the maharajas' former capital before Jaipur was built. Fort Amber is a huge yellow sandstone fortress on top of a hill overlooking a lake. To reach the summit we rode on richly decorated elephants: this was an interesting but not very comfortable experience. We sat in a flat box, and were pitched and tossed to and fro, from side to side like a bark on a heavy swell. Once we got up there and got off the elephants, we could admire the view on the lake, and the palace with its entrance doors decorated with floral motifs, the Sheesh Mahal, the "Mirror Palace", whose marble walls are entirely inlaid with small mirrors.
★ ★ ★
Fort Amber, de initi dor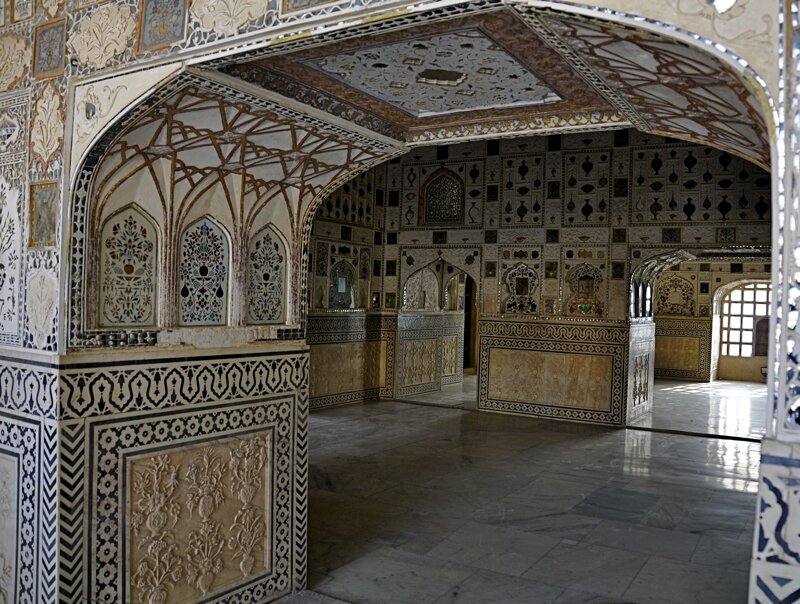 Fort Amber, Sheesh Mahal, de Palàz Spekelis
★ ★ ★
Ruvenen a Jaipur nu vizìtì be posmidià de Jantar Mantar, de astronomi observatoria struen in 18i suntjàr pa Maharaʒa Sawai Jai Singh II, id we av de grenes solidikar in mold, we moz davo de hor ki u procizid du sekundis. Dapòs nu vizitì de City Palace, de residèns de prosàn maharaʒu. Bemìd u kort ste de Diwan-e-Khas, de Hal Audiensis wo un moz vizo de kwer anmezi sirveni ʒare we vidì uzen pa Maharaʒa Sawai Madho Singh II po karo vod Gangu in hi vaiz a London po de kronad raji Edward VII. Jak od la moz inteno 4000 litre. Ner za ste Pitam Niwas Chowk, u miki kort ki kwer magibèl picten id skulpen dore prodikan de kwer sezone. De beles od la se de dor pawis prodikan otèm id dediken a Vicnu.
Diwan-e-Khas, de Hal Audiensis, City Palace, Jaipur
★ ★ ★
De retour à Jaipur nous visitons, l'après-midi, le Jantar Mantar, observatoire astronomique construit au 18e siècle par le maharaja Sawai Jai Singh II, et qui possède le plus grand cadran solaire au monde, capable de nous donner l'heure avec une précision de deux secondes. Nous visitons ensuite le City Palace, résidence, aujourd'hui encore, du maharaja. Au milieu d'une cour se dresse le Diwan-e-Khas, Salle des Audiences où sont exposées quatre immenses jarres en argent, dans lesquelles le Maharaja Sawai Madho Singh II avait transporté à Londres lors du Couronnement du roi Edouard VII, de l'eau du Gange nécessaire à ses ablutions. Chacune d'entre elles a une contenance de 4000 litres. Tout près de là se trouve Pitam Niwas Chowk, une petite cour avec 4 magnifiques portes peintes et sculptées représentant les quatre saisons. La plus belle est sans aucun doute la porte des paons, représentant l'automne et dédiée à Vishnou.
★ ★ ★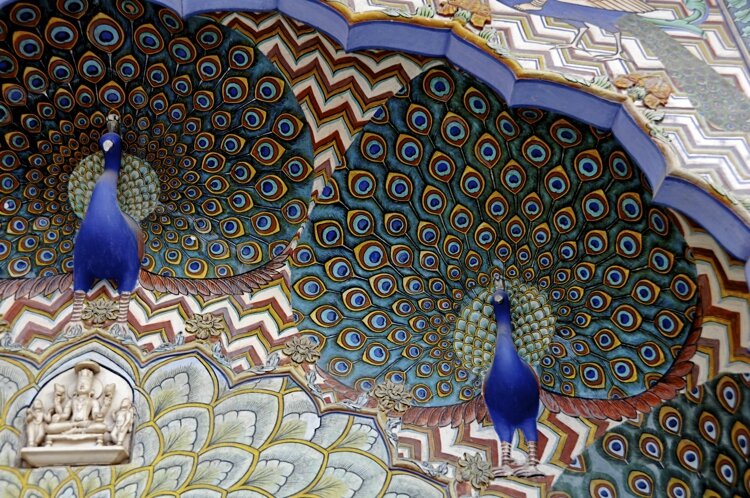 De Pawidòr, City Palace, Jaipur
★ ★ ★
Back in Jaipur, in the afternoon we visited the Jantar Mantar, the astronomic observatory built in the 18th century by maharaja Sawai Jai Singh II, with the largest sundial in the world, which can give us the time with a precision of two seconds. We then visited the City Palace, which is still the residence of the present maharaja. In the middle of a courtyard stands the Diwan-e-Khas, the Audience Hall where we can see the four immense silver vases, in which Maharaja Sawai Madho Singh II had carried water from the Ganges for his ablutions all the way to London on the occasion of King Edward VII's coronation. Each of them contains over 1000 gallons. Nearby is Pitam Niwas Chowk, a small courtyard with 4 superb carved and painted doors figuring the four seasons. The most beautiful one is undoubtedly the peacock door, for autumn and dedicated to Vishnu.
★ ★ ★
Rikca id govas, Jaipur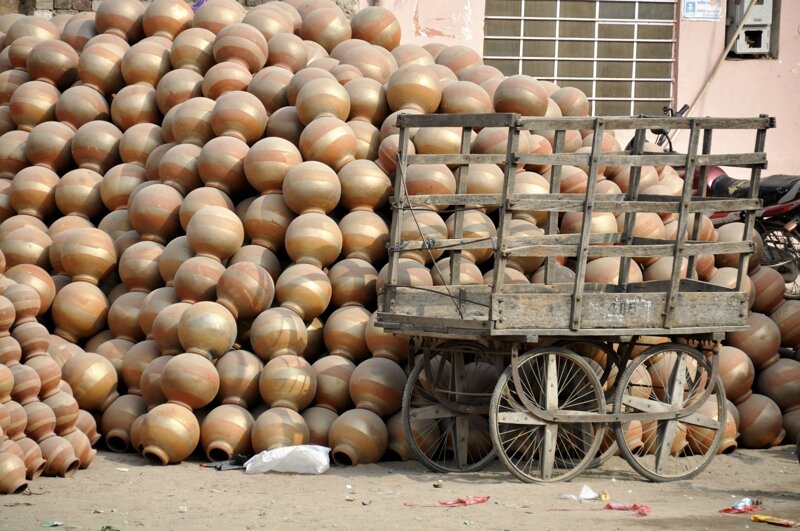 Ʒare in Jaipur

★ ★ ★
Be vespen nu bestajì be u religios ceremonij in de Birla tempel, u bel bij marmari tempel, dediken a Lakcmi id a Vicnu, ba vid os ornen ki de statuje id nome de gren menoris id profetis di moldi wim Sokrate, Konfuzi, Zaratustra, Buda, Mose, Krist…, i.s.p.
★ ★ ★
Le soir nous assistons à une cérémonie religieuse au temple Birla, beau temple de marbre blanc, dédié à Lakshmi et à Vishnou, et orné des noms ou des statues des grands penseurs et prophètes du monde entier comme Socrate, Confucius, Zoroastre, Bouddha, Moïse, le Christ…, etc.
★ ★ ★
Birla Tempel, Jaipur
★ ★ ★
In the evening we attended a religious ceremony in Birla temple, a handsome white marble temple dedicated to Lakshmi and Vishnu, and adorned with the statues of the names of the greatest thinkers and prophets in the world like Socrates, Confucius, Zoroaster, Buddha, Moses, Christ…, etc.
★ ★ ★
Civa, Birla Tempel, Jaipur

★ ★ ★
Be de slogan morna, nu lasì Jaipur po faro a Bundi, u lovi miki pol ki u fort, u lag id blu hase. I gusì ja mol ki ji tici atmosfèr, dal od de trafiki glam gren polis wim Jaipur o Delì. Pos avo na stalen in ni hotèl, nu itì busim a de lag id podim op a Fort Taragarh tra de strade de poli, wej dore sì molvos dekoren ki picten skene, wo sì pasitan swine somivan a vilgi swine id de siudi govas. Od Fort Taragarh nu avì u splendi spek su de blu pol id de diali ʒiv ji domoris su de terase. De fort se u bel samp Raʒputi arkitektadi ki ji skulpen balkone, arke id kolone ornen ki drovi elefante. De Raʒpute, "sone rajis" sì de domore Raʒastani for de Mogoli invàd id lu se jok odia de majsan polkad de stati. Nu mozì admiro de mirvizi vardipictene 18i suntjari prodikan skene de korti de maharaʒu o skene armidis id weris. Nu itì niz podim a de hotèl, pasitan tra de aʒiven strade id bazàr Bundi.
★ ★ ★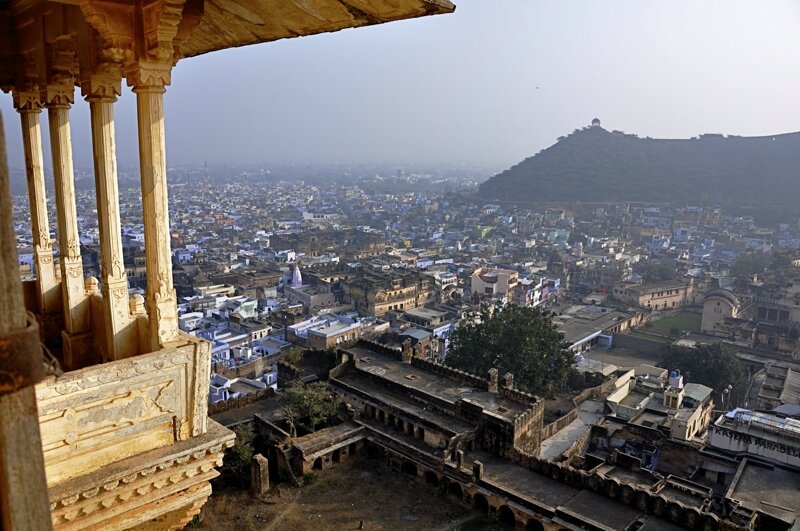 Bundi, de blu pol, vizen od Fort Taragarh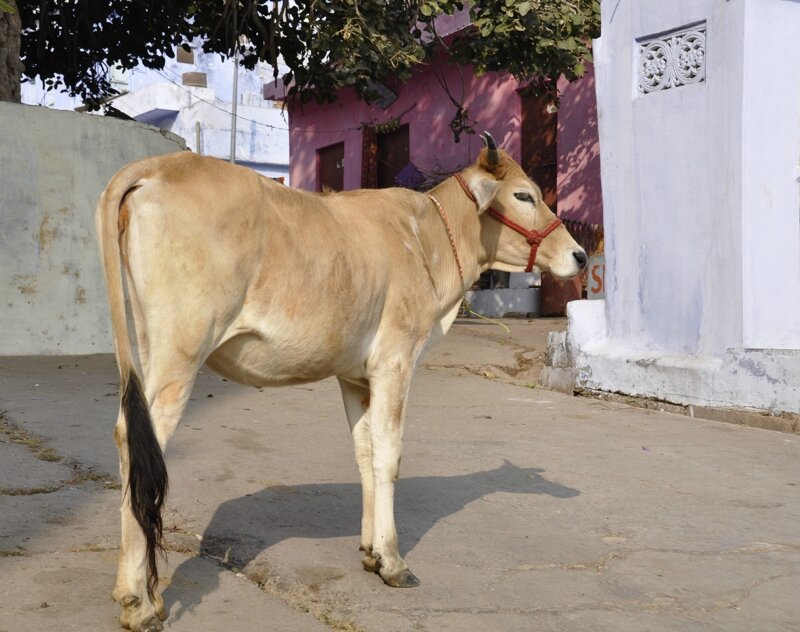 Gova, in de strade Bundi

★ ★ ★
Le lendemain nous quittons Jaipur pour Bundi, jolie petite ville dominée par un fort, avec son lac et ses maisons bleues. J'aime beaucoup son atmosphère paisible, loin du vacarme de la circulation des grandes villes comme Jaipur ou Delhi. Après notre installation à l'hôtel nous nous rendons au lac et de là, nous escaladons la colline jusqu'au Fort Taragarh par les rues de la ville, dont les portes sont souvent décorées de scènes peintes, et où nous croisons des porcs ressemblant à des sangliers, et bien sûr les éternelles vaches sacrées. Depuis le fort nous avons une vue splendide sur la ville bleue et la vie de ses habitants sur les terrasses. Le fort est un bel exemple d'architecture rajpoute avec ses balcons sculptés, ses arches et ses colonnes ornées d'éléphants de bois. Les Rajpoutes, "fils de rois" étaient les habitants du Rajasthan avant l'invasion Moghole et forment aujourd'hui encore la majorité de la population de l'état. Les murs des différentes salles sont ornées de fresques magnifiques du 18e siècle, représentant des scènes de la vie de la cour ou des scènes de parades ou de batailles. Nous rentrons à pied à hôtel, par les rues animées et le bazar.
★ ★ ★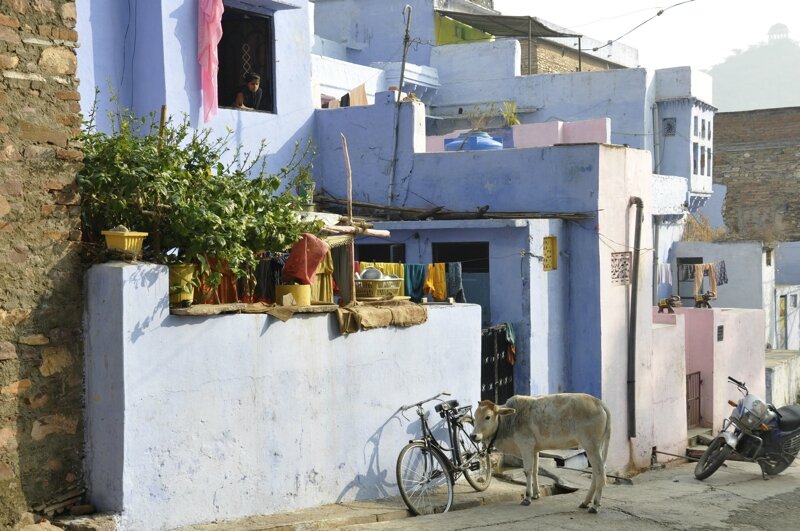 In de strade Bundi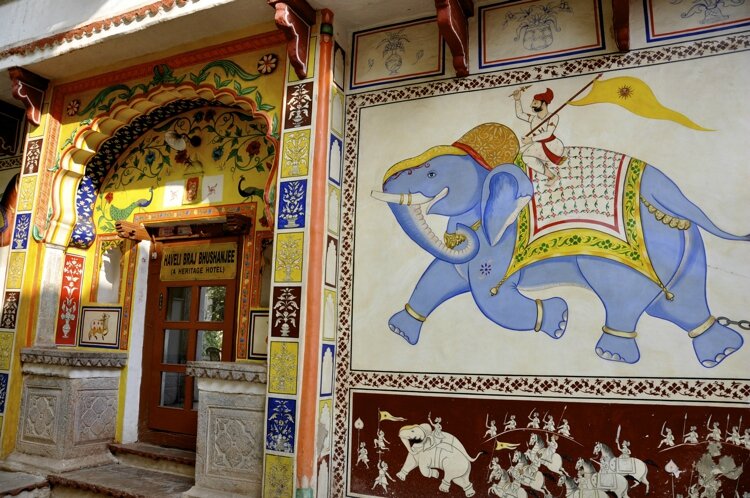 Picten dor, Bundi

★ ★ ★
The next day we left Jaipur for Bundi, a lovely little town with a fort, a lake and blue houses. I enjoyed the peaceful atmosphere, far from the permanent traffic din of large cities like Jaipur or Delhi. After having lunch at the hotel we went by bus to the lake and then walked up to Fort Taragarh through the streets of Bundi, where the doors are often decorated with painted scenes, and where we saw pigs looking like wild boars, and, of course the inevitable sacred cows. From the fort we had a splendid view on the blue town and on people's life on the terraces. The fort is a good example of Rajput architecture with its carved balconies, arches and columns adorned with wooden elephants. The Rajputs, "kings' sons" were the inhabitants of Rajasthan before the Mogul invasion and still make up the majority of the population of the state today. The walls of the different rooms of the palace are covered with splendid 18th century paintings, representing scenes of the maharaja's court or scenes of parades or battles. Going down from the fort, we walked to the hotel through the busy streets and bazar of Bundi.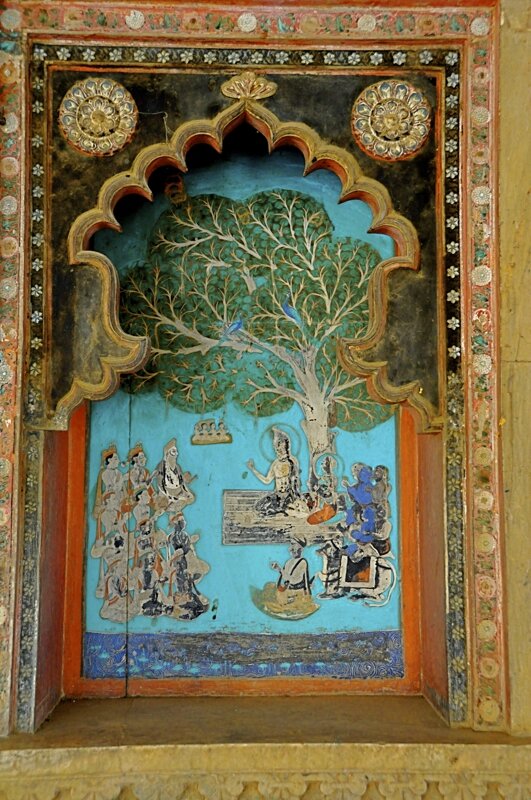 Vardipictene id miniature 18i suntjari in Fort Taragarh , Bundi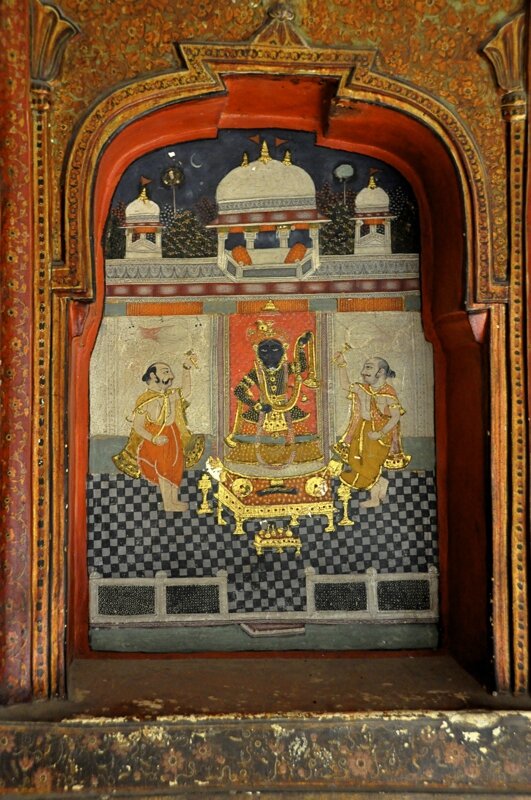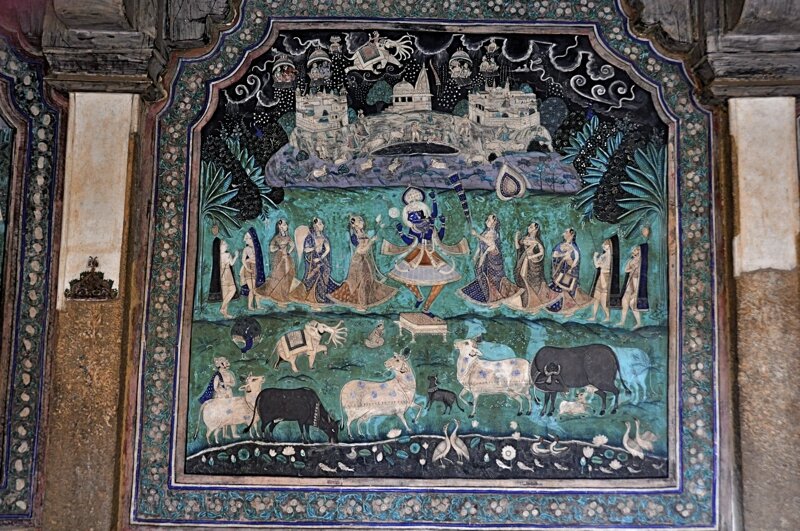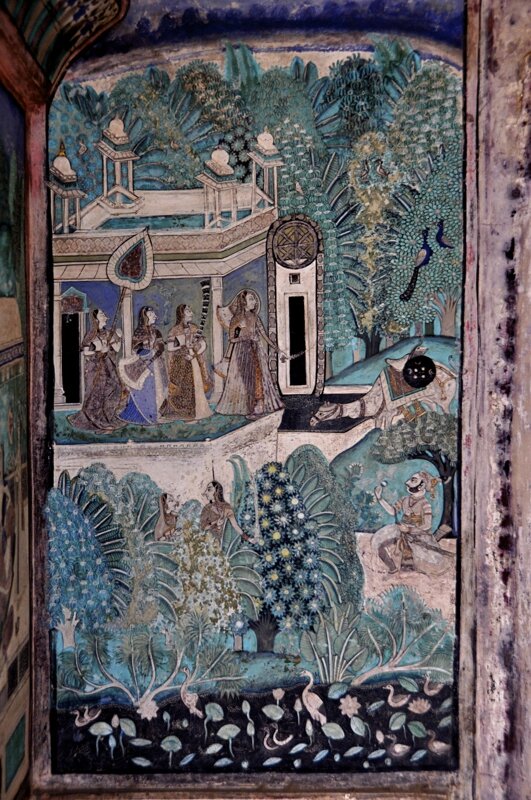 ★ ★ ★
Pos avo tranocen in Bundi nu farì ap do Chittorgarh. Su de vaj nu halti po vizo u bel veti tempel 8i suntjari in Menal (Bhilwara). De tempel, dediken a Civa, se talim struen in roj sandikàm, id su ji mure usia se skulpene prodikan doje id dojas, id os erotic skene. Fort Chittorgarh se un anmezi fort (5kme longi), struen in 7i suntjàr su u roki platia subevangan de pol. Nu farì op za in motorikcas, un od de maj komùn vaikle in Indian pole: lu se skutare ki u kabin we moz transporto tri o kwer persone. Chittorgarh sì de kebipol de rainiu Mewar. In 1303 Allaudin, de sultàn od Delì, avan inliamen ki de ankoeglim bel Padmini, de maʒa de Maharaʒu Ratan Singh, atakì de fort ki un anmezi armid. De Raʒpute kambì a mor tis de fend, id, vizan te je stì nun sper po viktad, Raja Padmini becizì deto de johar, ki tale ci ʒinas: lu siamurdì jetan sia tale in un enormi foj.
Skulpen in Menal tempel

★ ★ ★
Après avoir passé la nuit à Bundi nous partons pour Chittorgarh. Nous nous arrêtons en route pour voir un beau temple ancien du 8e siècle à Menal (Bhilwara). Le temple, dédié à Shiva, est entièrement bâti en grès rouge, et ses murs extérieurs son ornés de sculptures représentant des dieux et déesses, ainsi que des scènes érotiques. Fort Chittorgarh est une immense forteresse (5kms de long), bâtie au 7e siècle sur un plateau rocheux dominant la ville. Nous nous y rendons en rickshaw ou tuk-tuk, petit véhicule très utilisé dans les villes indiennes: il s'agit d'un scooter équipé d'une cabine qui peut transporter 3 ou 4 personnes. Chittorgarh était la capitale du royaume de Mewar. En 1303 Allaudin, le sultan de Delhi, s'étant amouraché de la reine Padmini, l'incomparablement belle épouse du Maharaja Ratan Singh, assiégea le fort avec une immense armée. Les Rajpoutes se battirent jusqu'à la mort, et voyant que tout était perdu, la reine Padmini ainsi que 10000 autres femmes pratiquèrent le johar: elles se brûlèrent vives en se jetant sur un énorme brasier.
★ ★ ★
Motorikcas su de vaj a Fort Chittorgarh

★ ★ ★
After spending the night in Bundi we drove off towards Chittorgarh. On the road we stopped to see a beautiful old 8th century temple in Menal (Bhilwara). The temple, dedicated to Shiva, is entirely built in red sandstone, and its outside walls are adorned with sculptures representing gods and goddesses, as well as erotic scenes. Fort Chittorgarh is an immense fortress (over 3 miles long), that was built in the 7th century on a rocky plateau overlooking the town. We went up there in auto rickshaws, a very popular vehicle in India: it consists of a scooter equipped with a cabin that can transport 3 or 4 persons. Chittorgarh used to be the capital of the kingdom of Mewar. In 1303 Allaudin, the sultan of Delhi, who had fallen in love with the incomparably beautiful Padmini, the wife of Maharaja Ratan Singh, attacked the fort with an immense army. The Rajputs fought to the bitter end, but, seeing the situation was desperate, Queen Padmini and 10000 women decided to resort to johar: they threw themselves into the flames of an enormous fire and were burnt alive.
★ ★ ★
Vijaya Stambha, de Tor Viktadi, Chittorgarh

★ ★ ★
Odia de palaze se in ruine, ba un moz vizo vari temple id du bel hol tore: Vijaya Stambha, de tor viktadi, id Kirti Stambha, de tor benomadi. Nu vizìtì de Kalika Mata tempel, foram dediken a Doj Sol (Surya) id num dediken a doja Kali.
Aujourd'hui il ne reste plus que des ruines des palais où se dressent encore plusieurs temples et deux belles tours: Vijaya Stambha, tour de la victoire, et Kirti Stambha, tour de la renommée. Nous visitons le temple de Kalika Mata, jadis dédié au Dieu Soleil (Surya) et aujoud'hui à la déesse Kali.
Today only ruins remain of the palaces and a few temples, as well as two beautiful towers: Vijaya Stambha, "the Victory Tower", and Kirti Stambha "the Tower of Fame". We also visited the Kalika Mata temple that was formerly dedicated to the Sun God (Surya) and now to the goddess Kali.
★ ★ ★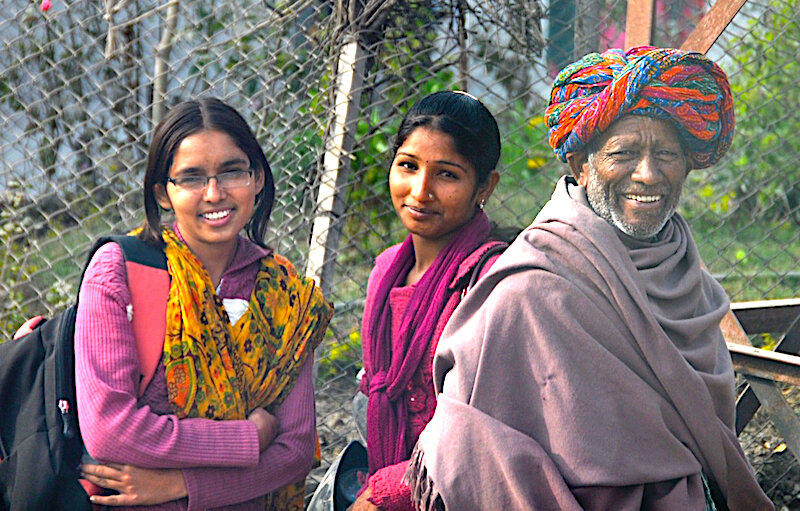 Smije, su de vaj ap Chittorgarh
★ ★ ★
Be vespen, nu avenì a Dharayavad be sud, pos u longi farad tra de Raʒastani camp, wo nu vizì mole pictoric skene de campori ʒivi, wim herdore ki li herde ovinis id kadus, camporas peran fojidrov su li kebe, id un antoglin dutan govas trajan de korv u mori govu.
Après un long trajet à travers la campagne rajasthanaise, où nous voyons de très pittoresques scènes de la vie paysanne, des bergers avec leurs troupeaux de chèvres et de moutons, des paysannes portant des fardeaux de bois mort sur la tête, un intouchable faisant traîner le cadavre d'une vache par des boeufs, nous arrivons le soir à Dharayavad au sud de l'état.
Ʒina peran drov su keb
In the evening we arrived in Dhariyavad in the south, after a long journey through the Rajasthani countryside, where we could see picturesque scenes of peasant life: shepherds with their flocks of sheep and goats, women carrying bundles of firewood on their heads, an untouchable driving oxen pulling the corpse of a dead cow.
Je se nudi usklaro zi de kastas in eke vorde. Je ste kwer cevi kastas, nomen varnas (klore): Brahmane, Kcatrijas, Vaicias id Cudras, da se priste, werore, komerkore-mandimakore-campore, id de kweri kasta: servane. Brahmane genì us de muk Brahmu, werore us hi rame, vaicias us hi koce id cudras us hi pode; togo de pode ekuni se u sig ruspeki.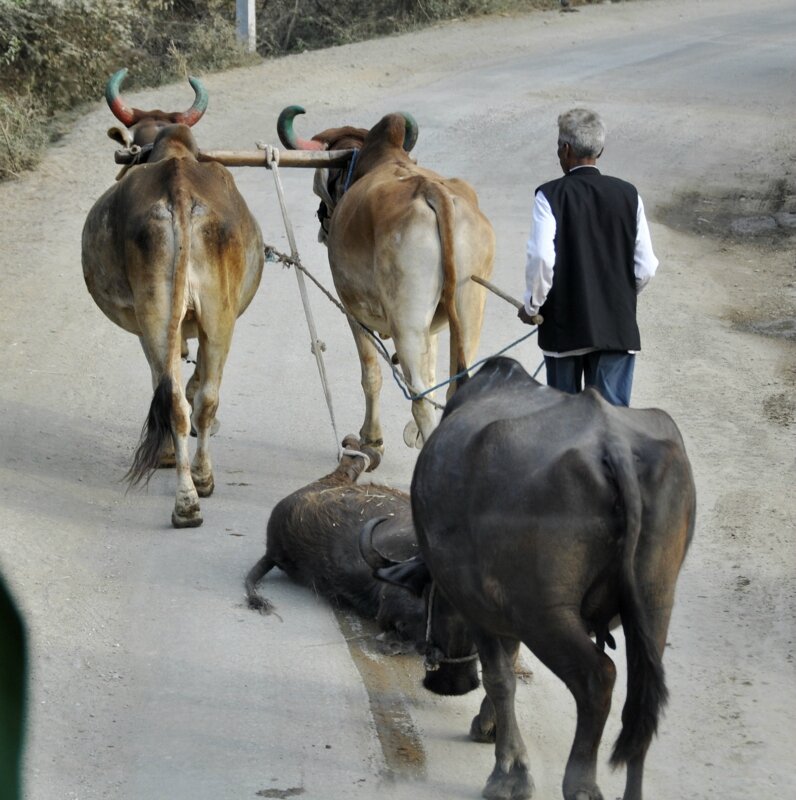 Atoglin trajan de korv u mori govu

Us de kastas se de antogline o parias, we vid os nomen harijan ("kide doji") o dalit ("udepresene"). Antogline vid kospeken wim anpuri pa de alten kastas id solem lu moz deto anpuri taske wim skobo bod, pero ap sorde o togo mori beste. Lu solem moz varko ki kuʒ par je se de kut mori bestis. Antoglid vidì deklaren antikonstitusioni pos de anodvangid, id un antoglin som, Doktor Ambedkar skrivì de Indian konstitusiòn. Odia lu av politiki partìze id un antoglina, Mayawati Kumari vidì de pri ministora in Uttar Pradesh od 2007 a 2012, pur lu vid jok kospeken pa Hindus wim antogli. Je ste os annumari udekastas, nomen jati (genad), we koruvòk maj o min a trade. Ki apregen maʒade, u Hindu moz ne maʒo ekun us hi kasta.
Il est nécessaire d'expliquer ici, en quelques mots, le système des castes: il y a quatre castes principales les varnas (couleurs): les Brahmanes, Kshatriyas, Vaishias et Shudras, c'est à dire les prêtres, les guerriers, les commerçants - artisans - paysans, et la quatrième caste: les serviteurs.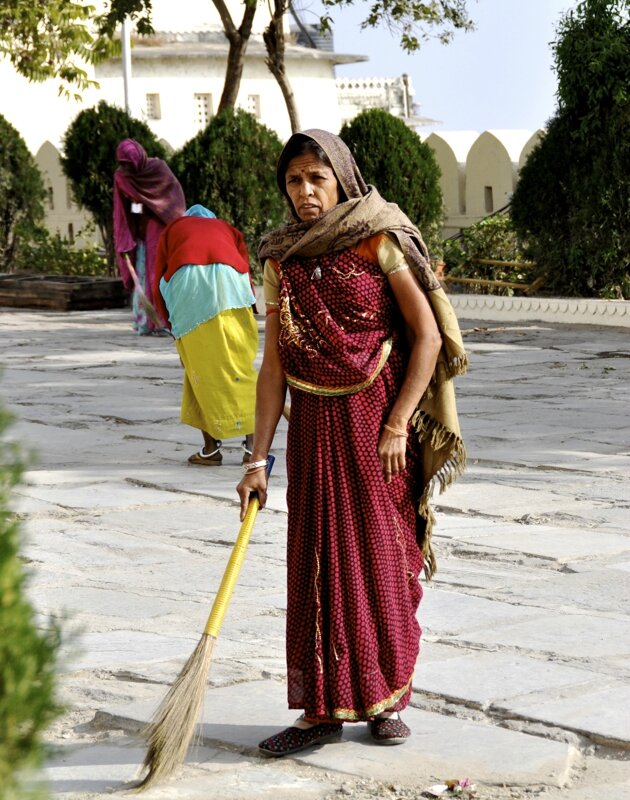 Antoglinas skoban bod

★ ★ ★
Les Brahmanes sont nés de la bouche de Brahma, les guerriers de ses bras, les Vaishias de ses cuisses et les Shudras de ses pieds; toucher les pieds de quelqu'un est une marque de respect. En dehors des castes se trouvent les intouchables ou parias, qu'on appelle aussi harijans (enfants de dieu) ou dalit (opprimés). Ils sont considérés par les autres castes comme impurs et eux seuls peuvent effectuer des tâches impures comme balayer le sol, ramasser les ordures ou toucher les animaux morts. Eux seuls peuvent travailler le cuir car il s'agit de peaux d'animaux morts. L'intouchabilité a été déclarée anticonstitutionnelle après l'indépendance et c'est d'ailleurs un intouchable, le docteur Ambedkar qui a rédigé la constitution indienne. Ils ont aujoud'hui leurs propres partis politiques et une intouchable, Mayawati Kumari a été premier ministre de l'Uttar Pradesh de 2007 à 2012, cependant ils sont toujours considérés par les Hindous comme intouchables. Il existe également d'innombrables sous-castes appelées jati (naissance), qui se recoupent plus ou moins avec les métiers. Avec le mariage arrangé, un Hindou ne peut épouser personne en dehors de sa caste.
★ ★ ★
Antoglin peran ap sorde in u bark, Jaipur

★ ★ ★
At this point it is necessary to say a few words about the Indian caste system: there are four main castes or varnas (colours): Brahmans, Kshatriyas, Vaishyas and Shudras, i-e priests, warriors, merchants - craftsmen - peasants, and fourthly: servants. Brahmanes were born from Brahma's mouth, the warriors from his arms, Vaishias from his thighs and Shudras from his feet; touching somebody's feet is considered as a sign of respect. The outcastes are the untouchables or pariahs; they are also called harijans (God's children) or dalit (oppressed). They are considered as impure and they alone can carry out impure tasks such as sweeping the ground, collecting rubbish or touch dead animals. Only untouchables can work leather because it's the skin of dead animals. Untouchability was declared anticonstitutional after the independence and the Indian constitution itself was written by an untouchable, Doctor Ambedkar. Today they have their own political parties and an untouchable woman, Mayawati Kumari became Prime Minister of Uttar Pradesh from 2007 to 2012. However they are still considered by Hindus as "untouchable". There are also innumerable sub-castes called jati (birth), coinciding more or less with the various trades. With arranged marriages, Hindus cannot marry anyone ouside their own castes.
★ ★ ★
Muziki banda in de strade Dharyavadi

★ ★ ★
Lasan ni hotèl be de slogan morna, nu pasitì u poj in de miki pol Dhariyavad, wo nu vizì liente detan vari trade wim u barbor, u snitor, u muziki banda in uniforme we jeg in vedade ki li strani vaikel…, i.s.p. Nu kopì os kopiare id grafe, par dapòs nu vizitì u skol in u vik. Ni kontàkt ki de skolore, bobe id ʒikas, id li dictore sì ʒe mol prijan; lu sì mol glaj vizo na. Be inìz, lu tale sedì niz pro de klasisale id prejì Sarasvati, de doja konadi; pos lu santì eke sante po na, tramìd wen de nasioni himna. Wajim je sì ne mozli komuniko ki la par lu vokì ne Engli, usim de siudi "What's your name ?", Ka se vi nom ? Be de fend nu disdavì lo de grafe id kopiare id ruplojim lasì la po faro u poj dales po vizito u vik.
★ ★ ★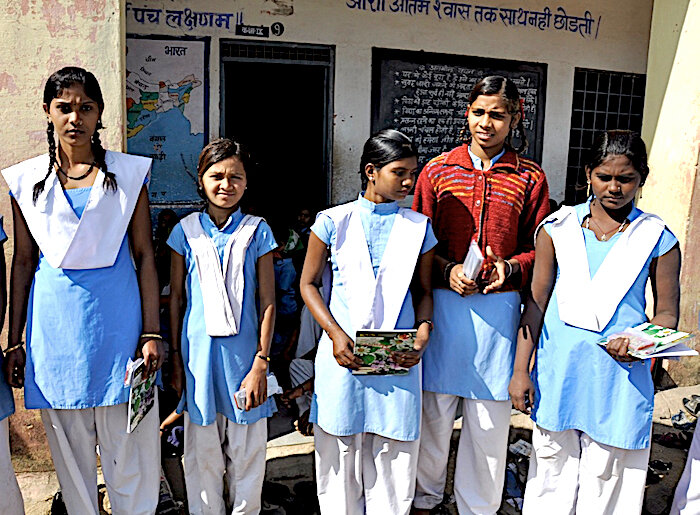 Skoloras in u vik ner Dhariyavad

★ ★ ★
En quittant notre hôtel, le matin suivant nous nous promenons dans la petite ville de Dhariyavad, où nous voyons s'exercer différents métiers: un barbier, un tailleur, un groupe de musiciens en uniforme qui jouent dans les mariages avec leur étrange véhicule…, etc. Nous achetons des cahiers et des crayons car nous devons ensuite visiter une école dans un village. Notre contact avec les élèves, garçons et filles et leurs professeurs est très chaleureux; ils sont vraiment heureux de nous voir. Au début, ils s'assoient tous devant les classes pour prier Sarasvati, déesse de la connaissance; puis ils entonnent quelques chants pour nous, dont l'hymne national. Il est très difficile de communiquer avec eux car ils ne parlent pas anglais en dehors du traditionnel "What's your name?" (comment tu t'appelles ?). A la fin nous distribuons crayons et cahiers et nous les quittons à regret pour nous diriger vers un autre village.
★ ★ ★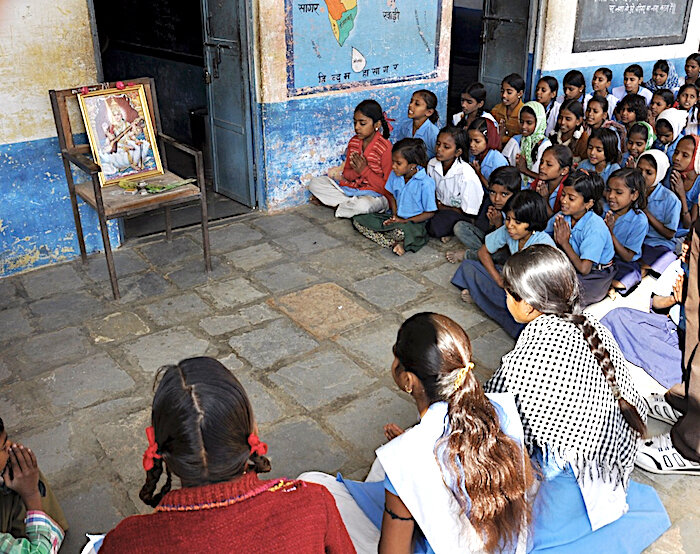 De prej a Sarasvati in u skol ner Dhariyavad

★ ★ ★
On leaving our hotel, the next morning we took a walk in the small town of Dhariyavad, where we saw people plying their trades: a barber, a tailor, a group of musicians who play at weddings, in their uniforms, pushing their strange vehicle…, etc. We bought pens and copybooks because we were to visit a school in a village later on. Our contact with the schoolchildren, boys and girls, and their teachers was very friendly; they were very happy to see us. At the start they all sat down in front of the classrooms and prayed to Sarasvati, the goddess of knowledge; then they sang various songs for us, among which was the national anthem. Unfortunately it was impossible to communicate with them because they didn't speak English apart from the usual "What's your name ?". At the end we gave out the pens and copybooks and regretfully left them to drive to another village a little further away.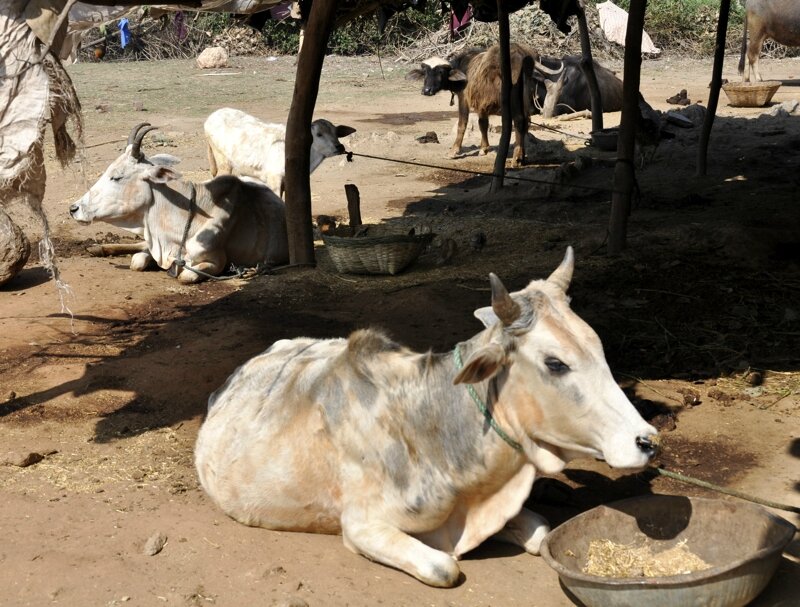 Govas in u vik ner Dhariyavad
★ ★ ★
Da sì os u mol prijan vizìt: u festivàl kloris, gladis id smijis. De viki hase se teristruen, kroven ki u bel okri suslèj; de tage se maken ki plati kame. Za nu vizì mole beste, cevim govas id bufle, kadas, galas, ba de maj interesan sì kogono de domore, ʒinas in moliklori sarìs id kide, seni mane in turbàne id jun mane vesten in de Westi mod. Tale da liente se campore we agriz li siavi miki pold ki bufle ba os traktòre. Nu itì in eke hase we se ane fente po garo u poj fricad trawàn de stragi somu cajade.
★ ★ ★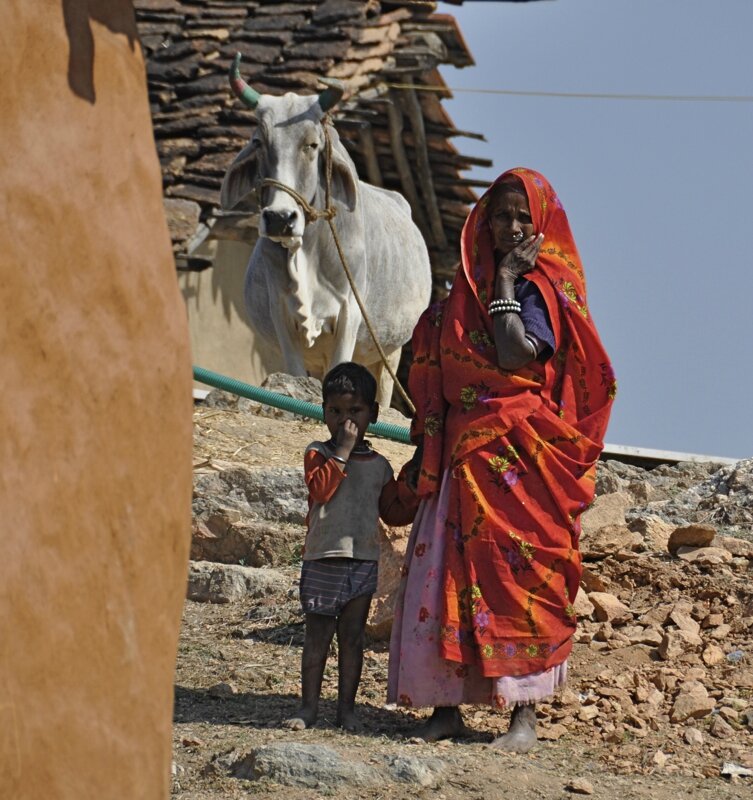 Seni ʒina in de vik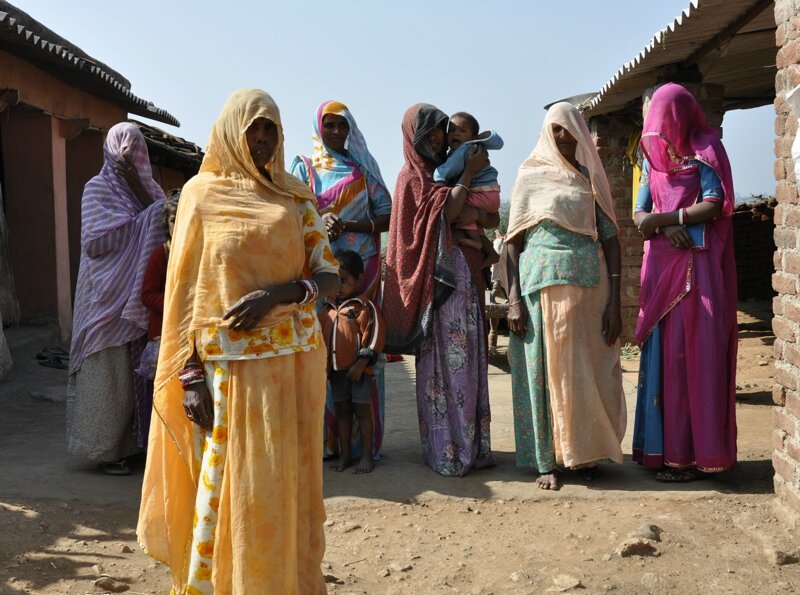 Ʒinas in de vik

★ ★ ★
C'est également une visite très agréable: un festival de couleurs de regards et de sourires. Les maisons du village sont en terre recouverte d'un bel enduit ochre; les toits sont faits de pierres plates. Nous voyons là beaucoup d'animaux, des vaches, des buffles, des chèvres, des poules, mais c'est surtout la rencontre avec les habitants qui nous intéresse: femmes en saris muticolores avec leurs enfants, vieillards en turban, jeunes hommes habillés à l'occidentale. Ce sont tous des paysans qui cultivent leur propre lopin avec des buffles mais aussi des tracteurs. Nous entrons dans une maison qui n'a pas de fenêtres afin de conserver un peu de fraîcheur pendant les terribles chaleurs de l'été.
★ ★ ★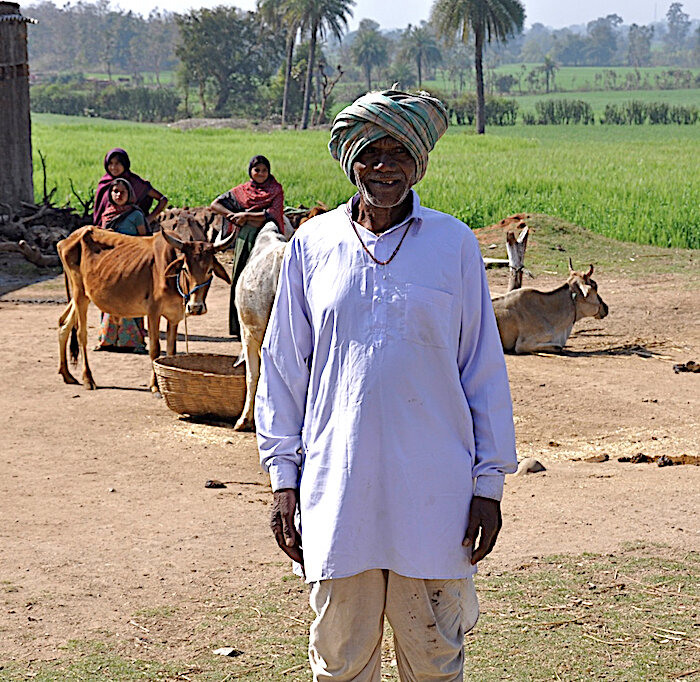 Seni man in de vik
Ʒina ki ci dota

★ ★ ★
This was also a very pleasant visit: a feast of colours, glances, smiles. The village houses are made of adobe covered with a nice ochre coating; the roofs are made of flat stones. There we saw a lot of animals, chiefly cows, buffaloes, goats and hens but the main interest was to meet the people: women in their bright-coloured saris and children, old men in turbans, young men dressed in Western style. All of them are peasants who cultivate their own plot with buffaloes but also with tractors.
★ ★ ★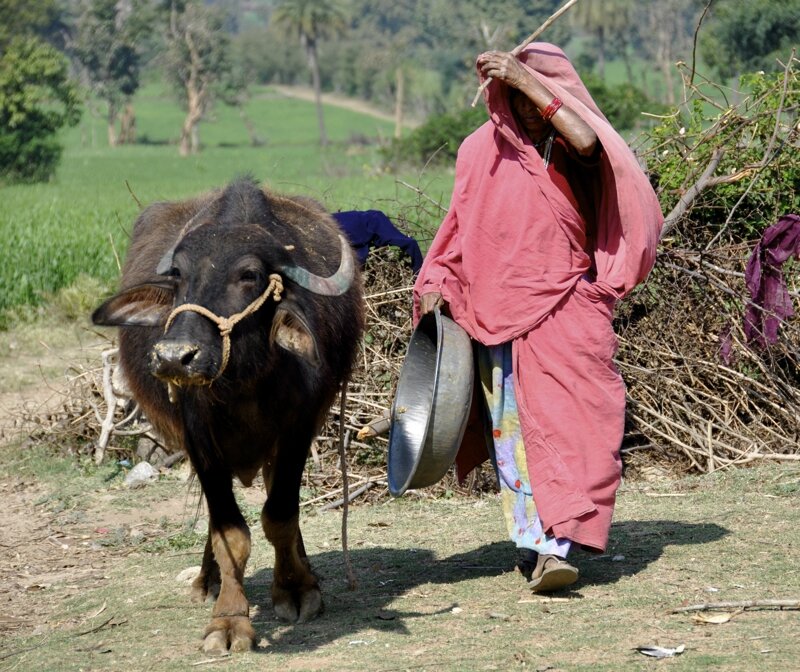 Ʒina ki u bufel in de vik

Seni ʒina in de vik

★ ★ ★
Be vespen nu avenì a Udaipur, u bel pol ki du lage. De pol vidì funden pa Maharana Udai Singh II pos de Mogoli imperor Akbar avì graben id distruen Fort Chittorgarh. Dapòs Udaipur vidì nevos invaden, nè pa Mogole, nè pa Englane. Nu stalì na in u luksi hotèl ki spek su de lag. Be de slogan morna nu vizitì de City Palace, residèns de prosàn maharaʒu, su ber de lagi, wo lu sì predizan de vedad de prinsi. Wajim, par de vedad lu avì kluzen u part de palazi a publik id in de vizitli parte je stì ʒe tiomole turiste.
★ ★ ★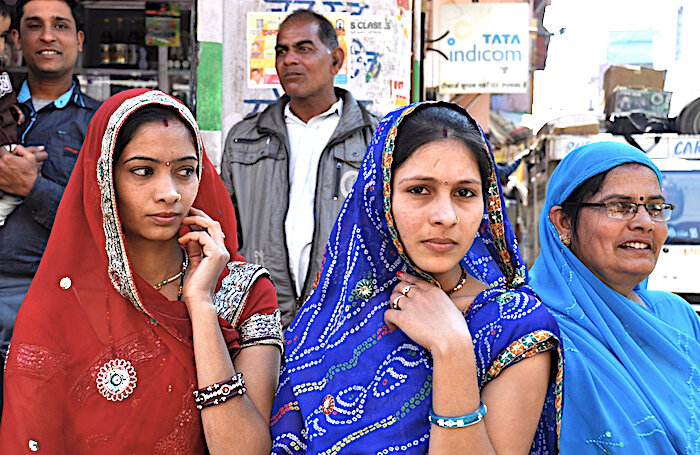 Ʒinas in Udaipur
★ ★ ★
Le soir nous arrivons à Udaipur, une jolie ville au bord de deux lacs. Elle fut fondée par le Maharana Udai Singh II après la prise et la destruction de la forteresse de Chittorgarh par l'empereur moghol Akbar. Par la suite, Udaipur ne fut jamais envahie, ni par les Moghols, ni par les Anglais. Nous nous installons dans un hôtel de luxe avec vue sur le lac. Le matin nous visitons le City Palace, résidence de l'actuel maharaja au bord du lac, où l'on prépare les noces du prince. Malheureusement en raison des noces, une partie du palais est fermée au public et le reste est envahi par les touristes.
★ ★ ★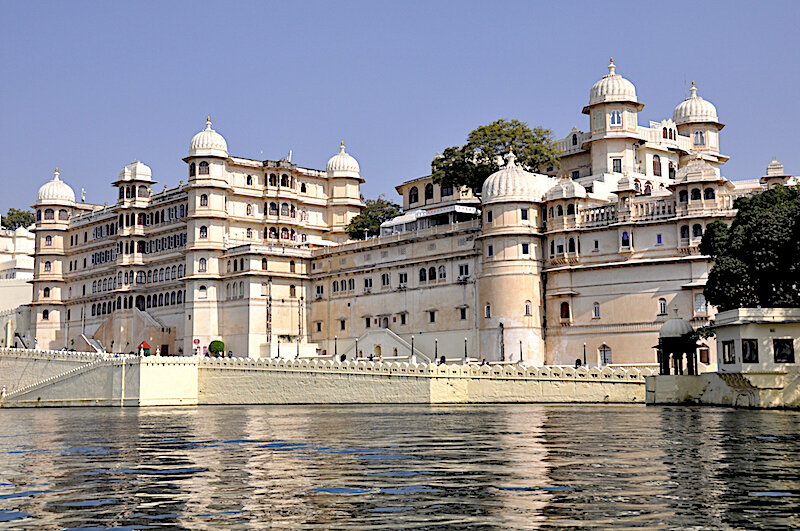 ★ ★ ★
In the evening we got to Udaipur, a beautiful town with two lakes. It was founded by Maharana Udai Singh II after the Mogul Emperor Akbar had taken and destroyed Chittorgarh. Udaipur was never invaded, either by the Moguls, or by the British. We settled in a luxury hotel with a view on the lake. In the morning we visited the City Palace, by the lake, where the present maharaja lives, and where they were preparing the Prince's wedding. Unfortunately, because of the wedding, part of the palace was closed to the public and the rooms that were open were packed with tourists.
★ ★ ★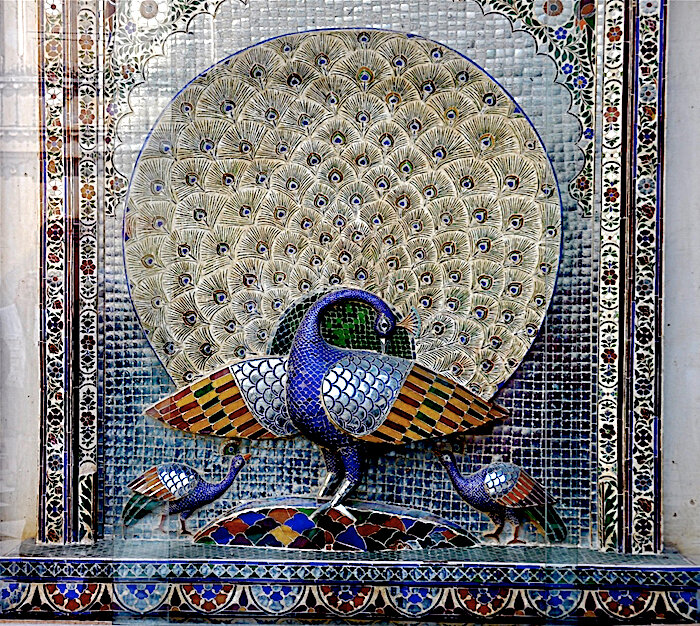 ★ ★ ★
Pos nu navì aròn lag Pichola od wo nu mozì vizo de City Palace rupicten in de vode, liente vacan li veste, id vari isle su wen sì struen hotele id palaze. Nu usbarkì su un od la po u kurti pasitad. Be posmidià nu pasitì in de bel Saheliyon ki Bari, "de gardin damitus". Udaipur se os de kebipol mandimaki, sim nu vizitì os u varkia miniaturis wo lu pict kopije miniaturis de XVII id XVIII suntjaris. De belad de kloris id finad de detailis se usordeni.
★ ★ ★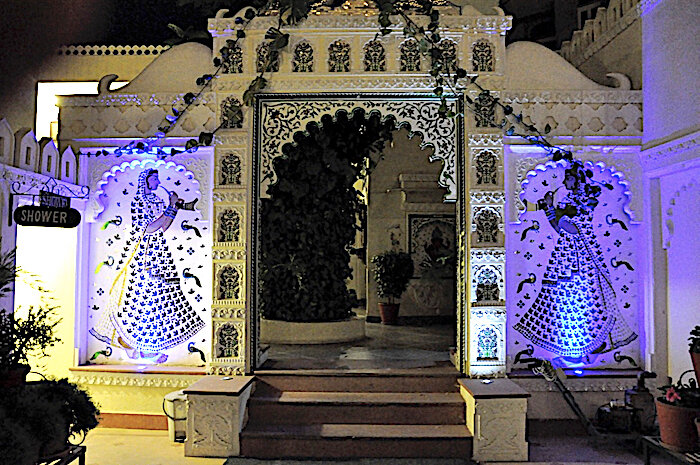 Ni hotèl in Udaipur

★ ★ ★
Nous faisons un tour en bateau sur le lac Pichola où se reflète le City Palace. Nous longeons les rives où des gens font leur lessive, puis différents îlots où l'on a construit hôtels et palais; nous débarquons sur l'un d'eux pour une courte promenade. L'après-midi nous flânons dans Saheliyon ki Bari, le beau "jardin des demoiselles". Udaipur est également la capitale de l'artisanat, et nous visitons un atelier de miniatures où l'on réalise des copies de miniatures des XVII et XVIII siècles. La beauté des couleurs et la finesse des détails est extraordinaire.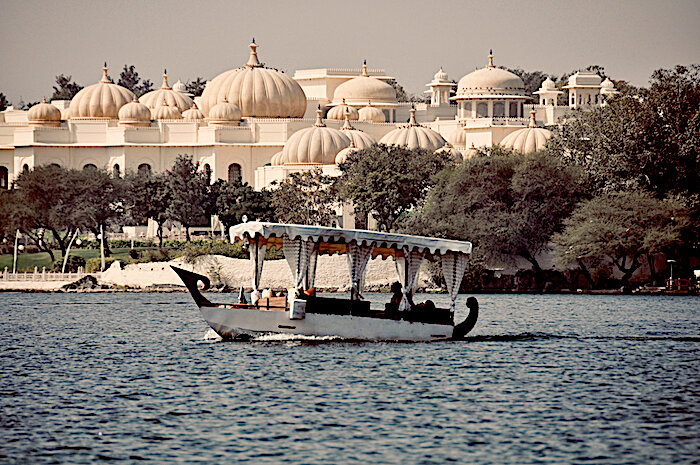 Su lag Pichola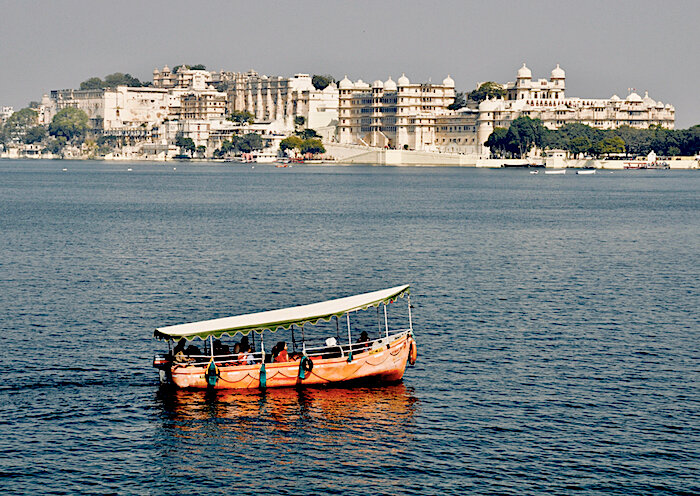 ★ ★ ★
Then we went for a sail round lake Pichola mirroring the City Palace, along the banks where people were doing their washing. We saw different islets where they had built palaces and hotels and disembarked on one of them for a short walk. In the afternoon we went for a stroll in Saheliyon ki Bari, the beautiful "young ladies' garden". Udaipur is also the capital of handicrafts, and we visited a miniature workshop where they paint copies of 16th and 17th century miniatures. The gorgeous colours and the delicacy of details were extraordinary.
★ ★ ★
Saheliyon ki Bari, de Gardin damitus, Udaipur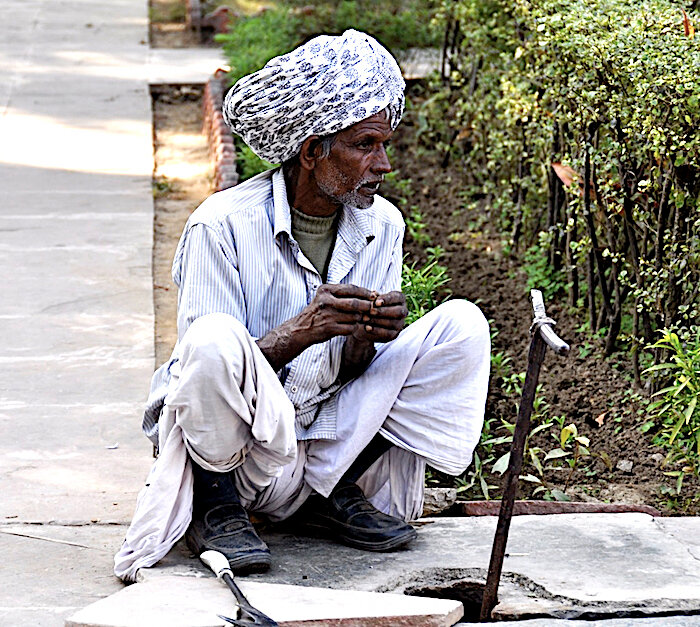 Seni man in Saheliyon ki Bari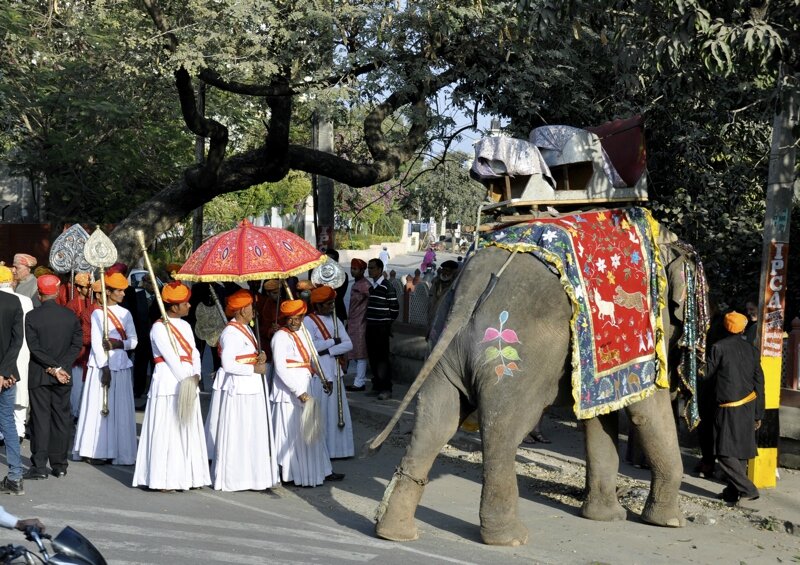 Maʒad in Udaipur

★ ★ ★
Je ve proìto … à suivre … to be continued … continuará … Fortsetzung folgt … continua … συνεχίζεται … продолжение следует …