★ ★ ★
* Uropi Nove 81 * Uropi Nove 81 * Uropi Nove 81*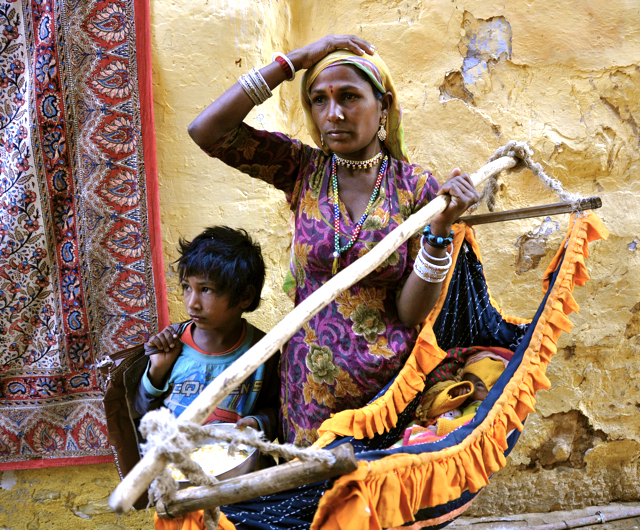 ★ ★ ★
Ranakpur - Jodhpur - Jaisalmer

★ ★ ★
Be u bel luci morna nu lasì Udaipur id haltì su de rad po vizo u noria avarken pa gove: de vod vid sim liven od u spija, id fluj pos in rijite po inrijo polde. Pos nu farì tra fosten bore wo nu vizì suntade apine for aveno a de Ʒaini tempel Ranakpur. Ʒaine av u mol seni religiòn we esistì ʒa in VI suntjàr for Krist, id po ekune, je se os veti te de Indus Civilizad (3300-1300 for Krist). Ʒaine ruspèk ʒiv in tale ji forme: lu doʒ ne tudo eni ʒivi san, sim lu per u vel su li muke po ne gluto insekte, id wan lu vad, lu skob pro li stape po ne kraco la. De tempel od XV suntjàr, talim struen in bij marmar se anmezi: 1500 m2, 24 kupole, 1444 pilare, un od wen se ne reg par solem Doj se perfeti, ne human.
★ ★ ★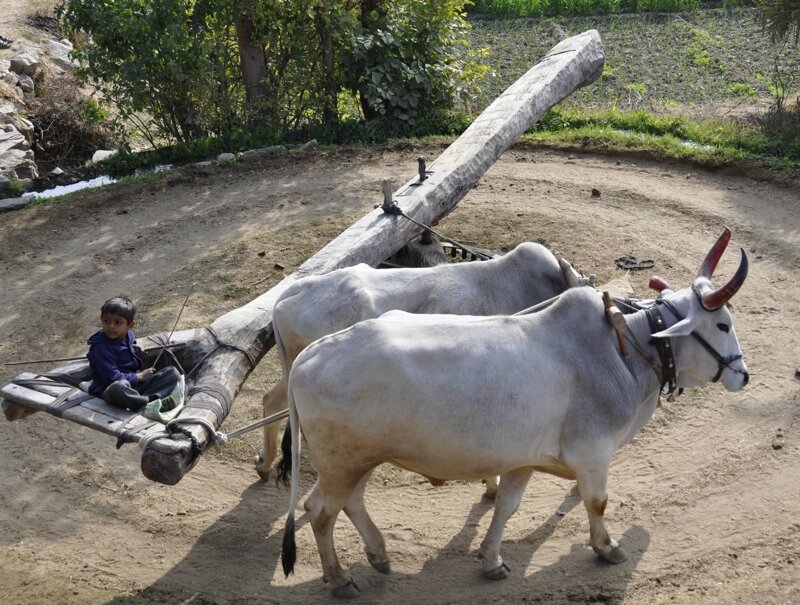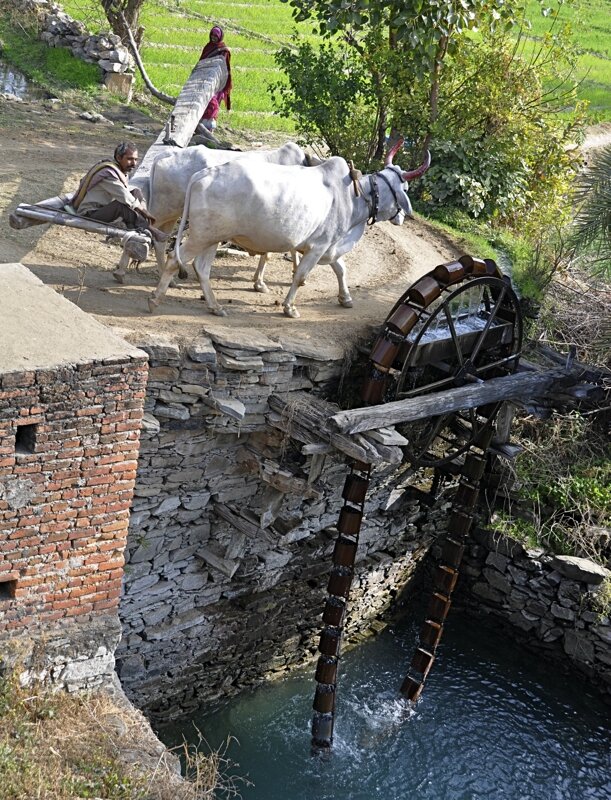 ★ ★ ★
Nous quittons Udaipur par un beau matin lumineux, faisant halte sur la route pour voir une noria actionnée par des boeufs: l'eau est puisée dans une source dans des godets qui montent à une dizaine de mètres, puis se déverse dans des rigoles qui irriguent les champs. Nous traversons ensuite des montagnes boisées où vivent des centaines de singes pour arriver au temple Jaïn de Ranakpur. Les Jaïns ont une religion très ancienne qui existait déjà au 6e siècle av.JC, et remonte même selon certains à la Civilisation de l'Indus (3300-1300 av.JC). Les Jaïns respectent la vie sous toutes ses formes: il ne doivent tuer aucun être vivant, portent un voile devant la bouche pour éviter d'avaler des insectes, et balaient devant eux en marchant pour ne pas en écraser. Le temple, entièrement bâti en marbre blanc au XV siècle est immense: 1500 m2, 24 dômes, 1444 piliers, dont un n'est pas droit car Dieu seul est parfait, pas l'homme.
★ ★ ★
De Ʒaini tempel in Ranakpur

★ ★ ★
On a fine bright morning we left Udaipur and stopped on the road to see a noria driven by oxen: the water is taken from a spring and carried up 40 feet high, then poured into channels that irrigate the fields. We drove through woody mountains, where hundreds of monkeys lived and then got to the Jain temple in Ranakpur. The Jains have a very old religion that already existed in the 6th century BC, and some people even claim that it dates back to the Indus Civilisation (3300-1300 BC). Jains respect life in all its forms: they must not kill any living being, they wear a veil over their mouths not to swallow any insect, and sweep the ground in front of them when they walk not to crush any tiny creature. The temple is immense (1500 sq.m), entirely built in white marble (in the XV century) with 24 domes, 1444 pillars, one of which is askew, for only God is perfect, not man.
★ ★ ★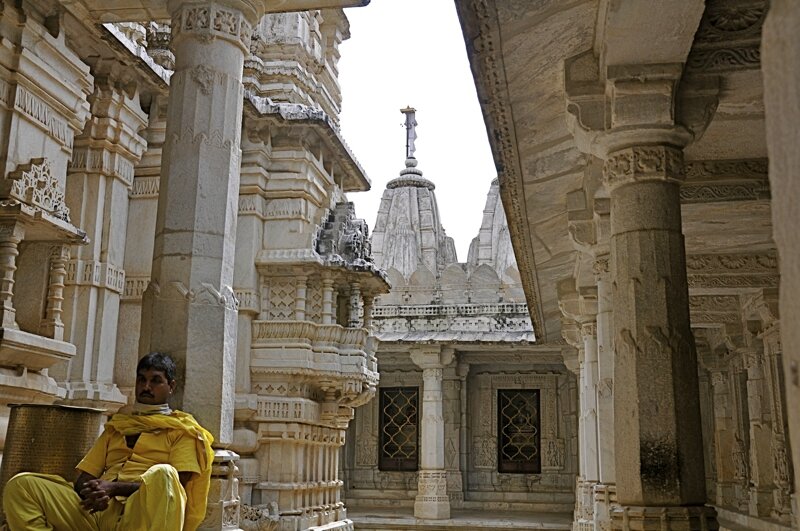 De Ʒaini tempel in Ranakpur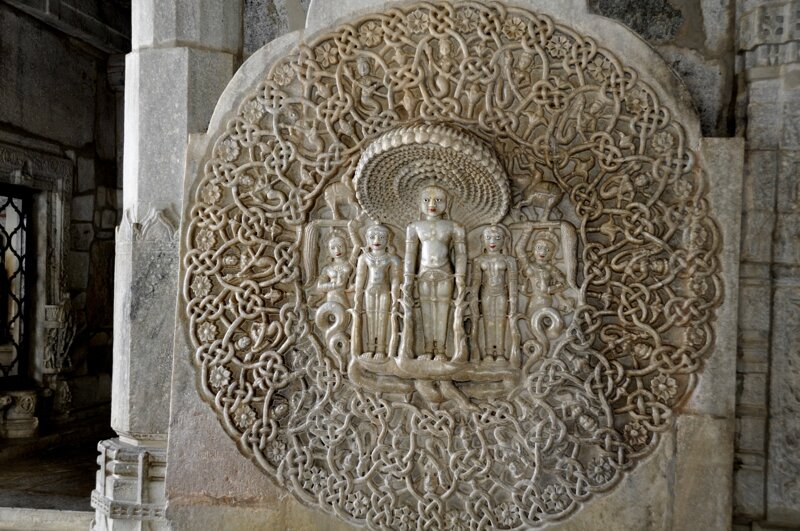 ★ ★ ★
Be vespen nu avenì a ni hotèl (un alten palàz maharaʒu) in Jojawar, u gren vik priʒe te u miki pol. Nu itì pasìto tra de vik id vizo liente detan vari trade: u famìl herdoris we dikì no de vari sorte skisis uzen po skiro ovine, u cusor, u frizor, u spezivendor id stofivendias. Be de morna, de thakur (miki maharaʒa), posedor de palazi, venì saluto na; he dikì no hi kwale, Marwari kwale ki li strani luniformi ore id hi kwer seni Chevrolet.
★ ★ ★
Nous arrivons le soir à notre hôtel, autre palais de maharaja, à Jojawar, un gros bourg plutôt qu'une petite ville. Nous nous promenons dans le village où nous voyons les habitants exercer leurs différents métiers: une famille de bergers qui nous montrent les ciseaux utilisés pour la tonte, un cordonnier, un coiffeur, un marchand d'épices et diverses boutiques de tissus. Le matin, le thakur (petit maharaja), propriétaire du palais, vient nous saluer; il nous montre ses chevaux, de race Marwari, aux oreilles en forme de croissant de lune et ses quatre vieilles Chevrolet.
★ ★ ★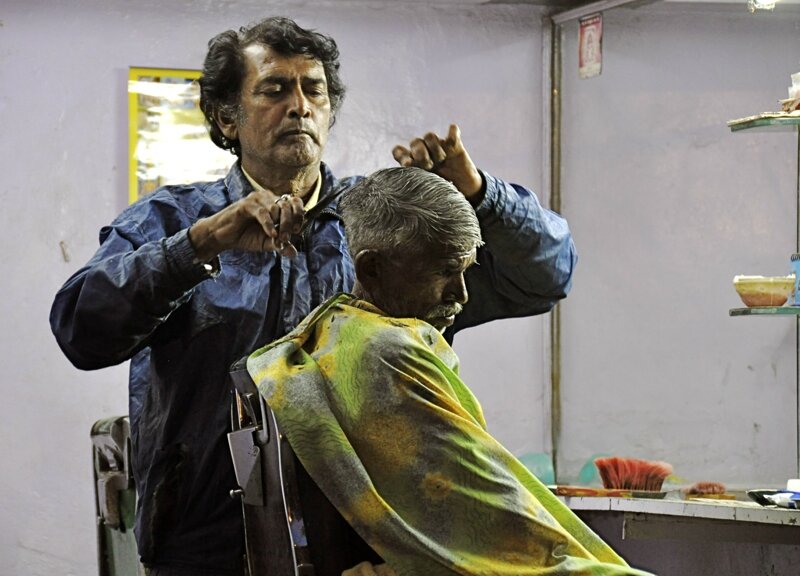 Frizor in Jojawar

Seni man in Jojawar

★ ★ ★
In the evening we arrived at our hotel, another maharaja's palace, in Jojawar, a big village rather than a small town. We went for for a walk through the village and saw people busy with various crafts and trades: a shepherd's family that showed us the shears used for sheepshearing, a shoemaker, a barber, a spice seller and various fabric shops. The next morning, the thakur (small maharaja), the owner of the palace, came and greeted us; he showed us his Marwari horses, with moon-shaped ears, and his four old Chevrolet.
★ ★ ★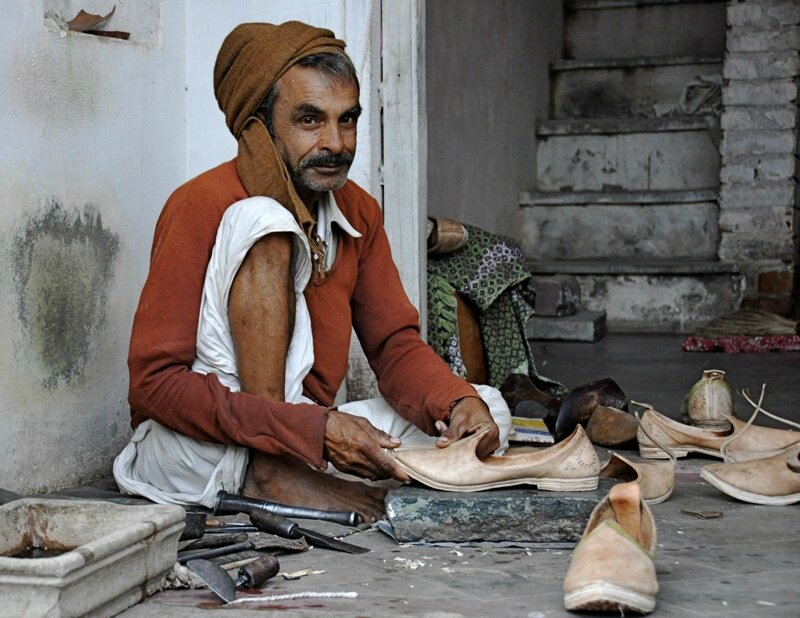 U cusor in Jojawar

Kide aròn u drovifoj in Jojawar

★ ★ ★
Jodhpur
Pos nu farì ap do Jodhpur, de alten blu pol, wo nu avenì beròn midià. Su de rad, nu haltì po saluto ʒinas in klori sarìs we sì sia beneman ki radivarke. Be posmidià nu vizitì Jaswant Thada, u bijmarmari mauzolea struen a de memòr maharaʒu Jaswant Singh II, pos de inpresan Fort Mehrangarh subevangan de pol. Itan op in de fort nu avenì su u gren teràs ki seni kanone id u bel spek su de pol id ji blu hase. In Sangar Chowk, de Kronadi Kort, nu mozì admiro fente id balkone in roj sandikàm sa finim skulpen te lu sem drovi. Nu vizitì sale ki haudas (elefanti sede) tale formis, prodikan beste, id palankine, sale ki arme, tezòre, ki dekoren kulbas, id de Phul Mahal, de palàz floris, u magibèl hal ki picten subia id varde.
★ ★ ★
Ʒinas varkan ner de rad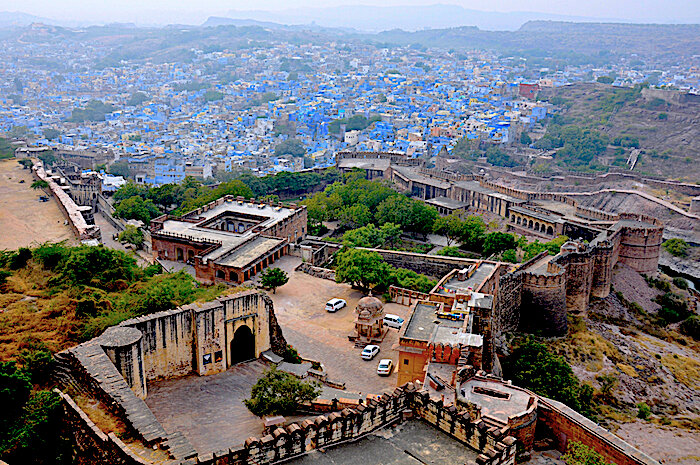 Jodhpur, de blu pol

★ ★ ★
Nous partons ensuite pour Jodhpur, l'autre ville bleue, où nous arrivons vers midi. En chemin nous faisons halte pour saluer un groupe de femmes en sari occupées à des travaux d'entretien des routes. L'après-midi nous nous rendons au Jaswant Thada, mausolée de marbre blanc érigé à la mémoire du maharaja Jaswant Singh II, puis l'impressionnant Fort Mehrangarh qui domine la ville. De là-haut, sur une terrasse entourée de vieux canons, nous avons une belle vue sur la ville et ses maisons bleues. Dans Sangar Chowk, la Cour du Couronnement, nous admirons les fenêtres et balcons de grès rouge si finement sculpté qu'on dirait du bois. Les salles se succèdent renfermant des trésors: Howdahs (sièges pour éléphants) de différentes formes représentant des animaux, palanquins, salles d'armes, du trésor, berceaux richement décorés, puis le Phul Mahal, le "palais des fleurs", magnifique salle aux murs et au plafond peints de miniatures.
★ ★ ★
Roj sandikami skulpen fente in Fort Meranghar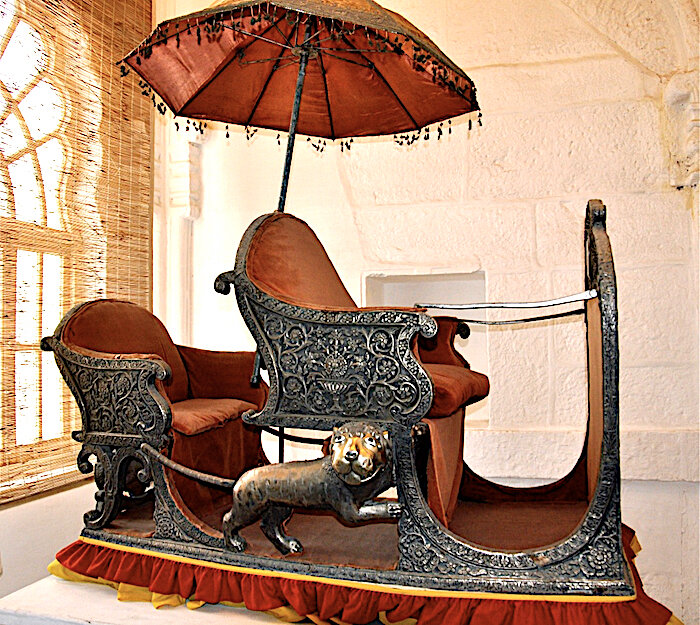 Hauda, elefanti sed in Fort Merangarh

★ ★ ★
Then we left for Jodhpur, the other blue city, where we arrived at noon. On the road we stopped to see a group of women in saris taking part in roadworks. In the afternoon we visited Jaswant Thada, a white marble mausoleum built in memory of Maharaja Jaswant Singh II, then the impressive Fort Mehrangarh overlooking the town. Up there, from a large terrace with old cannons, we had a splendid view on the town and its blue houses. In Sangar Chowk, the Coronation Courtyard, we could admire windows and balconies in red sandstone so delicately carved you would have thought it was wood. We visited halls with Howdahs (seats for elephants) of all forms figuring animals, palanquins, decorated cradles, the arms room, the treasure room, and the Phul Mahal, the "flower palace", a magnificent hall with walls and ceiling painted with miniatures and portraits.
★ ★ ★
Hauda, elefanti sed in Fort Merangarh
★ ★ ★
Pos, ruvenen a Jodhpur, nu farì in kalece a de bazàr ki ji horeli tor, wo nu pasitì; nu itì in u vendia spesializen in prizic stofe: silki, kacmiri, pacmina, micen kacmiri id silki.
★ ★ ★
De retour à Jodhpur, nous allons en calèche jusqu'au bazar avec sa tour de l'horloge, où nous nous promenons; nous entrons dans un magasin de tissus précieux: soie, cachemire, pashmina, cachemire et soie mélangés.
★ ★ ★
Back in Jodhpur, we rode on barouches to the bazar with its clock-tower, where we had a stroll, and went into a shop selling precious fabrics: silk, cashmere, pashmina, blends of cashmere and silk.
★ ★ ★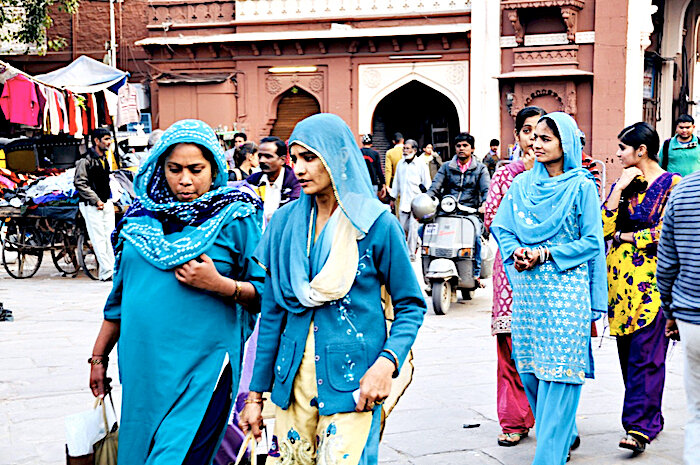 Bluvesten ʒinas in de Jodhpuri bazàr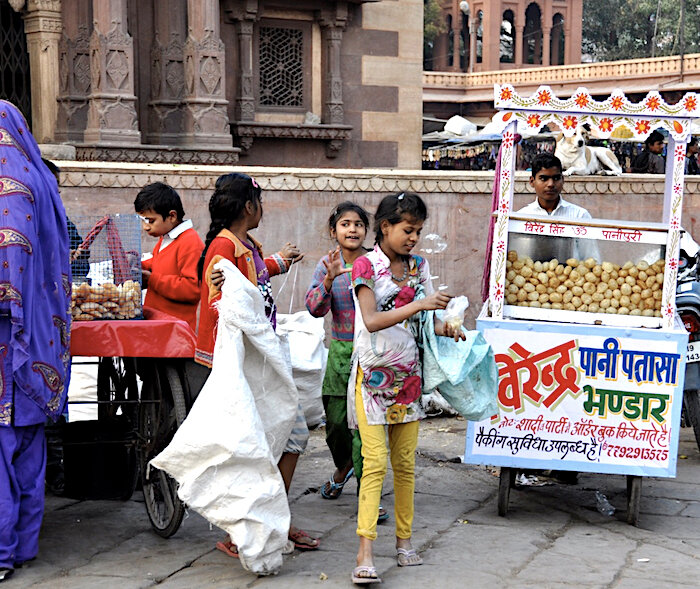 Ʒikas in de Jodhpuri bazàr
★ ★ ★
Jaisalmer
Intra Jodhpur id Jaisalmer (Hindi जैसलमेर: usvoko dʒaselmēr) se distensan de Thar Vustia: je s'ne u sandivustia wim Sahara, par je ste kame id magri buce. Nu vizì eke herde dromedaris id mole militari kampe par de Pakistani frontia se mol ner. Aneran a Jaisalmer beròn midià, nu beglizì plozim de anmezi ʒel sandikami fort usdupo od de vusti plania wim u sandikastèl - u mol inpresan spek. Jaisalmer vidì nomen "de Gori Pol" par tale ji hase se struen in ʒel sandikame neman u bel goric klor be vari hore diu. Nu midjedì in ni hotèl ki u belim dekoren ʒel sandikami fasad; od de hoteli teràs beòp nu av u magibèl spek su de fort id su de pol benìz, su de liente ʒivan su li terase. Be solifàl nu farì a Vyas Chhatri de koln kenotafis ("vuzi grube") ki de krematoria. Su de ruvàj nu haltì be u juvlor we makì sirveni juvle. Ru in ni hotèl, be de bar, nu skucì u grup muzikoris we jegì id santì tradisioni sante.
★ ★ ★
Kamele in de Thar vustia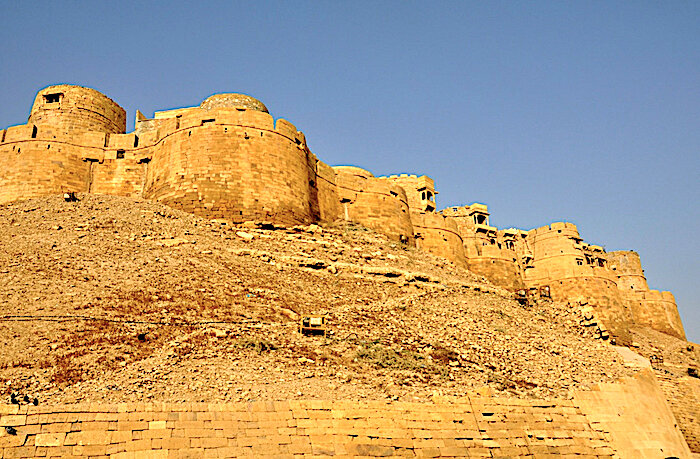 De Fort in Jaisalmer

★ ★ ★
Entre Jodhpur et Jaisalmer (Hindi जैसलमेर: prononcer djaselmēr) s'étend le désert de Thar: il ne s'agit pas d'un désert de sable comme le Sahara, mais plutôt d'une étendue caillouteuse avec de maigres buissons. Nous y voyons des troupeaux de dromadaires et de nombreux camps militaires car la frontière avec le Pakistan n'est pas loin. En nous approchant de Jaisalmer vers midi, nous apercevons soudain, jaillir de la plaine désertique, comme un château de sable, l'immense forteresse de grès jaune - spectacle très impressionnant. On appelle Jaisalmer "la ville dorée" parce que toutes ses maisons sont construites en grès jaune qui prend une belle teinte dorée à certaines heures de la journée. Nous déjeunons à l'hôtel qui a lui aussi une belle façade de grès jaune sculptée; en haut sur la terrasse, on a une vue magnifique sur le fort et la ville plus bas, la vie des gens sur leur terrasse. Au coucher du soleil nous nous rendons à Vyas Chhatri la colline des cénotaphes ("tombes vides") où se trouve le crématorium. Au retour nous faisons halte chez un artisan qui fabrique des bijoux en argent. Puis au bar de l'hôtel nous écoutons un groupe de musiciens jouer et chanter des airs traditionnels.
★ ★ ★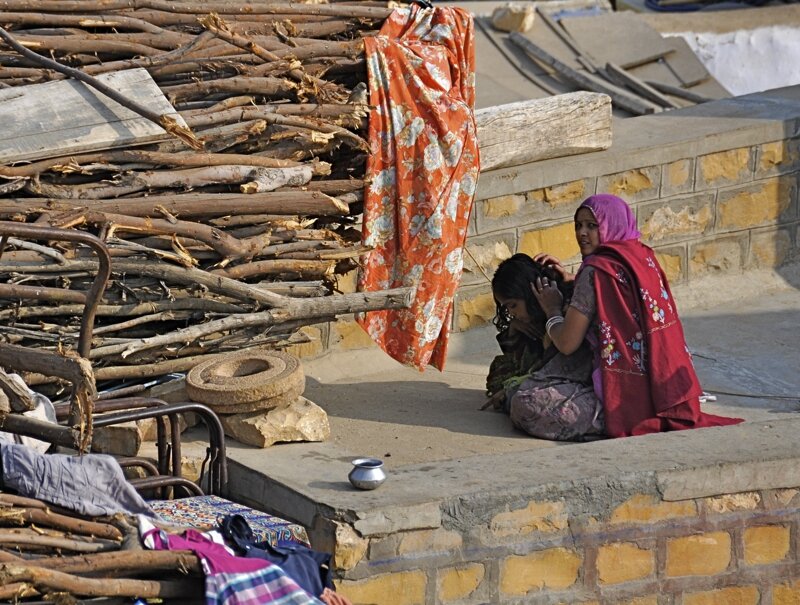 Su u teràs in Jaisalmer

Ni hotèl in Jaisalmer
★ ★ ★
Between Jodhpur and Jaisalmer (Hindi जैसलमेर) lies the Thar desert: it is not a sand desert like the Sahara, rather a vast expanse with loose stones dotted with sparse bushes. There we saw a few herds of dromedaries and a lot of military camps for the frontier with Pakistan is close by. Drawing near to Jaisalmer about noon, we suddenly saw the immense yellow sandstone fortress emerge from the desert, like a sand castle - a very impressive sight. Jaisalmer is called "the golden town" because all its houses are built in yellow sandstone that takes on a warm golden colour at different times of the day. We had lunch at our hotel that also had a finely carved yellow sandstone façade; from the terrace above, we had a beautiful view on the fort and the town below, on people's daily lives on terraces. At sunset we drove to Vyas Chhatri, the cenotaph hill with the crematorium. On the way back we stopped at a craftsman's making silver jewels. Later on, at the hotel bar we listened to a group of musicians playing and singing traditional melodies and songs.
★ ★ ★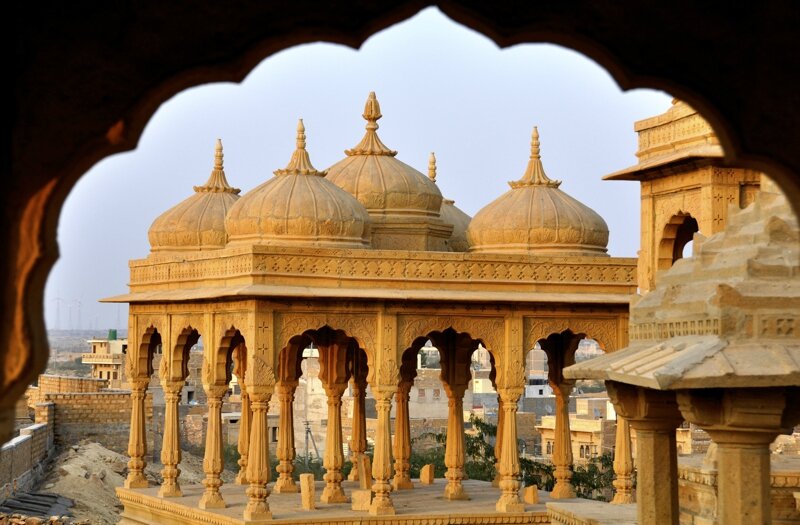 Vyas Chhatri, de koln kenotafis, Jaisalmer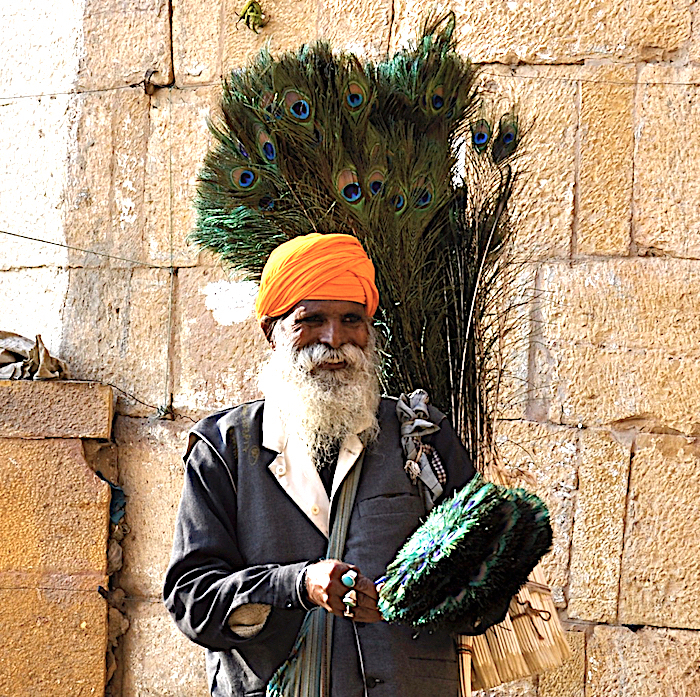 Vendor pawipedis be Vyas Chhatri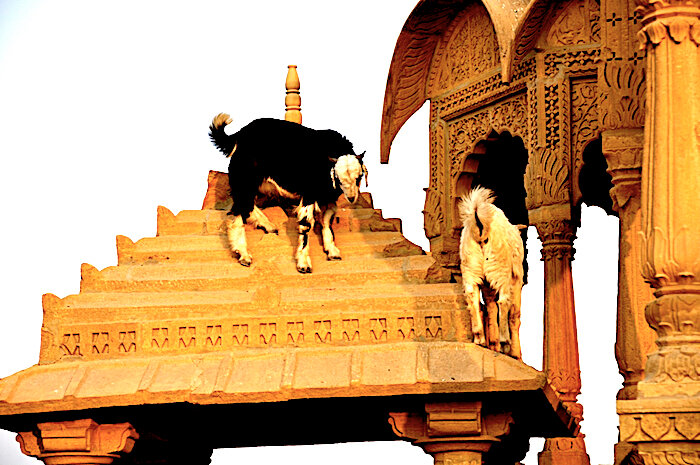 Kadas su de tag u kenotafi, Vyas Chhatri

★ ★ ★
Be de slogan morna nu farì a lag Garisar ki ji lovi pavilione su de vode rupictan de mornu sol. Pos nu vizitì Fort Jaisalmer, sunomen Sonar Kila, de "Gori Fort", we vidì funden in 1156 pa Rao Jaisal, ba de prosàn wale vidì struen maj posen in XV suntjàr wan de pol vidì mol ric ki de komèrk karavanis. Inia de mure je ste u veri miki pol we sì de kebipol de maharaʒus; za nu mozì admiro mole Havelìs struen pa de ric merkore. Havelìs se gren hase o miki palaze wej fasade ki balkone id fente se subebelim skulpen in ʒel sandikàm. Nu vadì os pas u magibèl Ʒaini tempel, naturim struen in ʒel sandikàm. Lasan de fort nu itì niz podim tra de miki komerki strade de poli; za ste de grenes id beles havelìs. Nu mozì vizìto un inia, Natmath ki haveli, wej initi dor se garden pa du kami elefante; za lu vend bel objete, tramìd wen boke id pediboke in kamelikòs seman ibòri, picten ki miniature.
★ ★ ★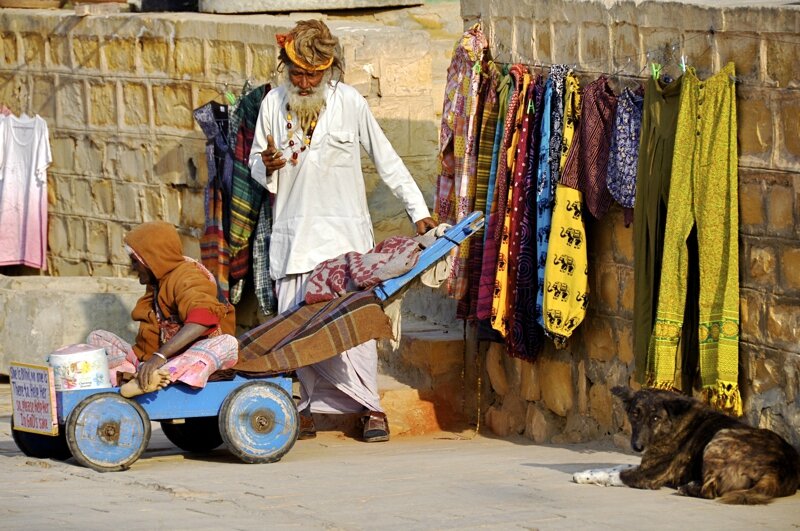 Sepli ʒina, Jaisalmer

★ ★ ★
Le matin suivant notre bus nous emmène au lac de Garisar avec ses jolis pavillons sur les eaux qui reflètent le soleil levant. Nous visitons ensuite le Fort de Jaisalmer, surnommé Sonar Kila, la "Forteresse en or", fondée en 1156 par Rao Jaisal, mais les remparts actuels ont été construits plus tard au XV siècle lorsque la ville s'enrichit grâce au commerce caravanier. A l'intérieur de l'enceinte on trouve une véritable petite ville qui était la capitale des maharajas; on peut y admirer de nombreux Havélis construits par les riches marchands. Les Havélis sont de grandes maisons ou de petits palais dont les façades de grès jaune avec fenêtres et balcons sont superbement sculptées. Nous passons devant un magnifique temple Jaïn, en grès jaune, bien entendu. En quittant le fort nous redescendons à pied dans les étroites rues commerçantes de la vieille ville: c'est là que sont les plus grands et plus beaux havélis. Nous pouvons en visiter un, le Natmath ki haveli, dont la porte d'entrée est gardée par deux éléphants de pierre; on y vend de beaux objets ornés de miniatures, des boîtes et des plumiers en os de chameau qui ressemble à se méprendre à de l'ivoire.
★ ★ ★
Havelì, u ric has merkori, Jaisalmer
U dor in de seni pol Jaisalmer
The next morning we drove to lake Garisar with its lovely pavilions on the waters mirroring the rising sun. Then we visited Fort Jaisalmer, also called Sonar Kila, "the Golden Fort", which was founded in 1156 by Rao Jaisal, but the present walls were built much later in the XV century when the town became very wealthy with the caravan trade. A small town is nestled behind the walls; that was the former capital of the maharajas; there we could admire many Havelis that were built by the rich merchants. Havelis are large houses or mansions whose yellow sandstone façades with balconies and windows are superbly carved. We walked past a beautiful Jain temple, built in yellow sandstone of course. Leaving the fort we came down through the narrow shopping streets of the old town; there we could see the largest and most beautiful havelis. We visited one of them, Natmath ki haveli, whose entrance door was guarded by two stone elephants; there they sold beautiful objects among which boxes and pencil boxes made of ivory-like camel bone decorated with miniatures.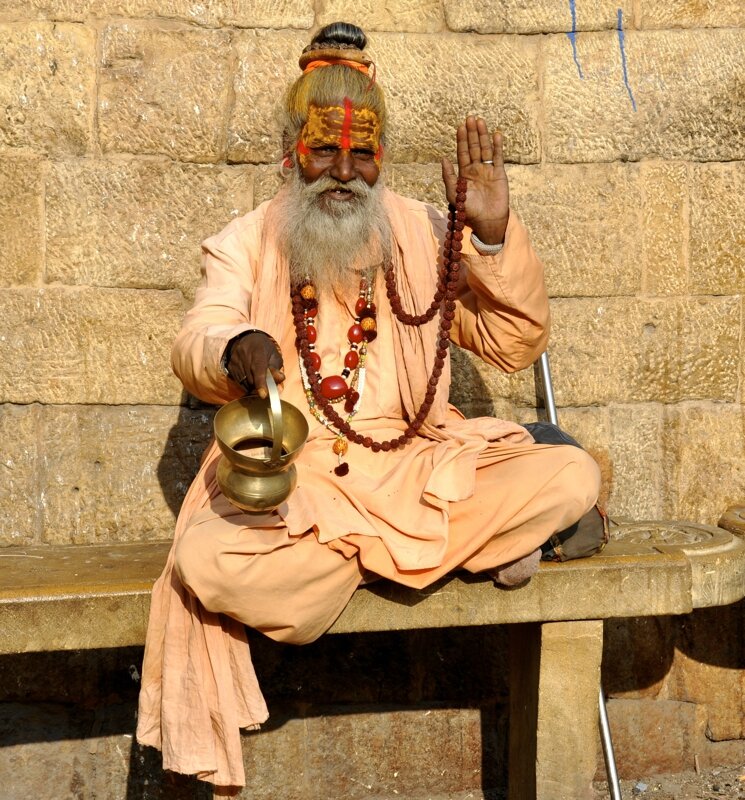 Komerki sadhù in Fort Jaisalmer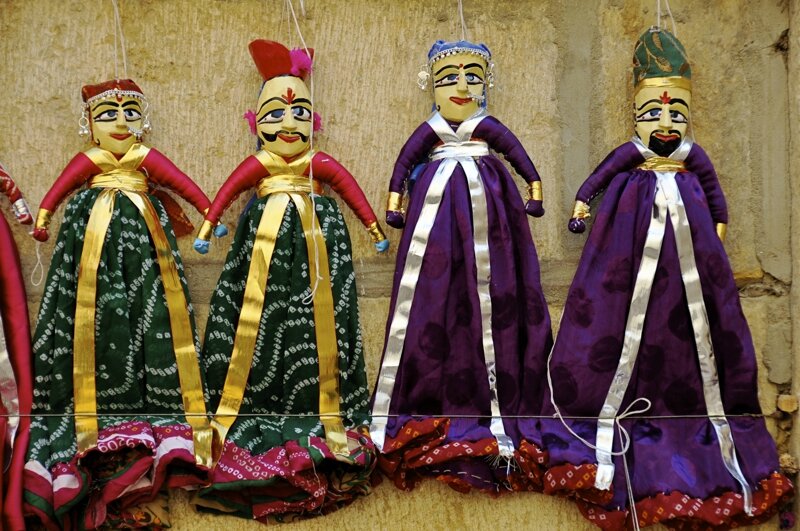 ★ ★ ★
Be fend posmidiù nu farì tra de Thar vustia tis de dunias wo nu raitì dromedare. Raito u dromedar se ne maj komforti te sedo su un elefànt, pur de atmosfèr in de silad de dunius be solifàl sì mol prijan. Avenen su de beles dunias nu stepì niz de dromedare, id davos avenì u grup jun ʒinus id ʒikus od de neri vike, subebèl ki li minkad, li juvle id kostume ʒinus de vustiu, id lu inizì danso po na. I zav ne is je ste un unid intra tale vustiu ʒinas in mold, ba lu semì mo somivo a Berberi ʒinas in Maròk. Nu raitì ru a de bus wan noc sì falan.
★ ★ ★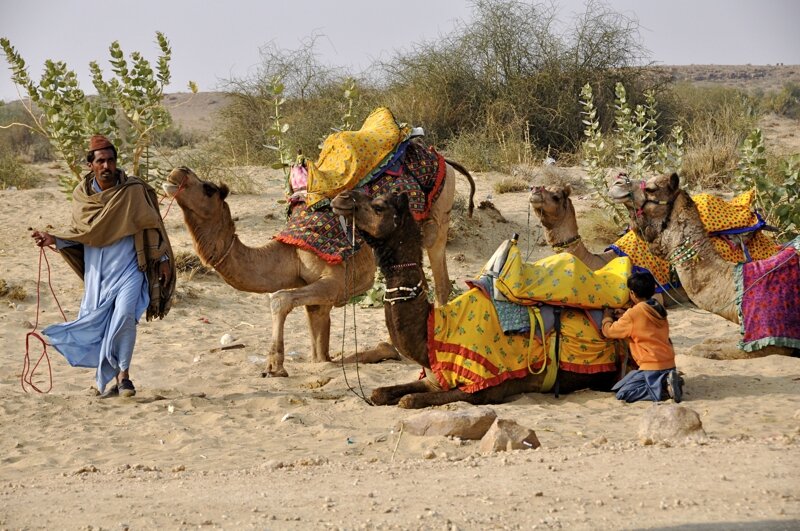 Dromedare in de Thar vustia

Dansoras su de dunias

★ ★ ★
En fin d'après-midi nous roulons dans le désert de Thar jusqu'aux dunes pour faire un tour en dromadaire. Chevaucher un dromadaire n'est pas plus confortable que de s'asseoir sur un éléphant, cependant l'atmosphère du soir dans le silence des dunes au coucher du soleil est très agréable. Arrivés sur les plus belles dunes, nous descendons; c'est alors que se présente un groupe de jeunes filles et femmes des villages voisins, superbes avec leur maquillage, bijoux et costumes de femmes du désert: elles se mettent à danser pour nous. Je ne sais pas s'il existe une unité entre les femmes de tous les déserts du monde, mais celles-ci ressemblent beaucoup aux femmes berbères du Maroc. Comme la nuit tombe, nous reprenons nos chameaux pour retourner au bus.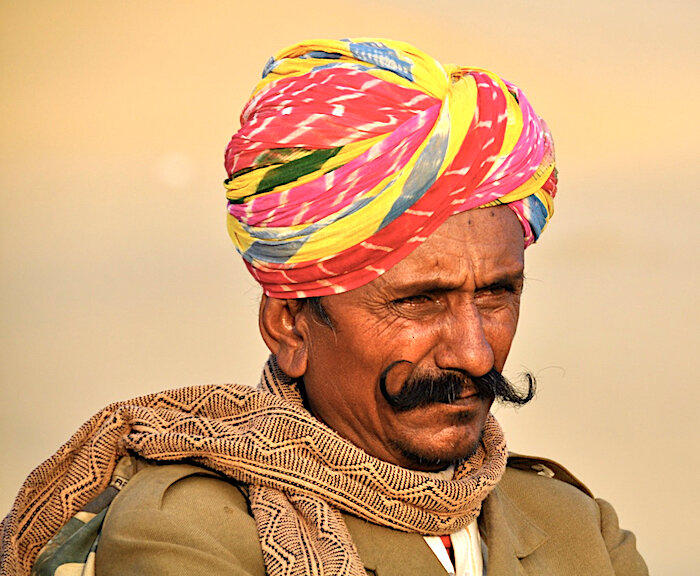 Muzikor su de dunias
Jun dansora su de dunias
★ ★ ★
In the late afternoon, we drove through the Thar desert to the dunes where we rode dromedaries. Riding a dromedary isn't any more comfortable than sitting on an elephant, yet the atmosphere, the silence in the dunes at sunset was very pleasant. When we reached the most beautiful dunes, we stopped and got off the dromedaries; that is when a group of young women and girls from the nearest village came to us. They were superb with their desert women's jewels, make-up and costumes, and they danced for us. I don't know whether there is some kind of likeness between all desert women in the world, but those made me think of Berber women in Morocco. We rode back to the bus at nightfall.
★ ★ ★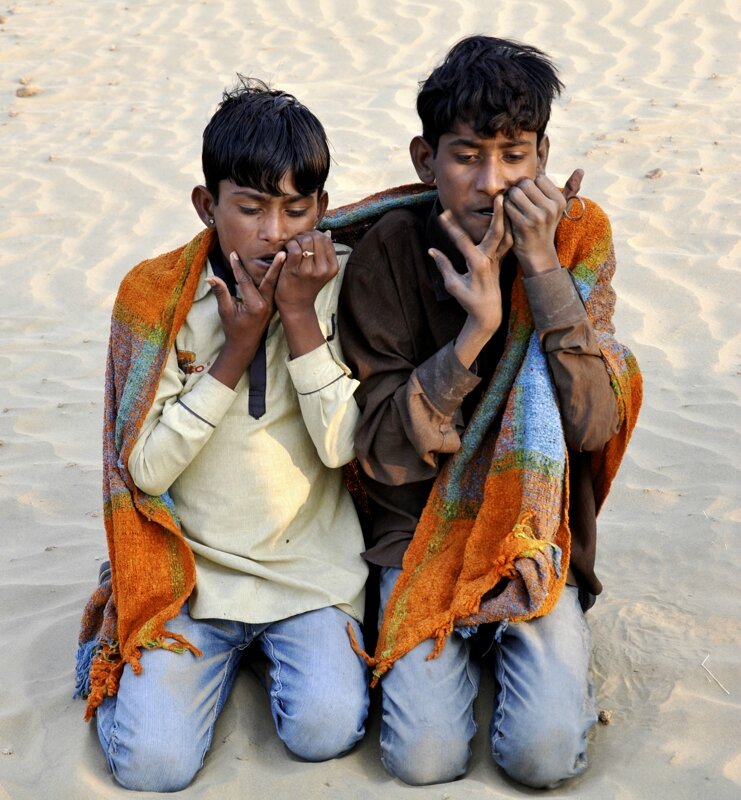 Miki muzikore su de dunias
★ ★ ★
Je ve proìto … à suivre … to be continued … continuará … Fortsetzung folgt … continua … συνεχίζεται … продолжение следует …