★ ★ ★
* Uropi Nove 83 * Uropi Nove 83 * Uropi Nove 83*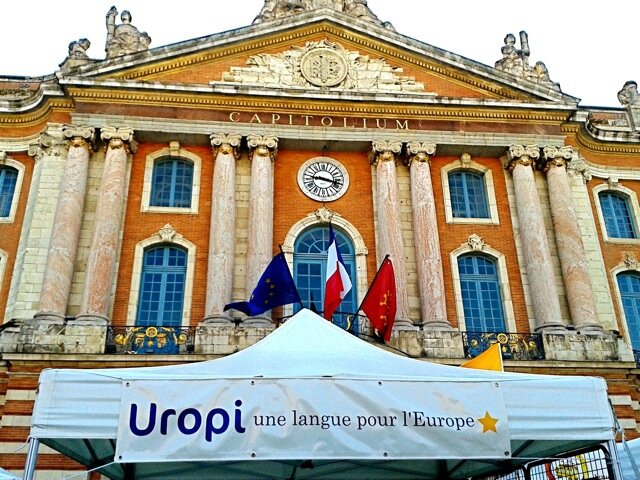 Kovaldan de Kapitòl
★ ★ ★
Soldia 18i Maj su de Plaz Kapitoli in Tulùz; di jar de 22j Forum de Lingus Moldi av sta un sedia maj pru par, be de slogan Soldia se de Europan Votad. Unvos maj de doje se ki na: u brij sol se livan berù de Kapitòl in un azuli hel ane nolbe. Pur u lej sudivint se flan, le Vent d'Autan, we bevos mozì flo ap ni folete, brocure, bibite. Ba nu avì sen forceri id avì aperen galte po seto su la. Sim nu sì priʒe frij po stalo ni stand be pru morna; sol sì varmizan solem de mij Plaz Kapitoli. Be des, tal sì predi id nu itì pivo u kafa po varmivo u poj. Pos de pri vizitore avenì.
Nevos de Forum avì sen sa magi ki 110 stande prodikan annumari lingas od Aimara a Zagawa, od Arabi a Vietnami, od Armèni a Tagalog, od Asiro-Babiloni a Sango… tra Bengali, Cini, Indonesi, Lituvi, Persi, Polski, Swedi, Swahili… id mole altene. Zis wa dez de folet prosetan de Forum:
"De felij wen un moz liso su de fase de publiki id su daze de 600 lifrivolore procepan la, dik ʒe bun te varid se ʒivi id ʒivli, te gurnovid po altene se anmezi id te de famos "ksenofobij" Francis se solem u fabel disvegen pa falsi elite, we, po vido kospeken sim, men te lu doʒ anizo de polk."
Prim, wim i av ʒa dezen, de Forum avì sta in u forvotadi periòd, wan un euroskeptic klimàt semì privaldo in Francia id eke alten Europan lande - u klimàt we semì poj favorli po Europa id po eniwa kovigen ki Europa; pur, Uropi vidì partikulim bun procepen id nu avì mole vizitore.
★ ★ ★
Ki Alain rey id Xavier North

★ ★ ★
Alain Rey
Beròn desùn hore, i avì un intravìz ki Radio Booster id mol simpatic jun ʒurnaliste, id ruvenan i vidì mol suprizen id inmuven vizo Alain Rey pro de Uropi stand, spekan de brocure id bibite, id kovaden pa Xavier North, delegen od de Kulturi Ministoria ov Franci id de lingas Franciu. I dezì ho kim i sì felic kogono ha, ki wen i vark jaki dia tra hi Dictionnaire historique de la langue française (Histori vordar de Franci lingu). He bemarkì te i avì traduten Ο Τρωικός Πόλεμος (De Troji Wer), ba i ruvokì ho te je sì ne de tekst Homeri, ba u versiòn in moderni Greci. Pos nu vokì ov etimologij we se ni komùn pasiòn; he dezì te je stì poje Indeuropan etimologic vordare in Franci id he tranomì de Dictionnaire des racines des langues européennes (Vordar de rodis de Europan lingus) pa R. Grandsaignes d'Hauterive, we sì mi pri bibel id davì mo de idea kreato Uropi; i dezì te i sì varkan cevim ki de Indogermanisches etymologisches Wörterbuch (Indeuropan etimologic vordar) pa Julius Pokorny we se, slogan ha, de bunes.
Alain Rey - po daze we kon ne ha - se u famos Franci linguìst id vordariskrivor, usdavi direktor de vordaris Robert. He vidì inviten wim cevi gost a de Forum Lingus po voko id debato ov de Franci linga. Be posmidià i itì skuco hi vokad we sì mol interesan. Intra alten he dezì te u linga se nevos un apsolen sistèm, ba te je av prostajan kontakte id intrametade ki alten lingas. He davì de samp Engli we avì inlesten mole Franci vorde pos de Norman kovàld, wan de noble vokì Franci, id Franci num we inlèst mole Engli vorde. He vokì os ov de anlezid tradutadi, partikulim in poetad; po samp in Doski: sol, die Sonne we se femu, vid poetim kospeken wim u ʒina (wa se anmozli in Franci: le soleil), id gonim lun, der Mond, we se mazi, vid kospeken wim u frat, u kopanor, obwàn in Franci id alten Romaniki lingas, lun, la lune, la luna, se po poète u ʒina.
★ ★ ★
Uropi publizade

★ ★ ★
I menì - ane dezo ja ho - te di problèm tradutadi esìst ne in Uropi wo neutri nome wim sol, lun, mold…i.s.p., moz vido kospeken poetim o wim mazi nome, o wim femu nome, ajutan lo un -a. Po samp i tradutì od Doski u poèm pa Hermann Hesse nomen Leb wohl Frau Welt, in wen mold: die Welt, se u ʒina, sim je vidì Adòj Dama Molda in Uropi.
Adòj, dama Molda id mink
Ta revos jun id slic,
Nu av ʒe sat ki ti jame,
Nu av ʒe sat ki ti felij.

Leb wohl, Frau Welt, und schmücke
Dich wieder jung und glatt,
Wir sind von deinem Glücke
Und deinem Jammer satt.
I tradutì os u poèm od Espàni pa F. Garcia Lorca, in wen lun se u ʒina: Romance de la luna, luna, id je vidì Romàns ov Luna, Luna.
In de al inmuven
Luna muv ci rame
Id dik, lasti id puri
Ci buste dar stini.
En el aire conmovido
mueve la luna sus brazos
y enseña, lúbrica y pura,
sus senos de duro estaño
★ ★ ★
Vizitore aflujì a de Uropi stand, oʒe siklim

★ ★ ★
De vizitore
Be fend mornu id tra tal posmidià de vizitore a de Uropi stand vidì maj id maj numari. Je se mol anlezi beskrivo id klasizo la tale. Lu sì od mole vari nasionide: France naturim, ba os Espàne, Doske, Englane, Ruse, Lituviane, Kubane, Georgiane, Polske, Grece, Katalàne, Baske, Iranane, Amerikane, Italiane, Afrikane… Li sosial odvenad sì os mol vari: mole studane id os grafiste, invarkene, dictore, vendore, june cekan vark, pensionene id mole altene.
Je stì liente od tale alde ba subetàl june we sì mol oprenmenti id interesen ov Uropi; lu vidì partikulim interesen ov de mod Uropi vidì struen: mole od la avì ʒa oren ov Proto Indeuropan id de komùn odvenad Indeuropan lingus, ba altene diskrovì ja be de Uropi stand id vidì facinen.
Lu aprizì de fakte:
- te Uropi kospèk tale lingas wim egli: je ste ne vezi lingas id anvezi lingas (wa se de spirt som de Tuluzi Forumi)
- te Uropi se u linga komunikadi we garànt de proʒivad id progarad de alten lingus, we risk ne distruo de varid lingus wim Engli o eni nasioni linga uzen intranasionim mojev deto.
- te Uropi se u veri vig intra de vokore Indeuropan lingus (id os alten lingus), id te je se u pont intra lingas, lezizan de lerad alten lingus par je det na ʒa familic ki mole vorde id gramatiki strukture da lingus, id dav no de zel lero la.
★ ★ ★
★ ★ ★
Mole uslandore udelinì te usvoko Franci sì mol anlezi po la (vokem ne ov Engli !), id koslogim lu aprizì ʒe mol de slimi Uropi usvòk, mol neri a Itali (de maj slimi po de majsan Europane). Personim i avì os de prijad voko Itali ki u jun Italian od Milàn; i pragì ho liso de title vari Uropi bibis: hi usvòk sì perfeti id os po de vord Uropi som ki de u (id ne ü wim France dez), de rolen r id de aksènt seten spontanim in de regi sta… u veri inglajad ! Naturim tale uslandore sì mol glaj vizo de komùn punte intra Uropi id li siavi lingas (id i disdavì lo de koruvokan folete); lu sì os interesen ov de tradutade od li linga, wim po samp de Ruse vizan De Dama ki de Kunit, Дама с собачкой pa Antòn Tcekhov.
Un od de pri keste eke vizitoris sì: "Ka se de disemid intra Uropi id Esperanto ?" Mole od la avì u priʒe negativi idea ov Esperanto we satizì ne li invartade: "u linga we av ne funsionen". Nu usklarì lo te Uropi sì obe maj slimi id maj intranasioni te Esperanto par je vidì struen od tale Indeuropan lingas, id ne cevim su Latini id Romaniki lingas. Un alten kest vidì pragen pa Esperantiste som: "Parkà un alten linga ? Je ste ʒa un intranasioni linga!", wim is Esperanto sev de pri, solen id uni eldilinga in mold, wim is Volapük, Interlingua, Novial, Occidental, i.s.p… avev nevos esisten.
★ ★ ★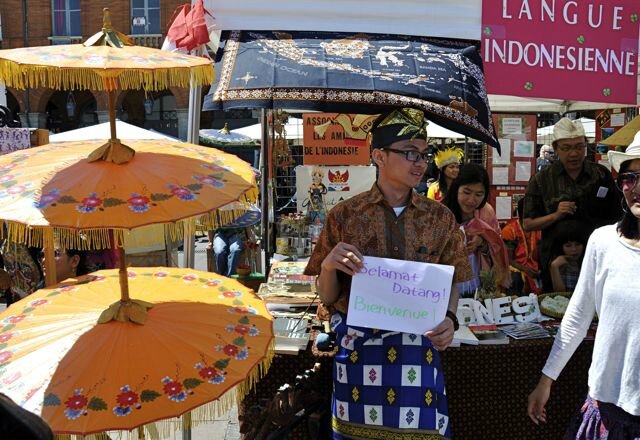 De Indonesi stand

★ ★ ★
Ki alten vizitore nu avì pasionan disvoke.
Po samp u jun, fricim diplomen dictor Engli dezì no te he sì in favòr u komùn lingu po Europa, par uzo Engli wim u linga komunikadi intra polke moldi sinev disnaturo da linga wen he liam. Di se wa i som av talvos menen: i gus voko Engli ki Britane o alten Englivokore, ba ne ki de alten polke, par jaki polk ve disformo ja slogan de usvòk hi lingu id ne solem je vid anlezi a incepo, ba je se os, in de bunes kaz, anprijan a oro.
U jun Katalàni antropologista, we sì po ito a India, sì partikulim entusiasti ov Uropi: "Ba di se fantastic !" Ce findì mol interesan te Uropi vidì struen uzan tale Indeuropan lingas id lingugrupe in un egli mod, favoran nun od la. Ce incepì suprù te Uropi sì u mirèl rupictan numari lingas, id koslogim un oprad su de alten lingas.
Eke vizitore sì u poj disluʒen par lu mozì ne nemo ap de Uropi bibite ki sia - i incèp ʒe bun te lu volì garo u rumèn od de Uropi stand, we mozev instigo la po lero Uropi, ba de problèm se te nu avì solem un od du samplare jaki brocuri, sim nu mozì ne davo la o vendo la. Altenzatim de organizore avì mol instajen te de Forum Lingus sì nun komerki usvenad id te komerki kodele doʒì so strigim limiten. Pur, nu davì lo de adrese ni sitius, nu disdavì de brocùr prosetan Uropi id os vari folete koeglan Uropi, Esperanto Engli id Franci id os daze dikan de komùn punte intra Uropi id Indeuropan lingas.
★ ★ ★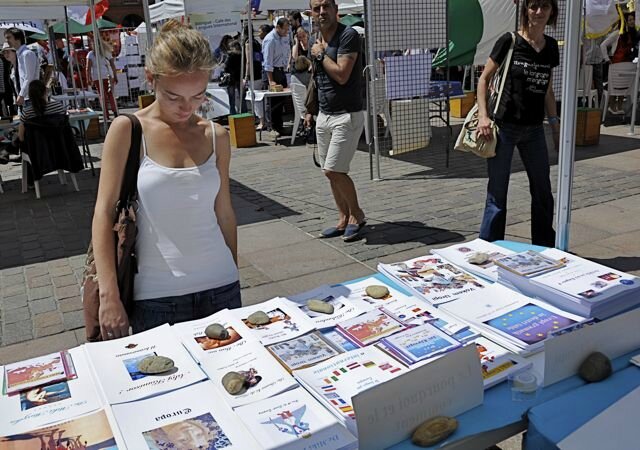 ★ ★ ★
Be posmidià, je stì os un alten intravìz ki B. pa Radio Bleue Toulouse. B. beskrivì Uropi id kim he diskrovì ja, instajan ov de fakt te Uropi se u veri vig intra Europan id Indeuropan lingas.
Be 6 id mij nu inizì dimonto de stand trawàn nu doʒì jok davo usklarade a de posni vizitore. Da sì verim u bel dia ki mol inrican kogonade id disvokade. Nu sì verim glaj vizo samole oprenmenti jun liente vido sa verfelim interesen ov Uropi.
★ ★ ★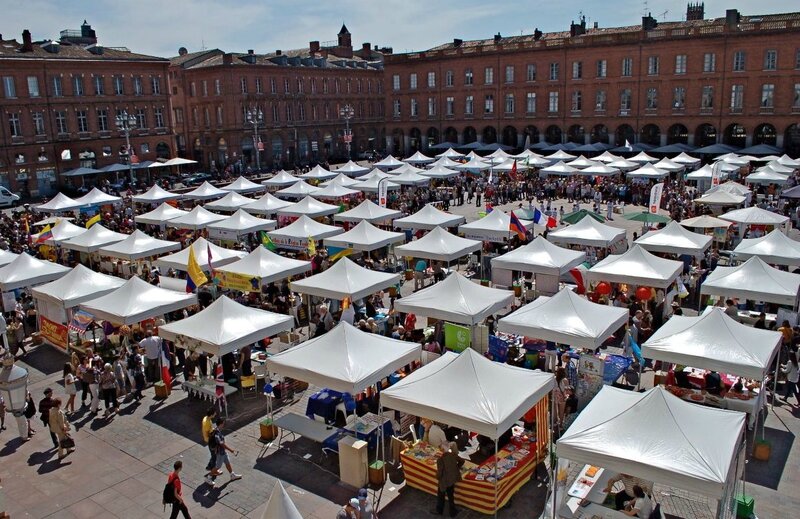 De Forum Lingus 2014
★ ★ ★
Forom Des Langues du Monde 2014
★ ★ ★
Dimanche 18 mai, Place du Capitole à Toulouse: cette année le 22e Forum des Langues du Monde se tient une semaine plus tôt, car le dimanche suivant ont lieu les Elections Européennes. Une fois de plus les dieux sont avec nous: un grand soleil se lève derrière le Capitole dans un ciel tout bleu sans le moindre nuage, avec cependant un léger vent d'Autan qui emporte parfois nos brochures et dépliants. Mais nous avions pris nos précautions pour les maintenir en place avec des galets. Au petit matin, il fait plutôt frisquet pour installer le stand; le soleil n'éclaire que la moitié de la Place du Capitole. A dix heures tout est prêt et nous allons boire un café pour nous réchauffer un peu. Ensuite, les premiers visiteurs arrivent.
Le Forom n'a jamais été aussi énorme: 110 stands présentant d'innombrables langues, de l'aymara au zagawa, de l'arabe au vietnamien, de l'arménien au tagalog, de l'assyro-babylonien au sango… en passant par le bengali, le chinois, l'indonésien, le lituanien, le perse, le polonais, le suédois, le swahili… et bien d'autres encore. Voici ce que dit le dépliant du Forom:
"Le bonheur qui se lit sur les visages du public et sur celui des 600 bénévoles qui les accueillent montre bien que la pluralité est vivable, que la curiosité pour les autres est immense et que la fameuse « xénophobie » des Français n'est qu'une fable agitée par de pseudo-élites qui, pour passer pour telles, croient devoir rabaisser le peuple."
★ ★ ★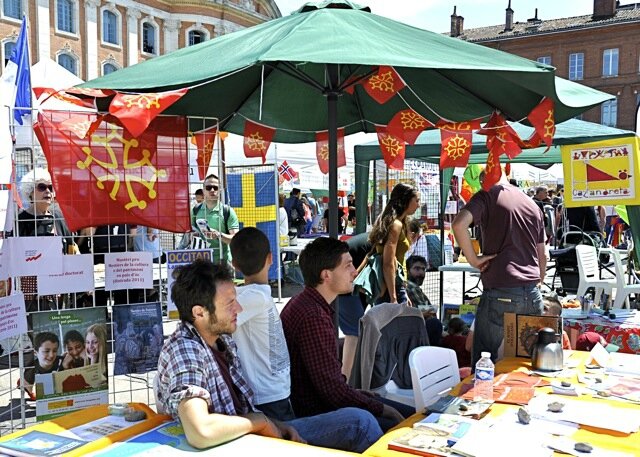 De Oksitàni stand
★ ★ ★
Comme je l'ai déjà dit, le Forom a lieu en période pré-électorale, pendant laquelle semble régner un climat d'euroscepticisme en France et dans d'autres pays européens - climat peu favorable à l'Europe et à tout ce qui s'y rattache de près ou de loin, et cependant, aussi surprenant que cela puisse paraître, un accueil des plus chaleureux est réservé à l'Uropi parmi les nombreux visiteurs.
Alain Rey
A 11h j'ai rendez -vous à Radio Booster pour une interview avec de jeunes journalistes très sympathiques, et quelle n'est pas ma surprise, à mon retour de voir Alain Rey en personne au stand Uropi, en train de regarder nos brochures en compagnie de Xavier North, délégué du Ministère de la Culture au Français et aux langues de France. Très ému, je luis dis combien je suis heureux de le rencontrer, lui avec qui je travaille tous les jours par l'intermédiaire de son Dictionnaire historique de la langue française. Il remarque que j'ai traduit Ο Τρωικός Πόλεμος (la Guerre de Troie), mais je dois lui préciser qu'il ne s'agit pas du texte d'Homère, mais d'une version en grec moderne. Puis nous parlons d'étymologie, notre passion commune; il indique qu'il y a peu de diction-naires indo-européens en français et il me cite le Dictionnaire des racines des langues européennes de R. Grandsaignes d'Hauterive, ma première bible qui m'a donné l'idée de créer l'Uropi; je lui réponds que maintenant je travaille essentiellement avec le Indogermanisches etymologisches Wörterbuch de Julius Pokorny, qui est, selon lui, le meilleur.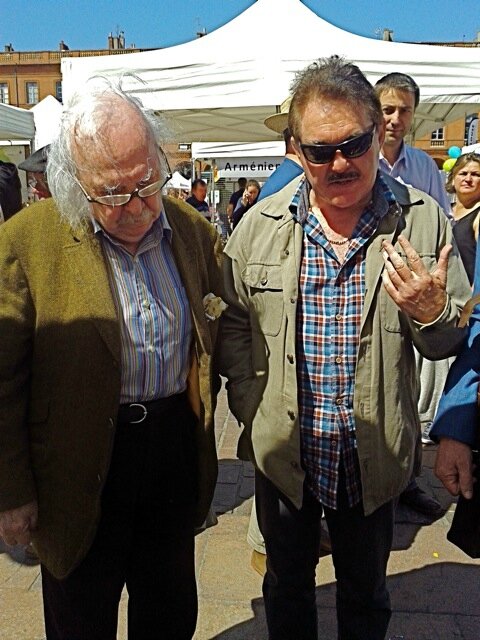 Ki Alain Rey, spekan de Uropi publizade

★ ★ ★
Alain Rey - pour ceux qui ne le connaîtraient pas - est un célèbre linguiste, lexicologue et lexicographe français, rédacteur en chef des éditions des dictionnaires Robert, invité d'honneur au Forom des Langues pour parler de la langue française et en débattre. L'après-midi j'assiste à sa conférence-débat des plus intéressantes. Il précise entre autres qu'une langue n'est pas un système isolé, cloisonné, mais qu'elle est en contact avec les autres langues avec lesquelles elle pratique des échanges permanents. Il cite l'exemple de l'anglais qui a emprunté un nombre considérable de mots au français à la suite de la conquête normande, lorsque les nobles parlaient français, alors qu'aujourd'hui c'est plutôt l'inverse: le français qui emprunte à l'anglais. Il évoque également la difficulté de la traduction surtout en poésie, citant l'exemple de l'allemand qui dit die Sonne, la soleil au féminin et que les poètes considèrent donc comme une femme (chose impossible en français), mais der Mond, le lune, masculin, c'est le frère, le compagnon des poètes, alors qu'en français et dans les langues romanes, la lune, c'est la femme.
J'ai pensé - sans lui dire - que ce problème de traduction ne se pose pas en Uropi où les noms neutres: sol, lun, mold (soleil, lune, monde)… peuvent être personnifiés au choix au masculin ou au féminin (en leur ajoutant un a). J'ai traduit par exemple de l'allemand un poème de Hermann Hesse intitulé Leb wohl Frau Welt où le monde, die Welt, est une dame et qui devient Adòj Dama Molda (Adieu madame la Monde) en Uropi, alors qu'en français, on a "Monsieur" le Monde.
Adòj, dama Molda id mink
Ta revos jun id slic,
Nu av ʒe sat ki ti jame,
Nu av ʒe sat ki ti felij.
Adieu,monsieur le Monde, pare-toi,
D'une jeune et lisse beauté,
Nous sommes, des peines d'autrefois
Et de tous tes bonheurs lassés.*
J'ai également traduit de l'espagnol un poème de Federico García Lorca où la lune est une femme: Romance de la Luna, Luna qui devient Romàns ov Luna, Luna en Uropi.
In de al inmuven
Luna muv ci rame
Id dik, lasti id puri
Ci buste dar stini.
Dans l'air qui s'émeut
La lune bouge les bras
Et montre, lubrique et pure
Ses seins de dur étain* *Pour le texte original, voir l'article Uropi.
★ ★ ★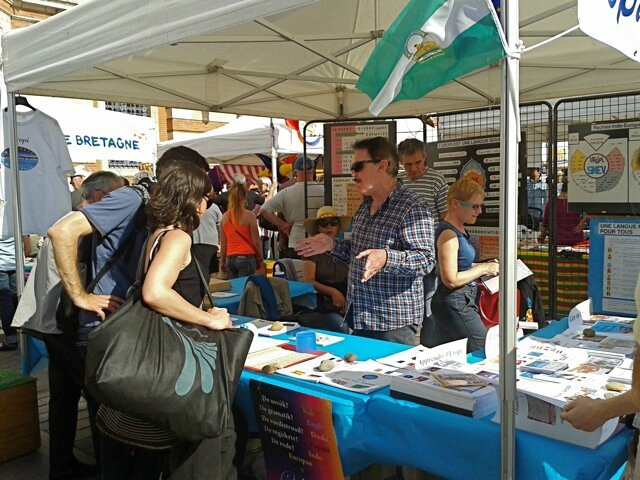 Usklarade id disvokade be de Uropi stand

★ ★ ★
Les visiteurs
En fin de matinée et pendant tout l'après-midi les visiteurs deviennent de plus en plus nombreux. Il est difficile de tous les décrire et de les classer. Ils sont de toutes les nationalités: des Français bien sûr, mais aussi des Espagnols, des Allemands, des Anglais, des Russes, des Lituaniens, des Cubains, des Géorgiens, des Polonais, des Grecs, des Catalans, des Basques, des Iraniens, des Américains, des Italiens, des Africains… Leur "statut" social est aussi très varié: beaucoup d'étudiants, des graphistes, des employés, professeurs, vendeurs, des jeunes en recherche d'emploi, des retraités et beaucoup d'autres.
Tous les âges sont représentés mais il s'agit pour une immense majorité de jeunes, très ouverts et qui s'intéressent à l'Uropi. Ce qui les intéresse en premier lieu, c'est la façon dont l'Uropi a été conçu et construit. Beaucoup ont déjà entendu parler du proto-indo-européen et de l'origine commune des langues indo-européennes, mais d'autres le découvrent au stand Uropi et sont fascinés.
Nos visiteurs apprécient le fait que:
- l'Uropi considère toutes les langues comme égales, sans en privilégier aucune: il n'y a pas de langue importante et de langue sans importance (ce qui est l'esprit même du Forom de Toulouse)
- l'Uropi est une langue de communication qui garantit la survie et la préservation des autres langues, et qui ne risque pas de mettre en danger la diversité linguistique comme pourrait le faire l'anglais ou tout autre langue nationale utilisée comme LAI.
- l'Uropi est un véritable lien entre les locuteurs des langues indo-européennes et que c'est une passerelle entre les langues qui facilite leur apprentissage en nous familiarisant avec un vocabulaire et des structures grammaticales communs avec ces langues, et nous donne envie de les apprendre.
★ ★ ★
Aflujad a de Katalàni stand

★ ★ ★
Beaucoup de visiteurs étrangers soulignent les difficultés qu'ils ont avec la prononciation française (ne parlons pas de l'anglais!), et par conséquent apprécient particulièrement la simplicité de la prononciation Uropi, très proche de celle de l'italien (la plus facile pour la plupart des européens). Personnellement j'ai le plaisir de parler italien avec un jeune Italien de Milan; et je ne peux m'empêcher de lui demander de lire les titres des petits livres Uropi: une prononciation parfaite, ainsi que pour le mot Uropi lui-même, avec le u prononcé [ou] (pas comme les français qui prononcent [üropie], le r roulé et l'accent mis spontanément au bon endroit… un vrai délice !
Bien sûr les visiteurs de toutes les nationalités sont ravis de voir les points communs entre l'Uropi et leur propre langue (on leur distribue les dépliants correspondants). Ils sont également très intéressés par les traductions à partir de leur langue, comme par exemple De Dama ki de Kunit, Дама с собачкой (la Dame au petit chien) de Tchékhov pour les Russes.
Une des premières questions que nous posent certains visiteurs est la suivante: "Quelle est la différence avec l'espéranto ?" Ils ont souvent une image assez négative de l'espéranto "une langue qui n'a pas marché". Nous leur expliquons alors que l'Uropi est à la fois plus simple et plus international que l'espéranto, dans la mesure où il a été construit à partir de toutes les langues indo-européennes, et pas essentiellement à partir du latin et des langues romanes. Une autre question que nous posent les espérantistes eux-mêmes, c'est "Pourquoi une autre langue ? Il existe déjà une langue internationale !" Comme si l'espéranto était la première, la seule et unique langue auxiliaire dans le monde, comme si le volapük, l'interlingua, le novial, l'occidental, etc. n'avaient jamais existé.
★ ★ ★
De Kebeki stand
★ ★ ★
Avec d'autres visiteurs, nous avons des discussions passionnantes.
Par exemple un capétien d'anglais tout nouveau diplômé trouve qu'une langue commune pour l'Europe est une bonne idée, car utiliser l'anglais comme outil de communication entre les peuples du monde revient à dénaturer une langue qu'il aime. C'est bien ce que j'ai toujours pensé moi-même: j'aime beaucoup parler anglais avec des Britanniques ou autres anglophones, mais pas du tout avec les autres peuples car chaque peuple le déforme selon la prononciation de sa propre langue, ce qui rend souvent la compréhension difficile et qui est, de toute façon, assez désagréable à entendre.
Une jeune anthropologue catalane, qui doit partir en Inde, déborde d'enthousiasme: "Mais c'est génial !" Elle est très intéressée par la façon dont l'Uropi a été construit de façon égalitaire à partir de toutes les langues et groupes de langues indo-européennes. Elle comprend tout de suite que l'Uropi est un miroir qui reflète de nombreuses langues, et par là même une ouverture sur les autres langues.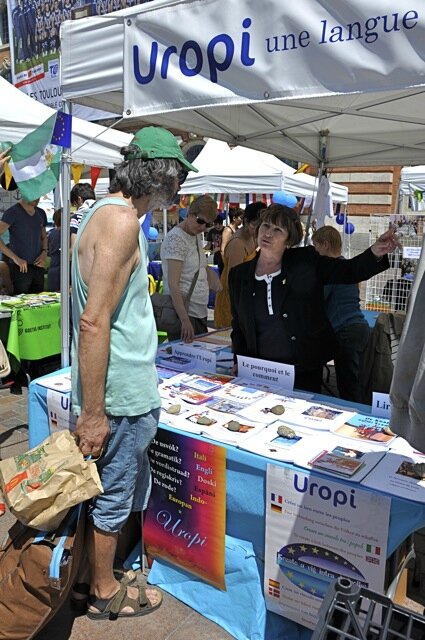 ★ ★ ★
Certains visiteurs sont un peu déçus de ne pas pouvoir emporter nos petits livres - je comprends très bien qu'ils veuillent garder un souvenir de nos discussions au stand Uropi qui puisse les inciter à apprendre la langue, mais le problème, c'est que nous n'avons apporté qu'un ou deux exemplaires de chaque et que nous ne pouvons ni les donner ni les vendre. Par ailleurs les organisateurs ont insisté sur le fait que le Forom des Langues n'est pas une opération commerciale et que les "transactions" doivent être strictement limitées. Cependant nous leur donnons les adresses de nos sites et nous distribuons la plaquette de présentation de l'Uropi ainsi que les dépliants présentant les points communs avec les autres langues i-e.
L'après midi, B. a une nouvelle interview avec Radio Bleu Toulouse, dans laquelle il décrit l'Uropi et la façon dont il l'a découvert, insistant sur le fait que l'Uropi est un veritable lien entre les langues européennes et indo-européennes.
A 18h30, nous commençons à démonter le stand alors que les derniers visiteurs viennent encore nous demander des explications. Nous arrivons au terme d'une belle journée très enrichissante par ses rencontres et ses discussions; nous sommes très heureux d'avoir rencontré autant de visiteurs jeunes pour la plupart, ouverts et sincèrement très intéressés par l'Uropi.
★ ★ ★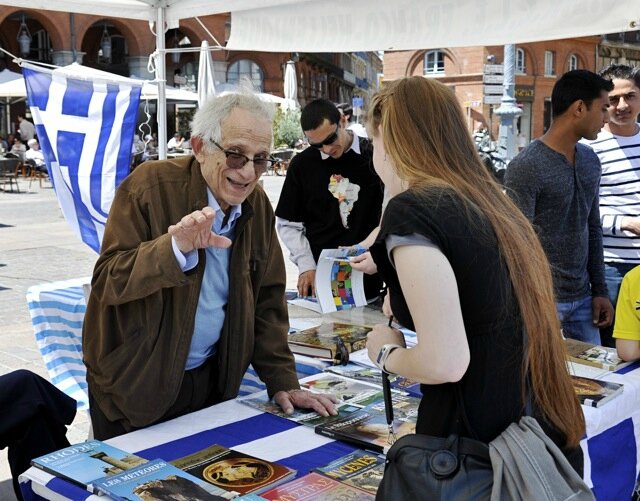 De Greci stand

★ ★ ★
2014 World Languages Forum
★ ★ ★
Sunday May 18th on Capitol Square, Toulouse; this year the 22nd World Languages Forum took place a week earlier than usual because on the following Sunday was the European Election. Once again we were lucky: a bright sun was rising behind the Capitol in a cloudless sky. Yet a light wind was blowing, le Vent d'Autan, which, at times could blow away our leaflets and brochures; but we had taken precautions and brought a few pebbles with us to keep them on the tables. So it was a bit chilly when we set up our stand in the early morning; the sun was only warming up half the square. By ten o'clock everything was ready and we went for a coffee to warm us up. Then the first visitors arrived.
The Languages Forum had never been so large before, with 110 stands displaying innumerable languages from Aymara to Zagawa, from Arabic to Vietnamese, from Armenian to Tagalog, from Assyro-Babylonian to Sango… from Bengali to Chinese, Indonesian, Lithuanian, Persian, Polish, Swedish, Swahili… and many others. Here is what the Languages Forum leaflet said:
"The happiness you can read on people's faces and on those of the 600 volunteers who were welcoming them shows that diversity is alive and that we appreciate it, that our curiosity towards the others is boundless and that the famous French "xenophobia" is a myth raised by a so-called elite, who, wanting to be considered as such, think they have the right to disparage the people."
First, as I said before, the Forum took place in a pre-election period, when a climate of euroscepticism seemed to be prevailing in France and other European countries - a climate that wasn't very favourable to Europe and to anything more or less connected with it. However, Uropi was warmly welcomed and we had a lot of visitors.
★ ★ ★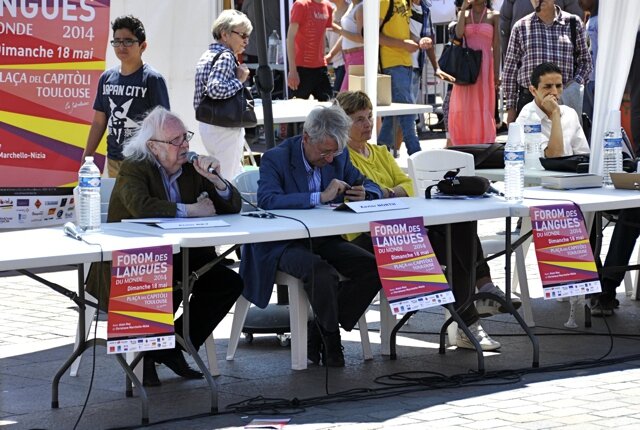 Debàt ki Alain rey

★ ★ ★
Alain Rey
Around 11 o'clock I had an interview with Radio Booster and a couple of young friendly journalists and when I came back I was amazed - and rather moved - to see Alain Rey standing in front of the Uropi stand, examining our brochures, together with Xavier North, the Culture Ministry delegate to the French Language and the languages of France. I told him how happy I was to meet him since I work with him every day through his Dictionnaire historique de la langue française (Historical Dictionary of the French language). He noticed that I had translated Ο Τρωικός Πόλεμος (the Trojan War), but I told him that was not Homer's text, but a version in modern Greek. Then we talked about etymology, our common passion; he said there were few Indo-European dictionaries in French and he mentioned the Dictionnaire des racines des langues européennes (Dictionary of European naguages roots) by R. Grandsaignes d'Hauterive, that was my first "bible" and gave me the idea of creating Uropi; I told him that I was essentially working with Julius Pokorny's Indogermanisches etymologisches Wörterbuch (Indo-European etymological dictionary) which he said it was the best.
Alain Rey - for those who don't know him - is a famous French linguist and lexicologist, editor of the Robert dictionaries publishings. He was the guest of honour at the Forum to talk about the French language. In the afternoon I attended his talk that was followed by a debate, and was most interesting. Among other things he said that a language is never an isolated system but has permanent contacts and exchanges with the other languages. He gave the example of English that borrowed so many French words after the Norman conquest, when the nobles spoke French, whereas today, it is the other way round: French tends to borrow many words from English. He also said how difficult it is to translate, especially poetry. He gave the example of German in which the sun, die Sonne, is feminine, and thus considered as a woman in poems - something which is impossible in French where the sun, le soleil, is masculine. On the other hand, the moon, der Mond, is masculine, and thus is often the poet's brother or male friend, whereas it is always a woman in French and other Romance poetry, because la lune, la luna is feminine.
★ ★ ★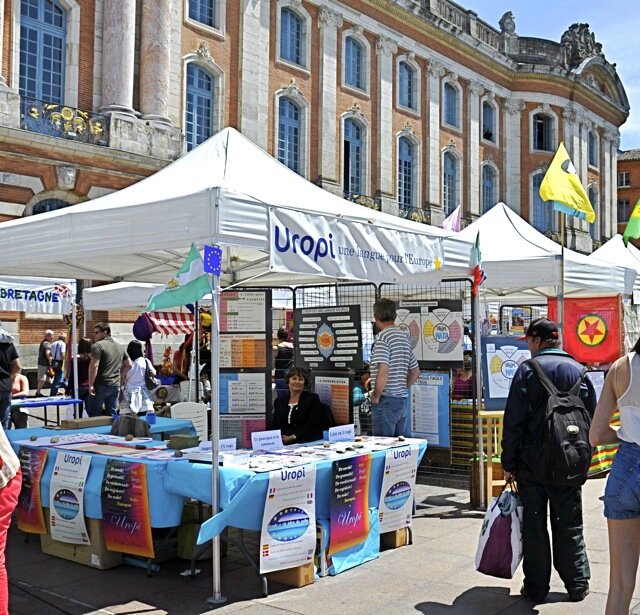 Resan u poj.

★ ★ ★
I thought I could have told him - but of course I didn't - that such a problem doesn't exist in Uropi where neuter nouns like sol, lun, mold (sun, moon, world) can be personified either as men or as women (by adding an -a). For example I translated a poem from German by Hermann Hesse called Leb wohl Frau Welt (Farewell lady World) in which the world, die Welt is a woman, and so it became Adòj Dama Molda (lady World) in Uropi whereas in French it was translated as Monsieur le Monde (Mr World).
Adòj, dama Molda id mink
Ta revos jun id slic,
Nu av ʒe sat ki ti jame,
Nu av ʒe sat ki ti felij.
Leb wohl, Frau Welt, und schmücke
Dich wieder jung und glatt,
Wir sind von deinem Glücke
Und deinem Jammer satt.* * Sorry I couldn't find any translation in English
I also translated a poem from Spanish: Romance de la Luna, Luna, by Federico García Lorca in which the moon, la luna is a woman; in Uropi, lun, the moon, becomes luna: Romàns ov Luna, Luna.
In de al inmuven
Luna muv ci rame
Id dik, lasti id puri
Ci buste dar stini.
In the shaken air
the moon moves her arms,
and shows lubricious and pure,
her breasts of hard tin.* Translated by Will Kirkland,
* For the original, see the article in Uropi
★ ★ ★
De Sango stand

★ ★ ★
The visitors
In the late morning and throughout the afternoon, the visitors to the Uropi stand were more and more numerous. It is difficult ro describe and classify them all. They were from all nationalities, French, of course, but also Spanish, German, English, Russian, Lithuanian, Cuban, Georgian, Polish, Greek, Catalan, Basque, Iranian, American, Italian, African…Their "social status" was also very varied: many students and also graphic designers, employees, office-workers, teachers, shop-assistants, young job-seekers, retired people and many others. There were people from all ages but above all young people who were particularly open-minded and interested in Uropi, especially in the way Uropi was conceived and built. Many of them had already heard about PIE and the common origin of Indo-European languages, but others discovered it at the Uropi stand and were fascinated.
They appreciated the following:
- that Uropi considers all languages as equal: there are no important languages and unimportant languages (which is the very spirit of the Toulouse Forum)
- that Uropi is a communication language that guarantees the preservation and survival of the other languages and doesn't endanger language diversity as English or any other national language might do if used as an IAL.
- that Uropi constitutes a real link between Indo-European language speakers (and even others), that it is a bridge that leads us to the other languages, making them easier to learn insofar as they share many common words and grammatical structures and thus inciting us to discover and even learn them.
★ ★ ★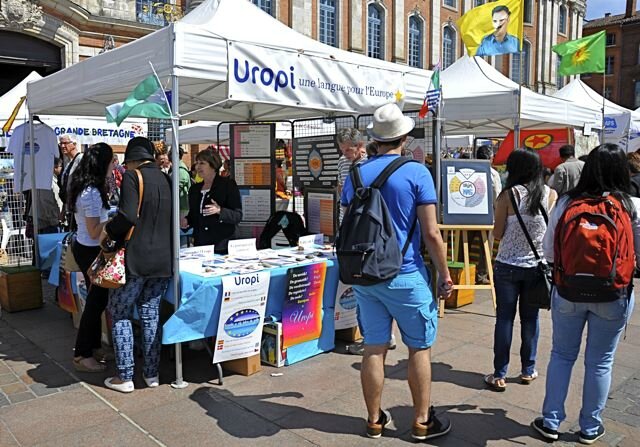 ★ ★ ★
Many foreigners pointed to the difficulty they have to pronounce French (not to mention English !) and consequently they did appreciate the simple Uropi pronunciation, close to that of Italian (which is the easiest for most Europeans). Personally I had the pleasure to speak Italian with a young Italian from Milan and I couldn't help asking him to read the titles of the different brochures and booklets: his pronunciation was perfect as well as for the word Uropi itself, with an initial oo (and not ü as French people say), the rolled r, and the stress placed spontaneously on the right syllable… a delight !
Of course people of various nationalities were very pleased to observe the similarities between Uropi and their own languages (I gave them the corresponding leaflets) and they were also interested in the translations from their languages, like for example, De Dama ki de Kunit (The Lady with the dog) from Chekhov's Дама с собачкой, for the Russians.
One of the first questions that some people asked us was: "What's the difference between Uropi and Esperanto?" Many of them had a rather negative view on Esperanto which didn't meet their expectations: "A language that never worked." We explained that Uropi was both simpler and more international, because it was derived from all Indo-European languages and not essentially from Latin and Romance languages. Another question was asked by a few Esperantists themselves: "Why another language ? There is already an international language !" as if Esperanto was the first and only auxiliary language in the world, as if Volapük, Interlingua, Novial, Occidental, etc. had never existed.
★ ★ ★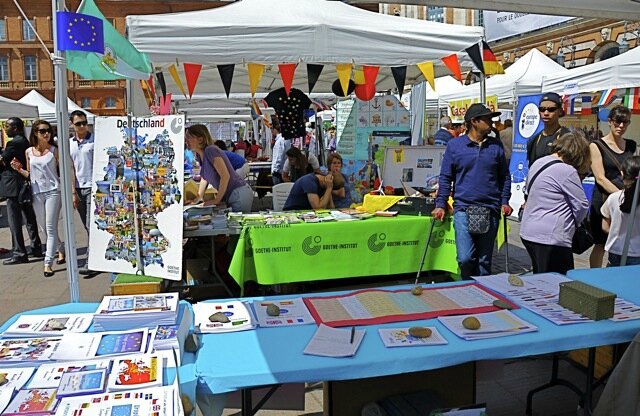 De Goethe Institut, vizen od de Uropi stand

★ ★ ★
With other visitors, we had impassioned discussions.
For example a newly graduated English teacher said he was in favour of a common language for Europe, because using English as a communication tool between the peoples of the world would completely distort a language he loves. This is what I have always thought: I like speaking English with British people and other native speakers, but I don't with the other nationalities, because each of them will alter the language according to the pronunciation of their own, and make it quite difficult to understand and, at any rate, not very pleasant to listen to.
A young Catalan anthropologist, who was planning to go to India, was particularly enthusiastic: "But, that's fantastic!" she said. She was fascinated by the way Uropi had been built from all Indo-European languages and language groups on an equal basis, favouring none of them. She understood immediately that Uropi was a mirror reflecting many languages and consequently an opening onto the other languages.
★ ★ ★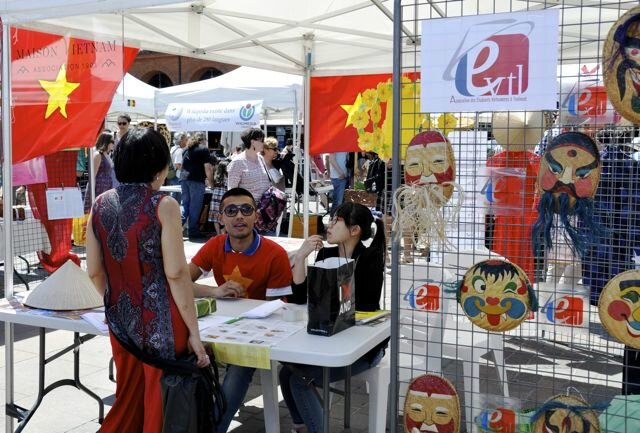 De Vietnami stand

★ ★ ★
A few visitors were a little disappointed because they couldn't take the Uropi booklets with them - I can understand that they wanted to keep them as a souvenir of our discussions at the Uropi stand and that it could have incited them to learn Uropi, but the problem is we only had one or two copies of them, so we couldn't give them away or sell them. Besides, the organizers had insisted that the Languages Forum was not a commercial event and that commercial dealings should be strictly limited. However we gave them the addresses of our web-sites, the brochure presenting Uropi as well as the leaflets on the similarities with the different i-e langugaes.
In the afternoon B. was also interviewed by Radio Bleu Toulouse. He described Uropi and how he discovered it, insisting on the fact that Uropi is a genuine link between European and Indo-Europan languages.
At half past six we started taking down the stand while the last visitors were still coming and asking for explanations. It had been a fine day with many enriching encounters and discussions. We were very happy to have met so many open minded people who were genuinely interested in Uropi.
★ ★ ★
Eke krovas Uropi bibis