* Uropi Nove 88 * Uropi Nove 88 * Uropi Nove 88 *

★ ★ ★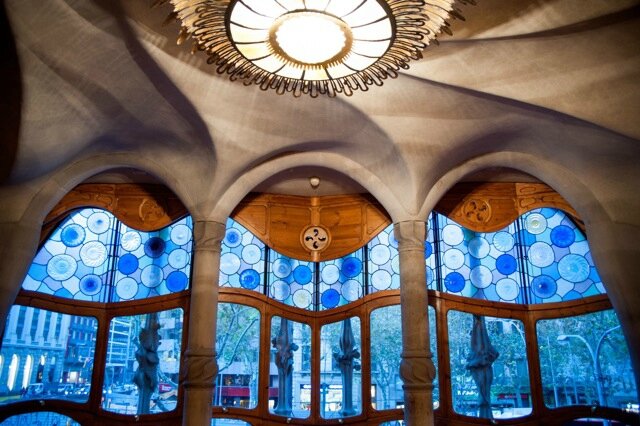 ★ ★ ★
Oscar Niemeyer, Gaudí & Europa
★ ★ ★
Loban kurve
Ke rumèn Oscar Niemeyer, da Brazilan arkitektor we mozì realizo un od hi maties soine ? Struo u kebipol be karʒ de Cerrado (un anmezi regiòn savanu in Central Brazìl): Brazilia.
Vaizan su Internet, de alten dia, i findì usfalim eke fraze od ha, besinan hi kocepad arkitektadi:

"Não é o ângulo reto que me atrai, nem a linha reta, dura, inflexível, criada pelo homem. O que me atrai é a curva livre e sensual, a curva que encontro nas montanhas do meu país, no curso sinuoso dos seus rios, nas ondas do mar, no corpo da mulher preferida. De curvas é feito todo o universo, o universo curvo de Einstein."
"Nè de reg angel atràj ma, nè de reg lin we se dar id anfleksili, kreaten pa human. Wa atràj ma se kurve, lifri id sensic, de kurve wen i kogòn in de bore mi landi, in de siangic kurs ji rivis, in marivolne, in de korp de liamen ʒinu. Ki kurve se maken tal univèrs, de kurvi univèrs Einsteini."
Gonim, reg line id reg angle av daven de tristi gris domibloke ni propolius - wen mi mata nomì "konilias", de hol tore moderni magipolis, landispeke ane sovid, ane ʒiv, ane alm.
Oscar Niemeyer genì in 1907 in Rio de Ʒaneiro, wo he morì in 2012, be ald 104 jaris. Pos hi mol klasiki instruad in arkitektad be de Skol Bel Artis in Rio, he vidì atrajen pa de moderni arkitektad Le Corbusieri, ki wen he varkì, in 1936, ki alten arkitektore, po struo de Ministoria Opdutadi id Sunadi in Rio.

★ ★ ★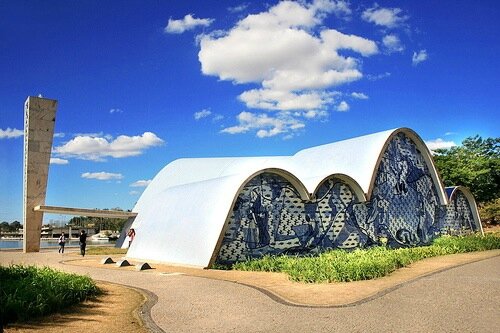 Kerk Sait Frans od Asize, Belo Horizonte, Brazìl
★ ★ ★
Pos vari varke wim de Pampulha Komplèks, de kerk Sait Frans od Asize in Belo Horizonte (Minas Gerais), he vidì inkargen pa Prisedan Juscelino Kubitschek po struo u novi kebipol, Brazilia, bemìd de central holplatia (Planalto Central), ki hi kopanor id pri invarkor Lucio Costa. De prisedan dezì ho:
"I ve struo u novi kebipol po ni land id i nud ti eld… Oscar, di vos nu ve struo de kebipol Brazili."
Brazilia, we vidì inopren in Aprìl 1960 detì Niemeyer moldim famos.
Wan de militari diktatorad avenì in mogad in Brazil in 1964, Oscar Niemeyer usfligì a Francia, wo he kocepì vari struene wim de Sed de Franci Komunisti Partìzi, de Labòri Bursia in Parìs, id de Has Kulturi in Le Havre. He ruvenì a Brazìl be de fal de diktatoradi in 1985.
Obte he vidì influjen pa Le Corbusier be inìz, he apcizì sia od ha, par he prigusì kurve a u rig, funsionic stil; he menì te un aktitektadi vark doʒ so "bel id lej", obwàn Le Corbusier prigusì purisma, slimid formis, organizad id rigosad; he dezì "Za wo gen ord, gen bunsàd". Niemayer vidì os inspirten pa Picasso id Jean Arp, ba os pa de erdad de Brazili baroki stili.
Ov di liam a kurve Oscar Niemeyeri, nu moz ne perveno na meno ov Art Nouveau (Novi Art) id de influjad de Katalàni arkitektori Antoni Gaudí.
★ ★ ★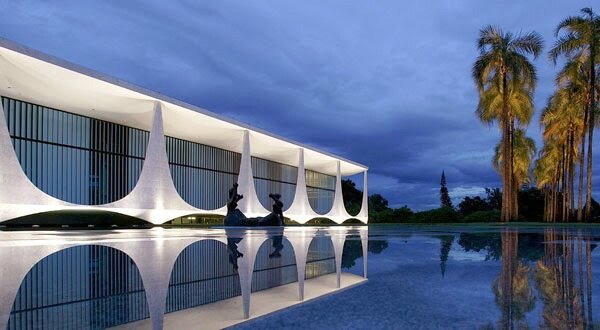 Palàz da Alvorada, Prisedani palàz, Brazilia
★ ★ ★
Antoni Gaudí
Antoni Gaudí (1852-1926) "kreatì u personi stil bazen su de bespekad a natùr… Molvos hi kreatade posèd ne reg angle, lu se volnivan id ansimetric." (Wikipedia). Wim Niemeyer ki Brazilia, Gaudí vidì moldim konen ki hi mastori vark, de katedràl Sagrada Família in Barselona.
Gaudí menì te Nordi Europane av imaʒinad id Sudi Europane imaʒe; he dezì: "Nu posèd imaʒe. Imaʒinad ven od spektre. Imaʒinad se siavi a Nordi liente. Imaʒe se siavi a Midimarine. Oreste zav wo he it, Hamlet se valgan tramìd dube."
Gaudí gusì natùr wen he mozì akono id studo in hi longi jakidiu vade. He sì os duvim religios. Prim inspirten pa neogotisma, he vidì spelim de flagiperor Modernismu, de Katalàni form Art Nouveau. Un moz os dezo te he som inspirtì de famos Osterian artìst id arkitektor Hundertwasser in hi uzad kloris id kurvis.
★ ★ ★
Park Guell, Barselona
★ ★ ★
Gaudí nemì arkitektadi kurse be Skol de Llotja id pos be de Subi Tekniki Skol Arkitektadi Barselonu. Wan he davì ho hi diplòm, de direktor dezì: "Nu av daven de diplòm a u matin o a u genior. Tem ve dezo no."
De Casa Vicens sì de pri vezi vark Gaudí, pos he akonì de ric industrijor Eusebi Güell we kopragì ho vari projète, we vidì eke od de grenes varke Gaudí: de pavilione Güell, palàz Güell, park Güell… In 1883 he inizì varko su de Sagrada Família, we avì viden inìzen in u gotiki stil pa un alten arkitektor, id we vidì hi mastori vark, konen id admiren in tali mold, id we se jok ne fenden be inìz XXIi suntjàri.
In 1888 avì sta de Universi Usstàl Barselonu, we sì de inìzi punt Art Nouveau. In 1906 Gaudí stalì sia in u has struen pa hi kovarkor Francesc Berenguer in Park Güell, we av viden odia de Casa-Museu Gaudí. (Has-Muzea Gaudí)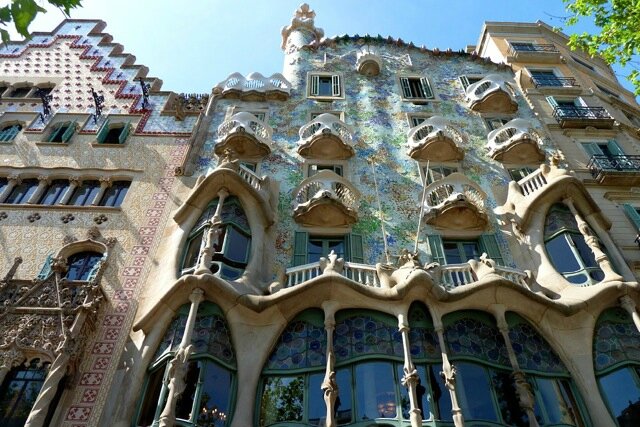 Casa Batlló, Barselona
★ ★ ★
Intra 1904 id 1910 he struì de famos Casa Batlló id Casa Milà. Od 1910 a 1918, pos de mor tale hi framis, tramìd wen Eusebi Güell id Francesc Berenguer, ki wen he avì talvos varken, he rufligì in de struja de Sagrada Família id in u duv religiosad.
"Mi gren frame se mori. I av nun famìl, nun kliènt, nun ricad, nit. Sim i moz bedavo ma intalim a de Tempel."
He kocepì de Tempel wim is ji struktùr sev daz u fosti ki u samad drevi kolonis, discizen in vari raste po suteno hiperboli volbe. Gaudí morì in 1926, be ald 73 jaris, uvefaren pa u tramvàg. Oblasen pos hi mor, he vidì rekonen in de jare 50, prim pa Salvador Dalí id in tal Katalania, pos in Novi Jork, in Japòn, id eke od hi varke vidì deklaren patrierdad humanadi pa UNESCO in 1984.
★ ★ ★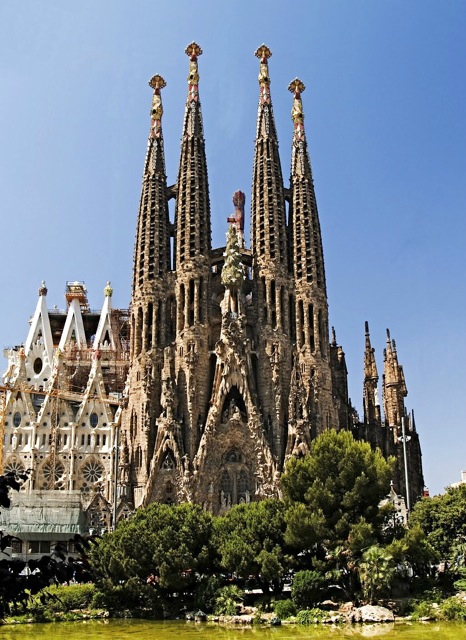 Katedràl Sagrada Familia in Barselona
★ ★ ★
Auroville
Be alten zat moldi, in India, in de stat Tamil Nadu, Auroville, "Auripol" se os u samp un usperizi poli kreaten ex nihilo. Auroville vidì funden in 1968 pa Mirra Alfassa, sunomen "de mata", genen in Francia id we vidì de spirti kovarkora id slogora Sri Aurobindo, u gren Indian menor id spirti dutor, we morì in 1950.
De mata dezì: "Auroville se intelen so un universi pol wo mane id ʒinas od tale lande moz ʒivo in pac id progresan harmonij, sube tale kreade, tale politike id nasionide. De tel Auroville se realizo human unid."
Dod de jare 60 arkitektore vid atrajen pa Auroville id ji molipli usperizade. De plan de poli vidì trasen pa Mirra Alfassa som in de form u kwerpetali flori, ba pos je vidì traformen pa de Franci arkitektor Roger Anger in u spirali galaksij. Be centra se de Matrimandir, "De tempel de matu" in Sanskriti, u glijan magi sfer kroven ki gorifole, we simboliz human opstrenad do perfetid.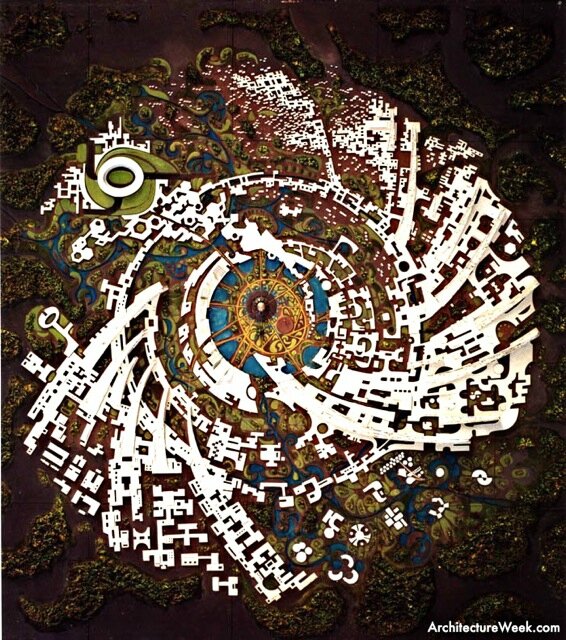 De spirali galaksij, de plan Auroville (Surs: ArchitectureWeek.com)
★ ★ ★
De polipolkad, we doʒì vido 50 000, se in fakt 2 300 domore od 50 nasionide. De pol se discizen in kwertias ki Engli, Sanskriti, Franci id Tamili nome.
Un find za mole disemi tipe struenis in vari arkitekti stile, tramìd wen palmitagi hute, domibloke, kulturi paviliòne, sunadi centras, skole, varkias, komunadi kokias, moderni hase… Struore moz usperizo, lifri od eni strig reglade, ba limiten pa de kost inporten diari materialis; sim lu tend uzo lokal materiale wim mandimaken peken o anpeken brike.
Auroville se os u centra opdutadi id u Centra po Poli Procekad varkan in de polde poliplanadi, arkitektadi, poli id campi beronadi, renovli energijis… i.s.p. Maj te 5000 liente doman in de pol, o venan od de neri vike se invarken in Auroville in gostihase, struad, informatik, agrizad, afostad, opdutad, sunad, kulturi aktivide, o in de miki id midan firmas produtan po samp papiri merke we vid venden in Puduceri id tal India. Un od de probleme se de apsàd publiki transportis.
★ ★ ★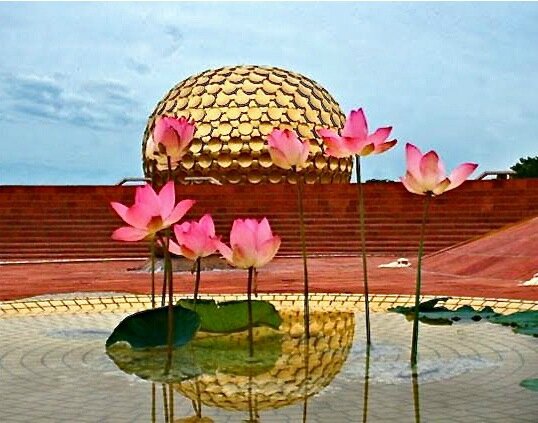 Matrimandir, de "tempel de matu"
★ ★ ★
Europol
Ke mozev odia kreato u kebipol bemìd de Brazili savana, de Amazonu fost, o bemìd de vustia o de stepa, wim Oscar Niemeyer detì? Ni arkitektore av num mikizen, astriten tele id soine… de Piramid Luvris, de Magi Bibliotèk we se solem kwer opregi rektangle, id subetàl, lu av apdaven de kurve we sì sa keri a Niemayer id Gaudí: lu av tale adopten de Novijorki opregid id tale li holdete se tore, rektangle, cilindre.
Pur, u jun Europan id pro-Europan, ML, we skrivì mo novem po koparto hi ideas ov Europa, "ni komùn patria", kopartì os de soin Oscar Niemayeri. He id hi frame avì de idea struo u komùn kebipol po Europa po kreato u vig intra Europane. Pur nu av nè savanas, nè vustias, nè stepas in Europa; ML probàs struo di kebipol su ber Dunavi, u riv we som se u vig intra Europan lande, par je fluj tra Rumania, Serbia, Hungaria, Slovakia, Osteria id fendim Doskia. ML dezì:
"Sim nu prospèk de kreatad ex nihilo un Europan kebipoli be de centra de kontinenti (Osteria, Hungaria, Tceki republik…)"
★ ★ ★
Dunavi val id Rhaini val, du rive-vige intra Europan lande
★ ★ ★
Di se naturim u mati idea, subetàl in de prosàn situasiòn, wan nu vid governen pa kontitenore id finansore po wen un Eurò se un Eurò id je doʒ ne vido uspajen. Ba soine av ne frontias, lu moz valgo id flevo talia ane obstàde, lu moz ne vido limiten a de mikiburgezi soine probasen no pa publicidore, da se: kopo u novi vag, u novi kokia o de posnimaken muvièl.
Di se wa i ruvokì a ML: "Strani, ba i av de inprès te di sort projèti av viden kopolem apdaven (tio diari andubim). Ba is nu it us de logik bankoris id kontitenoris, je sev un usordeni aventùr ! Calan de grenes Europan arkitektore od tale nasione, poliplanore, landispekore… je mozev sto u kwertia jaki nasioni, we prosetev tale de cevi karakteristike de nasioni (idmàj, in de Carta, un mozev usprago te de arkitektad jaki kwertiu sev ne daz Novi Jorki o Canghaji, be te je rupictev de tradisioni arkitektad we se spesific a jaki land, vigen ki hi kultùr… Je stev naturim ambasade, konsulias …, ba os kulturi centras, skole, restorias, centras siensi procekadi…"
In sum Unid in Varid.
"… u talim ekologic kebipol, funsionan ki renovli energije, ki revolusioni anpolutan transporti midle… u dikifent Europan teknologiji - u talim mati idea, ba wen i find usordeni - de gren Europan projèt in de holes grad, id we prodavev tiliade invarke…"
★ ★ ★
Komarno, Slovakia
★ ★ ★
Un alten prodèl se te u sul projèt detev Europane varko sam, id nu zav ʒe te wan lu vark sam, wim po Ariana o Airbus, Europane moz deto gren zoce.
"Ji nom ? Europol naturim, Euroville, Eurocity, Eurostadt, Eurocittà, Eurociudad, Evrograd…"
Sim i itì in de soin MLi id i studì de map po findo u mozli sta po ni kebipol alòng Dunàv: je ste ne mole. Je doʒev ne so tiomòl do Ost, in Rumania o Serbia; je doʒev ne so tiomòl do West, in Osteria o Doskia; je mojev so za, wo Dunàv se de frontia intra Hungaria id Slovakia. Uvedà, un od de karakteristike Europan kebipolis se te lu tale av u seni pol, vizdezor ni paseni id ni històri. Pardà i uscepì Komarno. Komarno se u miki Slovaki pol ki u pont uve Dunàv dutan a ji Hungàri dumini pol: Komarom. Un alten prodèl se te Komarno se ne dal od tri kebipole tri Europan landis, pratikim eglim apstàn od Vien, Bratislava id Budapèst. Je sev ne u kebipol bemìd u vustia.
Naturim nu zav ne is de domore Komaromi/Komarno kovenev ki di idea we disvirtev li ʒive - in tale kaze, je s'ne u projèt po u neri futùr - ba i volev ne te ni soin videv po la u nocmar… Id eniwim odia, je se solem u soin.
★ ★ ★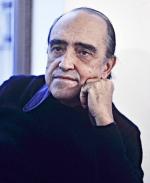 Oscar Niemeyer
★ ★ ★
Oscar Niemeyer, Gaudí & L'Europe
★ ★ ★
L'éloge de la courbe
Qui se souvient d'Oscar Niemeyer, cet architecte brésilien qui a pu réaliser un de ses rêves les plus fous ? Construire une capitale au coeur du Cerrado (une immense savane au centre du Brésil): Brasilia.
En surfant sur internet, l'autre jour, j'ai découvert sa conception de l'architecture exprimée en quelques phrases:

"Não é o ângulo reto que me atrai, nem a linha reta, dura, inflexível, criada pelo homem. O que me atrai é a curva livre e sensual, a curva que encontro nas montanhas do meu país, no curso sinuoso dos seus rios, nas ondas do mar, no corpo da mulher preferida. De curvas é feito todo o universo, o universo curvo de Einstein."
"Ce n'est pas l'angle droit qui m'attire, ni la ligne droite, dure inflexible, créée par l'homme. Ce qui m'attire, c'est la courbe libre et sensuelle, la courbe que je rencontre dans les montagnes de mon pays, dans le cours sinueux de ses rivières, dans les vagues de la mer, dans le corps de la femme aimée. L'univers entier est fait de courbes, l'univers courbe d'Einstein."
★ ★ ★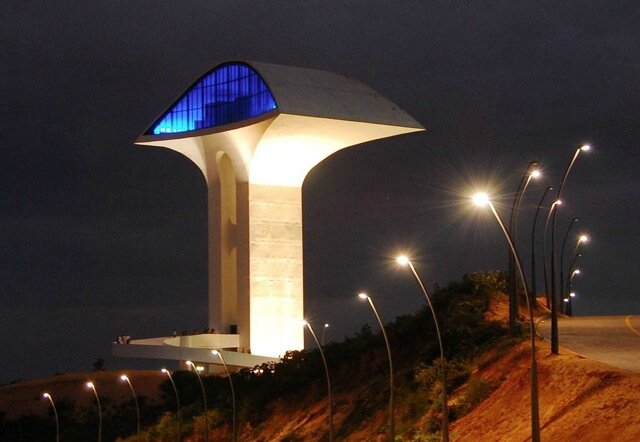 Park Cidade do Natal
★ ★ ★
En revanche, c'est la ligne droite et l'angle droit qui ont donné les tristes immeubles gris de nos banlieues - que ma mère appelait "des cages à lapin", les hautes tours des mégalopoles modernes, paysages sans douceur, sans vie, sans âme.
Oscar Niemeyer est né en 1907 à Rio de Janeiro, où il est mort en 2012, à l'âge de 104 ans. Après ses études d'architecture très classique à l'Ecole des Beaux Arts de Rio, il est attiré par le modernisme du Corbusieri, avec qui il collabore, en 1936, avec d'autres architectes, à la construction du Ministère de l'Education et de la Santé de Rio. Après différentes réalisations comme le Complexe de Pampulha, l'église Saint François d'Assise à Belo Horizonte (Minas Gerais), il est chargé par le Président Juscelino Kubitschek de la construction ex nihilo d'une nouvelle capitale, Brasilia, au milieu du haut plateau central (Planalto Central), avec son collaborateur et premier employeur Lucio Costa. Kubitschek lui dit:
"Je vais bâtir une nouvelle capitale pour le pays, et j'ai besoin de ton aide… Oscar, cette fois-ci nous allons construire la capitale du Brésil."
Brasilia, qui est inaugurée en Avril 1960 a rendu Niemeyer célèbre dans le monde entier.
★ ★ ★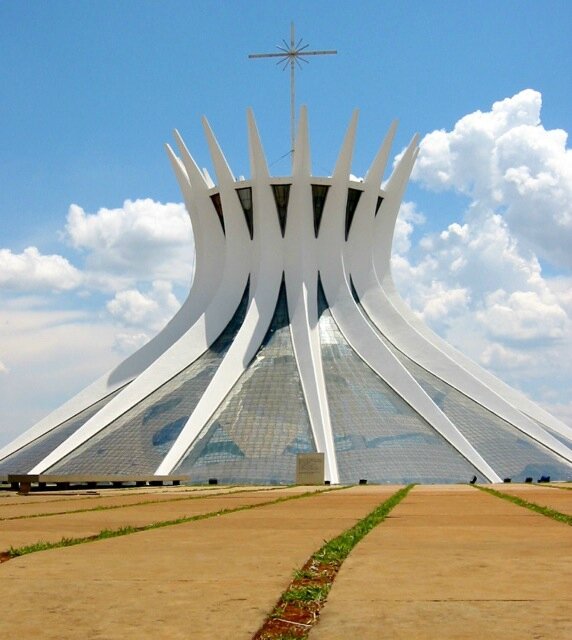 De katedràl Braziliu
★ ★ ★
Quand la dictature militaire prend le pouvoir au Brésil en 1964, Oscar Niemeyer s'enfuit en France, où il réalise différents projets comme le siège du Parti Communiste Français, la Bourse du Travail à Paris, et la Maison de la Culture du Havre. Il revient au Brésil à la chute de la dictature en 1985.
Bien qu'il ait été influencé à ses débuts par Le Corbusier, il s'en démarque fortement notamment à travers son goût pour les courbes, à l'opposé du style rigide et fonctionnel. Il considère qu'une œuvre architecturale doit être « belle et légère », alors que Le Corbusier préfère le purisme, la simplicité des formes, l'organisation et la rigueur; selon lui: « Là où naît l'ordre, naît le bien-être. ». Niemayer s'inspire aussi de Picasso et de Jean Arp, mais également de l'héritage baroque du Brésil.
Lorsque l'on réfléchit à cet amour d'Oscar Niemeyer pour les courbes, on ne peut s'empêcher de penser à l'Art Nouveau et à l'influence de l'architecte catalan Antoni Gaudí.
★ ★ ★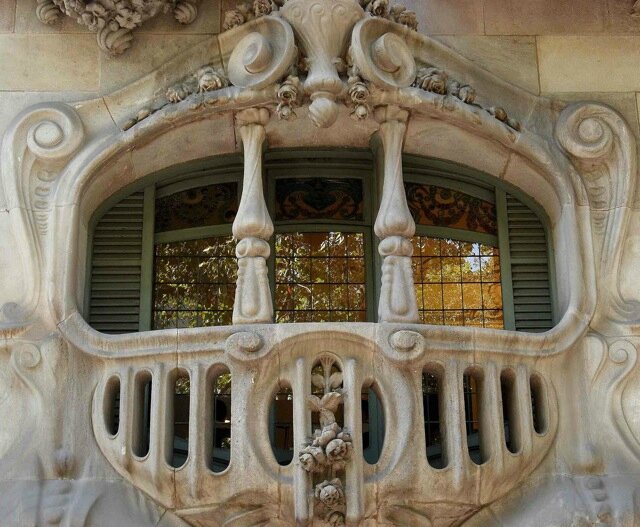 Casa Milà, Barselona
★ ★ ★
Antoni Gaudí
Antoni Gaudí (1852-1926) "a créé un style personnel basé sur l'observation de la nature,… Bien souvent, ses réalisations ne possèdent pas d'angles droits, et sont ondulantes et asymétriques." (Wikipedia). Comme Niemayer avec Brasilia, Gaudí est connu dans le monde entier grâce à son chef d'oeuvre, la cathédrale de la Sagrada Família à Barcelone.
Gaudí pense que les Européens du nord ont l'imagination alors que ceux du sud ont l'image; selon ses propres termes: "Nous, nous possédons l'image. L'imagination vient des spectres. L'imagination est le propre des gens du Nord. L'image est le propre du Méditerranéen. Oreste sait où il va, tandis que Hamlet erre parmi les doutes."
Gaudí aimait la nature qu'il a pu découvrir et étudier au cours de ses longues promenades quotidiennes. Il est aussi profondément religieux. Influencé à ses débuts par l'art néogothique, il devient rapidement le porte-étendard du modernisme, variante catalane de l'Art Nouveau. On peut ajouter qu'il a lui-même inspiré le célèbre artiste et architecte autrichien Hundertwasser pour son utilisation des couleurs et des courbes.
Gaudí suit des cours d'architecture à l'école de la Llotja puis à l'Ecole technique supérieure d'architecture de Barcelone. Lors de la remise de diplôme, le directeur déclare: "Nous avons accordé le diplôme à un fou ou à un génie. Le temps nous le dira".
★ ★ ★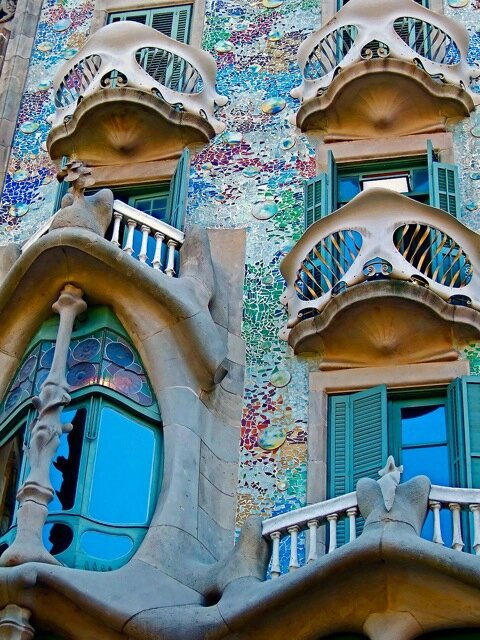 Casa Batlló, Barselona
★ ★ ★
La Casa Vicens est la première oeuvre importante de Gaudí; il fait ensuite la connaissance du riche industriel Eusebi Güell qui lui passe commande de divers projets, qui deviendront quelques-unes de ses oeuvres majeures: les pavillons Güell, le palais Güell, le parc Güell… In 1883 il prend en charge le chantier de la Sagrada Família, qui avait été commencé par un autre architecte dans un style gothique, qui deviendra son chef d'oeuvre, connu et admiré dans le monde entier, et qui n'est toujours pas terminé au début du XXI siècle..
En 1888 a lieu L'Exposition universelle de Barcelone, qui sert de point de départ à l'Art Nouveau. In 1906 Gaudí s'installe dans une maison construite par son assistant Francesc Berenguer dans le Park Güell. C'est aujourd'hui la Casa-Museu Gaudí.
Entre1904 et 1910 il construit les célèbres Casa Batlló et Casa Milà. La période 1910 à 1918, voit la mort de tous ses amis, parmi lesquels Eusebi Güell et Francesc Berenguer, avec lequel il avait toujours travaillé. Gaudí se réfugie dans son chantier de la Sagrada Família et dans une profonde religiosité.
"Mes grands amis sont morts. Je n'ai pas de famille, ni de client, ni de fortune, ni rien. Donc, je peux me livrer entièrement au Temple."
Il a conçu le Temple comme si la structure était celle d'une forêt, avec un ensemble de colonnes arborescentes, divisées en plusieurs branches pour soutenir une structure de voûtes hyperboliques. Gaudí est mort en 1926, à lâge de 73 ans, renversé par un tramway. Oublié après sa mort, il est à nouveau reconnu dans les années 50, d'abord par Salvador Dalí et dans toute la Catalogne, puis à New York, au Japon…; plusieurs de ses oeuvres ont été déclarées patrimoine de l'humanité par l'UNESCO en 1984.
Source Wikipedia: http://fr.wikipedia.org/wiki/Antoni_Gaud%C3%AD
★ ★ ★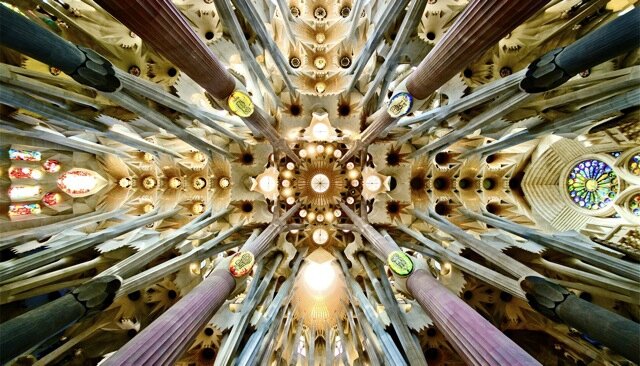 Sagrada Familia, de volbe
★ ★ ★
Auroville
A l'autre bout du monde, en Inde, dans l'état du Tamil Nadu, Auroville, "Ville de l'Aube" nous fournit un autre exemple de ville expérimentale créée ex nihilo. Auroville a été fondée en 1968 pa Mirra Alfassa, surnommée "la mère", née en France et devenue la collaboratrice spirituelle et continuatrice de Sri Aurobindo, célèbre penseur et guide spirituel indien, mort en 1950.
Dans un message public "la mère" a déclaré: "Auroville est destinée à être une ville universelle où les hommes et les femmes de tous les pays pourront vivre en paix et harmonie progressive, au-dessus de toutes les croyances, les politiques et les nationalités. L'objectif d'Auroville est de réaliser l'unité humaine."
Depuis les années 60 les architectes sont attirés par Auroville et ses multiples expérimentations. Le plan de la ville a été tracé par Mirra Alfassa elle-même en forme de fleur à quatre pétales, mais a été ensuite transformé par l'architecte français Roger Anger en spirale galactique. Au centre se trouve le Matrimandir, "Le temple de la mère" en sanskrit, énorme sphère couverte de feuilles d'or, qui symbolise l'aspiration de l'homme à la perfection.
★ ★ ★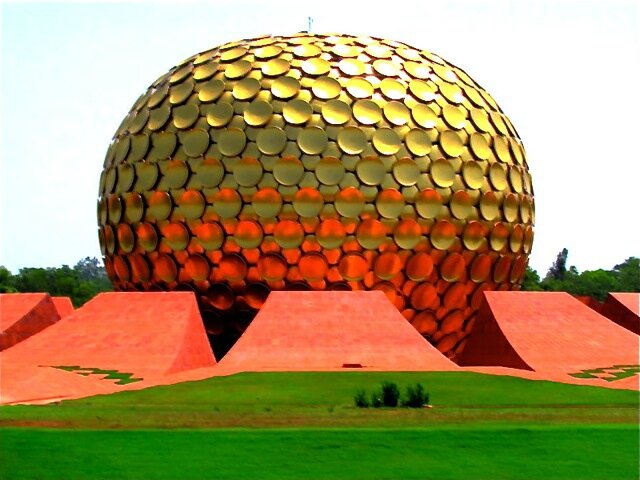 Matrimandir, de "tempel de matu"
★ ★ ★
La population de la ville, qui devait atteindre les 50 000 ha, est en fait de 2 300 ha. de 50 nationalités. La ville est divisée en différents quartiers qui portent des noms anglais, sanskrits, français et tamouls.
On y trouve différents types de bâtiments dans des styles architecturaux variés, parmi lesquels des huttes en feuilles de palmier, des immeubles, des pavillons culturels, des centres sanitaires, des écoles, des ateliers, des cuisines communutaires, des maisons modernes … Les constructeurs peuvent expérimenter, en l'absence de tout règlement tatillon, mais ils sont limités par le coût d'importation des materiaux onéreux; ils ont donc tendance à privilégier les matériaux locaux comme la brique artisanale cuite ou séchée.
Auroville est également un centre d'éducation et un Centre de recherches sur la ville dans les domaines de l'urbanisme, de l'architecture, de l'environnement urbain et rural, des énergies renouvelables… etc. Plus de 5000 personnes résidant dans la ville, ou venant des villages alentour sont employés à Auroville dans des maisons d'hôtes, le bâtiment, l'informatique, l'agriculture, le reboisement, l'éducation, la santé, les activités culturelles, ou de petites et moyennes entreprises qui produisent par exemple des articles de papier vendus à Pondichéri et dans toute l'Inde. L'absence de transports publics reste un vrai problème.
★ ★ ★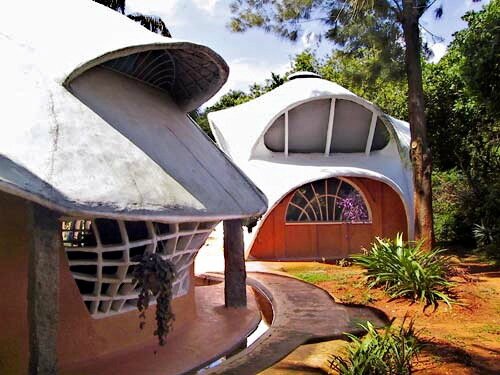 Hase in Auroville
★ ★ ★
Euroville
Qui pourrait aujourd'hui créer une capitale au beau milieu de la savane brésilienne, la forêt amazonienne, ou bien du désert ou de la steppe, comme l'a fait Oscar Niemeyer ? Nos architectes ont maintenant des projets et des rêves beaucoup plus restreints et étriqués … la Pyramide du Louvre, La grande Bibliothèque qui se limite à quatre parallèpipèdes verticaux, et en outre, ils ont abandonné les courbes si chères à Niemayer et à Gaudí: ils ont tous adopté la verticalité new-yorkaise et leurs exploits consistent en des tours, des rectangles, des cylindres.
Pourtant, un jeune Européen pro-européen, ML, qui m'a écrit récemment pour me faire part de ses idées sur l'Europe, "notre patrie commune", partage le rêve d'Oscar Niemeyer. Lui et ses amis ont envisagé de construire une capitale commune pour l'Europe afin de créer un lien entre les Européens. Cependant, nous n'avons ni savane, ni désert, ni steppe en Europe; ML propose de bâtir cette capitale au bord du Danube, fleuve qui constitue lui-même un lien entre les pays européens, puisqu'il arrose successivement la Roumanie, la Serbie, la Hongrie, la Slovaquie, l'Autriche et pour finir l'Allemagne. ML m'écrit:
"Nous envisageons donc la création ex nihilo d'une capitale européenne dans le centre du continent (Autriche, Hongrie, République Tchèque)…"
★ ★ ★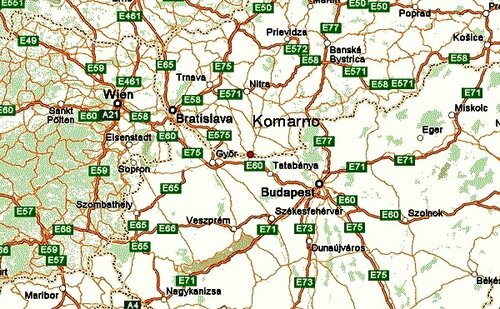 Map Slovakiu id Hungariu ki Komarno, Bratislava, Budapèst
★ ★ ★
C'est bien sûr une idée folle, surtout dans la situation actuelle, où nous sommes gouvernés par des comptables et des financiers pour qui un euro est un euro et qu'on ne doit pas le dépenser. Mais les rêves n'ont pas de frontières, ils peuvent s'envoler et errer partout sans le moindre obstacle, on ne peut pas les limiter aux rêves petit-bourgeois que nous proposent les publicitaires: acheter une nouvelle voiture, une nouvelle cuisine ou le dernier portable.
Voici ce que j'ai répondu à ML: "C'est drôle, mais j'ai l'impression que ce genre de projet a été complètement abandonné (trop cher, sans doute). Mais si nous sortons de la logique des banquiers et des comptables, ce serait une aventure extraordinaire ! Faisant appel aux plus grands architectes européens de toutes les nations, urbanistes, paysagistes… il pourrait y avoir un quartier par nation qui présenterait toutes les caractéristiques de chacune d'elles (je dirais même plus, dans le cahier des charges de chaque quartier, exiger que l'architecture ne soit pas celle de New york ou de Shanghaï, mais qu'elle reflète l'architecture traditionnelle spécifique à chaque pays… ambassades et consulats, cela va sans dire… mais aussi centres culturels, écoles, restaurants, centres de recherche scientifique…"
L'Unité dans la Diversité, en somme.
"…Une capitale entièrement écologique, fonctionnant aux énergies renouvelables … vitrine de la technologie européenne. … - une idée complètement folle mais que je trouve extraordinaire - le grand projet européen par excellence ! Et qui fournirait des milliers d'emplois."
★ ★ ★
Komarno, Slovakia
★ ★ ★
Autre avantage de ce projet, c'est qu'il ferait travailler les Européens ensemble, et nous savons que lorsqu'ils travaillent ensemble, comme pour Ariane ou Airbus, les Européens sont capables de réaliser de grandes choses.
"Son nom ? Euroville bien sûr, Eurocity, Eurostadt, Eurocittà, Eurociudad, Evrograd…Europol en Uropi."
C'est ainsi que je suis rentré dans le rêve de ML et que je me suis mis à étudier la carte pour trouver un emplacement possible pour notre capitale le long du Danube: ils sont plutôt rares. Ce ne doit pas être trop à l'est, en Roumanie ou en Serbie; ce ne doit pas être trop à l'ouest, en Allemagne ou en Autriche; ce pourrait être là où le Danube sert de frontière entre la Hongrie et la Slovaquie. En outre, une des caractéristiques des capitales européennes c'est d'avoir toutes une vieille cille, témoin de notre passé et de notre histoire. C'est pourquoi j'ai choisi Komárno. Komárno est une petite ville slovaque avec un pont sur le Danube qui nous conduit à sa ville jumelle hongroise: Komárom. Autre avantage, Komárno est relativement proche des capitales de trois pays européens, pratiquement équidistant de Vienne, Bratislava et de Budapest. Ce ne serait pas une capitale au milieu du désert.
Bien entendu, nous ne savons pas si les habitants de Komárom/Komárno verraient d'un bon oeil cette idée qui bouleverserait leur vie - en tous cas ce n'est pas un projet pour le futur proche - mais je ne voudrais pas que notre rêve devienne leur cauchemar… Quoi qu'il en soit, aujourd'hui, ce n'est qu'un rêve.
★ ★ ★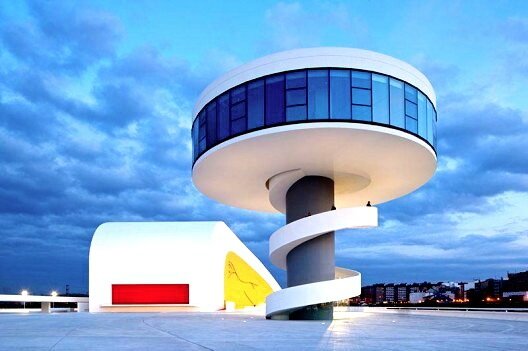 Centra Niemeyer in Avilés in Espania
★ ★ ★
Oscar Niemeyer, Gaudí & Europe
★ ★ ★
Praising the curve
★ ★ ★
Who remembers Oscar Niemeyer, that Brasilian architect who was able to realize one of his craziest dreams ? Building a capital, Brasilia in the middle of the Cerrado (an immense savannah area in Central Brasil).
Surfing on the Internet, the other day, I came across a few sentences from him, in which he defines his conception of architecture:
"Não é o ângulo reto que me atrai, nem a linha reta, dura, inflexível, criada pelo homem. O que me atrai é a curva livre e sensual, a curva que encontro nas montanhas do meu país, no curso sinuoso dos seus rios, nas ondas do mar, no corpo da mulher preferida. De curvas é feito todo o universo, o universo curvo de Einstein."
"I am not attracted to straight angles or to the straight line, hard and inflexible, created by man. I am attracted to free-flowing, sensual curves. The curves that I find in the mountains of my country, in the sinuousness of its rivers, in the waves of the ocean, and on the body of the beloved woman. Curves make up the entire Universe, the curved Universe of Einstein."
★ ★ ★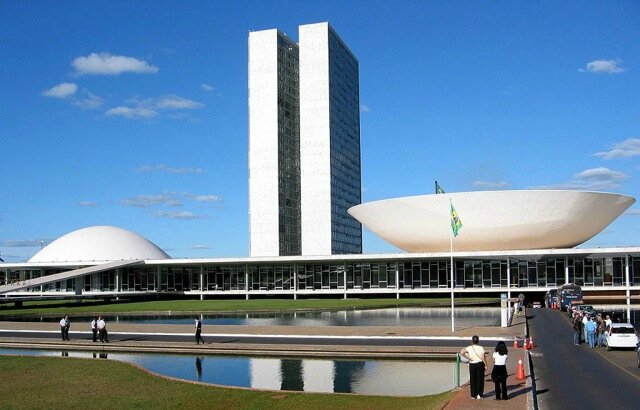 De Parlamènt in Brazilia
★ ★ ★
On the other hand, straight lines and straight angles gave birth to the sad, drab blocks of flats in our suburbs - which my mother used to call "rabbit hutches", the high-rise towers of modern megacities, landscapes devoid of any softness, any life, soulless.
Oscar Niemeyer was born in 1907 in Rio de Janeiro, where he died in 2012, at the age of 104. After studying classical architecture at the National School of Fine Arts in Rio de Janeiro, he was attracted to modern architecture, in particular Le Corbusier's, with whom he could work in a group of architects in 1936, in order to build the Ministry od Education and Health in Rio. He then created the Pampulha Complex in Belo Horizonte, capital of the state of Minas Gerais, with the famous Saint Francis of Assisi church. When Juscelino Kubitschek became the president of Brasil, he told Niemayer:
"I am going to build a new capital for this country and I want you to help me [...] Oscar, this time we are going to build the capital of Brazil."
Thus he started building Brazilia, in the middle of the central high plateau (Planalto Central), with his friend and first employer Lucio Costa. Brasilia, which was inaugurated in April 1960 made Niemeyer famous all over the world.
★ ★ ★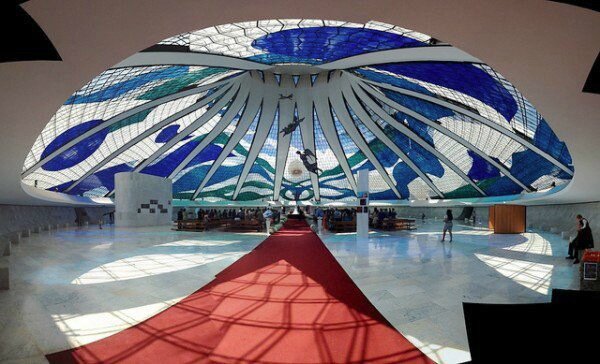 De katedràl Braziliu inia
★ ★ ★
When the military dictatorship seized power in Brasil in 1964, Oscar Niemeyer fled to France, where he designed and built the headquarters of the French Communist Party, the Labour Exchange in Parìs, and the Maison de la Culture (community arts centre) in Le Havre. He went back to Brasil after the fall of the dictatorship in 1985.
Although he was influenced by Le Corbusier at the beginning, he soon broke away from him, because he preferred curves to a rigid, functional style; for him an architectural work should be "light and beautiful", whereas Le Corbusier favoured purism, simple forms, organization and rigour; he said « Là où naît l'ordre, naît le bien-être » (where order reigns, arises well-being). Niemayer was also inspired by Picasso and Jean Arp, as well as by the Brasilian Baroque.
When we consider Oscar Niemeyer's love for curves, we cannot help thinking of Art Nouveau and the influence of the Catalan architect Antoni Gaudí.
★ ★ ★
Casa Batlló, inia
★ ★ ★
Antoni Gaudí
Antoni Gaudí (1852-1926) "created a personal style based on the observation of nature… Very often his creations have no straight angles, they are undulating and asymmetric." (Wikipedia). Just like Niemayer with Brasilia, Gaudí became world famous thanks to his masterpiece the Sagrada Família cathedral in Barcelona.
Gaudí thought that northern Europeans had imagination whereas southern Europeans had images; he said: "We possess images. Imagination comes from ghosts. Imagination belongs to northern people. Images belong to the Mediterranean man. Orestes knows where he is going, Hamlet is wandering among doubts."
Gaudí loved nature that he could observe and study during his long everyday walks. He was also deeply religious. His first inspiration was the Gothic Revival, but he soon became the standard bearer of Modernisme, the Catalan form of Art Nouveau. On the other hand, he was himself a source of inspiration for the famous Austrian artist and architect Hundertwasser in his use of colours and curves.
★ ★ ★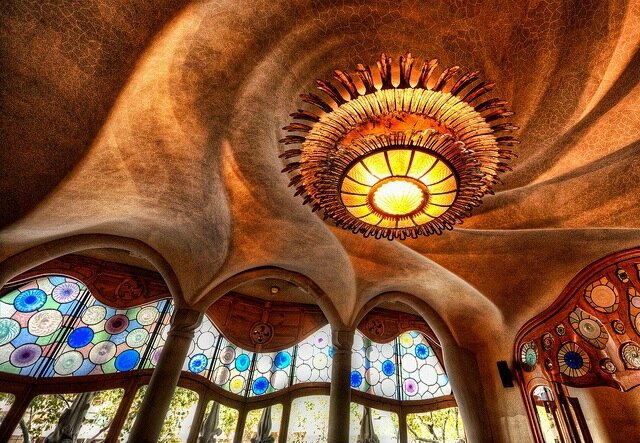 Casa Batlló, inia
★ ★ ★
Gaudí attended architecture courses at the Llotja school and then at the Higher Technical School of Architecture in Barcelona. When he handed over his diploma, the director said: " We have given this academic title either to a fool or a genius. Time will show."
Casa Vicens was Gaudí's first important work, then he became acquainted with the rich industrialist Eusebi Güell who ordered him various projects, some of which became Gaudí's major works like the Güell pavilions, the Güell palace, Park Güell… In 1883 he took over the construction of the Sagrada Família, which had been started in a gothic style by another architect, and which became his masterpiece, known and admired all over the world, and which has not yet been completed in the early XXIst century.
In 1888 the World Fair took place in Barcelona, and was considered as the starting point of Art Nouveau. In 1906 Gaudí settled in a house built by his collaborator Francesc Berenguer in Park Güell, and which has become the Casa-Museu Gaudí today.
★ ★ ★
Park Guell, Barselona
★ ★ ★
Between 1904 and 1910 he constructed the emblematic Casa Batlló and Casa Milà. From 1910 to 1918, after the death of all his friends, among whom Eusebi Güell and Francesc Berenguer, with whom he had always worked, he sought refuge on the Sagrada Família building site and in a deep religiosity.
"My good friends are dead; I have no family and no clients, no fortune nor anything. Now I can dedicate myself entirely to the Temple."
He had conceived the Temple as if it were the structure of a forest, with a set of tree-like columns divided into various branches to support a structure of intertwined hyperboloid vaults. Gaudí died in 1926, at the age of 73, run over by a tram. Although he was forgotten after his death, he gained recognition again in the 50's, first thanks to Salvador Dalí and all over Catalonia, then in New york, in Japan, and several of his works were declared World Heritage Sites by UNESCO in 1984.
★ ★ ★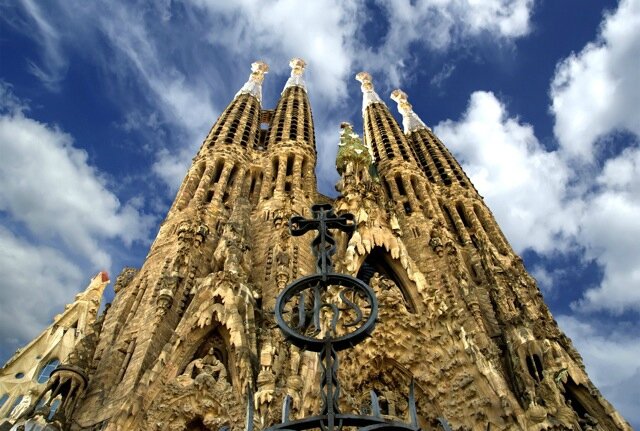 Sagrada Familia, Barselona
★ ★ ★
Auroville
At the other end of the world, in India, in the state of Tamil Nadu, Auroville, "City of Dawn" is another example of experimental town that was created ex nihilo. Auroville was founded in 1968 by Mirra Alfassa (also known as "The Mother" who became the spiritual collaborator and follower of the great Indian thinker and spiritual leader Sri Aurobindo, who died in 1950.
The Mother said: "Auroville is meant to be a universal town where men and women of all countries are able to live in peace and progressive harmony, above all creeds, all politics and all nationalities. The purpose of Auroville is to realize human unity."
Since the 1960s, architects have been drawn to Auroville and its multiple experiments. Mirra Alfassa herself sketched out Auroville's master plan which resembled a simple four-petal flower, but then she invited French architect Roger Anger to rework the master plan, and he drew up a spiral galaxy-shaped version. At the center is Matrimandir, " Temple of The Mother " in Sanskrit, a shiny spherical building clad in gold-leaf plates, a symbol of man's aspiration for perfection.
★ ★ ★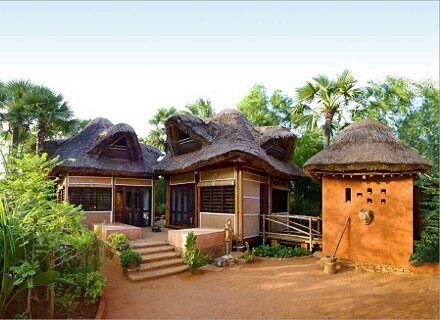 Hase in Auroville
★ ★ ★
The current population that had been meant to be 50,000 is in fact of 2 300 people from 50 nationalities. The community is divided up into neighbourhoods with English, Sanskrit, French and Tamil names.
Many diverse building types in a variety of architectural styles are found dotting the landscape. They include thatched palm-leaf huts, apartment complexes, cultural pavilions, health centers, schools, workshops, community kitchens, modern houses… For architects and builders, the freedom from restrictive regulations has encouraged an experimental approach; nevetheless they try to avoid the cost of importing expensive materials by using local techniques, such as hand-made dried or fired bricks.
Auroville is also a centre for Education and Training and a Centre for Urban Research in the fields of town planning, architecture, integration of rural and urban environment, renewable energies,… etc. Over 5,000 people, living in town or in the nearby localities, are employed in Auroville in guest houses, building construction units, information technology, afforestation, agriculture, education, health care, cultural activities or in the small and medium scale businesses, producing, for example, stationery items which can be bought in Puducherry, or sold around India. One of the problems is the lack of public transportation.
★ ★ ★
U has in Auroville
★ ★ ★
Eurocity
Who could create a capital in the midst of the Brasilian savannah, the Amazon rainforest, or in the middle of the desert or steppes today, as Oscar Niemeyer did ? Our architects now have more limited, paltry dreams and projects … the Louvre Pyramid, la Grande Bibliothèque (the National Library of France) which is four vertical parallepipeds, and above all, they have given up the curves that Niemeyer and Gaudí loved so much: they have all adopted the New York verticality and all their achievements are towers, rectangles, cylinders.
Yet, a young Europan who is also pro-Europan, ML, and who wrote to me recently to tell me about his ideas on Europe, "our common fatherland", also shared Oscar Niemayer's dream. He and his friends had thought of constructing a common capital for Europe in order to create a link between Europeans. However we have neither savannahs, nor deserts, nor steppes in Europe; ML suggested that we could build this capital on the Danube, a river which is itself a link between European countries, since it flows through Romania, Serbia, Hungary, Slovakia, Austria and finally Germany. ML wrote:
"So we are thinking of creating a European capital ex nihilo at the core of the continent (Austria, Hungary, the Czech Republic…)"
★ ★ ★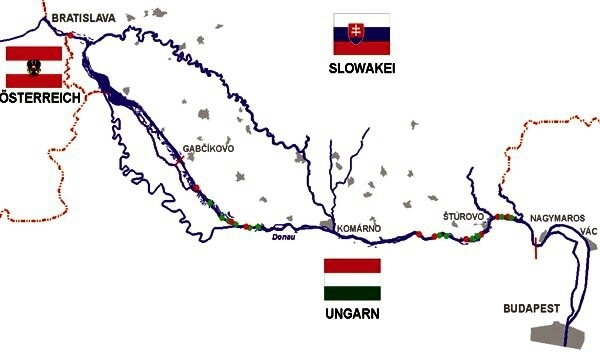 Map Dunavi, dikan Komarno intra Slovakia id Hungaria, Bratislava id Budapèst
★ ★ ★
This is of course a mad idea, especially in the present situation, when we are governed by accountants and bankers for whom every euro counts and should not be spent. But dreams have no frontiers, they can wander and fly about everywhere unhampered, they cannot be restricted to petty bourgeois dreams offered by advertisers, i-e: buying a new car, a new kitchen, or the latest mobile phone.
Here is my answer to ML: "That is strange, but I have the impression that this kind of project has been completely abandoned (too expensive obviously). But if we leave aside the logic of bankers and accountants, it could be a fantastic adventure! Appealing to the greatest European architects from all nations, town-planners, landscape designers… there could be a district for each nation, which would display all the essential features of the nation (what is more, in the Charter, we could even require that the architecture of each district should not be that of New York or Shanghai, but that it should reflect the traditional architecture that is specific to each country, linked to its culture… There would of course be embassies, consulates …, but also cultural centres, schools, restaurants, centres for scientific research…"
In short Unity in Diversity.
"… a completely environmentally friendly capital, functioning on renewable energies, with revolutionary non-polluting means of transport … a showcase for European technology - a totally crazy idea, but which is extraordinary - the great European project par excellence, and which would create thousands of jobs…"
★ ★ ★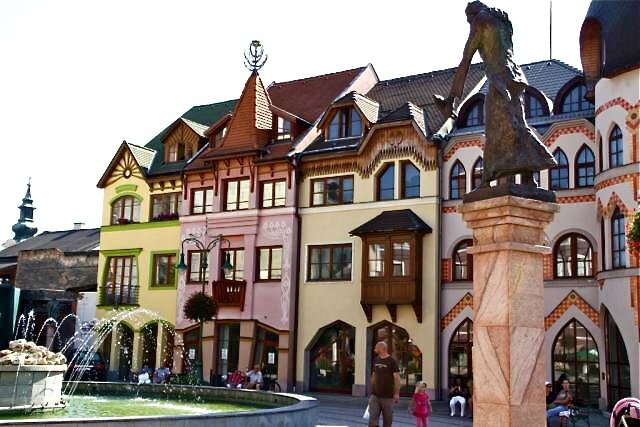 Komarno, hase in de policentra
★ ★ ★