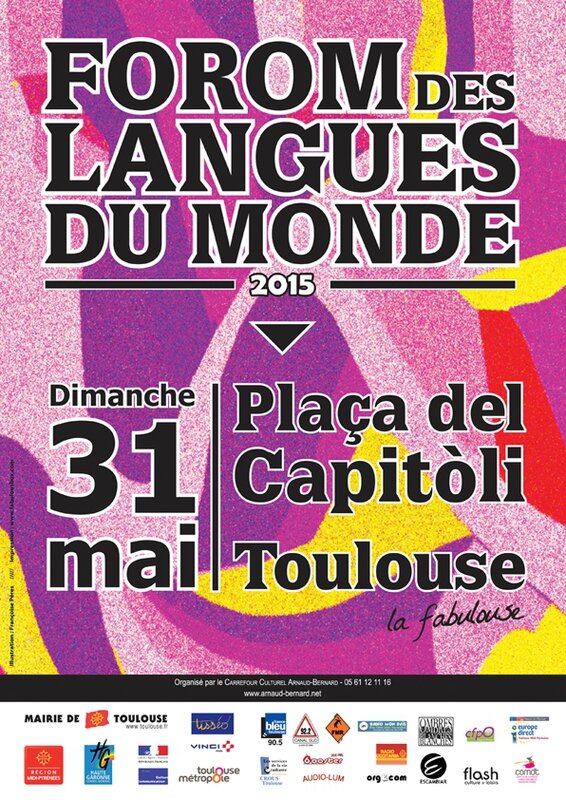 ★ ★ ★
Forum de lingus Moldi in Tulùz
★ ★ ★
Be Soldia 31i Maj, po de sesi jar nu ve partinemo in de Forum de Lingus Moldi in Tulùz, we av sta dod 23 jare su Plaz de Kapitoli. Di jar de 98 stande ve prostalo eke 110 vari lingas: nerim tale Europan lingas, ba os mole lingas od Afrika, Azia, Amerika, Oseania, od Agni a Zaza, od Arabi a Vietnami, od Aimara a Tamazight, od Bambara a Tagalog, od Bengali a Swahili, od Oksitàni a Baski id Katalàni, od Cini a Ketcua, od Japoni a Tamili, i.s.p… ane oblaso veti lingas wim Aramèi, Asiri, Asiro-Babiloni…
Di Forum se bazen su u strig eglid intra lingas (prostalen pa un egli grenad tale standis): "Je ste ne ude-lingas, par je ste ne ude-humane". Je dik de usordeni varid de lingus moldi. De lingu-kulturi varid se talvezi par je se talvos tru lingas id kulture te un men ov identid. Par je ste talvos u sort "prostajan weri" intra lingas id kulture, de vark di Forumi se u vark pacizadi, probasan in Francia un opdutad tale Francis a de ingenen lingas Franciu, id po mold u deklarad ov doʒade do lingas.

Eke stande ve diko vo Arabi, Cini id Mogoli kaligrafij, id Cini pictad, o usklaro vo kim vidì formen de Midimari alfabete: Egiptan, Feniki, Hebràj, Greci, Latini, i.s.p…
In mole stande, ba os su de skenia id su de Oksitani Kros bemìd de Plazi, vari kulturi prostalade ve avo sta: muzik, Rusi kore, Bulgari, Etiopi, Greci, Indonesi, Kanaki danse, Marsi arte wim kung fu o taekwondo, lisad poèmis, i.s.p…
Be posmidià, debàte ve avo sta ov de situasiòn lingus in Afrika, priseden pa Claude Sicre, fundor de Forumi, ki Abraham Bengio vise-direktor de regioni Ronalpe id spesialiste Afrikan lingus wim, Nicolas Quint id Odette Ambouroue.
Is usfalim vu se in de Tuluzi regiòn, vaizan o doman za, vene vizito de Forum de Lingus Moldi; nu ve so mol felic procepo va be de Uropi stand.
★ ★ ★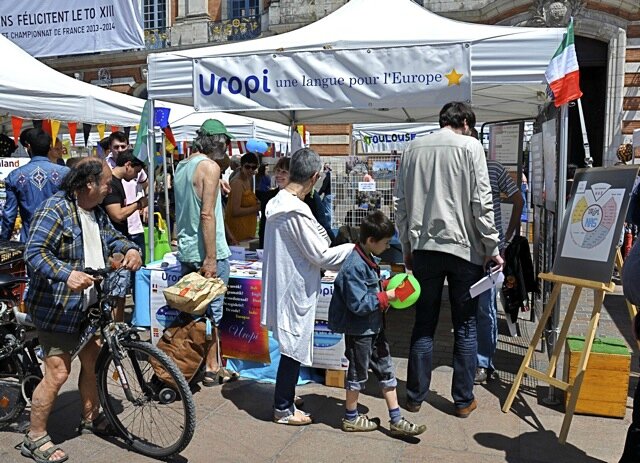 ★ ★ ★
Forum des langues de Toulouse
★ ★ ★
Dimanche 31 mai, pour la 6e année consécutive, nous participerons au Forum des Langues de Toulouse, qui se tiendra sur la Place du Capitole, pour la 23e année. Cette année, les 98 stands présenteront plus de 110 langues: la quasi-totalité des langues européennes, mais aussi de nombreuses langues d'Asie, d'Afrique, d'Amérique, d'Océanie de l'agni au zaza, de l'arabe au vietnamien, de l'aymara au tamazight, du bambara au tagalog, du bengali au swahili, de occitan au basque et au catalan, du chinois au quechua, du japonais au tamoul, etc., sans oublier des langues anciennes comme l'araméen, l'assyrien, l'assyro-babylonien, etc…
Le Forum a pour principe une stricte égalité des langues (symbolisée par la taille égale de tous les stands): "Il n'y a pas de sous-langues car il n'y a pas de sous-hommes". Nous avons là une image de l'extraordinaire diversité des langues: la pluralité linguistico-culturelle est d'une importance capitale, car c'est toujours à travers les langues et les cultures que l'on pense les faits d'identité. Il y a bien une sorte de « guerre permanente », entre les langues et les cultures, et le travail de ce Forom est un travail de pacification qui propose en France "à tous les Français une éducation à toutes les langues indigènes de France", et dans le monde une déclaration des devoirs envers les langues.
Certains stands vous initieront à la calligraphie arabe, chinoise et mongole et à la peintue chinoise; on vous expliquera l'origine des alphabets méditerranéens: egyptien, phénicien, hébreu, grec, latin, …
Sur de nombreux stands, mais aussi sur la scène et sur la Croix occitane au centre de la place, se dérouleront diverses manifestations culturelles: musique, choeurs russes, danses bulgares, grecques, éthiopiennes, indonésiennes, kanakes, arts martiaux: kung-fu et taekwondo, lectures de poèmes…
L'après-midi les débats, sous la présidence de Claude Sicre, fondateur du Forom, seront consacrés à la situation des langues en Afrique avec Abraham Bengio, directeur général adjoint de la Région Rhône-Alpes, et des spécialistes des langues africaines: Nicolas Quint et Odette Ambouroue.
Si vous vous trouvez dans la région de Toulouse que vous habitez ou que vous visitez, venez voir le Forum des Langues du Monde. Nous serons très heureux de vous accueillir au stand Uropi.
★ ★ ★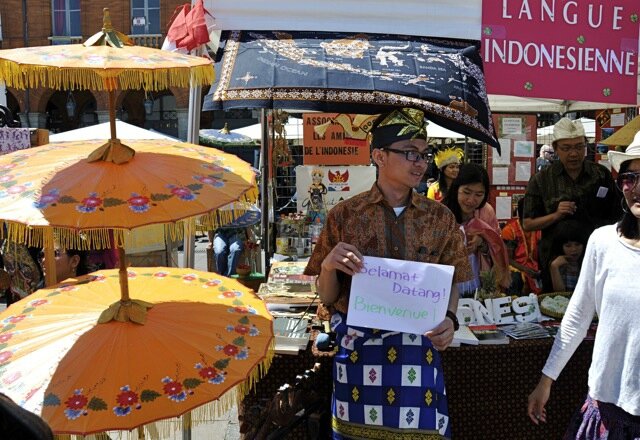 ★ ★ ★
World Languages Forum in Toulouse
★ ★ ★
On Sunday May 31st, for the sixth time, we'll be taking part in The World Languages Forum that will take place for the 23rd year on Capitol Square in Toulouse. This year the 98 stands will present over 110 different languages: nearly all European languages as well as many Asian, African, American and Oceanian languages, from Agni to Zaza, from Arabic to Vietnamese, from Aymara to Tamazight, from Bambara to Tagalog, from Bengali to Swahili, from Occitan to Basque and Catalan, from Chinese to Quechua, from Japanese to Tamil, etc., as well as ancient languages like Aramaic, Assyrian and Assyro-Babylonian, etc.
This Forum is based on a strict equality between languages (symbolized by the equal size of all stands): "There are no sub-languages because there are no sub-humans". It is an image of the extraordinary variety of languages in the world. The diversity of languages and cultures is all-important because it is always through language and culture that we can grasp identity. And because there is always a kind of "permanent war" between languages and cultures, this Forum's work is a work of pacification, putting forward proposals to initiate all French pupils into the native languages of France, and in the world, proposals for a declaration of duties towards languages.
On certain stands you will be initiated to Arabic, Chinese or Mongolian calligraphy and Chinese painting, or you will be explained the origin of Mediterranean alphabets: Egyptian, Phoenician, Hebrew, Greek, Latin, and so on.
On Many stands and also on the stage and on the Occitan Cross in the middle of the square, cultural activities will take place: music, Russian choirs, Bulgarian, Ethiopian, Greek, Indonesian, Kanak dances, martial arts such as kung-fu and taekwondo, poetry reading…, etc.
In the afternoon debates, moderated by Claude Sicre, the founder of the Forum, will deal with the situation of languages in Africa, with Abraham Bengio, the vice director general of the Rhone-Alpes region and African languages specialists: Nicolas Quint and Odette Ambouroue.
If you happen to be living or travelling in the Toulouse area, come and visit the World Languages Forum: we will be delighted to welcome you at the Uropi stand.
★ ★ ★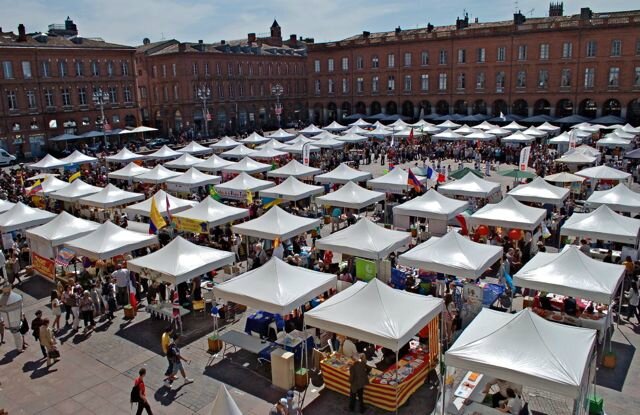 ★ ★ ★