* Uropi Nove 89 * Uropi Nove 89 * Uropi Nove 89 *

★ ★ ★
★ ★ ★
Soldia 31 Maj, u bel soli dia ki un azuli hel ane de mines nolbit. Be oc id mij, nu avenì su Plaz de Kapitoli; je sì jok priʒe frij par sol sì celen berù de Kapitòl wan nu inizì instalo ni stand. Be inìz, nu zavì ne puntim kim oriento de stand par, di jar, je sì siten in un angel de Forumi, ki ji ruk do de Kapitòl, un zat do de strad id de alten du zate do de Forum. Fendim, nu becizì kluzo de zat de stradi ki gride id table: usia, do de strad, nu setì de maj general table usklaran de rola u komùn lingu po Europa id de drev Indeuropan lingus. Inia nu setì de lingu table usklaran de Indeuropan odvenad Uropi vordis, de table ov gramatik id usvòk, id in de agoni angel, do de Forum, nu stalì du tabe ornen ki plakade, su wen nu prosetì sample de Uropi publizadis: leribibe, vordare, gramatike, tradutade, kurtistorije, romàne, poème, provorde, i.s.p…
★ ★ ★
Dimanche 31 mai, belle journée ensoleillée sous un ciel d'azur sans le moindre petit nuage. A huit heures et demie, nous arrivons sur la Place du Capitole; il fait encore relativement froid car le soleil est caché derrière le Capitole quand nous commençons à installer notre stand. Au début, nous ne savons pas très bien comment orienter ce stand, car cette année nous occupons un angle extérieur du Forom, le dos au Capitole, un côté qui donne sur la rue, et les deux autres vers l'intérieur du Forom. Finalement, nous décidons de fermer le côté rue par des grilles et des panneaux: vers l'extérieur, vers la rue, nous accrochons les panneaux généraux expliquant le rôle d'une langue commune pour l'Europe et l'arbre des langues indo-européennes. Vers l'intérieur, les panneaux linguistiques expliquant l'origine indo-européenne des mots Uropi, le grammaire, la prononciation, et à l'opposé, vers le Forom, nous installons deux tables décorées d'affiches, sur lesquelles nous disposons les publications Uropi: manuels, dictionnaires, grammaires, traductions, nouvelles, romans, poèmes, proverbes, etc.
★ ★ ★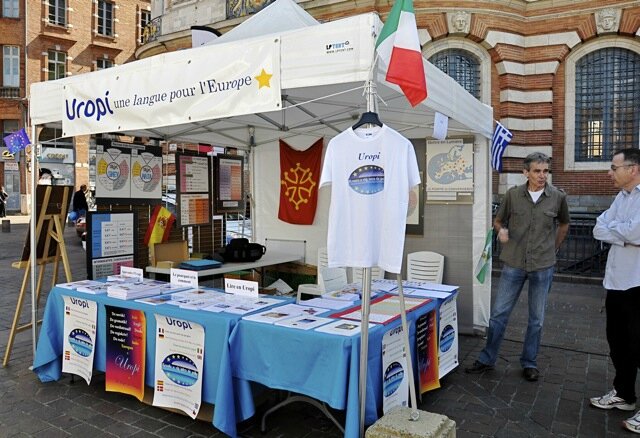 ★ ★ ★
Sunday May 31st, a gorgeous sunny day; not a single tiny cloud in the azure sky. At 8.30 when we arrived on Capitol Square in Toulouse it was still a bit chilly for the sun was hidden behind the Capitol when we started installing our stand. At the beginning we were a little puzzled about how to lay out the stand, because this year it was positioned in a corner of the Forum, with its back towards the Capitol, one side facing the street and the two other sides towards the centre of the Forum. Finally we decided to close off the side facing the street with grids where we could hang pictures, maps and tables. On the outside we put up the more general tables explaining the importance of a common language for Europe and the family tree of Indo-European languages. On the inside we put up the charts explaining the Indo-European origin of Uropi words, the grammar, the pronunciation, and in the opposite corner we placed two tables decorated with posters on which we displayed copies of the Uropi publications: textbooks, grammars, dictionaries, translations, short stories, novels, poems, proverbs, etc.
★ ★ ★
I doʒ dezo te da sì u mol vis id strategic becizad. Liente vadan pas in de strad vidì ingurnoven id atrajen pa de table ov Europa - mole haltì po speko de drev Indeuropan lingus - id pos lu venì vizito de stand.
★ ★ ★
Je dois dire que nous avons pris là une décision très sage et stratégique. Les gens qui passent dans la rue sont intrigués et attirés par les panneaux sur l'Europe - beaucoup s'arrêtent pour regarder l'arbre des langues indo-européennes - et ils viennent ensuite nous rendre visite.
★ ★ ★
★ ★ ★
I must admit that was a very wise and strategic decision. The pictures on Europe attracted the passers-by in the street and aroused their curiosity - many stopped to look at the Indo-European language tree - and then they visited our stand.
★ ★ ★
For nu avì fenden, Anoev avenì od Parìs, id he eldì na po instalo de stand. Nu akonì ha su l'Atelier ("de varkia") u Francivoki forum ov struen lingas; he se de kreator Aneuvi, un ideolinga we av komùn punte ki Uropi. De instalad pen fenden, avenì ni pri vizitor de mornu, we dezì no te he avì probleme oradi - he sì u poj guf be un or id he dezì te Esperanti ki ji "ŝ", "ĉ", "ĵ","ĝ", "sc", id ji fendade "-oj", "-ojn", "-aj", "-ajn", i.s.p. sì po ha wim un "anprijan zoni marmelad" we pervenì ha ekvos incepo de sin de frazis (je se u veri problèm wan un moz ne dissigo de nominatìv in -o, -oj, -a, -aj od de akuzatìv in -on, -ojn, -an, ajn). Ov Engli, wen he doʒì, ne volim, lero par he varkì in "komputeli siens", he kritikì subetàl de polnid vokali zonis, molvos anlezim dissigli. Hi ʒudade vid andubim influjen pa hi lej handikàp, pur je se talim interesan nemo la in kospekad in u maj general mod.
★ ★ ★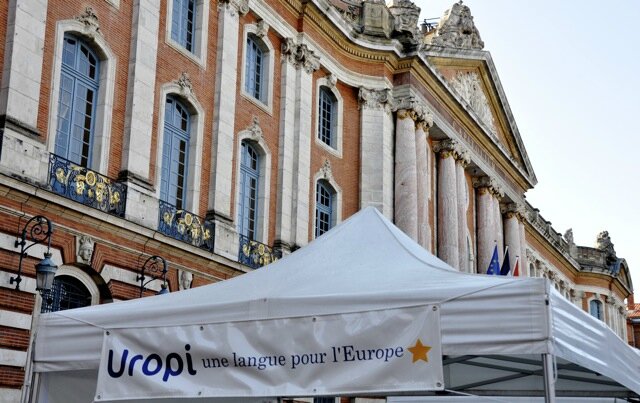 ★ ★ ★
Avant que nous ayons terminé nous arrive Anoev de Paris, qui nous aide à installer le stand. Nous avons fait sa connaissance sur l'Atelier, un forum francophone consacré aux langues construites; c'est le créateur de l'Aneuvien, une idéolangue qui a des points communs avec l'Uropi. A peine avons-nous terminé l'installation que nous voyons notre premier visiteur du matin, qui a des problèmes d'audition - il est un peu sourd d'une oreille - et nous dit que l'espéranto, avec ses "ŝ", "ĉ", "ĵ","ĝ", "sc", et ses terminaisons en "-oj", "-ojn", "-aj", "-ajn", lui fait l'effet d'une "désagréable bouillie sonore" qui l'empêche parfois de comprendre le sens des phrases (ce qui est plutôt problématique quand on ne peut distinguer le nominatif en -o, -oj, -a, -aj de l'accusatif en -on, -ojn, -an, -ajn). Pour ce qui est de l'anglais qu'il a dû apprendre, sans enthousiasme, car il travaille dans l'informatique, il critique surtout l'abondance des sons voyelles, difficiles à distinguer les uns des autres. Son jugement est sans aucun doute influencé par son handicap, mais il est néanmoins intéressant de le prendre en considération de manière plus générale.
★ ★ ★
Before we had finished, Anoev arrived from Paris and he gave us a hand. We had made his acquaintance on l'Atelier ("the workshop"), a French-speaking forum on conlangs; he's the creator of Aneuvian, a conlang that has many similarities with Uropi. Hardly had we finished installing the stand than we met our first visitor of the day who told us he had hearing problems in one ear and said that Esperanto with its "ŝ", "ĉ", "ĵ","ĝ", "sc", and its endings in "-oj", "-ojn", "-aj", "-ajn", seemed to him a kind of "unpleasant sound muddle" which often prevented him from understanding the meaning of sentences (it's a real problem for instance when you cannot make a difference between the nominative in -o, -oj, -a, -aj and the accusative in -on, -ojn, -an, -ajn). About English which he had to learn, rather reluctantly, he said, since he works in computer science, he criticized the overabundance of vowel sounds which he often couldn't distinguish. His judgement was, of course, influenced by his handicap, but this is definitely something we should take into account on a more general level.
★ ★ ★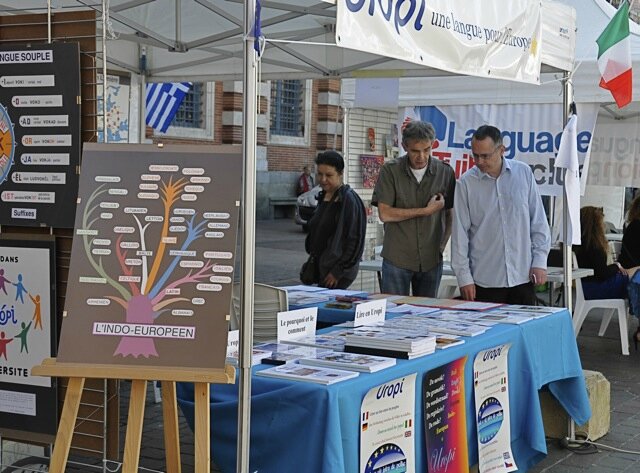 ★ ★ ★
U poj maj posen, nu avì de bun suprìz vizo Mardihuran avenen od Strasbùrg. He os se u mimbor l'Atelier id administror de Uropi Wikiu. He avì avoken hi venad su de Uropi nil, ba, par nu avì ʒa faren ap a Tulùz, nu zavì ne ja.
Pos, de morna itan pas, vizitore aflujì talvos maj numari. Nu sì mol glaj kospeko te Anoev id Mardihuran partinemì aktivim a de Uropi stand, procepan vizitore, disvokan id usklaran lo wa se Uropi. De grenes aflujad avì sta intra 11h id 13h30 wan liente itì jedo, pos, in de anusperli cajad posmidiù, wan inizì de debate ov de forume de lingus moldi id ov Afrikan lingas be d'amfiteatra, tal vidì maj tici id nu os mozì koparto un uslivan salad predizen pa W. Be mid posmidiù tis de fend de Forumi be 19 hore, de aflujad inizì revos.
★ ★ ★
Un peu plus tard, nous avons la bonne surprise de voir arriver Mardikhouran de Strasbourg. Lui aussi est membre de l'Atelier et administrateur du Wiki Uropi. Il avait annoncé sa venue sur le fil Uropi, mais, comme nous étions déjà partis pour Toulouse, nous l'ignorions.
Plus la matinée avance, plus les visiteurs affluent de plus en plus nombreux. Nous constatons avec plaisir la participation très active de Mardikhouran et d'Anoev qui accueillent les visiteurs, discutent et leur expliquent ce qu'est l'Uropi. L'affluence maximum se situe entre 11h et 13h30 heure à laquelle les gens vont déjeuner. Ensuite, dans la chaleur quasi insupportable de l'après-midi, avant que ne commencent les débats sur les forums des langues du monde et sur les langues africaines à l'amphithéâtre, les choses se calment un peu; nous en profitons pour partager une excellente salade préparée par W. Du milieu de l'après-midi jusqu'à la fin du Forom à 19 heures, l'affluence reprend de plus belle.
★ ★ ★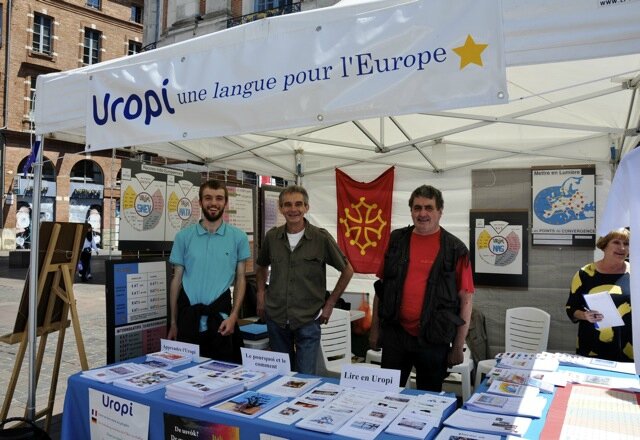 ★ ★ ★
Some time later we had the pleasant surprise to see Mardikhouran, who came from Strasbourg. He's another member of l'Atelier and administrator of the Uropi Wiki. He had announced his coming on the Uropi thread, but we had already left for Toulouse and we knew nothing about it.
As the morning drew on, the visitors flooded in, more and more numerous. We were pleased to see Mardikhouran and Anoev taking an active part in the life of the stand, welcoming visitors, discussing and explaining what Uropi is. The biggest rush took place between 11am and 1.30 pm when people left to have lunch. Then, in the unbearable afternoon heat, before the debates started at the amphitheatre about language forums and the situation of languages in Africa, everything became quieter, so we seized the opportunity to sit down and share the excellent salad prepared by W. In mid afternoon the flood of visitors started again and never stopped till the end of the Forum at 7 pm.
★ ★ ★
Ke sì ni vizitore ?
Lu sì od tale alde od 20 a 80 jare, ba lu sì cevim june, lingu studane, in tale kaze liente interesen ov lingas, wim lingu dictore: u dictor Oksitàni, u profesor Cini be universitad we pragì mole procizi keste, u dictora Espàni id Portugi we sì mol interesen ov de poème, kurtistorije, pictistorije id alten tradutade in Uropi. Je stì du vose maj uslandore te France, cevim june studan lingas in Tulùz.
★ ★ ★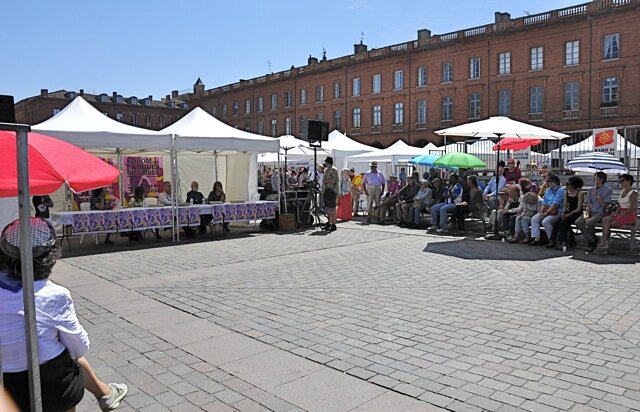 De debate be d'amfiteatra
★ ★ ★
Qui sont nos visiteurs ?
Ils appartiennent à toutes les tranches d'âge, de 20 à 80 ans, mais ce sont essentiellement des jeunes, étudiants de langues, dans tous les cas des personnes qui s'intéressent aux langues, comme des professeurs de langue: un professeur d'occitan, un universitaire enseignant le chinois qui a posé beaucoup de questions très pointues, une professeure d'espagnol et portugais très intéressée par les poèmes, les nouvelles, les BD et autres traductions en Uropi. Il y a deux fois plus d'étrangers que de Français, là encore des jeunes qui étudient les langues à Toulouse.
★ ★ ★
Who were our visitors ?
We had a very broad age bracket (from 20 to 80 year olds), but most of them were young language students, in any case, people interested in languages, among whom language teachers: for example an Occitan teacher, a professor of Chinese at the university who asked many in-depth questions, a Spanish and Portuguese teacher who aws particularly interested in the poems, short stories, comics… and other Uropi translations. There were twice as many foreigners as French people; they were essentially young people studying languages in Toulouse.
★ ★ ★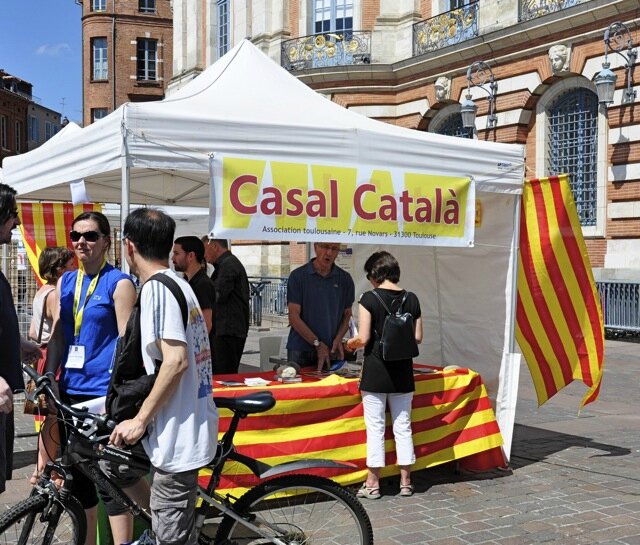 De Katalàni stand
★ ★ ★
Tale nasionide venì vizo na, o nerim tale: Polske, Koreane, Swede, Lituviane, Slovake, Grece, Kroate, Doske, Nizilandane, Belge, Ruse, Bulgàre, Vietnamane, Italiane, Englane id Englivokore, Brazilane (id u Franc we probasì Braziliportugi wim moldi eldilinga), kwer Cine (tri in u grup studanis Franci, id un alten solen studan), Arabivokore (od wen u Marokan), Espàni studanas, Katalàne, u Perùan a wen i pragì is he vok Ketcua o Aimara (he ruvokì mo te solem in camp id bore un vok da lingas).
★ ★ ★
Toutes les nationalités sont représentées ou presque: Polonais, Coréens, Suédois, Lituaniens, Slovaques, Grecs, Croates, Allemands, Hollandais, Belges, Russes, Bulgares, Vietnamiens, Italiens, Anglais et anglophones, Brésiliens (ainsi qu'un Français qui propose le portugais brésilien comme langue de communication mondiale), quatre Chinois (un groupe de trois étudiant le français et un autre étudiant isolé), des arabophones (dont un Marocain), un Péruvien à qui je demande s'il parle le quetchua ou l'aymara (il me répond que seuls les paysans dans les campagnes et les montagnes parlent ces langues), des étudiantes espagnoles, des Catalans…
★ ★ ★
Greci Horizòne
★ ★ ★
All nationalities, or nearly all, were there: Poles, Koreans, Swedes, Lithuanians, Slovaks, Greeks, Croatians, Germans, Dutch people, Belgians, Russians, Bulgarians, Vietnamese, Italians, English and English-speaking people, Brasilians (as well as a Frenchman who suggested that Brasilian Portuguese should become the world's auxiliary language), four Chinese (a group of three studying French and another isolated student), Arabic speakers (along whom a Moroccan), a Peruvian to whom I asked whether he spoke Quechua or Aymara (he told me that those languages were spoken by the peasants in the country or in the mountains), Spanish girls studying French, Catalans…
★ ★ ★
A u Kroati studana we vokì Franci, Engli, Swedi id Norveji, i dezì eke voke in Kroati "Dobar dan, hvala lepo" ("Bun dia, daske mole"), i koregì ma suprù "Hvala lijepo" ("lepo" se de Serbi vord). Ba ce ruvokì mo te de disemid intra de du lingas se purim politiki id te ce incèp tal wa dez u Serb id kozatim.
Wim ni majsan vizitore, wa interès ca se de odvenad id struad Uropi vordis, wim os de komùn punte ki li siavi lingas; davos nu davì lo de fole wo nu avì skriven de semlide ki Uropi po jaki linga.
★ ★ ★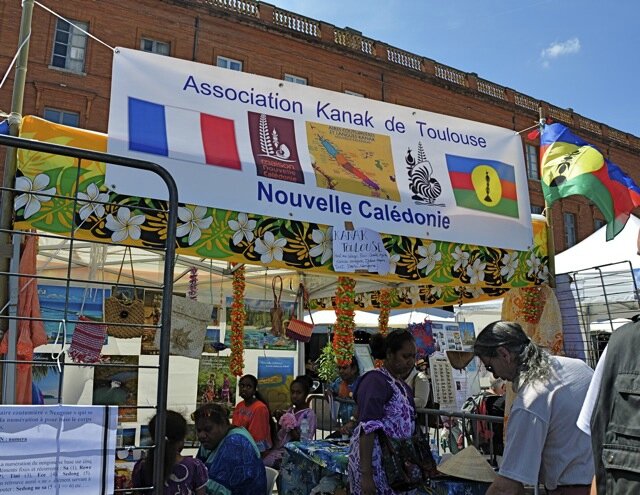 De Kanaki stand
★ ★ ★
A une étudiante croate qui parlait français, anglais, suédois et norvégien, je dis quelques mots de croate: "Dobar dan, hvala lepo" (bonjour, merci beaucoup), je me corrige aussitôt "Hvala lijepo" (car "lepo" est serbe). Mais elle me répond que la différence entre les deux langues est purement politique et qu'elle comprend tout ce que dit un Serbe, et vice versa.
Comme la plupart de nos visiteurs, ce qui l'intéresse, c'est l'origine et la formation des mots Uropi ainsi que les points communs avec leur propre langue. Nous leur donnons alors les feuillets où sont notés les similitudes avec l'Uropi pour chaque langue.
★ ★ ★
I told a Croatian girl who spoke French, English, Swedish and Norwegian, a few words in Croat: "Dobar dan, hvala lepo" (Good day, thank you very much), but I apologized immediately saying "Hvala lijepo" (lepo, being the Serbian word). She told me that in fact, the difference between the two languages was purely political and that she understands every word a Serb says and vice versa.
As most of our visitors, she was mainly interested in the origin and building of Uropi words as well as in the similarities between Uropi and her (their) own language(s).
★ ★ ★
De Indonesi stand
★ ★ ★
Nu procepì du jun Vietnami studanas od Hanoj peran su de tipiki koniki calmikape. Lu sì studan lingas id sì mol interesen ov de mod struo vorde in Uropi, od de Indeuropan rode id od de moderni I-E vorde. Lu sì os interesen ov Uropi wim u vaikel komunikadi.
★ ★ ★
Nous accueillons deux jeunes étudiantes vietnamiennes de Hanoï portant le typique chapeau de paille conique. Elles étudient les langues et sont très intéressées par la construction des mots Uropi à partir des racines indo-européennes et des termes contemporains ainsi que par l'Uropi en tant que véhicule de communication.
★ ★ ★
We welcomed two young Vietnamese students from Hanoi wearing the typical conical straw hats. They studied languages and were most interested in word-building in Uropi, from the common Indo-European roots and the modern I-E terms. They were also interested in Uropi as a vehicle for communication.
★ ★ ★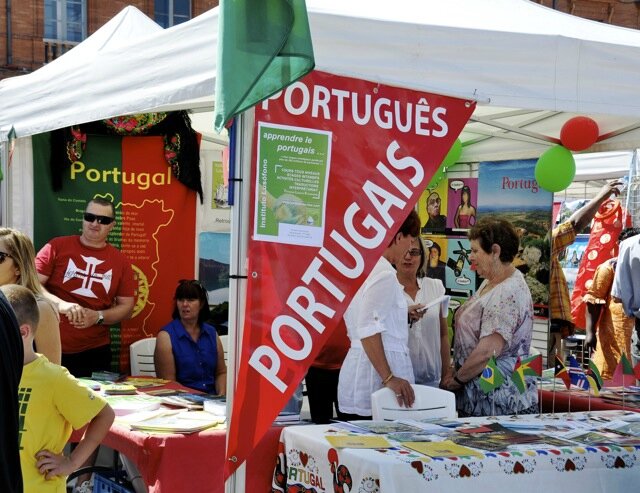 De Portugi stand
★ ★ ★
Slovake dezì no te talun doʒev lero 3 o 4 straniori lingas; pur, i men te talun moz ne lero samole lingas, id mojse lu vol ne. Sa molvos i av oren de rumàrk "Naturim, tu s'interesen solem ov lingas!" Ekune av probleme po lero un solen straniori linga. Pur, nu av usperijen in Uropi kurse te Uropi, we se u sintèz Indeuropan lingus, vek de gurnovid leroris po alten I-E lingas id moj davo lo u zel lero la. A alten Slovake i vokì ov "ni projèt" struo un Europan kebipol ner Komárno in Slovakia: (Vz: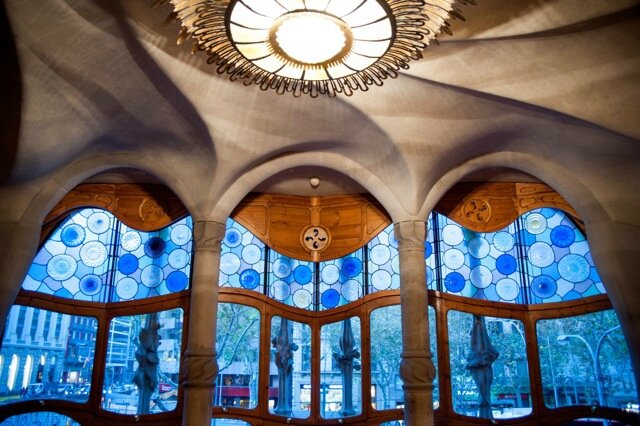 Oscar Niemeyer, Gaudí & Europa, Europe - Uropi
Ke rumèn Oscar Niemeyer, da Brazilan arkitektor we mozì realizo un od hi maties soine ? Struo u kebipol be karʒ de Cerrado (un anmezi regiòn savanu in Central Brazìl): Vaizan su Internet, de alten dia, i findì usfalim eke fraze od ha, besinan hi kocepad arkitektadi: "Não é o que me atrai, nem a , dura, inflexível, criada pelo homem.
http://uropi.canalblog.com
Lu sì mol glaj par lu dom 40 kme ap Komárno.
★ ★ ★
Des Slovaques nous disent que chacun devrait plutôt apprendre 3 o 4 langues étrangères; certes, c'est louable, mais je ne crois pas que tout le monde ait la capacité et encore moins la volonté d'apprendre autant de langues. J'ai si souvent entendu la réflexion: "Evidemment, toi, il n'y a que les langues qui t'intéressent!" Certains ont des difficultés pour apprendre une seule langue étrangère. Cependant notre expérience dans les cours d'Uropi nous a montré que l'Uropi, synthèse des langues indo-européennes, suscite la curiosité des apprenants envers les autres langues indo-européennes et peut leur donner envie de les apprendre. A d'autres Slovaques je parle de "notre projet" de construire une capitale européenne près de Komárno en Slovaquie (Voir le lien ci-dessus ). Ils sont ravis car ils habitent à 40 kms de Komárno.
★ ★ ★
★ ★ ★
Slovaks told us that everybody should learn 3 or 4 languages; personally I think that not everybody can learn so many languages, and perhaps doesn't want to. So often I have heard the remark: "Of course you are only interested in languages!" Some people have problems to learn only one foreign language. However, in the Uropi courses, we experienced the fact that Uropi, which is a synthesis of Indo-European languages, arouses the learners' curiosity about other I-E languages, and may make them wish to learn them. I told other Slovaks about "our project" to build a European capital near Komárno in Slovakia, (See the link above) and they were quite enthusiastic because they lived 30 miles away from Komárno.
★ ★ ★
Nu revizì ki prijad Silvàn B. wen nu kogonì du jare for, id we av u licensa Polski; he vidì coken pa de fakt te Engli vid inforsen a tale studane in de Franci opdutadi sistèm: he nomì da "lingu facisma". He dezì te Europa odia koruvokì ne a wa he sì invartan: je sì un Europa bazen su denie, finàns id merkade, id te june vol un alten Europa, maj solidari.
C'est avec plaisir que nous revoyons Silvàn B. que nous avions rencontré il y a 2 ans. Licencié en polonais, il est choqué par le fait qu'on impose l'anglais à tous les étudiants dans le système éducatif français: il appelle cela du "fascisme linguistique". L'Europe d'aujourd'hui ne correspond en rien à ses attentes: c'est une Europe fondée sur l'argent, la finance et les marchés; les jeunes veulent une autre Europe, une Europe solidaire.
★ ★ ★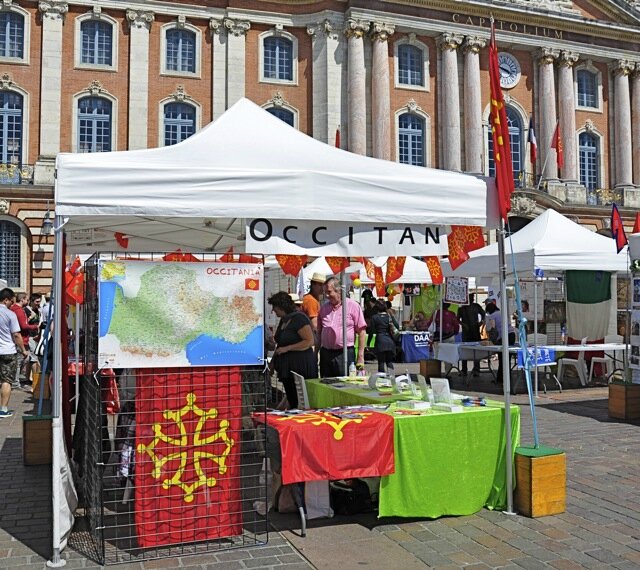 De Oksitàni stand
★ ★ ★
We were pleased to see Sylvain B. again, whom we met 2 years ago and who has a degree in Polish; he was shocked by the fact that English is imposed to all students in the French educational system: he called this "language fascism". He said that Europe today didn't meet his expectations at all; it was a Europe based on money, finance, markets, and that young people wanted another Europe, based on solidarity.
★ ★ ★
Un horikwert for de fend, nu avì u pasionan disvokad ki u jun Rusa studan Franci id ci Franci fram studan Rusi. Nu vokì ov tale temas: Indeuropan komùn rode, de vige intra Uropi id Rusi, ov gramatik, usvòk id mole alten zoce. "Ba parkà av i ne oren ov Uropi dafòr?", ce pragì. Davos i vokì co ov de artikle in Komsolmolskaja Pravda id ov de 4000 skrite wen i becepì Со всех концов СССР (od tale kante USSR)… be fend de Gorbatcovi ev. "Ba i avì ne genen!", ce ruvokì.
★ ★ ★
Un quart d'heure avant la fin, nous avons une discussion passionnante avec une jeune Russe étudiant le français et son ami français étudiant le russe. Nous abordons tous les sujets: racines indo-europénnes communes, rapports de l'Uropi avec le russe, grammaire, prononciation et bien d'autres choses encore. "Mais pourquoi, me dit-elle, je n'ai pas entendu parler de l'Uropi avant?" Je lui ai alors parlé des articles dans la Komsolmolskaïa Pravda et des 4000 lettres que j'ai reçues Со всех концов СССР (de tous les coins de l'URSS)… à la fin de l'ère Gorbatchov. "Mais je n'étais pas née!" m'a-t-elle répondu.
★ ★ ★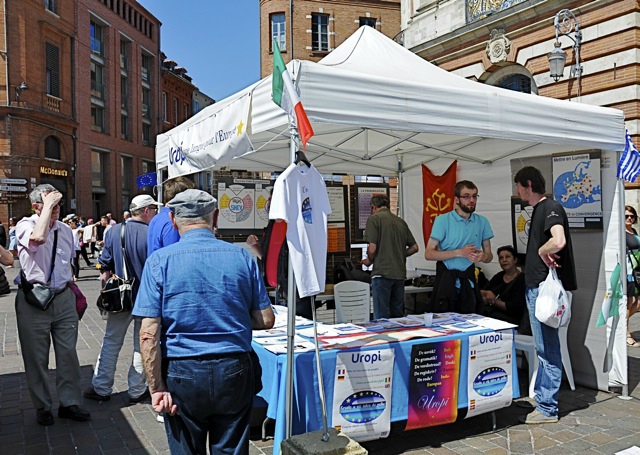 ★ ★ ★
A quarter of an hour before the end of the Forum, we had a passionate discussion with a young Russian who studied French and her French boyfriend who studied Russian. We spoke about all the relevant topics, I-E common roots, the links between Uropi and Russian, the grammar, the pronunciation… and many other things. "But why haven't I heard of Uropi before?" she asked. I told her about the articles in Komsomolskaya Pravda and of the 4000 letters I received "со всех концов СССР" (from every corner of the USSR)… at the end of the Gorbachov era. "But I wasn't even born!" she answered.
★ ★ ★
Ka sì de maj pragen keste ?
Kim lero de linga ? De leribibe ? De sitias ? De kurse ? Ka se de uzid Uropi ?
Wim Mardihuran bemarkì, solem France vokì no ov Esperanti, ba li ruaktade sì priʒe disemi di jar: je stì min "Ka se de disemid ki Esperanti?" id "Parkà un alten lingas wan je ste ʒa Esperanti?", id maj spontani kritike ovEsperanti we "se ne mol estetic". Lu kritikì os de akuzatìv we (po la) se anuzi; un od la dezì: "De akuzatìv se ne tio pej; de pejes se de prefìks mal-". Da kritike sì ne talvos justizen wim "da linga we funsionì ne…", wa se u poj uvedezen, par Esperanti se andubim de struen linga we av de bunes funsionen… naturim, is nu koegle ki Engli … ba Esperanti vid ne superen pa de mogad id de ricad Unizen Statis.
★ ★ ★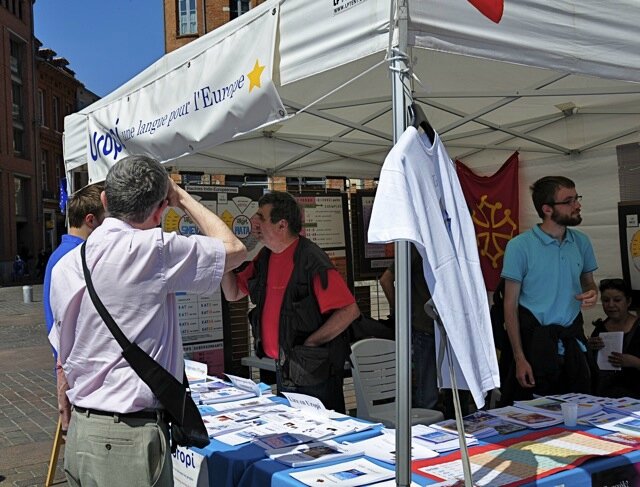 ★ ★ ★
Quelles sont les questions les plus fréquentes ?
Comment apprendre la langue ? - L'utilité de l'Uropi ? - Les méthodes ? - Les sites ? - Les stages ?
Comme l'a remarqué Mardikhouran, seuls les Français évoquent l'espéranto, mais les réactions sont plutôtdifférentes cette année. Moins de: "pourquoi une autre langue construite, il y a déjà l'espéranto ?" ou "quelle différence avec l'espéranto ?", et plus de critiques spontanées de l'espéranto, qui n'est "pas très esthétique", critique de "l'accusatif qui (selon eux) ne sert à rien"; l'un d'eux nous dit: "L'accusatif, ça va encore; le pire c'est le préfixe mal." Ces critiques ne sont pas toujours justifiées, je cite: "cette langue qui n'a pas marché…", ce qui est pour le moins exagéré, car, de toutes les langues construites c'est, sans conteste, celle qui a le mieux "marché"… bien sûr, si on compare avec l'anglais … mais n'oublions pas que l'espéranto n'a derrière lui ni la puissance, ni la richesse des Etats Unis.
★ ★ ★
What were the most frequent questions ?
How can we learn the language ? The manuals ? The websites ? The courses ?… What use is Uropi ?
As Mardikhouran remarked, only French people mentioned Esperanto, but their reactions were different this year: no so much "What's the difference with Esperanto?" or "Why another constructed language since there already is Esperanto?" as rather spontaneous criticisms of Esperanto which is "not very aesthetic". They also criticized the accusative which was (for them) "useless"; one of them said: "The accusative is not to bad; the worst thing is the mal- prefix". Their criticisms were not always justified, such as "that language which never worked…"; this is of course grossly exaggerated as Esperanto is undoubtedly the conlang that had the greatest success… of course, if you compare with English today… but we must say that Esperanto is not supported by the power and wealth of the United States.
★ ★ ★
De Tcadi stand
★ ★ ★
Usim eke gurnovine we kovigì Uropi id Europan Uniòn (pozitivim o negativim, odaltia), un bespekì subetàl maj "duvad" in de keste id rumarke, in eni kaz u veri interès ov Uropi id wa je sin: u linga sintezi, u komùn linga, u linga po Europa. De vizitore sì os maj varizen, mojse par ni stand sì be un od de cevi inìte de Forumi wo mole liente itì pas. Nu avì os kontakte ki lokal asosiade proban kreato vige id disvolpo kometade intra de vari asosiade de Forumi id de publik tra Internet, o organizan konkreti aktivide wim kurse, kometade, lingu kafias id alten interesan probade… Wajim tal da stajì "lokal", da se in Tulùz id ji regiòn.
★ ★ ★
En dehors de quelques curieux qui associent Uropi et Union Européenne (en bien ou en mal, d'ailleurs), nous constatons surtout plus de "profondeur" dans les questions, les remarques, en tout cas un véritable intérêt pour l'Uropi et ce qu'il représente: langue de synthèse, langue commune, langue de l'Europe. Des visiteurs plus variés aussi, ce qui était peut-être dû à la situation du stand, à l'une des entrées du Forom les plus fréquentées. Des contacts "associatifs" également; certaines associations, pour la plupart locales, essaient de créer un lien ou d'être le point de départ d'échanges entre les diverses associations du Forom et le public, par le biais de sites Internet, organisant des actions concrètes: cours, échanges, cafés linguistiques, etc. mais, malheureusement, surtout locales, à Toulouse et sa région.
★ ★ ★
Apart from a few onlookers who associated Uropi and the EU (positively or negatively), we could observe that most visitors' questions and remarks were in-depth and that they showed a real interest in Uropi and what it represents, i-e a synthesis of Indo-European languages, a common language for Europe and beyond. The visitors were also more varied, perhaps because our stand was situated at one of the main entrances to the Forum, were many people came in. We also had contacts with other associations who tried to create links and develop exchanges between the various associations on the Forum through the Internet and by organizing concrete activities such as courses, language cafés and many other things. Unfortunately all these initiatives were mainly "local", that is in Toulouse and the area.
★ ★ ★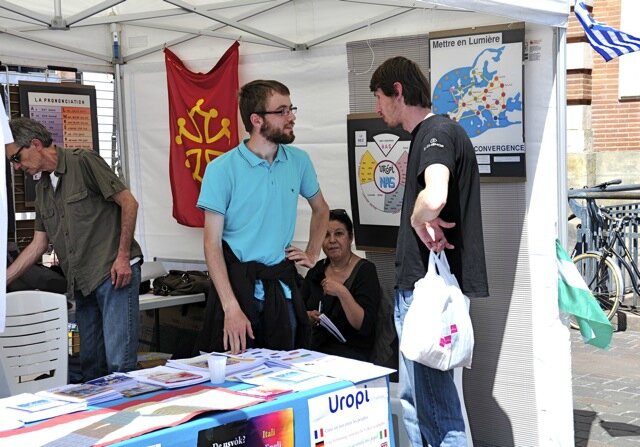 ★ ★ ★
Kim usvalto da bel dia ? Nu avì molipli lingu kometade, we sì varizen, duv id mol inrican, os po ni vizitore wim os po na som. Naturim nu s'ne invartan te tale ni vizitore ve inìzo lero Uropi in de slogan sedia, ba nu av siemen u siem… be tale kante moldi; sperem te je ve greso. Id wim de Cini provòrd dez: "Gov se lan, ba ter se tolsan".
★ ★ ★
Quel bilan peut-on faire de cette belle journée ? De multiples échanges linguistiques très enrichissants, variés, approfondis, aussi bien pour nos visiteurs que pour nous-mêmes. Nous ne nous attendons pas, bien sûr, à ce que tous nos visiteurs se mettent à apprendre l'Uropi dès la semaine suivante, mais nous avons semé la graine… aux quatre coins du monde, en espérant qu'elle pousse. Et comme dit le proverbe chinois "Le boeuf est lent, mais la terre est patiente".
★ ★ ★
How can we appraise the results of that fine day ? We had multiple and varied language exchanges which were most interesting and enriching both for our visitors and ourselves. Of course, we are not expecting all our visitors to start learning Uropi next week, but we have sowed the seeds here and there and everywhere, hoping that they will grow. And as the Chinese proverb says, "The ox is slow, but the earth is patient".
★ ★ ★