★ ★ ★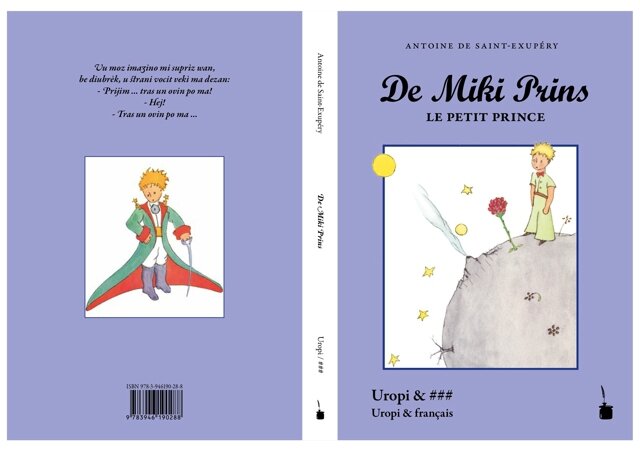 ★ ★ ★
De Miki Prins in Uropi-Franci
U Doski usdavi has publìz de Miki Prins pa Antoine de St Exupéry in u dulingu versiòn Uropi-Franci ki de ilustrade d'autori.
De Miki Prins se un od de maj traduten id publizen bibe in mold (in bemìn 296 lingas).
De publizad ve avo sta be fend Aprili. De publiki priz ve so 16 €, ba de tradutor - i som in di kaz - prodèl ov u limiten serij be de prigusi priz: 10 € 50. Is vu se interesen, vu moz kontakto ma tra de Uropi Blog. (Contacter l'auteur: be lif, benìz, ude Derniers messages)

De Miki Prins ve os so disponli be de Tuluzi Forum Lingus Moldi be Soldia 29i Maj 2016.
★ ★ ★
Un éditeur allemand publie De Miki Prins - le Petit Prince d'Antoine de St Exupéry en version bilingue Uropi-Français avec les illustrations de l'auteur.
Le Petit Prince est l'un des livres les plus traduits et publiés au monde (dans au moins 296 langues).
Le Miki Prins sortira fin avril. Le prix public sera de 16 €, mais le traducteur - moi en l'occurrence - peut bénéficier d'une série limitée au tarif préférentiel de 10 € 50. Si cela vous intéresse, vous pouvez me contacter sur ce Blog. (Contacter l'auteur: en bas, à gauche, sous Derniers messages)

Le Miki Prins sera également disponible au Forom des Langues du Monde de Toulouse, le dimanche 29 mai 2016.
★ ★ ★
A German publisher will publish De Miki Prins - The Little Prince by Antoine de St Exupéry in a bilingual version: Uropi - French, with the author's illustrations.
The Litlle Prince is one of the most translated and published books in the world (in at least 296 languages).
The Miki Prince will come out in late April. The public price will be € 16, but the translator, myself in the present case, can benefit from a special rate for a limited series, i-e € 10.50. If interested, you can contact me at the above address or through the Uropi Blog. (Contacter l'auteur: on the left, below, under Derniers messages)

The Miki Prins will also be available at the Toulouse Languages of the World Forum on Sunday May 2016.
★ ★ ★
Vize os de videa - Voir aussi la vidéo - You can also see the video
De Miki Prins id de Vols - Le Petit Prince et le Renard - The Little Prince and the Fox
https://www.youtube.com/watch?v=bMFCChGJuC4&list=PL6C3Ug8Sx84MWbv49oGqHeXW8HfQiA0Ar&index=1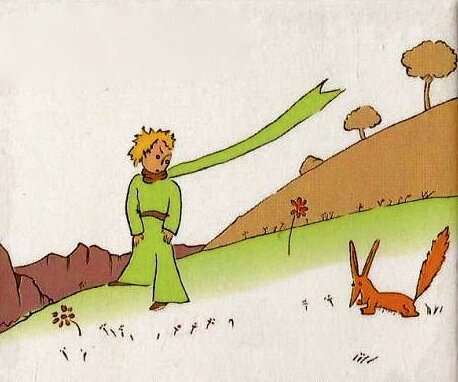 ★ ★ ★