* Uropi Nove 108 * Uropi Nove 108 * Uropi Nove 108 *

★ ★ ★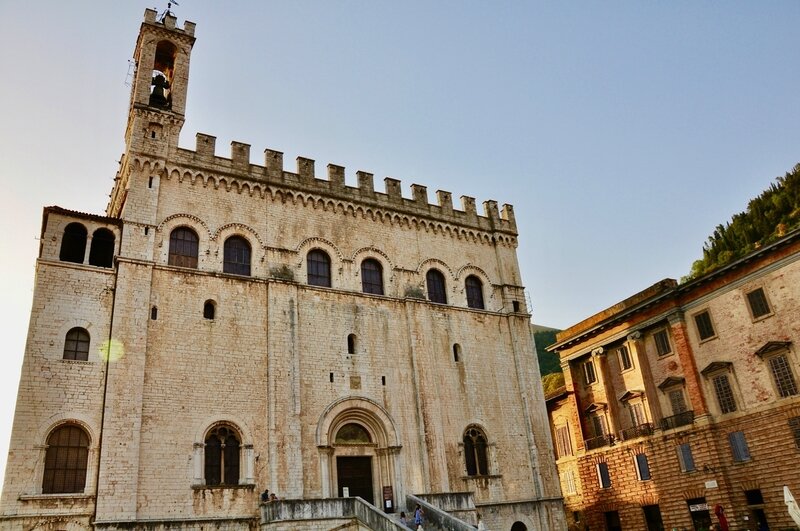 ★ ★ ★
Lasan Lombardia id vaizan do sud, un far tra Emilia-Romania, pos alòng de Adriàni kust tis Ankona, de inbarki port po Grecia. Is, instà faro pro do sud, un vir a dest su Via Flaminia dutan a Roma, un far beprù in de bori regiòn Umbria, id za un doʒev halto in Gubbio.

En quittant la Lombardie pour se diriger vers le sud, on traverse d'abord l'Emilie-Romagne, puis on longe la côte adriatique jusqu'à Ancône, le port d'embarquement pour la Grèce. Si, au lieu de continuer vers le sud, on tourne à droite dans la Via Flaminia qui mène à Rome, on arrive bientôt en Ombrie, région de montagnes, et là, il faut s'arrêter à Gubbio.

Leaving Lombardy and heading south, you drive through Emilia-Romagna, then along the Adriatic coast to Ancona, the port of embarkation for Greece. If, instead of driving on southwards, you turn right on to Via Flaminia that leads to Rome, you soon enter the mountainous region of Umbria, and there, you should stop in Gubbio.
* * * *
Gubbio

* * * *

Gubbio se u miki midievi pol in Umbria ki ji wale, tore, vorte, palàze id numari kerke, striti stradite id skalias. Nit sem avo meten dod Midi Eve: liente vad podim in de stradite id solem 2 o 3 strade se opren a vage, pur je s'ne u pol-muzea rezerven a turiste: mole moderni Umbrine dom id vark za, id usia de wale, benìz leʒ de moderni pol.
Parkà vok i ov "moderni" Umbrine ? Par de maj strani id ankredli karakteristik Gubbio se te je vidì funden pa Veti Umbrine, un od de pri Indeuropan polke we stalì sia in de Itali penisel eke 1200 jare for Krist, longim for Etruske id Romane. Lu fundì za Ikuvium we vidì maj posen Iguvium in Latini, pos Gubbio in Itali. De nom Ikuvium ven od Ikuv, Iiuv = Juppiter, Jovis in Latini, da se *Dyḗus Ph2tḗr in Indeuropan: "doj pater, heli pater", Zeus, Jupiter. I findì ja mol inmuvan vado in strade wo vadì, eke 3200 jare for, de pri Indeuropane in Italia, imaʒino de zon li stapis su pave, ito pas ude u vort, la Porta Vehia (de veti vort) we intèn jok kame de Umbri walis. Wim Régis Debray skrivì in hi bib "Civilizad":
« De stas, par lu se u prodùt històri… oʒe wan lu se distruen o aplasen, las ekwa wim u digiprìt in ni pole id in ni mente… »

★ ★ ★

La Porta Vehia, de veti vort
★ ★ ★
Gubbio est une petite ville médiévale en Ombrie, entourée de remparts, avec ses tours, portes, palais et ses nombreuses églises, ruelles étroites et escaliers. Rien ne semble avoir changé depuis le Moyen Âge: on parcourt les rues à pied, et seuls deux ou trois axes principaux sont autorisés aux véhicules. Ce n'est pas, cependant, une ville-musée réservée aux touristes: nombreux sont les Ombriens « contemporains » qui y vivent et y travaillent, et en contrebas, en dehors des murs, s'étend la ville moderne.
Pourquoi parler d' Ombriens « contemporains » ? Parce que la caractéristique la plus étrange et la plus incroyable de Gubbio, c'est d'avoir été fondée par les anciens Ombriens, un des premiers peuples indo-européens à s'être installés dans la péninsule italique aux environs de 1200 av. JC, bien avant les Etrusques et les Romains. Ils y fondèrent Ikuvium, qui allait devenir Iguvium en latin, puis Gubbio en italien. Le nom d'Ikuvium vient de Ikuv, Iiuv = Juppiter, Jovis en latin, c'est à dire *Dyḗus Ph2tḗr en indo-européen (le père céleste, dieu le père), Zeus, Jupiter. J'ai ressenti une étrange émotion à marcher dans les rues qu'ont foulé, il y a quelques 3200 ans, les premiers Indo-Européens d'Italie, à imaginer le son de leurs pas sur la pierre, à franchir une porte, la Porta Vehia (la vieille porte) qui contient encore des vestiges de la muraille ombrienne. Comme dit Régis Debray dans son livre Civilisation:
« Les lieux, du fait même qu'ils sont le produit d'une histoire…même détruits ou désertés, ils laissent comme une empreinte digitale dans nos villes et dans nos têtes… » p.106

★ ★ ★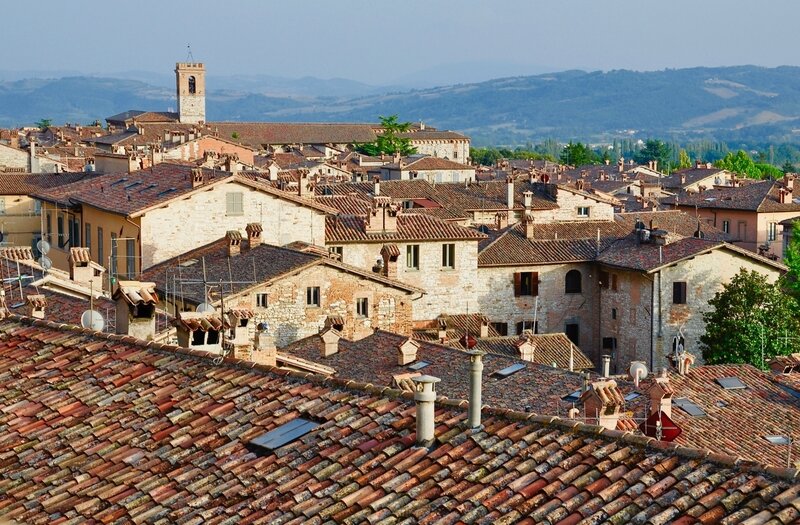 Su de tage Gubbio
★ ★ ★
Gubbio is a small medieval town in Umbria with its walls, its towers, gates, palaces, and numerous churches, narrow streets and stairs. Nothing seems to have changed since the Middle Ages: people walk in the narrow streets and only the main street is open to certain vehicles. However, it is not a museum town for tourists: many «modern» Umbrians live and work there, and, outside the walls, below, lies the present-day city.
Why did I say «modern» Umbrians ? Because one of the most incredible characteristics of Gubbio is that it was founded by the ancient Umbrians or Umbri, one of the first Indo-European tribes to settle in the Italian peninsula around 1200 BC, long before the Etruscans and Romans. There, they founded Ikuvium, which became Iguvium in Latin, then Gubbio in Italian. The name comes from Ikuv, Iiuv = Juppiter, Jovis in Latin, that is *Dyḗus Ph2tḗr in Indo-European (the sky-father, father god), Zeus, Jupiter.
I found it rather moving to walk in the very streets where the first Indo-Europeans in Italy walked 3200 years ago, to imagine the sound of their steps on the paving-stones, to pass under a gate, la Porta Vehia (the old gate) which still contains parts of the Umbrian wall. As Régis Debray said in his book: Civilisation:
« Places, because they are a product of history… even when they are destroyed, forgotten and forsaken, they leave something behind like fingerprints in our towns and our minds… »

★ ★ ★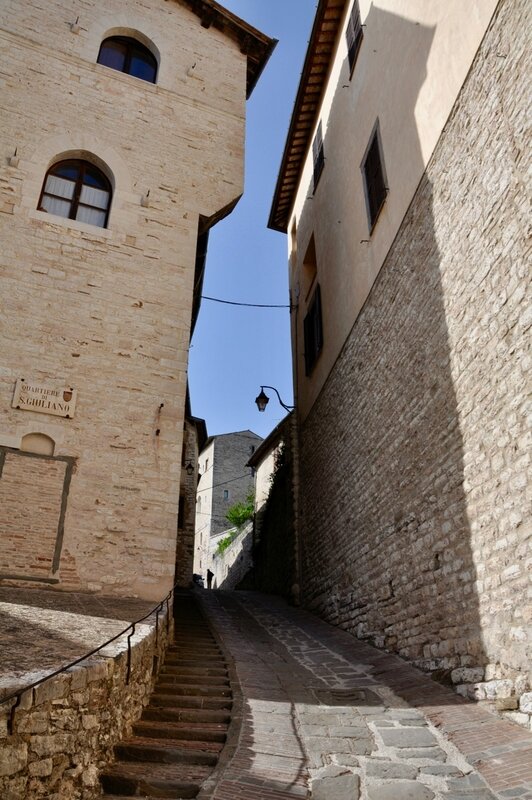 ★ ★ ★
De Eugubini Table

De Umbri linga, un od de maj veti Indeuropan lingas voken in Europa ki Oski, un alten Italiki linga, se no konen dask a de Eugubini Table. Lu se sep bronzi plake, diskroven in 15j suntjàr in Gubbio ner de Roman teatra, id we se num usstalen in de Palàz Konsulis. Lu vidì skriven in Umbri in du alfabete adapten od Etruski o Latini. Da table vidì ingraven in 3j id 2j suntjàre for Krist, ba lu renemì mol maj veti tekste rudatan od de Umbri period. De Table av un insanim religios karaktir; lu beskrìv kulti ceremonije id dez no te Ikuvium sì u statipol (tota od I-E *teutéha = polk), ki u teritoria (trifu, vz Latini tribus = trib), id u religios centra.

Eke linguiste mozì restruo de usvòk de Umbri lingu id lu registì de tekste de Eugubini Tablis, wa nu moz skuco num in de Palàz Konsulis. Je se os mol inmuvan oro da zone id da linga venan od u sa dali pasen: je sem no sa misteric id somtemim sa familic, wim alten veti Europan lingas.
Ustràj un Umbri teksti
« este persklum aves anzeriates enetu
pernaies pusnaes preveres treplanes
iuve krapuvi tre buf fetu arvia ustentu
vatuva ferine feitu heris vinu heri puni
ukriper fifiu tutaper ikuvina feitu sevum »
(Traliterad de pri linis de pri Tabli)

★ ★ ★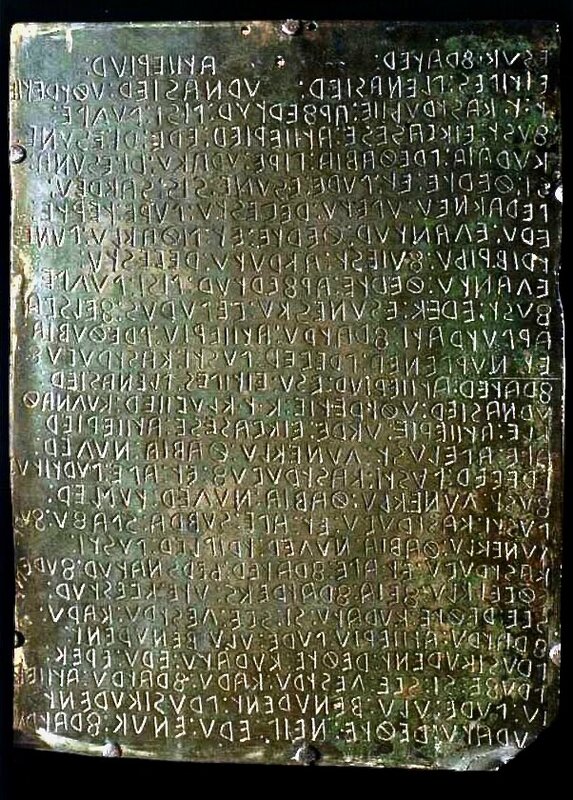 Eugubini Tabel
★ ★ ★
Les tables eugubines

La langue ombrienne, une des plus anciennes langues indo-européennes d'Europe avec l'osque, autre langue italique, nous est connue grâce aux tables eugubines. Il s'agit de sept plaques de bronze, découvertes au 15e siècle à Gubbio, près du théâtre romain et exposées aujourd'hui au Palais des Consuls. Elles ont été gravées en ombrien dans deux alphabets adaptés de l'étrusque et du latin au 3e et 2e siècles av.JC, mais elles reprennent des textes beaucoup plus anciens, datant de la période ombrienne. Elles ont un caractère essentiellement religieux, décrivant des cérémonies cultuelles, et nous disent qu'Ikuvium était une ville-état (tota de l' i-e *teutéha = peuple), avec un territoire (trifu, cf latin tribus = tribu), et un centre religieux.
Des linguistes ont réussit à reconstituer la prononciation de la langue ombrienne et enregistrer les textes des Tables eugubines, enregistrement que l'on peut écouter au Palais des Consuls. Il est très émouvant d'entendre ces sons qui semblent nous parvenir d'un passé si lointain, cette langue, à la fois si mystérieuse et si familière, comme le sont d'autres langues indo-européennes anciennes.

Voici un extrait de texte ombrien:
« este persklum aves anzeriates enetu
pernaies pusnaes preveres treplanes
iuve krapuvi tre buf fetu arvia ustentu
vatuva ferine feitu heris vinu heri puni
ukriper fifiu tutaper ikuvina feitu sevum »

(translitération des premières lignes de la première Table eugubine.)
★ ★ ★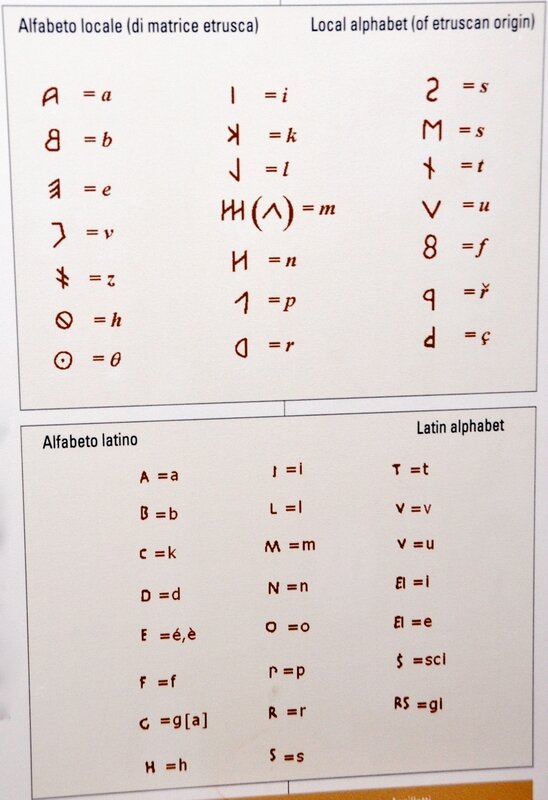 De du alfabete de Eugubini Tablis
★ ★ ★
The Iguvine Tablets

The Umbrian language, one of the oldest Indo-European languages in Europe with Oscan, another Italic language, is known to us thanks to the Iguvine Tablets. They are a series of seven bronze tablets which were discovered in Gubbio in the 15th century near the Roman Theatre, and which are now displayed in the Palazzo dei Consoli (The Consuls' Palace). They were engraved in Umbrian in two alphabets adapted from Etruscan and Latin in the 3rd and 2nd centuries BC, but they had taken up much older texts dating back to the Umbrian period. The tablets have an essentially religious character: they describe cult ceremonies and tell us that Ikuvium was a state-city (tota from I-E *teutéha = people), with a territory: (trifu, cf Latin tribus = tribe), as well as a religious centre.
Linguists were able to reconstruct the Umbrian pronounciation and to record the texts of the Iguvine Tablets, recordings that can now be listened to in the Palazzo dei Consoli. It is rather moving to hear those sounds which seem to be coming to us from such a distant past, and that language which sounds both mysterious and familiar like most other ancient Indo-European languages.

Here is an extract from an Umbrian text:
« este persklum aves anzeriates enetu
pernaies pusnaes preveres treplanes
iuve krapuvi tre buf fetu arvia ustentu
vatuva ferine feitu heris vinu heri puni
ukriper fifiu tutaper ikuvina feitu sevum »

(transliteration of the first lines of the first Iguvine Tablet)
★ ★ ★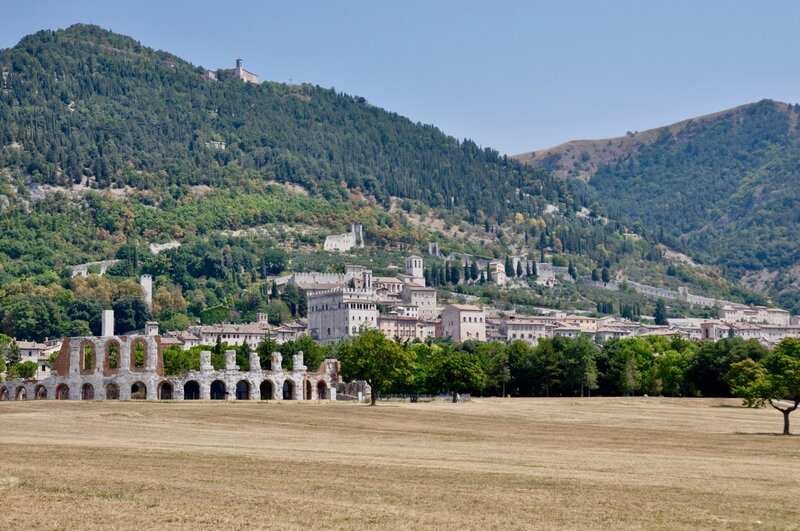 ★ ★ ★
Maj posen, in de Roman eve, Gubbio sì mol pru aligen a Roma id partinemì ne in de koaligad Etruskis, Samnitis, Gaulis id Umbrinis gon Romane. Wim de pol se struen su de kline bori Ingino, un viz klarim tri nivle: benìz in de plania de moderni pol, beòp su zat de bori de inwalen midievi pol, kronen pa de Palàz Konsulis, id intra obe, de Roman nivel ki u mauzolea id u bel amfiteatra we vidì struen intra 55 id 27 f.K., id mozì inteno tis 6 000 spektadore.
* * * *
Plus tard, à l'époque romaine, Gubbio est très tôt un allié de Rome et ne prend pas part à la coalition des Etrusques, Samnites, Gaulois et Ombriens contre les Romains. Comme la ville est construite sur les pentes du mont Ingino, on y distingue très nettement trois niveaux: en bas, dans la plaine, la ville moderne, en haut, sur le flanc de la montagne, la ville médiévale entourée de remparts, où trône le Palais des Consuls, et entre les deux, le niveau romain avec un mausolée et un bel amphithéâtre, contruit entre 55 et 27 av. JC, qui pouvait accueillir jusqu'à 6 000 spectateurs.
* * * *
Later on, in the Roman period, Gubbio was an early ally of Rome and didn't join the coalition of the Etruscans, Samnites, Gauls and Umbrians against the Romans. As the town is built on the slopes of Mount Ingino, you can clearly distinguish three levels: in the plain below, the modern town, above, on the mountain slope, the medieval town with its walls, crowned by the Palazzo dei Consoli, and between the two, the Roman level with a mausoleum and a beautiful amphitheatre which was built between 55 and 27 BC, and could accommodate 6 000 spectators.
★ ★ ★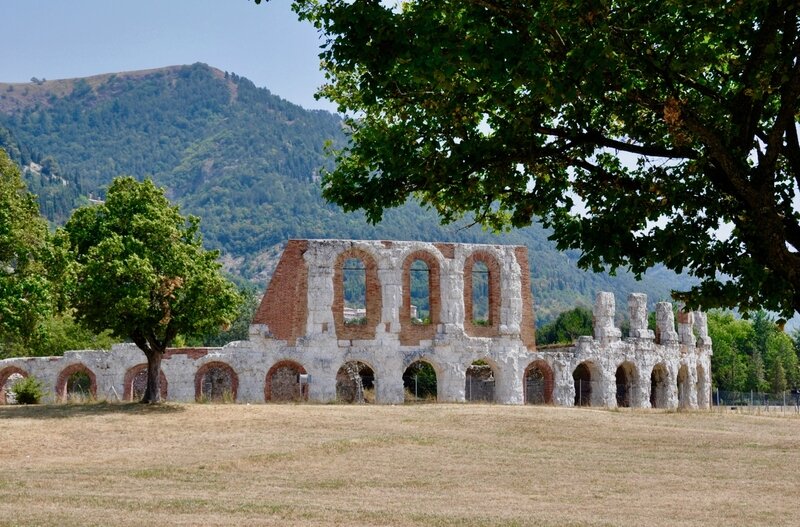 ★ ★ ★
Midi Eve.

In Midi Eve, Gubbio vidì u lifri komunia dod beròn jar 1000 tis de fend 14i suntjàri. De pol vidì regen pa de Konsule, we sì prim du, maj posen kwer, id pos oc (kwer od noblad id kwer od polk). Wim mole pole in Italia, Gubbio vidì involten in de kambe intra Gibeline, superore de Germàni Imperori, id Gwelfe, superore de Papsi.
In 1128, Ubaldo Baldassini (Sait Ubaldo), genen in Gubbio, vidì de biskòp hi siavi poli, id u priplani regor id strategor. In 1151 Gubbio vidì ataken pa u koaligad 11 nersan polis keben pa Peruʒia. Biskòp Ubaldo stalì de plan bitàli, discizan de armid in du: de pri trup doʒì kofaso de fens, id de duj kirkìto de pol tra de bore id atako de fens in hi ruk. Sim he davì a Gubbio u kracan viktad.
In 1155 Sait Ubaldo savì revos de pol od Imperor Frederik Barbarossa, we sì predi po atako ja, ustelan kovikto ha sparo Gubbio. Ubaldo Baldassini morì in 1160, liamen pa tale Eugubine.
Dapòs, cepen intra Gwelfe id Gibeline, Gubbio konì mole were tis, in 1381, biskòp Gabrielli, superen pa de paps, proklajì sia signore di Agobbio, da se sir od Gubbio. Pur de domore de poli, painan od fam, oplivì in arme in 1384 id, anabli rugono a de biskopi trupe solen, lu davì sia lifrim a Antonio da Montefeltro, duk od Urbino.
De Montefeltros sì gren artigusore id davos, de pol konì u longi periòd paci id proflorì kulturim id artim. De pictiskol in Gubbio inizì be fend 13i suntjàri, id disvolpì in 14i suntjàr, subetàl ki religios pictene su drov - spesialim magibèl virʒas ki beb - wen un moz admiro odia in de Palàz Konsulis wej struad vidì fenden puntim in da periòd.
http://uropi.canalblog.com/archives/2016/09/28/34364721.html

Maj posen, in 15i id 16i suntjàre, vidì disvolpen in Gubbio de art keramiki ki de gren mastor Giorgio Andreoli, dezen « Mastro Giorgio »

★ ★ ★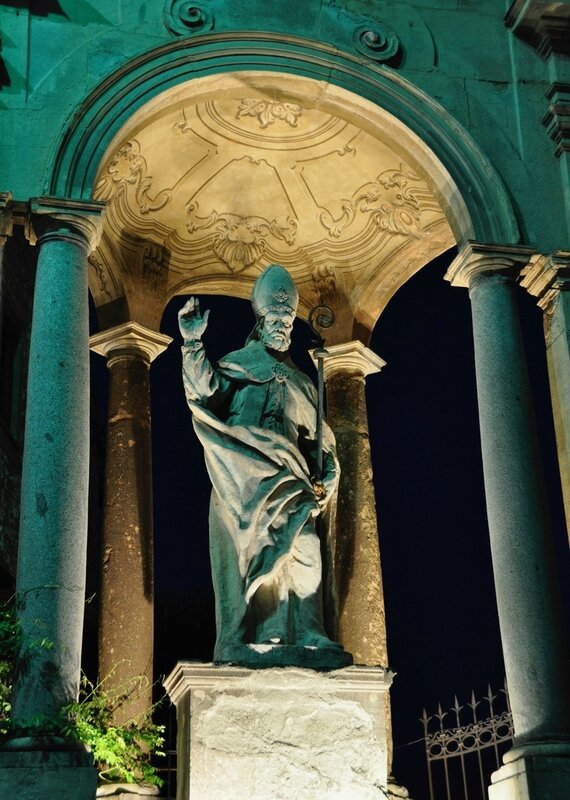 Sait Ubaldo
★ ★ ★
Au Moyen Âge, Gubbio est une commune libre de l'an 1000 à la fin du 14e siècle. Elle est dirigée par les Consuls qui sont d'abord deux, puis quatre et enfin huit (quatre issus de la noblesse et quatre du peuple).
Comme beaucoup de villes d'Italie à cette époque, Gubbio se trouve impliquée dans les luttes que se livrent les Guelfes (partisans du Pape) et les Gibelins (partisans de l'Empereur germanique).

En 1128, Ubaldo Baldassini (Saint Ubaldo), né à Gubbio, devient l'évêque de la ville et se révèle un dirigeant de premier plan et un brillant stratège. En 1151, Gubbio doit affronter une coalition de 11 villes voisines dirigées par Pérouse. L'évêque Ubaldo établit le plan de bataille, séparant l'armée en deux: les premières troupes attaquent l'ennemi de front, tandis que les autres, contournant la ville par la montagne, le prennent à revers. La victoire est écrasante.
En 1155, Saint Ubaldo sauve à nouveau Gubbio de l'empereur Frédéric Barberousse qui s'apprête à l'attaquer, en réussissant à le convaincre d'épargner la ville. Ubaldo Baldassini meurt en 1160, vénéré par tous les Eugubins.

Par la suite, prise tour à tour par les Gibelins et les Guelfes, Gubbio est en état de guerre quasi-permanente jusqu'à ce que, en 1381, l'évêque Gabrielli, qui a le soutien du pape, se proclame signore di Agobbio, seigneur de Gubbio. Mais trois ans plus tard, souffrant de la faim et de la misère, les habitants se révoltent et, ne pouvant résister seuls aux troupes épiscopales, décident spontanément de remettre leur destin entre les mains d'Antonio da Montefeltro, duc d'Urbino. Les Montefeltro sont de grands amateurs d'art, et c'est alors que la ville va connaître une longue période de paix où fleurissent les arts et la culture.

★ ★ ★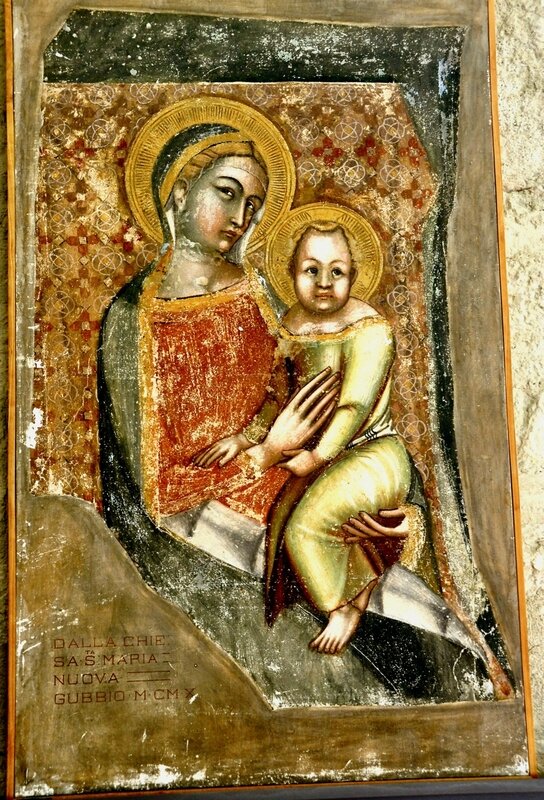 Virʒa ki beb, Palàz Konsulis
★ ★ ★
L'école picturale de Gubbio nait un peu plus tôt, à la fin du 13e siècle, mais elle s'épanouit au 14e siècle avec des sujets religieux peints sur bois, parmi lesquels de superbes vierges à l'enfant que l'on peut aujourd'hui admirer au Palais des Consuls, dont la construction s'achève à cette même époque.
http://uropi.canalblog.com/archives/2016/09/28/34364721.html

Plus tard, au 15e et 16e siècles se développe l'art de la céramique sous l'égide du grand maître Giorgio Andreoli, dit « mastro Giorgio ».
★ ★ ★
The Middle Ages

In the Middle Ages Gubbio became a free commune from about the year 1000 to the end of the 14th century. It was governed by the Consuls, who were first two, then four and finally eight (four from the nobility and four from the people).
As many other cities in Italy at the time, Gubbio became involved in the struggles between the Guelphs (supporting the Pope) and the Ghibellines (supporting the German Emperor).

In 1128, Ubaldo Baldassini (Saint Ubaldo), born in Gubbio, became the bishop of his own city and turned out to be a first-rate leader and a brilliant strategist. In 1151, Gubbio was attacked by a coalition of 11 neighbouring towns headed by Perugia. Bishop Ubaldo drew up the battle plan, dividing the army into two groups: the first troops were to attack the enemy head on, while the others, bypassing the city through the woods in the mountains, were to take them from the rear. For Gubbio it was an overwhelming victory.
In 1155, Saint Ubaldo saved Gubbio again by convincing Emperor Frederick Barbarossa, who was about to attack it, to spare the city. Ubaldo Baldassini died in 1160, revered by all the Eugubini (inhabitants of Gubbio).

★ ★ ★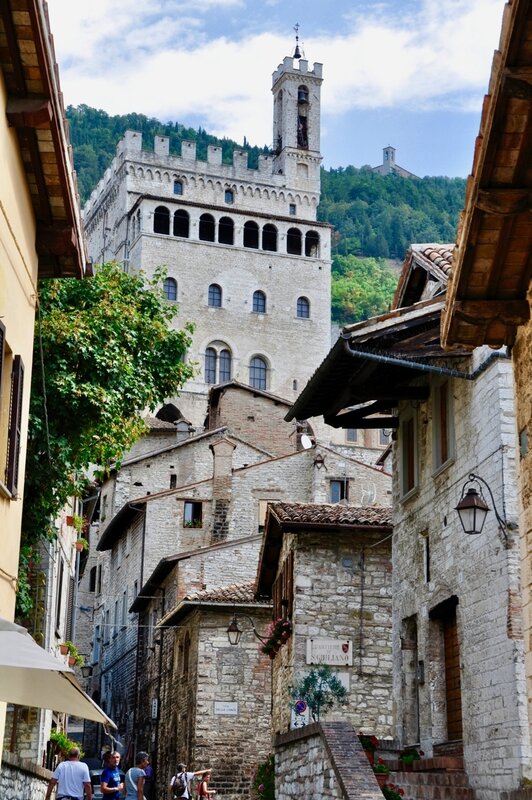 De Palàz Konsulis sube de stradite Gubbio
★ ★ ★
In the following period, Gubbio was caught in an almost permanent state of war, conquered by the Ghibellines and by the Guelphs alternately, till, in 1381, Bishop Gabrielli, supported by the pope, proclaimed himself signore di Agobbio, Lord of Gubbio. But three years later, suffering from famine and extreme poverty, the inhabitants rose up in arms, and, unable to face the bishop's troops alone, they decided to seek the protection of Antonio da Montefeltro, duke of Urbino. The Montefeltro were great art lovers, and there followed a long period of peace, when arts and culture flourished.
The pictorial school of Gubbio started a little earlier, at the end of the 13th century, but it developed in the 14th century, mainly with religious themes painted on wood, among which superb Virgins and Child which can be admired today in the Palazzo dei Consoli, the building of which ended in that very period.
http://uropi.canalblog.com/archives/2016/09/28/34364721.html

Later on, in the 15th century the art of ceramics flourished in Gubbio thanks to the great master Giorgio Andreoli, known as « mastro Giorgio »
★ ★ ★
Sait Frans id de vulp od Gubbio

Sait Frans we doʒì apdalo od Asize rufligì in Gubbio be de famìl Spadalonga. De legènd dez te he pacizì u fieri vulp we sì disvustan de regiòn in 1220. Je usvenì za wo un moz odia vizo hi statùj, ner de lovi kerkit Chiesa della Vittorina.
★ ★ ★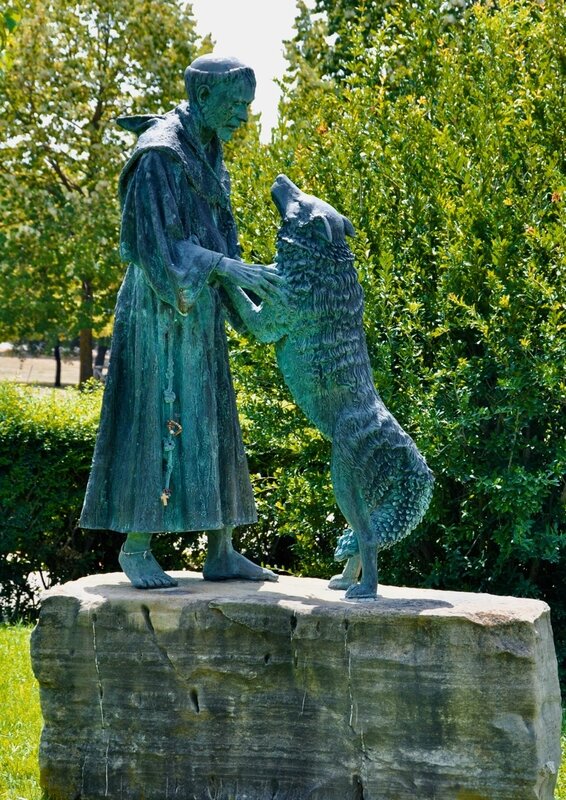 ★ ★ ★

Sait Frans id de vulp od Gubbio
In de tem wan Sait Frans sì doman in de pol Gubbio, asemì in de inroni camp u magi, stragi id fieri vulp, we disjedì ne solem beste, ba os humane, tis de punt te poline frajì ʒe mol par he anerì molvos a de pol. Tale itì us de citàd armen, wim is lu itev a kambo, id obte da, is ekun solen kogonì de tier usfalim, he sì ne in u sad sia difenso. Sim od fraj a de vulp lu avenì a de punt wan nekun maj vozì ito us de pol.
Davos Sait Frans avì kopatijad po humane id becizì ito progòn de vulp, oʒe is tale poline dikoradì ja ho. Krosisigan, he setì sia su vaj ki hi kopanore, resan hi fedad in Doj. Wan hi kopanore frajì ito dales, de sait proìtì solen, slogen od apstàd pa de oje mole camporis, venen po vizo de mirakel.
Wan de vulp renì progòn ha ki muk latim opren, Sait Frans anerì, krosisigì, id noman ha "frat vulp", komandì ho in de nom Kristi adolo nekun maj. Wim pa mirakel, pen de sait krosisigì, de stragi vulp kluzì hi muk id haltì. Detan wa he vidì komanden, he anerì netim id krupì be de pode Sait Fransi. Davos Sait Frans akulpì ha ov de dame id de mol gren male perdeten in di stas, ne solem vunan id disjedan de beste, ba os tudan id martiran human, u kreaten maken in de imàʒ id somivad a Doj: pardà he beservì vido vangen su de plaz wim u robor id u murdor, avan atrajen su sia de hais id de fensid tale lientis in da pol. Be di voke, de vulp, ki muve hi korpi, hi koji id hi oris, bojan hi keb, dikì te he acepì de vorde de saiti id volì beskuco ha.

Davos Sait Frans ajutì te je sì num tem deto pac ki humane: is de vulp ruspekev ja prostajim, ane adolo humane nè alten beste, he koviktev de liente da poli nuro ha po tal hi ʒiv, pote he painev nemaj od fam, par tal de mal wen he avì perdeten sì deben a fam id ne a malid.
Be de prag de saiti, de vulp prodezì, bojan hi keb; pos vidan pragen kovero de prodèz ki u curad, de vulp livì hi pat, id melim setì ja in de mand Sait Fransi, koveran hi siavi kovolad. Davos de sait ordezì ho, in de nom Kristi slogo ha ane fraj, po besaito de pac.

Id de vulp slogì ha wim u mel ovnit. Da inmirvizì ʒe mol de poline we disspanì de nov in de tali pol, simte talun arenì su de plaz, miki id gren, mane id ʒinas, jun id seni, po vizo de vulp ki Sait Frans.
De sait, wan he vizì de polk insamen, prodelì od ja po usklaro te sule plaje vidì pomozen pa Doj po purizo human od hi preke, id te de evi foj hadi se mol maj stragi te de vulp we moz solem tudo korpe…
od de Fioretti (Florite) Sait Fransi, traduten od Itali
★ ★ ★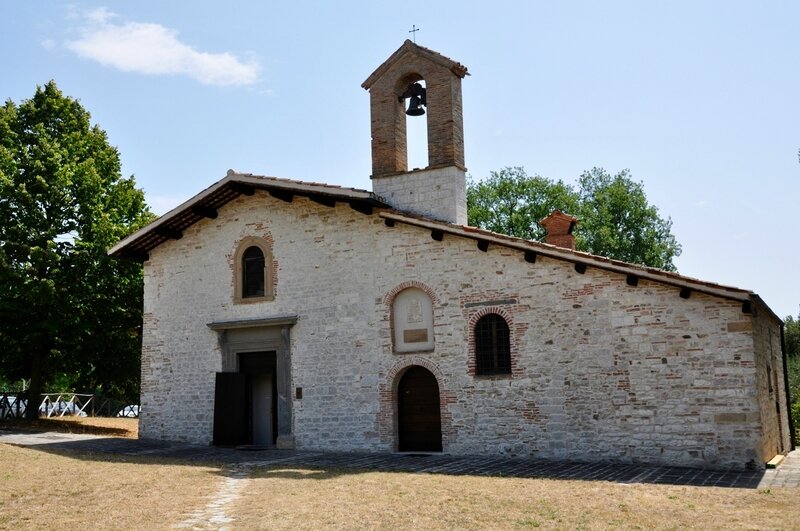 Chiesa della Vittorina
★ ★ ★
Saint François et le loup de Gubbio
St François qui doit s'éloigner d'Assise trouve refuge à Gubbio auprès de la famille Spadalonga. Selon la légende, en 1220, il réussit à pacifier un loup féroce qui dévastait la région. Cette rencontre avec la bête a lieu près de la charmante petite église chiesa della Vittorina où se dresse aujourd'hui une statue du saint et de son loup.
Saint François et le loup de Gubbio
Au temps où Saint François habitait dans la ville de Gubbio, apparut dans la campagne environnante, un loup énorme, terrible et féroce qui dévorait non seulement les bêtes, mais aussi les gens, si bien que les citadins étaient paralysés par la peur, car il s'approchait souvent de la cité. Tout le monde en sortait armé jusqu'aux dents, comme pour se rendre au combat, et malgré cela, si quelqu'un le rencontrait seul par hasard, il n'était pas en état de se défendre. La peur du loup était telle que plus personne n'osait sortir de la ville.
Alors St François eu pitié des hommes et décida d'aller à la rencontre du loup, malgré les supplications des gens de la ville. Faisant son signe de croix, il se mit en route avec ses compagnons, mettant en Dieu toute sa confiance. Quand ses compagnons eurent peur de poursuivre leur chemin, le saint continua seul, suivi de loin par le regard de nombreux paysans venus assister au miracle.
Lorsque le loup se précipita vers lui, la gueule grande ouverte, St François s'approcha, se signa et dit « Frère Loup, je t'ordonne au nom du Christ de ne plus faire de mal à personne! » Comme par miracle, à peine eut-il fait le signe de croix, que la terrible bête s'arrêta, refermant ses mâchoires. Obéissant au commandement, le loup s'approcha tout doucement et s'accroupit aux pied de St François. Le saint lui reprocha alors tous les méfaits et très grand maux qu'il avait perpétré en ces lieux, en blessant et dévorant non seulement les bêtes, mais en tuant et en martyrisant les hommes, créés à l'image di Dieu et à sa ressemblance; pour cela, il méritait d'être pendu sur la place publique comme un voleur et un assassin, ayant attiré sur lui la haine et l'hostilité de tous les habitants de cette ville. A ces mots, le loup, par des mouvements du corps, de la queue et des oreilles, et en courbant la tête, indiqua qu'il acceptait les paroles du saint et désirait lui obéir.
★ ★ ★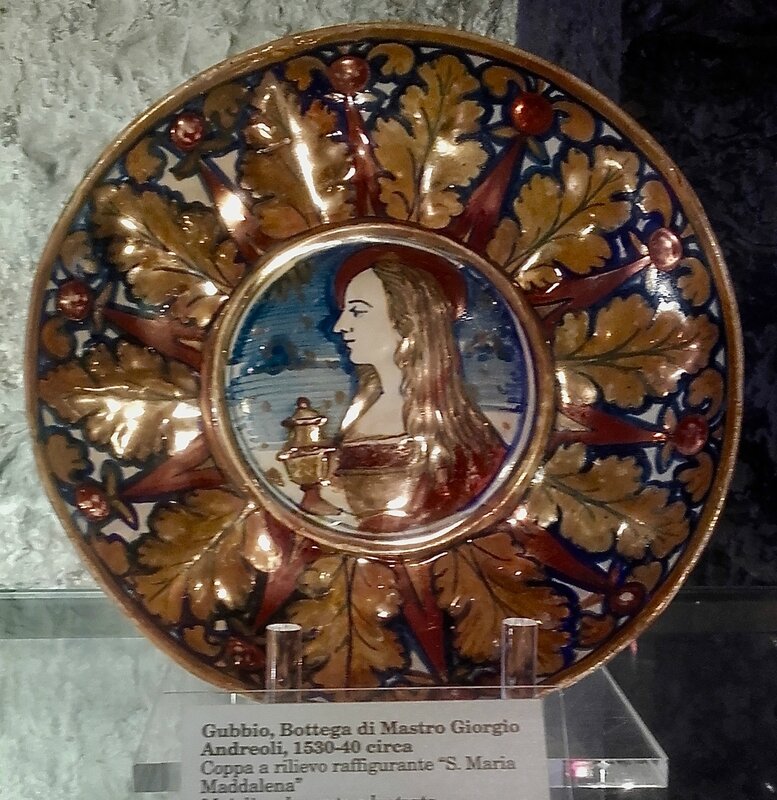 Keramiki plat, pa Mastro Giorgio
★ ★ ★
Alors St François ajouta qu'il était désormais temps de faire la paix avec les hommes: si le loup la respectait sans jamais plus ne faire aucun mal ni aux animaux, ni aux hommes, lui, convaincrait les gens de la ville de le nourrir, sa vie durant, afin qu'il ne souffre plus de la faim, car tout le mal qu'il avait provoqué était dû à la faim et non à la cruauté.
Le loup répondit à la requête du saint par une promesse en inclinant la tête; puis celui-ci lui demanda de confirmer sa promesse par un serment, alors le loup souleva la patte et la posa délicatement dans la main de St François, confirmant ainsi son consentement. Le saint lui ordonna au nom du Christ de le suivre sans crainte, pour consacrer la paix. Et le loup le suivit, doux comme un agneau. Les citadins, émerveillés diffusèrent la nouvelle dans toute la ville, si bien que tout le monde accourut sur la place, petits et grands, hommes et femmes, jeunes et vieux pour voir le loup avec St François.
Le saint, quand il vit le peuple réuni, en profita pour expliquer que Dieu ne permet de tels fléaux que pour purifier l'homme de ses péchés et que le feu éternel de l'enfer est bien plus terrible que le loup qui ne peut tuer que les corps…
extrait des Fioretti de St François d'Assise, traduit de l'italien
★ ★ ★
St Francis and the wolf of Gubbio

St Francis who had to leave Assisi, took refuge in Gubbio with the family Spadalonga. The legend says that he pacified a fierce wolf who was terrorizing the region in 1220. This took place on the very spot where we can see his statue today, near the lovely little church Chiesa della Vittorina.
★ ★ ★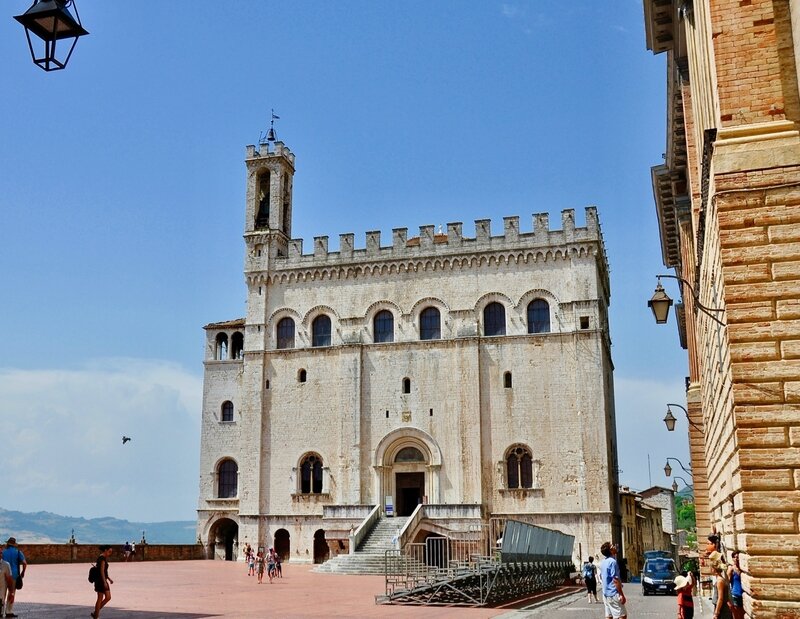 ★ ★ ★
Saint Francis and the wolf of Gubbio
« At the time when Saint Francis was living in the city of Gubbio, a large wolf appeared in the neighbourhood, so terrible and so fierce, that he not only devoured other animals, but made a prey of men also; and since he often approached the town, all the people were in great alarm, and used to go about armed, as if going to battle. Notwithstanding these precautions, if any of the inhabitants ever met him alone, he was sure to be devoured, as all defence was useless: and, through fear of the wolf, they dared not go beyond the city walls.
Saint Francis, feeling great compassion for the people of Gubbio, resolved to go and meet the wolf, though all advised him not to do so. Making the sign of the holy cross, and putting all his confidence in God, he went forth from the city, taking his brethren with him; but these fearing to go any further, Saint Francis bent his steps alone toward the spot where the wolf was known to be, while many people followed at a distance, and witnessed the miracle.
The wolf, seeing all this multitude, ran towards Saint Francis with his jaws wide open. As he approached, the saint, making the sign of the cross, cried out: "Come hither, brother wolf; I command thee, in the name of Christ, neither to harm me nor anybody else." Marvellous to tell, no sooner had Saint Francis made the sign of the cross, than the terrible wolf, closing his jaws, stopped running, and coming up to Saint Francis, lay down at his feet as meekly as a lamb. And the saint thus addressed him: "Brother wolf, thou hast done much evil in this land, destroying and killing the creatures of God without His permission; yea, not animals only hast thou destroyed, but thou hast even dared to devour men, made after the image of God; for which thing thou art worthy of being hanged like a robber and a murderer. All men cry out against thee, the dogs pursue thee, and all the inhabitants of this city are thy enemies; but I will make peace between them and thee, O brother wolf, if so be thou no more offend them, and they shall forgive thee all thy past offences, and neither men nor dogs shall pursue thee any more."

★ ★ ★

★ ★ ★
Having listened to these words, the wolf bowed his head, and, by the movements of his body, his tail, and his eyes, made signs that he agreed to what Saint Francis said. On this Saint Francis added: "As thou art willing to make this peace, I promise thee that thou shalt be fed every day by the inhabitants of this land so long as thou shalt live among them; thou shalt no longer suffer hunger, as it is hunger which has made thee do so much evil; but if I obtain all this for thee, thou must promise, on thy side, never again to attack any animal or any human being; dost thou make this promise?" Then the wolf, bowing his head, made a sign that he consented. Said Saint Francis again: "Brother wolf, wilt thou pledge thy faith that I may trust to this thy promise?" and putting out his hand he received the pledge of the wolf; for the latter lifted up his paw and placed it familiarly in the hand of Saint Francis, giving him thereby the only pledge which was in his power.
Then said Saint Francis, addressing him again: "Brother wolf, I command thee, in the name of Christ, to follow me immediately, without hesitation or doubting, that we may go together to ratify this peace which we have concluded in the name of God"; and the wolf, obeying him, walked by his side as meekly as a lamb, to the great astonishment of all the people.
Now, the news of this most wonderful miracle spreading quickly through the town, all the inhabitants, both men and women, small and great, young and old, flocked to the market-place to see Saint Francis and the wolf. All the people being assembled, the saint got up to preach, saying, amongst other things, how for our sins God permits such calamities, and how much greater and more dangerous are the flames of hell, which last for ever, than the rage of a wolf, which can kill the body only… »
From The Little Flowers of St. Francis of Assisi, Chapter XXI:
★ ★ ★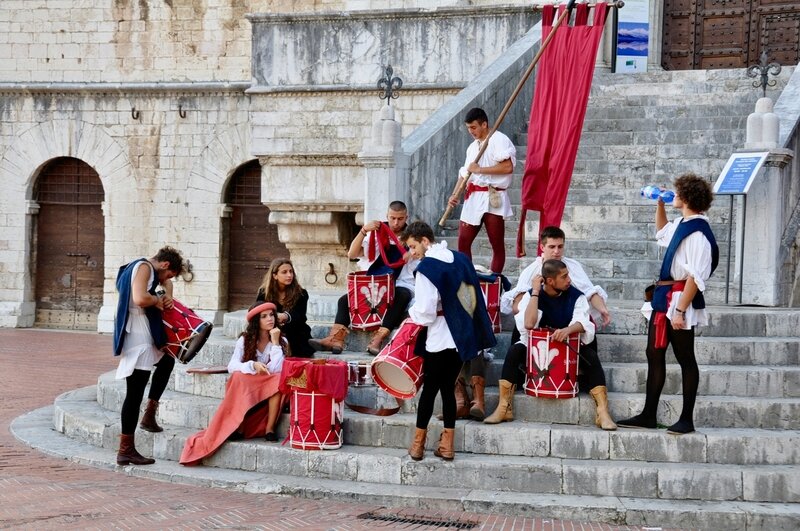 Predizan de fest de sbandieratori (kwertia San Andrea)
★ ★ ★
Odia,

Gubbio sem u priʒe tici polit, oʒe be karʒ somu wan je atràj mole turiste, ba tra tal jar, je vid plozim aʒiven pa ji numari tradisioni feste wim de fest Dei Ceri, be 15i Maj, il Palio della Balestra, u korèn Midievi krosiboglis, be de posni Soldia Maji, de fest de sbandieratori, be 15i Agùst, wan flagiperore bas in al de flage jaki kwertiu de poli, de Prosesiòn Mori Kristi be Saiti Wendia, wan un per u leʒan statùj Mori Kristi id u statùj de dolan Virʒu tra de Midievi strade de poli. Be Krisgèn, Gubbio av de grenes Krisgenaben in mold (beròn 400 metre): je vid trasen ki glen, ʒel id roj luce su de kline bori Ingino, kronen pa u stel ki koj be de kibel. Dod vespen sepi December, un moz vizo ja od dal, sube de pol.
Ba un moz ne laso Gubbio ane voko ov de varmi procepad ni framu Daniela, id ov de uslivan Umbri kokad, maken ki bij o nar trufe, bolete, ebri, hazi, salame, partikulim de straniformi cojoni di mulo (in form aslibalis), id de roj vin od Montefalco…
https://it.wikipedia.org/wiki/Cucina_umbra

Ba bun kokad id gastronomij se ne u spesialad Umbriu: un moz jedo bun in tal Italia, Emilia-Romania, Toskania, Sicilia, Pulia, id oʒe in Roma, wan un zav kim apìto de turisti trape… jaki regiòn av ji spesialade. I ve talvos rumeno wan, usbarkan od de nav od Grecia in Brindisi, nu haltì in Giovinazzo ner Bari, id siudì vespjedo be Gatto Verde (de Glen Kat), u slimi hut ki u teràs ki spek su mar. Za, nu jedì de bunes pitsas in mi ʒiv, giganti, enormi in suplàs, ba mol fin, ki wen un servì no u lokal roj vin, krati, rug, ki u gust teri…

Naturim, Italia se ne solem u paradìz su ter; po kopolno de picten, un doʒev os voko ov de vari mafias, ov de Itali politik a wen uslandore incèp ʒe nit… ov de discizad intra nord id sud, ov de avenad migranis id profligoris a wen Italine sì ne predizen… ba i las tal da a altene: lu vokev ov ja mol bunes te i.

★ ★ ★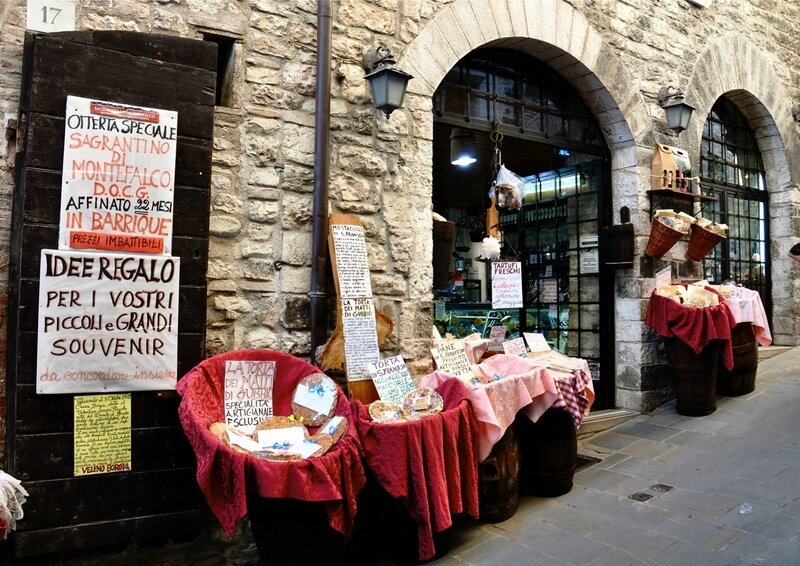 Produte od Umbria
★ ★ ★
Aujourd'hui, Gubbio est une petite ville plutôt tranquille, même au coeur de l'été lorsqu'affluent les touristes, mais elle peut s'animer soudain, tout au long de l'année, lors des nombreuses fêtes traditionnelles comme la fête Dei Ceri, le 15 mai, le Palio della Balestra, concours d'arbalètes médievales, le dernier dimanche de mai, la fête des sbandieratori, le 15 août, où les porte-drapeaux des différents quartiers de la ville lancent en l'air leurs bannières, la Procession du Christ Mort, le Vendredi Saint, où l'on promène une statue du Christ étendu et une statue de la Vierge des douleurs à travers les rues de la cité médiévale.
A Noël, Gubbio possède le plus grand sapin du monde (d'environ 400 m.), dessiné à l'aide de lumières vertes rouges et jaunes sur les pentes du mont Ingido et couronné d'une étoile à queue de comète. A partir du 7 décembre au soir, on peut l'admirer de loin, surplombant la ville.
Mais on ne peut quitter Gubbio sans évoquer l'accueil chaleureux de notre amie Daniela, et l'excellente cuisine ombrienne à base de truffes blanches ou noires, de cèpes, de sanglier et lièvre, de saucissons, dont le célèbre cojoni di mulo, dont la forme rappelle les « attributs du mulet », et le vin rouge de Montefalco.
https://it.wikipedia.org/wiki/Cucina_umbra

★ ★ ★
★ ★ ★
Mais la bonne cuisine et la gastronomie ne sont pas l'apanage de l'Ombrie: on mange bien, partout en Italie, en Emilie-Romagne, en Toscane, en Sicile, dans les Pouilles… et même à Rome, quand on sait échapper aux pièges à touristes. Chaque région a ses spécialités. Je n'oublierai jamais quand, en débarquant du bateau de Grèce à Brindisi, nous nous arrêtions à Giovinazzo, près de Bari. Là, nous mangions au Gatto Verde (le chat vert), une simple cabane avec une terrasse donnant sur la mer, les meilleures pizzas du monde, giganti, énormes de taille, mais très fines, accompagnées d'un vin local, fort, rude, au goût de terre.

Bien entendu, l'Italie n'est pas seulement un paradis terrestre; pour compléter le tableau, il faudrait parler des diverses maffias, de la politique italienne qui reste un mystère total pour les étrangers… de la division entre nord et sud, de l'arrivée des migrants et des réfugiés auxquels les Italiens ne sont pas préparés… mais je laisse cela à d'autres, qui le feront bien mieux que moi.
★ ★ ★
Today,

Gubbio seems a rather quiet little town, even in midsummer when it attracts a lot of tourists. However it livens up from time to time all through the year, when one of its numerous traditional festivals take place, like the festa dei Ceri on May 15th, the Palio della Ballestra, a medieval crossbow competition on the last Sunday of May, the festa dei sbandieratori, on August 15th, when the flag bearers of each town district fling their flags into the air, the Procession of the Dead Christ, when a statue of Christ lying, and one of The Mother of Sorrows are carried through the medieval streets. At Christmas time, Gubbio displays the largest Christmas tree in the world (about 450 yards), which is drawn with green, red and yellow lights on the slopes of Mount Ingino. From December 7th onwards, you can see it from afar, towering above the city.
★ ★ ★
★ ★ ★
But we can't leave Gubbio without mentioning the warm welcome of our friend Daniela and the excellent Umbrian cuisine based on white or black truffles, ceps, wild boar and hare, and a lot of salami, among which the famous cojoni di mulo (shaped like a mule's genitals), and the red wine of Montefalco.
https://it.wikipedia.org/wiki/Cucina_umbra

But good food and gastronomy is not particular to Umbria: you can eat very well everywhere in Italy: in Emilia-Romagna, in Tuscany, in Sicily, in Puglia… and even in Rome, when you can avoid the tourist traps. Each region has its own specialities. I will always remember when, leaving the ferry from Greece in Brindisi, we used to stop in Giovinazzo, near Bari, and eat at the Gatto Verde (the green cat), a simple hut with a terrace looking onto the sea. There we had the best pizzas I ever ate in my life, giganti, very large but thin, accompanied with a local red wine, strong, rough, with an aftertaste of earth.
Of course Italy is not only a paradise on earth. To complete the picture, we would have to mention the various maffias, Italian politics which remain a total mystery for most foreigners… the divide between north and south, the flow of migrants and refugees to which Italians were not prepared… But I prefer to leave this to others, they will do it much better than I.

★ ★ ★
Gubbio be noc
★ ★ ★