* Uropi Nove 116* Uropi Nove 116 * Uropi Nove 116*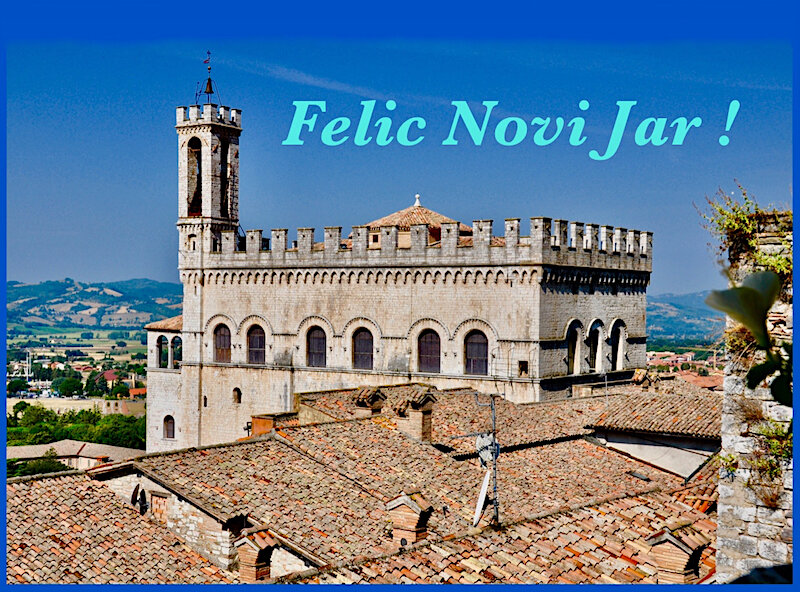 ★ ★ ★
Happy New Year ! Bonne Année !
* * *
Buon Anno ! Καλή Χρονιά !
* * *
Frohes Neues Jahr ! Feliz Año Nuevo !
* * *
Srećna Nova Godina ! feliç any nou !
* * *
Gelukkig Nieuwjaar! Glædeligt Nytår !
* * *
Szczęśliwego nowego roku
* * *
С Новым Годом ! Šťastný Nový Rok !
* * *
Gëzuar Vitin e Ri ! Naujųjų Metų!

* * *
Hyvää Uutta Vuotta ! Boldog Új Évet !
* * *
feliz ano novo ! an nou fericit!
* * *
bhliain nuasásta ! Blwyddyn Newydd Dda !
* * *

* * *
Felic Novi Jar, Europa !
* * *
Di jar 2019 ki de Europan votad in Maj ve so u mol vezi jar po Europa.
Ka moz nu vuco a Europa be inìz de novi jari ?
Ba las je regeno, po liam a Doj !
Se ne Regenad un od de Europan spesialade, idmàj usfindì ne nu, Europane, de mita Feniksi regenan od hi ace, par Europa se lanim moran, wim u moran foj, cekan ji savad ki de nasionisti sirenas…
Ko se ʒe de 'Europan soin' ? Europa det na soino nemaj ! Id je s'ne cifre, publiki defisìte, de 3%, de debe… we ve deto na soino ! Id jok min de cifre anvarki id u 2% gresad.
« Un inliàm ne ki u taz gresadi » skrivì june su mure in Maj 68. Da june volì meto mold, id mole od la traʒivì li soin tis de fend in Indian acrame o artimaken paradìze… Ba wim i lisì novem in un artikel: "maybe these days we're happier to dedicate ourselves to the creation of fantasy worlds, rather than looking for ways to repair our own".

Odia june se valgan in strade somi a zombije: lu se nemaj interesen ov di mold, par di mold av nit a provìto lo, oʒe ne u 'ʒob'. Lu prigùs rufligo in alten molde, imaʒini molde, de molde pa Tolkien in de bunes kaz, Game of Thrones, Star Wars o in violti videujege, wan je s'ne in barbari utopije wim DAEC. Europa det ne la soino !

Sim vid nu perʒuden a de disfalad beskriven pa de filosofor Michel Onfray ? Tale civilizade se morli, nìa inkluzen, he pomèn. Aj, ba de majsan od la peritì ude de plage barbaris we aperì lo u novi glod id regenizì la. Egipta proflorì revos pos de kovalde Aleksandri, Romanis, Arabis… De 'mozli' barbare odia suflùj ni merkade ki nizikalitadi produte - 'bas de gamme' in Franci, o priʒe 'bad game' in Engli - we asùng na jok maj in udemidij: « bunkopi… ne diari…kopo mol… kopo maj… id maj, id maj… ». Nun regenizad nu moz invarto od za !

Sim usfindem de kalitadi revolusiòn !
Makem in Europa kalitadi produte, wim nu zav mako la - be de regi priz - wim Doske zavì deto ki vage id uzeli-makine, kalitadi cuse wim Italine makì, Franci moda, parfume, gastronomij… jaki Europan polk av siu makizavad: de bunes aranʒe in mold gres in Peloponìz… Parkà it nu kopo la in Sudafrika ? Idmàj Grecia prodùt de bunes olivòl: parkà find nu ne ja su ni tabe id in ni subemerkade instà pej ole od dubic odvenade ?
★ ★ ★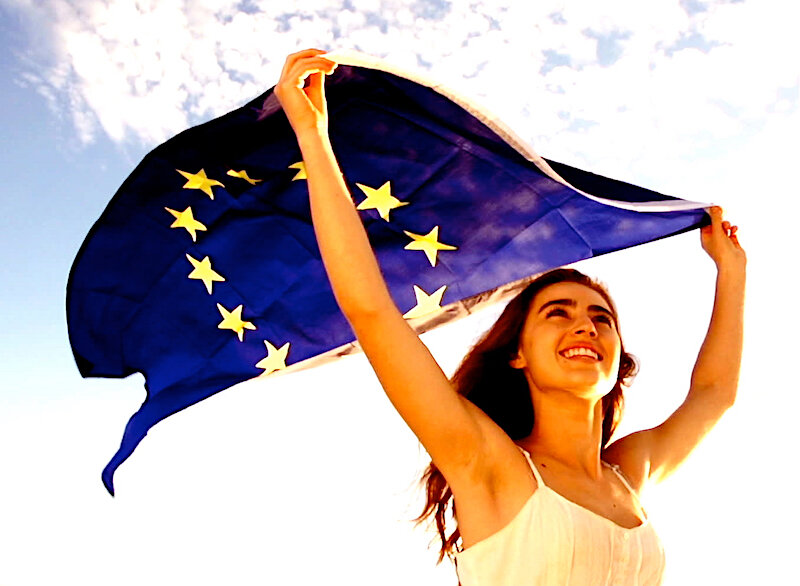 ★ ★ ★
Je se sia-incepen te di kalitadi revolusiòn se somtemim un ekologic id bio revolusiòn - i ve ne disvolpo zi di argumènt : altene av deten ja id ve deto ja mol bunes te i - pur, po da, nu doʒ acepo pajo de regi priz. Ba kim deto wan de numar lientis ʒivan ude de lin pavridi av nevos sen sa hol ?

Nu nud un Europan New Deal po inìzo in tal Europa de gren struivarke wen un ekologic revolusiòn invòlt… vintenergij, solenergij… (ki ji jari solad, Grecia mozev ʒe vido energicim anodvangi id oʒe provìto elektrik a ji nersane). U New Deal sin u novi disdavad ricadis, invarke id insiedi solde. Je sin os u revolusiòn in mentisàde id konsumimode pote Europane incèp te kalitadi produte, ki minizen transporti id publicidi koste (U bun vin vend sia som) se in longitèm min diari te 'bunkopi' produte maken un zav ne ko, par lu ve duro des vose maj longim.

Di forsèt u revolusiòn in ni agrinuri industrije: ap ki kimiki abunle, pestitude id GMOs… tio rozi canka od sodiumi nitrìte, industric galine, farmi salme… tale artimaken nure we se inviftan na poj a poj.

Civilizad se ne limiten a ekonomij. Ekonomij se ne limiten a finàns: da dut na prorèg in de mur.

Europa partikulim disàt imaʒinad !
Artiste ʒe detì de Regenad, ne gurilestore. I av ekvos de inprès so predikan in vustia, a burokrate id finansore we men solem ov cifre. ¡ Que se vayan todos ! Ap ki tale daze we av u rekèl instà u cern id u burs instà u karʒ ! Replasem la ki kreatore ! Filosofore, poète, pictore, muzikore… Ap ki formaken teleserije ! Voltem ruk a Hollywood id Bollywood; reusfindem de gren Europan kina: de Almodóvare, de Bergmane, de Fellinis, de Herzoge… Nemem ru de bel slogàn de Miterrandi evi « Metem ʒiv zi id num! » Nemem ru de Doski dezel: « Wie Gott in Frankreich leben » (ʒivo wim Doj in Francia) id detem ki ja « Wie Gott in Europa leben », un Europa we s'u mirvizi sta po ʒivo.
Id pos, oprem alten strujas: Europa av, dod de kolonial ev, u kolosi deb do Afrika. Aperem jo u disinteresen eld, in harmonij ki ji kulture id tradisione. Kreatem un Indeuropan Union (Aw ! di vord duf od had, od swastika, od gazikamar par je vidì kograben pa da gruzli, dismenti barbàr); dezem priʒe un Eurindian Uniòn - India se u kontinènt polen ki ansuspeken resurse.

Imaʒinad se anlimiti po usfindo u bunes mold. Je sat solem volo ja.

★ ★ ★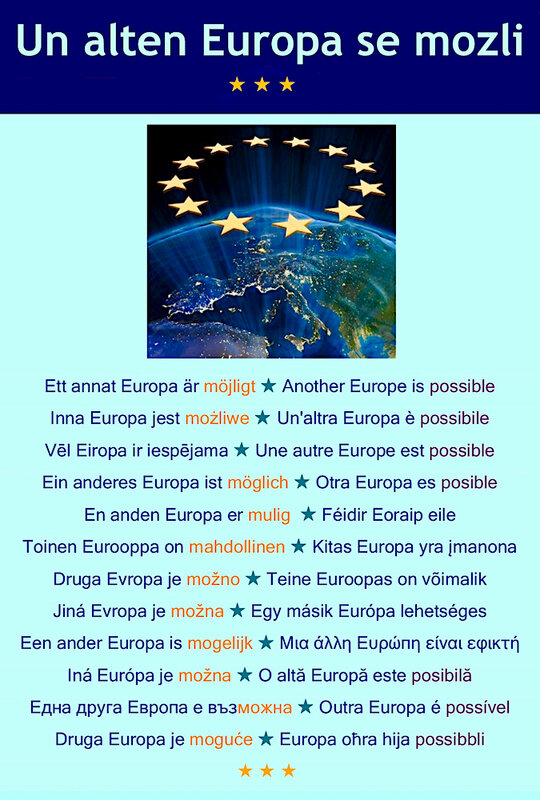 ★ ★ ★
Bonne année l'Europe !

★ ★ ★
Cette année 2019 avec les élections européennes en mai est une année cruciale pour l'Europe.

Que souhaiter à l'Europe en ce début d'année 2017 ?
Mais qu'elle renaisse, bon sang !
La Renaissance n'est-elle pas une de nos spécialités, à nous Européens, qui de surcroît avons inventé le mythe du Phénix ? Il est bien question de cendres, car l'Europe se meurt à petit feu, cherchant le salut dans les bras des sirènes nationalistes…

Où est donc passé le "Rêve européen" ? L'Europe ne fait plus rêver ! Ce ne sont pas les chiffres, les déficits publics, les 3%, la dette… qui nous feront rêver! Encore moins les chiffres du chômage et une croissance à 2%.
"On ne tombe pas amoureux d'un taux de croissance" écrivait la jeunesse sur les murs en Mai 68. Ces jeunes-là voulaient changer le monde et bien souvent ont vécu leur rêve jusque dans les ashrams et les paradis artificiels… Mais comme je le lisais dans un article récent: "maybe these days we're happier to dedicate ourselves to the creation of fantasy worlds, rather than looking for ways to repair our own".

Aujourd'hui les jeunes errent dans les rues pareils à des zombies: ils ne s'intéressent plus à ce monde-ci, car ce monde n'a rien à leur offrir, même pas un "job". Ils préfèrent se réfugier dans d'autres mondes, imaginaires, ceux-là, les mondes de Tolkien, dans le meilleur des cas, de Game of Thrones, de Star Wars, ou de la violence des jeux vidéo quand ce n'est pas dans l'utopie barbare de DAESH. L'Europe ne les fait pas rêver !

Alors sommes-nous condamnés à cette décadence que nous décrit Michel Onfray ? Toutes les civilisations sont mortelles, y compris la nôtre, nous rappelle-t-il. Oui, mais la plupart d'entre elles ont péri sous les coups des barbares qui leur ont apporté du sang neuf et les ont régénérées. L'Égypte a refleuri après la conquête d'Alexandre, des Romains, des Arabes… Les "barbares" potentiels d'aujourd'hui inondent nos marchés de produits bas de gamme - j'ai envie d'écrire "bad game" ou "badgam", pourquoi pas ? - qui nous enfoncent encore plus dans la médiocrité: "pas cher… pasher… kasher… peuchère…!" Aucune régénérescence à attendre de ce côté-là.

Alors, inventons la Révolution Qualitative !
★ ★ ★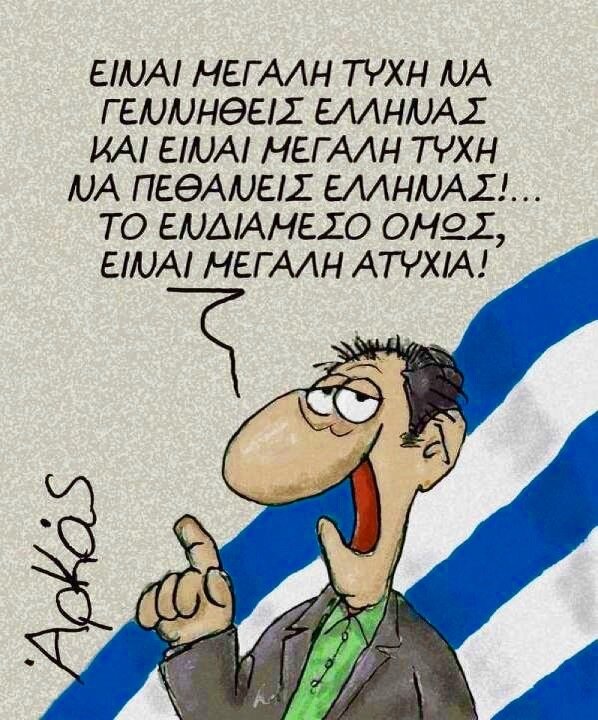 C'est un grand bonheur de naître grec, et
c'est un grand bonheur de mourir grec!…
Mais entre les deux, c'est un grand malheur !
★ ★ ★
Fabriquons en EUROPE des produits de qualité, comme nous savons le faire - au juste prix - comme ont su le faire les Allemands avec les voitures et les machines-outils, des chaussures de qualité, comme l'ont fait les Italiens… chaque peuple d'Europe a son savoir-faire: les meilleures oranges du monde poussent dans le Péloponnèse… Pourquoi aller les chercher en Afrique du Sud ? La Grèce produit en outre la meilleure huile d'olive: pourquoi ne la trouve-t-on pas sur nos tables et dans nos supermarchés au lieu d'huile de tournesol frelatée d'origine douteuse…

Il va de soi que cette révolution qualitative est en même temps écologique et bio - je ne vais pas développer cet argument ici: d'autres l'ont fait et le feront bien mieux que moi - cependant, cela implique que nous soyons prêts à payer le juste prix. Mais comment faire lorsque le nombre de personnes vivant en dessous du seuil de pauvreté n'a jamis été aussi élevé ?

Il nous faut un New Deal à l'Européenne pour initier dans toute l'Europe les grands travaux qu'implique cette révolution écologique… l'éolien, le solaire… (avec son ensoleillement, la Grèce pourrait accéder à l'autosuffisance énergétique et même fournir de l'électricité à ses voisins). Un New deal signifie une redistribution des richesses, des emplois et des salaires décents. Cela signifie aussi une révolution dans les mentalités et les modes de consommation afin que les Européens comprennent que des produits de qualité, au coût de transport et de publicité réduits (A bon vin point d'enseigne), reviennent moins cher au bout du compte que des produits "pacher" faits au diable vauvert, car ils durent dix fois plus longtemps.

Cela suppose une révolution dans nos industries agro-alimentaires: à la trappe les engrais chimiques, les pesticides et autres OGM… le jambon bien rose au nitrite de sodium, les poulets en batterie, le saumon d'élevage… tous les Tricatels qui nous empoisonnent à petit feu.

La civilisation ne se réduit pas à l'économie. L'économie ne se réduit pas à la finance; c'est cela qui nous mène droit dans le mur.
L'Europe manque singulièrement d'imagination !

Ce sont les artistes qui ont fait la Renaissance, pas les usuriers. J'ai parfois l'impression de prêcher dans le désert, à des bureaucrates et des financiers qui ne pensent qu'aux chiffres. ¡ Que se vayan todos ! A la trappe tous ceux qui ont une calculette en guise de cerveau et un portefeuille à la place du cœur ! Remplaçons-les par des créateurs ! Des philosophes, des poètes, des peintres, des musiciens… A la trappe les séries préfabriquées ! Tournos le dos à Hollywood et Bollywood; réinventons le grand cinéma européen: les Almodóvar, les Bergman, les Fellini, les Herzog… Reprenons le beau slogan de l'ère Mitterrand: "Changeons la vie ici et maintenant!" Reprenons le dicton allemand: "Wie Gott in Frankreich leben" (vivre comme Dieu en France) et faisons-en "Wie Gott in Europa leben", une Europe où il fait bon vivre.

★ ★ ★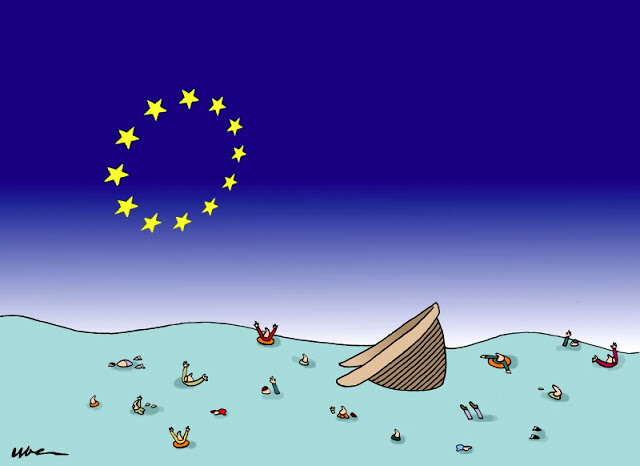 ★ ★ ★
Et puis, ouvrons d'autres chantiers. L'Europe a depuis l'ère coloniale une dette abyssale envers l'Afrique. Apportons-lui une aide désintéressée, en harmonie avec ses cultures et traditions. Créons une Union Indo-européenne (ouh, la, la, ce mot sent le souffre, le svastika et la chambre à gaz, accaparé qu'il a été par cet atroce barbare illuminé), alors, disons, une Union Eurindienne - l'Inde est un continent plein de ressources insoupçonnées…

L'imagination est sans limites pour inventer un monde meilleur. Encore faut-il le vouloir.

★ ★ ★
Happy New Year, Europe !

★ ★ ★
With the European election in May, 2019 will be a decisive year for Europe.

What can we wish Europe for the New Year ?
Let it be born again, for God's sake !
Isn't the Renaissance one of Europe's specialities ? Didn't we invent the myth of the Phoenix that rose from his ashes ? Ashes indeed, for Europe is dying out, seeking salvation in the arms of nationalist sirens…

Where is the "European dream" ? Europe no longer makes us dream ! Figures, public deficits, the 3%, the debts… do not make people dream, and even less the unemployment figures and a 2% growth rate.
"You don't fall in love with a growth rate" young people wrote on the walls in May 68. Those youths wanted to change the world and many of them lived out their dreams in Indian ashrams or artificial paradises…As I read in an article recently: "Maybe these days we're happier to dedicate ourselves to the creation of fantasy worlds, rather than looking for ways to repair our own".

Today young people roam the streets like zombies: they no longer live in this world which has nothing to offer them, not even a job. They prefer taking refuge in fantasy worlds: Tolkien's worlds at best, Game of Thrones, Star Wars, violent video games when it is not in the barbaric utopia of ISIS and terrorism. Europe doesn't make them dream any more.

Are we then doomed to decadence ?
All civilizations are mortal, including ours, writes the philosopher Michel Onfray in his last book. Yes, but most of them perished under the blows of barbarians who injected new blood into them and regenerated them. Egypt flourished again after Alexander's, after the Romans', the Arabs' conquests. Today's potential "barbarians" are flooding our markets with cheap poor quality products: "Buy cheap… cheaper and cheaper… buy more… buy more and more", which plunges us deeper and deeper into mediocrity. No hope that way.
★ ★ ★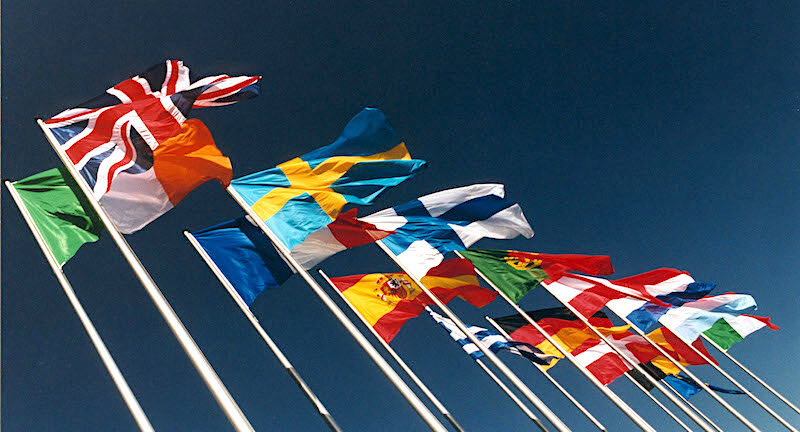 ★ ★ ★
Let us invent the Quality Revolution !
Let us make high quality products in EUROPE - at the right price -… we have the know-how: German cars and machine-tools… Italian shoes, French fashion, perfumes and gastronomy, Greek olive oil (why should we buy poisonous sunflower oil of dubious origin ?)… The best oranges in the world grow in Peloponnese: why should we buy them from South-Africa ?

It goes without saying that a Quality Revolution goes hand in hand with an ecological and bio revolution. And we must be willing to pay the price for this. How can we do this when the number of people under the poverty line has never been so high ?

What we need is a European New Deal, that is a redistribution of wealth: we must be prepared to give people decent jobs with decent salaries. The Quality Revolution will provide the jobs. Large-scale pan-European public works are required for the ecological revolution: wind energy, solar energy… (with the amount of sunshine it gets throughout the year, Greece could reach self-sufficiency and even sell electricity to its neighbours).

This also implies a revolution in people's ways of thinking and consumer habits. Europeans should understand that locally made high quality products with lower transport and advertising costs (Good wine needs no bush), are in the long run cheaper than poor quality products because they last much longer.

This also implies a revolution in agribusiness: let us get rid of chemical fertilizers, pesticides and GMO's… "pink" ham cured with sodium nitrites, battery chickens, farmed salmon and all that poisonous food…

Moreover, a civilisation cannot be reduced to its economy and economy cannot be reduced to finance; this is what is destroying us.
Europe singularly lacks imagination !
The Renaissance was made by artists, not by usurers. Let us get rid of bureaucrats and short-sighted financiers, all those who have a pocket calculator instead of a brain and a wallet instead of a heart. Let us replace them with creators …philosophers, poets, painters, musicians ! Let us get rid of ready-made TV series ! Let's turn our backs on Hollywood and Bollywood; let us reinvent the great European cinema: Almodóvar, Bergman, Fellini, Herzog…etc. Let us take up the beautiful slogan of the Mitterrand era: "Let us change life here and now!" Let us take up the German saying: "Wie Gott in Frankreich leben" (to live like God in France) and let us turn it into: "Wie Gott in Europa leben"; let's make Europe a wonderful place to live.

Let us launch new EU projects. Europe has, since the colonial era, a colossal debt towards Africa: Let us bring them disinterested aid, in harmony with their cultures and traditions. Let us create an Indo-European Union (Oh, gosh, this word smacks of heresy, of swastikas and gas chambers as it was grabbed by that atrocious insane barbarian); let us rather say a Eurindian Union - India is a contnent which is full of unsuspected resources.

There is no limit to imagining a better world. We simply have to want it.
★ ★ ★