* Uropi Nove 119 * Uropi Nove 119 * Uropi Nove 119 *
★ ★ ★
Umberto Eco
★ ★ ★
Solem tri jare for, be 19i Febrar 2016, morì u gren Europan humanìst, Umberto Eco, Itali skrivor, romanor, filosofor, semiotikor id universitadi profesor. He vidì konen talia tra hi romàn De nom rozi publizen in 1980, id de film trajen od ja pa J.J Annaud ki de famos aktor Sean Connery in 1986, we avì u gren suksès.

Umberto Eco genì be 5i Janvar 1932 in Alessandria ner Torìn in Norditalia.
Hi famili nom se forseten veno od Latini Ex Caelis Oblatus (u dav od Hele) daven a hi forpater we sì u finden kid.
He vidì opduten in u skol de Salesian kogregadi id sia involtì ki de Jun Katolike. Maj posen he studì midievi filosofij id literatùr be d'Universitad Torini wo he vidì licensan in filosofij id skrivì u tez ov Tomàs od Akìn. Da detì ha stopo kredo in Doj id laso de Katoliki Kerk.

Pos Eco varkì wim kulturi redaktor po RAI (radiotelevisione italiana) wo he siuditì ki de forgardi grup: Grupo 63. Od 1959 a 1975 he sì usdavi kodirektor be d'usdavi has Bompiani. He inizì hi universitadi karièr in 1961: he dictì in d'universitade Torini, Milani, Florensi id subetàl be d'Universitad Boloniu in Italia. He kovarkì os wim vizitan profesor ki vari famos universitade: Columbia, Harvard, Indiana, Novi Jork, Yale, Kalifornia in USA, Oxford id Cambridge in Britia, Collège de France id École normale supérieure in Parìs.

Literaturi kritik
Hi duj bib, publizen in 1959 Disvolpad de midievi estetiki delì revos ov midievi filosofij, ba in 1962, he publizì Opera aperta ('de opren vark'). In semiotik un opren vark se u tekst wo de lisor moz findo molipli intrasinade obwàn u kluzen tekst dut ha a un uni intrasinad. Naturim po ha, opren tekste sì bunes, rices id maj ʒivic.

Stude ov de medias id masi kultùr

Eco analizì de medias id masi komunikad od u sosiologic vizipunt. He findì un intrakovìg intra wa he nom Evi facisma (Ur-fascismo) id masi kultùr.
In u kapitel de esaji nomen Cinque scritti morali (pin morali skrive) publizen in 1997, he usklàr te Evi facisma se bazen su u kalitadi polkisma: individene, politane av ne rege, de 'polk' se un monoliti unid uspresan de 'komùn volad' inkorpen in de 'Dutor'. Un moz ʒa vizo u kalitadi polkisma in televìz o Internèt wo de inmuvi ruvòk un uscepen grupi politanis vid proseten wim 'de voc polki'.

★ ★ ★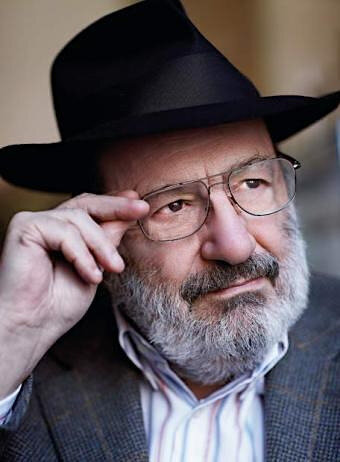 ★ ★ ★
Ur-facisma vok un Orwelli novling, u pavri vokabular, u bazi sintàks po limito de instrumente koplizen id kritiki razonadi. Nu doʒ so predi identizo alten forme novlingi oʒe in un ankulpisemi talk-show.
He dez te Ur-facisma moz ruveno in de maj ankulpi veste: ni doʒad se dimasko ji novi forme we regèn anfendim jaki dia in tale parte moldi.
In 2012 he publizì u bib kovokis ki Jean Claude Carrière in wen he kritik de sosial netias, dezan:
« De sosial medias dav a legione idiotis de reg voko, wan foram lu siudì voko in u bar pro u vas vini, ane damo de komunad […] ba num lu av de som reg a voko te vingore Nobel prizis. Je s' de invàd idiotis. »

Antropologij
In 1988 be d'Universitad Boloniu, he kreatì u progràm nomen Antropologij Westiu od de prospèk ne-Westianis: Afrikan id Cini inlerene. He sì interesen ov un Osti-Westi dialòg po lezizo intranasioni komunikad. He organizì vari seminare id konferense, prim in Guangzhou in Cinia ov De frontias konadi pos u kirkivadi seminar alòng de Silki Rad nomen Misincepade in de cekad a Universid a wen partinemì inlerene od Europa wim Furio Colombo, Jacques Le Goff, Paolo Fabbri id Alain Rey id od Cinia, wim Tang Yijie, Wang Bin id Yue Daiyun.

Dapòs je stì seminare in Timbuktu id Bolonia, konferense in Brusèl, Parìs, Goa id Beijing in 2007. De temas sì Ord id disòrd, Novi kocepe ov Wer id Pac, Human rege, Sosial Justid id Harmonij ki partinemore od India, Afrika, Europa id Cinia.

De Nom Rozi
I se num relisan de Nom Rozi in Itali: je s'u pasionan tekst we av aven un enormi moldi suksès: 50 milione vende.

In 1327 de Fransiskan Wilem od Baskerville id hi kopanor, de novìz Adso od Melk avèn a u Benediktan abetia in Norditalia. Za lu ve partinemo in u kogonad intra sendene de Papsi id Fransiskane protegen pa d'Imperor. Be de slogan dia, Adelmo, un ilustrador, vid finden mori, kracen su de roke benìz de magi tor. Wilem vid inkargen pa de abèt Abone po inkesto ov da mor, we vid slogen pa altene: Venanzio, finden in u kuva polen ki swini glod, pos Berengario, induven in u banikuva… i.s.p.

In de magi tor ste u labirinti bibliotèk in wen monse se perviten ito. Wilem suspèk te de murde se ekimodim kovigen a da bibliotèk id a u misteric bib we av disvanen. Sim lu becìz prinìto nocim id celim in de bibliotèk.
Midwàn, be noc, Adso diskròv Salvatore, u strani mons we vok u micad vari lingus, ki u jun campora in de kokias. Salvatore usflìg id de ʒika atràj Adso we ve avo hi pri (id mojse uni) seksi usperij.
★ ★ ★
Abetia Sait Mikèl in Piemònt we inspirtì Eco
★ ★ ★

Davos avèn de Papsi delegad duten pa d'Inkwizitor Bernard Gui.

Obte he av bemarken te tale morene, usim Adelmo, av tinkimace su dige id linge, Wilem av ne sluzen de krime id he doʒ laso d'inkestad a Bernard Gui. He arèst Salvatore id de bel campora akulpen ov so poseden pa demone, id de kelaror Remigio od Varagine, akulpen ov heresij par he avì stajen ek tem ki Dolciniane.

Be da noc, Wilem id Adso it revos in de bibliotèk wo lu find Jorge od Burgos vartan la. He s'u seni sepli mons we se mol strig id kospèk larad wim diavli. He dez lo te de misteric bib se u vark Aristotelis ov de virtude lari, wej tink he av inviften. Tale daze we inizì liso de bib, mujan li dige ki ling po volto de paʒe - od wo de tinkimace -, morì inviften. Jorge inìz jedo de paʒe de inviften bibi id set foj a de bibliotèk.

In di romàn, Eco disvòlp tale hi midievi filosofic id religios konade id inlerad. Su u ruplàn da forten abetiu in vima ki snev, neb id froz, he pict Itali Midi Eve, ki de were intra Gwelfe id Gibeline, superore de Papsi id de Germàni imperori, de rivalade id tensade intra de vari religios kogregade, Dominikane, Benediktane, Fransiskane… we vidì ekvos kambe id oʒe were wim ki Dolciniane we sì kospeken wim heresiste.
Talia privàld de maj ankredli subekrede, diavel id demone: tale mali dete se de vark diavli id individene se ne ruvokli ov li akte, ba poseden pa demone we doʒ vido cagen us li korpe we vid torten pa inkwizitore id fendim brenen su piras.

Eco dav no u mol afrajan pictad Midi Evis, mol somi a de pictene pa Jeronimus Bosch, dupen in de murke subekredis, antoladi id dogmatismu, id ne in de luc fedi id katedralis. Solem Wilem, u man razoni, u man Regenadi id Inlucadi in forad, id hi dicipel Adso sem vido saven.

Alten romàne
Il pendolo di Foucault (de pendèl Foucault)
L'isola del giorno prima (De isel de diu dafòr)
Baudolino

La misteriosa fiamma della regina Loana (De misteric flam raju Loana)
I cimitero di Praga (De grubia in Praga)
Numero zero (Numar nul).

Italia se prim u linga

In un intravòk ki Olivier Guez po Le Monde magazine in 2011, Umberto Eco dav hi menad ov Italia.

« Italia se prim od tal u linga », he dez, u linga wen jaki Italin moz incepo par je av ʒe poj usvolpen tra tilie jare: wa pomòz a jakun incepo de Doji Komedij pa Dante obwàn alten Europane avev anlezide po incepo li veti tekste, wim Rabelais in Francia o Chaucer in Britia. Je se ekimodim de Itali linga we makì Italine, par de land, maj te u geografic spas, se subetàl u kultùr peren pa u linga. De kotemi prospanad de lingu vidì deten, slogan Eco, prim tra skol id militari servìz, partikulim in de pri moldi wer, pos tra de migrade od de agri sud do de industric nord, id fendim tra televìz we av prodaven, in ji siavi mod, un elementi leksik id sintàks we av aspelen de lingu unizad.…

★ ★ ★
Dante Alighieri in Verona
★ ★ ★
Sim, kim je se te de land sem sa disunizen ?
Par nu tudì ne de pater, wim France id Engline ! Nu avì nun pater a tudo, par de Duce id hi regìm durì solem eke dudes jare, idmaj facisma avì nun uni ideologij, ba sì priʒe u micad vari politiki id filosofic ideologijis, wo jakun nemì wa he volì. Di usklàr os de prosàn erdad: de prostajan facinad po u nebic sinkretisma id po u karismati dutor. Begòn, nu pratìz fratikambe wim nekun alten: Florèns gon Piza, Piza gon Livorna, Veneza gon Milàn Da fratikambe av talvos marken ni duv personid, ba nu doʒ os ne oblaso de kerk we proìt jego u prirani rola: Italia se u protegoria Vatikàni, wej politiki id finansi influjad staj anmezi.

Cekan de Perfeti Linga

In 1993, Umberto Eco publizì La ricerca della lingua perfetta nella cultura europea (Cekan de perfeti linga in d'Europan kultùr). In 2012, pos avo lisen La Ricerca, in un artikel nomen Parkà Europa ? i skrivì:

« De dismèz Europu se històr, ne vasti distense, ba de duvad temi. Nu se polke històri, ne polke od pasen, wim ekune volev ja, ba inroden polke. Ni rode ʒe nur na id pomòz no proso ni raste talvos holes in hel, da se usfindo ni futùr. Koto ap ni rode sinev po na siamurdo: wim nu moz ne ito ap do novi tere, nu vid perʒuden a moro su de sta ».

Id in hi forvòrd a La Ricerca, Jacques Le Goff, de Franci historìst skrivì:

« Europa se vidan struen. Di se u gren sperad we ve vido realizen solem is je nem històr in kont: Un Europa ane històr sev orfàni id mizeric. Par odia gen od jesta id domòr se de frut od pasen. U pasen we doʒ ne paralìzo prosàn, ba eldo ja vido disemi in fedenad, id novi in progrès. Intra Atlanti, Azia id Afrika, ni Europa se esistan in fakt dod u mol longi tem, trasen pa geografij, mulden pa històr, dod wan Grece davì jo u nom. Ni futùr doʒ stabo su da erdade, wen dod Antikeve, po ne dezo dod forhistòr, av gradim inricen Europa, detan ja usordenim kreativi in ji unid id ji varid, oʒe in u maj vasti moldi kontèkst. »

In hi bib, Umberto Eco dez te Europane av talvos ceken de perfeti linga. Da sì vigen a de mita de Tori Babeli: for Doj discizì humane, detan la voko disemi lingas, lu avì doʒen voko un uni linga: «de Adami linga» ki Doj. Mole strani hipoteze vidì proseten: de perfeti linga sì Veti Greci, Veti Hebraji… id oʒe Cini… Pos Eco prosèt no tale de probade po findo ru o reusfindo da linga: de perfeti linga Dantis, de linga Kabalismu, de maʒiki linga, de filosofic id a priori lingas… i.s.p.

Fendim he dez te de projèt ov un Intranasioni Eldilinga se maj realisti te de cekad a u perfeti linga. Po ha de projèt u politikim id kulturim unizen Europu dav no u serios prospèk po adopto u komùn linga: « L'unica soluzione possibile sta nella adozione piena di una lingua europea veicolare » (De uni mozli sluz se u polen adoptad u vaikli Europan lingu.)

Je se os klar te di komùn linga moz ne so Engli, we dupev suprù Europane ru in li "Amerikan soin", pervenan lo sim imaʒino id struo de Europa domòri. Uvedà Engli - ba os eni alten nasioni linga we videv uscepen - sin u perij po de alten lingas id kulture. Eni valdan linga tend a uskluzo alten lingas id in longi tem deto la usmoro; di se wa Claude Hagège nom u tudor-linga (killer language).
★ ★ ★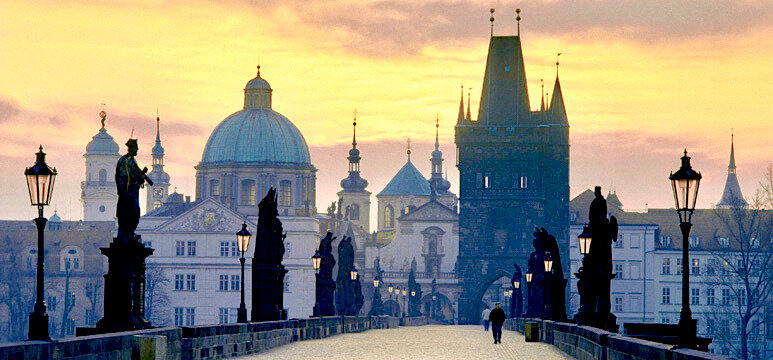 De Karli Pont in Praga
★ ★ ★
Solem un intranasioni eldilinga, IEL, pomozev no apzato da perij. Zis wa Umberto Eco dez ov ja, p. 360.

"Di fronte al rischio che in una futura unione europea possa prevalere una lingua di una sola nazione, gli stati che hanno poche possibilità di imporre la propria lingua, e che temono il predominio di quella altrui (e dunque tutti meno uno) potrebbero iniziare a sostenere l'adozione di una LIA."
(Kofasan de risk te in u futuri Europan uniòn moz privaldo de linga u solen nasioni, de state we av poje mozlide po inforso li siavi linga, id we fraj de valdad de linga altenis (sim tale usim un), mozev inizo supero de adoptad un IELu.)

Umberto Eco ov Europan Identid

In un intravòk ki Gianni Riotta in La Stampa be 26i Janvar 2012, Umbero Eco dezì:

« Pro de kriz d'Europan debi, id i se vokan wim ekun we incèp nit ov ekonomij, nu doʒ rumeno te solem kultùr, ne wer, cemènt ni identid. France, Italine, Doske, Espanine av pasen suntjàre tudan unaltem. Nu se in pac dod min te 70 jare, id nekun maj rumèn di mastorivark: indèt de solen idea ov u wer intra Espania id Francia, o Italia id Doskia odia koz u larad. Unizen State nudì u civil wer po unizo verim. I sper te kultùr id merkad ve sato po na ».

« …D'Europan identid in 2012 se disspanen ba « shallow » (andùv) - i uz un Engli vord we se disemi od Itali « superficiale » (suplasi), ba we se ekia intra suplasi id duv - nu doʒ inrodo ja for de kriz ruin tal… »

« Pardà i dez te Europan identid se « shallow ». De fundipatre Europu, Adenauer, De Gasperi, Monnet mojì avo vaizen min… lu avì ne Internet po liso de straniori pres. Li Europa ruaktì a de wer, id lu kopartì de resurse po struo pac. Odia nu doʒ varko po struo u duv identid ».

« De flabi Europan identid sì ʒa vizli for de kriz de debi. Wan de konstitusiòn vidì rujeten in u referendum, u dokumènt skriven pa politikore, ane eni partinemad humanis kulturi, id we vidì nevos disvoken ki de politane. O wan Euro bankinote vidì trasen ane de fase gren manis id ʒinus, ba solem ki frijic landispeke, wim in pictene pa De Chirico… »

Un avev doʒen «… voko in de Konstitusiòn ov tale ni rode: Greci-Roman, Juvi, Kristan. In ni pasen nu av obe Wena id de Kros, Bibel id nordi mitologije, wen nu rumèn ki Krisgenabene o ki tale de feste wim Saita Lucia, Sait Nikolàs, Pater Krisgèn. Europa se u kontinènt we mozì mico mole identide, pur ane komìco la. In di uniki karaktir, i dezev, leʒ ji futùr… »

«… I proìt meno te od Lisbòn a Varsàv je ste ne maj apstàd te od San Francisco a Novi Jork. Nu ve stajo u federad, ba andisluzli ».
« Id su (ni) bankinote, sim, ke mozev nu inprito, po pomeno a mold te nu s'ne 'shallow' Europane, ba duv ? Mojse ne politikore, de dutore we av na discizen - nè Cavour, nè Radetsky, ba humane kulturi we av na unizen, od Dante a Shakespeare, od Balzac a Rossellini. … nu tale se kozavi os ov de bibe wen nu av ne lisen, id nu av rupicte od de kulture wen nu kon ne, sim ve Europan identid vido maken poj a poj id maj duv. »
★ ★ ★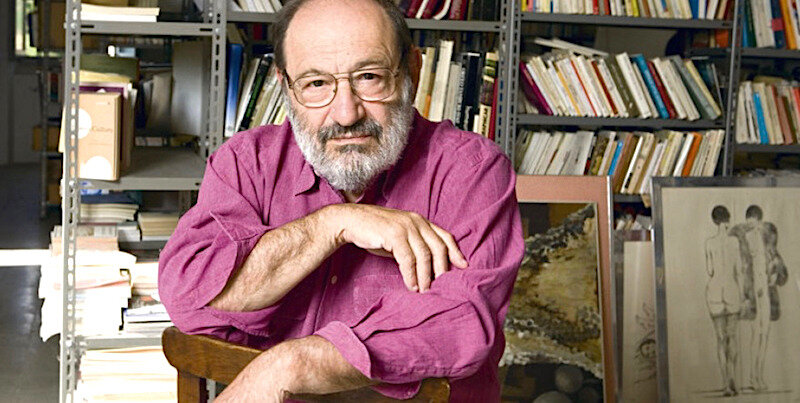 ★ ★ ★
Po kokluzo, nu doʒ rumeno te Umberto Eco avì na varnen ov u mozli ruvenad facismu, ov wa he nom 'Evi facisma'. He dezì no te faciste id naziste adorì teknologij ba rujetì de Inlucad, de Ev Razoni; po la kultùr se suspeki par je se kritiki. Po siensiste, diskovenad sin u progrès konadis; po faciste, diskovenad se traitad. Diskovenad se u sig varidi; Evi facisma gres su de fraj od disemid. A daze we av nun sosial identid, Evi facisma dez te lu av un uni privilèg: avo genen in "di land"; di se de klij a nasionisma: po la solem fense moz prodavo un identid a u nasiòn.
Di vidì skriven in 1997, ba nevos je av sen os veri te odia.
Daske Umberto; nu ve longim ruplojo ta.
★ ★ ★
Umberto Eco
★ ★ ★

Il y a trois ans déjà, le 19 février 2016, disparaissait un grand humaniste européen, Umberto Eco, écrivain et philosophe italien, romancier, sémioticien et professeur d'université. Son premier roman Le nom de la rose, publié en 1980, l'a rendu célèbre dans le monde entier, et le film qu'en a tiré J.J Annaud avec Sean Connery en 1986, a remporté un énorme succès.

Umberto Eco est né le 5 janvier 1932 à Alessandria près de Turin in dans le nord de l'Italie.
Son nom de famille, selon lui, vient de l'expression latine: Ex Caelis Oblatus (un don du ciel) que l'on a donnée à son grand-père, un enfant trouvé.
Il fréquente une école de la congrégation salésienne et rejoint la Jeunesse Catholique. Plus tard il étudie la philosophie et la littérature médiévales à l'Université de Turin, où il obtient une license en philosophie et prépare une thèse sur Thomas d'Aquin. C'est à ce moment qu'il perd la foi et quitte l'église catholique.

Il travaille ensuite comme responsable culturel à la RAI (radiotelevisione italiana) où il fréquente le groupe d'avant-garde: Grupo 63. De 1959 à 1975 il est co-directeur des publications aux Editions Bompiani. Il débute sa carrière universitaire en 1961, d'abord à Turin, puis Milan, Florence et pour finir à l'Université de Bologne. Il collabore également en tant que visiting professor à de nombreuses universités renommées comme Columbia, Harvard, Indiana, New York, Yale, California aux Etats-Unis, Oxford et Cambridge en Grande Bretagne, au Collège de France et à l'École normale supérieure de Paris.

Critique littéraire

Son deuxième ouvrage, publié en 1959 Développement de l'esthétique médiévale traite encore de philosophie médiévale, mais en 1962, il va publier l'Opera aperta ('l'oeuvre ouverte'). En sémiotique une oeuvre ouverte est un texte qui se prête à de multiples interprétations alors qu'un texte fermé conduit le lecteur à une interprétation unique. Bien entendu, Eco préfère les textes ouverts qui sont plus riches et plus vivants.

Etude des médias et de la culture de masse

Eco analyse les médias et la communication de masse d'un point de vue sociologique. Il établit une corrélation entre ce qu'il appelle le Fascisme Éternel (Ur-fascismo) et la culture de masse.

★ ★ ★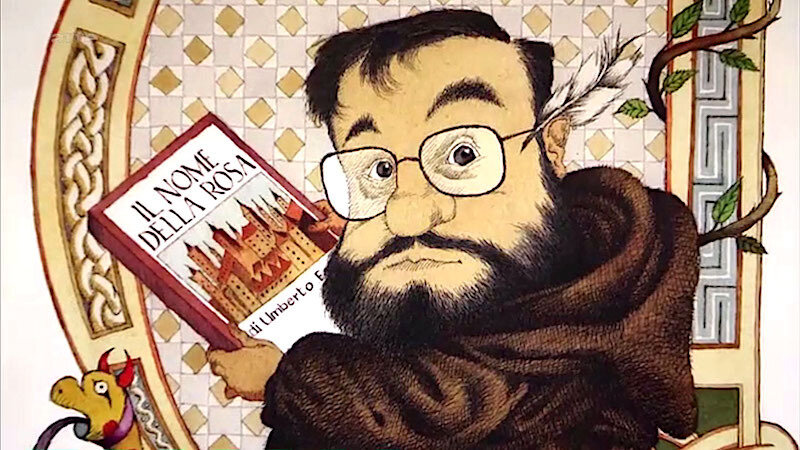 ★ ★ ★
Dans un chapitre de l'essai intitulé Cinque scritti morali (cinq questions de morale) publié en 1997, il explique que le Fascisme Éternel repose sur un populisme qualitatif: l'individu, le citoyen n'a aucun droit en tant que tel, le 'peuple' est une entité monolithique qui exprime la 'volonté commune', incarnée dans le 'Leader'. On peut déjà observer ce populisme qualitatif à la télévision ou sur internet où la réponse émotionnelle d'un groupe de citoyens choisis est présentée comme 'la voix du peuple'.

L'Ur-fascisme parle la novlangue d'Orwell: un vocabulaire pauvre, une syntaxe élémentaire destinés à limiter les instruments permettant un raisonnement complexe et critique. Nous devons nous préparer à identifier d'autres formes de novlangue, même dans un talk-show apparemment inoffensif.
Il ajoute que l'Ur-fascisme peut revenir sous des habits des plus innocents: notre devoir est de le démasquer dans ses formes nouvelles qui renaissent sans cesse, chaque jour, dans tous les coins du monde.

En 2012 il publie un livre de conversations avec Jean Claude Carrière dans lequel il critique les médias et réseaux sociaux:
« Les medias sociaux donnent la parole à des légions d'imbéciles qui, auparavant ne parlaient qu'au bar devant un verre de vin, sans porter préjudice à la société. On les faisait taire aussitôt, mais maintenant ils ont le même droit de parole qu'un Prix Nobel. C'est l'invasion des imbéciles. »

Anthropologie

En 1988 il crée à l'Université de Bologne, un programme intitulé Anthropologie de l'Occident du point de vue des non-Occidentaux: des érudits africains et chinois. Il s'intéresse au dialogue est-ouest afin de faciliter la communication internationale. Il organise différents séminaires et conférences, d'abord à Guangzhou en Chine sur Les frontières de la connaissance, puis un séminaire itinérant le long de la Route de la Soie intitulé Malentendus dans la recherche de l'Universel, auquel participent des lettrés européens comme Furio Colombo, Jacques Le Goff, Paolo Fabbri et Alain Rey et chinois, comme Tang Yijie, Wang Bin et Yue Daiyun.

Il y a par la suite des séminaires à Tombouctou et à Bologne, des conférences à Bruxelles, Paris, Goa et Beijing en 2007. Les thèmes abordés sont Ordre et désordre, Nouveaux concepts de la Guerre et de la Paix, Les Droits Humains, Justice sociale et Harmonie avec des participants venus d'Inde, d'Afrique, d'Europe et de Chine.

Le Nom de la Rose

Je suis actuellement en train de relire le Nom de la Rose en italien: c'est un texte passionnant qui a eu un enorme succès mondial: 50 millions d'exemplaires vendus.

En 1327 le moine franciscain Guillaume de Baskerville et son compagnon, le novice Adso de Melk arrivent dans une abbaye bénédictine dans le nord de l'Italie. C'est là qu'ils doivent participer à une rencontre entre les envoyés du Pape et les franciscains protégés de l'Empereur. Le lendemain, Adelmo, un miniaturiste, est retrouvé mort, écrasé sur les rochers au pied de la grande tour. Guillaume est chargé par l'abbé Abone d'enquêter sur cette mort, qui n'est que la première d'une longue liste: suit Venanzio, retrouvé dans une cuve remplie de sang de porc, puis Berengario, noyé dans l'eau d'un bain… etc.

★ ★ ★
★ ★ ★
En haut de la grande tour se trouve la bibliothèque labyrinthique à laquelle les moines n'ont pas accès. Guillaume soupçonne que les meurtres sont d'une façon ou d'une autre liés à cette bibliothèque et à un mystérieux livre qui a disparu. Ils décident donc d'y pénétrer de nuit, en cachette. Une autre nuit, Adso surprend Salvatore, un étrange moine qui parle un mélange de différentes langues, avec une jeune paysanne dans les cuisines. Salvatore s'enfuit et la jeune fille attire à elle Adso qui va avoir sa première (et peut être unique) expérience sexuelle.

C'est alors qu'arrive la délégation papale conduite par l'Inquisiteur Bernard Gui.

Bien qu'il ait remarqué que tous les morts, à l'exception d'Adelmo, ont des taches d'encre sur les doigts et la langue, Guillaume n'a pas réussi à résoudre les crimes et il doit céder l'enquête à Bernard Gui. Celui-ci arrête Salvatore et la belle paysanne accusés d'être possédés par le démon, ainsi que le cellérier Remigio de Varagine, accusé d'hérésie pour être resté quelque temps avec les Dolciniens.

Cette nuit-là, Guillaume et Adso retournent dans la bibliothèque où ils rencontrent Jorge de Burgos qui les attend. C'est un vieux moine aveugle très strict, qui considère le rire comme l'oeuvre du diable. Il leur dit que le mystérieux livre est un ouvrage d'Aristote sur les vertus du rire, dont il a empoisonné l'encre. Tous ceux qui se mettent à lire le livre, en humectant leur doigt avec la langue pour mieux tourner les pages - d'où les taches d'encre -, meurent empoisonnés. Jorge déchire les pages du livre et se met à les manger, puis, renversant la chandelle, il met le feu à la bibliothèque.

Dans ce roman, Eco nous fait partager son érudition sur la philosophie et la religion au Moyen Âge. Avec comme toile de fond cette abbaye fortifiée plongée dans l'hiver, le gel, la neige et le brouillard, il nous peint l'Italie médiévale, déchirée par les guerres entre Guelfes et Gibelins (partisans du Pape et de l'Empereur Germanique), par les rivalités et tensions entre les différentes congrégations, Dominicains, Bénédictins, Franciscains… qui tournent quelquefois à l'affrontement et au massacre comme dans le cas des Dolciniens
considérés comme hérétiques.
Partout règnent les plus incroyables superstitions, où surgissent le diable et ses démons: tous les maux qui frappent les hommes sont l'oeuvre du diable et les individus ne sont pas responsables de leurs actes, mais possédés par le démon que l'on doit chasser des corps par la torture de l'inquisition et pour finir par le bûcher.

Eco nous dresse un tableau effrayant du Moyen Âge, qui n'est pas sans rappeler les peintures de Jérôme Bosch, plongé dans les ténèbres des superstitions, de l'intolérance et du dogmatisme, plutôt que dans la lumière de la foi et des cathédrales. Seuls Guillaume, homme de raison, homme de la Renaissance et des Lumières avant la lettre, et son disciple Adso seront sauvés.

Autres romans
Le pendule de Foucault
L'île du jour d'avant
Baudolino

La mystérieuse flamme de la reine Loana
Le cimetière de Prague
Numéro zéro.
★ ★ ★
Veneza
★ ★ ★
L'Italie c'est avant tout une langue

Dans une interview avec Olivier Guez pour Le Monde magazine en 2011, Umberto Eco se livre à quelques confidences sur l'Italie.

« L'Italie c'est avant tout une langue », dit-il, une langue que tous les Italiens peuvent comprendre parce qu'elle a très peu évolué en mille ans: ce qui leur permet de lire la Divine Comédie en version originale, alors que d'autres Européens auraient des difficultés pour lire dans le texte des écrits anciens, comme Rabelais en France ou Chaucer en Angleterre. C'est en quelque sorte la langue italienne qui a fait les Italiens, parce que le pays, plus qu'un espace géographique, est surtout une culture portée par une langue. La diffusion contemporaine de la langue s'est faite, selon Eco, d'abord par l'école et le service militaire, particulièrement pendant la première guerre mondiale, ensuite par les migrations du sud agricole vers le nord industriel, et enfin par la télévision qui a fourni à sa façon un lexique et une syntaxe élémentaire qui ont accéléré l'unification linguistique …
Alors, comment se fait-il que le pays apparaisse si désuni ?
Parce que nous n'avons pas tué le père, comme les Français ou les Anglais ! Nous n'avions pas de père à tuer, car le Duce et son régime n'ont duré qu'une vingtaine d'années, de plus le fascisme n'avait pas d'idéologie unique mais était plutôt un mélange de diverses idéologies politiques et philosophiques où chacun a puisé ce qu'il a voulu. Ce qui explique aussi l'héritage actuel: la fascinattion persistante pour un syncrétisme nébuleux et pour un leader charismatique. En revanche, nous pratiquons les luttes fratricides comme personne: Florence contre Pise, Pise contre Livourne, Venise contre Milan… Ces luttes fratricides ont toujours marqué notre personnalité profonde, mais il ne faut pas non plus oublier l'église qui continue à jouer un rôle de premier plan: l'Italie est un protectorat du Vatican dont l'influence politique et financière reste immense.

A la recherche de la Langue Parfaite

En 1993, Umberto Eco publie La ricerca della lingua perfetta nella cultura europea (La recherche de la langue parfaite dans la culture européenne). En 2012, après avoir lu La Ricerca, dans un article intitulé Pourquoi l'Europe ? j'écrivais:

« La dimention de l'Europe c'est l'histoire, non pas les vastes étendues, mais la profondeur du temps. Nous sommes des peuples de l'histoire, non pas des peuples du passé, comme le voudraient certains, mais des peuples enracinés. Ce sont nos racines qui nous nourrissent et nous permettent de pousser nos rameaux toujours plus haut dans le ciel, c'est à dire d'inventer notre avenir. Nous couper de nos racines équivaudrait pour nous à un suicide; nous ne pouvons aller vers des terres vierges, pour recommencer une vie nouvelle; nous sommes condamnés à périr sur place. ».

Dans sa préface à La Ricerca, Jacques Le Goff, l'historen français écrit:
« L'Europe se construit, c'est une grande espérance qui se réalisera seulement si elle tient compte de l'histoire: une Europe sans histoire serait orpheline et misérable. Parce qu'aujourd'hui nait d'hier et que demain est le fruit du passé: un passé qui ne doit pas paralyser le présent, mais l'aider à être différent dans la fidélité, et nouveau dans le progrès. Entre l'Atlantique, l'Asie et l'Afrique, notre Europe existe en fait depuis très longtemps, dessinée par la géographie, modelée par l'histoire depuis que les Grecs lui ont donné son nom. L'avenir doit s'appuyer sur ces héritages qui, depuis l'antiquité, voire depuis la préhistoire, ont progressivement enrichi l'Europe en la rendant extraordinairement créative dans son unité et sa diversité, y compris dans un contexte mondial plus vaste »

★ ★ ★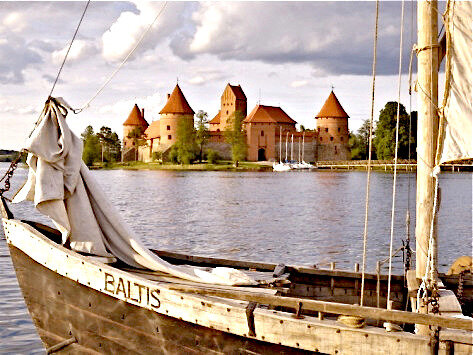 Trakai Kastèl, Lituvia
★ ★ ★
Dans son livre, Umberto Eco nous dit que les Européens ont toujours recherché la langue parfaite, ce qui est lié au mythe de la Tour de Babel: avant que Dieu ne divise les hommes, en leur faisant parler des langues différentes, nous avions dû parler une langue unique: « la langue Adamique » pour communiquer avec Dieu. Les hypothèses les plus étranges ont été avancées: la langue parfaite était le grec ancien, l'hébreu ancien… et même le chinois… Eco nous présente ensuite toutes les tentatives de retrouver ou de réinventer cette langue: la langue parfaite de Dante, la langue de la Kabbale, la langue magique, les langues philosophiques et a priori… etc.

Il en conclut que le projet d'une langue auxiliaire internationale est plus réaliste que la recherche d'une la langue parfaite. Pour lui la perspective d'une Europe unie sur les plans politique et culturel nous permet d'envisager sérieusement l'adoption d'une langue commune: « L'unica soluzione possibile sta nella adozione piena di una lingua europea veicolare » (L'unique solution possible réside dans l'adoption complète d'une langue Européenne véhiculaire. »

Il est clair aussi que cette langue commune ne peut pas être l'anglais, qui replongerait aussitôt l'Européen dans son rêve américain, l'empêchant ainsi d'imaginer et de construire l'Europe de demain. En outre l'anglais - mais aussi toute autre langue nationale qui serait choisie - représente un danger pour les autres langues et cultures. Toute langue dominante tend à marginaliser les autres langues, et à la longue, les faire disparaître; c'est ce que Claude Hagège appelle "langue tueuse" (killer language). Seule une langue auxiliaire internationale permettrait d'écarter ce danger. Voici ce qu'en dit Umberto Eco, p. 360.

"Di fronte al rischio che in una futura unione europea possa prevalere una lingua di una sola nazione, gli stati che hanno poche possibilità di imporre la propria lingua, e che temono il predominio di quella altrui (e dunque tutti meno uno) potrebbero iniziare a sostenere l'adozione di una LIA."
(Face au risque que, dans une future union européenne puisse prévaloir la langue d'une seule nation, les états qui ont peu de possibilités d'imposer leur propre langue, et qui craignent la suprématie de la langue d'autrui (donc tous sauf un), pourraient bien commencer à soutenir d'adoption d'une LAI (langue auxiliaire internationale.)

Umberto Eco sur l'Identité Européenne

Dans un entretien avec Gianni Riotta dans La Stampa du 26 Janvier 2012, Umbero Eco nous dit:

« Face à la crise de la dette européenne, et je parle comme quelqu'un qui ne comprend rien à l'économie, nous devons nous rappeler que seule la culture, et non la guerre, cimente notre identité. Pendant des siècles, les Français, les Italiens, les Allemands, les Espagnols ont passé leur temps à s'entre-tuer. Nous sommes en paix depuis moins de 70 ans, et tout le monde a oublié cet exploit: la seule idée d'un conflit entre l'Espagne et la France, ou l'Italie et l'Allemagne aujourd'hui susciterait l'hilarité ». Les Etats-Unis ont eu besoin d'une guerre civile pour s'unir définitivement; j'espère que la culture et le marché nous suffiront».

« …L' identité européenne en 2012 est répandue mais « shallow » (peu profonde) - j'utilise le terme anglais différent de l'italien « superficiale » (superficiel), et qui se situe entre superficiel et profond - nous devons l'enraciner avant que la crise ne la détruise complètement… »
★ ★ ★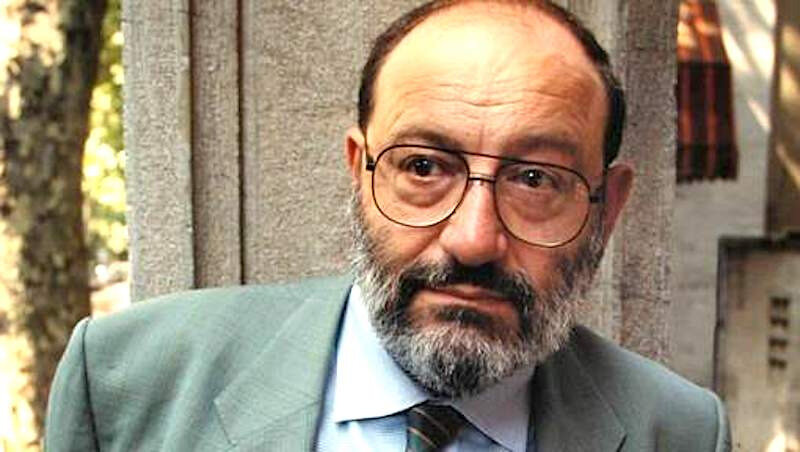 ★ ★ ★
« C'est pour cela que je dis que l'identité européene est 'shallow'. Les pères fondateurs de l'Europe, Adenauer, De Gasperi, Monnet ont pu voyager moins… Ils n'avaient pas Internet pour lire la presse étrangère. Leur Europe était une réaction à la guerre, ils ont partagé les ressources pour construire la paix. Aujourd'hui nous devons travailler à l'élaboration d'une identité profonde ».

« La faiblesse de l'identité européenne se faisait déjà sentir avant la crise de la dette, quand la Constitution a été rejetée par referendum, un document rédigé par des politiciens, sans aucune participation des hommes de culture, et qui n'a jamais été discutée avec les citoyens. Ou bien quand on a dessiné les billets en euros sans le portrait des grands hommes et femmes, mais seulement des paysages froids, comme dans les tableaux de De Chirico… »

Il aurait fallu «… parler dans la constitution de toutes nos racines: greco-romaines, juives, chrétiennes. Dans notre passé nous avons aussi bien Vénus que la Croix, la Bible et les mythologies nordiques, que nous rappelle l'arbre de Noël ou toutes les fêtes comme Sainte Lucie, Saint Nicolas, et le Père Noël. L'Europe est un continent qui a su mêler de nombreuses identités, qui a su les fondre sans jamais les confondre. C'est dans ce caractère que je qualifierais d'unique, que réside son avenir… »

«… Je continue à penser que de Lisbonne à Varsovie il n'y a pas plus de distance que de San Francisco à New York. Nous resterons une fédération, mais indissoluble ».
« Et alors, sur nos billets, qui pourrions nous bien représenter, pour rappeler au monde que nous ne sommes pas des Européens 'shallow', mais profonds ? Peut être pas les politiciens, les chefs qui nous ont divisés - ni les Cavour, ni les Radetsky, mais les hommes de culture qui nous ont unis, de Dante à Shakespeare, de Balzac à Rossellini. … nous avons conscience de tous les livres, même de ceux que nous n'avons pas lus, et avons en nous des reflets de cultures que nous ne connaissons pas, c'est comme cela que se fera l'identité européenne peu à peu, de plus en plus profonde. »

Pour conclure, il faut nous rappeler qu'Umberto Eco nous a avertis d'un possible retour du fascisme, qu'il appelle le 'Fascisme éternel'. Il nous dit que les fascistes et les nazis adorent la technologie mais rejetent les Lumières, l'ère de la Raison; pour eux la culture est suspecte parce qu'elle est critique. Pour les scientifiques, le désaccord est un instrument de progrès des connaissances; pour les fascistes, le désaccord est une trahison. Le désaccord est en outre un signe de diversité; Le Fascisme éternel se nourrit de la peur de la différence. À ceux qui n'ont aucune identité sociale, le Fascisme éternel leur dit qu'ils jouissent d'un privilège unique: celui d'être né dans 'ce pays'; c'est là la source du nationalisme: pour eux, seul l'ennemi peut fournir une identité à la nation.
Eco dit cela en 1997; ça n'a jamais été aussi vrai qu'aujourd'hui.
Merci Umberto; longtemps nous te regretterons.

★ ★ ★
Umberto Eco

★ ★ ★
Three years ago, on February 19, 2016, Umberto Eco, a great European humanist passed away. He was an Italian writer and philosopher, a novelist, semiotician and university professor. His first novel The Name of the Rose, published in 1980, made him famous all over the world, and the film shot by J. J Annaud in 1986 with Sean Connery was a huge success.
★ ★ ★
★ ★ ★
Umberto Eco was born on 5 January 1932 in Alessandria near Turin in northern Italy.
His family name is supposedly an acronym of ex caelis oblatus (from Latin: a gift from the heavens), which was given to his grandfather, a foundling.
He attended a Salesian school and joined the Catholic Youth. Later, he studied medieval philosophy and literature at the University of Turin, where he earned a Laurea degree in philosophy and wrote a thesis on Thomas Aquinas. That is when he stopped believing in God and left the Catholic Church.

After that, Eco worked as a cultural editor for the state broadcasting station: RAI (radiotelevisione italiana). There he befriended the avant-garde group: Grupo 63. From 1959 to 1975 he became the senior non-fiction editor of the Bompiani publishing house in Milan. He began his university career in 1961, first in Turin, then in Milan, Florence and finally at the University of Bologna. He was a visiting professor at several famous universities like Columbia, Harvard, Indiana, New York, Yale, California in the US, Oxford and Cambridge in Britain, Collège de France and École normale supérieure in Paris.

Literary criticism

His second book, published in 1959 The Development of Medieval Aesthetics still deals with medieval philosophy, but in 1962 he published Opera aperta ("The Open Work"). In semiotics an open work is a text that allows multiple interpretations whereas a closed text limits the reader's potential understanding to a single, unequivocal line. Of course, Eco prefers open texts which are the liveliest and best.

Studies on media and mass culture

Eco analyzes the media and mass communication from a sociological point of view. He finds a link between what he calls Eternal Fascism (Ur-fascismo) and mass culture.
In a chapter of the essay entitled Cinque scritti morali (Five Moral Pieces) published in 1997, he explains that Eternal Fascism is based on qualitative populism: the individual, the citizen has no rights as such, the 'people' is a monolithic entity expressing the 'common will', embodied in the 'Leader'. This qualitative populism can already be observed on television or on the internet when the emotional response of a selected group of citizens is presented as "the voice of the people".

'Ur-Fascism' speaks Orwell's newspeak: a poor vocabulary, a basic syntax intended to limit access to complex and critical reasoning tools. We must be prepared to identify other forms of newspeak, even in an apparently harmless talk-show.
He adds that Ur-Fascism can come back under the most innocent disguise: our duty is to uncover its new forms, constantly re-emerging, every day, throughout the world.

In 2012 he published a book of conversations with Jean Claude Carrière in which he criticized the media and social networks, saying for example that:
« Social media gives legions of idiots the right to speak when they once only spoke at a bar after a glass of wine, without harming the community [...] but now they have the same right to speak as a Nobel Prize winner. It's the invasion of the idiots »
★ ★ ★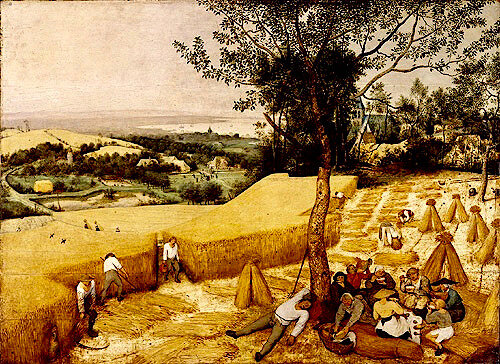 Brueghel: Mesadore
★ ★ ★
Anthropology

In 1988, at the University of Bologna, Eco created an unusual program called Anthropology of the West from the perspective of non-Westerners (African and Chinese scholars). He was interested in East-West dialogue to facilitate international communication and understanding. The first conferences took place in Guangzhou in China in 1991 on the Frontiers of Knowledge, and was followed by an Itinerant Euro-Chinese seminar on Misunderstandings in the Quest for the Universal along the silk trade route with contributions from European scholars like Furio Colombo, Jacques Le Goff, Paolo Fabbri and Alain Rey and Chinese scholars like Tang Yijie, Wang Bin and Yue Daiyun.

Later there were seminars in Timbuktu and Bologna, conferences in Brussels, Paris, Goa and Beijing in 2007. The topics were Order and Disorder, New Concepts of War and Peace, Human Rights, Social Justice and Harmony with participants from India, Africa, Europe and China.

The Name of the Rose

I am currently reading The Name of the Rose again, this time in Italian: It's a fascinating text that has had an enormous worldwide success: 50 million copies sold.

In 1327 Franciscan friar William of Baskerville and his disciple, the novice Adso of Melk arrive at a Benedictine monastery in Northern Italy. This abbey is being used as an embassy between the envoys of the Pope and the Franciscans backed by the Emperor. The next day, Adelmo, an illuminator, is found dead, smashed on the rocks under the high tower. William is tasked by the abbot, Abone to investigate the death, which is the first of a long list: there follows Venantius, found dead in a vat of pig's blood., then Berengar, drowned in a bath… etc.
On the top floor of the high tower is the labyrinthine library whose access is forbidden to the monks. William suspects that the murders are linked one way or another to this library and to a mysterious book which has disappeared. So they decide to penetrate the labyrinth furtively at night. Meanwhile, at night, Adso surprises Salvatore, a strange monk who speaks a mixture of different languages, with a young peasant girl in the kitchens. Salvatore escapes and the young girl seduces Adso who has his first (and perhaps only) sexual experience.

On the fourth day, the Pope's delegation led by Inquisitor Bernard Gui, arrives at the abbey.
Although he had noticed that all the victims, except Adelmo, had ink stains on the tongue and fingers, William has not solved the murders and he must pass the investigation over to Bernard Gui. Gui arrests the peasant girl and Salvatore, accusing them of being possessed by a demon, as well as cellarer Remigio of Varagine, accused of heresy for having spent some time with the Dulcinians.

That night, William and Adso penetrate the library once more where they discover Jorge of Burgos waiting for them. He is an old blind monk who is very strict and considers laughter as inspired by the devil. He tells them that the mysterious book is a work of Aristotle on the virtues of laughter: he has poisoned the ink on the book. All those who try to read the book, moistening their finger with their tongue to turn the pages - hence the ink stains - die poisoned. Jorge tears the pages and begins to eat them, then, knocking over the candle, he sets fire to the library.
★ ★ ★
Wilem id Adso in de bibliotèk
★ ★ ★
In this novel, Eco shares his erudition on philosophy and religion in the Middle Ages. With this fortified abbey immersed in the winter, the frost, the snow and fog in the background, he portrays Medieval Italy, torn apart by the wars between Guelphs and Ghibellines (supporters of the Pope or of the German Emperor), by the rivalries and tensions between the different congregations, Dominicans, Benedictines, Franciscans… which sometimes turn into conflicts and massacres as in the case of Dulcinians who were considered heretics.
Everywhere the most incredible superstitions prevail, where the devil and his demons always appear: all evils deeds are the work of the devil and individuals are not responsible for their actions, but possessed by demons which must be driven out of the bodies through torture by the Inquisition and finally by the burning pyres.

Eco draws a frightening picture of the Middle Ages, which reminds us of the paintings of Hieronymus Bosch, plunged in the darkness of superstitions, of intolerance and bigotry, rather than in the glory of faith and cathedrals. Only William, a man of reason, a man of the Renaissance and of the Enlightenment before its time, and his disciple Adso will be saved.

Other novels

Foucault's pendulum
The Island of the Day Before
Baudolino

The Mysterious Flame of Queen Loana
The Prague Cemetery
Numero zero.

Italy is first of all a language

In an interview with Olivier Guez for Le Monde magazine in 2011, Umberto Eco gives his opinion on Italy.

« Italy is first of all a language », he says, a language that all Italians can understand because it has changed very little in a thousand years, which enables them to read the Divine Comedy as Dante wrote it, whereas other Europeans would have difficulty reading ancient texts in the original, like Rabelais in France or Chaucer in Britain. The Italian language in some way made the Italians, because the country, more than a geographical expanse, is above all a culture borne by a language. The present spread of the language is due, according to Eco, first to education and military service, particularly during the first World War, then by the migrations from the agricultural south to the industrial north, and finally by television which has provided, in its own way, a basic vocabulary and syntax that accelerated linguistic unification…

★ ★ ★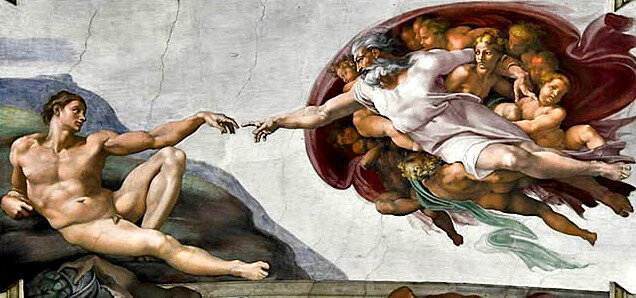 De kreatad Adami pa Mikelanʒèl, kapèl Sistina, Roma
★ ★ ★
In that case, how is it that the country seems so disunited ?
Because we didn't kill the father, as the French or the English did ! We had no father to kill, because the Duce and his regime only lasted twenty years or so, besides Fascism had no single ideology but was rather a mixture of various political and philosophical ideologies where each person could pick up what he wanted. This also explains the present heritage: the persistent fascinattion for a a nebulous syncretism and for a charismatic leader. On the other hand, we are good at practicing fratricide, better than anybody else: Florence versus Pisa, Pisa versus Livorno, Venice versus Milan… These fratricidal struggles have always deeply marked our personality, but we shouldn't forget the Church either, who continues to play a leading role: Italy is a protectorate of the Vatican whose political and financial influence remains immense.

The Search for the Perfect Language

In 1993, Umberto Eco published La ricerca della lingua perfetta nella cultura europea (The Search for the Perfect Language in the European Culture). In 2012, after having read La Ricerca, in an article entitled Why Europe ? I wrote:

« Europe's dimension is history, not vast stretches of land, but the depth of time. We are historical peoples, not peoples of the past, as some would have it (not hysterical peoples either !), but peoples with roots. Our roots nourrish us and make our branches grow farther and farther up into the sky, so that we might create our own future. To cut off our roots would mean for us committing suicide: we are condemned to dying out on the spot. »

In his foreword to La Ricerca, Jacques Le Goff, a French historian wrote:

« Europe is being built. This is a great hope that will only come true if we take our history into account: a Europe without history would be orphaned and miserable. Because today was born of yesterday and tomorrow is the fruit of the past: a past that should not paralyse the present, but should contribute to make it different in its faithfulness and new in line with progress. Between the Atlantic, Asia and Africa, our Europe has in fact been existing for a very long time, designed by geography, moulded by history from the time when the Greeks gave it its name. Our future should rest on this multiple heritage which, since antiquity and even since prehistory, has gradually enriched Europe, making it exceptionally creative in its unity and its diversity, and also in a wider global context. »

In his book, Umberto Eco says that Europeans have always looked for the perfect language; this is linked to the myth of the Babel Tower: before God divided humans, making them speak different languages, we must have spoken a single language: « the Adamic language » to communicate with God. The weirdest hypotheses were put forward: the perfect language was ancient Greek, ancient Hebrew… and even Chinese… then Eco develops all the attempts that were made to find or reinvent that language: Dante's perfect language, the language of Kabbalah, the magical language, philosophical and a priori languages… etc.

★ ★ ★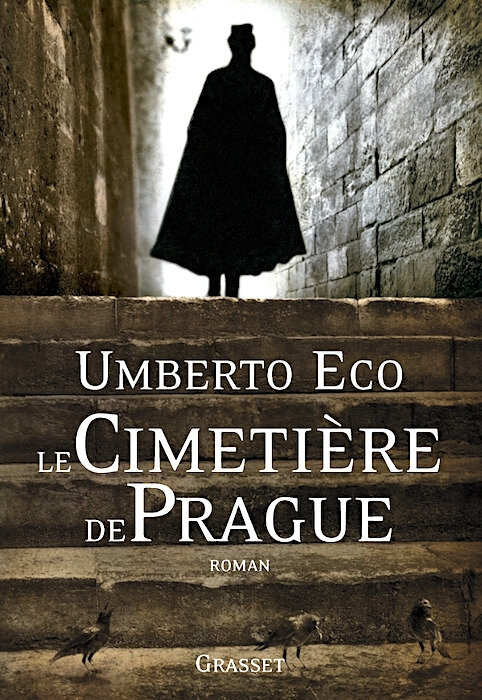 ★ ★ ★
He concludes that the project of an international auxiliary language is much more realistic than a search for the perfect language. For him the prospect of a politically and culturally united Europe allows us to seriously consider adopting a common language: « L'unica soluzione possibile sta nella adozione piena di una lingua europea veicolare » (The only possible solution lies in the full adoption of a European vehicular language.)
It is also clear that this common language cannot be English, that would immediately plunge Europeans back into their American dream, and thus prevent them from imagining and building tomorrow's Europe. Besides English - as any other national language if it was chosen - represents a danger for the other languages and cultures. Any dominant language tends to marginalize the other languages and, in the long run, to make them disappear; this is what Claude Hagège calls a killer language. Only an international auxiliary language (IAL) could remove that risk. Here is what Umberto Eco says about it p. 360.
"Di fronte al rischio che in una futura unione europea possa prevalere una lingua di una sola nazione, gli stati che hanno poche possibilità di imporre la propria lingua, e che temono il predominio di quella altrui (e dunque tutti meno uno) potrebbero iniziare a sostenere l'adozione di una LIA."
(Facing the risk that, in a future European union the language of only one nation might prevail, the states who have few possibilities to impose their own language and who are afraid of the domination of another nation's language (that is all of them but one) might very well support the adoption of an IAL (International Auxiliary Language.)

Umberto Eco on European Identity

In an interview with Gianni Riotta in La Stampa on 26 January 2012, Umbero Eco said:

« When it comes to the debt crisis, and I'm speaking as someone who doesn't understand anything about the economy, we must remember that it is culture, not war, that cements our [European] identity. The French, the Italians, the Germans, the Spanish and the English have spent centuries killing each other. Today, we've been at peace for 70 years and no one realises how amazing that is any more. Indeed, the very idea of a war between Spain and France, or Italy and Germany, provokes hilarity. The United States needed a civil war to unite properly. I hope that culture and the market will do the same for us.».

« …The European identity in 2012 is widespread but "shallow" - I use the English word that is not the Italian « superficiale » (superficial), but it is halfway between superficial and deep - we must root it before the crisis ruins it completely… »

« That's why I said that our [European] identity is 'shallow'. The founding fathers of Europe – Adenauer, De Gasperi and Monnet – may have travelled less… and didn't have access to the internet to read the foreign press. Their Europe reacted to war and they shared resources to build peace. Now we must work towards building a more profound identity ».
★ ★ ★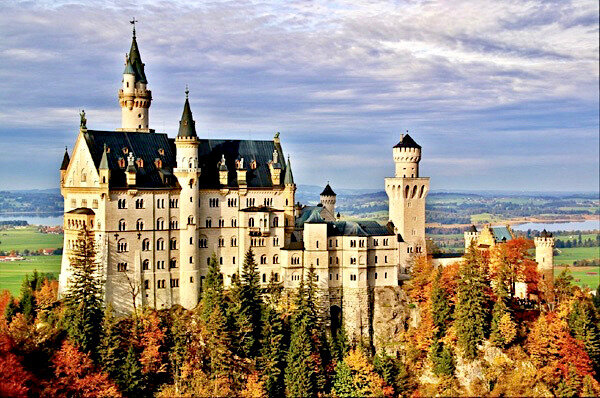 Kastèl Neuschwanstein, Baveria, Doskia
★ ★ ★
« Even before the debt crisis, Europe's weak identity was apparent. "[For instance,] when the constitution was rejected in a referendum. The document had been written by politicians; it was impossible for any educated man to participate in the process and it was never discussed with voters. It was also evident when Euro banknotes were designed without the usual faces of important men and women – instead, there were just frigid landscapes, as in a De Chirico landscape.… »

«… the Constitution should have spoken of all our roots - the Greek-Roman, the Judaic and the Christian. In our past, we have both Venus and the crucifix, the Bible and Nordic mythology, which we remember with Christmas trees, or with the many festivals of St Lucy, St Nicolas and Santa Claus. Europe is a continent that was able to fuse many identities, and yet not confuse them. That is precisely how I see its future… »

«… I still think that there is no longer a disparity between Lisbon and Warsaw, just as there is no disparity between San Francisco and New York. We will remain a federation, but indissoluble. ».

« So whose faces should we print on our banknotes, to remind the world that we are not merely 'shallow' Europeans, but profound ? Perhaps not politicians or the leaders who have divided us – not Cavour or Radetzky, but men of culture who have united us, from Dante to Shakespeare, from Balzac to Rossellini.. … we know there are books we have yet to read that will help us reflect on cultures different from our own. Little by little: that is how our European identity will become more profound.»

To conclude, we must remember that Umberto Eco warned us that fascism, which he calls 'Eternal Fascism' might possibly come back. He told us that fascists and nazis love technology but reject the Enlightenment, the Era of Reason; for them culture is suspect because it is critical. For scientists, disagreement enables knowledge to progress; for fascists, disagreement is a betrayal. Besides, disagreement is a sign of diversity; Eternal Fascism grows on the fear of difference. To those who have no social identity, Eternal Fascism says they enjoy a unique privilege: that of being born in 'this country'; this is the source of nationalism: for them, only the enemy can provide the nation with an identity.
Eco said that in 1997; it has never been so true as today.
Thank you Umberto; we will miss you so much.

★ ★ ★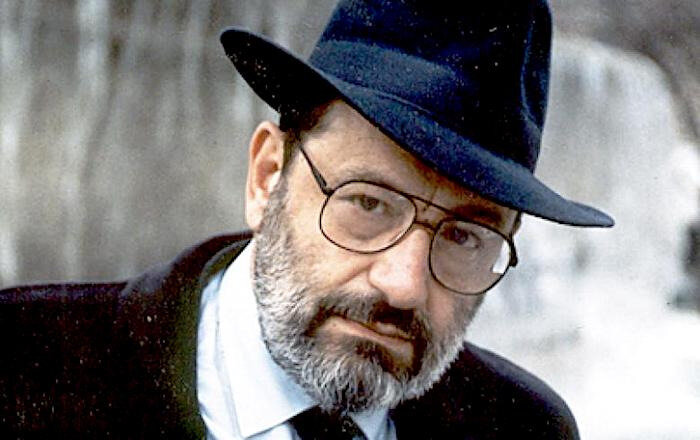 ★ ★ ★