* Uropi Nove 120 * Uropi Nove 120 * Uropi Nove 120 *
★ ★ ★
★ ★ ★
In 1883 de Franci poèt Arthur Rimbaud publizì « Voyelles » (Vokale), u poèm in wen he dav a jaki vokàl u klor.
Naturim i s'ne Rimbaud, i s'ne u poèt id di s'ne de tradutad hi poèmi.
Ba i som av talvos sen kovikten te jaki vokàl in u linga av u siavi klor,
Zis u videa ov de klore Uropi vokàlis:
https://www.youtube.com/watch?v=CwwBDeWOfV4&list=PL6C3Ug8Sx84MWbv49oGqHeXW8HfQiA0Ar&index=2&t=0s&fbclid=IwAR33iwUezEsIPHWy3vKSPhF1fSMRRktUUbdyE1yWP5JSgSSBQbj_9kqeTkM

★ ★ ★
En 1883 le poète français Arthur Rimbaud a publié «Voyelles», poème dans lequel il donne à chaque voyelle une couleur.
Bien sûr, je ne suis pas Rimbaud, je ne suis pas poète et ce qui suit n'est pas la traduction de son poème.
Mais j'ai toujours été convaincu que chaque voyelle dans une langue a sa couleur propre.
Voici une vidéo sur les couleurs des voyelles en Uropi:
Voir le lien ci-dessus.
★ ★ ★
In 1883 the French poet Arthur Rimbaud published «Voyelles» (Vowels), a poem in which he gives each vowel a color.
Of course, I'm not Rimbaud, I'm not a poet and what follows is not the translation of his poem.
But I have always been convinced that each vowel in a language has its own color.
Here is a video on the colors of vowels in Uropi:
See the link above.
★ ★ ★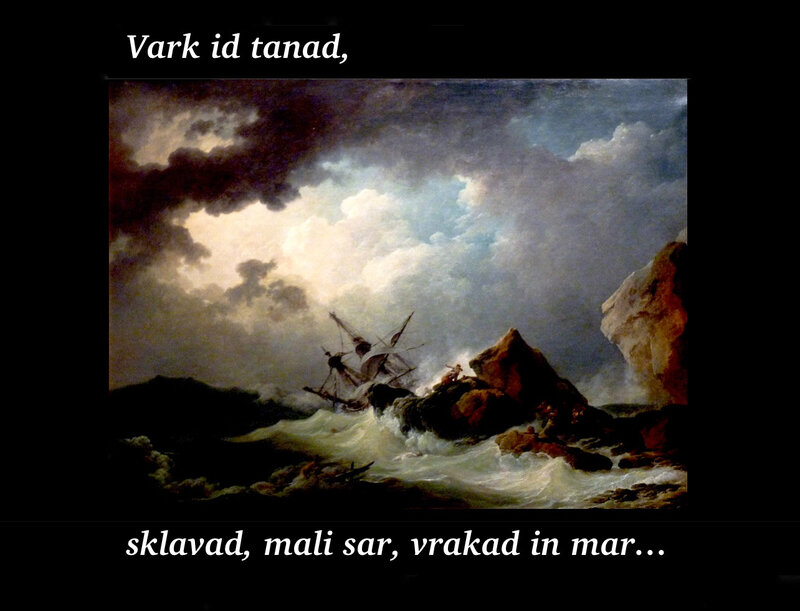 ★ ★ ★
A, nar
War kame, kave, karse, dar nocmar,
vark id tanad, sklavad, mali sar, vrakad in mar…

E, ʒel
Beje id miel, libele ki lej flele, stele in hel,
mel pece, melone, tej id peke, ane tel nè zel,
ude de vel ci beladi i fel
de sekreti mene wen ce cel…

I, glen
Green, viridis, igle pinis id spine,
tin stibe bij lilis su virʒi kline,
rivi pice ki mij limone, fric pive; i sist id piv bij vine…

O, roj
Glod id roze, nolbe in foj, in de pol mole soje,
doli gole, coj bobe rolan oje; Ka vol ʒe de hol Doje ?

Sol id tomate, u flor; otemi fole id foste in li glor…

U, blu
Azuli luce, luniluj su buce, dum liuve we fluj,
jun kune su kuce, suj muce sugan de suc,
vulpi jule, ugli hule ude lun, muj kule we fuj…

IJ, bij
Sol cij id stele stij; glaj wim u grij,
ba je prij ne mo da strij.
Smije se brij o frij, blij wim u krij…

In ti dige glij de klij… us ti oje ploje spij
de ploje wen tu lij su mi dige rij…
★ ★ ★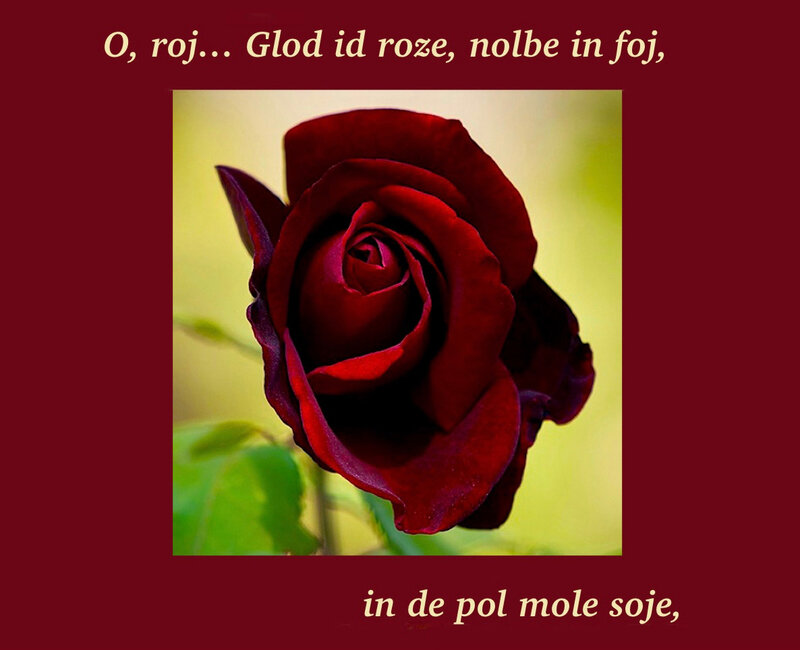 ★ ★ ★
A, noir
Pierres lourdes, cachots, cavernes, âpre cauchemar,
labeur et fatigue, esclavage,
mauvais sort, en mer le naufrage…

É, jaune
Abeilles et miel, ailes légères de libellules, étoiles au ciel,
moelleux des pêches et melons, thé et gâteaux, sans but et sans envie,
je sens, de sa beauté sous le voile
les secrètes pensées qu'elle cèle…

I, vert
Green, viridis, aiguilles de pin, épines,
fines tiges des lys pâles sur les pentes vierges,
poissons de rivière, demi-citrons, fraîches boissons;
j'ai soif et je bois du vin blanc…
O, rouge
Roses et sang, nuages en feu, tant sanglots dans la ville,
gorges qui brûlent, gamins timides roulant les yeux;
Que veulent donc là-haut les Dieux ?

Soleil et tomate, une fleur; feuilles d'autome, forêt dans sa gloire…

OU, bleu
Lumières azurées, clair de lune sur les buissons, pluies sombres qui s'écoulent,
jeunes chiens sur les coussins, sordides mouches suçant le suc,
les loups hurlent, hiboux ululent sous la lune, creux humides et puants…

ILLE, blanc
La soleil brille, étoiles qui scintillent; joyeux comme un grillon,
mais elle ne me plaît pas cette strie.
Sourires brillants ou froids, blêmes comme le cri…

L'éclat de la clé dans tes doigts… de tes yeux les larmes jaillissent,
ces pleurs que tu verses sur mes doigts ruissellent…
★ ★ ★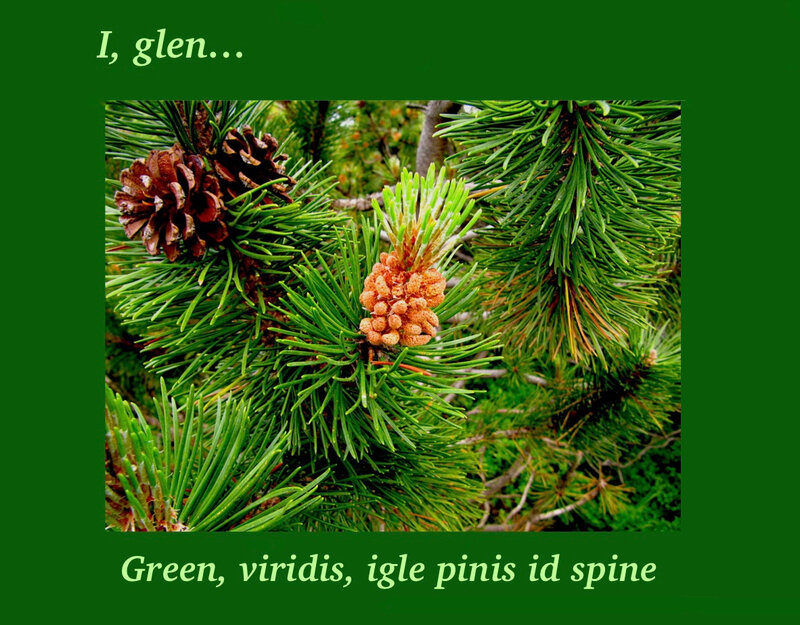 ★ ★ ★
A, black
Heavy stones, caves, dark dungeons, nightmares,
toil and tiredness, slavery, evil spell, wreckage at sea…

E, yellow
Bees and honey, light wings of dragonflies, stars in the sky,
mellow peaches and melons, tea and cakes, but no goal, ne desire,
under the veil of her beauty I can feel
the secret thoughts she tries ti hide…

I, green
Viridis, pine needles and thorns,
thin stems of white lilies on the virgin slopes,
river fish with half lemons, fresh drinks; thirsty, I drink white wine…

O, red
Blood and roses, clouds on fire, in the town so much sobbing,
aching throats, shy boys their eyes rolling…
What do the high Gods want ?

Sun and tomatoes, a flower; autumn leaves, forest in its glory…

U, blue
Azure lights, moonshine on the bushes, dark rains flowing,
young puppies on cushions, dirty flies sucking the juice,
wolves howling, owls hooting under the moon, wet hollows stinking…

IJ, white
Shining sun, twinkling stars; merry like a cricket,
but I don't like that stripe.
Smiles are bright or chilly, bleak like a shriek…

In your fingers the key glitters… out of your eyes gush tears,
the tears you shed trickle on my fingers…
★ ★ ★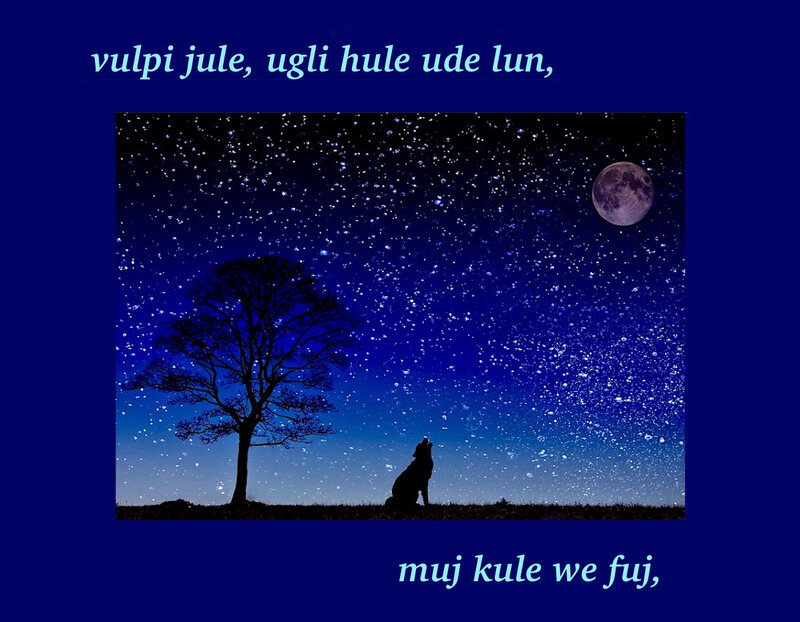 ★ ★ ★
Zis de poèm pa Rimbaud id ji tradutad in Uropi id Engli:

Voici le poème de Rimbaud et sa traduction en Uropi et en anglais:

Here is Rimbaud's poem and its translation in Uropi and in English:
Voyelles A. Rimbaud
A noir, E blanc, I rouge, U vert, O bleu : voyelles,
Je dirai quelque jour vos naissances latentes :
A, noir corset velu des mouches éclatantes
Qui bombinent autour des puanteurs cruelles,
Golfes d'ombre ; E, candeur des vapeurs et des tentes,
Lances des glaciers fiers, rois blancs, frissons d'ombelles ;
I, pourpres, sang craché, rire des lèvres belles
Dans la colère ou les ivresses pénitentes ;
U, cycles, vibrements divins des mers virides,
Paix des pâtis semés d'animaux, paix des rides
Que l'alchimie imprime aux grands fronts studieux ;
O, suprême Clairon plein des strideurs étranges,
Silences traversés des Mondes et des Anges :
- O l'Oméga, rayon violet de Ses Yeux ! -
★ ★ ★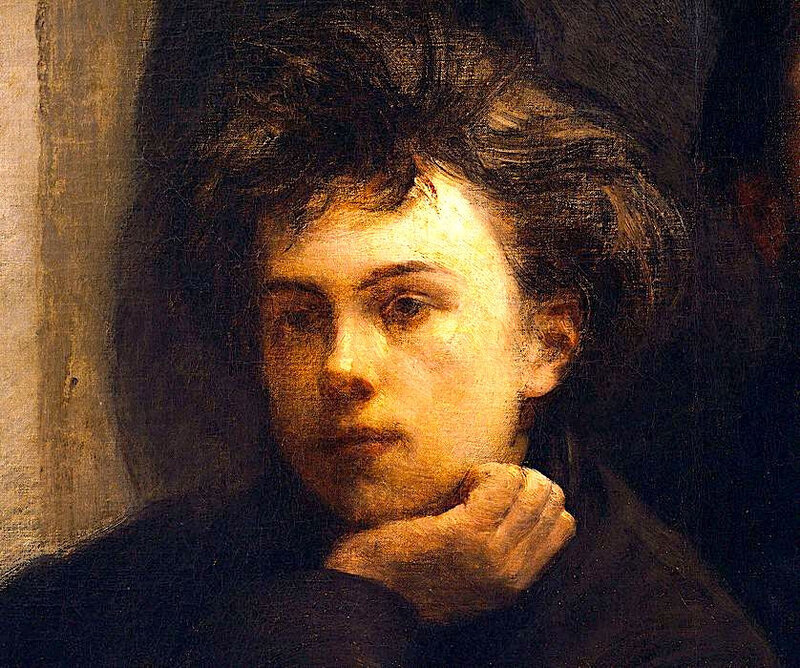 Arthur Rimbaud
★ ★ ★
Vokale
A nar, E bij, I roj, U glen, O blu: vokale,
I ve dezo un dia vi celen genade:
A, nar vili korset de brij mucis
Buzan aròn de krual fujade,

Gulfe cami; E, bijad vapis id tentis,
Lanse stol glasaris, bij raje, trise umbelis;
I, purpi, sputen glod, lare bel libis
In irgad o in rupainan pienade;

U, cikle, doji vribe glenic maris
Pac de pastius siemen ki beste, pac de riklis
Wen alkimij inprìt su gren studic forne;

O, subliven klarin polen ki strani skrile,
Silade travaden pa Molde id Anʒele:
- O de Omega, violen ral Ci Ojis ! -

★ ★ ★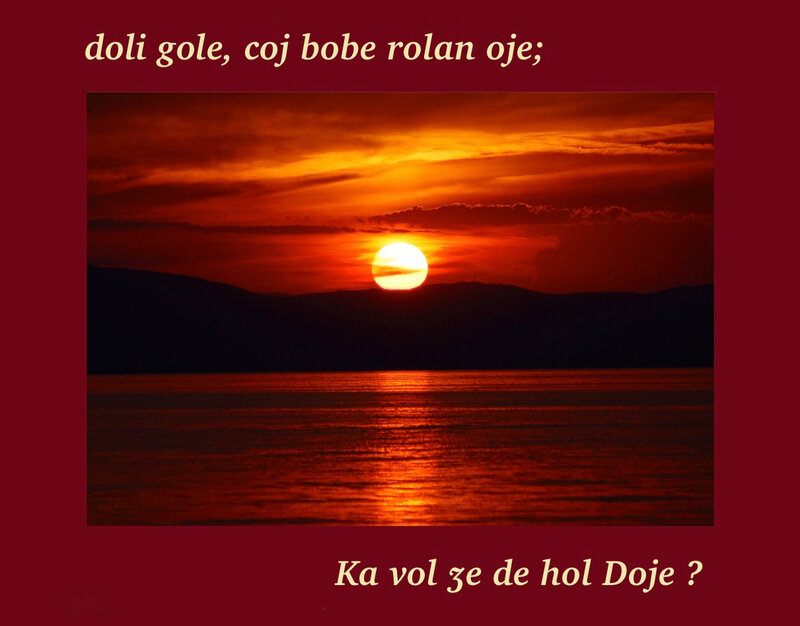 ★ ★ ★
Vowels
A Black, E white, I red, U green, O blue : vowels,
I shall tell, one day, of your mysterious origins:
A, black velvety jacket of brilliant flies
Which buzz around cruel smells,
Gulfs of shadow; E, whiteness of vapours and of tents,
Lances of proud glaciers, white kings, shivers of cow-parsley;
I, purples, spat blood, smile of beautiful lips
In anger or in the raptures of penitence;
U, waves, divine shudderings of viridian seas,
The peace of pastures dotted with animals, the peace of the furrows
Which alchemy prints on broad studious foreheads;
O, sublime Trumpet full of strange piercing sounds,
Silences crossed by Worlds and by Angels:
O the Omega, the violet ray of Her Eyes!
★ ★ ★
★ ★ ★