★ ★ ★
* Uropi Nove 133 * Uropi Nove 133 * Uropi Nove 133 *
★ ★ ★
★ ★ ★
Ferara
★ ★ ★
Norditalia vid organizen alòng du cevivaje: de pri se de autoràd Milàn-Veneza su wen un find gren industric pole: Bergama, Brecia, Verona, Padova… Id, maj do sud, un alten cevivaj: de autoràd Torìn-Bolonia, alòng wen un find os gren industric pole: Piacenza, Parma, Modena…
Ba je ste os, intra de du, u gren rivivaj: Val Pò, ki midan pole we se molvos u poj oblasen: Pavìa, Kremona, Mantova, Ferara, Ravena…
I avì ʒa viziten mole od la:
Pavìa,
u tristi rumèn po France we vidì nizbiten za pa de trupe imperori Karel V, raj Frans I vidan karsen, id de famos sior od La Palisse tuden su de kambipold. Od da genì u polki sant:
Monsieur de la Palisse est mort Sior od La Palisse morì
Est mort devant Pavie Morì pro Pavìa
Un quart d'heure avant sa mort U kwert hori for hi mor
Il faisait encore envie. He vidì jok inviden
Ba liente traformì beprù de sant we vidì:
Monsieur de la Palisse est mort Sior od La Palisse morì
Est mort en perdant la vie Morì perlasan ʒiv
Un quart d'heure avant sa mort U kwert hori for hi mor
Il était encore en vie. He sì jok ʒivi.
Di agenì in Franci de usprese: vérité de lapalisse o lapalissade, we sin u naìvi, priʒe stupi id larli obvizid.
★ ★ ★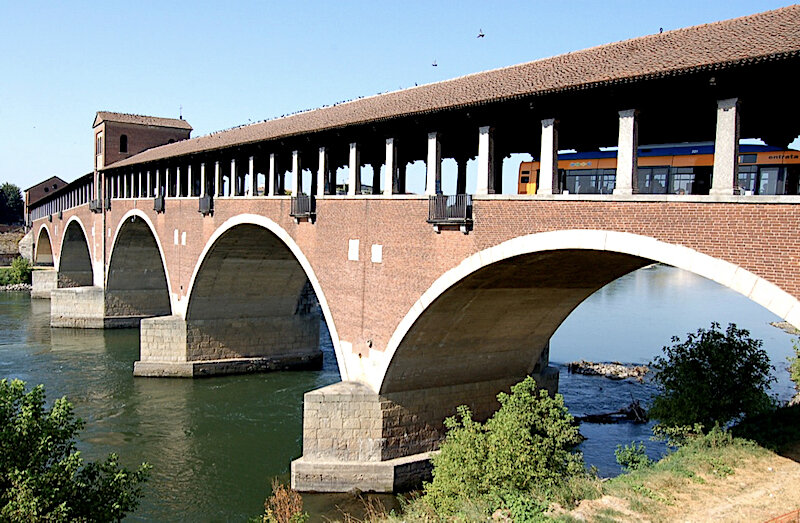 Pavìa, de kroven pont
★ ★ ★
Nu som vidì ataken, un vespen in Pavìa, ne pa de imperori trupe, ba pa un armid moskitis (le zanzare) we sì partikulim fieri za, par nu se in Val Po id je ste os mole rizias.
Kremona
Kremon se de kebipol violis: viol vidì usfinden za pa Andrea Amati beròn 1560; un suntjàr maj posen, Antonio Stradivari makì za hi pri viol, de famos Stradivarius.
Mantova
Mantova se de pol wo Romeo fligì pos avo tuden Tibàld, de kuzin Ʒulietu in de drama pa Shakespeare. Mantova se os de pol wo ʒivì de pictor Andrea Mantegna be de kort de duki Ludovico III Gonzaga. In de duki palàz, he pictì de splendi freske su de mure id subia in de famos Camera degli sposi (kamar de maʒenis). Wajim nu mozì ne vizito de palàz id miro da magibèl freske, par u teriskut avì damen ja in 2012.
★ ★ ★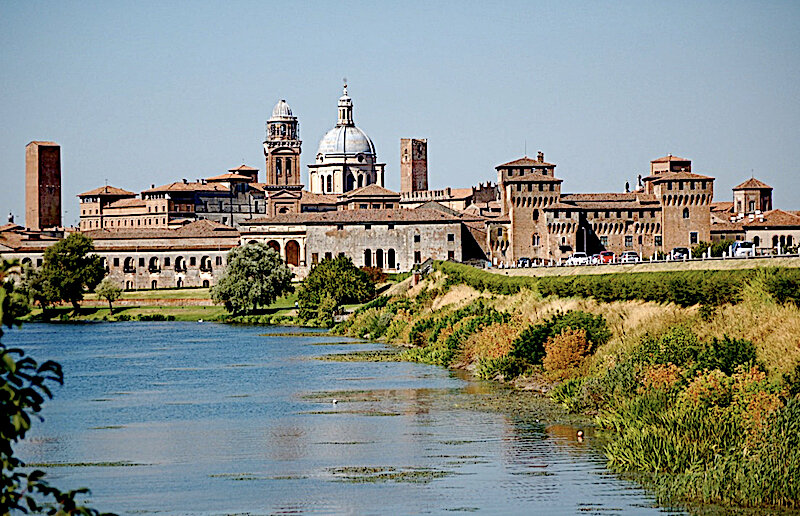 Mantova id Pò

★ ★ ★
Ferara
Ba i avì nevos viziten Ferara. Trawàn de rukluzad, wan nu avì mol lifri tem, i fendì liso De gardin Finzi-Contini pa Giorgio Bassani, wen i avì inizen dafòr id we av sta in Ferara. Di romàn davì mo de zel vizito de pol. I avenì za be inìz posmidiù, id, slogan de indikade de hotelori - u simpatic man we vokì Franci, obte i prigusì voko ho Itali - i volì vizo de Juvi grubia wo Bassani se ingruben id du 'palazzi' we avì inspirten ha po de palàz Finzi-Contini. Pur je inizì liuvo id i prigusì ito ru a de hotèl: u bun becizad par eke minute dapòs un ankredlim violti tormad usbrekì; je aprodì oʒe u seni erk in de park de kasteli.
Històr

De kastèl od Este vidì struen pa de markìz Niccolò d'Este in 1385, pos u ruvòlt, wim u fort po protego hi famìl. Dapòs dod 1450, Borso od Este id pos Herkule I detì ja inreden po stalo za li famìl id li kort. Ferara vidì governen tra maj te 4 suntjàre (1146 -1598) pa de famìl od Este we detì ja brij id profloran. In da periòd je vidì un od de maj vezi citàde Norditaliu, weran gon Verona id Veneza, id polken pa 35 000 domore. De sire od Este sì prim podestate de poli, pos Borso, de son Nikolàsi III vidì duk od Ferara. Lu maʒì dotas id sestas rajis, imperoris id oʒe papsis*, id li brij kort, partikulim ude Herkule I, atrajì mole artiste id humaniste. Wan Alfòns II, de posni od Este morì ane posgèn, Ferara vidì u papsi domin.
* Renée de France, Barbara, de sesta imperori Maksimilian II id Lukresa Borgia
★ ★ ★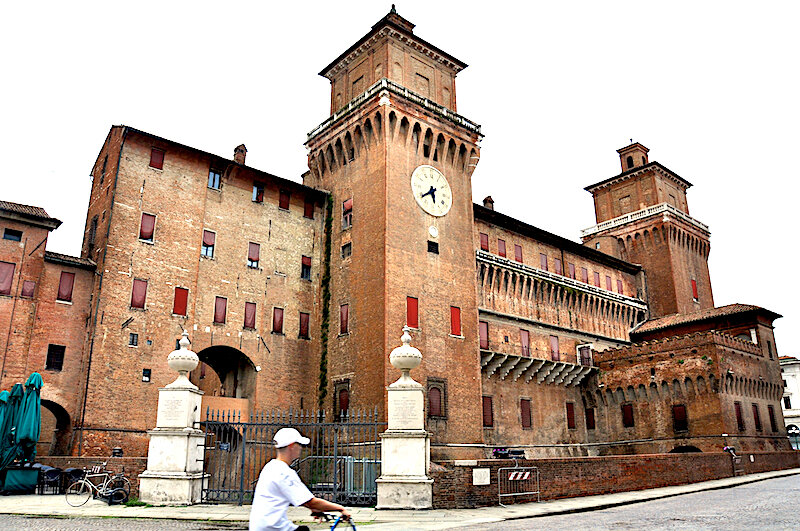 De kastèl od Este

★ ★ ★
De kastèl od Este
Pos de tormad, be fend posmidiù, nu mozì vado a de policentra. De hotèl se siten 200 metre ap de kastèl od Este, id je se mol inpresan vizo un enormi rozibriki midievi kastèl puntim in de policentra, wa se priʒe rari. Naturim je sì anmozli vizito ja: je avì ʒa kluzen, un mozì solem ito in de kort. U poj dales, su plaz de Katedrali, ste de Polihali Palàz id uvegòn ja, naturim, de katedràl we sì os kluzen par je vidì damen pa u teriskut.
De Juvi komunad

Kleven a de longi zat de katedrali, su Plaz Trento e Trieste, je ste mole miki vendias ude u seni arkad in Espàni stil (i avì nevos vizen sule arkade in Italia, ba je ste mole in vike Kastiju). Mojse je ven od de influjad de 2000 Espàni Juvis we rufligì a Ferara pos de Reconquista, de rukovàld Espaniu pa de katoliki raje, id vidì procepen pa Herkule I.
De Juvi komunad jegì u vezi rola in Ferara id nemì un insani part in de kultùr de poli. Solem wan Ferara vidì poseden pa de paps, be fend 16i suntjàri, vidì kreaten de getò.
Od Plaz Trento e Trieste inìz u komerki strad Via Mazzini in de podan kwertia. Be ni dest distèns de Juvi getò we vidì klijen ki gride jaki vespen; be inìz id fend Via Mazzini, un viz jok de hange de gridis.
In Via Mazzini, un moz vizo de seni sinagòg, we sì naturim kluzen, ba, stan pro ja, nu vizì veno do na u seni man su hi sikel. He usklarì no te de sinagòg sì num kluzen, ba te je oprev domòr; he dezì no te 5 mimbore hi famili, Juve, morì in kocentradi kampe. Je sì mol inmuvan id i menì ov de Finzi-Contini.
Pos nu vadì in de striti stradite de getò ki li seni briki hase we davì no de inprès te nu sì jok in Midi Eve.
Be fend Via Vittoria (strad viktadi) inìz un ankredli stradit: Via delle Volte itan ude desade arkis o volbis tale formis. Je stì mol anlezi findo u sta po jedo par nerim tale restorias id pitserias se kluzen be Lundias.
★ ★ ★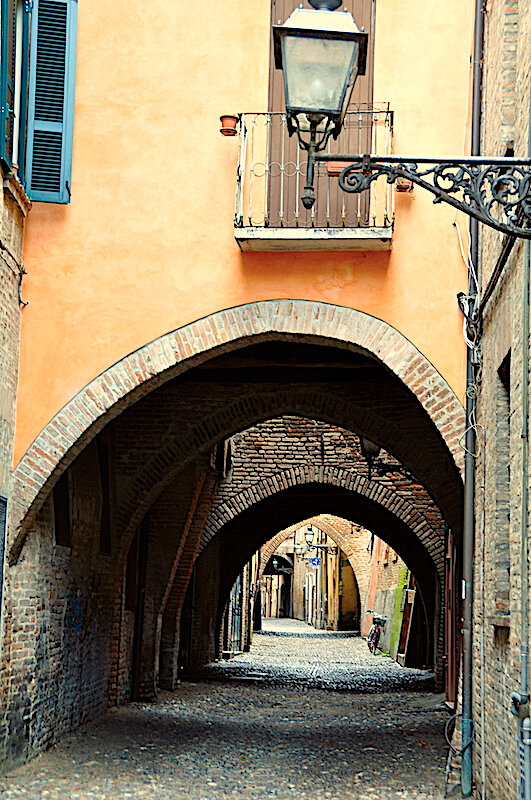 Via delle Volte
★ ★ ★

Da sì u mol speli vizit, ba i findì ja mol interesan id i sper te i ve mozo reveno a Ferara un dia.
Be de slogan dia, ude un anstopi liuv, nu farì a Ravena.
Ki da liuv je sì anmozli vizito de pol ki ji famos Bizanti kerke id mozaike, ba je vezì ne mol par i avì ʒa halten za du vose. Nu becizì faro niz po aveno os ner te mozli a Ankona, de inbarki port po Grecia, par nu volì so pru in de port be de slogan dia, frajan te de meze ov Kovid detev ja longi id anlezi nemo de tikete.

Sim nu haltì in de miki maripol Marotta.
De liuv avì stopen, id wan vespen sì falan nu mozì pasìto alòng de plaʒ. Marotta se ne u turisti pol, solem u miki banistà, nedamin je av eke vizivalte wim de murit apcizan de pasitia od de plaʒ, we se longi vari kilometre, id se dekoren tal alòng ki bel moderni mozaike - de varke du kotemi artistis - prodikan fafile id flore, maribeste id ovle, nolbe id stele… i.s.p.
Su u plazit pro de plaʒ je ste os de plastikijedan pic we jed tale plastike.
Plastik se u veri plaj in ni konsumi sosiad. Je vid uzen talia: po mako butele, kopisake, inpake, eniwa… id je vid jeten ap talia: su radibere, in foste, in rive, in strade, su parkias, su plaʒe… Id molvos je fend in mar wo je av formen, in oseàn, un anmezi plastiki kontinènt we ve stajo za po evim, par plastik se pratikim andistruli. Mole maribeste jed ja id mor.
In Marotta lu av finden un original sluz: de plastikijedan pic. He jed tale sorte plastikis id kide gus ja mol par je se wim u jeg po la davo plastik a de pic. De genore os find ja amuzan; lu ve dezo a li kide « Jet ne ap di plastik; nu ve davo ja a de pic po jedo ».
Id indèt be vespen, de pic se polen ki plastik, ba, be de slogan morna, he av jeden tal.
Id di ve naturim instigo mole liente, jun o seni, a ne jeto ap plastike in mar.

★ ★ ★
De plastikijedan pic

★ ★ ★
Be de slogan morna, nu avenì a Ankona for midià. De liuv avì stopen in de port id nu mozì nemo ni tikete ane probleme. Ek tem dapòs nu inbarkì su de nav a Grecia.
★ ★ ★
Ferrare
★ ★ ★
L'Italie du Nord s'organize selon deux axes routiers principaux: le premier c'est l'autoroute Milan-Venise où l'on trouve de grands centres industriels comme Bergame, Brescia, Vérone, Padoue… Et, plus au sud, un autre axe routier: l'autoroute Turin-Bologne, avec d'autres villes industrielles comme Plaisance, Parme, Modène…
Mais entre les deux, nous avons un axe fluvial: la Vallée du Pô, avec des villes moyennes, souvent un peu oubliées comme Pavie, Crémone, Mantoue, Ferrare, Ravenne…
J'avais déjà visité la plupart d'entre elles:
Pavie, un triste souvenir pour les Français, anéantis par les troupes de l'empereur Charles Quint, le roi François I prisonnier, et le célèbre Monsieur de La Palisse tué sur le champ de bataille. Ce qui donna naissance à une chanson populaire:
Monsieur de la Palisse est mort
Est mort devant Pavie
Un quart d'heure avant sa mort
Il faisait encore envie.
que l'on eut vite fait de transformer en:
Monsieur de la Palisse est mort
Est mort en perdant la vie
Un quart d'heure avant sa mort
Il était encore en vie.
C'est de là que viennent, en français, les expressions vérité de lapalisse ou lapalissade, pour désigner une évidence naïve, un peu bête et ridicule.
★ ★ ★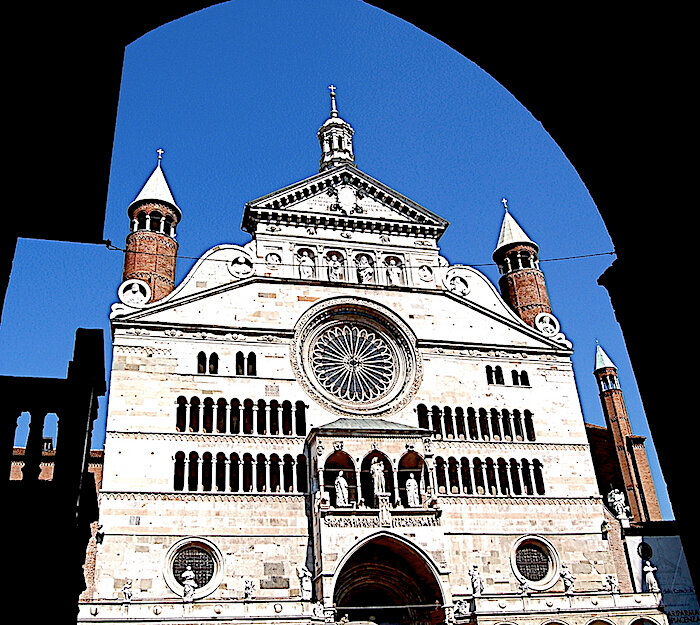 Kremona, de katedràl

★ ★ ★
Nous aussi avons été attaqués, un soir à Pavie, non pas par les troupes impériales, mais par une armée de moustiques (le zanzare), particulièrement féroces, parce que nous étions dans la Vallée du Pô où se trouvent de nombreuses rizières.
Crémone
Crémone est la capitale du violon: le violon y a été inventé par Andrea Amati vers 1560; un siècle plus tard, Antonio Stradivari y fabrica son premier violon, le célèbre Stradivarius.
Mantoue
Mantoue est la ville ou s'enfuit Romeo après avoir tué Tybald, le cousin de Juliette, dans le drame de Shakespeare. Mais c'est aussi la ville où vécut le peintre Andrea Mantegna à la cour du duc Louis III Gonzague. Dans le palais ducal, il a peint de splendides fresques sur les murs et le plafond de la célèbre Camera degli sposi (chambre des époux). Nous n'avons malheureusement pas pu visiter le palais et admirer ces superbes fresques, car un tremblement de terre l'avait endommagé en 2012.
Ferrare
Mais je n'avais jamais visité Ferrare. Pendant le confinement, où nous avions beaucoup de temps libre, j'ai pu finir la lecture du Jardin des Finzi-Contini de Giorgio Bassani, qui se déroule à Ferrare. Ce roman m'a donné l'envie de visiter la ville. Arrivé en début d'après-midi, et, suivant les indications de l'hôtelier - un homme sympathique qui parle français, bien que je préfère lui parler italien - je veux voir le cimetière juif où repose Bassani, ainsi que deux 'palazzi' qui l'ont inspiré pour le manoir des Finzi-Contini. Mais il se met à pleuvoir et je préfère rentrer à l'hôtel: sage décision car quelques minutes après se déchaîne un orage incroyablement violent qui déracine même un vieux chêne dans le parc du château.
Histoire

Le château d'Este est construit par le marquis Nicolas d'Este en 1385, après une révolte, comme forteresse pour protéger sa famille. Ensuite, à partir de 1450, Borso d'Este, puis Hercule I le font aménager pour y installer leur famille et leur cour. Ferarre est gouvernée pendant plus de 4 siècles (1146 -1598) par la famille d'Este qui en fait une ville resplendissante et prospère. A cette époque c'est une des plus importantes cités du nord de l'Italie, guerroyant contre Vérone et Venise, et peuplée de 35 000 habitants. Les seigneurs d'Este sont d'abord les podestats de la ville, puis Borso, fils de Nicolas III devient duc de Ferrare. Ils épousent des filles et soeurs de rois, d'empereurs et même de papes*, et l'éclat de leur cour, en particulier sous le règne d'Hercule I, attire de nombreux artistes et humanistes. Quand Alphonse II, le dernier des Este meurt sans descendance, Ferrare devient un domaine papal.
* Renée de France, Barbara, soeur de l'empereur Maximilien II et Lucrèce Borgia
★ ★ ★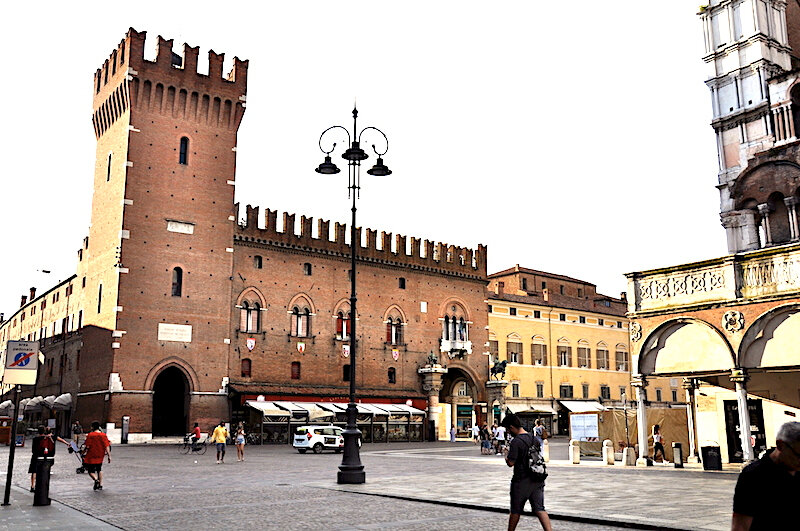 Palazzo Municipale, de polihàl

★ ★ ★
Après l'orage, en fin d'après-midi, nous pouvons nous promener au centre-ville. L'hôtel est situé à 200 mètres du château d'Este, et il est très impressionnant de voir un énorme château médiéval en briques roses s'élever en plein centre-ville, ce qui est plutôt rare. Malheureusement, impossible de le visiter: il est déjà fermé, on peut seulement entrer dans la cour. Un peu plus loin, sur la Place de la Cathédrale, se dresse le Palazzo Municipale (Hôtel de ville) et en face, bien entendu, la cathédrale qui est également fermée en raison de dégâts occasionnés par le tremblement de terre.
La communauté Juive
Collées sur toute la longueur du mur de la cathédrale, sur la Place Trento e Trieste, on peut voit un grand nombre de petites boutiques sous de vieilles arcades de style espagnol (je n'ai jamais vu de telles arcades en Italie, mais elles sont typiques des villages de Castille). Peut être faut-il y voit l'influence des 2000 Juifs espagnols qui se sont réfugiés à Ferrare après la Reconquista (la reconquête de l'Espagne par les rois catholiques), et ont été accueillis par Hercule I.
La communauté Juive a joué un rôle essentiel à Ferrare en particulier sur le plan culturel. C'est seulement quand la ville devient possession du pape, à la fin du 16e siècle, que l'on crée le ghetto.
De la Place Trento e Trieste part une rue commerçante, la Via Mazzini, dans le quartier piétonnier. À droite s'étend le ghetto qui était fermé tous les soirs par des grilles; au début et à la fin de la Via Mazzini, on voit encore les gonds où étaient accrochés ces grilles.
Dans la Via Mazzini, on peut voir la vieille synagogue, qui est, bien entendu, fermée. C'est alors que nous voyons venir vers nous un vieil homme sur son vélo. Il nous explique que la synagogue est maintenant fermée, mais qu'elle ouvrira le lendemain; il nous dit que 5 membres de sa famille Juive, sont morts dans les camps, tout comme les Finzi-Contini dans le roman. Un moment très émouvant.
★ ★ ★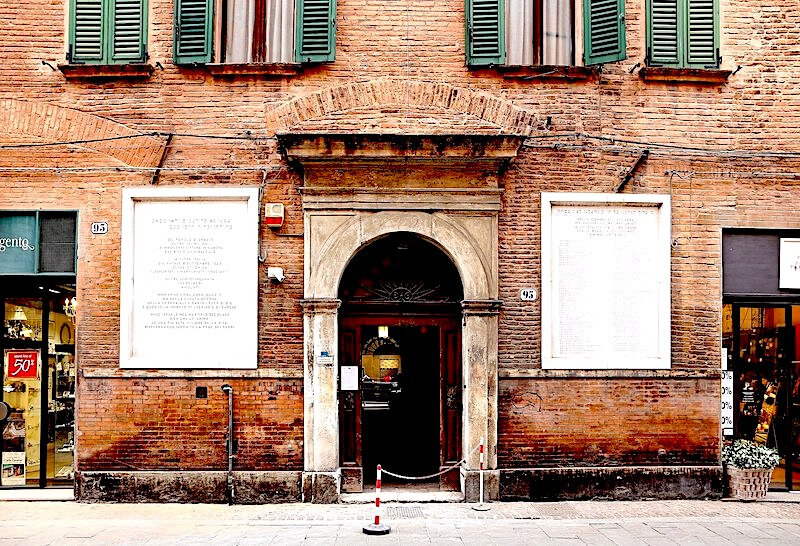 De seni sinagòg, Via Mazzini, Ferara
★ ★ ★
Nous parcourons ensuite les rues étroites du ghetto avec leurs vieilles maisons de brique qui nous donnent l'impression d'être encore au Moyen Âge.
Au bout de la Via Vittoria (rue de la victoire) commence une petite rue insolite, la Via delle Volte (rue des voûtes) qui passe sous des dizaines d'arches ou de voûtes de toutes les formes. Très difficile de trouver un endroit pour manger un lundi soir où presque tous les restaurans et pizzerias sont fermés.
C'est une visite ultra-rapide, mais néanmoins très intéressante et j'espère pouvoir retourner un jour à Ferrare.
Le lendemain, sous une pluie battante, nous partons vers Ravenne.
Impossible, sous cette pluie de visiter la ville avec ses églises Byzantines et ses célèbres mosaïques, ce qui n'est pas très grave car j'y ai déjà fait halte deux fois. Nous décidons de descendre le plus près possible d'Ancône, le port d'embarquement pour la Grèce: nous voulons y être assez tôt le lendemain, craignant que les mesures anti-Covid n'allongent et ne rendent plus difficile l'attente pour prendre les billets.

Nous nous arrêtons donc dans la petite ville maritime de Marotta.
La pluie a cessé, et en fin d'après-midi, nous pouvons nous promener le long de la plage. Marotta n'est pas une ville touristique, simplement une petite station balnéaire, qui cependant n'est pas dépourvue de curiosités comme le muret séparant la promenade de la plage, long de plusieurs kilomètres, qui est décoré sur toute sa longueur de belles mosaïques modernes, oeuvres de deux artistes contemporains, représentant des papillons et des fleurs, animaux marins et oiseaux, nuages et étoiles… etc.
Sur une placette devant la plage, nous découvrons le poisson mangeur de plastique qui peut dévorer toute sorte de plastiques.
Le plastique est un véritable fléau dans notre société de consommation. Il est utilisé partout: pour fabriquer des bouteilles, des sacs à provisions, des emballages, n'importe quoi… et il est jeté partout: sur le bord des routes, en forêt, dans les rivières, dans les rues, sur les parkings, sur les plages… et il finit souvent dans la mer où il a formé, dans l'océan, un immense continent de plastique qui y restera éternellement, car le plastique est pratiquement indestructible. De nombreux animaux marins en mangent et meurent.
★ ★ ★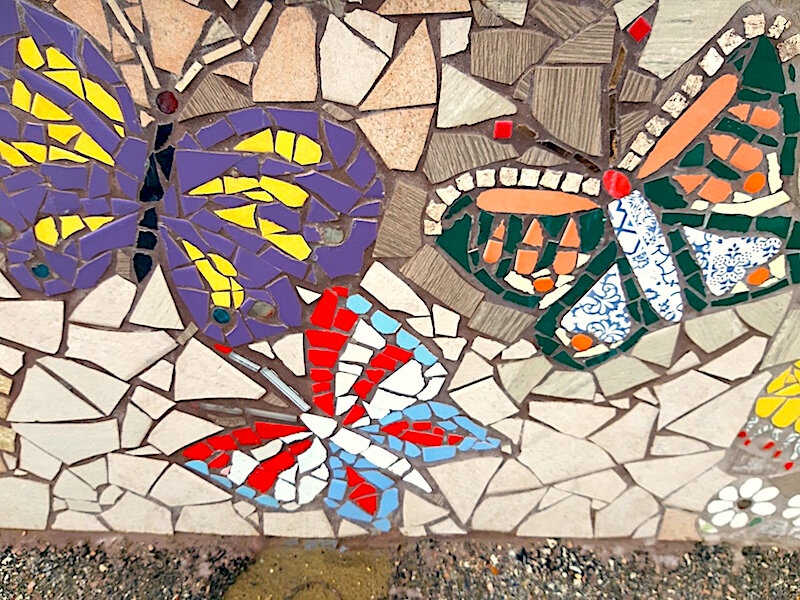 Moderni mozaike in Marotta

★ ★ ★
A Marotta, on a trouvé une solution originale: le poisson mangeur de plastique. Il mange toutes sortes de plastiques et les enfants aiment beaucoup ça, car c'est comme un jeu de donner du plastique au poisson. Les parents trouvent aussi cela amusant; ils disent à leurs enfants « Ne jette pas ce plastique; on va le donner à manger au poisson ».
Et en effet, le soir, le poisson est rempli de plastique, mais, le lendemain matin, il a tout mangé.
Cela va bien sûr inciter beaucoup de monde, jeunes ou vieux, à ne pas jeter le plastique n'importe où, et surtout pas dans la mer.
Le lendemain matin, nous arrivons à Ancône avant midi. La pluie a cessé sur le port et nous pouvons prendre les billets sans problème. Peu de temps après nous embarquons pour la Grèce.
★ ★ ★
Ferrara
★ ★ ★
Northern Italy is organized around two main road axes: the first is the Milan-Venice motorway with large industrial centers such as Bergamo, Brescia, Verona, Padua… And further South, another road axis: the Turin-Bologna motorway, with other industrial cities such as Piacenza, Parma, Modena…
But between the two, there is a waterway axis in the Po Valley, with medium-sized towns, which are often rather forgotten, such as Pavia, Cremona, Mantua, Ferrara, Ravenna ...
I had already visited most of them:
Pavia, a sad memory for the French, who were defeated by the troops of Emperor Charles V, King Francis I being taken prisoner, and the famous Monsieur de Lapalisse being killed on the battlefield. This gave birth to a popular song:
Monsieur de la Palisse est mort Monsieur de la Palisse died
Est mort devant Pavie Died before Pavia
Un quart d'heure avant sa mort A quarter of an hour before he died
Il faisait encore envie. He was still envied.
which was soon turned into:
Monsieur de la Palisse est mort Monsieur de la Palisse died
Est mort en perdant la vie Died by losing his life
Un quart d'heure avant sa mort A quarter of an hour before he died
Il était encore en vie. He was still alive.
★ ★ ★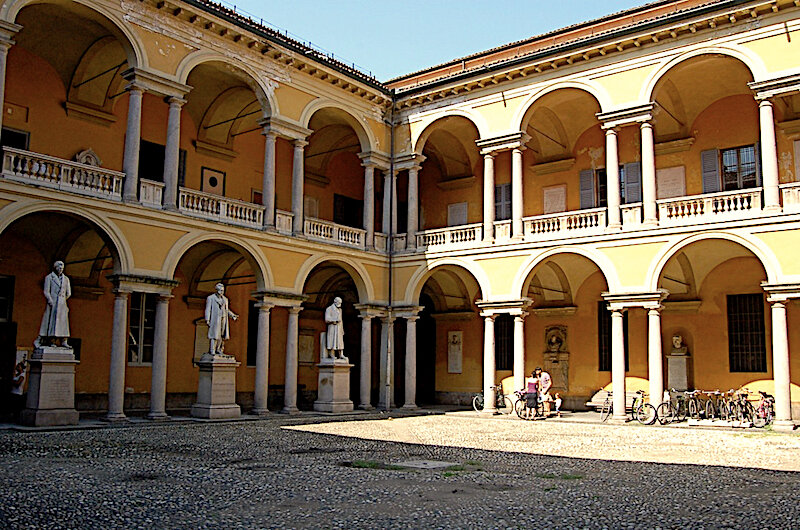 Pavia, de universitad

★ ★ ★
From this the French coined the phrases: vérité de lapalisse or lapalissade, meaning an obvious truth, that is rather naive and ridiculous.
We were also attacked, one evening in Pavia, not by imperial troops, but by an army of mosquitoes (le zanzare), which were particularly fierce, because we were in the Po Valley where there are many rice fields.
Cremona
Cremona is the capital of the violin which was invented there around 1560 by Andrea Amati; a century later, Cremona saw Antonio Stradivari make his first violin, the famous Stradivarius.
Mantua
Mantua is the town where Romeo took refuge after killing Tybald, Juliet's cousin, in Shakespeare's drama. But it is also the town where the painter Andrea Mantegna lived at the court of Marquis Ludovico III Gonzaga. In the ducal palace, he painted splendid frescoes on the walls and ceiling of the famous Camera degli sposi (bridal chamber). Unfortunately we couldn't visit the palace and admire the frescoes, because an earthquake had damaged it in 2012.
Ferrara
But I had never visited Ferrara. During the lockdown, when we had a lot of spare time, I finished reading The Garden of the Finzi-Continis by Giorgio Bassani, which takes place in Ferrara. This novel made me want to visit the town. I arrived in the early afternoon, and following the advice of the hotelkeeper - a friendlty man who spoke French, although I prefered to speak Italian - I wanted to see the Jewish cemetery where Bassani is buried, and two 'palazzi' which inspired him for the Finzi-Contini mansion. However it started raining and I chose to go back to the hotel, which was a wise decision because a few minutes later an extremely violent thunderstorm broke out; it even uprooted an old oak in the castle park.
★ ★ ★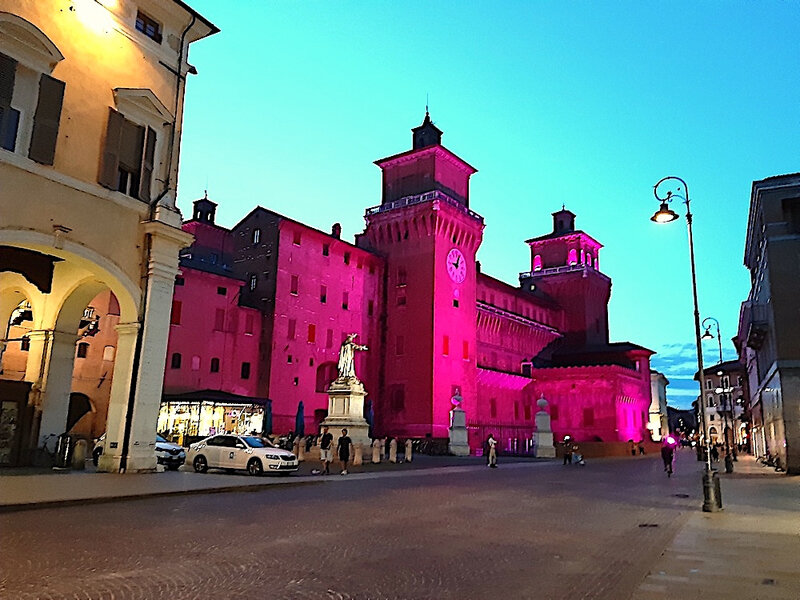 De "rozi" kastèl, kastèl od Este be noc

★ ★ ★
History

The Castello Estense ('Este castle') was built by Marquis Niccolo d'Este in 1385, after a revolt, as a fortress to protect his family. Later, starting in 1450, Borso d'Este, then Ercole I had it fitted out to accommodate their family and their court; Ferarra was ruled for over 4 centuries (1146 -1598) by the Este family which made it a bright and flourishing city. In that period it was one of the most important towns in northern Italy, waging war against Verona and Venice, and with a population of 35 000 inhabitants. The Lords of Este were first the city's podestates then Borso, Niccolo III's son became Duke of Ferrara. They married daughters and sisters of kings, emperors and even popes*, and the splendor of their court, in particular under Ercole I, attracted many artists and humanists. When Alfonso II, the last of the Este died without descendants, Ferrara became a papal estate.
* Renée de France, Barbara, Emperor Maximilian II's sister and Lucrezia Borgia
After the storm, in the late afternoon, we could go out for a walk in the town centre. The hotel was located 200 metres away from Este Castle, and it is very impressive to see an enormous medieval red-brick castle right in the middle of the town, which is rather rare. Of course it was to late to visit it, we could only enter the courtyard. A little further on, on Cathedral Square, stands the Palazzo Municipale (the town hall) and opposite, the cathedral which was also shut because it had been damaged by the earthquake.
The Jewish community
Stuck against the longer side of the cathedral, on Trento e Trieste square, there are a lot of small shops under old arcades in Spanish style (I had never seen this type of arcades in Italy, but they are common in villages of Castile). This was perhaps due to the influence of the 2000 Spanish Jews who took refuge in Ferrara after the Reconquista (the reconquest of Spain by the Catholic kings), and were welcomed by Ercole I.
★ ★ ★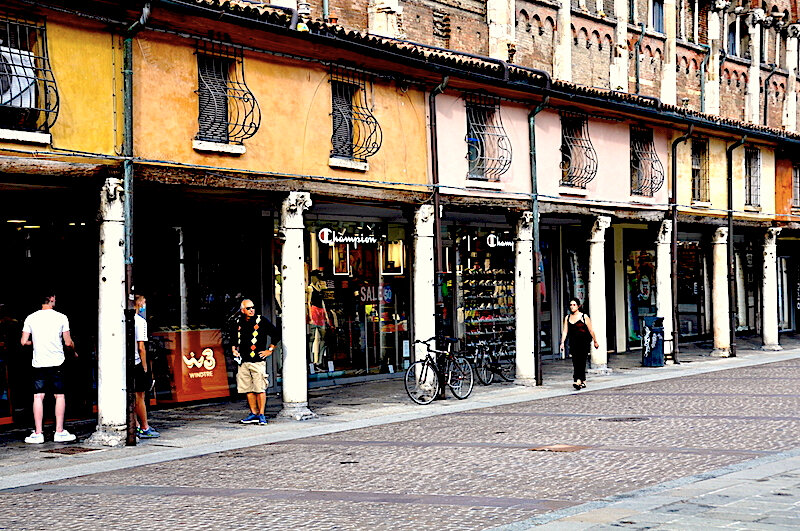 De Espàni arkad
★ ★ ★
The Jewish community played an important role in Ferrara, particularly in the cultural life of the city. It's only when the town became possession of the Pope, at the end of the 16th century, that the ghetto was created.
From Piazza Trento e Trieste starts a shopping street, Via Mazzini, in the pedestrian area. On our right lies the ghetto which was closed every evening by metal gates; at the beginning and end of Via Mazzini, you can still see the hinges where these gates were hung.
In Via Mazzini, you can also see the old synagogue, which was closed of course, but, standing in front of it we saw an old man come towards us on his bike. He explained that the synagogue was shut, but that it would open the next day, and he told us that 5 members of his Jewish family had died in the death camps, just like the Finzi-Continis in the novel. It was a very emotional moment.
Then we walked through the narrow streets of the ghetto with their old brick houses that gave us the impression of being in the Middle Ages.
At the end of Via Vittoria (Victory Street) there is a very unusual alley, la Via delle Volte (Arches street) which passes under dozens of arches or vaults of all shapes. It was very difficult to find a place to eat since nearly all restaurants and pizzerias are closed on Monday evenings.
That was indeed a very short visit, but I found it very interesting and I hope I'll be able to go back to Ferrara one day.
★ ★ ★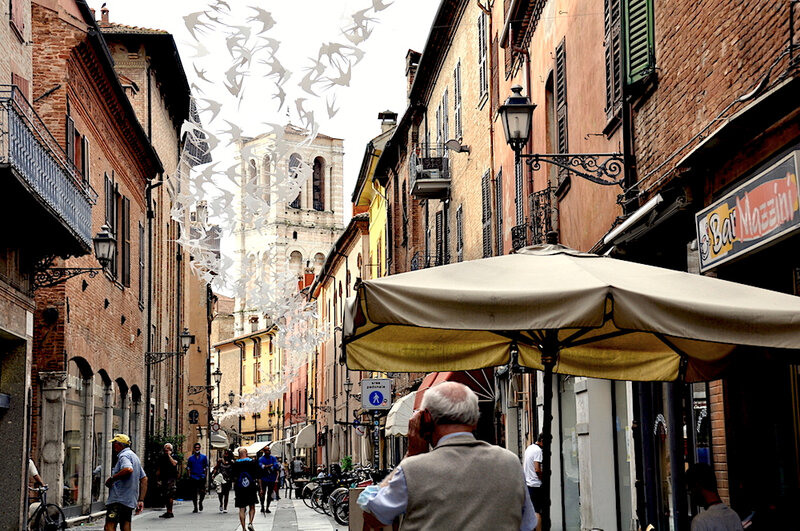 Via Mazzini, Ferara

★ ★ ★
The next day, in a pouring rain, we drove to Ravenna.
With that rain it was impossible to visit the town with its Byzantine churches and famous mosaics, which didn't really matter since I had already stopped there twice. We decided to drive down as close as possible to Ancona, the port of embarkation for Greece: We wanted to be there relatively early on the following day, because we feared that the anti-Covid measures might delay us a lot and make it more difficult to get the tickets.

So we stopped in the small seaside town of Marotta.
The rain had stopped, and in the late afternoon, we could go for a walk along the beach. Marotta is not a tourist town, simply a small seaside resort, nevertheless there were a few interesting sights like the low wall separating the promenade from the beach, which was several miles long and all decorated on its entire length with beautiful modern mosaics - the works of two contemporary artists - depicting butterflies and flowers, sea animals and birds, clouds and stars… etc.
On a space in front of the beach, we discovered the plastic-eating fish that gobbles all kinds of plastics.

Plastic is a real plague in our consumer society. It is used everywhere, to make bottles, shopping bags, packagings, anything… and it is thrown away everywhere: on the roadside, in forests, into rivers, in streets, on the parking lots, on beaches… And it often ends up in the sea where it has formed, in the ocean, an immense plastic continent which will remain there forever because plastic is practically indestructible. Many sea animals eat it and die.
In Marotta they have found an original solution: the plastic-eating fish. He eats all sorts of plastics and children enjoy it: it is great fun for them to feed the fish with plastics. The parents like it too: they tell their children: « Don't throw away your plastic things; give them to the fish to eat ! »
And indeed, in the evening the fish is filled with plastic things, but the next morning, it has eaten them all.
And this will of course incite many people, young or old, not to throw away plastic items anywhere, into the sea.

The next morning we arrived in Ancona before noon. The rain has stopped in the harbour and we could get our tickets without any problem. Shortly after, we embarked on the ferry to Greece.
★ ★ ★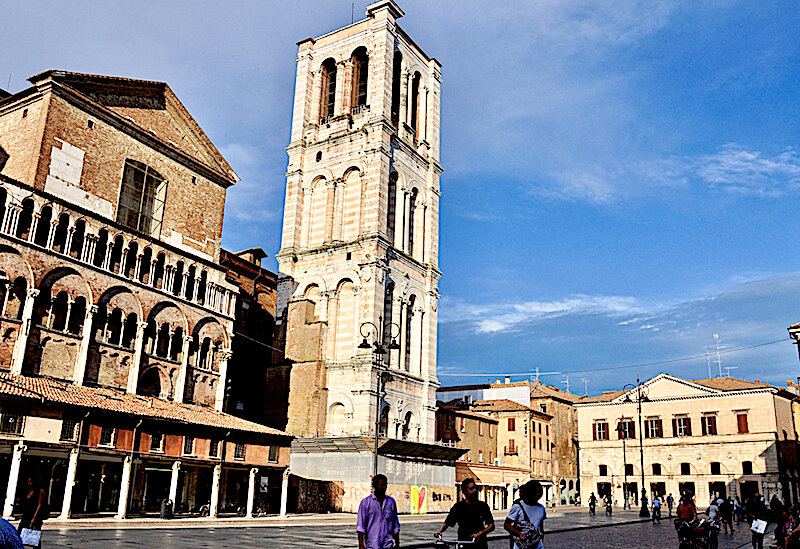 Plaz Trento e trieste, Ferara, de katedrali tor

★ ★ ★