★ ★ ★
* Uropi Nove 137 * Uropi Nove 137 * Uropi Nove 137 *
★ ★ ★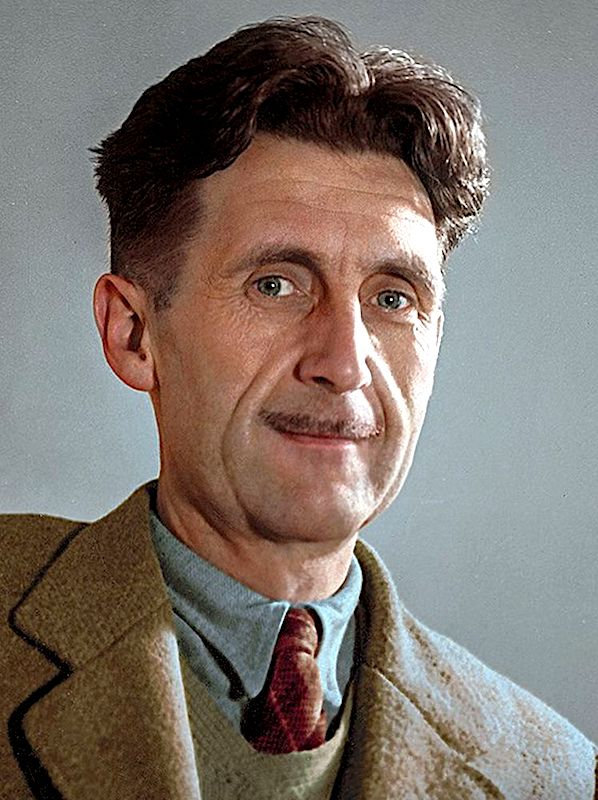 ★ ★ ★
George Orwell (od veri nom Eric Arthur Blair) 1903-1950 sì u Briti skrivor id ʒurnalìst we vidì moldim konen tra hi romàne De farm bestis id subetàl 1984.

Ba Orwell ʒivì os in Azian Briti kolonias: he genì in India id in hi jun jare he sì kolonial polizi ofisior in Birma. Od si usperij, he skrivì u bib kritikan Briti kolonialisma: Birman dias. Ru in Britia, he skrivì ov de ʒiv minioris in Nordenglia: De Wigani prodiga. In 1936, wan skaltì de Espàni civili wer, he itì ap a Espania po skrivo artikle ov ja. In Barselona he kojutì a de POUM (Partido Obrero de Unificación Marxista: Varkori Partìz Marksisti Unizadi). He vidì vunen su de front id doʒì laso Barselona wan de POUM (od Trotskisti tendad) vidì uslegen pa de komuniste. Od da, he skrivì Homage to Catalonia (Honòr a Katalania) we inspirtì de regisor Ken Loach po hi film Land and Freedom (Ter id Lifrid).
Orwell sì antikolonialisti, superor u sosialisti revolusioni demokratiji, ba u fieri agonor a eni totalitari diktatorad, o Nazisti o Stalinisti. Di se wa he beskrivì in 1984, publizen in 1949. De cevi elemente de romàni vid uzen jok odia in ni diali linga: Big Brother (de 'gren frat'), teleskrèn, Novling, de Meni Polìz…
Big Brother ki hi dic nar mustàc somiv mol a Stalin, obwàn de « publiki fens » Goldstein se mol somi a Trotskij (od veri nom Lev Davidovitc Bronstein) we vidì murden pa ordèz Stalini in 1940 in Mecika.
De tel Novlingi se pavrizo de linga po deto eni kritik gon de sistèm anmozli, wa av nit a deto ki Esperanto. De uni komùn punt intra de du kreaten lingas se de apsàd goni adjetivis: de gonad vid talvos formen ki u prefìks: mal- in Esperanto: bona, malbona, un- in Novling: good, ungood (bun, anbùn = pej).

George Orwell morì in Janvar 1950, solem eke mone pos de publizad 1984.
I som av inizen traduto 1984 in Uropi (70 paʒe po de momènt).
NOVLING
★ ★ ★

In de slogan ustràj Winston kogòn hi "fram" Syme in de kantin. Syme se u Novlingi spesialìst we se varkan su de vordar: he usklàr a Winston de principe Novlingi. I find di ustraj partikulim interesan, subetàl po lingustruore.
★ ★ ★
George Orwell (de son vrai nom Eric Arthur Blair) 1903-1950 était un écrivain et journaliste britannique mondialement connu grâce à ses romans La ferme des animaux et surtout 1984.
Mais Orwell a aussi vécu dans les colonies britanniques d'Asie: il est né en Inde et a passé quelques unes de ses jeunes années comme fonctionnaire dand la police coloniale en Birmanie où il écrit une critique du colonialisme britannique: Une histoire birmane. De retour en Grande Bretagne, il décrit la vie des mineurs dans le nord de l'Angleterre dans Le Quai de Wigan. En 1936, quand éclate la guerre civile, il se rend en Espagne pour écrire des articles du côté républicain. A Barcelone il rejoint le POUM (Partido Obrero de Unificación Marxista: Parti Ouvrier d'Unification Marxiste). Sur le front il est blessé et doit quitter Barcelone où le POUM (de tendance trotskiste) est mis hors la loi par les communistes. De cette expérience, il va tirer Homage to Catalonia (Hommage à la Catalogne) qui inspirera le cinéaste Ken Loach pour son film Land and Freedom (Terre et Liberté).
★ ★ ★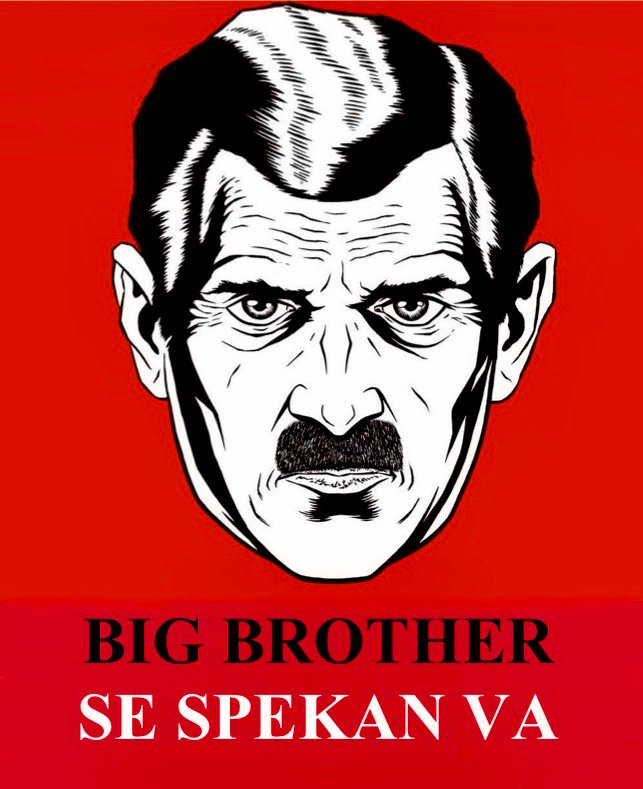 ★ ★ ★
Orwell était anticolonialiste, partisan d'une démocratie socialiste et révolutionnaire, mais il est farouchement opposé à toute forme de dictature totalitaire, qu'elle soit nazie ou stalinienne. C'est ce qu'il décrit dans 1984, publié en 1949. De nombreux éléments du roman sont passés dans la langue courante: Big Brother (le 'grand frère'), le télécran, laNovlangue, la Police de la Pensée…
Big Brother avec son épaisse moustache noire ressemble beaucoup à Staline, tandis que « l'ennemi public » Goldstein est très sembable à Trotski (de son vrai nom Lev Davidovitch Bronstein), assassiné sur ordre de Staline en 1940 au Mexique.
L'objectif de la Novlangue est d'appauvrir la langue pour rendre toute critique du système impossible, ce qui n'a rien à voir avec l'espéranto. Le seul point commun entre ces deux « langues construites » est l'absence de d'adjectifs contraires, le contraire étant toujours formé à l'aide d'un préfixe: mal- en esperanto: bona, malbona, un- en Novlangue: good, ungood (bon, inbon = mauvais).

George Orwell est mort en janvier 1950, quelques mois seulement après la publication de 1984.
J'ai commencé à traduire 1984 en Uropi (70 pages pour le moment).
LA NOVLANGUE
★ ★ ★

Dans le passage ci-dessous, Winston rencontre son "ami" Syme à la cantine. Syme est un specialiste de la Novlangue qui travaille sur le dictionnaire: il explique à Winston les principes de la Novlangue. Je trouve ce passage particulièrement intéressant, surtout pour des idéolinguistes .
★ ★ ★
George Orwell (whose real name was Eric Arthur Blair) 1903-1950 was a British writer and journalist who became world famous for his novels Animal Farm and above all 1984.
But Orwell also lived in the Asian British colonies: he was born in India and spent 5 years as a colonial police officer in Burma. From this experience, he wrote Burmese Days in which he criticizes British colonialism: Back in Britain, he described the life of miners in in the north of England in The Road to Wigan Pier. In 1936, when the civil war broke out, he went to Spain to write articles about the war. In Barcelona he joined the POUM (Partido Obrero de Unificación Marxista: Workers' Party of Marxist Unification). He was wounded on the front and had to leave Barcelona where the POUM (of Trotskyist tendency) was outlawed by the communists. From this experience, he wrote Homage to Catalonia which inspired the filmmaker Ken Loach for his film Land and Freedom.
★ ★ ★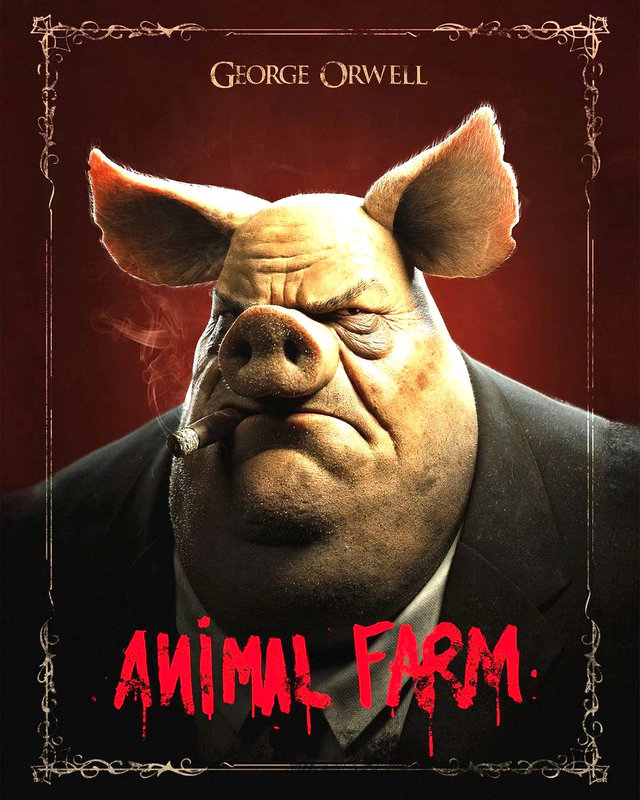 ★ ★ ★
Orwell was an anti-colonialist, a supporter of a socialist revolutionary democracy but he was fiercely opposed to any form of totalitarian dictatorship, be it Nazi or Stalinist. This is what he describes in 1984, that was published in 1949. Many elements of the novel have become part of the English language, like Big Brother, telescreen, Newspeak, Thought Police…
Big Brother with his thick black moustache looks very much like Stalin, whereas the « public enemy » Goldstein is very similar to Trotsky (whose real name was Lev Davidovich Bronstein), who was assassinated on Stalin's orders in 1940 in Mexico.
The aim of Newspeak ist to impoverish the language so as to make any criticism of the system impossible, which has nothing to do with Esperanto. The only common point between these two "constructed languages" is the absence of contrary adjectives, the contrary being always formed with a prefix: mal- in Esperanto: bona, malbona = un- in Newspeak: good, ungood (good, bad).

George Orwell died in January 1950, a few months only after 1984 was published.
I have started to translate 1984 into Uropi (60 pages for the moment).
See Newspeak below…

NOVLING
★ ★ ★

« Je ste u tab zadàl, ude de teleskrèn, » dezì Syme. « Itan pas nu ve nemo u ʒin »
…
« Kim se de vordar provadan ? » Winston pragì, aludan voc po subevaldo de rum. »
« Lanim, » dezì Syme. « I se varkan su adjetive. Je s' facinan. »
Hi fas avì luciven anmidim, oran de vord Novling. He prosì hi bol azàt, nemì op hi pez pani in u delikati mand id hi kiz in de alten, id klinì uve de tab po mozo voko ane klajo.
« De Desuni Usdàv se de befendi usdàv, » he dezì. « Nu se davan a Novling ji fendi form, de form wen je v'avo wan nekun maj ve voko eni alten linga. Wan nu v'avo fenden, liente wim tu ve doʒo lero ja tal revos. Tu kred, ne veri, te ni cevi vark se usfindo novi vorde ? Talim ne ! Jaki dia nu se distruan vorde, desade vorde, suntade vorde. Nu kot ap de linga tis kose. De Desuni Usdàv ve ne inteno un uni vord we videv usmoden for de jar 2050. »…
★ ★ ★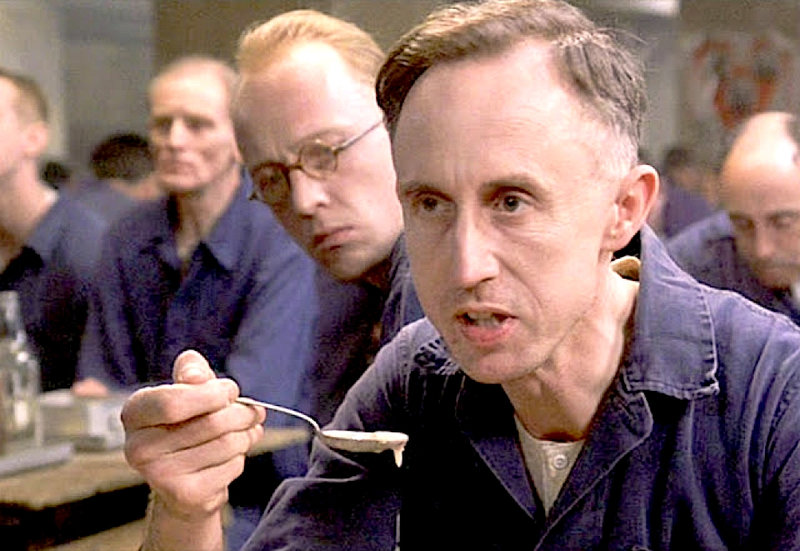 ★ ★ ★
« Je s'u bel zoc, distruo vorde. Naturim de gren wastad se in verbe id adjetive, ba je ste os suntade nome wen un moz apdeto. Ne solem de somisine ; je ste os de antinome. Pos tal, ka justizad ste je po u vord we se solem de gonad un alten vordi ? U vord intèn ji gonad in sia. Nem "bun", po samp. Is un av u vord wim "bun", ka nud ste je po u vord wim "pej" ? "Anbun" ve deto ʒe os bun - oʒe bunes par je se ji punti gonad, wa "pej" se ne. Id os, is un vol u maj krati vord te bun, ka se de sin avo u tali katen valgi, anuzi vordis wim "uslivan", "splendi" id tal de rest ? "Plusbun" inklùz de sine tale da vordis o "dupliplusbun" is un vol ekwa jok maj krati. Naturim nu se ʒa uzan da forme, ba in de fendi versiòn Novilingi, je ve sto nit alten. Be de fend, de tali kocepe bunadi id pejadi ve vido kroven pa solem ses vorde - in realad, solem un vord. Viz tu ne de belad de zoci, Winston ? Naturim je sì de idea Big Brother be inìz," he ajutì posmenan.
…
« Tu av ne u real aprizad ov Novling, Winston », he dezì nerim tristim. Oʒe wan tu skriv ja, tu men jok in Vetiling. I av lisen eke od de artikle wen tu skriv in de Times uskazim. Lu se sat bun, ba lu se tradutade. In ti karʒ tu prigusev stajo feden a Vetiling, ki tal ji valgid id ji anuzi nuanse. Tu cep ne ka belad je ste in de distruad vordis. Zav tu te Novling se de uni linga wej vokabular vid maj id maj miki jaki jar?"
…
« Viz tu ne te de veri tel Novlingi se rustrito de limite meni ? Be de fend nu ve deto menikrìm literim anmozli, par je ve nemaj sto vorde po uspreso ja. Tale kocepe we moz evos so nuden ve vido uspresen pa puntim un vord, wej sin ve vido strigim befenden, id tale de dujordi sinade ve vido aptrofen id oblasen. Ʒa in de Desuni Usdàv, nu se ne dal od da punt. Ba de prosesad ve jok proìto longim pos tu id i ve so mori. Jaki jar min id min vorde id de spas kozavi maj id maj rustriten. Oʒe num, naturim, je ste nemaj motìve o skuze po perdeto menikrìm. Je se slim u kest sia-diciplini, kontroli de realadi. Ba be de fend oʒe da ve nemaj so nudi. De Revolusiòn ve so kopolen wan de linga ve so perfeti. Novling se Engsos id Engsos se Novling," he ajutì ki u sort mistiki satizadi.
"Av je ʒa venen to in ment, Winston, te tra de jar 2050, be de maj posen, nun uni ʒivi human ve so abli incepo u kovòk wim nu av num ?"
"Usim…," Winston inizì dubim, pos he stopì.
He avì su kip hi lingi de vorde "Usim de prole," ba he kontrolì sia, ne felan talim siuri te di rumàrk sev polem ortodoksi. Pur Syme avì geden wa he sì po dezo.
"Prole se ne humane," he dezì dicerim; ʒa in 2050 - maj pru versemim - tal veri konad ov Vetiling ve avo disvanen. Tal de literatùr paseni v'avo viden distruen. Chaucer, Shakespeare, Milton, Byron… ve solem esisto in Novlingi versione; lu ve ne slim vido meten in ekwa disemi, ba ve in fakt vido meten in ekwa goni a wa lu sì dafòr. Oʒe de literatùr de Partìzi ve meto. Oʒe de slogàne ve meto. Kim mozev nu avo u slogàn wim "Lifrid se sklavad" wan de kocèp som lifridi ve avo viden aplegen ? De tali klimàt meni ve so disemi. In fakt je ve sto nun men, wim nu incèp ja num. Ortodoksi sin anmenan, ne nudan meno. Ortodoksid se ankozavid.
★ ★ ★
★ ★ ★
Un od da dias, menì Winston plozim ki u duv koviktad, Syme ve vido vapizen. He se tio inteligan. He viz tio klarim id he vok tio frankim. De Partìz gus ne sule liente. Un dia he ve disvano. Je se skriven su hi fas…
Be de tab be lif, de man ki de skrili voc sì jok vokan ankopainim.…
Wa sì lejim horòri sì te, od de strom zonis flujan us hi muk, je sì nerim anmozli dissigo un uni vord. Solem unvos Winston tracepì u pez frazi - "kopolen id fendi usnitad Golsteinismu »… Tal de rest sì solem u rum, u kwaki kwakad. Id pur, obte un mozì ne oro wa de man sì dezan, un mozì avo nun dub ov ji general natùr. …Enikà he dezì, un mozì so siuri te tale hi vorde sì puri ortodoksid, puri Engsos…
Winston avì u strani felad te da sì ne u real human, ba u sort manikini…Wa sì flujan us sì maken ki vorde, ba je sì ne vokad in de veri sin de vordi: je sì u rum usen in ankozavid, wim de kwakad un andi.
Syme avì stajen silan dod u momènt, id ki de mandèl hi koceli, sì trasan forme in de plud stuveni. De voc od de alten tab sì proìtan kwako spelim, lezim orli obte de inronan glam.
"Je ste u vord in Novling," dezì Syme, "I zav ne is tu kon ja: andiling, kwako wim un and. Je s'un od da interesan vorde we av du gondezi sine. Uzen ov un agonor, je s'un inrùd.; uzen ov ekun ki wen un kovèn, je s'u lob. »
Andubim Syme ve vido vapizen, Winston menì revos.
★ ★ ★
NEWSPEAK
In the following passage, Winston meets his "friend" Syme in the canteen. Syme is a Newspeak specialist who is working on the dictionary: he explains the principles of Newspeak to Winston. I find this passage particularly interesting, above all for conlangers .
★ ★ ★
'There's a table over there, under that telescreen,' said Syme. 'Let's pick up a gin on the way.' …
'How is the Dictionary getting on?' said Winston, raising his voice to overcome the noise.
'Slowly,' said Syme. 'I'm on the adjectives. It's fascinating.'
He had brightened up immediately at the mention of Newspeak. He pushed his pannikin aside, took up his hunk of bread in one delicate hand and his cheese in the other, and leaned across the table so as to be able to speak without shouting.
'The Eleventh Edition is the definitive edition,' he said. 'We're getting the language into its final shape—the shape it's going to have when nobody speaks anything else. When we've finished with it, people like you will have to learn it all over again. You think, I dare say, that our chief job is inventing new words. But not a bit of it! We're destroying words—scores of them, hundreds of them, every day. We're cutting the language down to the bone. The Eleventh Edi- tion won't contain a single word that will become obsolete before the year 2050.' …
★ ★ ★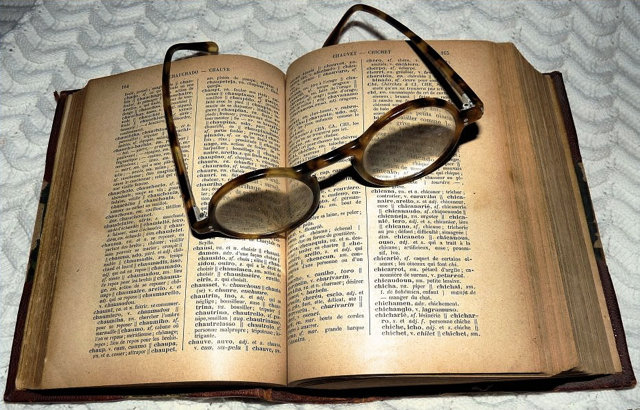 ★ ★ ★
'It's a beautiful thing, the destruction of words. Of course the great wastage is in the verbs and adjectives, but there are hundreds of nouns that can be got rid of as well. It isn't only the synonyms; there are also the antonyms. After all, what justification is there for a word which is simply the opposite of some other word? A word contains its opposite in itself. Take 'good', for instance. If you have a word like 'good', what need is there for a word like 'bad'? 'Ungood' will do just as well—better, because it's an exact opposite, which the other is not. Or again, if you want a stronger version of 'good', what sense is there in having a whole string of vague useless words like 'excellent' and 'splendid' and all the rest of them? 'Plusgood' covers the meaning, or 'double- plusgood' if you want something stronger still. Of course we use those forms already. but in the final version of New- speak there'll be nothing else. In the end the whole notion of goodness and badness will be covered by only six words— in reality, only one word. Don't you see the beauty of that, Winston? It was B.B.'s idea originally, of course,' he added as an afterthought.
…
'You haven't a real appreciation of Newspeak, Winston,' he said almost sadly. 'Even when you write it you're still thinking in Oldspeak. I've read some of those pieces that you write in 'The Times' occasionally. They're good enough, but they're translations. In your heart you'd prefer to stick to Oldspeak, with all its vagueness and its useless shades of meaning. You don't grasp the beauty of the destruction of words. Do you know that Newspeak is the only language in the world whose vocabulary gets smaller every year?'
…
'Don't you see that the whole aim of Newspeak is to narrow the range of thought? In the end we shall make thoughtcrime literally impossible, because there will be no words in which to express it. Every concept that can ever be needed, will be expressed by exactly one word, with its meaning rigidly defined and all its subsidiary meanings rubbed out and forgotten. Already, in the Eleventh Edition, we're not far from that point. But the process will still be continuing long after you and I are dead. Every year fewer and fewer words, and the range of consciousness always a little smaller. Even now, of course, there's no reason or excuse for committing thoughtcrime. It's merely a question of self-discipline, reality-control. But in the end there won't be any need even for that. The Revolution will be complete when the language is perfect. Newspeak is Ingsoc and Ingsoc is Newspeak,' he added with a sort of mystical satisfaction. 'Has it ever occurred to you, Winston, that by the year 2050, at the very latest, not a single human being will be alive who could understand such a conversation as we are having now?'
'Except——' began Winston doubtfully, and he stopped. It had been on the tip of his tongue to say 'Except the proles,' but he checked himself, not feeling fully certain that this remark was not in some way unorthodox. Syme, however, had divined what he was about to say.
'The proles are not human beings,' he said carelessly. 'By 2050—earlier, probably—all real knowledge of Oldspeak will have disappeared. The whole literature of the past will have been destroyed. Chaucer, Shakespeare, Milton, Byron—they'll exist only in Newspeak versions, not merely changed into something different, but actually changed into something contradictory of what they used to be. Even the literature of the Party will change. Even the slogans will change. How could you have a slogan like 'freedom is slavery' when the concept of freedom has been abolished ? The whole climate of thought will be different. In fact there will be no thought, as we understand it now. Orthodoxy means not thinking—not needing to think. Orthodoxy is unconsciousness.'
One of these days, thought Winston with sudden deep conviction, Syme will be vaporized. He is too intelligent. He sees too clearly and speaks too plainly. The Party does not like such people. One day he will disappear. It is written in his face…
★ ★ ★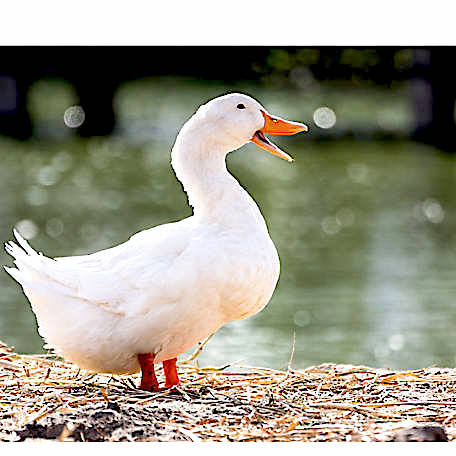 ★ ★ ★
At the table on his left the man with the strident voice was still talking remorselessly away.…
What was slightly horrible, was that from the stream of sound that poured out of his mouth it was almost impossible to distinguish a single word. Just once Winston caught a phrase—'complete and final elimination of Goldsteinism'…For the rest it was just a noise, a quack-quack-quacking. And yet, though you could not actually hear what the man was saying, you could not be in any doubt about its general nature.…Whatever it was, you could be certain that every word of it was pure orthodoxy, pure Ingsoc…Winston had a curious feeling that this was not a real human being but some kind of dummy.… The stuff that was coming out of him consisted of words, but it was not speech in the true sense: it was a noise uttered in unconsciousness, like the quacking of a duck.
Syme had fallen silent for a moment, and with the handle of his spoon was tracing patterns in the puddle of stew. The voice from the other table quacked rapidly on, easily audible in spite of the surrounding din.
'There is a word in Newspeak,' said Syme, 'I don't know whether you know it: DUCKSPEAK, to quack like a duck. It is one of those interesting words that have two contradictory meanings. Applied to an opponent, it is abuse, applied to someone you agree with, it is praise.'
Unquestionably Syme will be vaporized, Winston thought again.
★ ★ ★
LA NOVLANGUE
★ ★ ★
– Il y a une table là-bas, sous le télécran, dit Syme. Nous prendrons un gin en passant…
« Comment va le dictionnaire ? » demanda Winston en élevant la voix pour dominer le bruit.
– Lentement, répondit Syme. J'en suis aux adjectifs. C'est fascinant.
Le visage de Syme s'était immédiatement éclairé au seul mot de Novlangue. Il poussa de côté le récipient qui avait contenu le ragoût, prit d'une main délicate son quignon de pain, de l'autre son fromage et se pencha au- dessus de la table pour se faire entendre sans crier.
– La onzième édition est l'édition définitive, dit-il. Nous donnons à la Novlangue sa forme finale, celle qu'elle aura quand personne ne parlera plus une autre langue. Quand nous aurons terminé, les gens comme toi devront la réapprendre entièrement. Tu crois, sans doute, que notre travail principal est d'inventer des mots nouveaux ? Pas du tout ! Nous détruisons chaque jour des mots, des vingtaines de mots, des centaines de mots. Nous taillons le langage jusqu'à l'os. La onzième édition ne renfermera pas un seul mot qui puisse devenir obsolète avant 2050…
★ ★ ★
★ ★ ★
– C'est une belle chose, la destruction des mots. Naturellement, c'est dans les verbes et les adjectifs qu'il y a le plus de déchets, mais il y a des centaines de noms dont on peut aussi se débarrasser. Pas seulement les synonymes, il y a aussi les antonymes. Après tout, pourquoi conserver un mot qui n'est que le contraire d'un autre ? Les mots portent en eux-mêmes leur contraire. Prends « bon », par exemple. Si tu as « bon » quel besoin d'avoir un mot comme « mauvais » ? « Inbon » fera l'affaire tout aussi bien, mieux même, parce qu'il est l'opposé exact de bon, ce qui n'est pas le cas de « mauvais ». Et si l'on désire un mot plus fort que « bon », quel sens y a-t-il à avoir toute une chaîne de mots vagues et inutiles comme « excellent », « splendide » et tout le reste ? « Plusbon » englobe le sens de tous ces mots, et, si l'on veut un mot encore plus fort, il y a « double-plusbon ». Naturellement, nous employons déjà ces formes, mais dans la version définitive du novlangue, il n'y aura plus rien d'autre. En résumé, la notion complète du bon et du mauvais sera couverte par six mots seulement, en réalité un seul mot. Tu vois, Winston, la beauté de tout cela ? Naturellement, ajouta-t-il après coup, l'idée vient de Big Brother…
– Tu n'apprécies pas vraiment la Novlangue, Winston, dit-il d'un air triste. Même quand tu écris, tu penses en Ancilangue. J'ai lu quelques-uns des articles que tu écris parfois dans le Times. Ils sont assez bons, mais ce sont des traductions. Au fond, tu aurais préféré rester fidèle à l'Ancilangue, à son imprécision et ses nuances inutiles. Tu ne saisis pas la beauté qu'il y a dans la destruction des mots. Sais-tu que la Novlangue est la seule langue dont le vocabulaire diminue chaque année ?…
– Ne vois-tu pas que le véritable but de la Novlangue est de restreindre les limites de la pensée ? À la fin, nous rendrons littéralement impossible le crime par la pensée car il n'y aura plus de mots pour l'exprimer. Tous les concepts nécessaires seront exprimés chacun exactement par un seul mot dont le sens sera délimité. Toutes les significations annexes seront supprimées et oubliées. Déjà, dans la onzième édition, nous ne sommes pas loin de ce résultat. Mais le processus continuera encore longtemps après que toi et moi nous serons morts. Chaque année, de moins en moins de mots, et le champ de la conscience de plus en plus restreint. Il n'y a plus, dès maintenant, c'est certain, d'excuse ou de raison au crime par la pensée. C'est simplement une question de discipline personnelle, de maîtrise de soi-même. Mais même cette discipline sera inutile en fin de compte. La Révolution sera complète quand la langue sera parfaite. La Novlangue est l'Angsoc et l'Angsoc est la Novlangue, ajouta-t-il avec une sorte de satisfaction mystique. T'est-il jamais arrivé de penser, Winston, qu'en l'an 2050, au plus tard, il n'y aura pas un seul être humain vivant capable de comprendre une conversation comme celle que nous avons maintenant ?
– Sauf..., commença Winston avec un accent dubitatif, mais il s'interrompit.
Il avait sur le bout de la langue les mots : « Sauf les prolétaires », mais il se maîtrisa. Il n'était pas absolument certain que cette remarque fût tout à fait orthodoxe. Syme, cependant, avait deviné ce qu'il allait dire.
★ ★ ★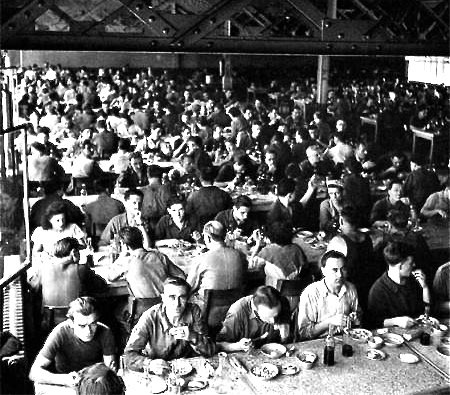 ★ ★ ★
– Les prolétaires ne sont pas des êtres humains, dit-il négligemment. Vers 2050, plus tôt probablement, toute connaissance de l'Ancilangue aura disparu. Toute la littérature du passé aura été détruite. Chaucer, Shakespeare, Milton, Byron n'existeront plus qu'en versions novlangue. Ils ne seront pas changés simplement en quelque chose de différent, ils seront changés en quelque chose qui sera le contraire de ce qu'ils étaient jusque-là. Même la littérature du Parti changera. Même les slogans changeront. Comment pourrait-il y avoir une devise comme « La liberté c'est l'esclavage » alors que le concept même de liberté aura été aboli ? Le climat total de la pensée sera autre. En fait, il n'y aura pas de pensée telle que nous la comprenons maintenant. L'orthodoxie c'est ne pas penser, ne pas avoir besoin de penser, l'orthodoxie, c'est l'inconscience.
« Un de ces jours, pensa soudain Winston avec une conviction certaine, Syme sera vaporisé. Il est trop intelligent. Il voit trop clair et parle trop franchement. Le Parti n'aime pas ces individus-là. Un jour, il disparaîtra. C'est écrit sur son visage. »
… À la table qui se trouvait à sa gauche, l'homme à la voix stridente continuait impitoyablement à parler. … Ce qui était légèrement horrible, c'est qu'il était presque impossible de distinguer un seul mot du flot de paroles qui se déversait de sa bouche. Une fois seulement, Winston perçut une phrase (« complète et finale élimination de Goldstein »… Le reste n'était qu'un bruit, qu'un caquetage. Pourtant, bien qu'on ne pût entendre, on ne pouvait avoir aucun doute sur la nature générale de ce que disait l'homme. …Quel que fût le sujet de sa conversation, on pouvait être sûr que tous les mots étaient d'une pure orthodoxie, d'un pur Angsoc. …Winston avait l'étrange impression que cet homme n'était pas un être humain réel, mais quelque chose comme un mannequin articulé …ce qui lui sortait de la bouche était fait de mots, mais ce n'était pas du langage dans le vrai sens du terme. C'était un bruit émis en état d'inconscience, comme le caquetage d'un canard.
Syme, depuis un moment, était silencieux et traçait des dessins avec le manche de sa cuiller dans la flaque de ragoût. La voix, à l'autre table, continuait son caquetage volubile, bien audible en dépit du vacarme ambiant.
– Il y a un mot en Novlangue, dit Syme, je ne sais pas si tu le connais : canelangue, « caquetage du canard ». C'est un de ces mots intéressants qui ont deux sens opposés. Appliqué à un adversaire, c'est une insulte. Adressé à quelqu'un avec qui l'on est d'accord, c'est un éloge.
« Indubitablement, Syme sera vaporisé », pensa de nouveau Winston.
★ ★ ★