★ ★ ★
* Uropi Nove 141 * Uropi Nove 141 * Uropi Nove 141 *
★ ★ ★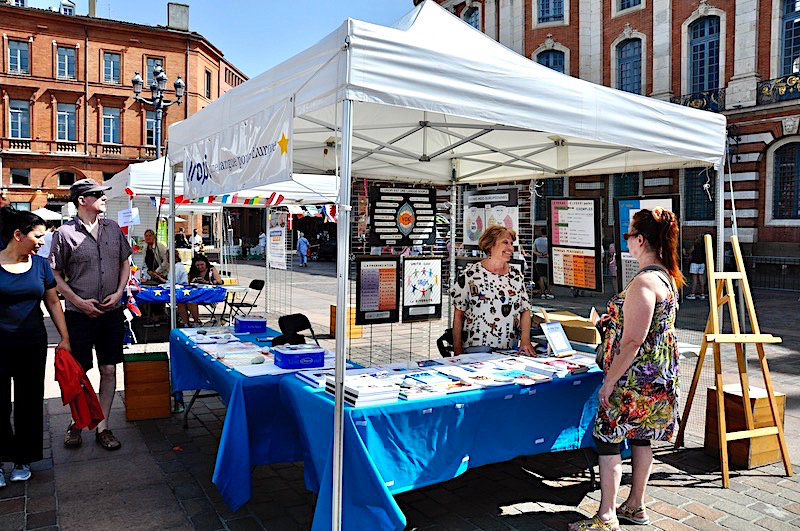 ★ ★ ★
Be Soldia 19i Ʒun, be Plaz Kapitoli in Tulùz, avì sta de Forum de Lingus Moldi wo eke 70 stande prosetì maj te 120 lingas od tali mold. Da sì ʒe u mol partikuli Forum: prim, Tulùz sì andubim un od de cajes pole in Francia in de kunicajad: 39 grade be cam; un moz lezim imaʒino kamole maj be sol… Sonia vokì ov 43 grade in Rùen id 45 in Tur, ba da sì naturim be sol… mojse 33 id 35 grade be cam.
Wan nu avenì be Wendia vespen, pos avo seten niz ni vaizele in de klimatizen kamar, id nu vadì us po ito a de policentra, je sì nerim anusperli: nun vint id 39 grade be cam… ito tra de « Novi Pont » sì wim vado in Sahara: je detì ma meno ov Afrika… Felicim, be Sabadia, nu avì de som cajad, ba mol vint we flì ekvos in violti rafale, id davì no u poj fricad… o de ilusiòn u poj fricadi.
Nu avì de som verem be Soldia. Od 8 a 10h 30, nu ustelì « monto » de stand, de table id aleʒo de dokumente: nu sì nerim predi wan de fluj vizitoris inizì. Nu avì menen te, ki de cajad, nu vizev min liente, ba gonim, lu avì nevos sen maj numari: od 10h 30 a 1h 30, nu obe avì nun minùt po fleso, nun momènt resi… mojse de liente menì te je sev frices vizito de Forum be morna, id indèt, tis 11-12h nu sì in de cam de Kapitoli… Pos nu jedì, ba oʒe trawàn de jedad, un od na doʒì sto op po procepo liente… De rudèl sì te nu mozì ne laso ni stand po vizo alten aktivide id stande, id kogono alten liente za, id os tu nu mozì nemo mol poje fotòs. Ba nu ve ne klamo ov veko u sul interès.
Be de posmidià je sì maj tici: de vizitore doʒì sto be sol po disvoko, sim nu invitì eke od la ito in de stand po disvoko pro.
Uslandore
De vizitore sì disemi te in de pasen jare: nu vizì pratikim ne uslandore (i zav ne is lu avì frajen de kunicajad, de Kovid, de votad, o de wer in Ukrainia… pur bombe falì ne in Tulùz; de kosloge sì te nu vizì nun Rusi ingeniore wim foram… o is je sì de periòd jari: be fend Ʒuni, mole uslandi studane av fenden li studijàr id iten ru dom…).
Be pru morna, u jun Azian, interesen ov lingas, pragì no ko he mozì findo Uropi Kurse. U Bulgàr, we sì os pasionen ov lingas, id studan Cini id Korean aprizì ʒe mol de slimid Uropi wej gramatik moz vido resumen in de 4 table usstalen id findì te je s'u bun rupìct de lingus voken in Europa, wim os li literatùri (Daudet, St Exupéry, Buzzati, Tcekhov, Orwell, Yourcenar, Kaschnitz, Andersen… i.s.p.). Ni fram Ismail od de Urdu stand we sì talvos facinen pa de komùn Indeuropan rode we uniz na tale, venì vizo na id disvoko u poj. Nu vizì os un Armèna od de neri Armèni stand we sì interesen ov de komùn vorde intra Uropi id Armèni.
★ ★ ★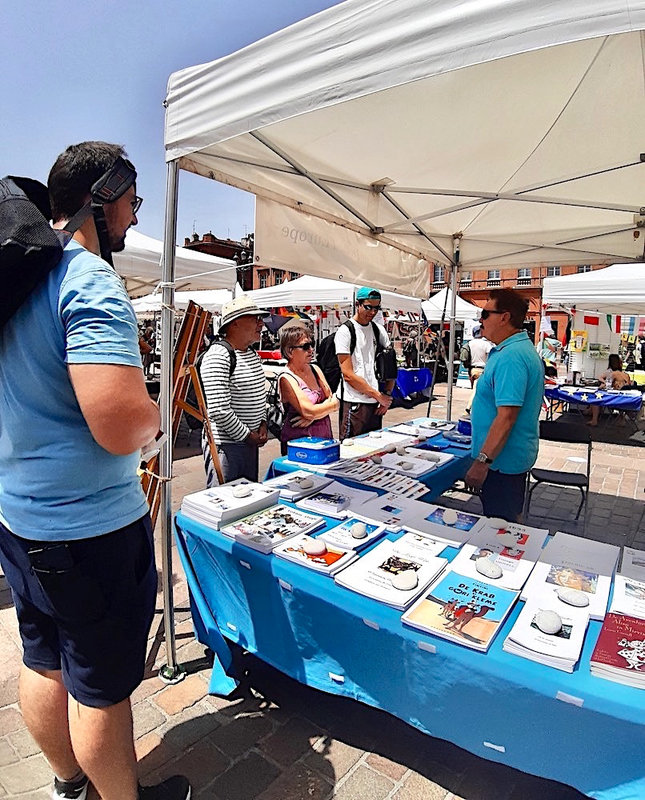 ★ ★ ★
Jaki violti rafàl vinti aperì no Armèni dokumente wen i doʒì pero ru a li stand… U strani form kontakti. I mozì os voko u poj Rusi ki u Marokin we vokì mole lingas id u santora, retalora sagis we avì ʒiven tri jare in Rusia. U jun Midostian od de Asirian stand venì voko no ov Asiriane we se Ostian kristane ʒivan in Turkia, Suria, Iràk… id vok u novi Aramèi linga. Be fend posmidiù venì os u jun Dosk vokan Franci ki nerim nun aksènt: he sì mol interesen ov Uropi par he sì skrivan u doktori tez ov struen lingas. I davì ho u brocùr koeglan Novial, Uropi, Esperanti, Engli id Franci, u list Doski-Uropi komùn vordis, id he nemì mole fotòs ov de vari gramatiki id etimologic table.
June id altene
De majsan vizitore sì jun liente, studane o noven diplomene in lingas, matematik, fizik, apotekad… Nu avì os maj seni ʒinas id pensionoras we sì o avì sen dictore moderni lingus o Latini id veti Greci… Eniwim tale sì interesen ov lingas, id mole konì, o bemìn avì oren ov de komun Indeuropan rode… Po samp da jun studana we avì studen lingas id de usvolpad vokabulari, gladì ki u gren interès de etimologic table wen ce findì partikulim klar id lezim incepli. Mole pragì maj procizi lingu keste, wim po samp, ka se de sintàks (SVO), kim formo keste, kim usvoko de litèr R id de alten foneme, se je nudi avo u perfèt we se disemi od de pasen ? Id sim pro. Nu ruvokì te je ste solem 5 vokale: a, e, i, o ,u, id te je ste ne kozòne wim Doski ch, Espàni j o Engli th,id nu avì u longi disvokad ov de uzid perfeti. U jun man dezì no te je ste nun perfèt in Cini (Mandorini), pur je ste bemìn tri disemi mode po uspreso pasen: 过 guò, 了 le, 是... 的 shì...de. Mole Indeuropan lingas av u perfèt we se disemi od pasen: Engli, Espàni, moderni Greci, Hindi… Wan un dez: I fel ma bun par i av bun jeden (nu se in prosàn), je se mol disemi od I rumèn te nu jedì bun in da restoria (nu se in pasen)…
Mole aprizì os de kulturi dismèz Uropi tra de vari tradutade id publizade wim De Miki Prins, Alisa in Mirviziland id mole alten kurtistorije. Nerim tale pragì no is je stì Uropi kurse in Tulùz: nu ruvokì te wajim je ste ne, par nu ven od Cartre, ba te un moz lezim lero Uropi su Internet. Nu davì lo de novi flevifol ki tale informade. Du ʒinas vidì atrajen pa de Miki Prinsi id alten tradutade id vidì mol inpresen pa de anmezi kamolad varki (intra altene de Uropi vordar ki maj te 20 000 vorde).
★ ★ ★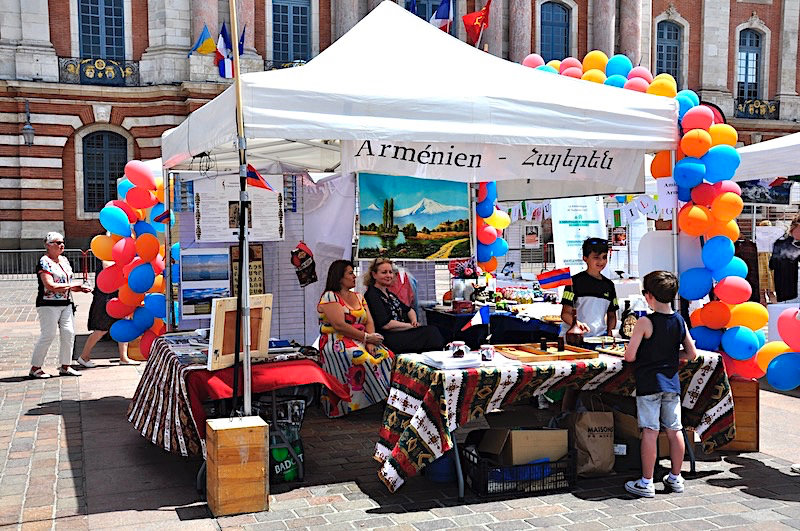 De Armèni stand
★ ★ ★
Nu vizì os mole « Esperantiste »… poje od la venì od de Esperanti stand; de majsan avì studen u poj Esperanti, pos deten ekwa alten. Tale pragì no « Ka se de disemid ki Esperanti ? »
I ruvokì te Uropi sì maj slimi id intranasioni. I davì de klasiki samp ki « I viz di bel roj roze » « Mi vidas ĉi tiujn belajn ruĝajn rozojn », ki un uni gramatiki mark in Uropi: de -e pluràli, id 9 marke in Esperanti: u fendad prosàni: -as, 4 fendade plurali: -j id 4 akuzative: -n…ane voko ov de anharmonic zone: ujn, ajn, ojn…
I dezì lo os te Uropi se mol maj intranasioni te Esperanti, davan wim sampe la birdo (= ovel, we esìst solem in Engli) id wan usvoken ki un -i- wim in Esperanti, je det Englivokore incepo priʒe 'beard' (barb) te 'bird'. I davì os de samp ov 'aĉeti' (kopo) we se klar solem po France ('acheter'), ba we sin 'asike' po Italine: aceti, de pluràl aceto = asik. De man in de par Esperantistis a wen i usklarì da avì u lej aksènt; i pragì ho od ko he venì: he ruvokì « od Italia »… i men te he incepì ʒe bun mi argumènt. I dezì te in Uropi, nu avì 'kopo' id de jun ʒina dezì: 'Aj, wim 'kupić' (ce sì od Polski odvenad). I ruvokì « Wim kupić in Polski, kupiti in Kroati, kopen in Nizilandi… in tale Slavi id nerim tale Germàni lingas, ane voko ov de Itali, Espàni, Portugi vorde we se semli: comprar/e. »
De 'veri' Esperantiste pragì os: « Parkà mako u novi intranasioni linga ? Je ste ʒa un: Esperanti » I ruvokì « un ??? Je stì mole IEL pos Esperanti: Ido, Oksidental, Novial, Interlingua, Neo… id sim pro, ane voko ov de lingas odiu: LFN, Lingua de Planeta, Sambahsa; id Uropi naturim.
Altenzatim, nu vizì os liente we dezì: « Se Uropi u linga wim da linga we funsionì ne, we ustelì ne… Ka sì je ʒe nomen ? » «Esperanti ?» « Aj, Esperanti ».
U dama venì a ni stand ki ci frama Martinikana. Ce sì dictora Latini in Andora, ce konì ʒe bun Indeuropan rode id volì inkluzo Uropi in u projèt ki ci studane. Ce avì ʒiven tri jare in Martinika id publizì miki pictibibe in Kreoli id Franci, wen i findì mol interesan.
★ ★ ★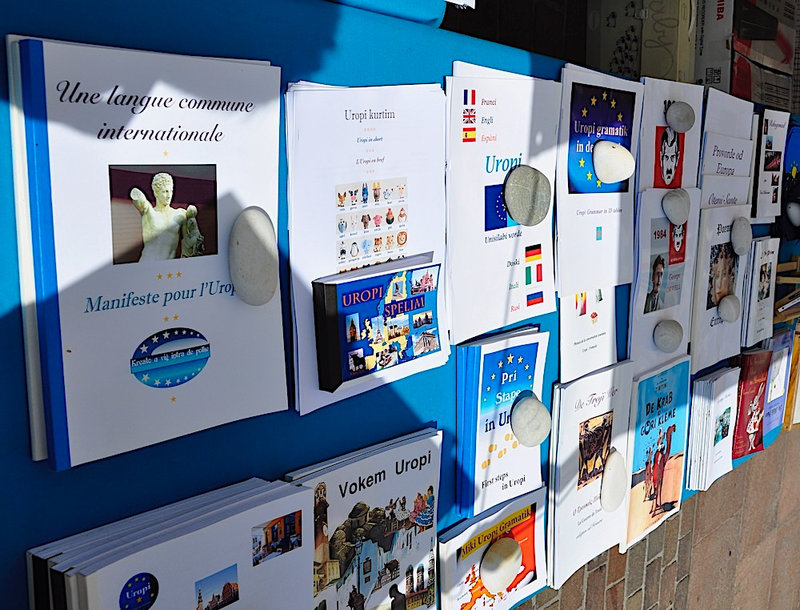 ★ ★ ★
De Krab ki de gori kleme avì os u gren suksès. Mole liente sì interesen ov ja id pragì mo parkà je vidì ne publizen. I doʒì usklaro lo te num de famìl Hergé ki de usdave Moulinsart volì kontrolo tale de publizade ov Tintin id te lu volì ne publizo ja in Uropi. U man volì oʒe kopo ni samplar; i dezì ho te nu mozì ne vendo ja, par nu mozev vido ataken in justìz. Pur nu avì nun problèm po publizo de Miki Prins id Alisa in Mirviziland.
Be posmidià, nu mozì reso id fleso u poj id i vadì aròn de Forum, cekan de Casal català, ba i vizì ja nekia, nu sì mol disluʒen… i menì te mojse ni frame H. id B. tradomen in Bretania wim lu intelì deto.
Be fend posmidiù, nu avì jok vizitore, du ʒinas we sì interesen ov lingas id findì Uropi 'stuman' ('stupéfiant' lu dezì); lu aprizì de argumènt te Uropi, tra ji slimid moz kotogo tale klase sosiadi id ne solem un elìt. Be som tem venì u jun ʒina, u studana lingus (Engli, Espàni Rusi), we sì mol interesen; ce avì studen u poj Esperanti, id semì ruplojo ja. Dapòs u jun man peran u roliplank pragì no mole vari keste ov Uropi id semì mol satizen ki de ruvoke.
Dapòs nu inizì aprano tal; i doʒì ito a de parkia, id ruvenan, i sì mol suprizen, id mol glaj vizo H. id B. we venì vizo na. De Casal Català avì organizen un alten usvenad be de som dia: Aplec sardanista wo liente dansì sardanas ki muzikore od Nordi id Sudi Katalania su u plaz in St Cyprien. Sim lu mozì ne so prosàn be de Forum Lingus.
Nu sì tale mol glaj revizo unaltem, id H. id B. eldì na dimonto de stand, pos, nu farì tale sam a St Cyprien wo nu pivì u vas su u teràs id stajì disvokan tis nocifàl.
De ruvàiz sì ane problèm id beròn 18 hore, nu avenì ru dom.
De pej suprìz sì vartan na, ba nu diskrovì ja solem di morna. Du o tri noce for, je avì sten u mol violti vint we avì aproden de nosar in de nordi gardin. Je avì falen su de tag de baniu, ba avì ne kozen mole dame par solem de kipe rastis ki li fole sì resan su de tag. De problem se te odia i doʒì koto niz tal de drev… un ankredli kum rastis id drovistuke… id i doʒì deto ja spelim par altem i mozev ne faro us de garàʒ ki mi vag.
★ ★ ★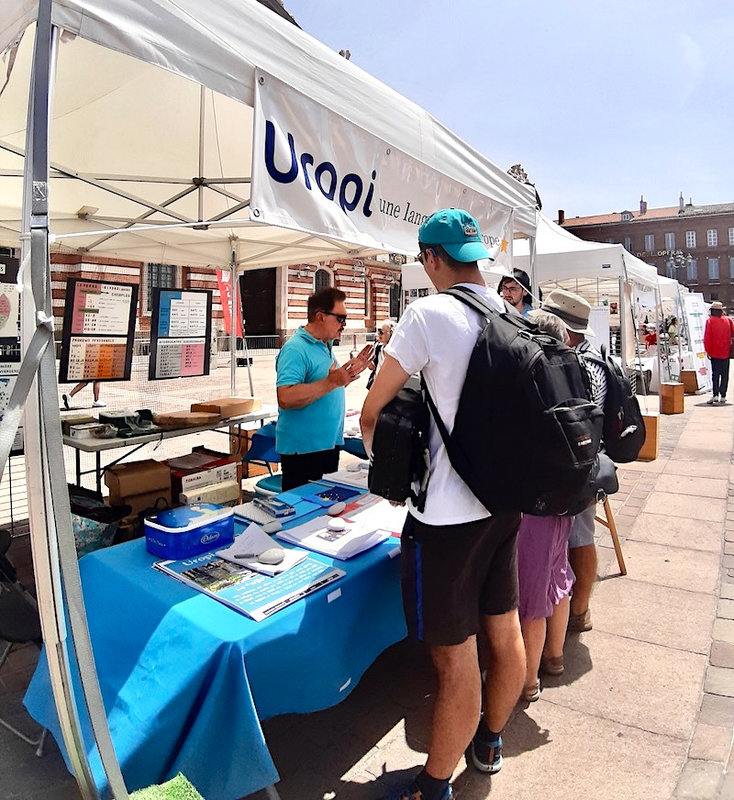 ★ ★ ★
Forom des Langues du Monde
★ ★ ★
Dimanche 19 juin, Place du Capitole à Toulouse, avait lieu le de Forom des Langues du Monde où quelques 70 stands présentaient plus de 120 du monde entier. Ce fut un Forom bien particulier, d'abord parce que Toulouse a été sans aucun doute une des villes les plus chaudes de France pendant la canicule: 39° à l'ombre; on peut facilement imaginer ce que ça donne au soleil… On nous a parlé de 43° à Rouen et 45 à Tours, mais c'était, bien sûr au soleil… peut être 33° et 35° à l'ombre.
Quand nous sommes arrivés vendredi soir, après avoir déposé nos bagages dans la chambre climatisée, et que nous sommes sortis pour aller au centre, c'était presque insupportable: aucun vent et 39° à l'ombre… traverser le « Pont Neuf » c'était comme marcher dans le Sahara: ça m'a rappelé l'Afrique… Heureusement, le samedi, avec la même chaleur, nous avions du vent qui soufflait parfois en violentes rafales, et nous apportait un peu de fraîcheur… ou l'illusion d'un peu de fraîcheur.
Même temps le dimanche. De 8 à 10h 30, nous avons réussi à « monter » le stand, les panneaux et disposer les documents: nous étions presque prêts quand le flux de visiteurs a commencé. Nous avions pensé que, avec la chaleur, nous verrions moins de gens, mais au contraire, ils n'ont jamais été aussi nombreux: de 10h 30 à 1h 30, nous n'avons pas eu une minute pour souffler, pas un seul moment de repos… peut être que nos visiteurs ont pensé qu'il ferait plus frais sur le Forom le matin, ce qui s'est révélé exact, car jusqu'à 11-12h nous avons bénéficié de l'ombre du Capitole… Nous avons pu ensuite manger un morceau, mais même pendant le repas, l'un de nous a dû se lever pour accueillir des gens… L'inconvénient c'est que nous n'avons pas pu quitter le stand pour aller voir d'autres activités d'autres stands, et rencontrer d'autres personnes, et que nous n'avons pu prendre que très peu de photos. Mais nous n'allons pas nous plaindre de susciter un tel intérêt.
L'après-midi a été plus tranquille: les visiteurs devaient rester en plein soleil, et nous en avons invité quelques uns à entrer dans le stand pour poursuivre la discussion à l'ombre.
Les étrangers
Les visiteurs étaient différents par rapport aux années passées: très peu d'étrangers (je ne sais pas s'ils ont eu peur de la canicule, du Covid, des élections, ou de la guerre en Ukraine… les bombes ne tombaient pourtant pas sur Toulouse, mais nous n'avons plus vu d'ingénieurs russes comme avant… ou si c'était dû à la période de l'année: fin juin les étudiants étrangers ont fini leurs cours et sont rentrés chez eux…).
★ ★ ★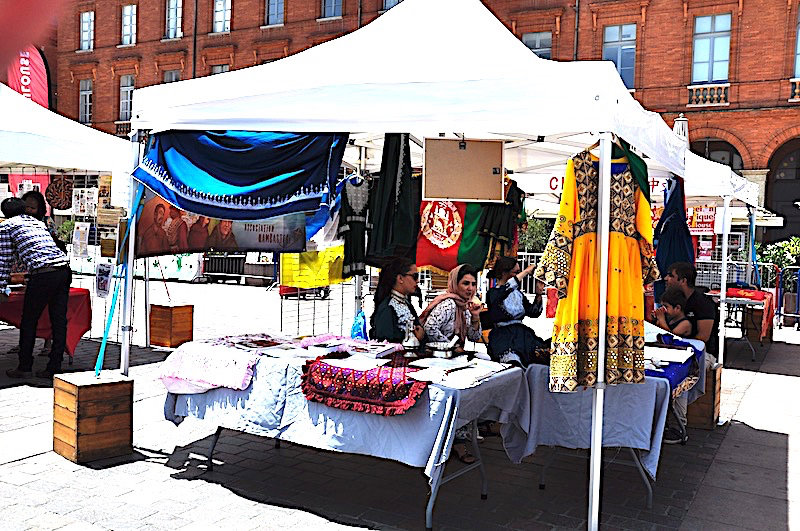 Asosiad Hambastegi, Afganistàn
★ ★ ★
Le matin de bonne heure, un jeune Asiatique, intéressé par les langues nous a demandé où il pouvait trouver des cours d'Uropi. Un Bulgare, également passionné par les langues, et qui étudiait le chinois et le coréen a été séduit par la simplicité de l'Uropi dont la grammaire peut se résumer aux quatre tableaux exposés et nous a dit qu'il reflète bien les langues parlées en Europe ainsi que leur littérature (Daudet, St Exupéry, Buzzati, Tchekhov, Orwell, Yourcenar, Kaschnitz, Andersen…etc.). Notre ami Ismail, du stand ourdou, toujours aussi fasciné par les racines indo-européennes qui nous unissent tous, est venu nous voir pour discuter un peu. Nous avons vu aussi une Arménienne, du stand arménien tout proche, intéressée par les mots communs à l'Uropi et l'arménien; chaque violente rafale de vent nous apportait des documents arméniens que je rapportais à leur stand… drôle de façon d'établir le contact !
J'ai pu aussi parler un peu russe avec un Marocain qui parlait beaucoup de langues et une chanteuse-conteuse qui avait vécu 3 ans en Russie. Un jeune homme du Moyen Orient, venant du stand Assyrien est venu nous parler des Assyriens actuels, des chrétiens d'orient qui vivent en Turquie, Syrie, Irak… et parlent un néo-araméen. En fin d'après-midi nous avons eu la visite d'un jeune Allemand qui parlait un français presque sans accent: il était très intéressé par l'Uropi car il écrivait une thèse sur les langues construites. Je lui ai donné une brochure comparant le novial, l'Uropi, l'espéranto, l'anglais et le français, ainsi qu'une liste de mots semblables en Uropi et allemand; il a pris beaucoup de photos des tableaux de grammaire et d'étymologie.
Des jeunes et des moins jeunes
La plupart des visiteurs étaient des jeunes, des étudiants ou de jeunes diplômés en langues, mathématiques, physique, pharmacie … Nous avons vu également des dames plus âgées et des retraitées qui étaient ou avaient été professeures de langues modernes ou de latin et grec ancien… D'une manière ou d'une autre, tous étaient intéressés par les langues, et beaucoup d'entre eux connaissaient, ou avaient au moins entendu parler des racines indo-européennes communes… Par exemple cette jeune femme qui avait étudié les langues et l'évolution de leur vocabulaire qu'elle retrouvait en Uropi et regardait avec grand intérêt les tableaux étymologiques qui, pour elle, étaient très clairs et accessibles. Ils nous ont posé des questions linguistiques précises, comme par exemple, quelle est la syntaxe (SVO), comment forme-t-on les questions, comment prononce-t-on le R et les autres phonèmes, est-il nécessaire d'avoir un parfait différent du passé ? etc.
★ ★ ★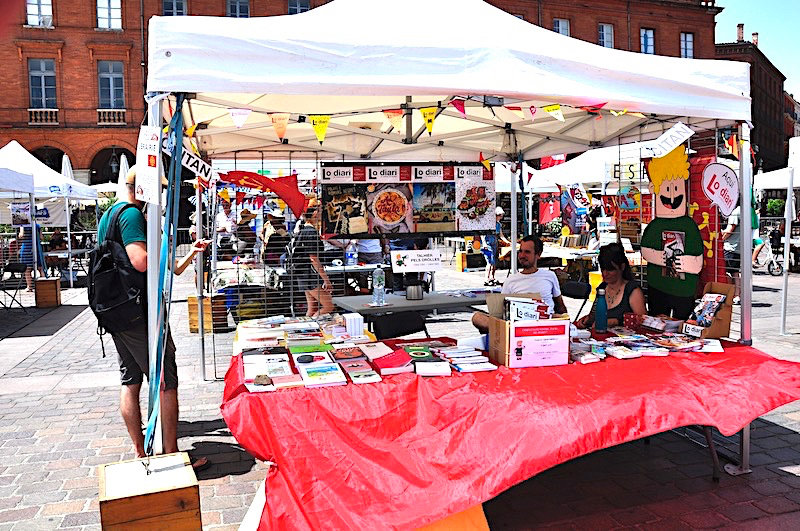 Oksitàni stand
★ ★ ★
Nous leur avons répondu qu'en Uropi, il y a seulement 5 voyelles: a, e, i, o ,u, et qu'il n'existe pas de consonnes comme le ch allemand, le j espagnol ou le th anglais et nous avons eu une longue discussion sur l'utilité du parfait. Un jeune homme nous affirmé qu'il n'y avait pas de parfait en mandarin; il y a cependant au moins trois manières différentes d'exprimer le passé: 过 guò, 了 le, 是... 的 shì...de. De nombreuses langues indo-européennes comme l'anglais, l'espagnol, le grec moderne, le hindi ont un parfait différent du passé… Quand on dit: Je me sens bien parce que j'ai bien mangé (nous sommes dans le présent), ce qui est très différent de Je me souviens que nous avons bien mangé dans ce restaurant (nous sommes dans le passé)…
Beaucoup ont été sensibles aux dimensions à la fois linguistique et culturelle de l'Uropi à travers les différentes traductions et publications comme Le Petit Prince, Alice au Pays des Merveilles et beaucoup d'autres nouvelles. Presque tous nous ont demandé s'il y avait des cours d'Uropi à Toulouse: il n'y en a malheureusement pas, car nous venons de Chartres, mais on peut facilement apprendre l'Uropi sur internet. Nous leur avons donné le nouveau dépliant avec tous les renseignements nécessaires. Deux dames ont été attirées par le Petit Prince et autres traductions, très inpressionnées par l'immensité de la tâche (notamment le dictionnaire de plus de 20 000 mots).
Nous avons vu également beaucoup 'd'espérantistes'… peu d'entre eux venaient du stand espéranto; la plupart avaient étudié u peu l'espéranto, puis étaient passés à autre chose. Tous nous ont demandé « Quelle est la différence avec l'espéranto ? »
J'ai répondu que l'Uropi était plus simple et plus international, en donnant l'exemple classique de « I viz di bel roj roze » (je vois ces belles roses rouges, en Uropi) et « Mi vidas ĉi tiujn belajn ruĝajn rozojn » (en espéranto), avec une seule désinence en Uropi: le -e du pluriel, et 9 marques grammaticales en espéranto: une désinence du présent: -as, 4 terminaisons du pluriel: -j et 4 accusatifs: -n…sans parler des sons peu harmonieux: ujn, ajn, ojn…
★ ★ ★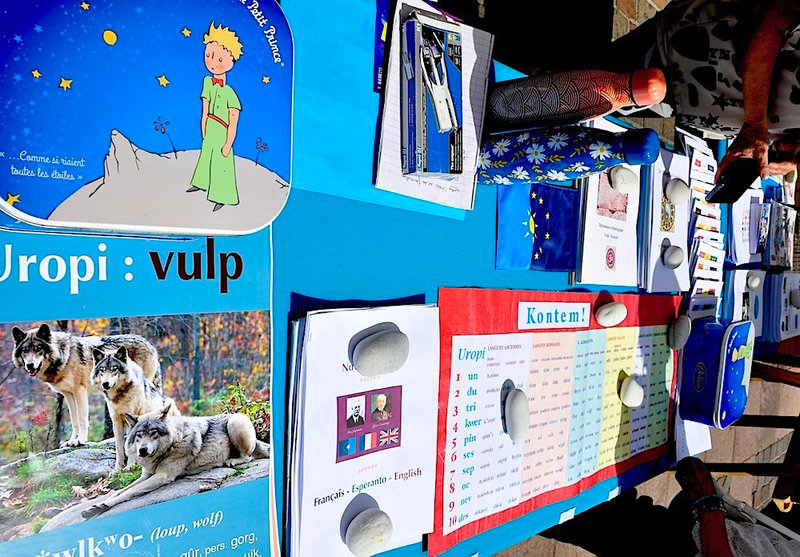 ★ ★ ★
J'ai ajouté que l'Uropi est beaucoup plus international que l'espéranto, en donnant des exemples comme la birdo (eo = l'oiseau, qui n'existe qu'en anglais) et lorsque qu'on le prononce avec un -i- comme en espéranto, les anglophones entendent plutôt 'beard' (barbe) que 'bird'. Ou également 'aĉeti' qui n'est clair que pour les Français: ('acheter'), mais qui veut dire 'les vinaigres' pour les Italiens: aceti, pluriel d'aceto = vinaigre. Dans le couple d'espérantistes à qui j'ai expliqué cela, l'homme avait un léger accent; je lui ai demandé d'où il venait: « d'Italie »… je crois qu'il a bien compris mon argument. Je leur ai dit qu'en Uropi, on avait 'kopo' pour 'acheter' et la jeune femme s'est exclamée: 'Ah oui, comme 'kupić' (elle était d'origine polonaise). J'ai répondu « Comme kupić en polonais, kupiti en croate, kopen en néerlandais…dans toutes les langues slaves et presque toutes les langues germaniques, sans parler des mots italien, espagnol, portugais qui sont très semblables: comprar/e. »
Les 'vrais' espérantistes ont aussi demandé: « Pourquoi faire une nouvelle langue internationale ? Il y en a déjà une: l'espéranto » « Une ??? Il y a eu de nombreuses langues auxiliaires internationales après l'espéranto: l'Ido, l'Occidental, le Novial, l'Interlingua, le Neo… etc., sans parler des langues d'aujourd'hui: LFN, Lingua de Planeta, Sambahsa; et l'Uropi bien sûr.
En revanche, d'autres visiteurs nous ont dit: « Est-ce que l'Uropi est une langue comme cette langue qui n'a pas marché, vous savez… Comment elle s'appelait, déjà ? » - «l'espéranto ?» - « Oui, l'espéranto ».
Une dame est venue à notre stand avec son amie Martiniquaise. Elle était professeure de latin à Andorre, elle connaissait bien les racines indo-européennes et voulait inclure l'Uropi dans un projet avec ses étudiants. Elle avait vécu trois ans en Martinique et publié de petits livres en images en créole et en français, que j'ai trouvés très intéressants.
De Krab ki de gori kleme (Le Crabe aux Pinces d'Or) a eu un grand succès. Beaucoup m'ont demandé pourquoi il n'avait pas été publié. J'ai dû expliquer que maintenant la famille de Hergé et les éditions Moulinsart voulaient contrôler toutes les publications de Tintin et ne souhaitaient pas l'éditer en Uropi. Quelqu'un désirait même acheter notre unique exemplaire; je lui ai dit qu'il n'était pas à vendre, et que nous pourrions être poursuivis en justice. Cependant, nous n'avons eu aucun problème pour publier De Miki Prins (le Petit Prince) et Alisa in Mirviziland (Alice au Pays des Merveilles) en Uropi.
★ ★ ★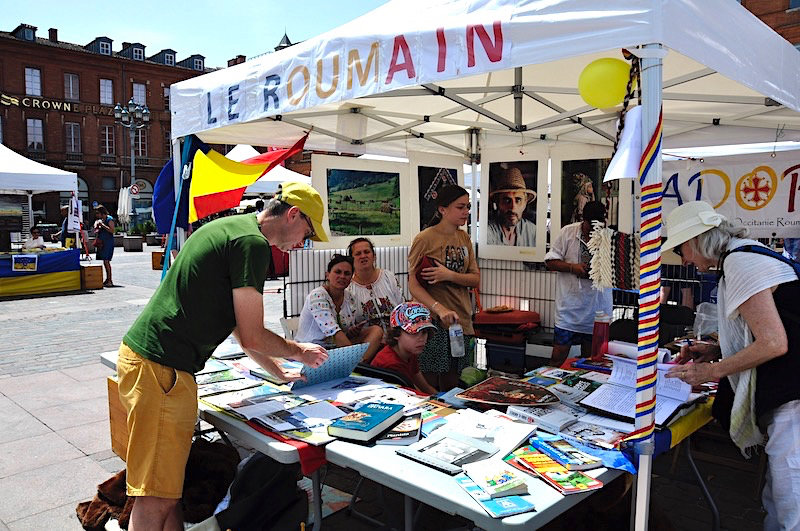 De Rumàni stand
★ ★ ★
L'après-midi, nous avons pu souffler un peu et j'ai pu faire un tour rapide du Forom, cherchant le Casal català, mais je ne l'ai vu nulle-part, nous étions très déçus… J'ai pensé que peut être nos amis H. et B. avaient déménagé en Bretagne comme ils en avaient l'intention.
En fin d'après-midi, nous avons encore des visiteurs, deux femmes passionnées par les langues qui ont trouvé l'Uropi 'stupéfiant' (je cite); elles sont particulièrement sensibles à l'argument que l'Uropi, par sa simplicité, s'adresse à toutes les classes de la société et pas seulement à une élite. En même temps est arrivée une jeune femme, étudiante en langues (anglais, espagnol, russe), très intéressée, elle aussi; elle avait étudié un peu l'espéranto, et semblait le regretter. Puis un jeune homme portant un skateboard nous a posé de nombreuses questions très variées sur l'Uropi et a semblé tout a fait satisfait de nos réponses.
Ensuite, nous avons commencé à tout ranger; j'ai dû me rendre au parking, et au retour, j'ai été très surpris et très heureux de voir H. et B. à notre stand. Le Casal Català avait organisé un autre événement le même jour: Aplec sardanista où l'on pouvait danser la sardane avec des musiciens de la Catalogne du Nord et du Sud sur une place de St Cyprien. Ils ne pouvaient donc pas participer au Forom des Langues.
Nous étions tous très contents de nous revoir, et H. et B. nous ont aidé à démonter le stand, puis, nous sommes partis ensemble à St Cyprien où nous avons bu un verre sur une terrasse et discuté jusqu'à la tombée de la nuit.
Le voyage de retour s'est déroulé sans problème et vers 18 hore, nous étions à la maison.
Une mauvaise surprise nous attendait, mais nous ne l'avons découverte que le lendemain matin. Deux ou trois nuits auparavant avait soufflé un vent très violent qui avait déraciné le noyer au nord du jardin. Celui-ci était tombé sur le toit de la salle bain, sans provoquer de gros dégâts car seuls le bout des branches et les feuilles reposaient sur le toit. Le problème c'est que j'ai dû le jour même débiter tout cet arbre immense… trois énormes tas de branches et de bûches… il fallait le faire rapidement car je ne pouvais plus sortir la voiture du garage.
★ ★ ★
Languages of the World Forum
★ ★ ★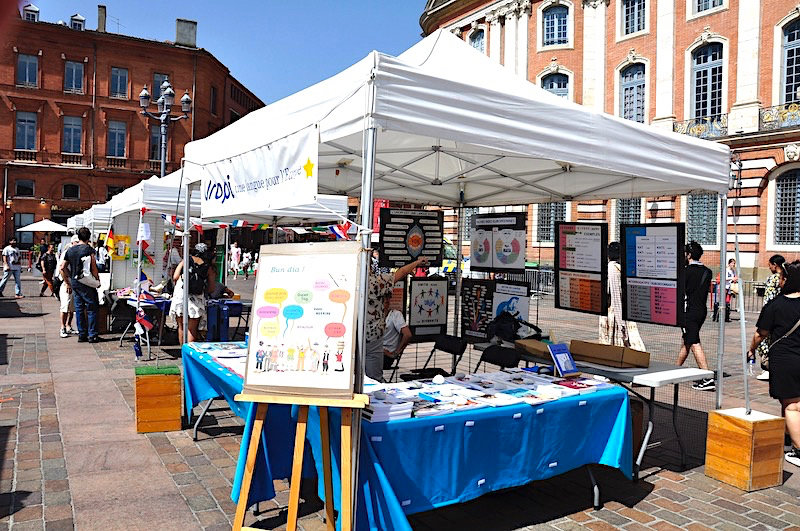 ★ ★ ★
On Sunday, June 19, Place du Capitole in Toulouse, took place the Languages of the World Forum, where over 120 languages from all over the world were presented on some 70 stands. It was a very particular Forum, firstly because Toulouse was undoubtedly one of the hottest cities in France during the heat wave: 39° (Celsius) in the shade; you can easily imagine what it looks like in the sun… We were told about 43° in Rouen and 45 in Tours, but it was, of course, in the sun… maybe 33° and 35° in the shade. When we arrived on Friday evening, after dropping our luggage in the air-conditioned room, and we went out to go to the town center, the heat was almost unbearable: there was no wind and 39° in the shade…crossing the "Pont Neuf" was like walking in the Sahara: it reminded me of Africa… Fortunately, on Saturday, with the same heat, we had some wind blowing, sometimes in violent bursts, and brought us a little coolness... or the illusion of a little coolness.
We had the same weather on Sunday. From 8 to 10:30 a.m., we managed to get the stand ready, to put up the pictures and tables and display the documents: we were almost ready when the flow of visitors began.We had thought that, with the heat, we would see fewer people, but on the contrary, they had never been so numerous: from 10:30 a.m. to 1:30 a.m. we did not have a minute to breathe, not a single moment's rest…maybe our visitors thought it would be cooler on the Forum in the morning, which turned out to be true, because until 11-12am we benefited from the shade of the Capitol. We were then able to have a bite to eat, but even during the meal, one of us had to get up to welcome people..The drawback is that we weren't able to leave the stand to see other activities, other stands, and meet other people, and we could only take very few photos. But we are not going to complain about arousing such interest.
The afternoon was quieter: the visitors had to stay out in the sun, so we invited a few of them to come into the stand to continue the discussion in the shade.
The foreigners
The visitors were different compared to previous years: there were very few foreigners (I don't know if they were afraid of the heat wave, the Covid, the elections, or the war in Ukraine... the bombs did not fall on Toulouse, but we didn't see any Russian engineers as we used to…or if it was due to the time of year: at the end of June the foreign students had finished their courses and gone home…).
★ ★ ★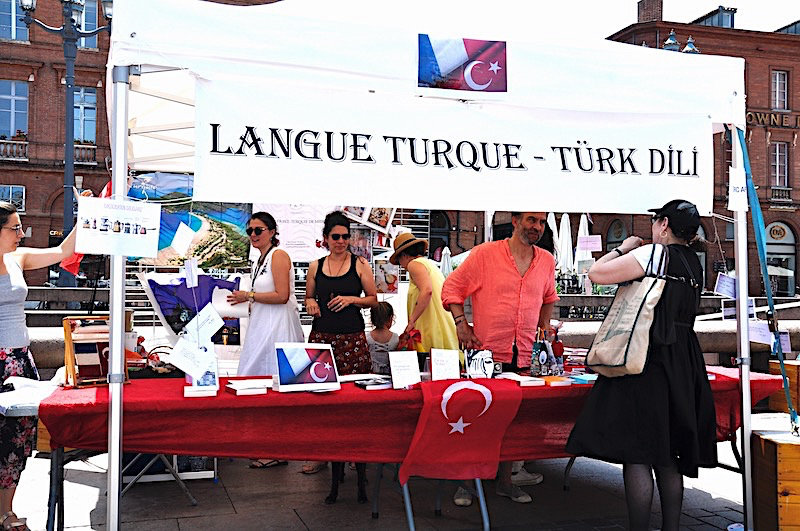 De Turki stand
★ ★ ★
Early in the morning, a young Asian, interested in languages, asked us where he could find Uropi lessons. A Bulgarian, who also had a passion for languages, and who was studying Chinese and Korean was fascinated by the simplicity of Uropi, whose grammar can be summed up in the four tables on display, and told us that it is a good reflection of the languages spoken in Europe and their literature (Daudet, St Exupéry, Buzzati, Tchekhov, Orwell, Yourcenar, Kaschnitz, Andersen…etc.). Our friend Ismail, from the Urdu stand, always enthralled by t the Indo-European roots that unite us all, came to see us for a chat. We also saw an Armenian woman, from the nearby Armenian stand, interested in the words common to Uropi and Armenian… each violent gust of wind brought us Armenian documents which I brought back to their stand… a funny way to establish contact ! I could also speak a little Russian with a Moroccan who spoke many languages and a singer-storyteller who lived in Russia for 3 years. A young man from the Assyrian stand, came to tell us about present-day Assyrians, i-e Middle-East Christians who live in Turkey, Syria, Iraq… and speak neo-Aramaic. In the late afternoon we had a visit from a young German who spoke almost accentless French: he was very interested in Uropi because he was writing a thesis on constructed languages. I gave him a brochure comparing Novial, Uropi, Esperanto, English and French, as well as a list of similar words in Uropi and German; he took many photos of the grammar and etymology charts.
Young people and others
Most of the visitors were young people, students or young graduates in languages, mathematics, physics, pharmacy… We also saw older ladies and retired people who were or had been teachers of modern languages or of Latin and ancient Greek… In one way or another, all were interested in languages, and many of them knew, or had at least heard of the common Indo-European roots. For example, this young woman who had studied languages and the evolution in vocabulary which she found in Uropi again and looked with great interest at the etymological tables which, for her, were very clear and easy to understand.
They asked us specific linguistic questions, such as, what is the syntax (SVO), how do we form questions, how do we pronounce the R and the other phonemes, is it necessary to have a perfect tense different from the past ? Etc. We replied that in Uropi there are only 5 vowels: a, e, i, o, u, and that there are no consonants like German ch, Spanish j or English th and we had a long discussion about whether the perfect tense is useful. A young man claimed that there was no perfect in Mandarin; however, there are at least three different ways of expressing the past tense: 过 guò, 了 le, 是... 的 shì...de. Many Indo-European languages like English, Spanish, Modern Greek, Hindi have a perfect tense which is different from the past… When we say: I feel good because I have eaten well (we are in the present), which is very different from: I remember we had a good meal in this restaurant (we are referring to the past)…
★ ★ ★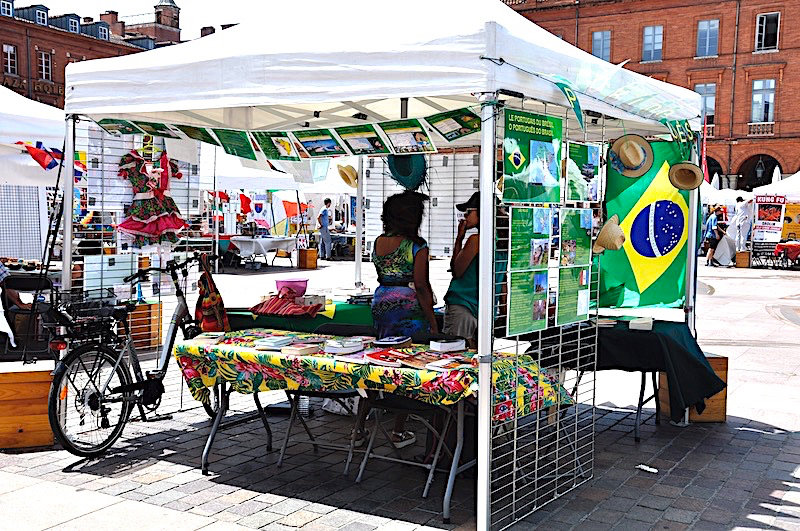 De Brazili stand
★ ★ ★
Many were responsive to both the linguistic and cultural dimensions of Uropi through the various translations and publications such as The Little Prince, Alice in Wonderland and many short stories. Almost all of them asked us if there were Uropi courses in Toulouse: unfortunately there are none, because we come from Chartres, but you can easily learn Uropi on the Internet. We gave them the new Uropi flier with all the necessary information. Two ladies were attracted by the Little Prince and other translations, and very impressed by the immense work achieved (notably the dictionary of over 20,000 words).
We also saw many 'Esperantists'... few of them came from the Esperanto stand; most had studied a little Esperanto and then moved on to other things. Everyone asked us " What is the difference with Esperanto? "
I replied that Uropi was simpler and more international, giving the classic example of « I viz di bel roj roze » (I see those beautiful red roses, in Uropi) and « Mi vidas ĉi tiujn belajn ruĝajn rozojn » (in Esperanto), with only one ending in Uropi: the -e of the plural, and 9 grammatical markers in Esperanto: one ending for the present: -as, 4 endings for the plural -j and 4 accusatives -n… not to mention the inharmonious sounds: ujn, ajn, ojn…
I added that Uropi is much more international than Esperanto, giving examples like la birdo (Eo = bird, which only exists in English), and when pronounced with an [i] sound as in Esperanto, English speakers hear 'beard' rather than 'bird'. Or else 'aĉeti' which is only understanable for the French: ('acheter' = to buy), but which means 'vinegars' for the Italians: aceti, plural of aceto = vinegar. In the couple of Esperantists to whom I explained this, the man had a slight accent; I asked him where he was from: "From Italy", he said. I think he understood my point. I told them that in Uropi, we have 'kopo' for 'to buy' and the young woman exclaimed: « Oh yes, like 'kupić' » (she was of Polish origin). I answered « Yes, like kupić in Polish, kupiti in Croatian, kopen in Dutch…in all Slavic languages and almost all Germanic languages, not to mention the Italian, Spanish, Portuguese words which are somewhat similar: comprar/e. »
The 'real' Esperantists also asked, « Why make a new international language? There is already one: Esperanto » « One ??? There have been many international auxiliary languages after Esperanto: Ido, Occidental, Novial, Interlingua, Neo…etc., not to mention today's languages: LFN, Lingua de Planeta, Sambahsa…and Uropi of course.
★ ★ ★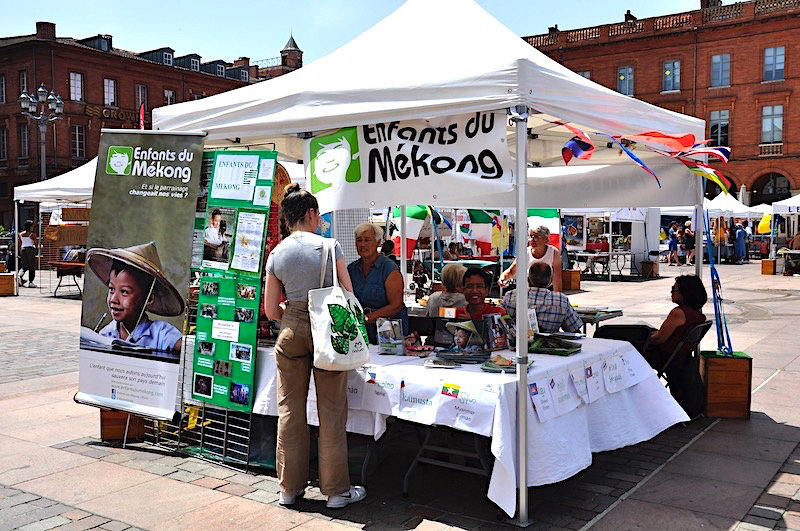 De kide od Mekong
★ ★ ★
On the other hand, other visitors asked us: « Is Uropi a language like that language that didn't work, you know… What was it called again? » - « Esperanto? » - « Yes, Esperanto ».
A lady came to our stand with her friend from Martinique. She was a Latin teacher in Andorra; she was well acquainted with Indo-European roots and wanted to include Uropi in a project with her students. She had lived in Martinique for three years and published small picture books in Creole and French, which I found very interesting.
De Krab ki de gori kleme (The Crab with the Golden Claws) was a great success. Many asked me why it had not been published. I had to explain that now Hergé's family and Editions Moulinsart wanted to control all publications of Tintin and did not wish to publish it in Uropi. Someone even wanted to buy our only copy; I told him it was not for sale, and that we could be sued. However, we had no problem to publish De Miki Prins (The Little Prince) and Alisa in Mirviziland (Alice in Wonderland) in Uropi.
In the afternoon, we were able to take a breather and I could have a quick tour of the Forum, and look for the Casal català, but I couldn't see it anywhere, we were very disappointed... I thought that maybe our friends H. and B. had moved to Brittany as they intended to.
At the end of the afternoon, we still had visitors, two women who were passionate about languages and found Uropi "stupendous" (I quote); they were particularly receptive to the argument that Uropi, through its simplicity, targets all classes of society and not just an elite. At the same time, arrived a young woman, studying languages (English, Spanish, Russian), who was also very interested; she had studied a little Esperanto, and seemed to regret it. Then a young man carrying a skateboard asked us a lot of very varied questions about Uropi and seemed quite satisfied with our answers.
Then we started putting everything away; I had to go to the car park, and on the way back, I was very surprised and very happy to see H. and B. at our stand. The Casal Català had organized another event on the same day: Aplec sardanista where you could dance the sardana with musicians from North and South Catalonia on a square in St Cyprien. They could therefore not participate in the Language Forum.
★ ★ ★
De Armèni stand
★ ★ ★
We were all very happy to see each other again, and H. and B. helped us to take down the tables and posters and tidy up. Then we left together for St Cyprien where we had a drink on a terrace and chatted until nightfall.
The return trip went smoothly and around 6 pm we were home.

A nasty surprise was awaiting us, but we only discovered it the next morning. Two or three nights before a very violent wind had blown and had uprooted the walnut tree to the north of the garden.The tree had fallen on the bathroom roof, without causing major damage because only the tips of the branches and the leaves were resting on the roof. The problem is that I had to cut down this enormous tree on the same day... three huge piles of branches and logs... it had to be done quickly because I could no longer get the car out of the garage.