★ ★ ★
* Uropi Nove 142 * Uropi Nove 142 * Uropi Nove 142 *
★ ★ ★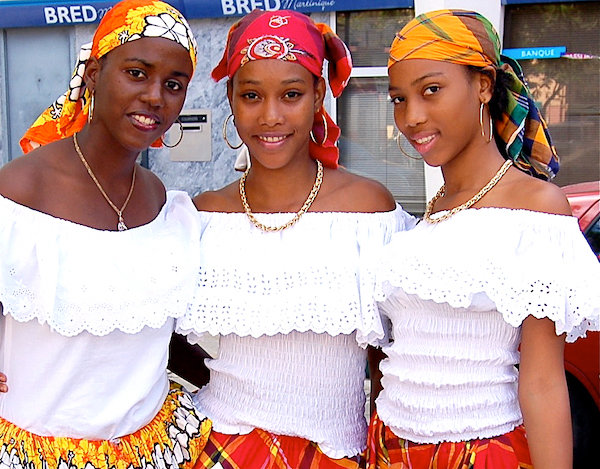 ★ ★ ★
Genimicad
★ ★ ★
In u forìtan artikel, i vokì ov nasionisma dezan te « Nasionisma se wer », te je dut a fraj id hais, fraj od alten nasione, fraj od alten etniki grupe, fraj od alten religione, fraj od alten kulture, fraj od altene. Di fraj dut naturim a ksenofobij, a rasisma, a hais, id sim a wer.
I lisì novem u mirvizi bibit, u miki juvel skriven pa u Japonin Akira Mizubayashi « De breken alm ». Wan i lis u romàn pa un uslandor, i cek talvos de titel in de odveni linga, ba zi i findì ʒe nun. Ansuprizim par Mizubayashi skrivì da bib (id eke altene) in Franci, wen he skriv in un uslivan, delikati mod, id i vidì plagen pa u dialòg intra kwer od hi personore. Nu se in 1938, Japòn av ʒa invaden Cinia, id in Tokio, u miki grup muzikoris ki u Japonin id tri Cine se jegan u kwartet pa Schubert. Pos avo jegen, lu det u pauz, piv tej id Ju Mizusawa, de Japonin inìz u disvòk:
« Eniwim, Ju proitì koviktim, i men te je av u sin… te odia in 1938, ekia in Tokio u Cini-Japoni kwartet jeg Rosamunde pa Schubert… trawàn de tali land, falen in ji weristi obsedade sem vido disjeden pa de nasionisti kanker discizan individene intra nu id lu…
- Je se veri, dezì Kang be hi vos ki u coj voc, ni du lande av iten in opren wer dod de infàl be pont Marko Polo. Ba i identiz ne ma kotalim ki Cinia. I se Cini, i vok Cini, ba i kospèk ma for tal wim un individen we se lifri uscepo hi potenade. I sfor kovikto ma te i se prim u human for so u Cin. In de som mod, i komìc os ne mi frame ki li land. I gus kredo in u vig framadi we it uve de nasioni agonide… Janfen laisì ci voc:
- Frankim i se disirgen gon de kolonial usspanisma de Japoni imperiu, ba i komìc ne de individene ki de Stat inkorpizan la. In de mold odiu, nu se anapitlim udeseten a de Stat. Pur jakun doʒev befendo sia prim id for tal wim un individen sube eni potenad. Veri, i se Cina, i vok Cini, ba i vol ne vido limiten a da…
Ju… setan niz hi tas… avokì a tale tri…
- I se duvim intogen pa wa vu dez. i prigùs avo frame wim vu in u fensi land priʒe te avo u haisli patria id krepan kopatriane we cur solem su li potenad a di patria. I ve so ki va, i ve stajo ki va, oʒe is i vid akulpen ki so u « mali Japonin », u « traitor a de nasiòn », u hikokumin. »
★ ★ ★
Franz Schubert
★ ★ ★
Lisan da, plozim je venì mo in ment te de bunes antivift gon nasionisma se genimicad; Genimicad se u micad genadis, u micad genus. Di vord vid struen wim de Engli vord miscegenation formen ki Latini miscere = mico id genus = genad, genar, ras.
Genimicad se u general fenomen in humanad: je ste nun puri ras id je av nevos sten u puri ras, odaltia, un zav num te de kocèp rasi av nun siensi bazad: siensim, ras esìst ne. Nu zav num, avan studen human genome te un av eke 5% od Neandertali genas, wa sin te je stì genimicade intra Homo Sapiens id Neandertali humane.
Wan i vok ov Indeuropane, i fel te mole liente se rutenic par jok odia Indeuropane vid kovigen a Hitler id hi mati ideologij ov u 'puri Arian ras', wa se kopolem ansini. Tale indeuropaniste zav te de vord arya vidì uzen po nomo Indiràne, da se de forgène de polkis ʒivan odia in India id Iràn we se mol disemi od blondi bluoji Doske.
Gonim, Indeuropane sì u bel samp u gren genimicadi. Un kospèk odia te de polke vokan Proto-Indeuropan sì herdore ʒivan in de Nordikaukazi stepas: de Jamnajas. De Jamnajas doʒì so kozavi ov de perije glodi kogenadi par lu pratikì usenmaʒid; in alten vorde, lu nemì ʒinas od alten tribe we avì nit a deto ki la: da sì ʒa genimicad. Ane da veti genimicade, Indeuropan lingas avev nevos spanen tra tal Europa, Iràn id India. Noven genetiki stude av diken te Jamnajas intramicì ki u « veti Europan » agrizi polkad ʒivan be ostinord od de Ponti-Kaspian stepas po formo de Korden keramiki kultùr wej genas vid jok finden odia tra tal Europa, subetàl in de Germàni id Slavi arias.
Sim nu se tale micine. Id micine se generalim bel. I vizì in de Karibi isle mol bel micine, id subetàl micinas.
Mole France lerì be prigradi skol « Ni forgène Gaule »; nit se maj falsi te da. Je se veri te Kelti tribe venan od Mideuropa stalì sia in de teritorias we se num Francia, Espania, Britia id Norditalia. Ba Gaulia vidì kovalden pa Romane we davì no ni linga (u Latini u poj traformen pa Gaulivokore), struì rade, ponte, vodidute, amfiteatras… wen un moz jok vizo odia. Da sì u periòd paci id prosperidi we vidì breken pa de Germàni invàde: Visigote, Ostrogote, Burgonde, Franke, i.s.p. Franke davì no de nom ni landi, Francia, u monarkij id mole vorde cevim in armid id agrizad, ba lu davì ne no u novi (Germàni) linga wim detì Romane. Sim be skol nu doʒev lero bemìn « Ni forgène Gaule, Romane id Franke »… ane voko ov de altene we venì dapòs: Bretàne, da se Kelte venan od Britia, cagen ap pa Engle id Saksane, Vikinge we vidì stalen in Normandia, Hune… i.s.p.
★ ★ ★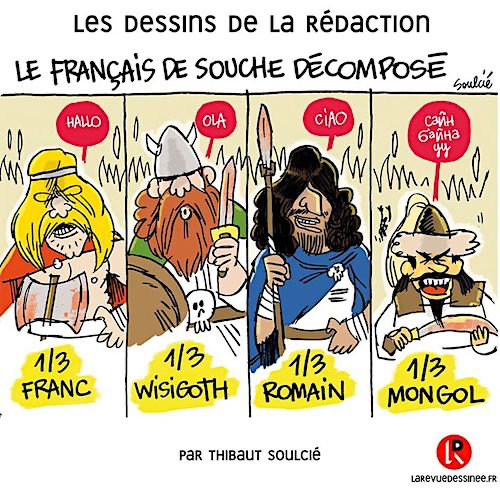 Odvenad Francis
★ ★ ★
De alten Europan lande se os micade polkis wim Britia (Kelte, Engle, Saksane, Dane, Normane…), Italia (Grece, Etruske, Kelte, Romane, Germàne…), Espania (Baske, Ibere, Kelte, Kartagine, Romane, Visigote, Arabe…), i.s.p.
Bundezen se micine ! Lu se mol ric par lu av u dupli kultùr, molvos vok du lingas, je se wim is lu avev du ʒive trawàn de ordeni human av solem un; un mozev nomo la dupli humane.
Ba genimicad sin ne solem geno od genore we av disemi odvenade: je ste os kulturi genimicade we se mojse de maj vezi. Nu av zi u bun samp ki de ustràj od Mizubayashi: 3 Cini id u Japoni muzikore se jegan sam u kwartet pa Schubert we sì un Europan, un Osterian kompozor. Mizubayashi som ʒivì id studì in Francia for ito ru a Japòn, id skriv obe in Franci id japoni.
Mold se polen ki kulturi micine, liente we pasì li kidad in u land id pos itì ʒivo in un alten land, un alten kultùr id un alten linga. Nu av mole sampe: kulturi micine se annumari, intra altene, tramìd de maj famos moldi artiste: pictore wim Pablo Picasso (Espàni-Franci), Vincent Van Gogh (Nizilandi-Franci), Amedeo Modigliani (Itali-Franci), Khaim Sutin (Chaïm Soutine: Rusi-Franci), Mark Cagàl (Marc Chagall: Rusi-Franci… idmàj de posni tri se Juvi), poete id skrivore wim Guillaume Apollinaire (Polski-Franci), id subetàl Francivoki Afrikan skrivore wim Léopold Sédar Senghor (poèt id politikor we vidì prisedan Senegali), Ahmadou Kourouma (Ivorin), Cheikh Hamidou Kane (Senegalin), Amadou Hampâté Bâ, Alain Mabanckou (Kongoja), po nomo solem eke, id skrivoras wim Aminata Sow Fall (Senegàl), Calixthe Beyala (Kamerùn) id Marie Ndiaye (we s'u veri micina od u Franci mata id u Senegali pater), Francivoki Arabi skrivore wim Tahar Ben Jelloun (Maròk), Rachid Boudjedra, Boualem Sansal, Kateb Yacine, Yasmina Khadra (Alʒiria) id skrivoras wim Assia Djebar, Malika Mokkedem, Fatima Besnaci-Lancou (Alʒiria), Emna Belhaj Yahia (Tunisia),… ane voko ov Englivoki Afrikan skrivore/as wim Chinua Achebe, Wole Soyinka, Ngugi wa Thiong'o, Chimamanda Ngozi Adichie, Buchu Emechea, Aminatta Forna… id mole, mole altene…de list se longi.
★ ★ ★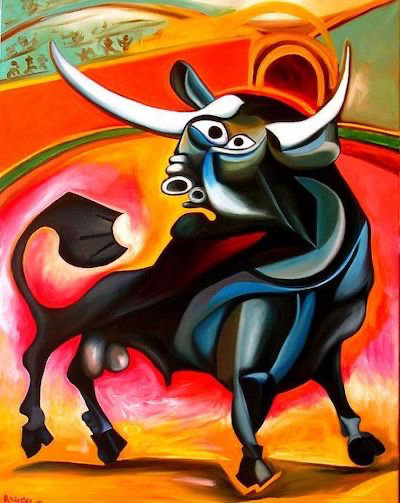 U taur, pa Pablo Picasso
★ ★ ★
Ba subetàl, i volì tranomo François Cheng, o 程抱一 Chéng Bàoyī « inraman unid » in Cini, we genì in Cinia, id ʒiv dod longim in Francia, wo he vidì mimbor de Franci Akademiji.
Liso François Cheng eldì ma incepo u poj de Cini mod meno… i rumèn un ustràj od hi bib « Le dit de Tianyi » in wen he usklàr de Cini mod incepo tem, ki de metafòr ov u riv flujan od bor a mar id liuv: je se slimi id klar; luci. Hi poeme se os slimi id puri te Japoni haikùs, je se de novi ankulpi glad u kidi we viz po de pri vos de slimi mirvize naturi: u flor, snev, noc, luc, liuv, u mesin…
Un irìz
id tal kreaten vid justizen ;
U glad
id justizen vid tal ʒiv.
…
Veri luc,
Daz we spij od Noc;
Id Veri Noc,
Daz od wo spij Luc
…
Nun ruvenad ane itad.
De rivon plojis id glodi
Usvàp in u lej mist
Kodèns in flotan nolbe
Rufàl in frutli liuve,
Tal perlasen vid renemen
Spija id mar se kogonad
Nun itad ane ruvenad. …………………………od de poemi kosamad 'De veri glor se zi'
★ ★ ★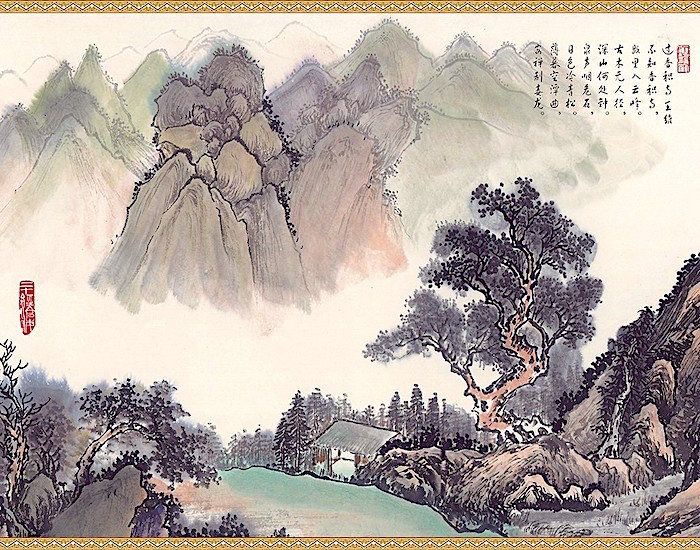 ★ ★ ★
I av talvos admiren id viden atrajen pa da kulturi micine par lu avì u dupli kultùr, par lu vokì un alten linga, lu avì alten horizone, lu potenì os a un alten mold…
Mojse je ven od mi kidad. Mi kidiframe, we ʒivì in u neri strad, sì mij-Franci, mij-Doski, id de altene od u Polski famìl stalen in Francia. De Franci pater de pri famili sì mol strig id volì ne avo usi kide in hi dom, subetàl in hi varkia wo de uzele sì tale bun aranen su varde, id we sì talvos klijen. Ba de Doski mata, Marta sì mol neti id invitì na molvos wan de pater sì be vark. Po na vidì opren u novi mold: ce pekì strani kuke, spesialim po Krisgèn, in forme stelis, luni, abenis… Plätzchen, i lerì de nom mol maj posen. Mi frame itì ekvos a Doskia po vake, id lu ruvenì ki strani, drovi jegele, mol disemi a nìas… id avo u Doski forpater ! Je semì no nerim ankredli, wim u soin, u feju sag. I vizì ha unvos, u miki bijkevili man, sedan su de kolanga hi possonis.
Pardà i av sen talvos facinen pa straniori lingas, i av talvos volen diskrovo la wim un usploror zel diskrovo un ankonen ter. Pardà os, diskrovan alten lingas, je davì mo de idea kreato Uropi; mojse i volì ʒa kreato u genimicad intra da lingas. I sì os pasionen ki eki histori periode wim Midi Eve ki li kwalore, Grece id Romane ki li legione id legende. Id un dia, cekan u gramatik veti Greci, i findì usfalim de Vordar de rodis d'Europan lingus pa R. Grandsaignes d'Hauterive. Kim, ni lingas, « straniori » lingas, avì u komùn odvenad, ni vorde venì od komùn rode ? Da sì po ma un usvelad: de vel pro mi oje vidì risen ap id i vizì klarim de vaj trasen pro ma: i uzev da komùn rode po kreato u komùn linga.
Pur i apdavì ne mi pri idea ov genimicad. Indèt de Indeuropan rode, wim lu vidì restruen pa linguiste dod 2 suntjàre, sem molvos so micen rode: de verb mico som (od Proto-Indeuropan: PIE *meiḱ-) sem veno direktim od Doski mischen, ba je se os u micad intra Engli mix, Itali mischiare, Greci μίσγω, Bengali mēśāna, Serbi mešati, Polski mieszać…i.s.p.
Ekvos je ste disemi IE rode po de som vord, po samp *róth₂o/ehₐ-, *dʰrogʰós id *kʷekʷlóm po rol, id molvos je ste nun IE rod (PIE sì u forhistori linga) po de maj « moderni » vorde. Sim i av uzen u teknik nomen portmanteau-word o blend in Engli, id mot-valise in Franci, da se de micad du rodis, wim in Engli smog (od smoke = fum + fog = neb), in alten vorde, u genimicad.
★ ★ ★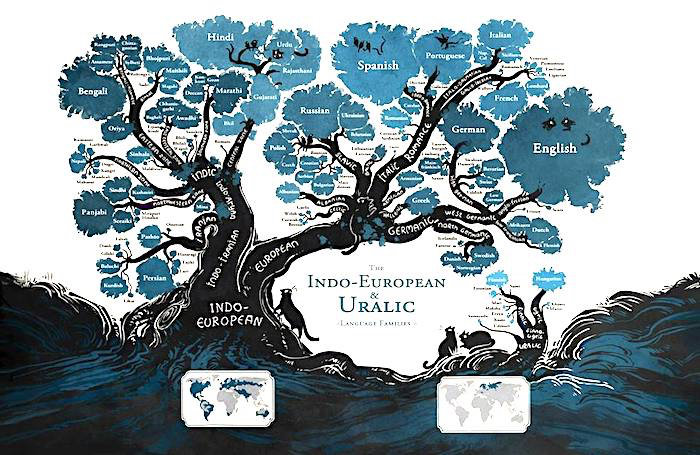 De drev Indeuropan lingus
★ ★ ★
Micin-vorde se ne numari in Uropi, beròn 5% od de vokabular, ba lu moz so mol uzen vorde wim tal, liente, mold, fram… De beles vord, mojse, de Uropi lingu se u micin-vord: LIAM: je ven od 2 Indeuropan rode, obe sinan 'liam': *leubʰ- (we davì Rusi любить, Doski lieben, Tceki líbit se, Engli love…id os Lat libido) = liam, dezìr id *h₄em-, u kidi vord po mata, 'mama', sim 'matu liam' o 'liamo siu mata'(we davì Latini amma (mama)> amor, amo > Itali amore, amare, Espàni, Portugi amor, amar, Franci amour, aimer = liam, liamo).
Eke sampe micin-vordis:
Tal od Germàni all, alle, alt + Romaniki totus, tutto, tout, todo + Slavi: Rusi целый 'tsiely', Tceki celý, Polski cały, Bulgàri цял 'tsial' = tali
Liente od PIE *h₁leudʰos = liente > D. Leute, Nl lieden, Rus люди, Kroati ljudi, Pol ludzie, Tceki lidé + Latini, Franci gens, Itali, Espàni, Portugi gente = liente
Mold od Itali mondo, Franci monde, Katalàni món + Engli world, Swedi värld, Nizilandi wereld… = mold…
Fram od PIE *prihₓ-ehₐ- = liamo > Sanskriti priya = fram, Hindi prem = liam, prēmī = liamor, Slavi prijatelj, D. Freund, Eng. friend = fram + *h₄em- (vize sube) > Lat. amicus, It. amico, Esp. Por amigo, Kat. amic, Fr. ami
Ba ruvenem a genimicad. Un viz te un find ja talia in human sosiade, be tale nivle. Ba genimicad sin ne u 'melting pot', wim Amerikane dez, je sin ne tojo tale kulture in u ʒigan kuvar tis lu vid un uni bijic, grisic, beʒic o anklori sustàns we se os angusti te andufi. De varid ni kulturis id lingus, tal wim biovarid, se ni ricad. Un doʒ deto tal mozli po savigardo ja. Genimicad id micad kulturis ve inrico ni kulture, lu ve ne replaso la.
★ ★ ★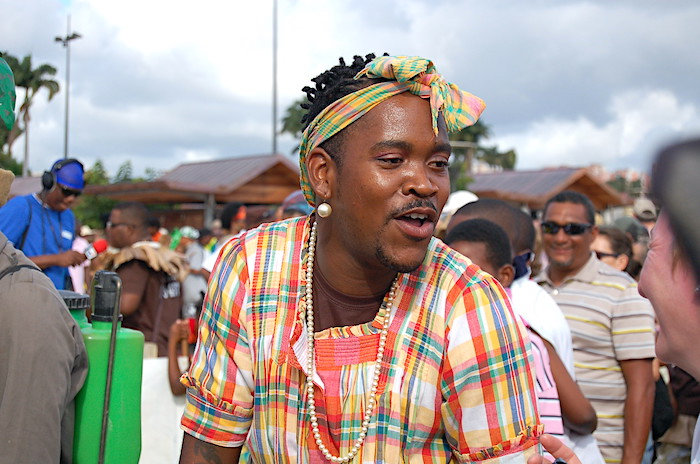 ★ ★ ★
Po kokluzo, skucem wa Edouard Glissant, u Martiniki skrivor id poèt, dez ov kreolizad we se indèt un alten nom po kulturi genimicad: « Po ma, kreolizad se u micad kulturis kreatan ekwa novi, anvarten id we potèn a nun od de kulture kosetan ja. De bij valdor, udepresor fraj bazim un uni zoc: genimicad. He fraj vido micen. De tel a atogo se ne so nares te nar po so maj lifri. Parkà mozev ne u nasiòn so koseten ki samade kulturis, kovigen ki unaltem ane vido sticen nè disluzen ? » Tale zitade ven od intravoke su France culture.
Ankren in Antile, hi viziòn ov Kreoli id kreolizad kotòg pur procizim tali mold, id talun moz asiavo ja: tale humane id tale lingas: « Tale lingas moldi doʒ ito in su de gren skenia moldi, od de maj miki a de maj magi.»
Id ov nasionisma…
« De uni rod tud tal wa se aròn ja. Je se sektic id antolan. Un doʒ replaso de idea de uni rodi ki de idea kovigi-identidi, o rizomi. Di se puntim ni usperij, nu Antiline.» Je se interesan koeglo ki Uropi we ven ne od un uni surs, ba traj ji rode od tale Indeuropan lingas, da se un identid genen od kovige.
Po Glissant, de nosiòn ov arkipela se mol vezi: je del ov isle we se vigen sam, ba somtemim apcizen, he dezì: « Is Europa vid maken, je ve deto ja ki Baske, Alzasine, Katalàne… Je ve so un arkipelizen Europa…». Kreolizad se « nè solem da obvizi hibridad, nè melting pot, nè de mekanik molikulturismu, je se u prosesad id ne u fisten sad…» EG, de identide se talvos muvan, nit se fisten… nit se veri, tal se ʒivi… ajùt Sam Coombes, u spesialìst ov E. Glissant.
« Kreolid koruvòk a u kulturi identid Karibis, obwàn kreolizad, wim prosesad, moz usveno in eni kulturi kontèkst … eni polk moz kreolizo sia ki alten polke » SC
Id po fendo, u bel fraz pa Edouard Glissant, wen i mozev kospeko mìa.
« De linga in wen i skriv se ʒa molipli in ma, je vid deten in de prosàd tale lingus moldi, oʒe is i kon ne la.»
★ ★ ★
★ ★ ★
Le métissage
★ ★ ★
Dans un article précédent, je disais que « le nationalisme, c'est la guerre » (F. Mitterrand), qu'il conduit à la peur et à la haine: la peur des autres nations, la peur des autres groupes ethniques, la peur des autres religions, la peur des autres cultures, la peur des autres, tout court. Cette peur conduit à la xénophobie, au racisme, à la haine, à la guerre.
J'ai lu récemment un merveilleux petit livre écrit par un Japonais Akira Mizubayashi: « L'âme brisée ». Quand je lis un roman étranger, je cherche toujours le titre dans la langue d'origine, mais là, je n'en ai trouvé aucun, ce qui n'est pas surprenant car Mizubayashi a rédigé ce livre, et quelques autres en français, langue qu'il écrit merveilleusement bien avec une grande délicatesse. J'ai été frappé par un dialogue entre quatre de ses personnages: nous sommes en 1938, le Japon a déjà envahi la Chine et à Tokyo, un petit groupe de musiciens: un Japonais et trois Chinois jouent un quatuor de Schubert. Pendant une pause où ils boivent le thé, Yu Mizusawa, le Japonais, entame une discussion.
« - En tous cas, continua Yu avec conviction, je crois que ça a du sens… qu'aujourd'hui, en 1938, dans un coin de Tokyo, un quatuor sino-japonais joue Rosamunde de Schubert…, alors que le pays entier tombé dans ses obsessions bellicistes semble être dévoré par le cancer nationaliste divisant les individus entre un nous et un eux…
- C'est vrai, dit à son tour Kang d'une voix timide, que les deux pays sont entrés en guerre ouvertement depuis l'incident du pont Marco Polo. Mais je ne m'identifie pas totalement avec la Chine. Je suis chinois, je parle chinois, mais je me considère avant tout comme un individu libre de ses appartenances. Je m'efforce de me persuader que je suis d'abord un être humain avant d'être un Chinois. De la même manière, je n'assimile pas non plus mes amis japonais à leur pays. J'aimerais croire à un lien d'amitié qui va au-delà des antagonismes nationaux… Yanfen baissa le ton de sa voix.
- Franchement, je suis indignée contre l'expansionnisme colonial de l'Empire japonais, mais je ne confonds pas pour autant les individus et l'État qui les incorpore. Dans le monde d'aujourd'hui, nous sommes inévitablement soumis à l'État. Chacun devrait pourtant se définir d'abord et avant tout comme un individu au-dessus de toute appartenance. Je suis certes chinoise, je parle chinois, mais je ne voudrais pas qu'on me réduise à cela…
Yu…en reposant sa tasse… s'adressa à tous les trois…
- Je suis profondément touché par ce que vous dites. je préfère avoir des amis comme vous dans un pays ennemi plutôt que d'avoir une patrie détestable et des compatriotes rampants qui ne jurent que par leur appartenance à cette patrie. Je serai avec vous, je resterai avec vous, même si on m'accuse d'être un « mauvais sujet japonais », un « traître de la nation », un hikokumin.»
★ ★ ★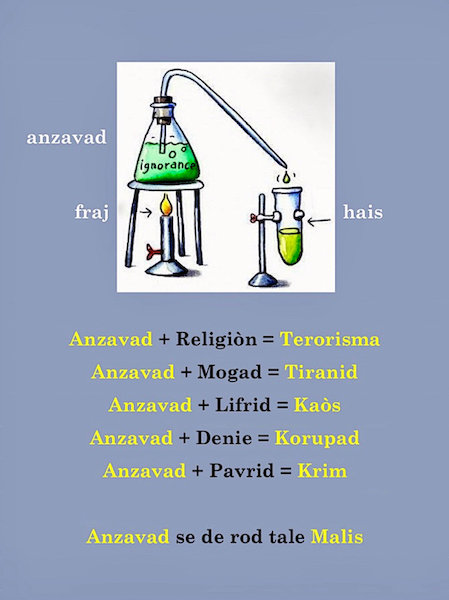 ★ ★ ★
En lisant cela, il m'est venu à l'esprit que le meilleur antidote contre le nationalisme, c'est le métissage: genimicad en Uropi, littéralement « mélange de naissance », mélange des gènes. Ce mot est construit comme le terme anglais correspondant: miscegenation, du latin miscere = mêler et genus, naissance, genre, race.
Le métissage est un phénomène général chez l'homme: il n'y a pas de race pure et il n'y a jamais eu de race pure; d'ailleurs on sait maintenant que le concept de race n'a aucun fondement scientifique: pour la science, la race n'existe pas. Nous savons aujourd'hui, grâce à l'étude du génome humain, que nous avons 5% de gènes néandertaliens, ce qui implique un métissage entre Homo Sapiens et l'homme de Néandertal.
Quand je parle des Indo-Européens, je sens bien chez certains une réticence car beaucoup les assimilent encore à Hitler et à son idéologie funeste autour d'une « pure race aryenne », ce qui est totalement insensé. Tous les indo-européanistes le savent: le mot arya désignait les Indo-Iraniens, c'est à dire les ancêtres des peuples qui vivent aujourd'hui en Inde et en Iran, très différents des Allemands blonds aux yeux bleus.
Au contraire, les Indo-Européens sont un bel exemple de métissage. On considère aujourd'hui que les peuples parlant le proto-indo-européen étaient des pasteurs nomades vivant dans les steppes au nord du Caucase: les Yamnayas. Ceux-ci devaient être conscients des dangers de la consanguinité car ils pratiquaient l'exogamie, en d'autres termes ils prenaient femme dans d'autres tribus qui n'avaient rien à voir avec eux: c'était donc bien un métissage. Sans ces anciens métissages, les langues indo-européennes ne se seraient probablement pas répandues dans toute l'Europe, l'Inde et l'Iran. Des études génétiques récentes montrent que les Yamnayas se sont mêlés à une population agricole de la « Vieille Europe », installée au nord-ouest des steppes pontico-caspiennes, pour former la Culture de la céramique cordée, dont on retrouve aujourd'hui les gènes dans toute l'Europe, particulièrement dans les zones germaniques et slaves.
Ainsi, nous sommes tous des métis. Et les métis sont généralement beaux; en parcourant les Caraïbes, par exemple au carnaval de Fort de France, on en voit de magnifiques.
★ ★ ★
Jamnaja mane (restruen od skelete)
★ ★ ★

La plupart des Français ont appris à l'école « Nos ancêtres les Gaulois », rien n'est plus faux. Il est vrai que des tribus celtes, venant d'Europe centrale, se sont installées sur des territoires qui sont maintenant la France, l'Espagne, la Grande Bretagne, l'Italie du nord. Mais la Gaule a été conquise par les Romains qui nous ont donné notre langue (un latin quelque peu métissé de gaulois), ont construit des routes, des ponts, des aqueducs, des amphithéâtres que l'on peut encore voir aujourd'hui. Ce fut une période de paix et de prospérité, interrompue par les invasions germaniques: Wisigoths, Ostrogoths, Burgondes, Francs… etc. Les Francs nous ont donné le nom de notre pays, la France, une monarchie et de nombreux mots surtout dans les domaines militaire et agricole, mais ils ne nous ont pas donné une langue nouvelle (germanique), comme l'avaient fait les Romains.
Si bien qu'à l'école, on devrait apprendre au moins: « Nos ancêtres, Gaulois, Romains et Francs », sans parler de tous ceux qui sont arrivés après, les Bretons venus d'Angleterre, chassés par les Angles et les Saxons, les Vikings que l'on installe en Normandie, les Huns… etc.
Les autres pays européens ne sont pas en reste la Grande Bretagne (Celtes, Angles, Saxons, Danois, Normands…), l'Italie (Grecs, Etrusques, Celtes, Romains, Germains…), l'Espagne (Basques, Ibères, Celtes, Carthaginois, Romains, Wisigoths, Arabes…), etc.
Bienheureux métis ! Ils sont riches d'une double culture, parlent souvent deux langues, c'est comme s'ils avaient deux vies alors que l'homme ordinaire n'en a qu'une: on pourrait les appeler des humains doubles.
Mais le métissage ne signifie pas seulement naître de deux parents d'origine différente; il existe aussi un métissage culturel, tout aussi important. Nous avons ici un bon exemple avec l'extrait de Mizubayashi: 3 Chinois et un Japonais jouent ensemble un quatuor de Schubert, compositeur européen, autrichien. Mizubayashi lui-même a vécu et étudié en France avant de retourner au Japon, et écrit aussi bien en français qu'en japonais. Le monde foisonne de métis culturels qui ont passé leur enfance dans un pays et sont ensuite partis vivre dans un autre pays, une autre culture, une autre langue. Innombrables en sont les exemples, notamment chez les artistes les plus célèbres: des peintres comme Pablo Picasso (Espagne-France), Vincent Van Gogh (Pays Bas-France), Amedeo Modigliani (Italie-France), Chaïm Soutine (Russie-France), Marc Chagall (Russie-France… en outre les trois derniers étaient Juifs), des poètes et écrivains comme Guillaume Apollinaire (Pologne-France), et surtout des écrivains africains francophones comme Léopold Sédar Senghor (poète et homme politique qui devint président du Sénégal), Ahmadou Kourouma (Ivoirien), Cheikh Hamidou Kane (Sénégalais), Amadou Hampâté Bâ (Malien), Alain Mabanckou (Congolais), pour n'en nommer que quelques uns,
★ ★ ★
Khaim Sutin, mori natùr
★ ★ ★
et des écrivaines comme Aminata Sow Fall (Sénégal), Calixthe Beyala (Cameroun) et Marie Ndiaye (une vraie métisse, elle, de mère française et de père Sénégalais), des écrivains arabes francophones comme Tahar Ben Jelloun (Maroc), Rachid Boudjedra, Boualem Sansal, Kateb Yacine, Yasmina Khadra (Algérie) et des écrivaines comme Assia Djebar, Malika Mokkedem, Fatima Besnaci-Lancou (Algérie), Emna Belhaj Yahia (Tunisie),… sans parler des écrivains africains anglophones comme Chinua Achebe, Wole Soyinka, Ngugi wa Thiong'o, Chimamanda Ngozi Adichie, Buchu Emechea, Aminatta Forna… et beaucoup d'autres…la liste est longue.
Mais surtout, je voudrais mentionner François Cheng, ou 程抱一 Chéng Bàoyī « lit. « qui embrasse l'unité ») en chinois, né en Chine et qui vit depuis longtemps en France, où il est devenu membre de l'Académie Française.
Lire François Cheng m'a aidé à comprendre, un peu, la pensée chinoise… Je me souviens d'un extrait de son livre Le dit de Tianyi où il explique comment les Chinois voient le temps avec la métaphore du fleuve qui coule de la montagne à la mer, arrosé par la pluie: c'est simple et clair, lumineux. Ses poèmes sont aussi simples et purs que des haïkus japonais: c'est le regard neuf et innocent d'un enfant qui découvre pour la première fois les simples merveilles de la nature: une fleur, la neige, la nuit, la lumière, la pluie, une mésange
Un iris
et tout le créé justifié;
Un regard
et justifiée toute la vie.
…
Vraie Lumière,
Celle qui jaillit de la Nuit;
Et Vraie Nuit,
Celle d'où jaillit la Lumière.
…
Point de retour sans aller
Le fleuve de larmes et de sang
S'évapore en brume légère
Se condense en nuages flottants
Retombe en pluie fertile,
Tout le perdu est repris
Source et mer sont retrouvailles
Point d'aller sans retour. ………………………………………Tirés du recueil La vraie gloire est ici
★ ★ ★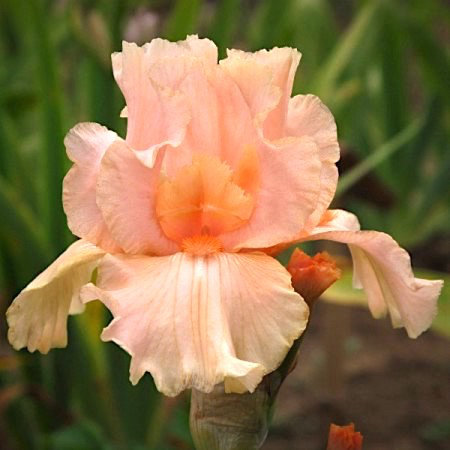 ★ ★ ★
J'ai toujours admiré et été attiré par les métis culturels parce qu'ils avaient une double culture, parce qu'ils parlaient une autre langue, qu'ils avaient d'autres horizons, appartenaient aussi à un autre monde…
Peut être est-ce dû à mon enfance où j'avais, dans une rue voisine, des amis moitié-français, moitié-allemands, et d'autres, un peu plus loin, issus d'une famille polonaise installée en France. Le père de la première famille était très strict, il ne voulait pas voir d'autres enfants chez lui, surtout dans son atelier où ses outils étaient tous impeccablement alignés sur les murs, et qui était toujours fermé à clé. Mais Martha, la mère allemande, était très gentille et nous invitait souvent quand le père était au travail. Pour nous s'ouvrait un monde nouveau: elle faisait, pour Noël, de curieux biscuits en forme d'étoiles, de lune, de sapins…Plätzchen, j'ai appris le nom plus tard. Mes amis allaient parfois en vacances en Allemagne et revenaient avec des jouets étranges, en bois, très différents des nôtres… et avoir un grand-père allemand ! Cela nous semblait incroyable, comme dans un rêve, un conte de fées. Je l'ai vu une fois, un petit homme aux cheveux blancs, assis sur la balançoire de ses petits-fils…
C'est pour cela sans doute que j'ai toujours été fasciné par les langues étrangères, que j'ai toujours voulu les découvrir comme un explorateur, une terre inconnue. C'est pour cela aussi que la découverte d'autres langues m'a donné l'idée de créer l'Uropi; peut être que je voulais réaliser un métissage entre elles. J'étais aussi passionné par certaines périodes de l'histoire comme le Moyen Âge avec ses chevaliers, les Grecs et les Romains avec leurs légendes et leurs légions. Un jour, en cherchant une grammaire de grec ancien, je suis tombé par hasard sur le Dictionnaire des racines des langues européennes de R. Grandsaignes d'Hauterive. Comment, nos langues « étrangères » avaient une origine commune, nos mots étaient issus de racines communes ? Ce fut pour moi une révélation: le voile devant mes yeux s'était déchiré et je voyais clairement la voie, devant moi, toute tracée: j'utiliserais ces racines communes pour créer une langue commune.
Mais je n'abandonnais pas pour autant mon idée de départ de métissage. En fait, les racines indo-européennes telles qu'elles sont reconstruites depuis 200 ans par les linguistes, ressemblent beaucoup à des racines métissées. Le verbe Uropi mico (mélanger) lui-même, du PIE *meiḱ-, semble venir tout droit de l'allemand mischen, mais c'est aussi un mélange entre l'anglais mix, l'italien mischiare, le grec μίσγω, le bengali mēśāna, le serbe mešati, le polonais mieszać…etc, qui signifient tous 'mélanger'.
★ ★ ★
Indeuropan migrade
★ ★ ★
Parfois il existe des racines indo-européennes différentes pour le même mot, par exemple pour la roue: *róth₂o/ehₐ-, *dʰrogʰós et *kʷekʷlóm, et souvent, il n'y a aucune racine i-e (le PIE étant une langue préhistorique) pour les mots plus « modernes». J'ai donc eu recours à la technique que l'on appelle portmanteau-word ou blend en anglais, et mot-valise en français, c'est à dire le mélange de deux racines, comme dans l'anglais smog (de smoke = fumée + fog = brouillard), en d'autres termes, un métissage.
Les mots métissés ne sont pas nombreux en Uropi, environ 5% du vocabulaire, mais ils peuvent être très courants comme tal, liente, mold, fram… (tout, gens, monde, ami…). Le mot le plus beau, peut être de la langue Uropi est un mot métissé: LIAM, l'amour. Il vient de deux racines indo-européennesqui signifient toutes deux 'aimer': *leubʰ- = amour, désir (qui a donné le russe любить, l'allemand lieben, le tchèque líbit se, l'anglais love…et aussi le latin libido) et *h₄em-, mot enfantin pour mère, 'maman', d'où 'amour maternel' ou 'aimer sa maman'(qui a donné le latin amma (maman) > amor, amo > italien amore, amare, espagnol, portugais amor, amar = amour, aimer).
Voici quelques exemples de mots métissés:
Tal = tout, du germanique all, alle, alt + roman totus, tutto, tout, todo + slave: russe целый 'tsiely', tch. celý, pol. cały, Bulgare цял 'tsial' = entier (Uropi: tali).
Liente = gens, du PIE *h₁leudʰos = gens > al. Leute, nl lieden, rus люди, croate ljudi, pol ludzie, tch lidé + latin, fr. gens, italien, esp., por. gente = gens
Mold = monde, de l'italien mondo, fr. monde, catalan món + anglais world, sué värld, nl wereld = monde …
Fram = ami, du PIE *prihₓ-ehₐ- = aimer > Sanskrit priya = ami, hindi prem = amour, prēmī = amant, slave prijatelj, al. Freund, ang. friend = ami + *h₄em- (voir ci-dessus) > lat. amicus, it. amico, esp., por amigo, cat. amic, fr. ami.
Mais revenons au métissage proprement dit. On voit bien que celui-ci se retrouve partout dans les sociétés humaines à tous les niveaux. Cependant, métissage ne signifie pas 'melting pot' comme disent les Américains; il ne s'agit pas de fondre toutes les cultures dans un gigantesque chaudron jusqu'à obtenir une substance unique, blanchâtre, grisâtre ou d'un beige douteux, incolore, aussi inodore que sans saveur. La diversité de nos langues et cultures, tout comme la biodiversité, c'est notre richesse: il faut tout faire pour la préserver. Le métissage et le mélange des cultures vont enrichir nos cultures, ils ne vont pas les remplacer.
★ ★ ★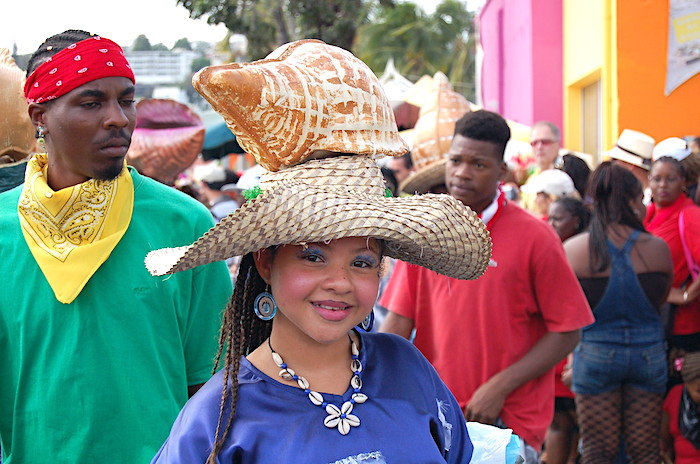 ★ ★ ★
Pour conclure, écoutons ce que nous dit Edouard Glissant, écrivain et poète martiniquais, chantre de la créolisation, un autre nom pour le métissage culturel.
« La créolisation pour moi, c'est le métissage des cultures qui produit de l'inattendu. L'oppresseur, le dominateur blanc … la seule chose dont il a peur fondamentalement, c'est du métissage. Il a peur d'être mélangé. L'objectif à atteindre, ce n'est pas d'être plus noir que noir pour être plus libre. Pourquoi une nation ne pourrait pas être constituée d'ensembles de cultures qui sont en relation, sans s'éteindre ni se diluer ? » (toutes les citations proviennent d'interviews sur France Culture)
Ancrée aux Antilles, sa vision du créole et de la créolisation concerne pourtant précisément le monde entier, et toutes et tous peuvent se l'approprier : tous les humains, et toutes les langues. « Il faut que toutes les langues du monde entrent sur la grande scène du monde, des plus petites aux plus grandes.»
Quant au nationalisme…
« La racine unique tue tout ce qu'il y a autour d'elle. Elle est sectaire et intolérante. Il faut remplacer l'idée de la racine unique par l'idée de l'identité-Relation ou rhizome. Or, c'est notre expérience à nous, Antillais.» Il est intéressant de comparer avec l'Uropi qui ne provient pas d'une source unique, mais d'une multiplicité de racines dans toutes les langues i-e, et tire son identité des relations entre elles.
Pour Glissant, la notion d'archipel est très importante: il s'agit d'îles reliées entre elles, mais qui sont en même temps séparées, voici ce qu'il dit: « Si l'Europe se fait, elle se fera avec des Basques, des Alsaciens, des Catalans… Il y aura une archipélisation de l'Europe.» La créolisation n'est « ni l'évidence de cette hybridation seulement, ni le melting pot, ni la mécanique des multi-culturalismes, c'est processus et non pas fixité …» E.G.
Sam Coombes, spécialiste de Glissant ajoute: « les identités sont toujours en mouvement et …rien n'est statique ou figé… rien n'est vrai, tout est vivant,…» « la créolité correspond à une identité culturelle de la Caraïbe alors que la créolisation, comme processus peut s'appliquer à n'importe quel contexte culturel… n'importe quel peuple peut se créoliser avec d'autres peuples…»
Et pour finir, une belle phrase d'Edouard Glissant que je pourrais faire mienne:
« La langue dans laquelle j'écris est déjà multiple en moi et se fait en présence de toutes les langues du monde, même si je ne les connais pas »
★ ★ ★
★ ★ ★
Miscegenation
★ ★ ★
In a previous article, I said that "nationalism is war" (F. Mitterrand), that it leads to fear and hatred: fear of other nations, fear of other ethnic groups, fear of other religions, fear of other cultures, fear of other people, simply. This fear leads to xenophobia, to racism, to hatred, to war.
I recently read a wonderful little book written by a Japanese Akira Mizubayashi: "The Broken Soul". When I read a foreign novel, I always look for the title in the original language, but there I found none, which is not surprising since Mizubayashi wrote this book, and a few others, in French, a language that he writes marvelously well with great delicacy. I was struck by a dialogue between four of his characters: we are in 1938, Japan has already invaded China and in Tokyo, a small group of musicians: a Japanese and three Chinese are playing a quartet by Schubert. During a tea break, Yu Mizusawa, the Japanese, starts a discussion.
« - In any case, Yu continued with conviction, I think it makes sense... that today, in 1938, somewhere in Tokyo, a Sino-Japanese quartet should be playing Rosamunde by Schubert…, while the whole country plagued by its warmongering obsessions seems to be devoured by the nationalist cancer dividing individuals between us and them…
- It's true, Kang said in turn in a shy voice, that the two countries have gone into open war since the Marco Polo Bridge incident. But I don't totally identify with China. I am Chinese, I speak Chinese, but I consider myself above all as an individual who is free of his affiliations. I try to convince myself that I am first a human being before being a Chinese. In the same way, I don't equate my Japanese friends with their country either. I would like to believe in a bond of friendship that goes beyond national antagonisms... Yanfen lowered her voice.
- Frankly, I am indignant at the colonial expansionism of the Japanese Empire, but I do not confuse the individuals with the state that incorporates them. In today's world we are inevitably subject to the state. However everyone should define himself first and foremost as an individual above all affiliation. I am undoubtedly Chinese, I speak Chinese, but I wouldn't want to be reduced to that...
Yu...putting down his cup...addressed the three of them…
- I am deeply touched by what you are saying. I'd rather have friends like you in an enemy country than have a hateful homeland and crawling countrymen who only swear by their belonging to that homeland. I will be with you, I will stay with you, even if I am accused of being a "bad Japanese subject", a "traitor to the nation", a hikokumin.»
★ ★ ★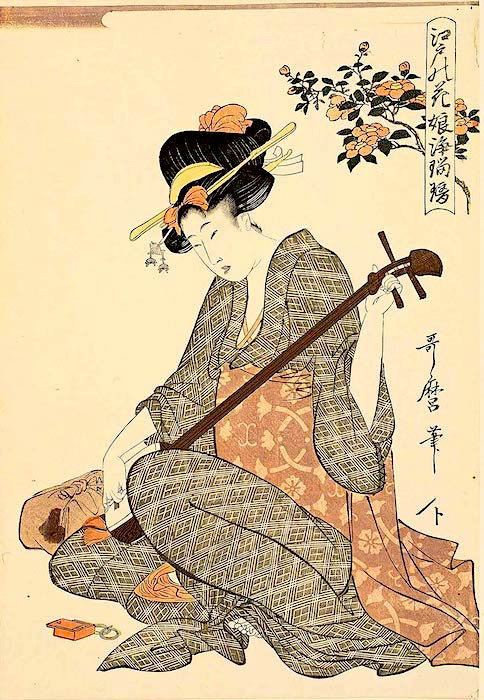 ★ ★ ★
Reading this, it occurred to me that the best antidote to nationalism is miscegenation.: genimicad in Uropi, literally "mixing births", mixing genes. This word is built like the corresponding English term: miscegenation, from Latin miscere = to mix and genus, birth, gender, race.
Miscegenation is a general phenomenon in human societies: there is no pure race and there has never been a pure race; besides, we now know that the concept of race has no scientific basis: for science, race does not exist. We know today, thanks to the study of the human genome, that we have 5% of Neanderthal genes, which implies a crossbreeding between Homo Sapiens and the Neanderthal man.
When I talk about Indo-Europeans, I feel some people are reluctant because many still equate them with Hitler and his ghastly ideology based on a "pure Aryan race", which is totally insane. All Indo-Europeanists know it: the word arya referred to the Indo-Iranians, that is, the ancestors of the peoples who live today in India and Iran, who are very different from the blond blue-eyed Germans.
On the contrary, the Indo-Europeans are a good example of miscegenation. It is now considered that the peoples speaking Proto-Indo-European were nomadic pastoralists living in the steppes north of the Caucasus: the Yamnayas. They must have been aware of the dangers of consanguinity because they practiced exogamy, in other words, they took wives from other tribes that had nothing to do with them: it was therefore a crossbreeding. Without these ancient miscegenations, the Indo-European languages would probably not have spread throughout Europe, India and Iran. Recent genetic studies show that the Yamnayas mixed with an agricultural population from "Old Europe", settled in the northwest of the Pontic-Caspian steppes, to form the Corded Ware Culture, whose genes can still be found today all over Europe, particularly in the Germanic and Slavic areas.
So we are all half-breeds. And half-breeds are generally handsome; traveling through the Caribbean, for example at the Fort de France carnival, we can see some magnificent ones.
Most French people learned at school "Our ancestors the Gauls", nothing could be further from the truth. It is true that Celtic tribes, coming from central Europe, settled in territories that are now France, Spain, Great Britain, northern Italy. But Gaul was conquered by the Romans who gave us our language (a Latin slightly transformed by the Gauls), built roads, bridges, aqueducts, amphitheatres which can still be seen today. That was a period of peace and prosperity, interrupted by the Germanic invasions: Visigoths, Ostrogoths, Burgundians, Franks…etc. The Franks gave us the name of our country, France, a monarchy and many words especially in the military and agricultural fields, but they did not give us a new (Germanic) language, as the Romans had done.
★ ★ ★
De cef Gaulis, Vercingetorix, sia apdavan a Cezar
★ ★ ★
So that in school, we should learn at least: "Our ancestors, Gauls, Romans and Franks", not to mention all those who arrived later, the Bretons who came from England, driven out by the Angles and Saxons, the Vikings who settled in Normandy, the Huns…etc. The other European countries are also a mix of peoples: Great Britain (Celts, Angles, Saxons, Danes, Normans…), Italy (Greeks, Etruscans, Celts, Romans, Germans…), Spain (Basques, Iberians, Celts, Carthaginians, Romans, Visigoths, Arabs…), etc.
Blessed are half-breeds! They are rich with a double culture, often speak two languages, it is as if they had two lives while the ordinary man has only one: we could call them double humans.
But miscegenation does not only mean being born from two parents of different origin; there is also a « cultural miscegenation », which is just as important. Here we have a good example with the extract from Mizubayashi: 3 Chinese and a Japanese are playing together a quartet by Schubert, a European, Austrian composer. Mizubayashi himself lived and studied in France before returning to Japan, and writes in both French and Japanese.
The world is full of cultural «crossbreeds» who spent their childhood in one country and then left to live in another country, another culture, another language. There are countless examples, especially among the most famous artists: painters such as Pablo Picasso (Spain-France), Vincent Van Gogh (the Netherlands-France), Amedeo Modigliani (Italy-France), Chaïm Soutine (Russia-France), Marc Chagall (Russia-France… besides the last three were Jews), poets and writers like Guillaume Apollinaire (Poland-France), and above all French-speaking African writers such as Léopold Sédar Senghor (a poet and politician who became president of Senegal), Ahmadou Kourouma (Ivorian), Cheikh Hamidou Kane (Senegalese), Amadou Hampâté Bâ (Malian), Alain Mabanckou (Congolese), to name only a few, and women-writers like Aminata Sow Fall (Senegal), Calixthe Beyala (Cameroon) and Marie Ndiaye (who is a real mestizo with a French mother and a Senegalese father), French-speaking Arab writers like Tahar Ben Jelloun (Marocco), Rachid Boudjedra, Boualem Sansal, Kateb Yacine, Yasmina Khadra (Algeria) and women-writers like Assia Djebar, Malika Mokkedem, Fatima Besnaci-Lancou (Algeria), Emna Belhaj Yahia (Tunisia),…not to mention English-speaking African writers like Chinua Achebe, Wole Soyinka, Ngugi wa Thiong'o, Chimamanda Ngozi Adichie, Buchu Emechea, Aminatta Forna… and many more…the list is so long.
★ ★ ★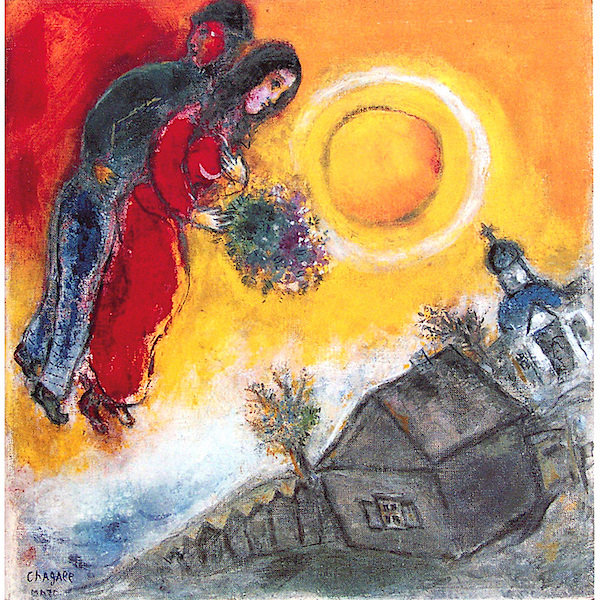 Picten pa Marc Chagall
★ ★ ★
But above all, I would like to mention François Cheng, or 程抱一 Chéng Bàoyī « lit. « who embraces unity ») in Chinese, who was born in China and has been living in France for a long time, where he became a member of the French Academy.
Reading François Cheng helped me understand, a little, the Chinese thought. I remember a passage from his book Le dit de Tianyi where he explains how the Chinese view time, with the metaphor of the river flowing from the mountain to the sea, watered by the rain: it's simple and clear, bright. His poems are as simple and pure as Japanese haikus: it is the fresh and innocent gaze of a child discovering for the first time the simple wonders of nature: a flower, snow, the night, light, the rain, a blue tit…
An iris
and all creation is justified;
A gaze
and justified is all the life.
…
True Light,
The one surgeing from the night;
And True Night,
The one where surges the light.
…
No return without going
The river of tears and blood
Evaporates in a light haze
Condenses into floating clouds
Falls down in a fertile rain,
Everything lost is retrieved
The spring and the sea are a reunion
No going without a return.……………………………From the poetry collection La vraie gloire est ici
★ ★ ★
★ ★ ★
I have always admired and been attracted to cultural mestizos because they had a double culture, because they spoke another language, because they had broader horizons, also belonged to another world...
Maybe it's due to my childhood when I had half-French, half-German friends in a nearby street, and others, a little further on, from a Polish family settled in France. The father of the first family was very strict, he did not want to see other children in his home, especially in his workshop where his tools were all neatly lined up on the walls, and which was always locked. On the other hand, Martha, the German mother was very nice and often invited us when the father was at work. A new world was opening up for us: for Christmas, she made curious cookies in the shape of stars, moons, fir trees…Plätzchen, I learned the name later. My friends sometimes went to Germany on holiday and came back with strange, wooden toys, very different from ours.… and having a German grandfather! It seemed incredible to us, as in a dream, a fairy tale. I saw him once, a small white-haired man, sitting on his grandsons' swing…
This is probably why I have always been fascinated by foreign languages, why I always wanted to discover them as if I were an explorer in an unknown land. This is also why discovering other languages gave me the idea of creating Uropi; maybe I wanted to create a miscegenation between them. I was also passionate about certain periods of history such as the Middle Ages with their knights, the Greeks and the Romans with their legends and their legions. One day, while looking for a grammar of ancient Greek, I came across the Dictionary of the Roots of European Languages by R. Grandsaignes d'Hauterive. What! our "foreign" languages had a common origin, our words came from common roots? It was for me a revelation: the veil before my eyes was removed and I clearly saw the path, in front of me, all mapped out: I would use these common roots to create a common language
But I did not give up my initial idea of miscegenation. In fact, the Indo-European roots as they have been reconstructed by linguists for 200 years, look a lot like mixed roots. The Uropi verb mico (to mix) itself, from PIE *meiḱ-, seems to come straight from German mischen, but it is also a blend between English mix, Italian mischiare, Greek μίσγω, Bengali mēśāna, Serbian mešati, Polish mieszać…etc, all of which mean 'to mix'.
Sometimes there are different I-E roots for the same word, for example for the wheel: *róth₂o/ehₐ-, *dʰrogʰós and *kʷekʷlóm, and often there is no I-E root at all (PIE being a prehistoric language) for more «modern» words. So I resorted to a technique called portmanteau-word or blend in English, and mot-valise in French, that is mixing two roots, as in English smog (frome smoke + fog), in other words, a kind of miscegenation.
★ ★ ★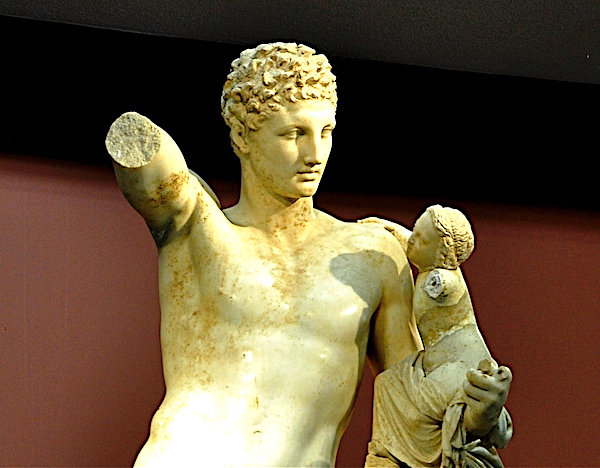 Hermes pa Praksitele, muzea Olimpiu, Grecia
★ ★ ★
Blend words are not so numerous in Uropi, about 5% of the vocabulary, but they can be very common such as tal, liente, mold, fram… (everything, people, world, friend…). The most beautiful word, perhaps, in the Uropi language is a blend word: LIAM, love. It stems from two Indo-European roots which both mean 'to love': *leubʰ- = love, desire (which gave Russe любить, German lieben, Czech líbit se, and English love…but also Latin libido), and *h₄em-, a child's word for mother, 'mum', hence 'motherly love' or 'loving one's mum' (which gave Latin amma (mama) > amor, amo > Italian amore, amare, Spanish, Portuguese amor, amar, French amour, aimer = (to) love.
Here are a few examples of blend words:
Tal = all, everything, from Germanic all, alle, alt + Romance totus, tutto, tout, todo = all + Slavic: Russian целый 'tsiely', Cze. celý, Pol. cały, Bulgarian цял 'tsial' = whole (Uropi: tali).
Liente = people, from PIE *h₁leudʰos = people > G. Leute, Du. lieden, Rus люди, Croat ljudi, Pol ludzie, Cze. lidé + Latin, Fr. gens, Italian, Sp., Por. gente = people
Mold = world,from Italian mondo, Fr. monde, Catalan món + English world, Swe värld, Du wereld…
Fram = friend, from PIE *prihₓ-ehₐ- = to love > Sanskrit priya = friend, hindi prem = love, prēmī = lover, Slavic prijatelj, G. Freund = friend + *h₄em- (see above) > Lat. amicus, Iit. amico, Sp., Por amigo, Cat. amic, Fr. ami.
But let's come back to miscegenation per se. It is clear that it can be found everywhere in human societies at all levels. However, miscegenation does not mean a 'melting pot' as the Americans say; it is not a matter of melting all the cultures together in a gigantic cauldron until obtaining a single substance, which is whitish, grayish or of a dubious beige, colorless, as odorless as tasteless. The diversity of our languages and cultures, just like biodiversity, is our wealth: we must do everything to preserve it. The interbreeding and mixing of cultures will enrich our cultures, it will not replace them.
★ ★ ★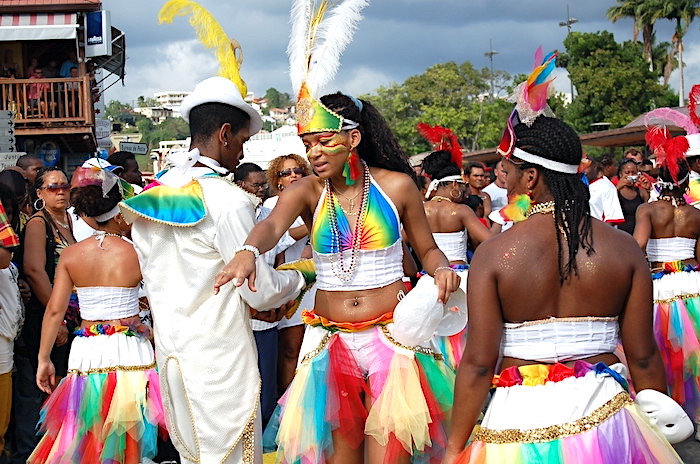 ★ ★ ★
To conclude, let's listen to what Edouard Glissant, a Martinican writer and poet, the promoter of creolization, another name for cultural miscegenation, tells us.
« Creolization for me is the mixing of cultures that produces the unexpected. The white oppressor, dominator... is fundamentally afraid of one thing: miscegenation. He is afraid of being mixed. The goal to achieve is not to be blacker than black in order to be freer. Why couldn't a nation be made up of cultures that are related to each other, without dying out or being diluted? » (all the quotes are from interviews on the radio France Culture)
Rooted in the West Indies, his vision of Creole and creolization nevertheless concerns the whole world, and everyone can appropriate it: all humans, and all languages. « All the languages of the world, from the smallest to the largest one, should come up onto the great stage of the world.»
As for nationalism…
« The single root kills everything around it. It is sectarian and intolerant. The idea of the single root should be replaced by the idea of the Relation-identity or rhizome. That is our experience as West Indians». It is interesting to compare with Uropi which does not come from a single source, but from a multiplicity of roots from all I-E languages, and derives its identity from the relationships between them.
For Glissant, the concept of archipelago is all important: these are islands connected to each other, but at the same time separated, here is what he says: « If Europe is to be built, it will be built with Basques, Alsatians, Catalans... There will be a European archipelago.» Creolization is « neither only the evidence of this hybridization, nor a melting pot, nor the mechanics of multiculturalism, it is a process and not a fixity …» E.G.
Sam Coombes, a Glissant specialist adds: « identities are always in motion and...nothing is static or frozen... nothing is true, everything is alive.» « Creolity corresponds to a cultural identity of the Caribbean whereas creolization, as a process, can be applied to any cultural context… any people can be creolized with other peoples…»
And to finish, a beautiful sentence from Edouard Glissant that I could make mine:
« The language in which I write is already multiple within me and is done in the presence of all the languages of the world, even if I do not know them. »
★ ★ ★
Edouard Glissant
★ ★ ★