★ ★ ★
* Uropi Nove 144 * Uropi Nove 144 * Uropi Nove 144 *
★ ★ ★
★ ★ ★
I vuc vo tale u Glaj Krisgèn id bun jarifendi feste !
I av os u miki kodàv po va: u Krisgeni sag, traduten od Doski: Das schönste Geschenk.
★ ★ ★
Je vous souhaite à tous un Joyeux Noël et de bonnes fêtes de fin d'année !
J'ai aussi un petit cadeau pour vous: un conte de Noël, traduit de l'allemand: Das schönste Geschenk.
★ ★ ★
I wish you all a Merry Christmas and a Happy New Year!
I also have a small present for you: a Christmas tale, translated from German: Das schönste Geschenk.
★ ★ ★
De beles kodàv
★ ★ ★

Solem du dias. Odia papa doʒ jok varko, ba domòr, be Krisgèni fordià, he ve so be dom. Id he avì prodezen te lu itev us tale sam in fost. Lu volì uscepo sam u bel Krisgenaben, papa, mama, Tom id hi miki sesta Sara.
Je doʒev so u bel drev: sat alti po atogo de subia id sat lati po sto bemìd de sal. Un volev felo sia nerim wim usia, ba mol maj varmi. Je doʒev os avo mole krati raste, altem un mozev ne dekoro ja regim.
Tom id Sara avì ʒa iten odia in de fost - siurim ne dal, par lu frajì tiomòl. Lu volì vizo is lu mozev ne suprizo papa domòr. Mojse lu findev ʒe de regi aben. Id indèt, solem eke metre ap de fostilìz, sì stan u bel reg aben, tal wim lu avì imaʒinen.
Procerim obe kide itì a de drev, lu skopì ja bun be tale zate, lu skutì u poj ji raste. Naturim lu mozì ne vizo tis de kib, lu sì tio miki po da, ba Tom dezì « Diz se regi! Je ve vido ni Krisgenaben! » Id Sara kovenì ki ci maj alden frat. Pos tal, he zavì talvos wa sì regi. Ah voj, he detì os ekvos veri stupide, wim davos wan he avì lasen falo de bokàl konfitis ap de kab. Ba de majsan tem he sì regi, pos tal, he sì ci gren frat !
★ ★ ★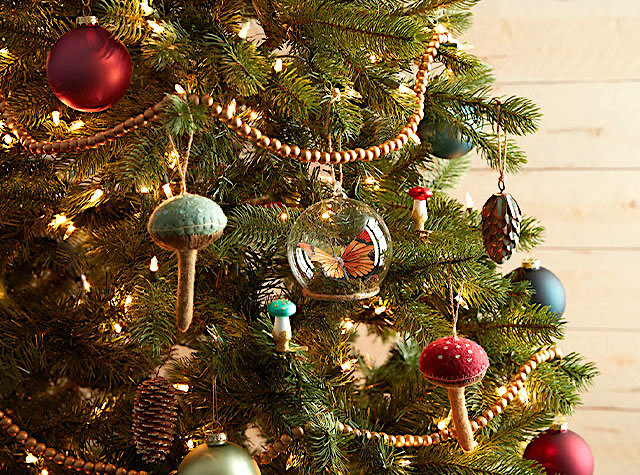 ★ ★ ★
Plozim lu orì u voc we semì murmuro laisim, we zonì wim u ruisad folis. « Daske » dezì de voc, « te i prij vo. »
« Ka sì ʒe da, Tom ? » « I zav ne, mojse solem de vint. » Sara bemarkì te Tom sì ne talim siafedi. Id
pos, lu orì revos de voc, di vos u poj maj krati. « I se de aben. Uskulpe is i av afrajen va, i volì ne da. I se solem glaj te vu find ma bel. De majsan humane viz oʒe talim ne ma. »
De kide sì stonen. Lu avì jok nevos oren ov u Krisgenaben we mozì voko. Ba po Tom da sì de kronad: « Hurà, nu v'avo u vokan Krisgenaben in de sal ! Is da se ne de bunes ! » Sara findì ʒe da u poj strani.
Id de aben semì ne talim koveno: « Uskulpe ʒe ma, sperim vu vol ne sego ma ap ? I vol dezo, u drev av nun plas in u has. Pur i se os talim ne seni, solem des jare… » Sara dezì a Tom: « Dez, i kred te de aben se frajan. » « Ah, ka ? Je se ʒe solem u drev. Papa ve sego ja ap, pos mama ve dekoro ja belim. Sim nu v'avo u magibèl aben in de sal. »
« Ba di s'ne bun, » ruisì de aben, « i vol ʒe jok vido maj alden, wim vu puntim. Uvedà, i mozev nemaj voko eniwim, is i stev ne su mi rode.
Num Sara volì reno spel ru dom, ce avì ploje in ci oje. Ne solem par ce frajì, ce plojì ov de pavri aben, we sì puntim os alden te Tom. Id ce volì os ne perlaso ha. « I se dolan te tu ploj num, mika. I volì ne deto ta tristi. Tu se talvos bunvenen po vizito ma id voko ki ma. Ba in vi sal, je sied ne. » « Id ka ov ni bel dekoren aben ? » usklajì Tom, « doʒ nu mojse ceko un alten ? » « Ne, naturim ne, » ruvokì de aben hororen, « ba i av un idea. Ka menev vu ov dekoro ma zi usia id pos festo Krisgèn zi, ki ma ? » Tom tramenì u momènt. Sara spekì ha inplojim, pos he dezì: « Da sev ʒe bel. Id nu mozev deto u gren suprìz a papa. »
★ ★ ★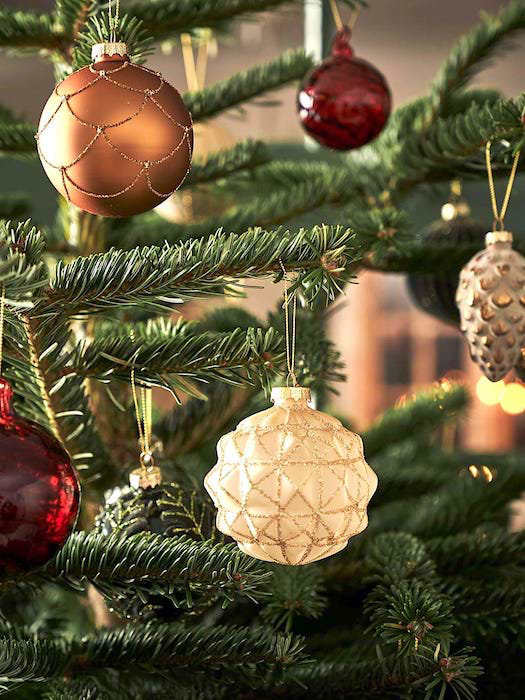 ★ ★ ★
Dezen, deten. Tom id Sara renì ru dom id disvokì ov tal ki mama. Pos lu tale itì, kargen ki Krisgèni bule, girlande, miki anʒele id sukrijede, a de aben id inizì dekoro ja.
Be de slogan dia lu rutenì papa be dom: je stì talvos ekwa a deto. Solem kurtim for nocifàl mama disvanì. Id pos papa nemì hi gren war pokilàmp, « Sim, num nu doʒ hasto, altem nu ve findo nun aben maj! » Tom id Sara blikì oje a unaltem, ba stajì mol ner a papa po ne halto be u falsi drev.
Plozim lu vizì eke luce pro sia, papa sì stonen, he volì vizo ka usvenì za. Lu itì num puntim a li aben - id je disralì in magibèl splend, belim dekoren ki mole, mole kirele. Id disstalen aròn ude de aben sì leʒan de kodave. Mama avì tal belim predizen, pote papa sev verim suprizen.
Ba Sara ojiblikì a de aben id murmurì: « A nekun nu ve traito de sekrèt te tu moz voko. Id nes jar nu ve festo revos Krisgèn ki ta! » De aben ruisì ru laisim, ji voke un mozì ne dissigo, ba Sara zavì ʒe bun wa je dezì.
Jok odia, midwàn Sara som avì viden u mata id ci dota av os aven u kid; ce ven jaki jar a de aben, we, wim tra u mirakel, se jok stan be de som sta. Pos lu retàl a unaltem tal wa usvenì in de pasen jar - id lu inglàj ov festo sam revos mole Krisgène.
★ ★ ★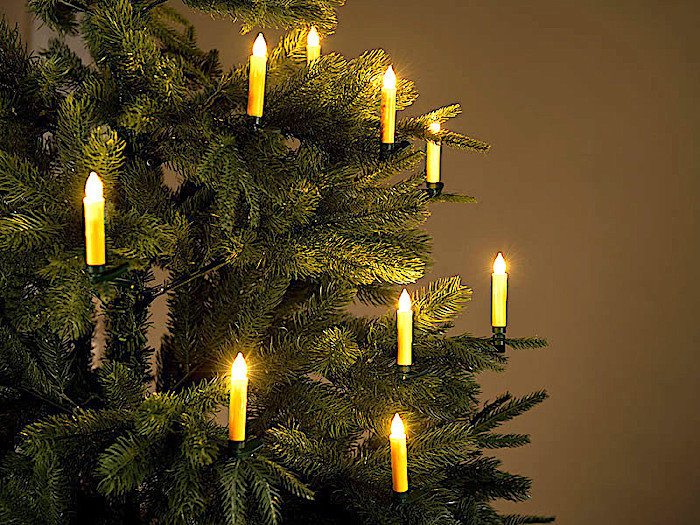 ★ ★ ★
Le plus beau cadeau
★ ★ ★
Seulement deux jours. Aujourd'hui papa doit encore travailler, mais demain, la veille de Noël, il restera à la maison. Et il avait promis de les emmener tous ensemble dans la forêt. Ils voulaient choisir ensemble un beau sapin de Noël, papa, maman, Tom et sa petite soeur Sarah.
Il leur fallait un bel arbre, assez haut pour atteindre le plafond et assez large pour occuper le milieu de la salle. On devrait presque se sentir comme si on était dehors, mais beaucoup plus au chaud. Il lui fallait aussi des branches robustes, pour pouvoir le décorer comme il faut.
Tom et Sarah, aujourd'hui, étaient déjà partis en forêt - pas très loin, bien sûr, ils avaient trop peur. Mais ils voulaient voir s'ils ne pouvaient pas faire une surprise à papa demain. Peut être qu'ils allaient trouver le bon sapin. Et en effet, à quelques mètres seulement de l'orée du bois, se tenait un beau sapin bien droit, exactement comme ils l'avaient imaginé.
Les deux enfants s'approchèrent prudemment de l'arbre, ils l'examinèrent de tous les côtés, secouèrent un peu ses branches. Bien entendu ils ne pouvaient pas apercevoir le sommet: ils étaient bien trop petits, mais Tom déclara « Celui-là c'est le bon! C'est notre sapin de Noël! » Et Sarah était d'accord avec son grand frère. Finalement, il avait toujours raison. Ah, il faisait bien, parfois, de grosses bêtises, comme la fois où il avait fait tomber le bocal de bonbons du placard. Mais la plupart du temps, il avait raison. Normal c'était son grand frère !
Soudain ils entendirent une voix qui semblait chuchoter tout bas, on aurait dit un bruissement de feuilles. « Merci » dit la voix, « je suis content de vous plaire. »
★ ★ ★
★ ★ ★
« C'était quoi, ça, Tom ? » « Je n'sais pas, peut être seulement le vent. » Sarah remarqua que Tom n'était pas à l'aise. Et ensuite, ils entendirent à nouveau la voix, un peu plus fort cette fois. « Je suis le sapin. Excusez-moi, je ne voulais pas vous faire peur. Je suis seulement heureux que vous me trouviez beau. La plupart des humains ne me voient même pas. »
Les enfants étaient étonnés. Ils n'avaient encore jamais entendu dire qu'un sapin de Noël pouvait parler. Mais pour Tom c'était le comble: « Ça alors, nous allons avoir un sapin qui parle ! Si ce n'est pas la meilleure ! » Mais Sarah trouva la chose un peu bizarre.
Et le sapin ne semblait pas tout à fait d'accord: « Excusez-moi, j'espère que vous ne voulez pas me couper ? Je veux dire, un arbre n'a rien à faire dans une maison. Et puis je ne suis pas si vieux, j'ai seulement dix ans… » Sarah dit à Tom: « Dis, je crois que le sapin a peur. » « Ben, quoi ? C'est seulement un arbre! Papa va le couper, et maman va le décorer: il sera très beau, on aura un sapin magnifique!. »
« Non, ce n'est pas bien, » dit en bruissant le sapin, « je veux encore vivre et grandir, comme vous. Et de toute façon, je ne pourrai plus parler, si je ne suis plus sur mes racines. »
Maintenant Sarah voulait rentrer à la maison en courant, des larmes plein les yeux. Ce n'est pas qu'elle avait peur, elle pleurait sur le sort de ce pauvre sapin, qui avait exactement le même âge que Tom. Et lui non plus, elle ne voulait pas le perdre. « Je suis désolé de te faire pleurer, ma petite. Je ne voulais pas te rendre triste. Tu pourras toujours venir me voir et parler avec moi, ce sera un plaisir. Mais dans votre maison, ce n'est pas possible. » « Et alors, notre beau sapin de Noël ? » s'exclama Tom, « Il faut peut être en chercher un autre ? » « Non, sûrement pas, » répondit le sapin horrifié, « mais j'ai une idée. Si vous veniez me décorer ici dans la forêt et fêter Noël avec moi ? » Tom réfléchit un moment. Sarah le regarda d'un air suppliant, puis il dit: « Ça serait super. Et on ferait une sacrée surprise à papa. »
★ ★ ★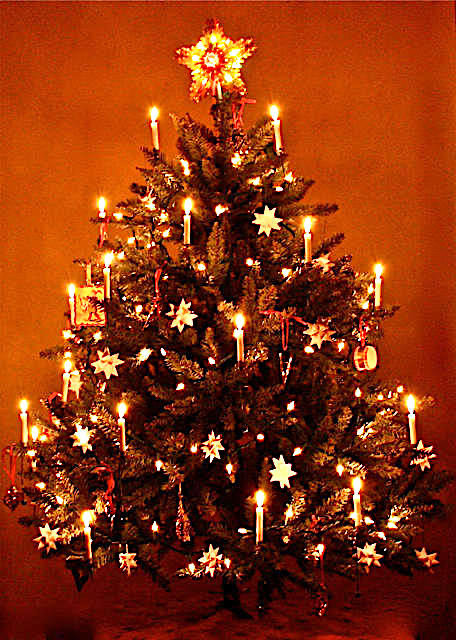 ★ ★ ★
Aussitôt dit, aussitôt fait. Tom et Sarah se précipitèrent à la maison pour en discuter avec maman. Puis, chargés de boules, et de guirlandes de Noël, de petits anges et de sucreries, ils se rendirent tous les trois au sapin et se mirent à le décorer.
Le lendemain ils firent tout leur possible pour retenir papa à la maison: il y avait toujours quelque chose à faire. Juste avant la tombée de la nuit, maman disparut. Puis papa prit sa grosse lampe-torche très lourde « Maintenant, il faut se dépêcher, sinon nous ne trouverons plus de sapin de Noël! » Tom et Sarah se firent un clin d'oeil, et entourèrent papa pour qu'il ne s'arrête pas devant un autre arbre.
Soudain ils virent devant eux des lumières, papa était étonné et voulut voir ce qui se passait là. Ils allèrent alors directement à leur sapin qui étincelait d'un éclat magnifique, tout illuminé d'innombrables bougies. Et disposés tout autour du sapin, il y avait les cadeaux. Maman avait tout bien préparé, pour que papa soit vraiment surpris.
Sarah fit alors un clin d'oeil au sapin et murmura: « Nous ne révèlerons jamais à personne que tu sais parler, et l'an prochain nous fêterons à nouveau Noël avec toi! » Le sapin répondit en bruissant tout bas. On ne pouvait distinguer ses mots, mais Sarah savait très bien ce qu'il disait.
Aujourd'hui encore, alors que Sarah est devenue mère à son tour, et que sa fille aussi a eu un enfant, elle revient chaque année voir le sapin, qui comme par miracle, est toujours là au même endroit. Alors ils se racontent tout ce qui s'est passé dans l'année - et ils se réjouissent de pouvoir fêter encore de nombreux Noëls ensemble.
★ ★ ★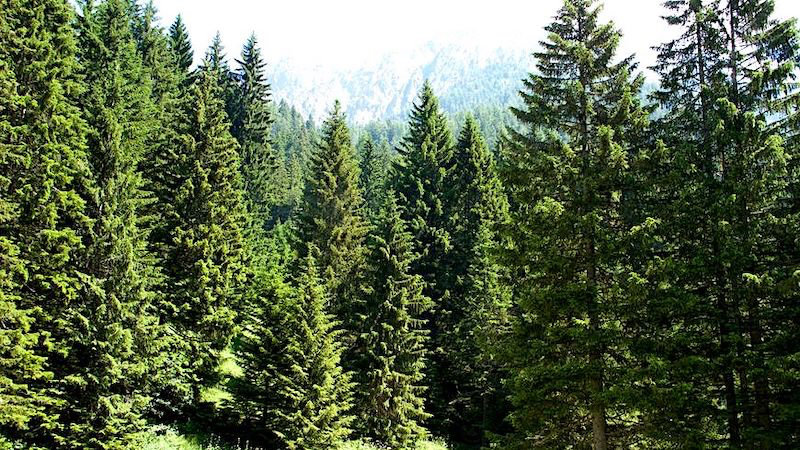 ★ ★ ★
The best present
★ ★ ★
Just two days left. Today dad still has to work, but tomorrow, on Christmas Eve, he'll stay at home. And he had promised to take them all together to the forest. They wanted to choose a beautiful Christmas tree together, dad, mom, Tom and his little sister Sarah.
They needed a beautiful tree, tall enough to reach the ceiling and wide enough to take up the middle of the room. We should almost feel as if we were outside, but much warmer. It also had to have strong branches, so it could be decorated properly.
Tom and Sarah had already gone into the woods today - not far away, of course, they were too scared. But they wanted to see if they couldn't surprise dad tomorrow. Maybe they would find the right tree. And indeed, only a few meters from the edge of the wood, stood a beautiful tree, standing upright, exactly as they had imagined.
The two children approached the tree cautiously, they examined it from all sides, shook its branches a little. Of course they couldn't see the top: they were too small, but Tom said, « That's the one! It's our Christmas tree! » And Sarah agreed with her older brother. In the end, he was always right. Well, he did some stupid things at times, like when he had knocked the candy jar off the cupboard. But most of the time he was right, after all, he was her older brother. !
Suddenly they heard a voice that seemed to murmur softly, and sounded like the rustling of leaves. « Thank you » said the voice, « I'm glad you like me.»
« What was that, Tom? » « I don't know, maybe just the wind. » Sarah noticed that Tom wasn't quite comfortable. And then they heard the voice again, a little louder this time. « I am the fir tree. Sorry, I didn't mean to scare you. I am only glad that you find me beautiful. Most humans don't even see me. »
★ ★ ★
★ ★ ★
The children were amazed. They had never heard before that a Christmas tree could talk. But for Tom, that was the crowning glory « Crumbs, we'll have a talking Christmas tree in the living room! If that isn't the best! » Sarah found that a little strange.
And the tree didn't quite seem to agree: « Excuse me, I hope you don't want to saw me off, do you? I mean, a tree doesn't belong inside a house. And then I'm not that old, I'm only ten... » Sarah said to Tom: « Hey, I think the tree is scared. » « Oh, what! that's just a tree! Dad will cut it off, and mom will decorate it: Then we'll have a wonderful tree in the living room!. »
« But that's not good, » said the fir rustling, « I still want to grow older, like you. Anyway, I wouldn't be able to talk anymore unless I'm firmly in my roots. »
Now Sarah just wanted to run home quickly, her eyes were full of tears. Not only because she was afraid, she cried for the poor tree who was exactly the same age as Tom. And she didn't want to lose him either. « I'm sorry you're crying now, little one. I didn't want to make you sad. You are always welcome to visit me and talk to me. But in your house, it is not possible. » « And what about our beautifully decorated tree? » exclaimed Tom, « Maybe we should look for another one? » « No, of course not, » replied the fir, horrified, « but I have an idea. What about decorating me out here and then celebrating Christmas here with me? » Tom thought for a moment. Sarah gave him a pleading look, then he said: « That would be great. And we could surprise dad. »
No sooner said than done. Tom and Sarah ran back to the house and discussed everything with mom. Then, packed with Christmas baubles, tinsel, little angels and sweets, they all went to the fir tree and began to decorate it.
★ ★ ★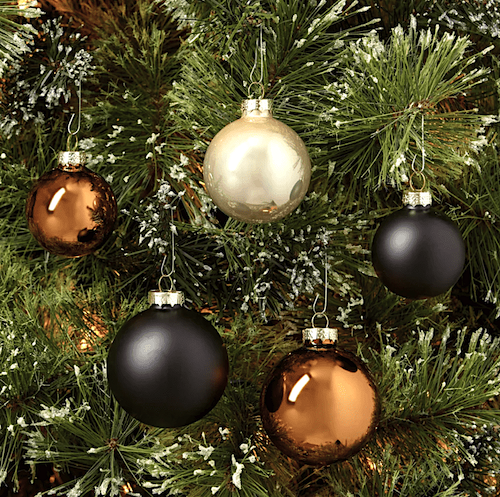 ★ ★ ★
The next day they kept dad in the house, there was always something to do. Just before nightfall, mom disappeared. And then dad took his big, heavy flashlight « Now we have to hurry, otherwise we won't find a Christmas tree! » Tom and Sarah winked at each other, but always kept very close to dad so they wouldn't stop at the wrong tree.
Suddenly they saw a few lights in front of them, dad was surprised and wanted to see what was going on there. They now headed straight for their tree which was sparkling in a magnificent splendour, beautifully decorated with innumerable candles. And, scattered around the tree, were the presents. Mama had prepared everything so nicely that Papa was really surprised.
Sarah then winked at the tree and whispered: « But we won't tell anyone that you can talk. And next year we will celebrate Christmas with you again! » The tree rustled back softly. You couldn't distinguish the words, but even so, Sarah knew what it was saying.
Even today - meanwhile Sarah had herself become a mother, and her daughter also had a child - she comes every year to the fir tree, which miraculously is still there in the same place. So they tell each other everything that happened in the year - and they look forward to celebrating many more Christmasses together.
★ ★ ★