★ ★ ★
* Uropi Nove 82 * Uropi Nove 82 * Uropi Nove 82*

★ ★ ★
★ ★ ★
Chandelao - Puckar - Kicangar

Be de slogan morna nu lasì ruplojim de gori pol in de vustia, farì ru tra Jodhpur id avenì fendim a ni hotèl in de vik Chandelao. Be posmidià nu vizitì u mandimaki kooperatìv de ʒinus de viki, pos nu farì ap in u "safarì" tra de camp: nu mozì vizo grasi antilope ki li spirali korne id os mole pawe. Za se de Bicnoj (o Vicnoj) vike; Bicnoje, wej nom sin 29 in Hindi (बीस नौ, "bīs no") par lu ʒiv slogan 29 principe, se vegetari, anviolti, lu piv ne alkòl id fum ne, ba subetàl lu doʒ protego beste id dreve. In 1730 de maharaʒa od Jodhpur sendì soldate po koto dreve par he nudì drov po breno in hi kalkifurne. De Bicnoje inramì de dreve id de soldate inizì koto… dreve, rame, game, kebe. 363 persone vidì oferten, ba fendim de maharaʒa apdavì: de Bicnoje avì vingen. Za nu vizitì u potoria wo nu vizì de potor varko; lu mak cevim ron ʒare po garo vod fric in soma. Nu pasitì in un alten vik wo nu kogonì simpatic senine id mole kide. In de trij vik nu vidì inviten a de opiumi ceremonij: Bicnoje moz agrizo magòne id mako opiùm, ba lu fum ne ja; lu inlùz ja in vod id piv ja. Nu detì de som: de opiumi vod se u poj pikri, ba je avì apsolutim nun efèkt su na.
★ ★ ★
De kooperatìv ʒinus in Chandelao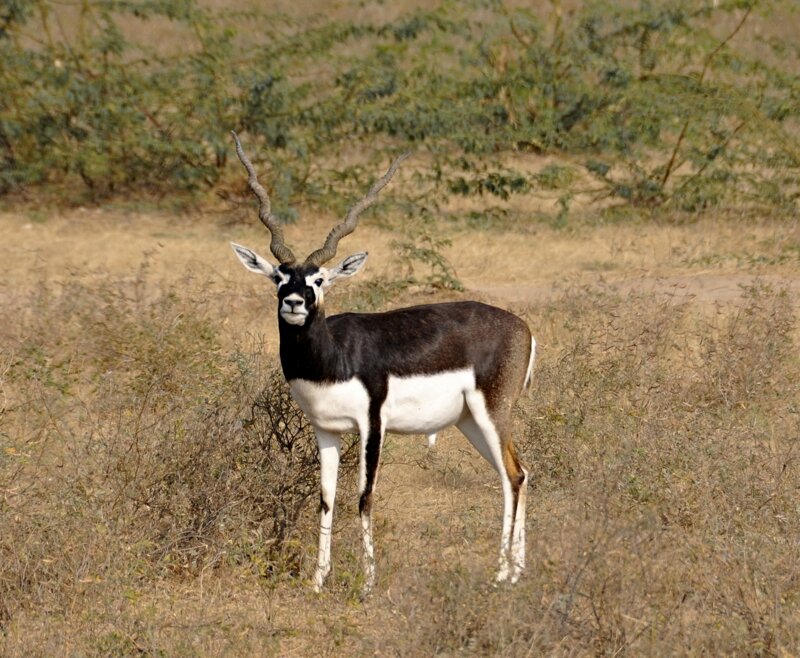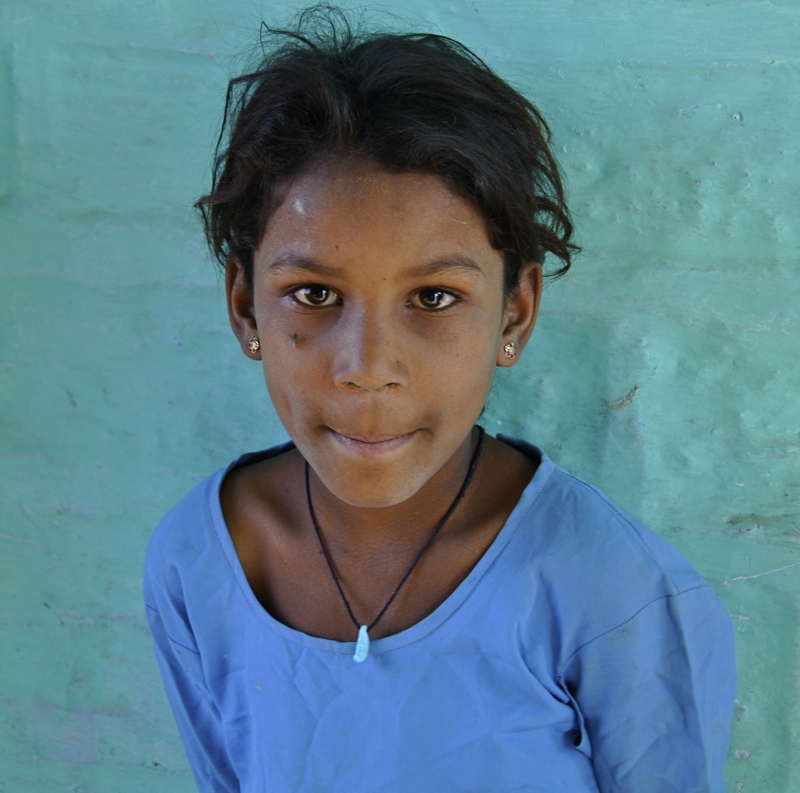 U kida be de potoria in u vik ner Chandelao

★ ★ ★
C'est à regret que nous quittons la ville dorée du désert le matin suivant pour retourner à Jodhpur et arriver pour le déjeuner à notre hôtel à Chandelao. L'après-midi nous visitons la coopérative artisanale des femmes du village, puis nous partons en "safari-photo" à travers la campagne: nous pouvons voir de gracieuses antilopes aux cornes torsadées et beaucoup de paons. C'est là que se trouvent les villages Bishnoï (ou Vishnoï); Les Bishnoï, dont le nom signifie 29 en Hindi (बीस नौ, "bīs no") parce qu'ils vivent selon 29 principes, sont végétariens, non-violents, ils ne boivent pas d'alcool et ne fument pas, mais surtout ils doivent protéger les animaux et les arbres. En 1730 le maharaja de Jodhpur envoya des soldats couper les arbres dont il avait besoin pour brûler dans ses fours à chaux. Les Bishnoï entourèrent les arbres de leurs bras et les soldats commencèrent à couper… arbres, bras, jambes, têtes. 363 personnes ont été sacrifiées mais le maharaja a finit par céder: les Bishnoï avaient gagné. Nous visitons une poterie où le potier nous fait une démonstration: ils fabriquent essentiellement des jarres rondes pour conserver l'eau au frais l'été. Nous nous promenons dans un autre village où nous rencontrons de sympathiques vieillards et beaucoup d'enfants. Dans le 3e village nous sommes invités à la cérémonie de l'opium: les Bishnoï peuvent cultiver le pavot et produire l'opium, mais ils ne le fument pas; ils le diluent dans l'eau et le boivent. C'est ce que nous avons partagé: l'opium rend l'eau amère mais nous ne fait aucun effet.
★ ★ ★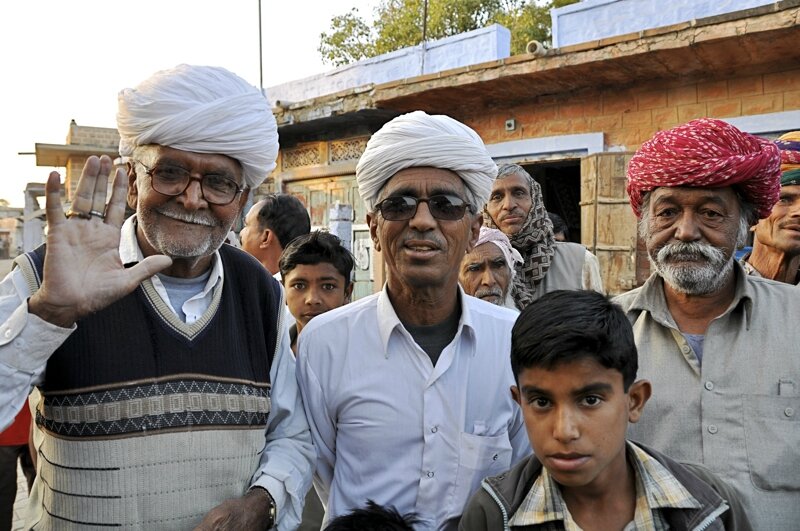 Seni Bicnoj mane in u vik

De potoria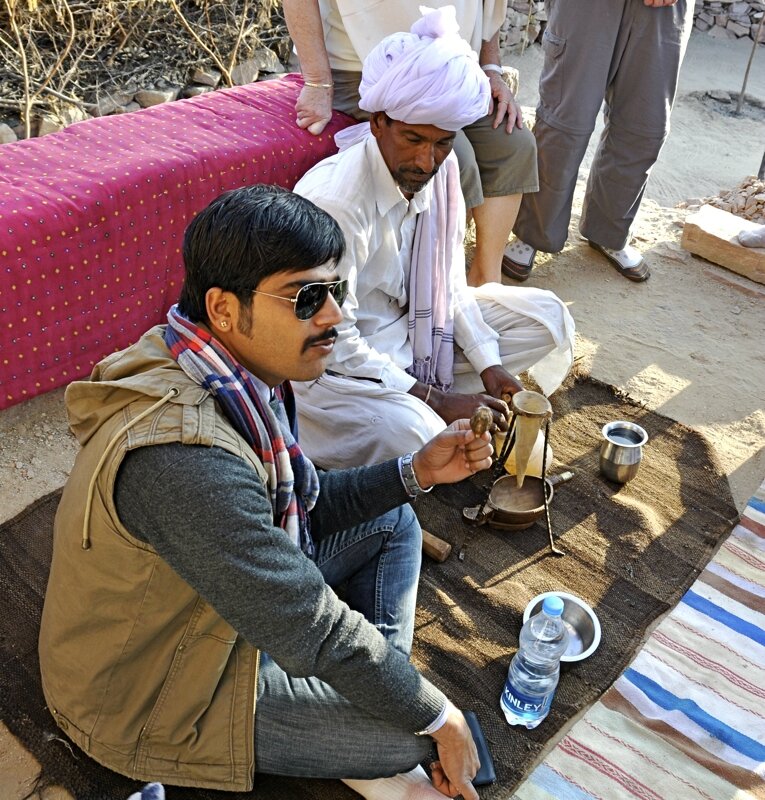 De opiumi ceremonij

★ ★ ★
The next morning we regretfully left the golden town in the desert, drove back to Jodhpur and finally got to our hotel in Chandelao. After lunch we visited a women artisans' cooperative, and then drove off through the countryside on a photographic safari: there we could see graceful antelopes with spiral horns and a lot of peacocks. In that area are the Bishnoi (or Vishnoi) villages; the Bishnoi, whose name means 29 in Hindi (बीस नौ, "bīs no") because they live according to 29 principles, are vegetarian, non-violent, they don't drink alcohol and don't smoke, but above all they must protect animals and trees. In 1730 the Maharaja of Jodhpur sent soldiers to cut down the trees he needed to burn in his lime kilns. The Bishnoi embraced the trees and the soldiers started cutting off… trees, arms, legs, heads. 363 persons were sacrificed, but in the end the maharaja gave up: the Bishnoi had won. We visited a pottery where we watched the potter work: they essentially make round pots to keep water cool in summer. We stopped for a stroll in another village where we met friendly old men and a lot of children. In the 3rd village we were invited to the opium ceremony: the Bishnoi may cultivate poppies and produce opium, but they don't smoke it: they dilute it in water and drink it. This is what we shared with them: the opium makes the water taste bitter, but it had no particular effect on us.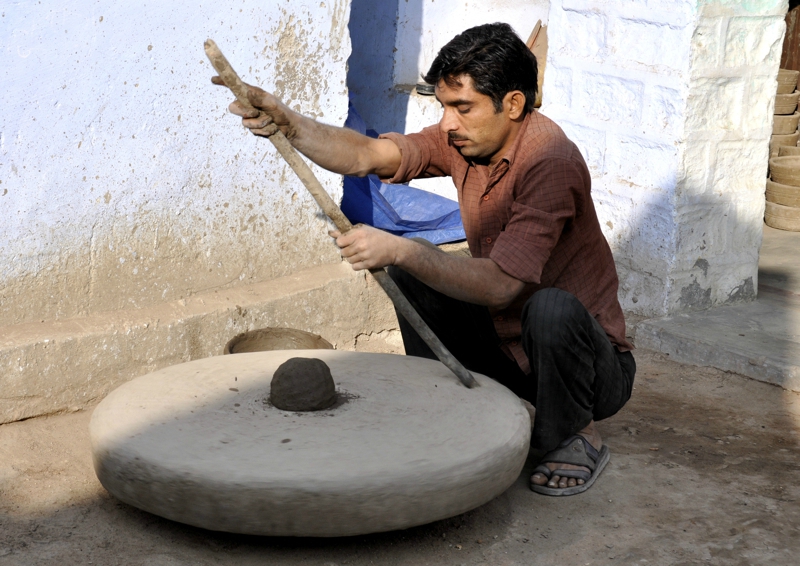 De potor
Seni Bicnoj

★ ★ ★
Puckar - Pushkar
Be de slogan midià nu avenì a Puckar (Hindi पुष्कर: Pushkar) wo de grenes dromedari feir in India av sta jaki jar in November. Puckar se os u saiti pol po Hindus, ki ji lag wo liente it niz ji ghate (lati skaliu kaje) po sia bano id sia purizo. Nu pasitì tra de ric bazàr id itì niz a de lag, id obte nu banì ne na, eke od na detì u prej ki u Hindu prist dezan preje in Hindi. Dapòs de partinemore dezì no te je sì mol inmuvan id u ʒina oʒe skaltì in soje.
In Puckar je ste os de uni tempel dediken a Brahma in India. De legènd dez te Brahma nemì u duj maʒa Sarasvati in Puckar; hi pri maʒa vidì sa irgen te, po kasto ha, ce becizì te je stev nun alten tempel po prejo ha in India.
★ ★ ★
For de ban in de Saiti Lag, Puckar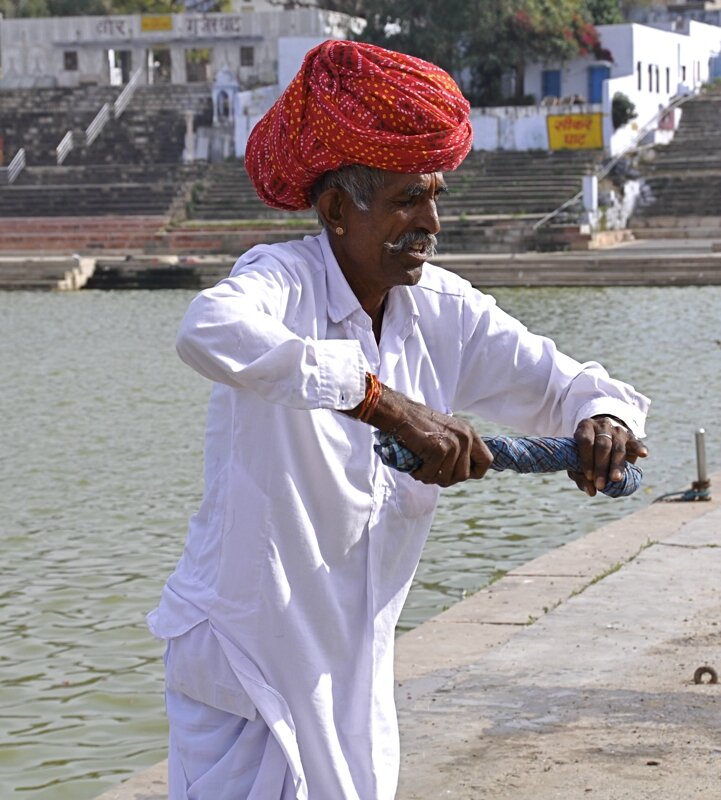 ★ ★ ★
Le jour suivant, vers midi nous arrivons à Pushkar (Hindi पुष्कर: Pushkar) où a lieu la plus grande foire aux dromadaires de l'Inde chaque année en novembre. Pushkar est également une ville sainte pour les Hindous, avec son lac où l'on descend les ghats (larges quais en escalier) pour se baigner et se purifier. Nous nous promenons dans le riche bazar et descendons jusqu'au lac; nous ne nous baignons pas, mais certains d'entre nous font la prière avec un prêtre hindou qui récite des incantations en hindi. Les participants nous on dit ensuite avoir été émus jusqu'aux larmes.
C'est à Pushkar que se trouve le seul et unique temple dédié à Brahma en Inde. Selon la légende Brahma aurait pris pour seconde épouse Sarasvati à Pushkar; sa première épouse folle de rage décréta alors pour le punir qu'il n'y aurait aucun autre temple pour l'honorer dans toute l'Inde.
★ ★ ★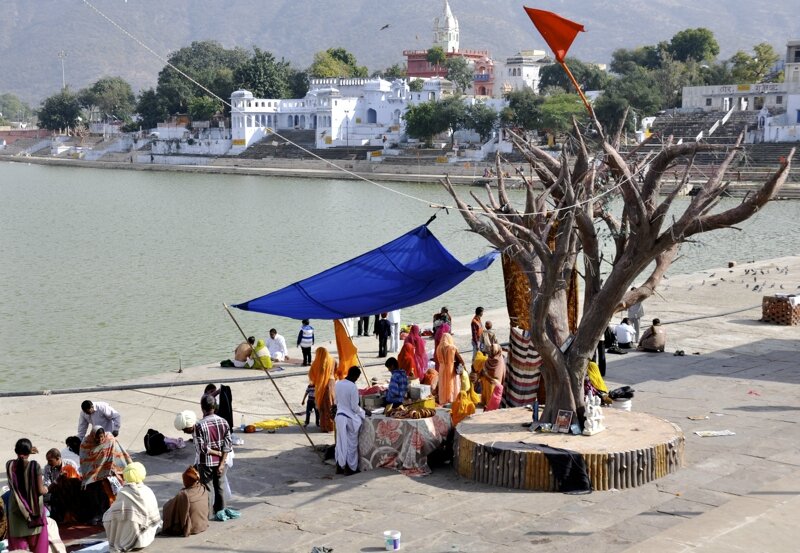 De Saiti Lag, Puckar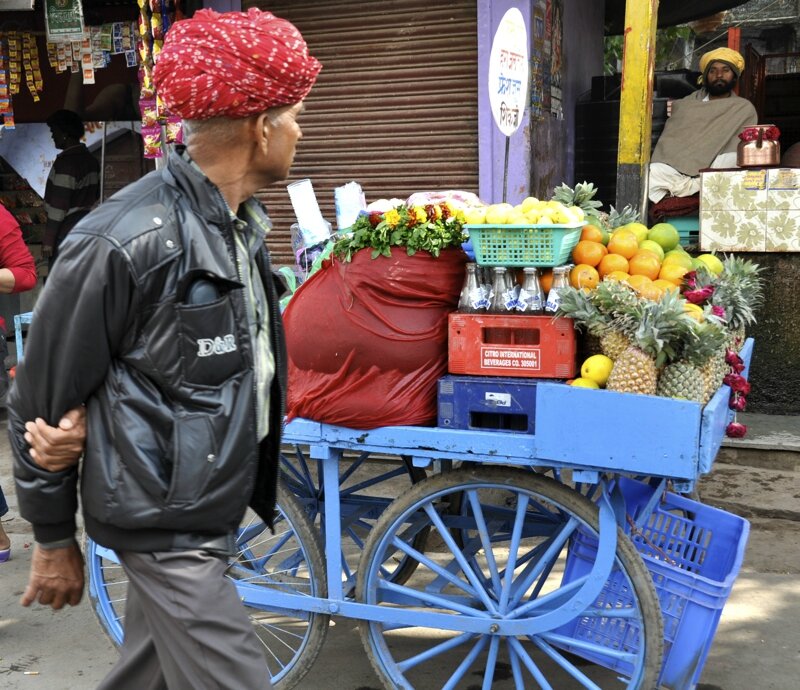 ★ ★ ★
On the following day towards noon, we arrived in Pushkar (Hindi पुष्कर: Pushkar) where the largest dromedary fair in India takes place in November every year. Pushkar is also a holy city for Hindus, with its lake where people go down the ghats (series of wide steps leading down into the water) to bathe and purify themselves. We had a walk through the rich bazar and then down to the lake where we didn't bathe; however some of us followed a prayer with a Hindu who chanted incantations in Hindi. They later said it was so stirring that they were moved to tears.
In Pushkar there is also the only temple in India dedicated to Brahma. According to the legend, Brahma took Sarasvati as a second wife in Pushkar; his first wife was so furious that, to punish him, she decided there would be no other temple to honour him anywhere else.
★ ★ ★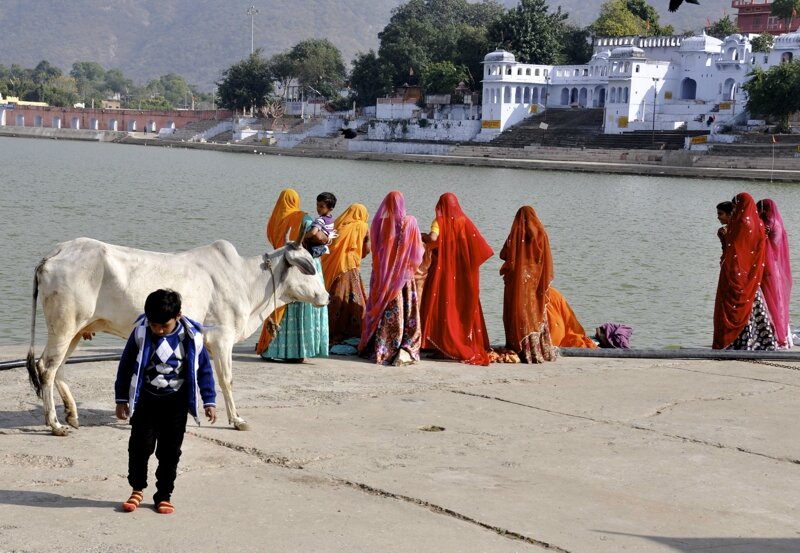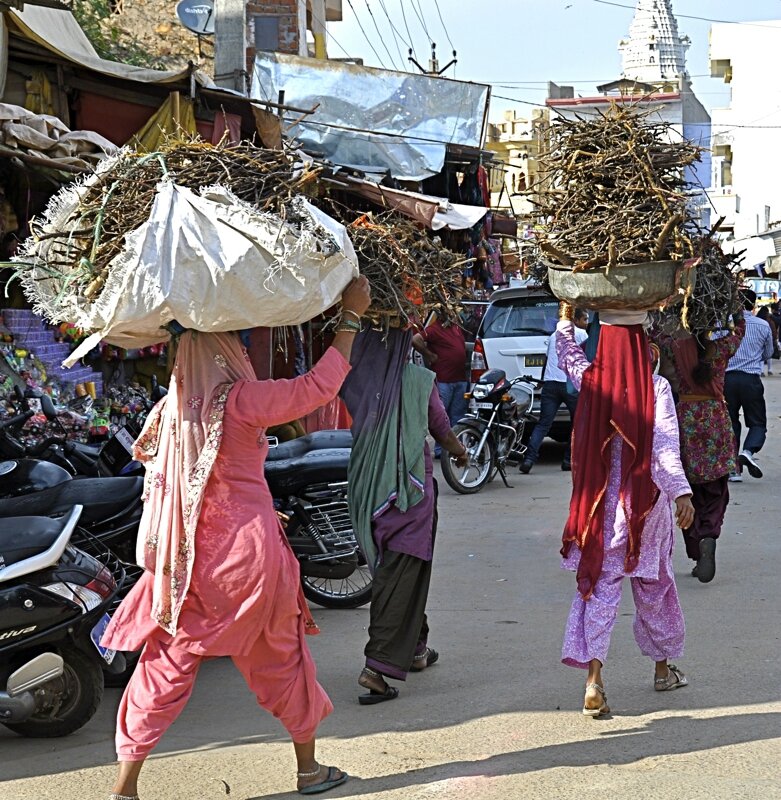 Ʒinas peran drov in Puckar
Su de ghate, Puckar
★ ★ ★
26i Janvar in India se de Fest de Republiki, jaridià de Indian konstitusioni in 1950. Nu lasì Puckar be morna id haltì be u skol alòng de rad wo lu sì festizan de dia. Naturim tale skolore sì za in li blu uniforme, ba os li genore, id mole liente od de vik. Be de honòri tab sì sedan de major inronen pa mol ruspekli senine in turbàne. Lu avì os organizen u spektad: de bobe detì gimnastiki pratìze, pos ʒikas dansì su de droviskenia ki muzike od Bollywood. Nu vidì procepen wim honòri goste id sedì ner de honòri tab. Pos de major detì u longi vokad in Hindi, id be de fend, he sendì u man prago a Amar, ni gidor, is nu volì dezo eke vorde in publik. Naturim Amar pragì mo deto de vokad. I inizì ki u fraz in Hindi: "Namaste mere dostōñ", "Bun dia mi frame", de fraz ki wen Amar procepì na jaki dia in Franci: "Bonjour mes amis", we vidì mol aploden par mol rari se de turiste we ler eke Hindi voke; pos i proitì in Engli. I daskì la po li procepad id dezì lo kim nu sì glaj vizito Raʒastàn wo nu vizi samole mirvizi zoce, id kogonì sa simpatic id smijan liente we procepì na sa varmim.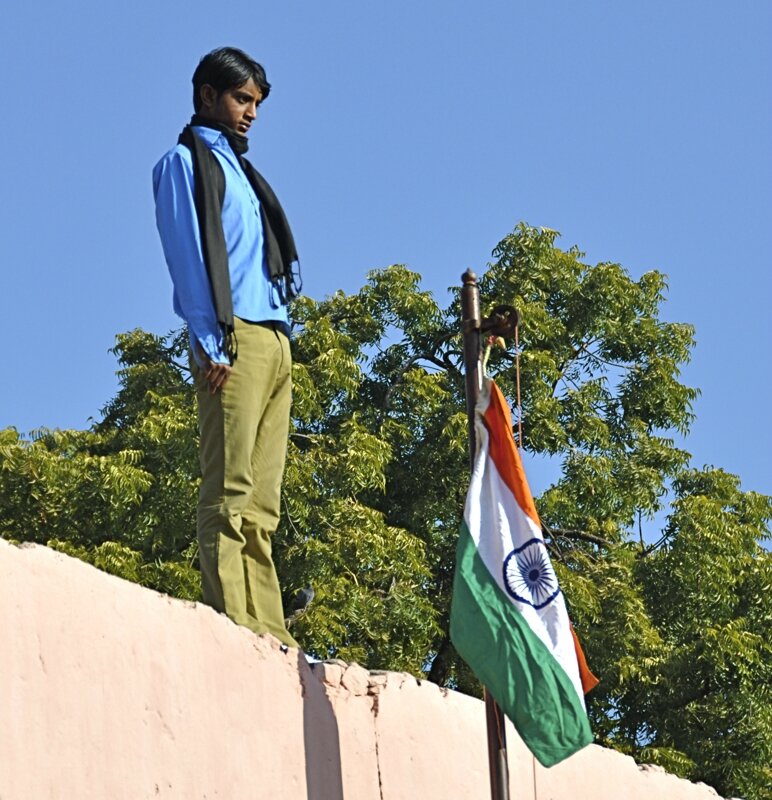 Fest de Republiki in u skol

Ruspekli senine be de honori tab

★ ★ ★
Le 26 Janvier en Inde c'est la Fête de la République, anniversaire de la constitution indienne de 1950. Nous quittons Pushkar au matin et nous nous arrêtons le long de la route dans une école où a lieu la célébration. Bien sûr tous les élèves sont là, en uniforme bleu, ainsi que les parents et les gens du village. A la table d'honneur sont assis le maire ainsi que les notables, vénérables vieillards en turban. Ils ont organisé un spectacle: exercices de gymnastique pour les garçons, puis les filles dansent sur l'estrade sur des musiques de Bollywood. On nous accueille comme des hôtes de marque et nous installe près de la table d'honneur. Ensuite le maire fait un long discours en hindi à la fin duquel il envoie quelqu'un demander à Amar, notre guide, si nous voulions dire quelques mots. Naturellement cela tombe sur moi. Je commence par une petite phrase en hindi: "Namaste mere dostōñ", "Bonjour mes amis", phrase que prononçait Amar en français tous les matins, et qui est applaudie car rares sont les touristes qui apprennent quelques mots d'hindi; puis je continue en anglais. Je les remercie pour leur accueil et je dis combien nous sommes heureux de visiter le Rajasthan où nous avons vu des choses merveilleuses et rencontré des gens si sympathiques et souriants, si chaleureux.
★ ★ ★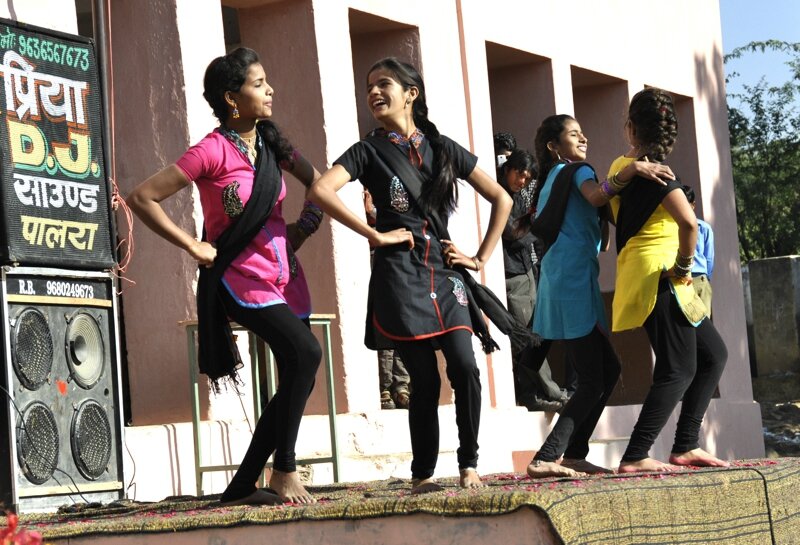 Ʒikas dansan su muzike od Bollywood

Bobe detan gimnastiki pratize

★ ★ ★
On January 26th Indians celebrate the Republic, on the anniversary of the 1950 Indian Constitution. We left Pushkar in the morning and stopped in a school along the road where they had a celebration. Of course, all the pupils were there, in their blue uniforms, with their parents and other village people. At the top table sat the mayor together with the notables, respectable old men in turbans. They had also organized a show: the boys did gymnastics exercises, then girls danced on a platform to Bollywood music. We were welcomed as guests of honour and invited to sit next to the top table. Then the mayor delivered a long speech in Hindi, and at the end he sent someone ask Amar, our guide, whether we would like to say a few words. Of course, I was asked to make the speech. I started with a phrase in Hindi: "Namaste mere dostōñ", "Good morning my friends", the ritual formula Amar told us in French every morning "Bonjour mes amis". It was applauded because very few tourists bother to learn some words of Hindi; then I carried on in English. I thanked them for welcoming us and said how much we enjoyed visiting Rajasthan where we saw so many marvellous things and met such friendly smiling people, welcoming us so warmly.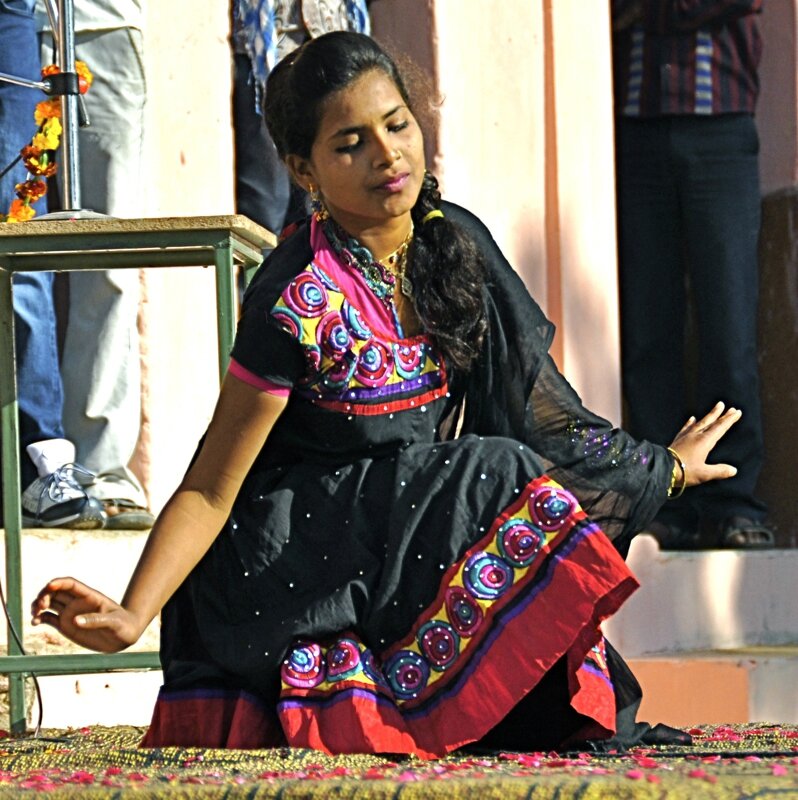 ★ ★ ★
Kicangar - Kishangar

Be midià nu avenì a Kicangar, u lovi miki pol su ber u lagi. Ni hotèl sì u fori palàz, Phul Mahal, de Palàz Floris, struen su de lag, be pod de forti. Ni kamar sì u miki mirvìz, de kamar de Maharani: un ocikanti paviliòn sube de vode ki u teràs; tale varde sì picten ki freske prodikan ʒinas sia banan in u lag inronen pa gardine, foste, beste, antilope, pawe. Be posmidià nu sì lifri id nu itì pasìto in de seni pol wo nu vizì mandimakore id vari trade id os mole kide we volì vido fotografen.
★ ★ ★
Phul Mahal, de Palàz Floris, ni hotèl su de lag in Kicangar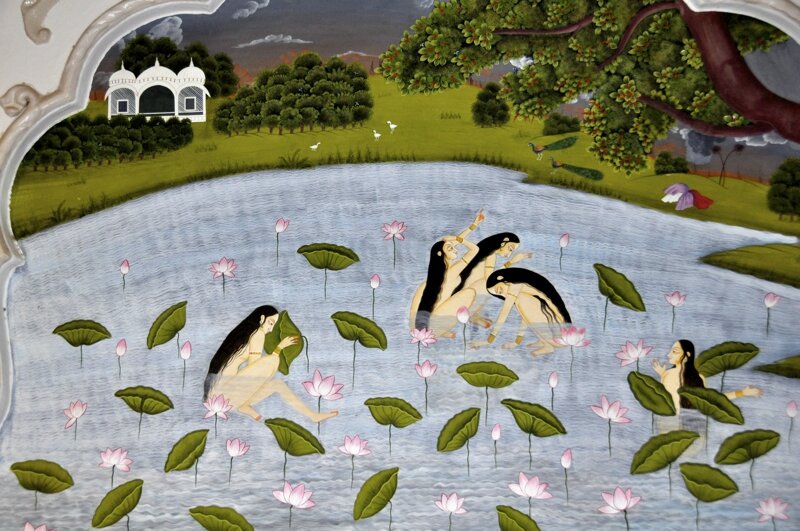 Ʒinas sia banan, picten su de varde ni kamari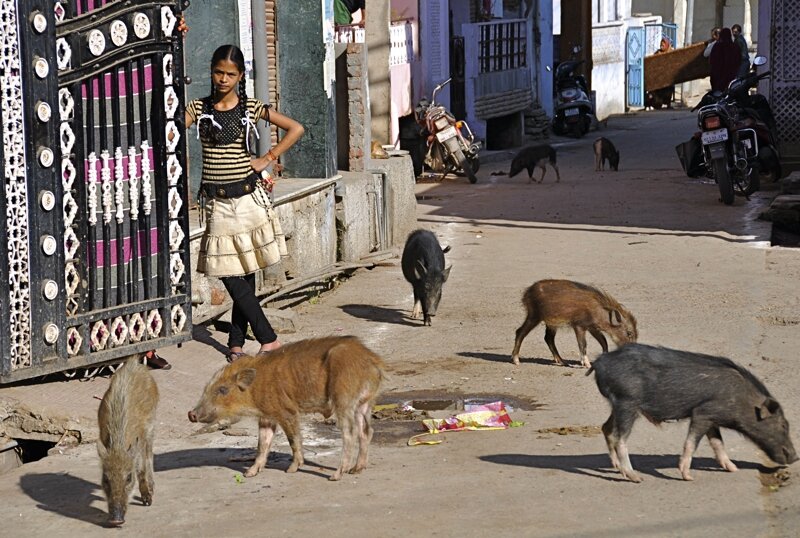 De ʒika ki swine, in u strad Kicangari

★ ★ ★
A midi nous arrivons à Kishangar, jolie petite ville au bord d'un lac. Notre hôtel est un ancien palais, le Phul Mahal, le palais des fleurs, construit sur le lac, au pied du fort. Notre chambre est une petite merveille, le pavillon de la Maharani, sur les eaux du lac, octogonal, entouré d'une terrasse; tous les murs sont peints de fresques représentant des femmes au bain entourées de jardins, de forêts, d'animaux, d'antilopes et de paons. Nous avons l'après-midi libre pour nous promener dans la vieille ville où nous voyons des artisans et des métiers divers ainsi que de nombreux enfants qui veulent se faire photographier.
★ ★ ★
Ni kamar in de Phul Mahal

U juvlor, Kicangar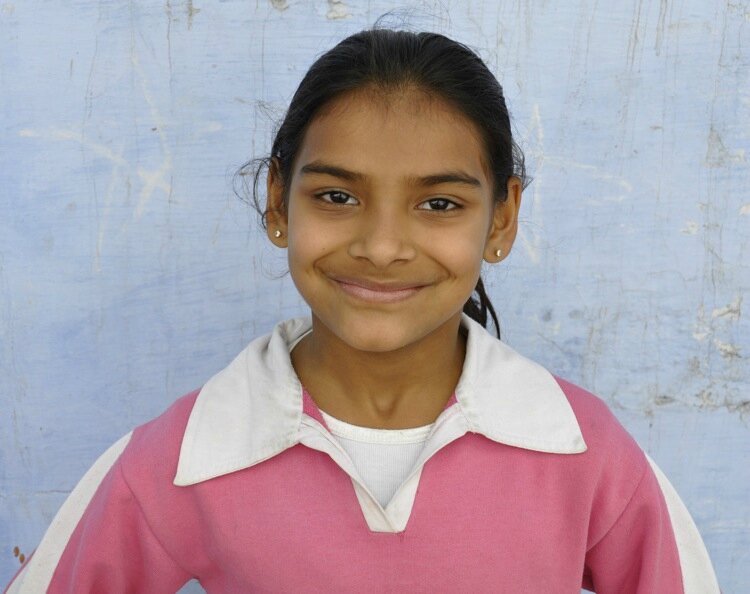 Ʒikita, Kicangar

★ ★ ★
At noon we arrived in Kishangar, a lovely little town by a lake. Our hotel was a former maharaja's palace, the Phul Mahal, "Flower Palace", built on the lake, just below the fort. Our room was a little marvel, the Maharani's room: an octogonal pavilion, over the waters with a terrace. All the walls inside were painted with frescoes depicting women bathing in a lake, surrounded with gardens, animals such as antelopes and peacocks. We had the afternoon free and went for a walk in the old town where we saw various craftsmen and tradesmen, a lot of children who wanted to be photographed.
★ ★ ★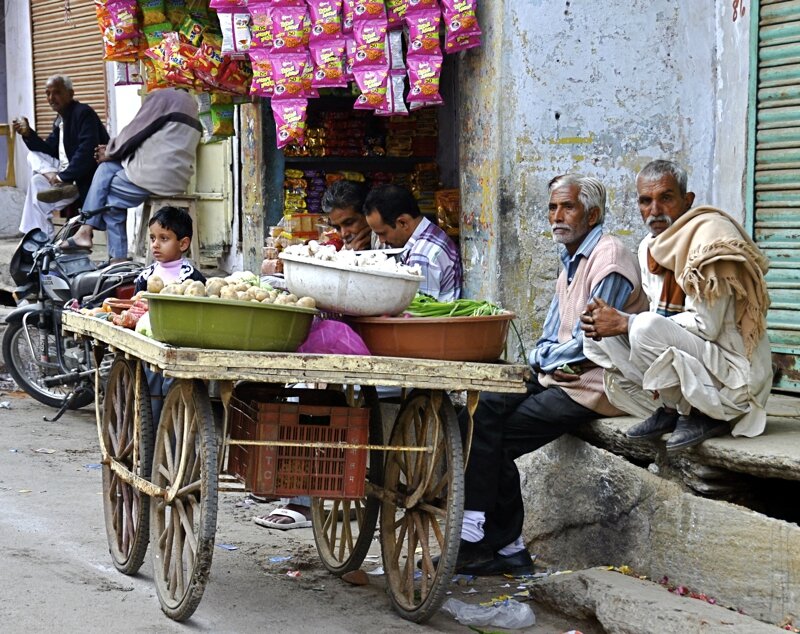 In u strad Kicangari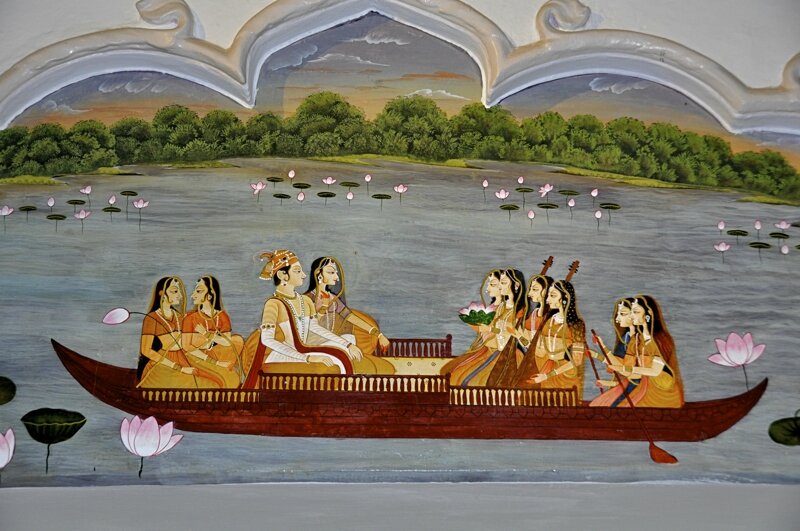 Pasitan su de lag, vardipicten in ni kamar

★ ★ ★
Sim fendì ni vaiz in Raʒastàn: u longi farad tis Delì, pos de avièl nocim; i men te, beùve de splendid palazis, i ve nevos oblaso de belad, de finad Raʒastani ʒinus in li klori sarìs, de glade id smije de kidis id de framid seninis in turbàne, li inkarʒi procepad. Nu sì tale u poj tristi laso ni gidor Amar, "anmorli" in Hindi, we sì sa simpatic, talvos smijan id laran, we usvelì no de sekrete da misteric landi, id procepì na jaki morna ki de tradisioni "Bonjour mes amis", "Bun dia mi frame".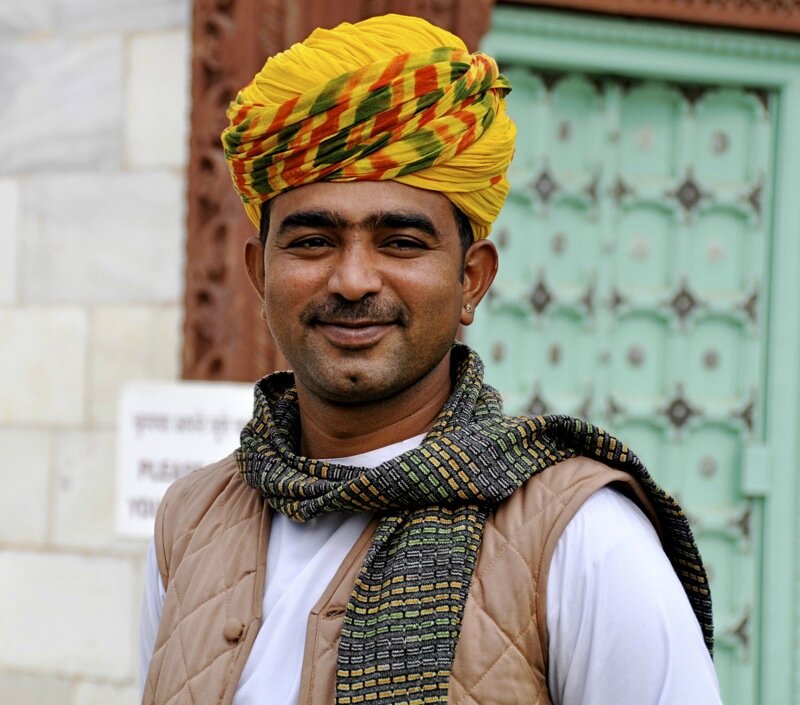 ★ ★ ★
C'est ainsi que se termine notre voyage au Rajasthan: un long trajet jusqu'à Delhi, puis l'avion, de nuit. Je crois que, au delà des splendeurs des palais, je n'oublierai jamais la finesse et la beauté des femmes dans leurs saris de couleur, les regards et les sourires des enfants, les vieillards en turban, leur accueil chaleureux. Nous étions tous un peu tristes de quitter notre guide Amar, "l'immortel" en hindi, si sympathique, toujours prêt à rire et à sourire, à nous révéler les secrets de ce pays mystérieux et nous accueillant chaque matin avec le désormais célèbre: "Bonjour mes amis".
★ ★ ★
Adòj, Kicangar !

★ ★ ★
This was the end of our journey through Rajasthan: after a long drive back to Delhi, we took off in the middle of the night. I think that, beyond the splendor of the palaces, I will never forget the beauty and delicacy of women in their brightly coloured saris, the children's curious eyes and smiles, the warm welcome of old men in turbans. We were all a little sad to leave our guide Amar, "immortal" in Hindi, who was so friendly, always ready to laugh and smile, always willing to unveil the secrets of that mysterious country; and we will miss the now famous "Good morning my friends" with which he greeted us every morning.
★ ★ ★
De India domòri
★ ★ ★