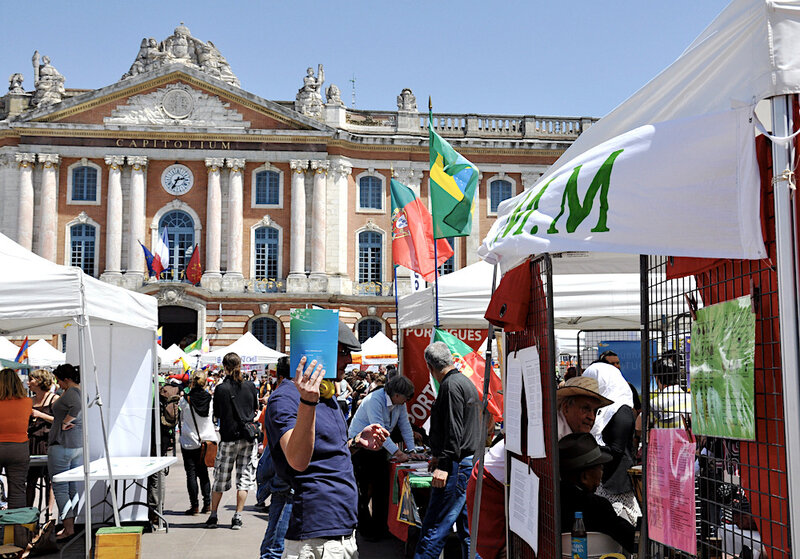 ★ ★ ★
Forum de lingus Moldi in Tulùz

★ ★ ★
Be Soldia 26i Maj ve avo sta de Forum de Lingus Moldi su Plaz de Kapitoli in Tulùz (Francia). 26 jare for, di Forum vidì kreaten pa Oksitàni asosiade we sì interesen ov de kest lingus in mold: de numar, històre, situasione, futùr, ʒiv id mor lingus, id ov de kulturi muvade id ideas we it sam ki de varid lingus.
De cevi princìp de Forumi, rekonen pa de majsan linguiste, se de eglid tale lingus moldi, enikà se li numar vokoris id li politiki o ekonomic mogad. A de Universi Disklarad Human Regis un doʒ ajuto de rege lingus id kulturis id probaso u Disklarad Doʒadis do Lingas id Kulture, wim dez Claude Sicre, kreator de Forumi Lingus.
Sim de Forum ve proseto maj te 120 vari lingas od Europa, Afrika, Azia, Amerika, Oseania… od Albàni a Ukraini, od Amhari a Wolofi, od Bengali a Vietnami, od Kebeki a Ketcua, od Indonesi a Kanaki… i.s.p.

Su de skenia id su de Oksitani Kros bemìd de Plaz, un ve mozo speko danse od Nepàl, od Baskiland, od India, Afganistàn, Ginea, Gwadelupa, Thailand, Filipine, sam ki muzik id sante od Armenia, Cilia… Eke stande ve probaso vo jege o koki spesialade o diko vo Mongoli, Kirilic, Cini, Arabi, Aramèi kuneiformi kaligrafij, o de makad maskis… ane voko ov sage, komic storije, poème, literatùr, bibe, dokumente, table ov tale lingas…

Be posmidià, be d'amfiteater, od 14h a 19h ve avo sta debate ov de Forum Lingus id de Moldi Kongrès Lingu Regis ki Giovanni Agresti, profesor Lingu Siensis be d'Universitad Bordòsi, Jean-François Marcel id Dominique Broussal, profesore Siensis Opdutadi be d'Universitad Tuluzi, id Nacira Abrous, procekora in Aix-en-Provence, is spesialista ov de Berberi lingas.

Is vu dom o vaiz in Oksitania, ner de Tuluzi aria, vene vizito de Forum de Lingus Moldi; nu ve so mol felic procepo va be de Uropi stand.

Po zavo maj: https://www.youtube.com/watch?v=a1BujdroPuA&feature=em-share_video_user

★ ★ ★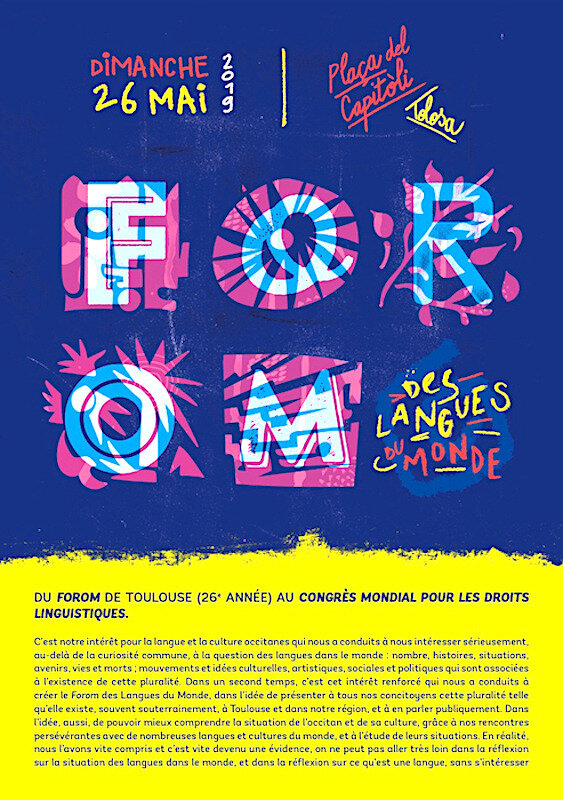 ★ ★ ★
Forum des langues de Toulouse

★ ★ ★

Dimanche 26 mai, aura lieu le Forom des Langues du Monde sur la Place du Capitole, à Toulouse. Il y a 26 ans, ce Forom a été créé par des associations occitanistes qui se sont intéressées à la question des langues dans le monde: le nombre, l'histoire, la situation, l'avenir, la vie et la mort des langues, ainsi que les mouvements et idées culturelles qui vont de pair avec la pluralité des langues.

Le premier principe du Forom, reconnu par la majorité des linguistes, est l'égalité de toutes les langues du monde, quel que soit le nombre de leurs locuteurs et leur puissance économique ou politique. A la Déclaration Universelle des Droits Humains, il nous faut ajouter les droits des langues et des cultures et proposer une Déclaration des Devoirs envers les Langues et les Cultures, nous dit Claude Sicre, créateur du Forom des Langues.
C'est ainsi que le Forom présentera plus de 120 langues différentes de l'Europe, de l'Afrique, de l'Asie, de l'Amérique et de l'Océanie, de l'albanais à l'ukrainien, de l'amharique au wolof, du bengali au vietnamien, du québécois au quechua, de l'indonésien au kanak… etc.

Sur la scène et sur la Croix occitane au centre de la place, on pourra assister à des danses du Népal, du Pays Basque, d'Inde, de l'Afghanistan, de Guinée, de Guadeloupe, de Thaïlande, des Philippines, de la musique et des chants d'Arménie, du Chili… Certains stands vous proposeront des jeux ou des spécialités culinaires, ou vous initieront à la calligraphie mongole, cyrillique, chinoise, arabe et araméenne cunéiforme, ou à la fabrication de masques… sans parler des contes, histoires drôles, poèmes, littérature, livres, documents, panneaux dans toutes les langues…

L'après-midi à l'amphithéâtre, de 14h à 19h se dérouleront des débats portant sur le Forom des Langues et le Congrès Mondial des Droits Linguistiques avec Giovanni Agresti, professeur en Sciences du Langage et l'Université de Bordeaux, avec Jean-François Marcel et Dominique Broussal professeurs en Sciences de l'Education à l'Université de Toulouse et Nacira Abrous, chercheure à Aix-en-Provence et spécialiste des langues berbères.

Si vous habitez ou voyagez en Occitanie, près de la région de Toulouse, venez voir le Forom des Langues du Monde. Nous serons très heureux de vous accueillir au stand Uropi.

Poue en savoir plus: https://www.youtube.com/watch?v=a1BujdroPuA&feature=em-share_video_user
★ ★ ★
★ ★ ★
World's Languages Forum in Toulouse

★ ★ ★

On Sunday May 26th, The World's Languages Forum will take place on Capitol Square in Toulouse (France). 26 years ago this Forum was created by Occitan associations who were interested in the language issue throughout the world: the number of languages, their history, situation, their future, their life and death, as well as the cultural movements and ideas that go hand in hand with all the different languages.

The first principle of the Forum, recognized by most linguists, is the equality of all languages in the world, whatever their number of speakers and their political or economic power. To the Universal Declaration of Human Rights should be added the rights of languages and cultures and should be put forward a Declaration of the Duties towards Languages and Cultures, says Claude Sicre, the creator of the Forum.

Thus, the Forum will present over 120 different languages, from Europe, Africa, Asia, America, Oceania…, from Albanian to Ukrainian, from Amharic to Wolof, from Bengali to Vietnamese, from Québécois to Quechua, from Indonesian to Kanak… etc.

On the stage and on the Occitan Cross in the middle of the square, cultural activities will take place: folk dances from Nepal, the Basque Country, India, Afghanistan, Guinea, Guadeloupe, Thailand, the Philippines, together with music and songs from Armenia, Chile… Certain stands will offer you cooking specialties or games, others will introduce you to Mongolian, Cyrillic, Chinese, Arabic, and Aramaic cuneiform calligraphy…, not to mention the tales, jokes, poems, literature, books, documents, posters and boards in all languages ….

In the afternoon, from 2.pm to 7pm at the amphitheater, debates will take place about the Language Forum and the World Congress on Language Rights with Giovanni Agresti, a professor of Language Sciences at the University of Bordeaux, Jean-François Marcel and Dominique Broussal, professors of Educational Sciences at the University of Toulouse and Nacira Abrous, a researcher at Aix-en-Provence and a specialist specialist of Berber languages.

If you happen to be living or travelling in Occitania, in the Toulouse area, come and visit the World's Languages Forum; we will be delighted to welcome you at the Uropi stand.

To know more: https://www.youtube.com/watch?v=a1BujdroPuA&feature=em-share_video_user
★ ★ ★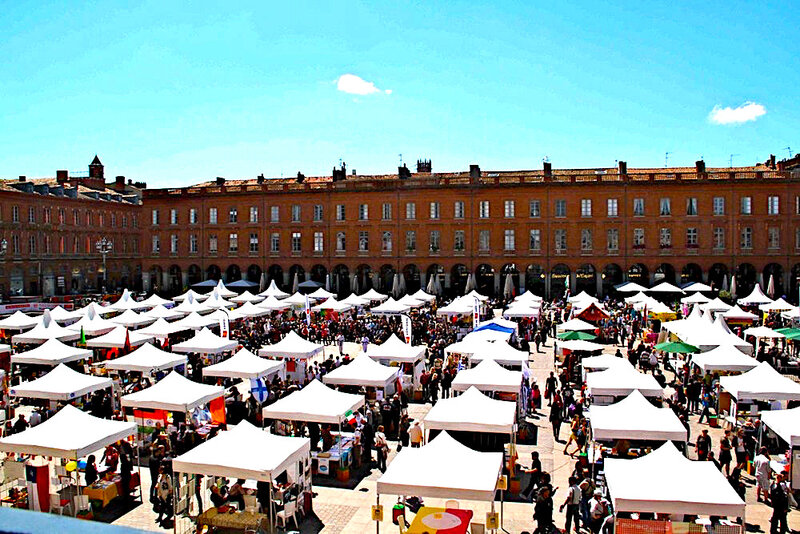 ★ ★ ★