★ ★ ★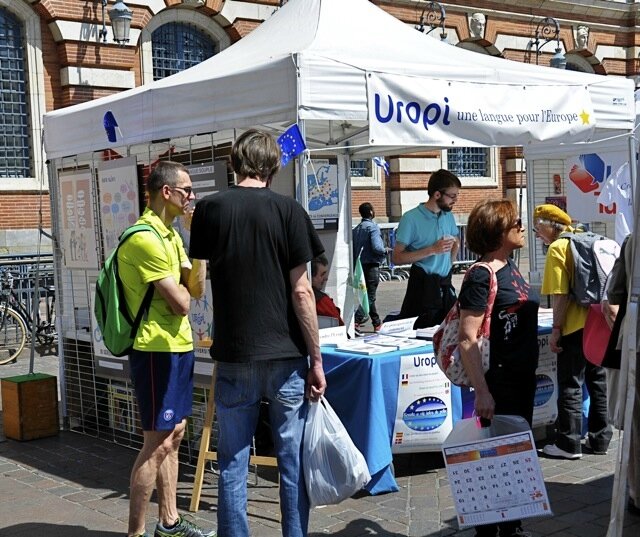 ★ ★ ★
Forum de lingus Moldi in Tulùz
★ ★ ★
Be Soldia 28i Maj, po de oci jar nu ve partinemo in de Forum de Lingus Moldi in Tulùz su Plaz de Kapitoli. Di jar De Forum ve proseto maj te 124, nerim tale Europan lingas, id os mole lingas od Azia wim Cini, Koreu, Kmeri, Laosi, Japoni, Hindi, Bengali, od Afrika wim Amhari, Swahili, Hausa, Wolof, Malgasi, Hausa, de Beti lingas od Kamerùn, Indian lingas od Amerika wim Aimara, Ketcua, Maputce o Tsotsili, klasiki id dialekti Arabi, Turki, Persi, Kurdi, Oseani lingas id os veti lingas wim Aramèi… Asiri, AsiroBabiloni, i.s.p…
Su de Forum tale lingas se egli id vid proseten in un atrajan id simpatic atmosfèr ki sante, muzik, poeme, sage, komic storije, koki spesialade, i.s.p…
Eke stande ve diko vo Mongoli, Cini, Arabi id kuneiformi kaligrafij, o usklaro vo kim vidì formen Midimari alfabete: Egiptan, Feniki, Hebràj, Greci, Latini, i.s.p…
Su de skenia id su de Oksitani Kros bemìd de Plazi, un ve mozo speko tradisioni danse od Madagaskar, Kabilia, Ukrainia, Armenia, Cilia, Indonesia, Grecia… id bedikade Kung fu id Taekwondo…
Be posmidià, be d'amfiteater, de lingas Indian Oseàni ve vido prosten pa Georges Daniel Véronique profesor Franci linguistiki id kreoli studis be Universitad Aix-Marseille, be 14h30, id be 16h30 u debàt intitlen "neurone skriv ne poeme ?" ov nervopsikolinguistik ki Jean-Luc Nespoulous profesor Lingu Siensis be Universitad Tuluzi, id Gérard Dessons profesor Franci lingu id literaturi be universitad Parìs 8.
Is usfalim vu se in de Tuluzi regiòn, vaizan o doman za, vene vizito de Forum de Lingus Moldi; nu ve so mol felic procepo va be de Uropi stand.
★ ★ ★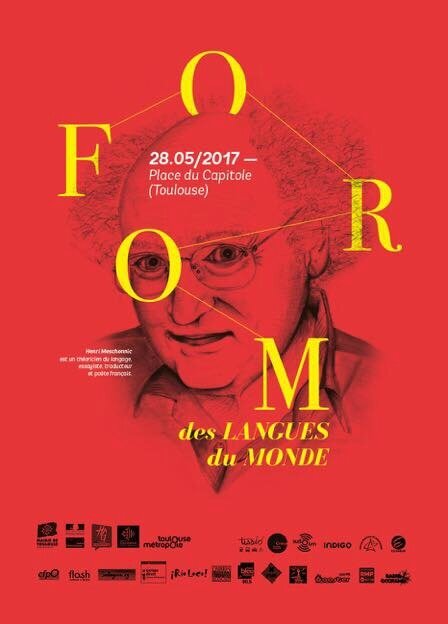 ★ ★ ★
Forum des langues de Toulouse
★ ★ ★
Dimanche 28 mai, pour la 8e année consécutive, nous participerons au Forom des Langues de Toulouse sur la Place du Capitole. Cette année, le Forom présentera plus de 124 langues, la quasi-totalité des langues européennes, mais aussi de nombreuses langues d'Asie comme le chinois, le coréen, le khmer, le laotien, le japonais, le hindi, le bengali, d'Afrique comme l'amharique, le swahili, le haoussa, le wolof, le malgache, les langues beti du Cameroun, des langues indiennes d'Amérique comme le quechua, l'aymara, le mapuche ou le tsotsil, l'arabe classique et dialectal, le turc, le perse, le kurde, des langues d'Océanie et également des langues anciennes comme l'araméen, l'assyrien, l'assyro-babylonien, etc…
Sur le Forom, toutes les langues sont sur un pied d'égalité et sont présentées dans une ambiance agréable et sympathique avec des chants, de la musique, des poèmes, des contes, des histoires drôles, des spécialités culinaires, etc.
Certains stands vous initieront à la calligraphie mongole, chinoise, arabe et cunéiforme; on vous expliquera l'origine des alphabets méditerranéens: egyptien, phénicien, hébreu, grec, latin, …
Sur la scène et sur la Croix occitane au centre de la place, se dérouleront diverses manifestations culturelles: des danses traditonnelles de Madagascar, de Kabylie, d'Ukraine, d'Arménie, du Chili, d'Indonésie, de Grèce… et des démonstrations de kung fu et de taekwondo…
L'après-midi à l'amphithéâtre seront présentées les langues de l'Océan Indien par Georges Daniel Véronique, professeur de linguistique française et d'études créoles à l'Université d'Aix-Marseille, à 14h30, et à 16h30 aura lieu un débat intitulé: "Les neurones n'écrivent pas de poèmes?" sur l'approche neuropsycholinguistique avec Jean-Luc Nespoulous, professeur des Sciences du Langage à l'Université de Toulouse, et linguiste et Gérard Dessons, professeur de langue et littérature française à l'Université Paris 8.
Si vous vous trouvez dans la région de Toulouse que vous habitez ou que vous visitez, venez voir le Forum des Langues du Monde. Nous serons très heureux de vous accueillir au stand Uropi.
★ ★ ★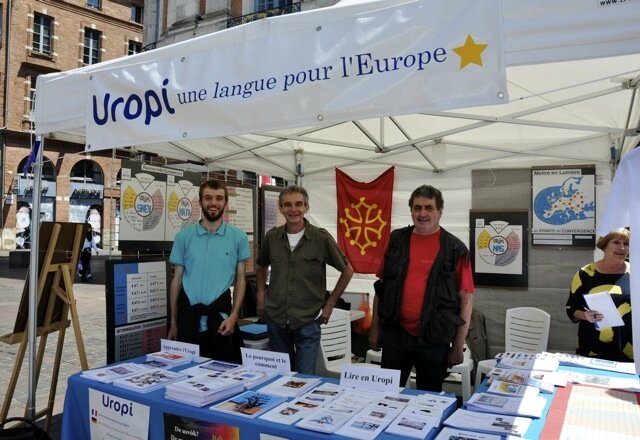 ★ ★ ★
World Languages Forum in Toulouse
★ ★ ★
On Sunday May 28th, for the eighth time, we'll be taking part in The World Languages Forum on Capitol Square in Toulouse. This year the Forum will present as many as 124 different languages, nearly all European languages as well as many Asian languages like Chinese, Korean, Khmer, Laotian, Japanese, Hindi, Bengali, African languages like Amharic, Swahili, Hausa, Wolof, Malagasy, the Beti languages of Cameroon, and Indian languages of America like Quechua, Aymara, Mapuche or Tzotzil…, classical Arabic and various Arabic dialects, Turkish, Persian, Kurdish and languages of Oceania as well as ancient languages like Assyrian and Assyro-Babylonian, etc.
On the Forum, all languages are equal and are presented in an attractive and friendly atmosphere with songs, music, poems, tales, funny stories, cooking specialities, etc.
On certain stands you will be initiated to Mongolian, Chinese, Arabic, and cuneiform calligraphy, or you will be explained the origin of Mediterranean alphabets: Egyptian, Phoenician, Hebrew, Greek, Latin, and so on.
On the stage and on the Occitan Cross in the middle of the square, cultural activities will take place: folk dances from Madagascar, Ukraine, Armenia, Chile, Indonesia, Greece…, as well as kung fu and tae kwon do demonstrations.
In the afternoon, at 2.30 at the amphitheater, Indian Ocean languages will presented by Georges Daniel Véronique, French linguistics and Creole studies professor at the University of Aix-Marseille, and at 4.30 there will be a debate entitled "Neurones don't write poems" on neuro psycholinguistics with Jean-Luc Nespoulous, professor of language science at the University of Toulouse and Gérard Dessons, French language and literature professor at the University of Paris 8.
If you happen to be living or travelling in the Toulouse area, come and visit the World Languages Forum; we will be delighted to welcome you at the Uropi stand.
★ ★ ★