* Uropi Nove 103 * Uropi Nove 103 * Uropi Nove 103 *

★ ★ ★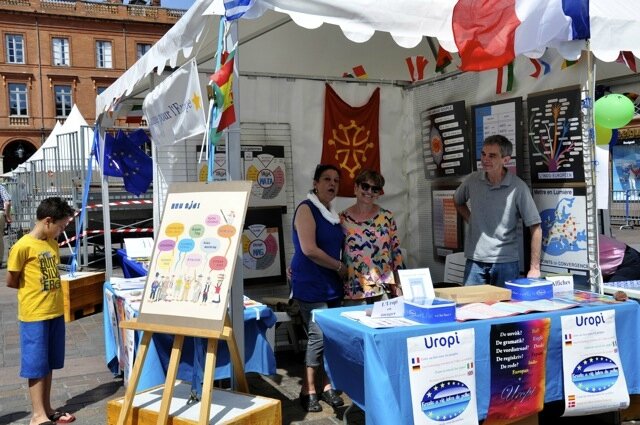 ★ ★ ★
De Forum Lingus 2017 in Tulùz
★ ★ ★

Puntim un mon. Prim i vol prago vo uskulpo ma, par i farì ap suprù pos de Forum a Espania po du sedias, sim i avì ne tem skrivo maj pru u kontidav ov de Forum.
Un mois jour pour jour. Tout d'abord je vous prie de bien vouloir m'excuser d'avoir tant tardé à rédiger ce compte-rendu du Forom: tout de suite après je suis parti pour deux semaines en Espagne.
A month ago to the day. First of all I would like to apologize for the delay in publishing this report on the Toulouse Language Forum; right after the Forum I left for two weeks in Spain.
★ ★ ★

Soldia 28i Maj su Plaz de Kapitoli; Tulùz sì dupen in cajad: 32 grade. Felicim u lej Autan vint sì african de atmosfèr, wa sì mol prijan, ba ekvos je stì os violti rafale we flì ap eke dokumente id oʒe afalì ni tabel ki "Bun dia!". Pur, nu avì forvizen da id aperen kame id kleme po stablizo tal. Id bemìn, be oc hore mornu, nu sì ne frij po instalo de stand. Dapòs W. aperì no kafas id krosàne, id nu mozì reso u poj par de instalad se talvos priʒe atanan.
Di jar nu kopartì un enormi tenton ki de asosiad Has Europu id du alten asosiade, sim nu avì min spas. Nu doʒì seto u poj usia ni du tabe ki de Uropi dokumente: gramatike, vordare, bibe, poème, tradutade… be un zat, id be alten zat de koeglade ki Indeuropan lingas, de novi Uropi plakade id de Miki Prins. Di rustrizen spas avì os prodele: je obvigì na uscepo de bunes id maj interesan table id stalo la in stas wo lu sì de maj vizli, wa sì os maj pratiki po davo usklarade. Nu sì os maj neri a de vizitore simte de kontakte sì maj lezi id maj spontani.
De tali Forum semì organizen in u disemi mod: de stande sì grupen maj ner a unaltem, sim de alejas sì maj lati id maj spasic. Ni stand sì siten in un uslivan sta, ner de amfiteatra wo av sta de debate, kofasan de inia de Forumi, be fend u longi aleju, simte je sì vizli od dal. De "Bunveni tabel" ki miki personore in nasioni kostume dezan "Bun dia!" in li lingas, we sì stalen pro de stand su u tripòd, atrajì mole liente; de klore de standi sì os mol atrajan.
★ ★ ★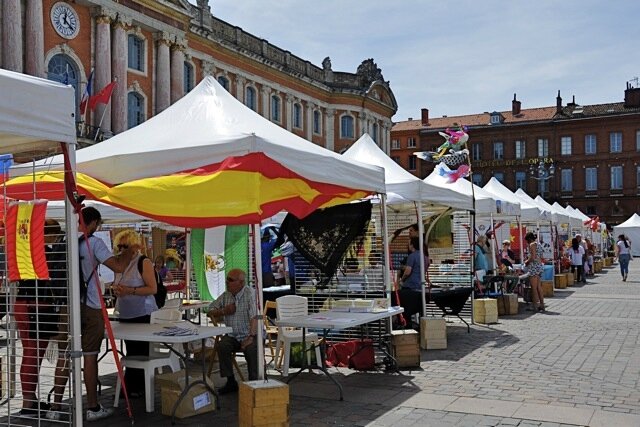 ★ ★ ★
Koslogim nu avì un anintrakoten fluj vizitoris id je sì no pratikim anmozli laso de stand oʒe po 5 minute. Solem be morna i mozì fligo ap u momènt po skuco de vokad inopradi pa Claude Sicre, prisedan de Forumi, id vizo spelim alten stande. Eke od la sì mol bel, wim de Hindi, Tagalogi, Cini, Baule, Nepali, Kanaki… i.s.p stande. Nevos de lingas avì sen os numari: maj te 125 lingas od Albàni a Zaza; od Arabi a Tibeti, od Armèni a Vietnami, od Asiro-Babiloni a Tsotsili, od Cini a Kanaki, od Bengali a Kurdi… i.s.p. I sì wajim tio benemen ki tale ni vizitore po ito speko de aʒivade: danse, sante, muzike, sage, poème, kambisporte… su de skenia id de Oksitàni Kros.
"De Forum de Lingas Moldi" dez de brocùr "vol proseto de grenes numar lingus, tale stan in perfeti eglid, mican su publiki plaz polki aʒivade id holnivli debate opren a de maj lati publik".
"Neurone skriv ne poeme ?" Inflùj de strukturi karakteristike u lingu de funsionad cerni ?" sì de tema u debati be posmidià; de alten sì u prosetad de lingus Indian Oseàni.
Ke sì ni vizitore ?
Wim siudim lu venì od mole lande id regione moldi; od Francia naturim, od Tulùz id Oksitania id os od Italia, Nizilande, Unizen Rainia, Iria, India, Afrika, Ʒordania, Espania, Grecia, Slovakia, Bulgaria, Norveja, Pakistàn, Kroatia, Rusia… i.s.p. Mojse di jar je stì min Aziane.
Lu sì od tale alde, ba de majsan sì june, studane o jun dictore, ba je stì os alden persone, id tale sì interesen, po ne dezo pasionen ov lingas. Kide vidì os atrajen pa de trasene id picte wim, po samp, de Uropi gramatik in picte.
https://sites.google.com/site/uropivarkia/picte/uropi-kurti-ki-picte/uropi-kurtim-in-picte
★ ★ ★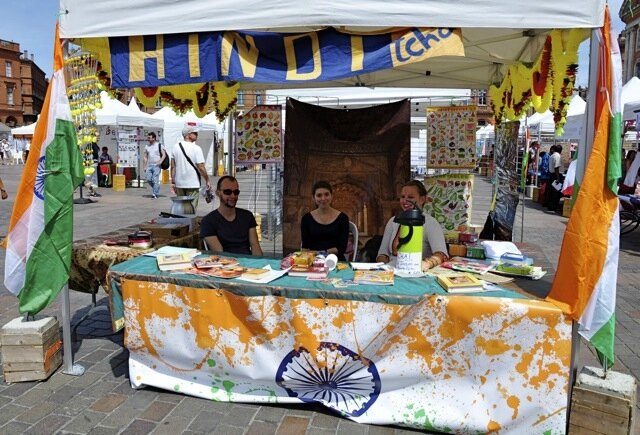 De Hindi stand
★ ★ ★
Nu vizì os liente dictan Franci (o Engli) a liente od vari nasionide, wim profligore, id we findì mol interesan u komùn linga wim Uropi. Po samp u jun ʒina dictan Engli in un orfania in India, we ve rekontakto na, un alten jun ʒina varkan po Pôle Emploi (de Invarki Ofisia) id vidan instruen po kovarko ki un asosiad eldan profligore, id os vari alten persone dictan Franci a uslandore in Francia o in alten lande wim Estia, Finia, Slovenia.
Ba ko se de ʒinas ?
pragì un dia ni fram Silvano su Internet. Je se veri te su de forume struen lingus, je ste poje ʒinas koeglim ki de numar manis.
Ba num de ruvòk se klar: Lu sì tale in Tulùz, be de Forum de Lingus Moldi.
Indèt ni majsan vizitore sì jun vizitoras id os maj alden ʒinas. Nu vizì os mole mici pare: Franci-Slovaki, Franci-Bulgari, Franci-Kroati… De Kroàt instajì su de vezid de nasioni lingus id kulturis; i ruvokì ho te i kovenì talim ki ha: je se mol vezi progaro ni lingas id kulture, ba te nu doʒì os ne kluzo sia ru in sia, id te nu doʒì komuniko uve de frontias: de bunes samp sì te he som avì uscepen u Franci frama. Un sedia dapòs, su de plaʒ in Espania nu kogonì un alten mol simpatic jun par: K id R. R. se Espàni; ce sì leran Engli id findì ja ne lezi, subetàl de usvòk. Disvokan, ce dezì mo te, is ce avev tem, ce kreatev u linga po mozo komuniko ki alten polke; i ruvokì co "I av ʒa deten ja" - "Kim???" - "I av ʒa deten ja: i av kreaten un intranasioni linga" id i retalì co ov Uropi.
Po ma di se Europa in de bunes sin de vordi: mici pare, liente we kreatì de maj intimi vige uve de frontias… ba naturim di s'ne limiten a Europa. U Nizilandi ʒina dezì no te ce itì ʒivo in Espania, wo ci son - we sì prosàn - genì, id num lu dom in Francia.
★ ★ ★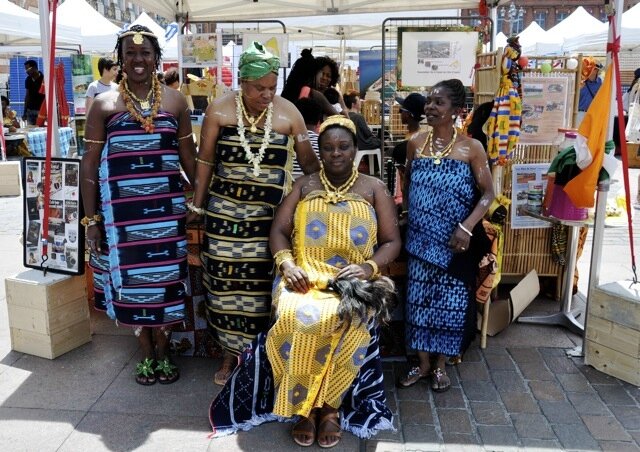 Ko se de ʒinas ? De Baule stand od Ivori Kust
★ ★ ★
Pasionan id pasionen disvokade
Nu avì mole kalitadi disvoke ki ni vizitore: li keste, bemarke id kritike sì talvos bun adapten. Naturim lu vidì interesen ov Uropi po vari motive.
U Ʒordani par incepì ʒe bun id admirì de kocèp de lingu id vidì partikulim sensivi ov de semlide ki Kurdi. U jun man, linguliamor, od Turki odvenad, kospekì Uropi wim u bun intranasioni midel komunikadi: hi famìl se dissprajen in vari lande Europu id hi kuzine, we vok nemaj Turki, vok solem de linga li landi (Franci, Espàni, Doski, Engli…): lu moz ne komuniko. U par Katalànis, facinen, inizì lero Uropi be de stand, lisan de leribibe. U dictora literaturi findì ja pasionan; ce kopì de Miki Prins id de Uropi Manifèst. Ce se pasionen ov lingas, ce dezì no.
Eke vidì interesen ov de struad de lingu, altene ov struen lingas, altene jok ov de struad Europan Unioni; eke avì ruvoklide in politiki partìze. Ba mole, mole volì zavo maj ov de komùn Indeuropan odvenad, sim nu dikì lo de genealogic drev Indeuropan lingus, de cifre od un a des in de vari famile id ustraje od de etimologic vordar.
Tale felì sia kotogen pa de vige ki li siavi lingas, sim nu davì lo de fole koegladis; u jun man 84 jaris sì mol felic vizo te Uropi avì ne oblasen Oksitàni; nu dezì ho te, gonim, Oksitàni sì un od de lingas we avì de maj komùn punte ki Uropi.
U dokumentari filmor volì os filmo na santan de Uropi himna; nu ruvokì te nu sì ne predi id ne sat numari po da, id nu davì ho de vig a de videa ov de himna:
https://www.youtube.com/watch?v=CiVIjmHk3Fk&list=PL6C3Ug8Sx84MWbv49oGqHeXW8HfQiA0Ar&index=6
Ki ni fram Aleks od Sait Peterbùrg
★ ★ ★
Nu avì os de prijad revizo "seni akonene" wim Silvain B., François od Langoland, id Sevetcyo od l'Atelier we venì vari vose a de stand po disvoko ov vari punte in Uropi. Nu vizì os ni seni Pakistàni fram we ten de Urdu stand id we se mol interesen ov Indeuropan lingas id os Aleks we venì od Sait Peterburg po vizito Tulùz, Oksitania, de Katari kastele, id os de Forum id de Uropi stand.
Un organizora de Forumi Lingus in Marsèj, we ve inìzo di jar, in Oktober su La Canebière, venì vizo na po invito na a partinemo.
U novi Esperanto ?
Naturim wim siudim, un pragì no de disemid ki Esperanto.
De problèm se talvos Esperanto, o priʒe ne Esperanto som, ba de negativi menad wen liente av ov Esperanto id we vid traperen a tale alten struen lingas.
"Da linga we funsionì ne…""Kim sì je ʒe nomen ?", da linga we sem "un uveslimi id kidic struadi jeg"
"Pardà artimaken lingas ve nevos ustelo: lu se huri, war id koplizen"… "i kovèn… is u linga zon ne normal, je ve nevos vido nemen seriosim pa de mase…" i.s.p. Pardà nu av finden u novi slogàn po Uropi: "Naturi id maturi: Uropi… u komùn intranasioni linga".
★ ★ ★
De Cini stand
★ ★ ★
Naturim i kovèn ne ki tale da komente, ba wim Otto Jespersen, de gren Dani linguìst skrivì in hi publizad An international Language in 1929: "…de man in de strad identizì de nosiòn "Intranasioni lingu" ki Esperanto, u komicad we av sen mol dami po de idea som un intralingu; par eniun vizan Esperanto vid kozavi te di moz apsolutim ne vido de moldi linga futuri id ve tendo trajo de iren koklùz te nun struen linga ve evos vido adopten."
Ba de pejes usvenì mo be u vedad a wen nu vidì inviten fori Sabasòl. U jun man avokì mo dezan: "Se vu de man we kreatì Esperanto ?" I dezì te ne, te mi nom sì Joël Landais id ne Lejzer Zamenhof, id os te i sì u poj junes id i usklarì de disemid.
Stranim ʒe, nerim nekun vokì no ov Engli wim intranasioni linga. U seni ʒina dezì no: "I se leran Engli dod jare id i moz nevos incepo Englane o Amerikane… ekvos i incèp oʒe ne mi dictor wan he vok tio spel."
Ov Uropi, ni vizitore aprizì ʒe mol de lezid usvoki id de slimid gramatiki. Gonim a Engli, Uropi se u duj linga po tale, ne rezerven a un elìt we moz pajo privati lesione po li kide, sendo la in lingu stajade in Englisaksan lande, id pos, sendo la studo in de maj prestiʒi universitade da landis, wim Oxford o Harvard.
Be vespen wan nu apranì de stand id tale Uropi dokumente, plakade id table nu sì verim ustanen, ba mol felic, par, obte de vint id de cajad, nu detì bel kogonade ki pasionen liente od tali mold. Da sì un uslivan dia po Uropi.
★ ★ ★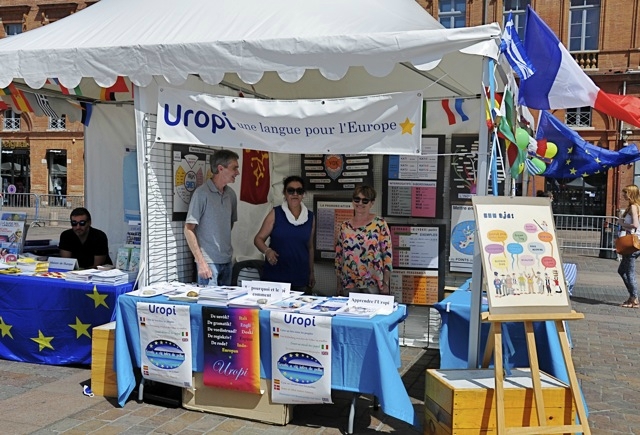 ★ ★ ★
Forom des Langues 2017 à Toulouse
★ ★ ★
Dimanche 28 mai sur la Place du Capitole; Toulouse est plongée dans la chaleur estivale: 32 degrés. Par bonheur un léger vent d'Autan rafraîchit l'atmosphère, ce qui est très agréable, mais parfois de violentes rafales font s'envoler nos documents et réussissent même à renverser note panneau d'accueil avec "Bonjour!". Cependant, nous avions anticipé et apporté des galets et des pinces pour fixer le tout. Au moins, à huit heures du matin, nous n'avons pas froid pour installer le stand. Ensuite W. nous apporte des cafés et des croissants, ce qui nous permet de nous reposer un peu car l'installation est toujours plutôt éprouvante.
Cette année, nous partageons un grand chapiteau avec la Maison de l'Europe et deux autres associations, nous avons donc moins d'espace. Nous devons tirer un peu vers l'extérieur nos deux tables où sont exposés les documents Uropi: grammaires, dictionnaires, livres, poèmes, traductions … d'un côté, et de l'autre les comparaisons avec les autres langues indo-européennes, les nouvelles affiches Uropi et le Petit Prince. Cet espace plus restreint a aussi ses avantages: il nous oblige à choisir les meilleurs panneaux, les plus intéressants et à les disposer dans des endroits où ils sont le plus visibles, ce qui est également plus pratique pour donner des explications. Nous sommes aussi plus près des visiteurs ce qui facilite le contact et le rend plus spontané.
L'ensemble du Forum nous paraît organisé de manière différente: les stands sont regroupés plus près les uns des autres, ce qui laisse plus d'espace dans les allées. L'emplacement de notre stand est excellent, près de l'amphithéâtre où se déroulent les débats, orienté vers le centre du Forum, au bout d'une longue allée, et très visible de loin. Le "panneau d'accueil" avec de petits personnages en costume national qui disent "Bonjour!" dans leur langue, installé devant sur un chevalet, attire beaucoup de monde, ainsi que les couleurs du stand.
Il s'ensuit que nous avons un flux ininterrompu de visiteurs et qu'il nous est pratiquement impossible de quitter le stand même pour 5 minutes. Ce n'est qu'en fin de matinée que je peux m'éclipser un moment pour écouter le discours d'inauguration de Claude Sicre, président du Forum, et jeter un rapide coup d'œil aux autres stands. Certains d'entre eux sont très beaux, comme ceux du hindi, du tagalog, du chinois, du baoulé, du népalais, du kanak… etc. Jamais les langues n'ont été aussi nombreuses: plus de 125, de l'albanais au zaza; de l'arabe au thibétain, de l'arménien au vietnamien, de l'assyro-babylonien au tsotsil, du chinois au kanak, du bengalais au kurde… etc. Je suis malheureusement trop occupé avec tous nos visiteurs pour assister aux animations: danses, chants, musiques, contes, poèmes, arts martiaux… sur la scène et la croix Occitane.
Claude Sicre, kreator de Forumi

★ ★ ★
"Le Forom des Langues du Monde" dit la brochure "a pour ambition de présenter le plus de langues possibles, toutes sur un pied d'égalité, en mélangeant sur la place publique un forum de type animation populaire et des débats de haut niveau accessibles au plus large public".
"Les neurones n'écrivent pas de poèmes ? "Les caractéristiques structurales d'une langue influencent-elles le fonctionnement du cerveau?, voilà le thème d'un débat de l'après-midi; l'autre étant une présentation des langues de l'Océan Indien.
Qui sont nos visiteurs ?
Comme d'habitude, ils viennent de tous les coins du monde; de France bien sûr, de Toulouse et d' Occitanie mais aussi d'Italie, des Pays-Bas, du Royaume Uni, d'Irlande, d'Inde, d'Afrique, de Jordanie, d'Espagne, de Grèce, de Slovaquie, de Bulgarie, de Norvège, su Pakistan, de Croatie, de Russie… etc. Les Asiatiques sont peut-être moins nombreux cette année.
Tous les âges sont représentés, mais il s'agit en majorité de jeunes, étudiants ou jeunes professeurs, mais il y a aussi des personnes âgées, et tous sont intéressés, pour ne pas dire passionnés par les langues. Des enfants sont aussi attirés par les dessins et les images comme, par exemple, la grammaire Uropi en images.
https://sites.google.com/site/uropivarkia/picte/uropi-kurti-ki-picte/uropi-kurtim-in-picte
Des professeurs enseignant le français langue étrangère (FLE) (ou l'anglais) à des personnes de différentes nationalités, comme les réfugiés, sont particulièrement sensibles au concept d'une langue commune comme l'Uropi. Par exemple une jeune indienne qui enseigne l'anglais dans un orphelinat en Inde, et qui nous recontactera, ou une autre jeune femme travaillant à Pôle Emploi et suivant une formation pour collaborer à une association d'aide aux réfugiés, ainsi que plusieurs autres personnes enseignant le français à des étrangers en France ou dans d'autres pays comme l'Estonie, la Finlande, la Slovenie.
Mais où sont les femmes ?
a demandé un jour notre ami Silvano sur Internet. Il est vrai que sur les forums de langues construites, elles sont assez peu nombreuses par rapport aux hommes.
Mais nous avons maintenant la réponse: Elles sont toutes à Toulouse, au Forum des Langues du Monde.
★ ★ ★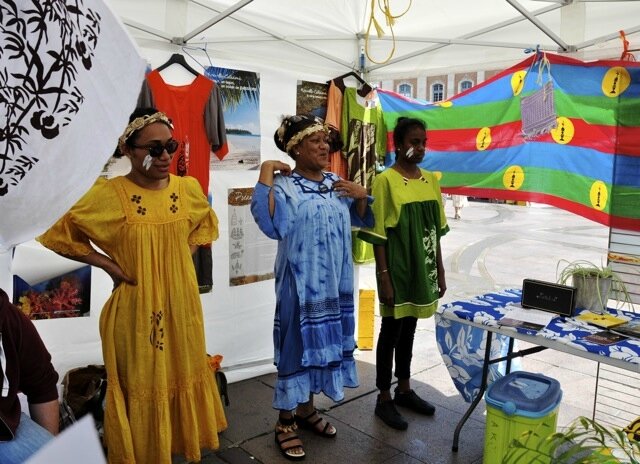 Ba ko se de ʒinas ? Su de Kanaki stand
★ ★ ★
En effet la plupart de nos visiteurs sont de jeunes visiteuses et d'autres dames un peu moins jeunes. Nous accueillons également beaucoup de couples mixtes: franco-slovaque, franco -bulgare, franco -croate… Le Croate insiste sur l'importance des langues et des cultures nationales; je lui réponds que je suis entièrement d'accord avec lui: il est vital de préserver nos langues et nos cultures, mais nous ne devons pas pour autant nous renfermer sur nous-mêmes; nous devons pouvoir communiquer par-delà les frontières: et le meilleur exemple est que lui-même s'est choisi une amie française. Une semaine plus tard, sur une plage en Espagne nous rencontrons un autre jeune couple très sympathique: K et R. R. apprend l'anglais et ne trouve pas cela facile, surtout la prononciation. Dans la discussion elle me dit que, si elle avait le temps, elle créerait une langue commune pour communiquer avec les autres peuples; je lui réponds que "Je l'ai déjà fait" -"Comment ???" -"Je l'ai déjà fait: j'ai créé une langue internationale" et je lui parle de l'Uropi.
Pour moi c'est cela l'Europe dans le meilleur sens du terme: des couples mixtes, des personnes qui ont créé les liens les plus intimes par dessus les frontières… mais bien sûr, cela ne se limite pas à l'Europe. Une Néerlandaise nous dit qu'elle est partie vivre en Espagne, où est né son fils - ici présent - et qu'ils habitent maintenant en France.
Des discussions passionnantes et passionnées
Nous avons des contacts de qualité avec nos visiteurs: leurs questions, remarques et critiques sont toujours pertinentes et dignes d'intérêt. Bien entendu cet intérêt pour l'Uropi repose sur diverses motivations.
Un couple de Jordaniens a bien saisi le concept et le trouve admirable, ce sont surtout les rapports avec la langue kurde qui ont suscité leur curiosité. Un jeune homme, amateur de langues, d'origine turque considère que l'Uropi est un bon moyen de communication international: sa famille est dispersée aux quatre coins de l'Europe, et ses cousins, qui ne parlent plus turc, ne comprennent que la langue de leur pays (français, espagnol, allemand, anglais…): ils ne peuvent pas communiquer entre eux. Un couple de Catalans, captivés par l'Uropi se mettent à l'apprendre sur place en lisant les opsuscules présentés. Une professeure de littérature trouve tout cela passionnant; elle achète le Petit Prince et le Manifeste Uropi; c'est une passionnée de langues, selon son propre aveu.
★ ★ ★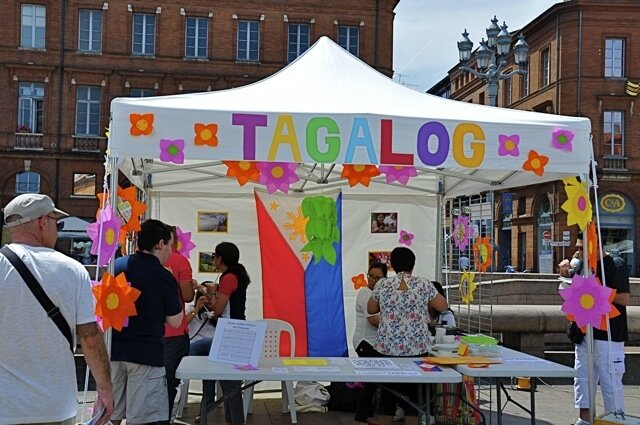 De Tagalogi stand
★ ★ ★
Certains veulent connaître la construction de la langue, d'autres sont plus concernés par les langues construites, d'autres par la construction de l'Union Européenne, d'autres encore sont responsables dans des partis politiques. Mais l'immense majorité veut en savoir plus sur l'origine indo-européenne commune; nous leur montrons alors l'arbre généalogique des langues indo-européennes, les chiffres de un à dix dans les différentes familles et des extraits du dictionnaire étymologique.
Tous se sentent concernés par les liens qui existent entre l'Uropi et leur propre langue; nous leur donnons alors les feuillets indiquant les points communs avec chaque langue; un jeune homme de 84 ans est très heureux de voir que l'Uropi n'a pas oublié l'occitan; nous lui signalons que, bien au contraire, l'occitan est une des langues qui a le plus de similitudes avec l'Uropi.
Un documentariste veut nous filmer en train de chanter l'hymne Uropi; nous lui répondons que nous ne sommes ni préparés ni assez nombreux pour cela, mais qu'il peut consulter la vidéo de l'hymne sur le lien suivant:
https://www.youtube.com/watch?v=CiVIjmHk3Fk&list=PL6C3Ug8Sx84MWbv49oGqHeXW8HfQiA0Ar&index=6
Nous avons également le plaisir de revoir de "vieilles connaissances" comme Silvain B., François de Langoland, et Sevetcyo de l'Atelier qui est revenu plusieurs fois à notre stand pour discuter de certains points de l'Uropi. Nous voyons aussi notre vieil ami pakistanais qui tient le stand de l'urdu et s'intéresse beaucoup aux langues indo-européennes ainsi qu'Alex, venu de St Petersbourg pour visiter Toulouse, l'Occitanie, les châteaux cathares, mais aussi le Forom et le stand Uropi, naturellement.
Une organisatrice du Forum des Langues de Marseille, qui aura lieu pour la 1e année, en octobre sur la Canebière, vient nous inviter à y participer.
Un nouvel espéranto ?
Bien entendu, comme d'habitude, la question classique porte sur la comparaison avec l'espéranto.
Le problème c'est toujours l'espéranto, ou plutôt, non pas l'espéranto en tant que tel, mais l'opinion négative que les gens ont de l'espéranto et qu'ils reportent sur toutes les autres langues construites.
★ ★ ★
U seni strad in Tulùz
★ ★ ★
"Cette langue qui n'a pas fonctionné…""Elle s'appelait comment, dejà ?", cette langue qui ressemble "à un jeu de construction slimpliste ou puéril. "
"Eh bien, voilà pourquoi les langues artificielles ne marcheront jamais: elle sont moches, lourdes et maladroites" … "je suis d'accord… si une langue ne ressemble pas à une langue normale, elle ne sera jamais prise au sérieux par les masses…" etc. C'est pour cette raison que nous avons ajouté un nouveau slogan pour l'Uropi: "Naturi id maturi: Uropi… u komùn intranasioni linga" (Naturel et mature: Uropi… une langue commune internationale!)
Bien entendu, je n'approuve pas tous ces commentaires, mais comme l'écrit Otto Jespersen, le grand linguiste danois dans sa publication An international Language en 1929: "…l'homme de la rue identifie la notion de "langue internationale" avec l'espéranto, confusion qui est très dommageable pour l'idée même de langue internationale; car quiconque voit l'espéranto et se rend compte que cela ne peut absolument pas être la langue mondiale de l'avenir, sera tenté d'en tirer la conclusion erronée qu'aucune langue construite ne sera jamais adoptée."
Mais le pire m'est arrivé à une noce à laquelle j'étais invité samedi dernier. Un jeune homme s'adresse à moi en disant: "C'est vous qui avez créé l'espéranto?" Je lui réponds que je m'appelle Joël Landais et non pas Lejzer Zamenhof, que je suis un peu plus jeune, et je lui explique la différence.
Curieusement, presque personne ne nous parle de l'anglais en tant que langue internationale. Une vieille dame nous dit: "J'apprends l'anglais depuis des années et je ne comprends jamais ni les Anglais, ni les Americains… j'ai même parfois du mal à comprendre le professeur quand il parle trop vite."
Dans l'Uropi, nos visiteurs apprécient beaucoup la facilité de prononciation et la simplicité de la grammaire. Contrairement à l'anglais, l'Uropi est une seconde langue pour tous, qui n'est pas réservée à une élite qui a les moyens de payer des leçons particulières à ses enfants, de les envoyer en séjour linguistique dans les pays anglo-saxons, et ensuite, les envoyer étudier dans les plus prestigieuses universités de ces pays, comme Oxford ou Harvard.
Le soir après avoir rangé le stand et tous les documents Uropi, les affiches et les panneaux nous sommes littéralement épuisés, mais très heureux, car, malgré le vent et la chaleur, nous avons fait de belles rencontres avec des personnes passionnantes venues du monde entier. Ce fut une excellente journée pour l'Uropi.
★ ★ ★
★ ★ ★
The 2017 World Languages Forum in Toulouse
★ ★ ★
On Sunday May 28th on Capitol Square; Toulouse is immersed in a heatwave: 32 ° C. Fortunately a light Autan wind was cooling the atmosphere, which was rather pleasant, but sometimes there were also sudden squalls that blew off our documents and even knocked down our "Good morning!" welcome display board. However we had anticipated this and brought pebbles and clips to fasten the whole. At least we weren't cold at 8 pm when we installed the stand. Then W. brought us coffee and croissants, and we could have a break because installing the stand is always rather exhausting.
This year we were sharing a huge tent with the House of Europe and two other associations, thus we didn't have so much space. We had to push our two tables outside; there we displayed the Uropi documents: grammars, dictionaries, books, poems, translations… on one side, and on the other side the comparisons with other Indo-European languages, the new Uropi posters and the Little Prince. This limited space also had advantages: it forced us to choose the best, most interesting display boards and place them at strategic points where they were the most visible, which was also more convenient to give explanations. We also stood closer to the visitors so that the contacts were easier and more spontaneous.
The whole Forum seemed to be organized somewhat differently: the stands were grouped more closely to each other, so the alleys were wider and more spacious. Our stand was located in an excellent place, next to the amphitheatre where the debates took place, facing the centre of the Forum, at the end of a long alley, so that it was visible from a distance. The "Welcome display board" with small characters wearing national costumes and saying "Good morning!", each in his own language, was placed on an easel outside the stand in a corner, and attracted many people; and so did the stand colours.
Consequently we had an uninterrupted flow of visitors and it was practically impossible to leave the stand even for 5 minutes. Only in the morning I could escape for a moment and listen to the chairman of the Forum Claude Sicre's speech, and take a quick look at the other stands. Some of them were beautiful, such as the Hindi, Tagalog, Chinese, Baule, Nepali, Kanak… etc. stands. There had never been such a high number of languages: over 125, from Albanian to Zaza; from Arabic to Tibetan, from Armenian to Vietnamese, from Assyro-Babylonian to Tsotsil, from Chinese to Kanak, from Bengali to Kurdish… etc. I was unfortunately far too busy with the visitors to attend the activities like dances, songs, music, tales, poems, martial arts… on the stage and the Occitan Cross.
★ ★ ★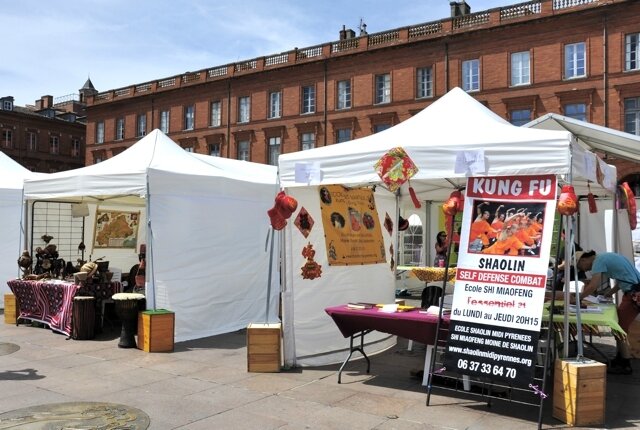 De kungfu stand
★ ★ ★
"The World Languages Forum" the brochure says "aims at presenting the largest number of languages, all on an equal footing, mixing popular outdoor activities and high level debates that can be accessible to the largest possible audience".
"Neurones do not write poems ?" Can the structural characteristics of a language influence the functioning of the brain? was one of the topics debated in the afternoon; the other one was an introduction to the languages of the Indian Ocean.
Who were our visitors ?
As usual they came from many regions and countries of the world; from France of course, from Toulouse and Occitania, but also from Italy, the Netherlands, the United Kingdom, Ireland, India, Africa, Jordan, Spain, Greece, Slovakia, Bulgaria, Norway, Pakistan, Croatia, Russia… etc. Maybe there were fewer Asians this year.
They were of all ages, but most of them were young: students or young teachers, yet there were also elderly people. All of them were interested in, and even had a passion for languages. Children were also attracted to the drawings and pictures like, for example, the Uropi grammar in pictures.
https://sites.google.com/site/uropivarkia/picte/uropi-kurti-ki-picte/uropi-kurtim-in-picte
We also saw people teaching French (or English) to foreigners from various nationalities, like refugees, and who found that a common language like Uropi was a great idea. For example a young Indian woman teaching English in an orphanage in India, another young woman working for Pôle Emploi (employment centre) and being trained to work together with an association helping refugees, and other people teaching French as a foreign language in France or in other countries like Estonia, Finland, Slovenia.
But where are the women ?
our friend Silvano asked once on the Internet. It is true that there are few women on the constructed language forums compared to the number of men.
But now we've got the answer: they were all in Toulouse, at the World Languages Forum.
★ ★ ★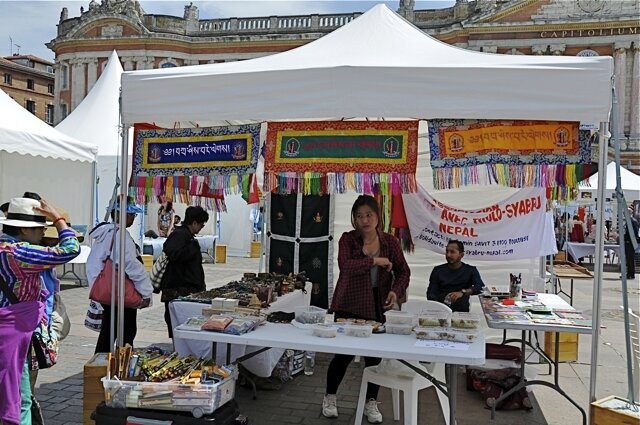 ★ ★ ★
Indeed most of our visitors were young women and also older ladies. We also saw a lot of mixed couples: French-Slovak, French-Bulgarian, French-Croatian… The Croat insisted on the importance of national languages and cultures; I told him that I totally agreed with him: that it is essential to preserve our languages and cultures, but that we shouldn't withdraw into our shells and that we should communicate with other people over the frontiers, and the best example was his own choice of a French girl as a girlfriend. A week later, on a beach in Spain, we met another very friendly young couple: K and R. R. is Spanish and was learning English and didn't find it so easy, particularly the pronunciation. In the discussion, she said that, if she had the time, she would create an international language to communicate with other nationalities more easily; I answered: "I've done it" - "What???" - " I've done it: I have created an international language" and I told her about Uropi.
For me this is Europe at its best: mixed couples who manage to create the most intimate bonds over the frontiers… but of course this isn't limited to Europe. A Dutch woman told us that she went and settled in Spain, where her son - who was here too - was born; and now they live in France.
Fascinating and impassioned discussions
We had many high quality discussions with our visitors: their questions, remarks and criticisms were always relevant. Of course the interest they showed in Uropi had different motivations.
A Jordanian couple admired the concept of the language and were particularly concerned about the similarities between Uropi and Kurdish. A young man, a language lover of Turkish origin, considered Uropi as a good international means of communication: his family is scattered all over Europe and his cousins, who no longer spoke Turkish, can only speak the language of their country of adoption (French, Spanish, German, English…): they cannot communicate with each other. A couple of Catalans were captivated, and started learnig Uropi on the spot with the booklets that were available. A French literature teacher found it fascinating; she bought the Little Prince and the Uropi Manifesto; she said she had a passion for languages.
Some people were interested in the construction of the language, others in constructed languages, others in building the European Union, others still were officials in political parties. But most of them wanted to know more about the common Indo-European origin, so we showed them the Indo-European family tree, the numbers from one to ten in the various I-E families and extracts from the etymological dictionary.
★ ★ ★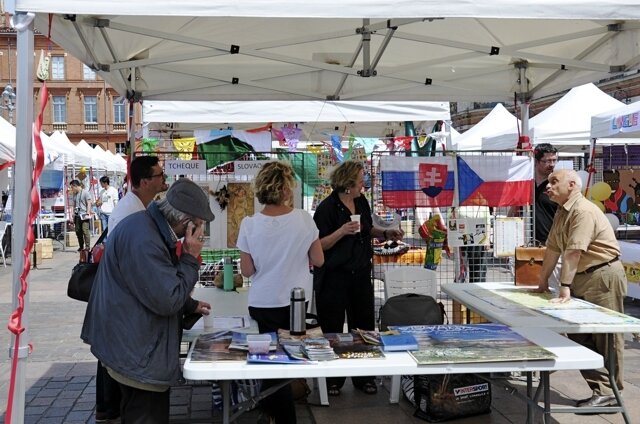 De Tceki id Slovaki stand
★ ★ ★
All of them were particularly concerned about the similarities between Uropi and their own languages, so we gave them the leaflets comparing the vocabulary; an 84 year-old "young man" was very happy to hear that Uropi had also taken Occitan into account; we told him that, as a matter of fact, Occitan was perhaps one of the languages which had most in common with Uropi.
A documentary maker wanted to film us singing the Uropi anthem; we said we were not prepared for this and not numerous enough, and we gave him the link to the video on the anthem:
https://www.youtube.com/watch?v=CiVIjmHk3Fk&list=PL6C3Ug8Sx84MWbv49oGqHeXW8HfQiA0Ar&index=6
We also had the pleasure of seeing "old acquaintances" again, like Silvain B., François from Langoland, and Sevetcyo from l'Atelier who came to the stand several times to discuss various points about Uropi. We also saw our old Pakistani friend who keeps the Urdu stand and takes a lot of interest in Indo-European languages as well as Aleks who came from St Peterburg to visit Toulouse, Occitania, the Cathar castles, and the Forum and the Uropi stand too, of course.
An organizer of the Marseilles Language Forum, which will start in October this year, on La Canebière, came and asked us whether we wished to participate.
A new Esperanto ?
As usual, of course, we were asked about the difference with Esperanto.
Esperanto is always a problem, or rather not Esperanto itself, but the negative opinion that people have of Esperanto and which is passed on to all the other constructed languages.
"That language which didn't work…""What was it called again ?", that language which looks like "an oversimple and childish building set"
« Well, that is the reason why artificial languages will never take hold: they are ugly and unwieldy.»… «I agree... if a language doesn't sound normal, it won't ever be taken seriously by masses.» etc. This is why we introduced a new Uropi slogan: "Naturi id maturi: Uropi… u komùn intranasioni linga"(Natural and mature: Uropi… a common international language).
★ ★ ★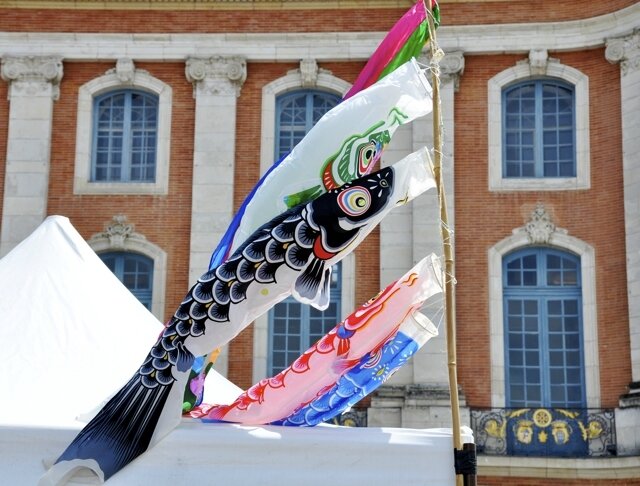 ★ ★ ★
Of course, I do not agree with all those comments, but as Otto Jespersen, the great Danish linguist wrote in his publication An international Language in 1929: "… the man in the street identified the notion of "International language" with "Esperanto," a confusion which has been and is highly injurious to the realization of the idea of an interlanguage; for any one seeing Esperanto and realizing that this cannot possibly be the world-language of the future will be tempted to draw the erroneous conclusion that no such language will ever be adopted."
The worst thing that happened to me was at a wedding last Saturday when a youn man approached me and said: "Are you the man who created Esperanto ?" I said I wasn't, I told him my name was Joël Landais and not Lejzer Zamenhof, that I was a bit younger and explained the difference.
Strangely enough, people hardly mentioned English as an international language. An old lady said: "I've been learning English for years and I still can't understand British people or Americans… sometimes I can't even understand my teacher when he speaks too fast."
As far as Uropi is concerned, people did appreciate above all the easy pronunciation and the simple grammar. Unlike English, Uropi is a second language for all, not reserved to an elite who can afford private lessons for their children, summer courses in English-speaking countries, and eventually studies in the most prestigious universities of those countries, like Oxford or Harvard.
In the evening when we put away al the Uropi documents, posters, books and display boards we were downright exhausted, but very happy, in spite of the heat and the wind, because of all the fascinating people we had met from all over the world. That was a great day for Uropi.
★ ★ ★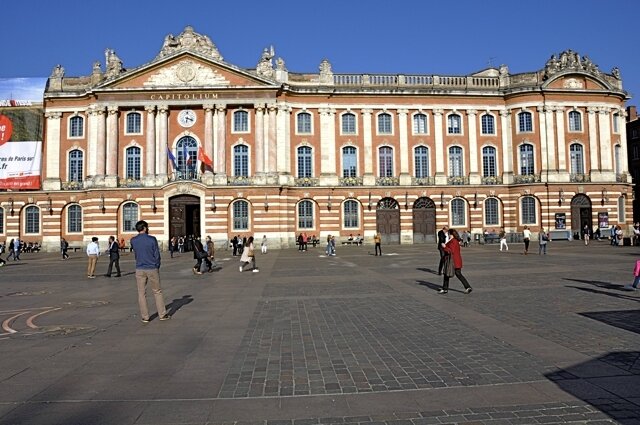 ★ ★ ★