★ ★ ★
* Uropi Nove 55 * Uropi Nove 55 * Uropi Nove 55 *

★ ★ ★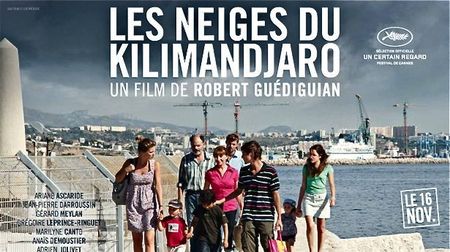 * * *
Robert Guédiguian id Aki Kaurismäki
* * *
Uropi Nove del ne molvos ov filmikritike, pur i volev voko zi ov du uslivan filme wen i vizì in de fori mone id we inmuvì ma mol. Un se "De Sneve Kilimandʒaro" pa Robert Guédiguian, de alten "Le Havre" pa Aki Kaurismäki, du gren Europan filme.
Robert Guédiguian se u Marsejan wej pater sì Armèni id wej mata sì Doski. De pri od hi filme wen i vizì, id gusì ʒe mol se Marius id Jeannette. Aki Kaurismäki se u Fin; he ven od de alten kip Europu, od da dali ankonen land, ner de Nordipola, sa dal od de azuli hel Midimari: Finia. Ka kon nu ov Finia ? Nerim nit. U frij land ki dum pini foste id mole lage, saunas; de nom u vagirenori Ari Vatanen, de titel u romàni De haz Vataneni (un alten Vatanen) pa Arto Paasilinna, un uslivan skolisistèm slogan de PISA test… di s' tal. I gusì os ʒe mol un od de rari filme Aki Kaurismäki wen i vizì: "De man ane pasen".
Pur je mo sem te di du filme retàl maj o min de som storij: lu se du fable ni temi. De du storije av sta in du gren Franci porte: De Sneve Kilimandʒaro se uspasan odia in de Marseji kwertia l'Estaque (wim in Marius id Jeannette) id Le Havre in de miste id liuve da Nordifranci, Normandi porti, Le Havre. De port se u cevi aktor in Le Havre, trawàn un viz ja solem in de ruplàn in De Sneve Kilimandʒaro.
Un alten vezi aktor in obe filme, obte je os jeg u disemi rola, se de pasen, de pasen un eki Franciu. Di se partikulim interesan in Le Havre: de storij uspàs odia, ba solem de port ki ji grane id magi kotenare, peran ekvos celen pasadore id de polìz ki ji uniforme id furgone sem poteno a moderni Francia. De rest, tal de rest, da se nerim tal de film: de personore, de kwertia, de hase, de kafia, de panoria, de frutivendia, de moble, de seni nar telefòn id oʒe de hospitàl sem poteno a posweri Francia. De muzike id sante - obte i konì ne la tale - somiv a sante pa Edith Piaf id de ankreli Roki Grup ki de pindesjari Little Bob sem veno od de jare 50. Nostalgij o u skerpi kritik ov kotemi Francia ?
* * *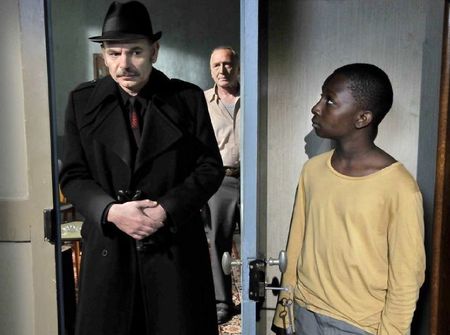 Komisor Monet, Idrissa id Marcel in Le Havre

* * *
Da Francia se poetic id talim anrealisti, "par realad av viden u delìr" wim Aki Kaurismëki dez a Telerama (4i Janvar 2012). De protagonìst Marcel Marx wej maʒa se nomen Arletty (di ojiblike se siurim ne usfali) se u cusivoskor, wim daze wen nu vizì in seni bibe Espàni o in Mecika, o in de romàne Montalbani ki Pepe Carvalho; de grenkarʒi komisor Monet (JP Darroussin, cevi aktor in De Sneve Kilimandʒaro: un ojiblìk od Kaurismäki a Guédiguian ?) se os ankreli: he se tal vesten in nar wim u polizor ude Marcàl Pétain, ba he akt mol stranim po u polizor, gon hi siavi kamp. Tale de personore vok u strani, mol koregi Franci, u linga we av nevos esisten usim in leribibe. Un av de inprès te Kaurismäki dik no u Francia wen he av imaʒinen, idealizen, mojse de imàʒ wen Fine avì ov Francia, mojse u Francia we esistì ekia, in de jare 50 o dafòr, de Francia René Clair id Marcel Carné. Ba kim nu liam da Francia in de film ! Kim je det ni karʒe varmi ! Da Francia ve kofaso de Francia odiu: de polìz id celen inmigrane; ni cusivoskor (André Wilms) ve procepo id celo un Afrikan bob, Idrissa (Blondin Miguel), we sì vaizan ki hi kolandore in u kotenar proregen a Englia, ba we vidì opren in Le Havre. Idrissa ustèl fligo ap de polìz id sia celo in de port. Marcel Marx ve findo ha, celo ha id fendim, dask a de eld tal de kwertiu id de grenkarʒi polizori, he ve ustelo sendo ha a Englia wo hi mata se ʒivan.
De Sneve Kilimandʒaro del ki de som generad: pindes-sesdesjari France; de titel som de filmi se de titel u santi "Les Neiges du Kilimandjaro" pa Pascal Danel in 1966. De protagonìst Michel (JP Darroussin) se nemaj u grenkarʒi polizor, ba u grenkarʒi varkunioni militan we vid kofasen a de dar realad kotemi Franciu: kluzade firmus, apsendade, anvàrk. Id de senivan militan, we av kamben tal hi ʒiv po abuno de varkikodike hi kopanoris, fel te hi generad av fajen, te tal av sen anuzi id te tale liente av viden siaviste.
* * *
Michel id Marie-Claire in De Sneve Kilimandʒaro

* * *
Pur Michel id Marie Claire (Ariane Ascaride) av aròn sia u kirk kogenis id kolegis we se neri frame. Ba di felij ve vido disbreken id lu ve usperijo de dar realad in li karn id in li ʒiv. In li dom lu ve vido agripen, plagen, tajen pa du masken jun mane we ve robo li krediti karte id tale de denie kosamen pa de kolege id frame Micheli po hi itad in forpensionad. Li waj ve so osmòl maj violti te lu ve lero te un od de kulpore sì u jun varkikolèg we vidì apsenden sam ki ha. Pos de arestad de jun mani, obte hi disluʒad, Michel ve probo voko a de jun man po incepo, ba in vani. Is de film fendev za, je sev u perfeti pict disperi, pur tal ve meto wan he id hi maʒa ve diskrovo, jakun be hi zat, te de jun man sì de solen sutenor du jun bobis, hi frate. Za os ve inìzo u katen solidaridi po nemo cer a de bobe, we befènd ve vido procepen in li dom.
Obe filme del ki pavri liente we ve eldo altene, kide, jok maj pavri, andifensi id disperen te lu. Robert Guédiguian, in un intravìz ki Telerama dez: "De Sneve Kilimandʒaro fal ne in anrealad. De bundavi bedutad de protagonistis moj so usnemi, pur je se ʒe mozli. In ʒiv je ste pavri liente wim lu - wim daze in de poèm pa Victor Hugo: lu av nit, ba lu se predi koparto ja wan li karʒe dez ja lo" (9i November 2011). In obe filme solidarid det mirakle: Idrissa, de Afrikan bob, moz ito a Englia, Arletty (Kati Outinen), de maʒa de cusivoskori, plagen ki u forsetim ankurli patid, vid kuren, de du bobe in De Sneve Kilimandʒaro, we av perlasen li genore id li frat find u novi dom.
Naturim, wim in tale fable je ste u moràl; "ki u dignid we dut a u mol slimi moràl: eldan altene, je moz usveno vo usordeni zoce" wim Jacques Morice skriv in hi artikel ov Aki Kaurismäki (in Telerama 18i Janvar 2012). Francia av ne talvos sen, id se ne solem u land siavistis, eglifelidi, id rasismu; un alten Francia av os esisten, id esìst mojse jok, oʒe is solem in ni karʒe, ni mente id ni rumene: u grenkarʒi Francia. De Francia we usfindì human rege, de Francia Inlucadi we uscepì wim mota Lifrid, Eglid, Fratid. Veri, nu av proben lifrid, id odia nu fel na lifri, oʒe is je se molvos un inluʒad: in ʒungel id savana tale beste se lifri, ba gazèl se ne os lifri te liov, par liov moz jedo gazèl, ba he moz ne jedo liov. Sim lifrid ane regle, nè lege po protego de flabies, se nun lifrid; je se solem de lifrid de kraties. Nu av os proben eglid; apsoluti eglid av duten a labori kampe, a Gulag, a u diktatorad we sì ne verim proletori. Mojse num av venen de tem po probo fratid, fratid id solidarid; di se po ma de mesènd obe filmis. Wim Jacques Morice dez ov Le Havre (Vz su.): "So frate, se tal wa vez. Marcel vid ne aʒiven pa bunad, id jok min pa kopatijad. Ba priʒe pa u naturi fratid moldi politani, we nud ne vido usklaren".
* * *
Robert Guédiguian
* * *
Robert Guédiguian et Aki Kaurismäki
* * *
Uropi Nove ne fait pas souvent de critique cinématographique, cependant je voudrais aborder ici deux excellents films que j'ai vus récemment: les Neiges du Kilimandjaro de Robert Guédiguian et Le Havre de Aki Kaurismäki, deux grands films européens.
Robert Guédiguian est Marseillais de père arménien et de mère allemande. Le premier film que j'ai vu de lui, et que j'ai beaucoup aimé, c'était Marius et Jeannette. Aki Kaurismäki est finlandais; il vient de l'autre bout de l'Europe, de ce pays lointain et inconnu, si près du pôle et si éloigné du ciel bleu de la Méditerranée qu'est la Finlande. Que savons nous de la Finlande ? Pratiquement rien. Un pays froid aux sombres forêts de pins, aux nombreux lacs et saunas; le nom d'un pilote de course: Ari Vatanen, le nom d'un roman: Le lièvre de Vatanen (un autre Vatanen) d'Arto Paasilinna, un excellent système scolaire selon les tests de PISA … c'est tout. J'ai également beaucoup aimé un des rares films d'Aki Kaurismäki que j'ai pu voir: L'homme sans passé.
J'ai pourtant l'impression que ces deux films me racontent plus ou moins la même histoire; ce sont deux fables de notre temps. Les deux scénarios se déroulent dans deux grands ports français: les Neiges du Kilimandjaro, aujourd'hui dans le quartier marseillais de l'Estaque si cher à Guédiguian (voir Marius et Jeannette), et Le Havre, dans les brumes et les pluies de ce grand port normand, beaucoup plus au nord. Le port est un acteur de premier plan dans le Havre et seulement une toile de fond dans les Neiges du Kilimandjaro.
Un autre acteur principal, mais qui se manifeste différemment dans les deux films, c'est le passé, le passé d'une certaine France. La présence de ce passé est particulièrement intéressante dans Le Havre: l'action a lieu aujourd'hui, mais seuls le port avec ses grues et ses énormes conteneurs qui transportent parfois de bien curieuses marchandises, des passagers clandestins, et la police avec ses fourgons et ses uniformes semblent appartenir à la France moderne. Le reste, tout le reste, c'est à dire la quasi-totalité du film: les personnages, le quartier, les maisons, la boulangerie, la boutique de fruits et légumes, les meubles, le vieux téléphone noir à cadran et même l'hôpital nous font penser à la France d'après-guerre. La musique et les chansons, que je n'ai pas toutes reconnues, ressemblent à des chansons d'Edith Piaf, et l'incroyable groupe Rock du quinquagénaire Little Bob vient tout droit des années 50. Nostalgie ou critique acerbe de la France d'aujourd'hui ?
* * *
* * *
Cette France là, celle que nous montre le film est poétique et tout à fait irréaliste, "car la réalité est devenue un délire" dit Kaurismäki à Télérama (4-1-12). Le héros, Marcel Marx, dont la femme s'appelle Arletty (clins d'oeils révélateurs) est cireur de chaussures, comme ceux que l'on rencontrait dans les vieux manuels d'espagnol (limpiabotas), au Mexique ou dans les romans de Montalbán avec Pepe Carvalho. Le commissaire au grand coeur, Monet, qui n'a rien d'un Colombo (Jean-Pierre Darroussin, acteur fétiche de Guédiguian et premier rôle dans les Neiges du Kilimandjaro… autre clin d'oeil ?) est tout aussi incroyable: tout vêtu de noir comme un flic de la milice de Pétain, il a un comportement étrange pour un policier, contre son propre camp. tous ces personnages parlent un français bizarre, très correct, "d'une politesse exquise", qu'on ne rencontre plus que dans les livres. On a l'impression que Kaurismäki nous montre une France qu'il a rêvée, idéalisée, qui correspond peut-être davantage à l'image qu'on avait de la France en Finlande. Cette France a-t-elle existé quelque part - en Normandie -pourquoi pas -, dans les années 50 ou avant, la France de René Clair et de Marcel Carné ? Car on l'aime tant cette France là, elle nous fait si chaud au coeur ! Elle va être confrontée à la France d'aujourd'hui: la police et les immigrés clandestins; notre cireur de chaussures (André Wilms) va accueillir et cacher un jeune Africain, Idrissa (Blondin Miguel) qui voyageait avec des compatriotes dans un conteneur destiné à l'Angleterre, mais qui a été ouvert par la police au Havre. Idrissa réussit à s'échapper et à se dissimuler dans le port où Marcel va le découvrir, le cacher et, grâce à la solidarité de tout le quartier et du commissaire au grand coeur, va parvenir à l'envoyer en Angleterre retrouver sa mère.
Les Neiges du Kilimandjaro met en scène la même génération de Français quinqua-septuagénaires. Le titre du film fait référence à une chanson de Pascal Danel de 1966. Le héros, Michel (JP Darroussin) n'est plus un commissaire au grand coeur, mais un militant syndicaliste au grand coeur qui se voit confronté à la dure réalité de la France contemporaine: fermetures d'usines, licenciements, chômage. Et ce militant vieillissant, qui s'est battu toute sa vie pour améliorer les conditions de vie et de travail de ses camarades, fait le constat d'échec de sa génération: toutes ces luttes ont été inutiles et le monde est devenu égoïste.
Pourtant Michel et Marie-Claire (Ariane Ascaride) ont autour d'eux un cercle de parents et de collègues qui sont des amis proches. Mais ce bonheur, tout relatif, va voler en éclats, et ils vont éprouver la dure réalité dans leur chair et dans leur vie, lorsqu'il sont agressés chez eux, frappés et attachés par deux jeunes hommes masqués qui vont voler leur carte de crédit et tout l'argent collecté par les collègues et amis de Michel pour son départ en pré-retraite forcée. Leur détresse sera d'autant plus profonde lorsqu'ils apprendront que l'un des coupables est un jeune collègue de Michel, licencié en même temps que lui. Malgré cette déception, après l'arrestation de son ex-collègue, Michel va tenter de lui parler, pour comprendre, mais ce sera en vain. Si le film s'arrêtait là, ce serait l'image même du désespoir, pourtant tout va changer lorsque lui et sa femme, chacun de leur côté, vont découvrir que le jeune homme était le seul soutien de deux enfants, ses frères. Là aussi va se mettre en place une chaîne de solidarité pour aider ces deux garçons que Michel et Marie-Claire finiront par accueillir chez eux.
* * *
De apsendene in De Sneve Kilimandʒaro

* * *
Ces deux films nous montrent de pauvres gens qui vont aider de plus démunis qu'eux, des enfants sans défense dans une situation désespérée. Robert Guédiguian, dans un entretien avec Télérama déclare: " Les Neiges du Kilimandjaro ne bascule pas dans l'irréel. Le comportement généreux des héros a beau être exceptionnel, il est de l'ordre du possible. Dans la vie il y a de pauvres gens comme eux. Comme ceux du poème de Victor Hugo: ils n'ont presque rien, mais ils sont prêts à le partager si leur coeur le leur dicte", (Télérama, 9-11-11). Dans les deux films, la solidarité fait des miracles: elle permet d'envoyer Idrissa, le garçon africain en Angleterre, elle guérit Arletty (Kati Outinen) atteinte d'une maladie réputée incurable, et donne aux deux garçons des Neiges du Kilimandjaro, qui ont perdu parents et frère, un nouveau foyer, une nouvelle famille.
Bien sûr, comme dans toute fable, il y a une morale; "avec une dignité qui mène à une morale simple comme bonjour: c'est en aidant les autres qu'il peut nous arriver des choses formidables" dit Jacques Morice dans son article sur Le Havre (Télérama 18-1-12). La France n'a pas toujours été, et n'est pas seulement un pays d'égoïsmes, d'indifférence et de racisme; une autre France a aussi existé et existe sans doute encore, ne serait-ce que dans nos coeurs, nos pensées et nos souvenirs: une France au grand coeur, la France des droits de l'homme, la france des Lumières, celle qui a choisi pour devise: Liberté, Egalité, fraternité. Nous avons, certes, essayé la liberté, et aujourd'hui, nous nous sentons libres, même si c'est souvent une illusion: dans la jungle et la savane, tous les animaux sont libres, mais la gazelle n'est pas aussi libre que le lion, car si le lion peut manger la gazelle, la gazelle ne peut manger le lion. La liberté sans les règles et les lois qui protègent le plus faible, n'est que la liberté du plus fort. Nous avons aussi essayé l'égalité et découvert qu'elle peut mener aux camps de travail et au Goulag, à une dictature qui n'est pas vraiment celle du prolétariat. Peut être est venu le temps d'essayer la fraternité, la fraternité et la solidarité: voilà pour moi le message de ces deux films. Comme dit Jacques Morice (op. cit.) à propos de Le Havre: "Etre frère, tout est là. Ce n'est pas la bonté, encore moins la compassion qui anime Marcel. Plutôt une fraternité naturelle de citoyen du monde, qui se passe d'explication."
* * *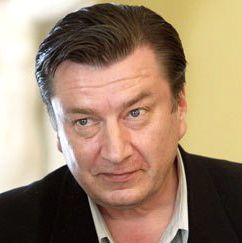 Aki Kaurismäki
* * *
Robert Guédiguian and Aki Kaurismäki
* * *
Uropi Nove doesn't usually publish film reviews, however I would exceptionally like to write about two excellent films I saw recently, which moved me a lot. One is The Snows of Kilimanjaro by Robert Guédiguian, the other Le Havre by Aki Kaurismäki, two great European films.
Robert Guédiguian was born in Marseille from an Armenian father and a German mother. The first film I saw of him, which I liked very much was Marius et Jeannette. Aki Kaurismäki is a Finn; he comes from the other end of Europe, from a distant, unknown country, so close to the North Pole and so far away from the blue Mediterranean sky: Finland. What do we know about Finland ? Practically nothing. A cold country with dark pine forests, many lakes and saunas, a racing driver's name Ari Vatanen, the name of a novel: Vatanen's hare (another Vatanen), an excellent school system according to the PISA tests… that's about all. I also very much liked one of the rare films by Aki Kaurismäki I could see: The man without a past.
Yet it seems to me that both films tell us more or less the same story; they are two fables of our time. Both stories take place in two large French port cities: The Snows of Kilimanjaro in the Marseille district of l'Estaque today (as in Marius et Jeannette) and Le Havre in the rains and mists of that northern France, Norman port of Le Havre. The harbour is an essential character in Le Havre, whereas it is only in the background in The Snows of Kilimanjaro.
Another chief actor, although it plays a different part in both films, is the past, the past of a certain France. This is particularly interesting in Le Havre: the story is taking place today, but only the harbour with its cranes and huge containers, sometimes carrying stowaways , and the police with their vans and uniforms seem to belong to modern France. All the rest, that is nearly all the film: the characters, the neighbourhood, the houses, the café, the baker's, the greengrocer's, the furniture, the old black telephone and even the hospital seem to belong to the post-war period. The music and songs - few of which I knew - sound like songs by Edith Piaf, and the incredible Rock band with the fifty-year old Little Bob comes straight from the fifties. Is it a hint of nostalgia, or rather a sharp criticism of today's France ?
* * *
Marcel id Arletty be dom in Le Havre

* * *
The France of the film is poetic and unrealistic, "because reality has turned into delirium" Aki Kaurismäki says to Télérama (4 January 2012). The hero Marcel Marx, whose wife's name is Arletty (the nods stare you in the face) is a shoeshiner, just like those we saw in old Spanish textbooks, or in Mexico, or in Montalbán's novels with Pepe Carvalho. The kind-hearted superintendent Monet (Jean-Pierre Darroussin, the main actor in The Snows of Kilimanjaro; another nod to Robert Guédiguian?) is just as incredible: he is dressed all in black like a Marshall Pétain's militiaman in the 2nd World War, but he behaves in a very strange way, against his own camp. All the characters speak a strange, very correct French that you can only find in books. You have the impression that Aki Kaurismäki shows us an idealized France that he has imagined, perhaps an image of France that Finns used to have, perhaps a France that existed somewhere - why not in Normandy - in the 50's or before, the France of René Clair and Marcel carné. But how much we love that France ! How warm it is to our hearts ! That France will have to face today's France: the police and illegal immigrants. The shoeshiner (André Wilms) will accommodate and hide an African boy, Idrissa (Blondin Miguel) wo was travelling with fellow-countrymen in a container headed for England, but which was opened by the police in Le Havre. Idrissa manages to escape into the harbour where Marcel Marx will find him, hide him in his home and eventually, thanks to the help of all the neighbours and the kind-hearted policeman, will succeed in sending him to England where his mother lives.
The Snows of Kilimanjaro deal with the same generation: fifty-to-sixty-year old French people; the title of the film itself refers to a 1966 song by Pascal Danel: The Snows of Kilimanjaro. The hero, Michel (Jean-Pierre Darroussin) is no longer a kind-hearted policeman, but a kind-hearted trade-unionist who is faced with the hardships of living in modern France: closures, redundancies, unemployment. And the ageing militant who has fought all his life to improve his fellow-workers's living and working conditions, feels that his generation has failed, that all their struggles have been useless and that people have become selfish.
Yet Michel and Marie-Claire (Ariane Ascaride) have a circle of colleagues and relatives around them who are close friends. But this relative happiness will be smashed to pieces and they will experience the harsh reality of life in their flesh and blood when they are assaulted in their home, hit and tied up by two masked young men who will steal their credit cards and all the money collected by michel's colleagues to celebrate his forced early retirement. Their distress will be all the deeper as they soon discover that one of the culprits was a young colleague who was laid off together with him. after the young man's arrest, in spite of his disappointment, Michel will try to speak to him to understand, but to no avail. If the film had stopped then, it would have shown an image of utter despair, but everything changed when he and his wife, each on his side, discovered that the young man was the only support of two boys, his brothers. Here again, they will start a solidarity chain to take care of the two boys and will eventually welcome them in their home.
* * *
Little Bob in Le Havre

* * *
Boths films deal with poor people who will help others, children who are still poorer, more desperate and defenceless than them. Robert Guédiguian in an interview with Télérama says: " The Snows of Kilimanjaro doesn't fall into unreality. The heroes' generous behaviour may be an exception, but it is a possibility. In real life there are poor people like them. Like those in Victor Hugo's poem: they have next to nothing, but they are willing to share it when their hearts tell them to", 'Télérama, 9.11.2011". In both films solidarity works miracles: Idrissa, the African boy will be able to go to England, Arletty (Kati Outinen), the shoeshiner's wife, suffering from a supposedly incurable disease is cured and the two boys in The Snows of Kilimanjaro, who have lost their brother and their parents, find a new home.
Of course, as in every fable, there is a moral, "with a dignity that leads to a very simple moral: when you help the others, fantastic things may happen to you" as Jacques Morice writes in his article on Aki Kaurismäki in Télérama (18.1.2012). France has not always been, and is not only a country of selfishness, indifference and racism; another France also existed and maybe still exists, if only in our hearts, our minds and memories: a good-hearted France. A France which gave birth to human rights, a France of the Enlightenment, a France which chose the motto Liberty, Equality, Fraternity. True, we have tried freedom and today we feel free, even if it is often an illusion: in the jungle or savanna, all animals are free, but some are more free than others; the gazelle is not so free as the lion because it can't eat the lion, whereas the lion can. Thus, without any rules nor laws to protect the weakest, there is no freedom; only the freedom of the strongest. We have also tried equality; absolute equality leads to labour camps and the Gulag, to a dictatorship which is far from being proletarian. Now perhaps has come the time to try fraternity, brotherhood and solidarity; for me this is the message conveyed by these two films. As Jacques Morice (op. cit.) says about Le Havre: "Being brothers is all that matters. Marcel is not driven by kindness, even less by compassion. Rather by a citizen of the world's natural sense of brotherhood, which requires no explanation".
* * *
Jean-Pierre Darroussin id Ariane Ascaride in De Sneve Kilimandʒaro
* * *