* Uropi Nove 106 * Uropi Nove 106 * Uropi Nove 106 *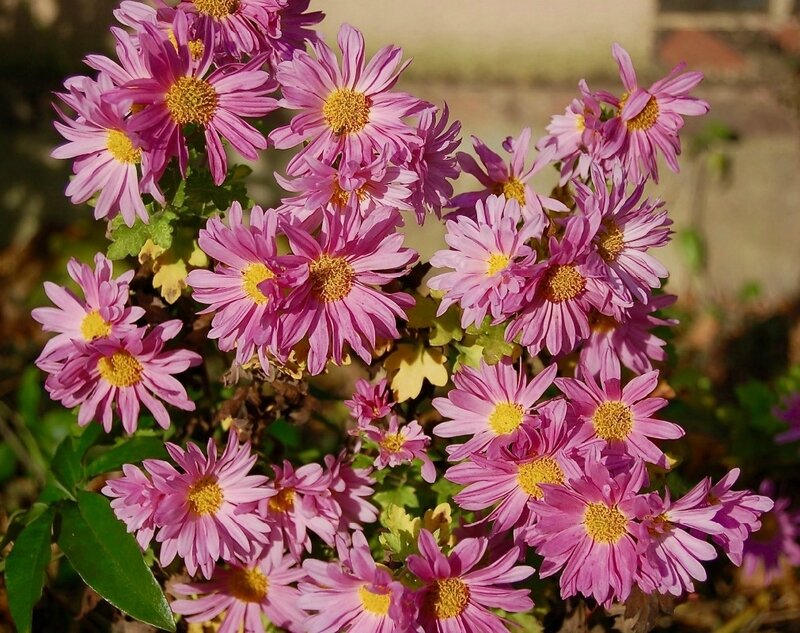 ★ ★ ★
2) Pos-Romantic poète - Mi prigusen poète
★ ★ ★
De Romantic muvad ussticì poj a poj, ba pur av produren de facinad poètis po otèm, ji belad id ji melankolij. Je sì de kaz ki mi prigusen poète, subetàl de pri od la:
Charles BAUDELAIRE (1821-1867) vid ne kospeken wim u Romantic poèt, obte he ʒivì be som tem te Victor Hugo (1802-1885); he sì ekwim u trapasor intra Romantisma id Modernid, opran de vaj do Parnasisma id Simbolisma. Wim Gustave Flaubert skrivì ho wan Les Fleurs du Mal (De Flore Mali) vidì publizen in 1857 "… Vu av finden de midel rujuno Romantisma. Vu somiv a nekun (wa se de pri od tale kalitade)…"
★ ★ ★
Poètes post-romantiques - Mes poètes préférés
★ ★ ★
Le mouvement romantique va s'éteindre peu à peu, mais cependant persiste la fascination des poètes pour l'automne, sa beauté et sa mélancolie. Ce fut le cas pour mes poètes préférés, et surtout le premier d'entre eux:
Charles BAUDELAIRE (1821-1867) n'est pas considéré comme un poète romantique, bien qu'il soit contemporain de Victor Hugo (1802-1885); il assure, en quelque sorte une transition entre le romantisme et la "Modernité", ouvrant la voie au Parnasse et au symbolisme. Comme lui écrit Gustave Flaubert à l'occasion de la publication des Fleurs du Mal en 1857: "…Vous avez trouvé le moyen de rajeunir le romantisme. Vous ne ressemblez à personne (ce qui est la première de toutes les qualités). …"
★ ★ ★
Post-Romantic poets - My favourite poets
★ ★ ★
The Romantic movement gradually died out, however the poets' fascination for Autumn and its beauty, its melancholy remained. That was the case for my favourite poets, above all the first among them:
Charles BAUDELAIRE (1821-1867) is not considered as a Romantic poet, although he was a contemporary of Victor Hugo (1802-1885); he represents a sort of transition between Romanticism and "Modernity", paving the way for Parnassianism and Symbolism. As Gustave Flaubert wrote to Baudelaire when the Fleurs du Mal (The Flowers of Evil)were published in 1857: "…You have found the way to rejuvenate Romanticism. You are not like anybody else (which is the first of all qualities). …"
★ ★ ★
★ ★ ★
Otemi sant
Nu ve dupo beprù in de frij murke;
Adòj, brij klarad ni tio kurti somus!
I s'oran ʒa falo ki ʒe truri coke
Drovistuke glaman su de pave kortis.
Tal vima ve prinito in mi san: irgad,
Hais, trise, horòr, id dar id forsen vark.
Id wim sol inkarsen in ji polari had,
Mi karʒ ve so solem u roj id jasen blok.
Trisan i se skucan falo jak'pez drovi;
De struad u kafalki zon ne maj tupim.
A u tor udefalan, mi ment se somi,
Pa u barn ja plagan warim antanivlim.
Je mo sem, ʒe lalen pa di tump unituni,
Te u sark se vidan ekia hastim kloden.
Po ken? - Jesta je sì soma; zi ven otèm!
Di misteric rume zon ʒe wim un apfàr.
★ ★ ★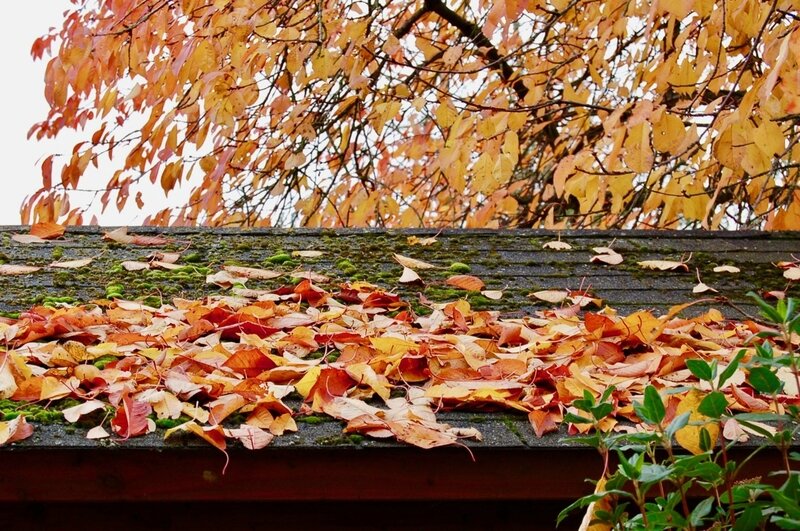 ★ ★ ★
Chant d'automne
Bientôt nous plongerons dans les froides ténèbres;
Adieu vive clarté de nos étés trop courts!
J'entends déjà tomber avec des chocs funèbres
Le bois retentissant sur le pavé des cours.
Tout l'hiver va rentrer dans mon être: colère,
Haine, frissons, horreur, labeur dur et forcé,
Et, comme le soleil dans son enfer polaire,
Mon coeur ne sera plus qu'un bloc rouge et glacé.
J'écoute en frémissant chaque bûche qui tombe;
L'échafaud qu'on bâtit n'a pas d'écho plus sourd.
Mon esprit est pareil à la tour qui succombe
Sous les coups du bélier infatigable et lourd.
Il me semble, bercé par ce choc monotone,
Qu'on cloue en grande hâte un cercueil quelque part.
Pour qui? - C'était hier l'été; voici l'automne!
Ce bruit mystérieux sonne comme un départ.
★ ★ ★
★ ★ ★
Song of Autumn
Soon we shall plunge into the cold darkness;
Farewell, vivid brightness of our short-lived summers!
Already I hear the dismal sound of firewood
Falling with a clatter on the courtyard pavements.
All winter will possess my being: wrath,
Hate, horror, shivering, hard, forced labor,
And, like the sun in his polar Hades,
My heart will be no more than a frozen red block.
All atremble I listen to each falling log;
The building of a scaffold has no duller sound.
My spirit resembles the tower which crumbles
Under the tireless blows of the battering ram.
It seems to me, lulled by these monotonous shocks,
That somewhere they're nailing a coffin, in great haste.
For whom? — Yesterday was summer; here is autumn
That mysterious noise sounds like a departure.
— William Aggeler, The Flowers of Evil (Fresno, CA: Academy Library Guild, 1954)
★ ★ ★
Charles Baudelaire: Miste id Liuve - Brumes et pluies - Mists and Rains
pa Bertràn Carette
https://www.youtube.com/watch?v=1qm2hYEuflU&index=9&list=PL6C3Ug8Sx84MWbv49oGqHeXW8HfQiA0Ar
★ ★ ★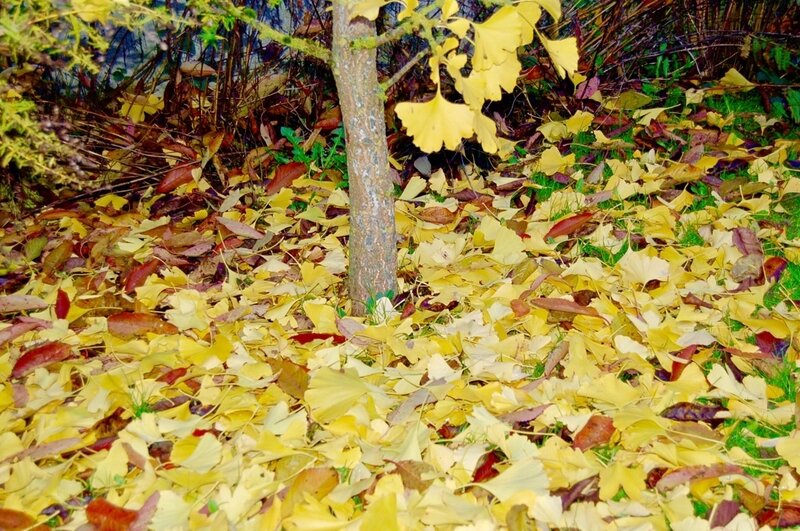 ★ ★ ★
Paul Verlaine (1844 - 1896)
Otemi sant
De longi soje
Otemi
violis
Se vunan mi karʒ
Ki tanic
Unitunid.
Talim blij
Id stufan
Wan kling de hor
I ʒe rumèn
de dias pasen
Id i ploj
Id ap i vad
In mali vint
ma drivan
Do zi, do za
ʒe somi a
u mori fol.
★ ★ ★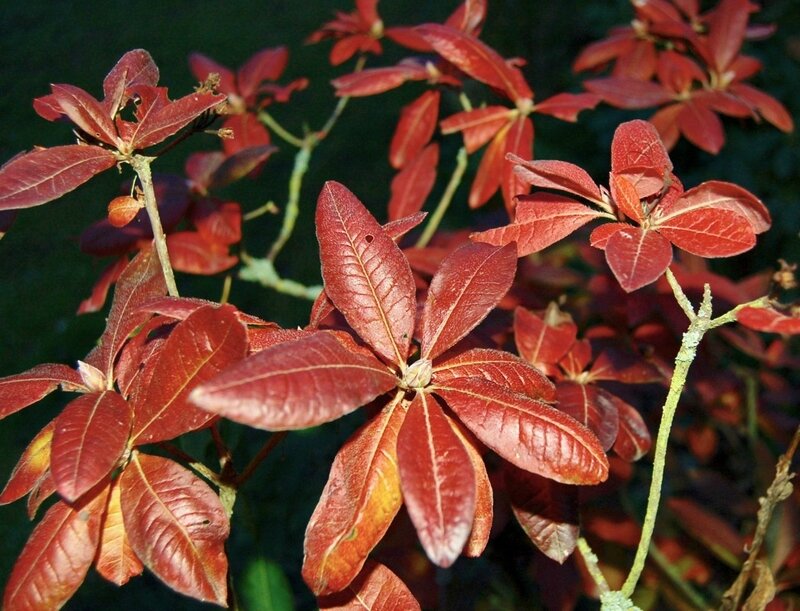 ★ ★ ★
Chanson d'automne
Les sanglots longs
Des violons
De l'automne
Blessent mon coeur
D'une langueur
Monotone
Tout suffocant
Et blême quand
Sonne l'heure,
Je me souviens
Des jours anciens
Et je pleure
Et je m'en vais
Au vent mauvais
Qui m'emporte
Deçà, delà
Pareil à la
Feuille morte.
★ ★ ★
Autumn Song
The long tears
Of Autumn's
Violins
Wound my heart
With a monotonous
lethargy.
All suffocating
And pale when
The hour strikes,
I remember
The old days
And I cry…
And I am going away
On an ill wind
That carries me
Here, there,
Just like a
Dead leaf.
★ ★ ★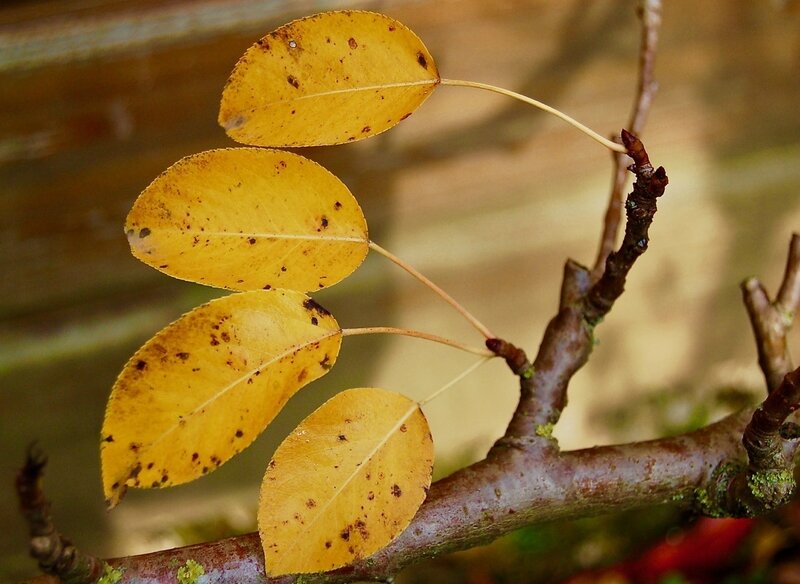 ★ ★ ★
Rainer Maria Rilke (1875 - 1926)
Otèm po Rainer Maria Rilke: « Mor o metamorfòz ?

Po Béatrice Jongy, je se "un invokad mori we se valgan in de strade u poli in putad. Otèm po Rilke pomèn otèm in de "spleen" Baudelairi. Je se de sezòn disperi, morenis, noci id angosti…Otèm inspìrt de nostalgij ov alten sezòne, alten teme… de poèt invòk aplasen pole, oblasen gardine."
L'automne pour Rainer Maria Rilke est-il une « Mort ou une métamorphose?» se demande Béatrice Jongy
C'est "une évocation de la mort qui rôde dans les rues d'une ville en putréfaction… L'automne rilkéen rappelle celui… de Baudelaire. C'est la saison du désespoir, des morts, de la nuit et de l'angoisse …L'automne inspire la nostalgie d'autres saisons, d'autres temps… le poète évoque les villes abandonnées, les jardins oubliés."
Is autumn for Rainer Maria Rilke a « Death or a metamorphosis?» wonders Béatrice Jongy
It «evokes Death lurking about in the streets of a putrefying city… Rilke's autumn recalls that of Baudelaire's "spleen". It is the season of despair, of the dead, of the night and of anguish … Autumn conveys the nostalgia of other seasons, of other times… the poet evokes abandoned towns, forgotten gardens.
★ ★ ★
Otemi dia
Sir, je se tem. Ʒe magi sì de soma.
Alèʒ ti cam su solihorele,
Id su planias las luzim vinte flo.
Ordèz so polen a de posni frute,
du sudi dias jok dav ʒe lo,
Pros la a polenad id cag ap
in de war vin de posni swajade.
We av ne has num ve struo nun maj.
We se solen, sim ve longim stajo,
ve skrivo longi skrite, ve liso id vejo,
anticim zi id za tra avenias,
wo se virban fole, ve valgo.
Herbsttag
Herr: es ist Zeit. Der Sommer war sehr groß.
Leg deinen Schatten auf die Sonnenuhren,
und auf den Fluren laß die Winde los.
Befiehl den letzten Früchten voll zu sein;
gieb ihnen noch zwei südlichere Tage,
dränge sie zur Vollendung hin und jage
die letzte Süße in den schweren Wein.
Wer jetzt kein Haus hat, baut sich keines mehr.
Wer jetzt allein ist, wird es lange bleiben,
wird wachen, lesen, lange Briefe schreiben
und wird in den Alleeen hin und her
unruhig wandern, wenn die Blätter treiben.
★ ★ ★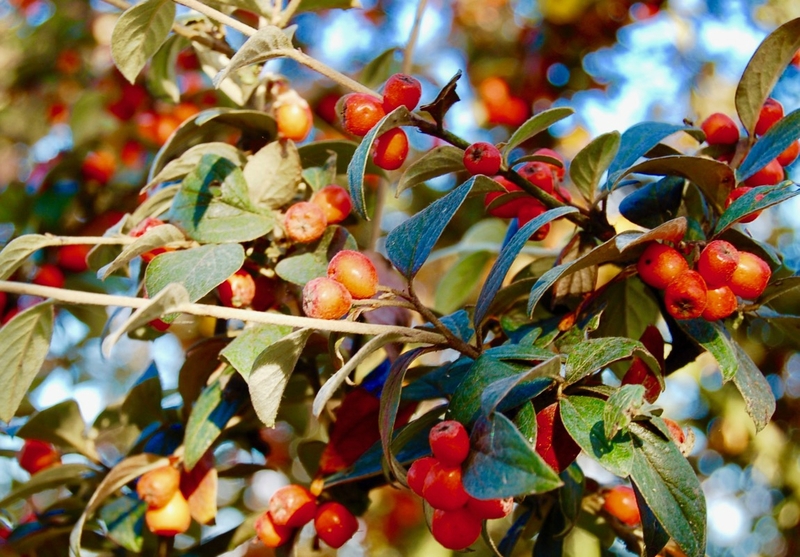 ★ ★ ★
Jour d'automne
Seigneur il est maintenant temps.
L'été fut très grand
Repose ton ombre sur les cadrans solaires
et détache les vents sur les plaines.
Ordonne aux derniers fruits d'être pleins
accorde-leur encore deux jours du sud
Force-les à la plénitude et chasse
les dernières douceurs dans le vin lourd.
Qui maintenant n'a point de maison, n'en bâtira plus
qui maintenant est seul, le restera longtemps
il veillera, lira, écrira de longues lettres
et inquiet, fera les cent pas dans les allées
quand les feuilles tournent en rond.
Autumn Day
Lord: it is time. The summer was immense.
Lay your shadow on the sundials
and let loose the wind in the fields.

Bid the last fruits to be full;
give them another two more southerly days,
press them to ripeness, and chase
the last sweetness into the heavy wine.

Whoever has no house now will not build one anymore.
Whoever is alone now will remain so for a long time,
will stay up, read, write long letters,
and wander the avenues, up and down,
restlessly, while the leaves are blowing.
★ ★ ★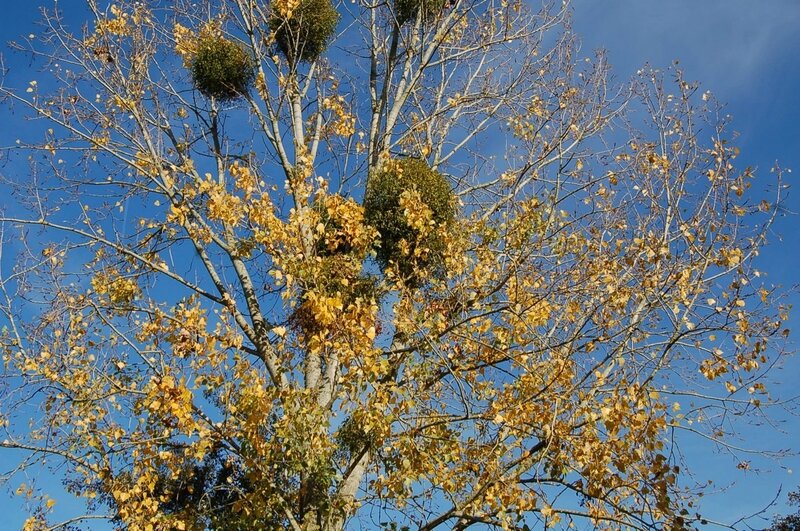 ★ ★ ★
Guillaume Apollinaire (1880 - 1918)
Pati otèm
Pati otèm
Liamen id pati otèm
Wan hurakàn ve flo in rozarias, tu ve moro
Wan je ve snevo
In frutigardine
Pavri otèm,
Mor in bijad id ricad
Snevi id mavri frutis!
Be bond heli
Sparvine se flanan
Su de naìvi nimfas nini ki kevile glen
We av nevos liamen
Be dali fostilìze
Cirve av bramen
Kim i liam, oh sezòn, kim i liam ti rume
Frute falan ane vido pliken
Vint id foste plojan
Tis li posni ploje in otèm fol a fol
De fole
Trepen
U tren
We far ap
Id ʒiv
We fluj ap
★ ★ ★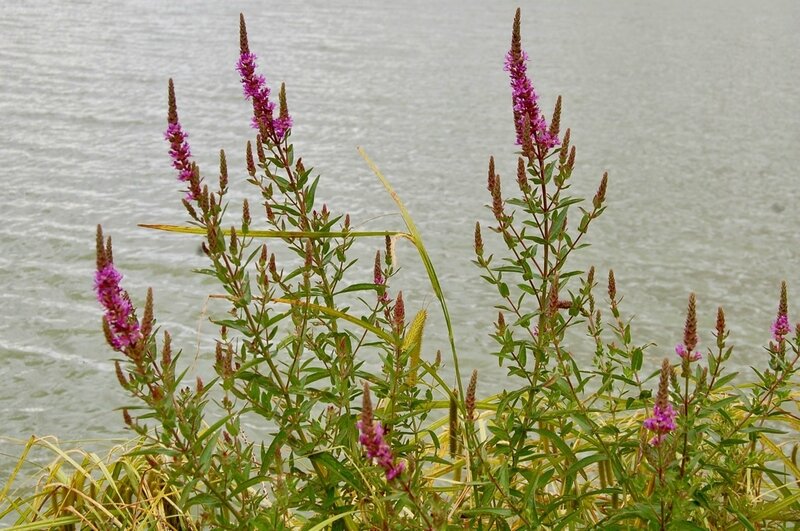 ★ ★ ★
Automne malade (Alcools, 1913)
Automne malade
Automne malade et adoré
Tu mourras quand l'ouragan soufflera dans les roseraies
Quand il aura neigé
Dans les vergers
Pauvre automne
Meurs en blancheur et en richesse
De neige et de fruits mûrs
Au fond du ciel
Des éperviers planent
Sur les nixes nicettes aux cheveux verts et naines
Qui n'ont jamais aimé
Aux lisières lointaines
Les cerfs ont bramé
Et que j'aime ô saison que j'aime tes rumeurs
Les fruits tombant sans qu'on les cueille
Le vent et la forêt qui pleurent
Toutes leurs larmes en automne feuille à feuille
Les feuilles
Qu'on foule
Un train
Qui roule
La vie
S'écoule
★ ★ ★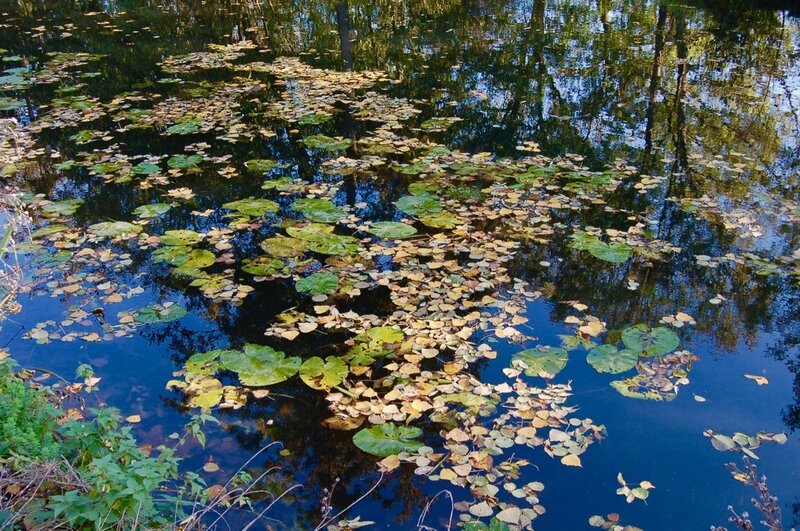 ★ ★ ★
Hermann Hesse (1877 - 1962)
September
De gardin se truran
Su de flore je liuv fricim
De soma se trisan
Fasan ji fend ticim.
Gori se gopan fol su fol
Niz od de akasia hol
Soma smij, tuc id stonen
In de gardini soin moran
Longim jok ner de roze
Soinan ov res, je staj stan
Lanim je kluz ji gren oje
We av viden sa tan.
September
Der Garten trauert
Kühl sinkt in die Blumen der Regen
Der Sommer schauert
Still seinem Ende entgegen
Golden tropft Blatt um Blatt
Nieder vom hohen Akazienbaum.
Sommer lächelt erstaunt und matt
In den sterbenden Gartenbaum
Lange noch bei den Rosen
Bleibt er stehen, sehnt sich nach Ruh.
Langsam tut er die großen,
Müdgewordenen Augen zu.
★ ★ ★
★ ★ ★
September Septembre
The garden is mourning Le jardin est en deuil
Cool sinks the rain into the flowers Fraîche dans les fleurs la pluie se glisse
The summer shudders L'été frissonne
Quietly facing its end. Et tranquille, regarde sa fin.
Golden, leaves drop upon leaves Feuille sur feuille gouttent dorées
From the high acacia-tree En bas du grand acacia
The summer smiles, weak and surprised Faible et surpris, l'été sourit
In the dying garden dream. Dans le rêve mourant du jardin.
For long still by the roses Longtemps encore près des roses
It stays there, longing for rest Rêvant au repos, il reste là
It slowly closes its large eyes Lentement, terrassé de fatigue,
Which have become so tired. Il ferme ses grands yeux las.
★ ★ ★
Mori fol
Jaki blum vol vido frut,
Jaki morna vido vespen,
Su ter esìst ʒe nit evi,
Solem valgad, solem flig.
Os ve de beles soma
Vid' otèm id wisto un dia.
Stop ʒe fol, tici, tolsan,
Wan vint vol ta apduto.
Jeg ti jeg, difèns ne ta,
Las ja ticim usveno.
Las ta pa vint, we ris ta,
Flo ap id a dom duto.
★ ★ ★
★ ★ ★
Welkes Blatt
Jede Blüte will zur Frucht
Jeder Morgen Abend werden,
Ewiges ist nicht auf Erden
Als der Wandel, als die Flucht.
Auch der schönste Sommer will
Einmal Herbst und Welke spüren.
Halte, Blatt, Geduldig still,
Wenn der Wind dich will entführen.
Spiel dein Spiel und wehr dich nicht,
Laß es still geschehen.
Laß vom Winde, der dich bricht,
Dich nach Hause wehen.
Dead leaf Feuille morte
Each blossom will be a fruit Toute fleur devient fruit
Each morning an evening, Tout matin devient soir
Nothing is eternal on earth Rien d'éternel sur cette terre
All is fickle, all is fleeting. Tout s'en va, tout s'enfuit.
Even the loveliest summer Même le plus bel été
Will turn to autumn and wither. Sent l'automne et va se faner.
Stand, leaf, still and patient, Arrête-toi, feuille, patiente et calme,
When the wind wants to tear you away. Lorsque le vent veut t'enlever.

Don't resist, play your game, Joue ton jeu sans te défendre,
Let it quietly happen. Paisible, laisse tout arriver.
Let the wind which breaks you away, Laisse le vent qui te brise,
Blowing, take you home. De son souffle, chez toi t'amener.
★ ★ ★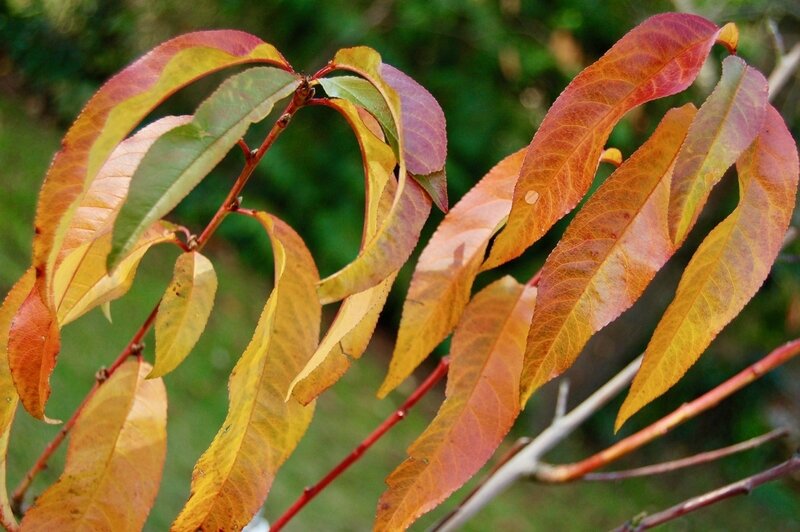 ★ ★ ★
Joan del Isla
OTÈM ANE TA
Otèm
ane ta
glodi vidova
in ci lan agonij
julan su vode
ci disrisan martire…
ude hele tortore
jok rupicte blij
de swaj gladi virʒus
ki nartinken bere,
wo un usgloden sol
tra nolbe lij
ji muic nakare…
Otèm
ane ta
glodi vidova
wim rubine
spanan
ci ornade opren vunis,
karne dispezen karʒis
roʒ od akri sape
rijan ki mieli larvas
disrogen pa glen muicade…
★ ★ ★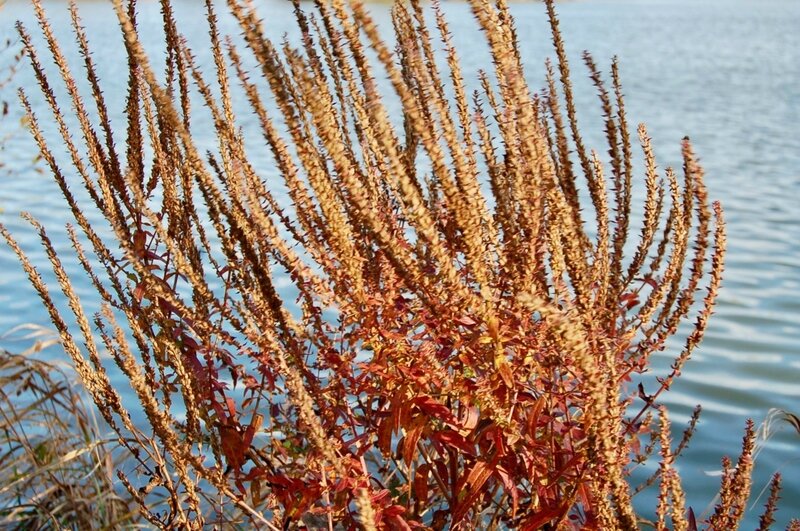 ★ ★ ★
Meli irizen tele
rosi lizele
wen se tensan de spain
su de stibe skropen gornis…
Mati melne fostis
Gris skelete hirsen
Kargen ki frute hadi…
Udefoste - gardine fejus
vapic ferte
ki okren dufe
mec akridi…
In de glum kloriglàs
intra de stube
asèm d' insaror…
de miràʒ, de soin… pen ustrofen
tal it ap
tal flig ap
be mi pode noc stang
invadan vilgi herbe…
★ ★ ★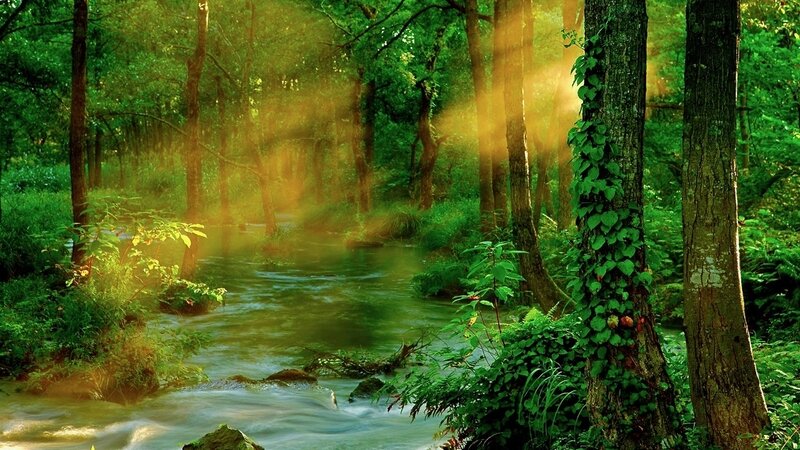 ★ ★ ★
Otèm
ane ta
glodi vidova…
In vele vespeni
de vun se ustupan
id de kraj usvapan…
Bran pape folis
su de pave polis.
★ ★ ★

L'automne, sans toi
L'automne
sans toi
sanglante veuve
à la lente agonie
hurlant au ras de l'eau
son douloureux martyre …
sous des cieux tortionnaires
pâle encore effigie
du regard doux des vierges
aux revers ourlés d'encre
où un soleil exsangue
déverse par les nues
ses moiteurs nacrées …
★ ★ ★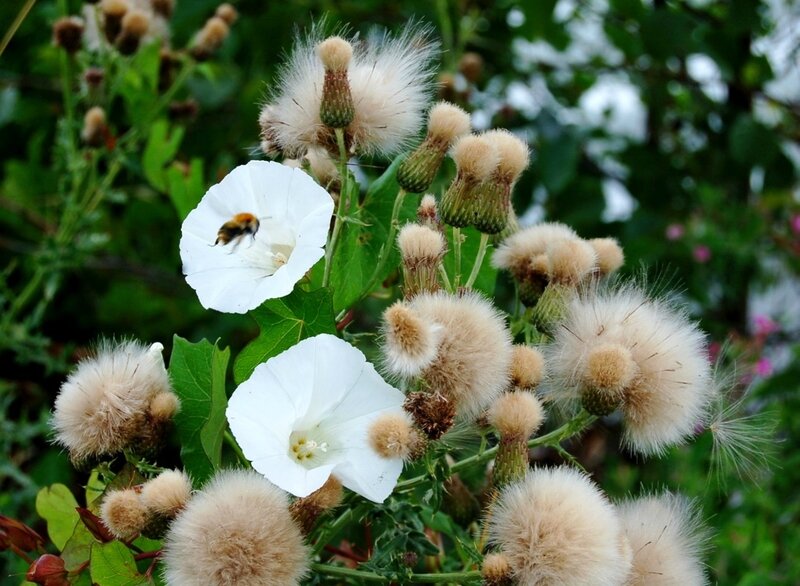 ★ ★ ★

L'automne
sans toi
sanglante veuve
étale
vermeille
ses parures de plaies ouvertes
chairs de cœurs en charpie
rousse d'âcres saveurs
ruisselant de larves de miel
dévorée de vertes moiteurs …
Tendre toiles irisées
lisérés de rosée
que l'épeire tend
aux tiges des blés mutilés …
Crinières en folie des fûtaies
grises carcasses hérissées
grouillant de fruits d'enfer …
★ ★ ★
Sous-bois – jardin des fées
vaporeuses fougères
aux saveurs ochrées
d'âcre molesse …
Dans le vitrail glauque
à travers les fûtaies
surgit l'enchanteur …
le mirage le songe … à peine effleurés
tout s'en va
tout s'enfuit
à mes pieds la nuit stagne
envahit l'herbe folle …
L'automne
sans toi
sanglante veuve…
dans le voile du soir
la plaie s'estompe
et le cri s'évapore …
Pâtée de feuilles brunes
sur le pavé des villes.
★ ★ ★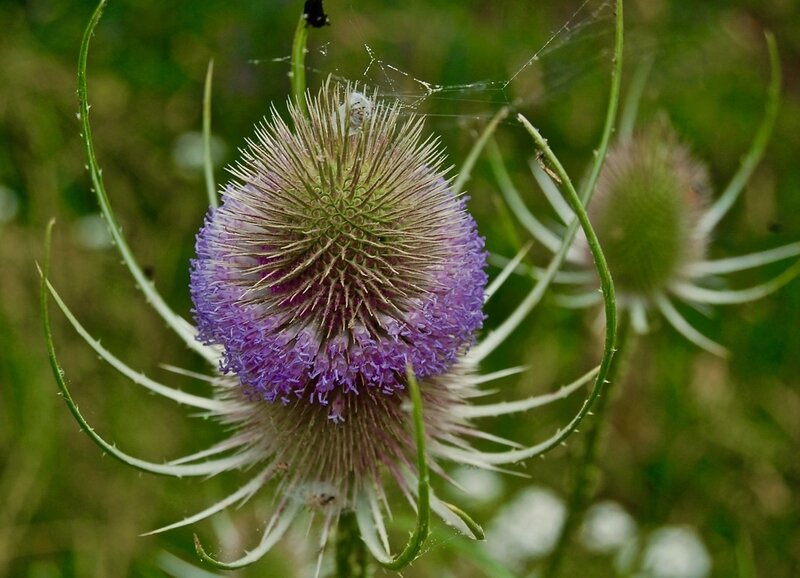 ★ ★ ★