* Uropi Nove 113 * Uropi Nove 113 * Uropi Nove 113 *
★ ★ ★
De Kalitadi Revolusiòn
★ ★ ★
Wa Europa nud odia se u kalitadi revolusiòn
Pos de Wer, dask a masi produtad, nu mozì mako bunkopi nure id uzadi objete wen jakun mozì kopo. Mojse po de pri vos in històr, ne solem Europane mozì jedo sat id bun, ba lu mozì os asiavo mole instrumente id aparele we detì li ʒiv maj lezi id maj prijan: vacimakine, frijele, vage, televizele, puvisugele, platilavele… id sim pro. Somtemim liente vidì invarken in fabrike po mako tale da merke, sim je stì pratikim nun anvàrk id da produtore vidì os konsumore we kopì da merke.
Nevos in human històr avì ni ʒivinivel liven samòl! Da sì de kamoladi revolusiòn.
Un viz ja jok odia, wan liente it us subemerkade ki li karite uvepolen ki nure id objete; de masi produtad se proìtan: je sa maj profitli mako bunkopi pavrikalitadi merke in enormi kamolade te kalitadi diari produte in miki kamolade.

Pur de situasiòn av meten. Prim par da bunkopi merke vid nemaj maken in Europa, ba in dali lande pa un udepajen varkikrat wim Cinia o India, po samp. Koslogim mole fabrike av kluzen in Europa id anvàrk se livan maj id maj.

Dujim par nu se poj a poj vidan kozavi ov de mali efekte di masiprodutadi.
Liente jed nemaj fric produte od li gardine, ba artimaken predi nure od de agrinuri industrij: lu se polen ki kimikle, klorane, suker id dip, wa det jedore grosoni id ruin li sunad. De numar kankris se agresan talia. Globalizad sin te nu kop merke od tale parte moldi, sim agresan transporte in enormi proporsione: mare vid strijen pa uvemezi intenarinave id petrolinave, id su ni rade far annumari karvage od tale lande. Po samp nu inpòrt aranʒe od Sudafrika, Argentinia, Urugwàj, trawàn polde aranʒaris in Lakonia, Grecia se polen ki frute.
★ ★ ★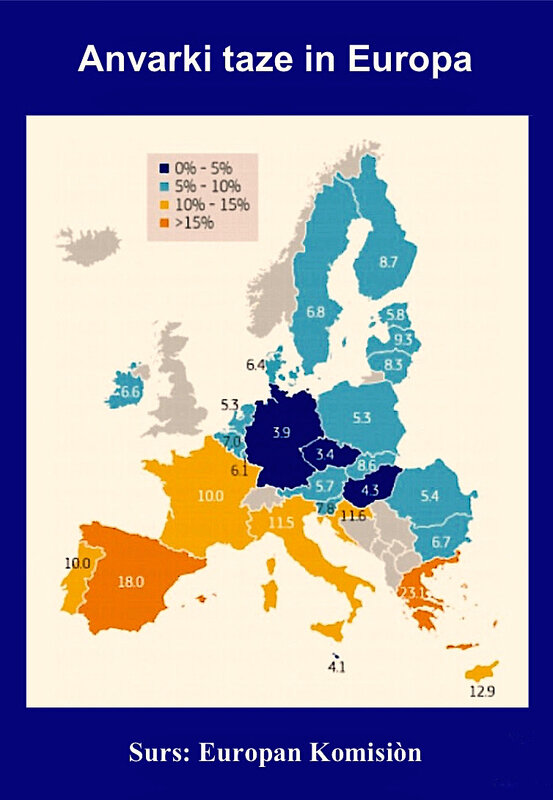 ★ ★ ★

Paralelim liente doʒ faro dales id dales po findo vark, siudim in gren citàde, ba mu moz ne domo za par de lite id prize kwarius se tio hol. De resultad se te al in da citàde vid sa poluten ki gaze id fin partikle te je se nerim anmozli fleso; tale da vifte koz asma id alten patide.
De situasiòn se ne bunes ki vod we vid poluten pa tale de pestitude id kimiki abunle wen agrizore sprij su li polde, id we fluj niz in de bodivodia. Nu se tudan sim mole ovle id insekte, wim fafile id beje, id se drozan de biovarid.
De kalboni dioksìd usalen in atmosfèr pa transporte, industrije id domi varmade atèl os a de klimati metad we vid denonsen pa mole siensiste. Moldi konferense ov klimàt vid organizen od tem a tem, wim COP 21 in 2015 in Parìs, ba, obte bun ideas vid debaten id bun besluzade nemen, da konferense av poje konkreti efekte. Idmàj tal ni sistèm dut os a u masiprodutad apjetis, subetàl plastike we se andistruli id fend in mare id oseàne wo lu av formen u veri kontinènt plastiki. Da plastike vid jeden pa pice id tud la; daze we usflìg vid jeden pa humane id dav lo gravi patide.
De kamoladi revolusiòn av viden un apokalipsi nocmar.

Nicolas Hulot, de mol populari ministor ekologiji apstapì in Agùst 2018, uskonan te he sì anmogan po meto zoce, id vari demostrade gon klimati metad avì sta in Parìs in otèm de som jari. Liente vid poj a poj kozavi ov da id inìz meto li siudade. Ba wajim je se mol tio lan id nu av ne mol tem pro na.
★ ★ ★
★ ★ ★
Wa nu nud se u kalitadi revolusiòn we ve meto ni mod ʒivi kopolem, wim de kamoladi revolusiòn detì tra du o tri desjàre. Di se naturim u glen revolusiòn, ekologic id bio, ba je doʒ os so u revolusiòn in mentisàde: de vorde 'bunkopi' id 'kopo mol' doʒ vido oblasen; jaki bun zoc, jaki kalitadi prodùt, av u regi priz. Naturim di forsèt te tale liente moz pajo da priz, id pardà te jakun doʒ avo u bunpajen vark, o bemìn u satan invèn.

Produto nure lokalim osmòl te mozli id konsumo de sezoni frute id vegume ve amino de transporti koste id polutad; je sin os jedo sunes nure. U bun nurad, apdeten polutad id u maj naturi ʒiv generalim ve abuno de sunad lientis id amino patide. Di ve os abuno de funsionad hospitalis id mediki servìze we se num saturen id varkan mol pej.

Usim nure, alten kalitadi produte doʒev os vido maken lokalim: u kalitad garanten pa Europa ki de EK stikel: 'Europan kalitad'. Nu doʒ ne konsumo maj, ba konsumo min id bunes. Sim konsumore ve ne doʒo pajo maj: bunes kalitadi cuse, veste, elektridomi aparele, muvi telefone, i.s.p. ve duro maj longim id ve ne doʒo vido replasen sa molvos, sim nu ve produto min apjete. Plastiki volpe ve vido perviten po de majsan produte, usim wan lu se apsolutim nudi, replasen pa butele, flake…i.s.p in reciklili glas.
Elden pa Europan subside, agrizad ve vido u bio-agrizad ane kimikle o GMO… Realim u revolusiòn !

De kalitadi revolusiòn se ne antiteknologic; nu ve ne ito ru a de kavi ev, varmen ki drovifoj id lucen ki kirele.
Tal gonim nu ve nudo maj teknologij po disvolpo anpolutan energije: soli, vinti, vodi energije, i.s.p., po struo bun izolen hase, kwertias id pole ki pozitivenergij. Mol maj teknologij se nuden po sluzo de probleme id negativi efekte od naturi energije id po struo min kosti domias ki pozitivenergij. Publiki transporte id efektivi elektriki vage ve vido disvolpen. Tal da ve naturim kreato mole novi invarke is nu inpòrt ne tale materiale id uzele nuden, ba mak la lokalim.
★ ★ ★
Ba de kalitadi revolusiòn ve ne stopo ki de purid ali, vodi, nuris… id naturi energije, je ve os meto mentisàde: num nu se funsionan in kurti tem, cekan anmidi finansi profìte; nu ve doʒo meno in longi tem, avo u moldiviziòn po futùr. Id par di revolusiòn ve so bazen su de vark asosiadis, we ve jego un insani rola, liente ve vido maj sosial, min siavic, maj frati id solidari. De konsumi sosiad avì na apcizen od unaltem, jakun apsolen, jegan ki hi muvitèl, num nu ve kambo sam gon polutad id klimati metad, sam nu ve deto tale sfore po mako u bunes ʒiv po ni kotemore id ni kide.

De kalitadi revolusiòn forsèt te tale da probleme (polutad, klimàt, apjete, sunad; i.s.p.) vid ne kamben apcizim pa apcizen organizade, muvade, asosiade, ba vid kofasen tale sam pa governade, intranasioni organizade, industrijore, agrizore, asosiade, politane, politiki partìze id vari muvade, tale Europane varkan tale sam.

Dask a de kalitadi revolusiòn nu ve findo ru human kontakte, sosial kovige, koparti demokratij id fratid.
Naturim di kalitadi revolusiòn se anuzi id ansini is je vid limiten a u solen land wim Francia, Doskia, o Italia, je doʒ bemìn avo sta su d'Europan skal; indèt je kotòg ne solem Europa, ba os Cinia, Amerika, India, Afrika…, tali mold. Pur nu moz ne varto tis tale lande moldi kovèn, je sev un enormi perlàs temi; is de kalitadi revolusiòn inìz in Europa prim id spelim (nu av de midle po da), Europa mozev sim vido u modèl po de rest moldi - u lucitòr cijan in de murki noc, dikan de vaj.

★ ★ ★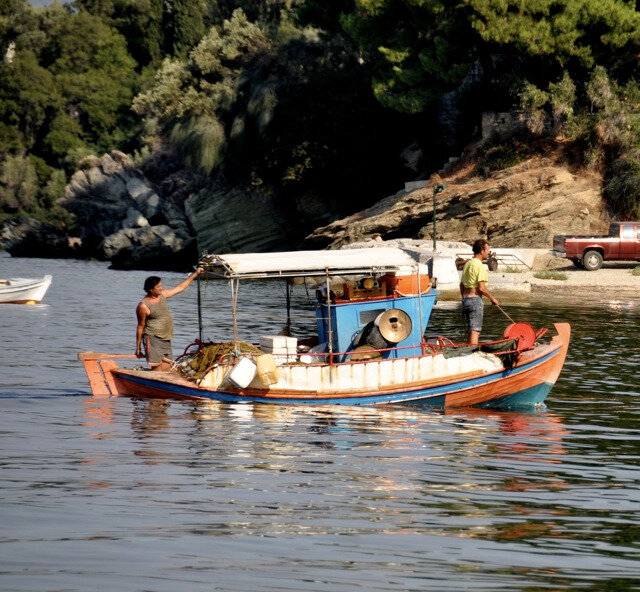 ★ ★ ★
La révolution qualitative

★ ★ ★
Ce dont l'Europe a aujourd'hui besoin, c'est d'une révolution qualitative. Après la guerre, grâce à la production de masse, nous avons pu fabriquer des aliments et des objets d'usage courant bon marché que tout le monde a pu se procurer. Pour la première fois dans l'histoire, les Européens pouvaient non seulement manger à leur faim une nourriture correcte, mais également acquérir de nombreux instruments et appareils destinés à leur rendre la vie plus facile et plus agréable: machines à laver, réfrigérateurs, voitures, téléviseurs, aspirateurs, lave-vaisselle… etc.
En même temps ils trouvaient dans les usines des emplois pour fabriquer toutes ces marchandises: le chômage était pratiquement inexistant, et ces producteurs devenaient eux mêmes consommateurs des biens qu'ils fabriquaient. Jamais, dans l'histoire humaine, le niveau de vie n'avait autant progressé.
C'était la révolution quantitative.

On le constate aujourd'hui encore quand on voit les clients sortir du supermarché, le chariot plein à ras-bord de nourriture et d'objets divers, la production de masse se poursuit: il est plus rentable de fabriquer des quantités énormes de marchandises bon marché, de qualité médiocre, que des produits de qualité beaucoup plus chers, en nombre plus limité.
★ ★ ★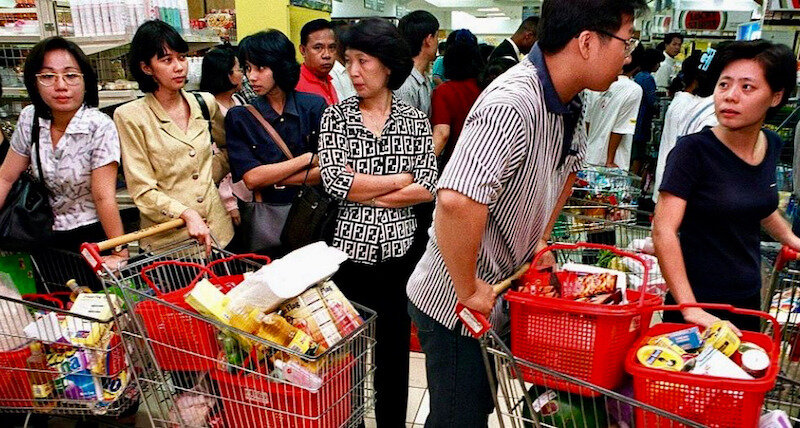 ★ ★ ★
Cependant la situation a changé.
D'abord parce ces produits bon marché ne sont plus fabriqués en Europe, mais dans des pays lointains, par une main d'oeuvre sous-payée, comme en Chine ou en Inde, par exemple. Il s'ensuit que de nombreuses usines ferment en Europe où le chômage augmente de plus en plus.
Ensuite, parce que nous prenons peu a peu conscience des effets néfastes de la production de masse. Les gens ne consomment plus de produits frais de leur jardin, mais des aliments prêts à consommer, plus ou moins artificiels que leur fournit l'industrie agro-alimentaire: ceux-ci sont remplis de produits chimiques, de colorants, de sucre et de graisse, ce qui provoque l'obésité et ruine la santé. Le nombre des cancers est en augmentation constante. La globalisation nous fait acheter des produits venus du monde entier, ce qui multiplie le volume des transports dans des proportions gigantesques: les mers et océans sont sillonnés par des porte-conteneurs et pétroliers géants et nos routes sont engorgées d'innombrables camions venus de tous les pays. Par exemple, nous importons des oranges d'Afrique du Sud, d'Argentine et d'Uruguay, alors que les champs d'orangers de Laconie en Grèce croulent sous les fruits.

Parallèlement, on doit se déplacer de plus en plus loin pour trouver du travail, essentiellement dans les mégalopoles ou l'on ne peut plus se loger en raison du coût trop élevé des loyers et de l'achat des appartements. En conséquence l'air y est si pollué par les gaz et les particules fines qu'il est presque impossible de respirer; nombreux sont ceux qui souffrent d'asthme et autres maladies respiratoires.
★ ★ ★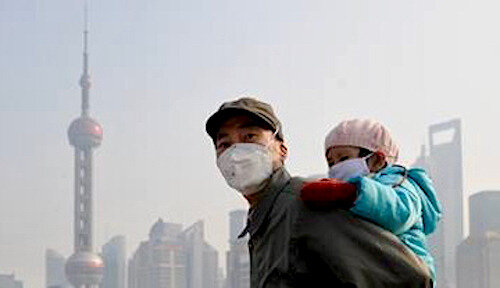 ★ ★ ★
L'état de l'eau n'est guère plus réjouissant: elle est polluée par les pesticides et les engrais chimiques que les agriculteurs déversent sur leurs champs et qui pénètrent dans la nappe phréatique. En outre, nous exterminons ainsi de nombreux oiseaux et insectes comme les papillons et les abeilles, et menaçons la biodiversité.

Le CO2 relâché dans l'atmosphère par les transports, les industries et le chauffage domestique contribue au changement climatique dénoncé par de nombreux scientifiques. Des conférences mondiales sur le climat sont organisées de temps à autre, comme la COP21 en 2015 à Paris, mais bien que de bonnes idées y soient débattues et de bonnes résolutions prises, les effets concrets se font attendre.

Pour couronner le tout, ce système conduit à la production de masse de déchets, avant tout des emballages plastiques qui sont indestructibles et finissent dans les mers et océans où ils forment un véritable continent flottant. Ces plastiques tuent les poissons qui les mangent; ceux qui en réchappent sont mangés à leur tour par les humains et leur transmettent des maladies graves.
La révolution quantitative est devenue un cauchemar apocalyptique.

Nicolas Hulot, le très populaire ministre français de l'écologie a démissionné en août 2018, avouant son impuissance à faire bouger les choses et plusieurs manifestations contre le changement climatique ont eu lieu à Paris l'automne suivant. La prise de conscience se fait peu à peu et on commence à changer ses habitudes; malheureusement, cela se fait beaucoup trop lentement et nous n'avons pas beaucoup de temps devant nous.

★ ★ ★
Aranʒare in Lakonia, Grecia
★ ★ ★
Il nous faut une révolution qualitative qui puisse changer notre mode de vie radicalement, comme l'a fait autrefois la révolution quantitative en 2 ou 3 décennies. Il s'agit, bien entendu, d'une révolution verte, écologique et bio, mais il s'agit aussi d'une révolution dans les mentalités: il faut oublier des expressions comme 'pas cher' et 'acheter beaucoup'; toute bonne chose, tout produit de qualité a son juste prix. Naturellement, cela suppose que tout le monde ait les moyens de payer ce prix, et donc un emploi justement rémunéré, ou tout au moins un revenu suffisant.

Produire localement autant que faire se peut et manger des fruits et légumes de saison réduira le coût des transports et la pollution, mais cela signifie aussi consommer des aliments sains. Une bonne alimentation, la suppression de la pollution, une vie plus naturelle en général, améliorera la santé de tous et réduira le nombre de maladies. Cela bénéficiera également au fonctionnement des hôpitaux et des services de santé qui sont actuellement saturés et peu efficaces.

En dehors de l'alimentation, d'autres produits de qualité devront aussi être fabriqués localement; leur qualité sera garantie par le label QE: Qualité Européenne. Il ne faut plus consommer plus, mais consommer moins et consommer mieux. On ne sera pas obligé de payer davantage: l'excellente qualité des chaussures, vêtements, appareils électro-ménagers, téléphones portables… etc., nous permettra de les conserver plus longtemps, de les changer moins souvent, réduisant ainsi notre quantité de déchets. Les emballages plastiques seront interdits pour la plupart des produits, sauf en cas d'absolue nécessité, remplacés par des bouteilles, flacons… etc. en verre recyclable.
Aidée par des subventions européennes, l'agriculture devient biologique, sans pesticides, engrais chimiques, ni OGM… Une vraie révolution !
★ ★ ★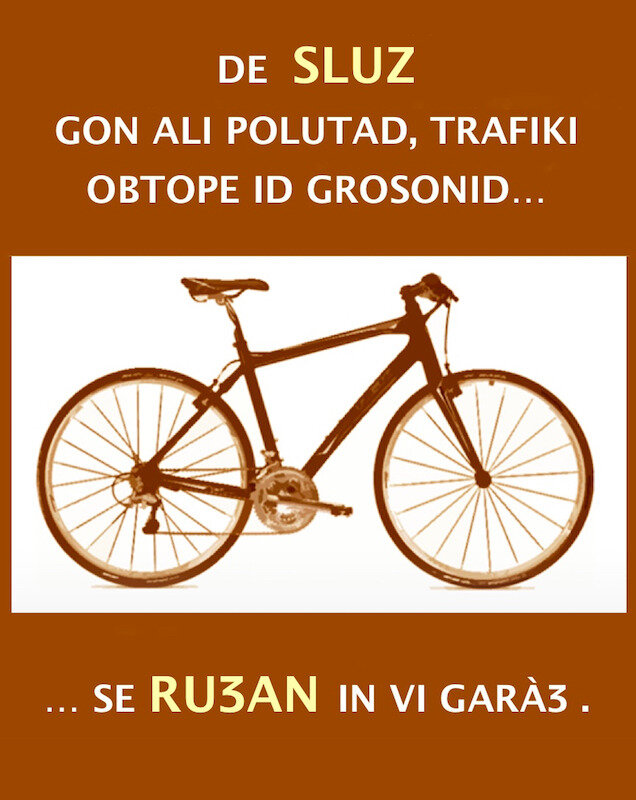 La SOLUTION contre la pollution de l'air, les embouteillages et l'obésité…
… est en train de ROUILLER dans votre garage.

★ ★ ★
La révolution qualitative n'est pas anti-technologique: nous n'allons pas retourner à l'âge des cavernes, chauffés au feu de bois et éclairés à la bougie. Bien au contraire, il nous faudra davantage de technologie pour développer des énergies non polluantes: solaire, éolienne, hydraulique… etc, et bâtir des maisons, des quartiers, des villes à énergie positive. Il nous faudra beaucoup plus de technologie pour résoudre les problèmes que peuvent poser aujourd'hui les énergies naturelles et leurs effets négatifs, pour limiter le coût exorbitant des habitations à énergie positive. On développera les transports en commun et fabriquera des voitures électriques à haute performance. Tout cela créera bien entendu de nombreux emplois nouveaux si nous n'importons pas tous les matériaux et le matériel nécessaire, mais les produisons localement.
Cependant, la révolution qualitative ne s'arrête pas à la pureté de l'air, de l'eau, des aliments… et aux énergies naturelles; elle apportera un changement profond dans les mentalités: nous fonctionnons aujourd'hui dans le court terme, recherchant des profits financiers immédiats; il nous faudra penser dans le long terme: avoir une vision du monde pour l'avenir.

En outre, du fait que cette révolution qualitative s'appuiera en grande partie sur les associations qui joueront un rôle primordial, on recréera du lien social, les humains deviendront moins égoïstes, plus fraternels et plus solidaires. La société de consommation nous a séparés les uns des autres: chacun s'isole du monde qui l'entoure en pianotant sur son portable; il nous faut maintenant lutter ensemble contre la pollution et le changement climatique: c'est unis que nous ferons tous les efforts possibles pour donner à nos contemporains et à nos enfants une vie meilleure.
★ ★ ★
★ ★ ★
La révolution qualitative suppose que tous les problèmes évoqués ci-dessus (pollution climat, déchets, santé… etc.) ne soient pas traités séparément par des organisations, associations, mouvements… distincts, mais dans leur globalité par les gouvernements les organisations internationales, les industriels, les agriculteurs, les associations, les citoyens, les partis politiques et mouvements divers, par tous les européens travaillant ensemble.

Grâce à la révolution qualitative nous retrouverons les contacts humains, le lien social, la démocratie participative et la fraternité. Bien entendu cette révolution qualitative est inutile et n'a aucun sens si elle se limite à un seul pays comme la France, l'Allemagne, l'Italie… elle doit se dérouler au minimum à l'échelle européenne. En réalité, elle ne concerne pas seulement l'Europe, mais aussi la Chine, l'Amérique, l'Inde, l'Afrique…, le monde entier. Cependant nous ne pouvons pas nous permettre d'attendre que tous les pays du monde se mettent d'accord, ce serait perdre un temps précieux; si la révolution qualitative commence en Europe (nous en avons les moyens), l'Europe pourrait alors servir de modèle pour le reste du monde, un phare qui illumine les ténèbres et nous indique le chemin à suivre.
★ ★ ★
★ ★ ★
The quality revolution

★ ★ ★
What Europe needs today is a quality revolution.
After World War II, thanks to mass production, we were able to produce cheap food, labor-saving devices that everybody could buy. For the fisrt time in history, Europeans could not only eat well and sufficiently, but could also afford a lot of implements and appliances that made theirs lives easier and more pleasant: washing machines, refrigerators, cars, TV sets, vacuum cleaners, dishwashers… etc.
At the same time a lot of people were employed in factories to manufacture all these goods and thus, there was practically no unemployment; those 'producers' also became consumers of the goods they made. Never in human history had living standards risen so much.
That was the quantity revolution.

You can still observe it today when you see customers leaving supermarkets, with their trolleys brimming with food and other items, mass production is thriving: it is more profitable to produce cheap poor-quality articles in enormous quantities than much more expensive high-quality products in more limited quantities.

However the situation has changed.
First because those cheap products are no longer manufactured in Europe, but in faraway countries, by an underpaid labour force, as in China or India, for example. As a consequence, many firms in Europe have closed down and the unemployment rate has been increasing steadily.
★ ★ ★
Secondly because we are gradually becoming aware of the harmful effects of mass production. People no longer eat fresh vegetables and fruit from their gardens, but ready-made more or less artificial foodstuffs provided by the food-processing industry, which are full of chemicals, food-colorings, sugar and fat that make them obese and ruin their health. The number of cancers is constantly rising. Globalization makes us buy goods coming from all over the world, which builds up the volume of transport in gigantic proportions: the seas and oceans are criss-crossed by giant container ships and tankers and our roads are congested by innumerable trucks coming from all countries. For example, we import oranges from South Africa, Argentina and Uruguay, while there are fields of orange trees overladen with fruit in Laconia in Greece.

At the same time, we have to move further and further away to find a job, essentially in the large cities where you can no longer live because the price of rents and mortgages is far too high. As a result the air in those cities is so polluted by gasses and fine particles that it is almost impossible to breathe; many city-dwellers suffer from asthma and other respiratory diseases.

The situation of water is just as alarming: it is polluted by pesticides and chemical fertilizers that farmers pour out on their fields and which soak through the ground and penetrate into ground water. Besides this also exterminates a lot of birds and insects like butterflies and bees and threatens biodiversity.
★ ★ ★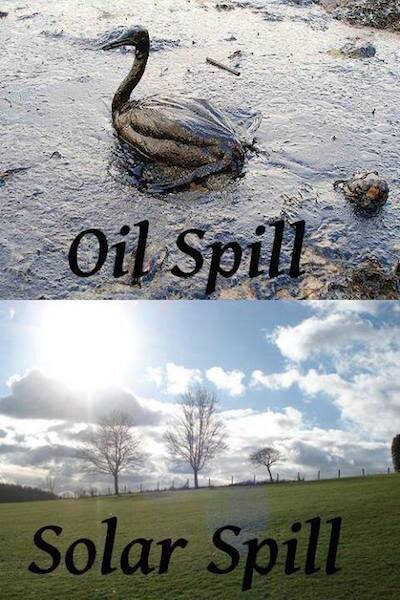 ★ ★ ★
The carbon dioxyde released into the atmosphere by transport, industies and domestic heating also contributes to the climate change denounced by many scientists. International conferences on the climate are organized every now and then, such as the COP 21 in 2015 in Paris, but although good ideas are debated and good resolutions made, the concrete effects remain to be seen.

To top it all, this system leads to a mass production of refuse, above all plastic bags and packages which are indestructible and end up in the seas and oceans where they form floating islands. The fish eat those plastics and die, and those which escape are eaten by humans and give them serious diseases.
The quantity revolution has turned into an apocalyptic nightmare.

Nicolas Hulot, the very popular French Minister of Ecology resigned in August 2018, confessing he was powerless to change things, later on in autumn several demonstrations against climate change took place in Paris. There is a gradual awareness and people have started to change their habits; unfortunately this is happening far too slowly and we haven't got much time ahead of us.

★ ★ ★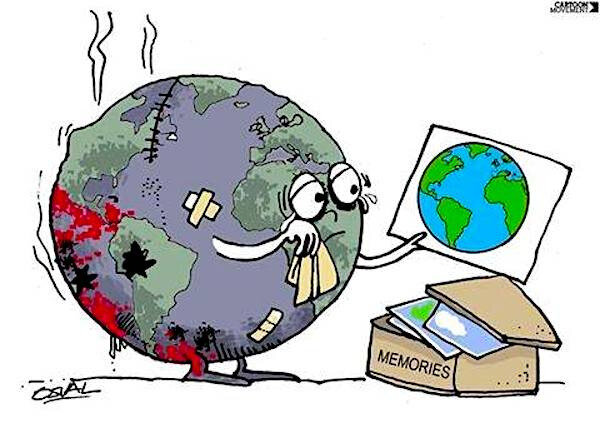 ★ ★ ★
What we need is a quality revolution that could bring a drastic change to our way of life, as the quantity revolution did in 2 or 3 decades. It is of course a green, ecological and organic revolution, but it is also a revolution in people's minds: phrases like 'cheap' and 'buy a lot' should be forgotten; every good thing, high quality product has its fair price. Of course this implies that everybody could afford to pay the price, and thus has a fairly well-paid job, or at least a sufficient income.
Producing locally as much as possible and eating seasonal fruits and vegetables will reduce the cost of transport and its pollution, but it also means consuming healthier food. Good food, eradicated pollution and a more natural life in general, will improve people's health and reduce the number of diseases. This will also contribute to improving the functioning of hospitals and medical services which are saturated at the moment and do not work efficiently.

Apart from food, other high-quality items should also be manufactured locally; their quality will be guaranteed by Europe through the EQ (European Quality) label. We should no longer consume more, but consume less and consume better. However people would not have to pay more in the long run: better quality shoes, clothes, electrical appliances, mobile telephones… etc., would last longer, and wouldn't have to be replaced so often, and thus we would reduce the amount of refuse.
★ ★ ★
The best bank is the Earth. You put your seeds into it, and it makes them fructify gratis.

Plastic packages should be banned for most products, except when they are absolutely necessary, and would be replaced by bottles, jars … etc. in recyclable glass.

Aided by European subsidies, agriculture will become organic, without any pesticides, chemical fertilizers, GMO's… A real revolution !

The quality revolution is not against technology: we won't go back to the cave age, heated by wood fires and lit by candles. Quite the contrary, we will need more technology to develop non-polluting energies: solar, wind, water energies… etc, and build well-insulated, positive energy houses, neighbouhoods, towns. Much more technology will be needed to solve the present problems and negative effects that natural energies have today and to reduce the exorbitant cost of positive energy buildings. Public transport and highly efficient electric cars will be developed.

But the quality revolution will not stop with pure air and water, healthy food… and natural energies; it will also change people's way of thinking: we are now working in the short term, looking for immediate financial profits; we have to think in the long term: have a world vision for the future.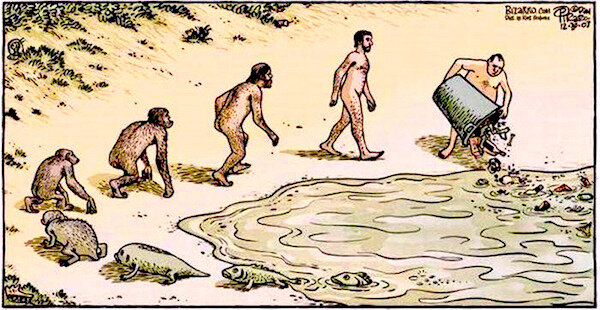 Besides, since the quality revolution will be largely based on the work of associations which will play a key role, people will become more sociable again, less selfish, more solidary and fraternal. The consumer society has cut us off from each other: each one of us isolated, playing with his cell phone; now we will fight together against pollution and climate change and we will make all out efforts to give our contemporaries and our children a better life.

The quality revolution implies that all the above mentioned problems (pollution climate change, refuse, health… etc.) will not be handled separately by separate organizations, but dealt with as a whole by governements, international organisations, industrialists, farmers, associations, citizens, political parties and various movements, all Europeans working together.

Thanks to the quality revolution we will find human contacts, social links, participatory democracy and fraternity again. Of course the quality revolution would be useless and nonsensical if it was limited to a single country like France, Germany, Italy… it should at least take place on a European scale. In fact it doesn't concern only Europe, but also China, America, India, Africa… the whole world. Yet we cannot wait for all countries in the world to agree, it would be a waste of time. If the quality revolution starts in Europe (we have the means to do so), Europe could serve as a model for the rest of the world - a lighthouse shining in the darkness, showing us the way.
★ ★ ★